Have you been tossing up between Beacons vs Linktree as your chosen Link in Bio too?
If you have an Instagram or TikTok account, you'll know how frustrating it is being able to only use one clickable link in your bio.
But don't worry. This is where link-in bio tools come into play.
And I'm going to compare two of the most popular link-in-bio tools on the market.
Beacons vs Linktree.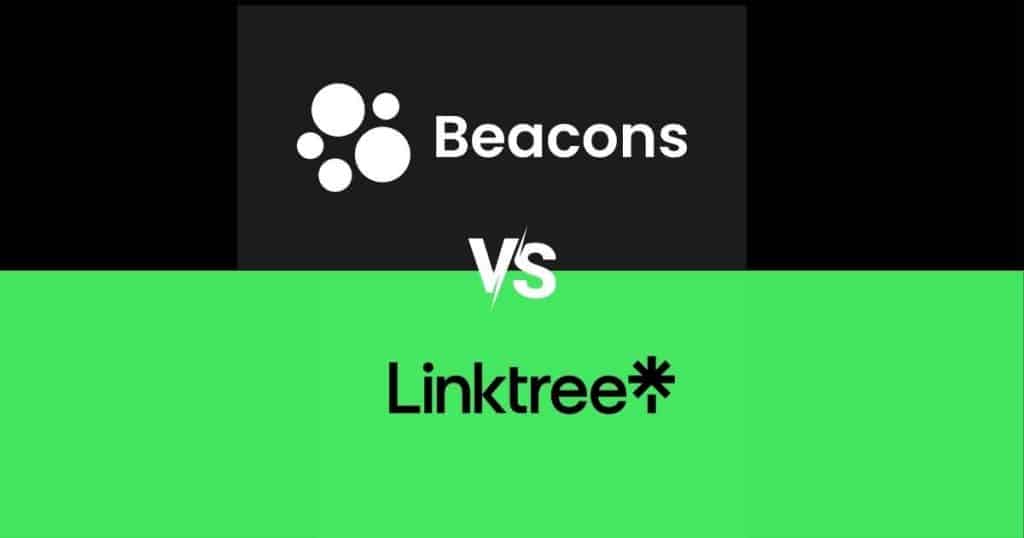 What is a Link in Bio tool?
If you have a social media account, you'll know what I mean when I talk about bios.
But if you don't know, a bio is a short introduction (usually near the top of your social media profile) that introduces your profile.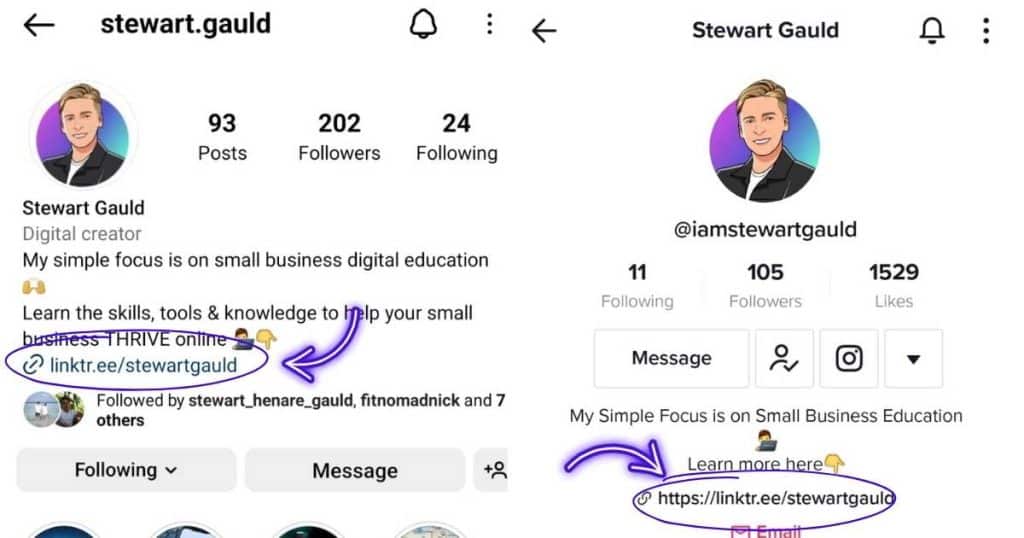 A Link in Bio tool helps you create a landing page full of all your resources that you can then add as a link to your bio (hence the name Link in Bio!)
By having a 'Link in Bio', your audience can easily access all your important links in one convenient and easily accessible place!
And, of course, you can create your Link in Bio page with a handy Link in Bio tool like Beacons or Linktree!
Beacons vs Linktree
Now that you know what a Link in Bio and Link in Bio tool is, I'm going to explore two of the best Link in Bio tools out there.
I'll dive into everything from what they are, how they work, their key features, and their differences.
So sit back, relax, and get ready.
Are you ready to find out which Link in Bio tool is best for you?
What are they? Beacons vs Linktree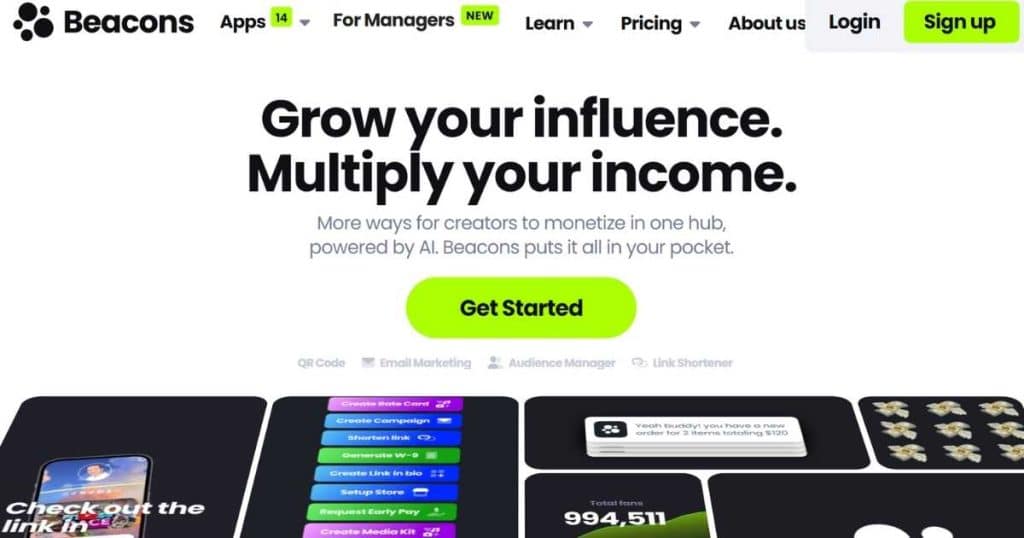 Beacons is a cutting-edge platform that aims to help creators unlock new career opportunities and expand your online presence.
Beacon's is so much more than just a Link in Bio tool. In fact, it's now gaining traction as a total creator management platform!
With Beacon's user-friendly interface, you can take advantage of its powerful marketing automation suite, even if you lack technical or design skills.
With integrated email marketing, audience manager, media kits, invoicing and online store apps, you'll have the freedom to build and manage your business just the way you want.
This is so you can focus on what you do best: creating content and engaging with your audience.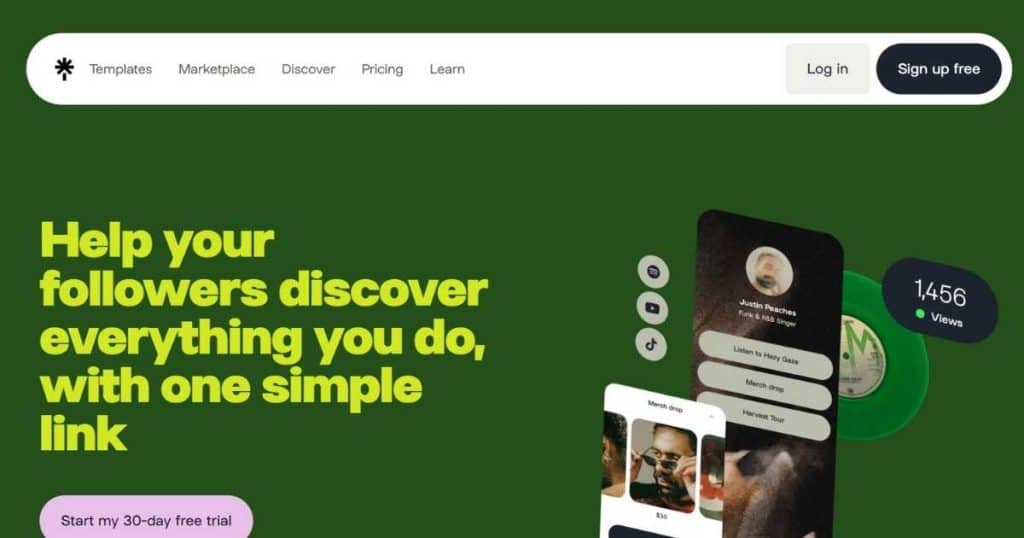 Linktree was one of the first link-in-bio tools to challenge Instagram's link limit.
Born in 2016, Linktree aims to empower brands and individuals to expand their multichannel followings.
Initially, Linktree was created to provide businesses or individuals with multi-link landing pages to gain social reach.
However, now Linktree has evolved into a feature-rich platform with over 23 million users worldwide!
Linktree is a go-to choice if you're just after a Link in Bio tool to help you grow online and drive traffic to your websites, products, or services.
What are the differences between Beacons vs Linktree?
Okay, so at first glance, these Link in Bio tools might seem quite similar. However, thre are some key features that set them apart.
I will cover everything from the pricing, ease of use, customization and design, features, and more to determine…what is the best option for you?
Pricing Comparison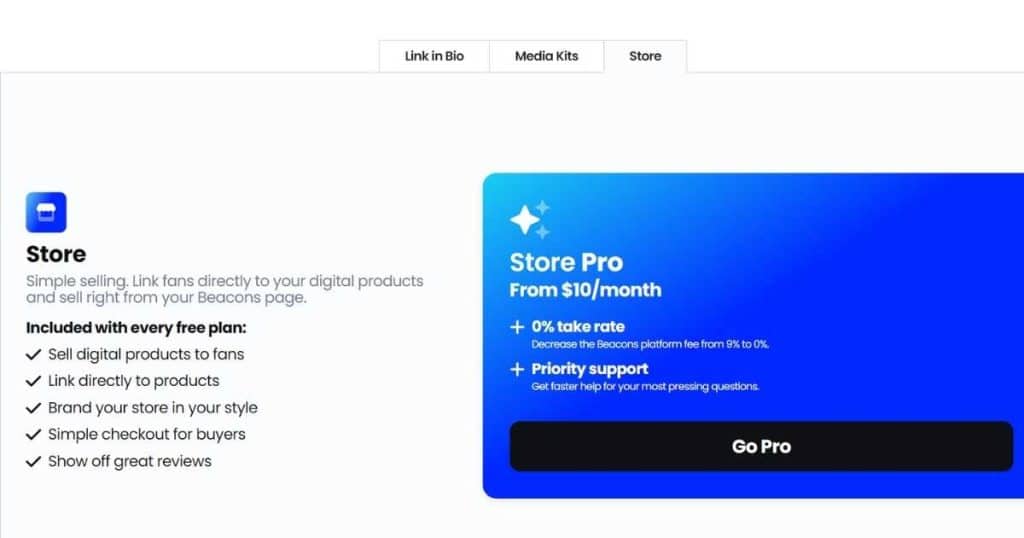 Beacon's pricing plans:
Creator free: $0
Entrepreneur: From 10 per month.
The free plan is pretty impressive. In addition to designing and customizing your pages' font, background, and layouts, you can also set up:
A digital store.
Tips.
Emails.
Contact numbers.
Plus, you can create email campaigns, media kits, promote your content through email marketing campaigns, and more – all for free.
And if you upgrade to the paid plan, you'll receive a custom domain name, team collaboration tools, conversion tracking, audience insights, and integrations with popular marketing tools.
Additionally, you can remove the unprofessional Beacons branding from your landing page.
Linktree pricing plans: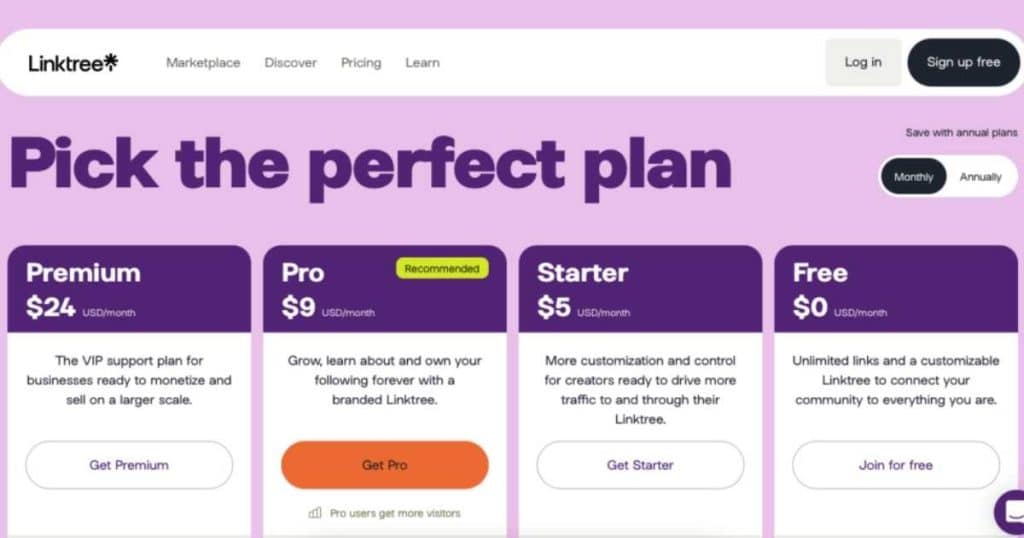 Free: $0
Starter: $5 per month.
Pro: $9
Premium: $24
The free plan is pretty basic but includes all the essential features, like customized backgrounds, fonts, and colors.
In terms of actual linking capabilities, you can embed all your favorite social media channels and music platforms like Spotify and Soundcloud.
Also, you can take payments directly from your Linktree, add your online store and request tips from visitors.
However, if you're after analytics or marketing features, dynamic integrations, and the ability to remove branding from your Linktree, you'll have to upgrade to a paid plan.
Winner = Linktree
Ease of use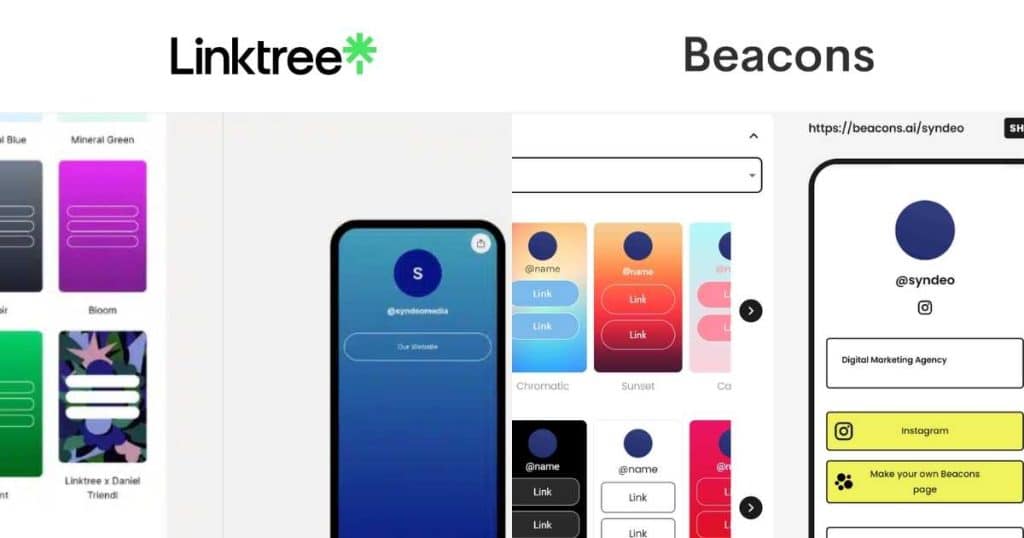 With Linktree, you can set up, customize and make your landing page live in just a few minutes.
Simply sign up, choose your name, add links, and choose a premade theme template (or create your own).
Then customize the appearance, font, links, and social icons within your Linktree landing page.
Linktrees interface is easy to navigate and clear, even for beginners.
Beacon's sign-up process is fairly similar. Connect your apps, goasl, and a theme color, and you're good to go!
You can then arrange your Link in Bio landing page by adding and customizing Beacons 'blocks'.
The interface is nice and clear; however, if you're just after a Link in Bio tool, the number of other features they offer (all displayed on your dashboard) may be overwhelming and unnecessary.
Winner = Linktree
Customization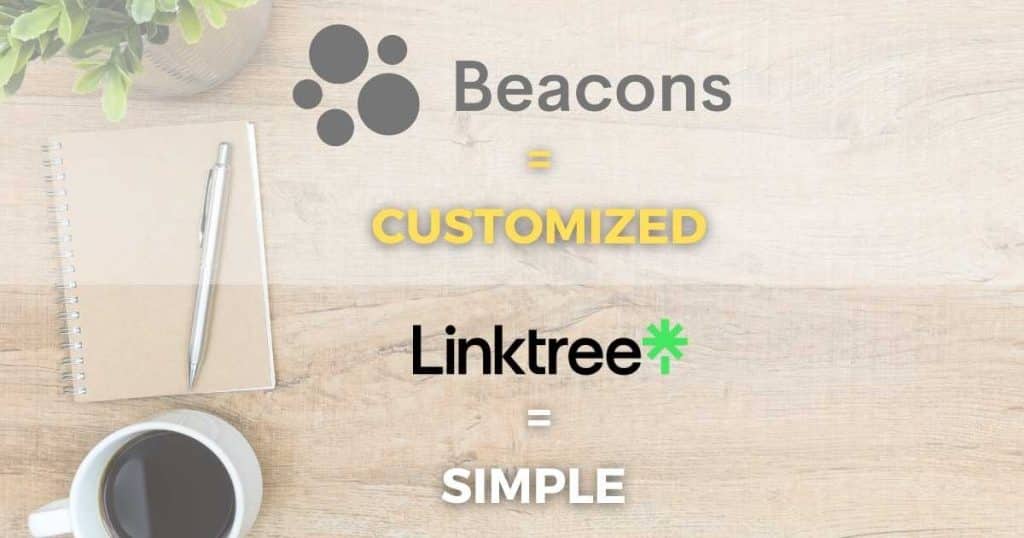 One of the most significant differences between the two platforms is the level of customization.
In short, Beacons is the better choice if you want a wide range of customization options. You can:
Choose from various templates, colors, and fonts.
Set up your own favicon, custom domain, SSL certification, and more.
You can create and customize a complete brand experience for your audience, and think of Beacon's Link in Bio as an extension of that brand.
On the other hand, Linktree's customization options are limited.
You can still customize fonts, colors, buttons, and social media icons, but the level of customization is simply not as advanced as Beacons.
For example, you can't choose a custom background image on Linktree's free plan, which is a bit of a letdown.
With that said, if you're after a simple interface that does the job, Linktree is the way to go.
But if you want to personalize your landing page and make it your own, Beacons may be the better choice.
Winner = Beacons
Features
Now let's discuss what you get with each Link in Bio tool.
With Beacons Link in Bio tool. you can:
Create multiple pages.
Add a CTA (call to action).
Sell products directly on your Link in Bio page.
Optimize your page with customizable buttons.
Add in GIFs, videos, thumbnails, and animations.
Plus, there's no limit on how many links you can have!
One of the things I love about Beacons is that you can also earn potential different income streams. This can be done through donations or affiliate links.
And if you have an online store, you can easily connect your store to your Link in Bio page by adding a 'Store' block.
The only catch is that they'll take a 9% commission on any sales made through a sales block (for free plan members).
As I briefly mentioned earlier, because Beacon is a one-stop shop for creators, you'll get so much more than just a Link in Bio tool (on all plans!)
You can also connect other useful integrated apps, such as:
Email marketing.
Audience management.
QR code generator.
AI brand outreach.
Pricing calculator.
Invoicing and much more, all under one roof.
On the other hand, Linktree focuses on a simplistic approach to help you build your brand and online presence.
Similarly to Beacons, theres no limit on links.
You can embed Youtube, Vimeo, Facebook, and Twitch videos directly into your Linktree landing page, organize your links with headers, and more on the free plan.
And if you run an online store, collect donations, or want to create QR codes for your audience, you'll be pleased to know these features are also available on Linktree!
This may sound basic compared to Beacons….and that's because it is.
Linktree promises to give you a simple, easy-to-use Link in Bio tool. And it delivers!
Winner = Beacons
Analytics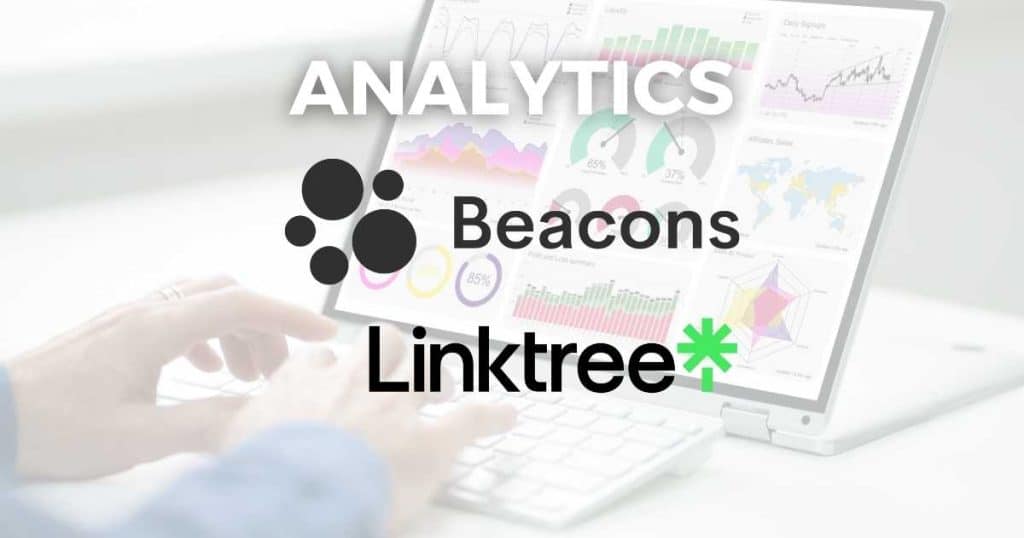 Both platforms offer analytics tools to help you track clicks and engagement on your Link in Bio pages.
In saying that, Beacons goes above and beyond regarding analytics.
You'll be able to view traffic, track your conversions and sales, audience insights, and even your post performance across different platforms.
Plus, you can manage your income and use smart AI tools to get detailed audience insights, and create custom reports reflecting this data.
And if you use Beacons email marketing feature, you can track how well your campaigns are doing!
Say goodbye to dedicated email marketing platforms!
Linktree also offers analytics tools. The only downside? A lot of the in-depth tools aren't available on the free plan.
Although, all free plans come with 'Lifetime analytics'. This includes your total clicks, click-through rates, average click times, and views.
You'll get more detailed data on paid plans, including:
Conversion tracking.
Revenue tracking.
Click tracking.
Limited insights.
Individual phone and email analytics and more.
Linktrees analytics capabilities are bad. In fact, they're pretty good, considering the platform is quite simple.
Beacons just offers more features, so naturally they provide more analytics to support those features.
Winner = Beacons
Integrations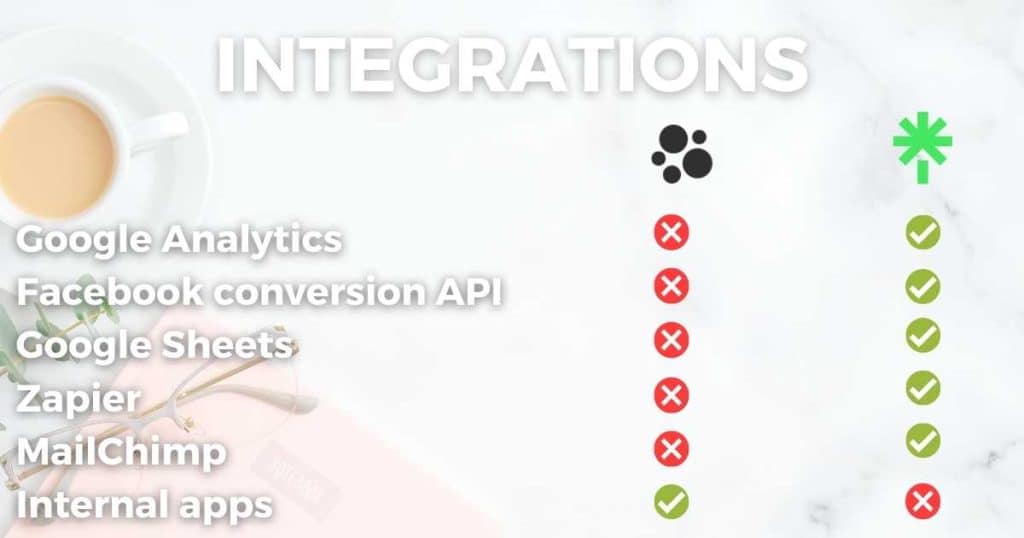 Integrations are an important factor when choosing any type of online software.
Both Linktree and Beacons offer integrations with popular social media and marketing tools to help users streamline their workflows and expand their reach.
Of course, both platforms connect with popular social media channels
If you upgrade to Linktree's Pro plan, you can add custom HTML/CSS and integrate with:
As far as I can see, no external Integrations are currently available with Beacons (apart from social media channels and eCommerce platforms).
But in saying that, you do get a lot of internal apps within Beacons.
Winner = Linktree
Beacons vs Linktree – Who are they best for?
And its crunch time!
I've now explored everything there is to know about these incredible Link in Bio tools.
So….what is the best tool for you?
Both are great options for different reasons.
Are you a small business or content creator just wanting a simple and affordable way to drive traffic to your social media profiles or websites?
I can guarantee you'll love the affordable pricing plans, basic analytics, and easy-to-use interface Linktree provides.
However, Beacons is a solid choice for creators looking for more than just an essential Link in Bio tool!
Stew's final thoughts
And that brings me to the end of this Beacons vs Linktree Link in Bio tool review.
Unfortunately, we're limited to using Link in Bio tools until Instagram and TikTok decide to give us more than one bio link.
But with tools like these, you can easily direct your audience to all your important links in one convenient location!
No matter what you choose, you can be sure to grow your online presence.
And if you're still unsure which option to go with after reading all the way to the end, go ahead and give both platforms a go!
Let me know what you end up choosing in the comments below.