Did you know you can create a FREE business email for your small business?
If you're using email addresses ending in Outlook.com or Gmail.com for your business emails, stop what you're doing right now!
My number one piece of advice for small business owners is to move away from using these unprofessional email addresses.
Why? Think about it…first impressions are everything, right?
Creating professional email addresses that represent your business is essential if you're trying to establish authority and build credibility for your brand.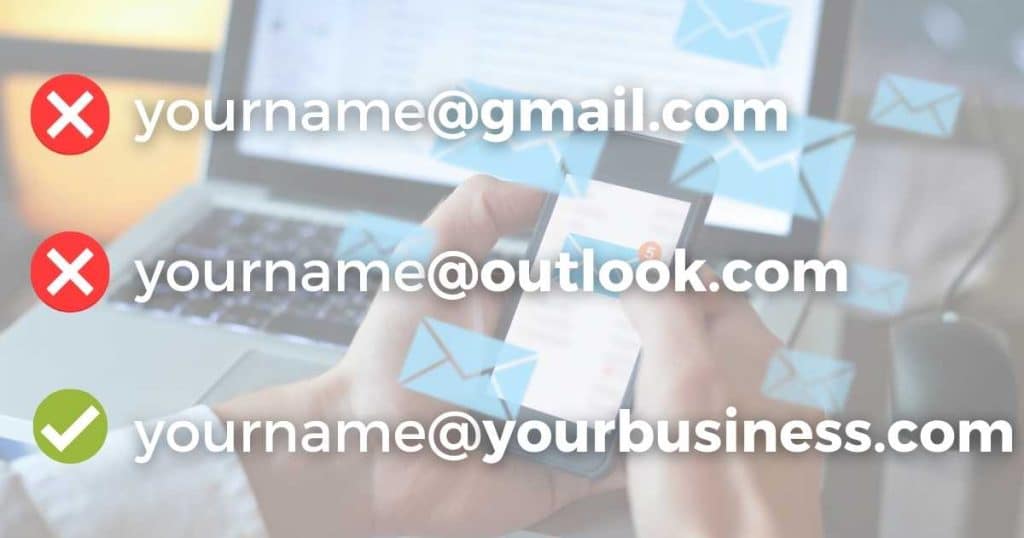 However, many small business owners are hesitant to create a business email due to the perceived cost and complexity.
The good news? It's easier than you might think! And I'm going to show you how.
In fact, I will show you 3 free simple methods!
But before I do that, it's important to mention that although these methods are entirely free, you'll have to choose a domain name.
And domains do come at a cost.
Some of our favorite domain and web hosting sites include Google Domains, Hostpapa, Hostinger, and Bluehost.
Don't have a domain? Check out our range of domain and web hosting articles here to help you choose the best domain and web hosting provider for you.
Once you've done that, jump back into this article.
Are you ready to switch to a more polished and professional email address in 2023?
Free Business Emails for Small Businesses (3 Methods)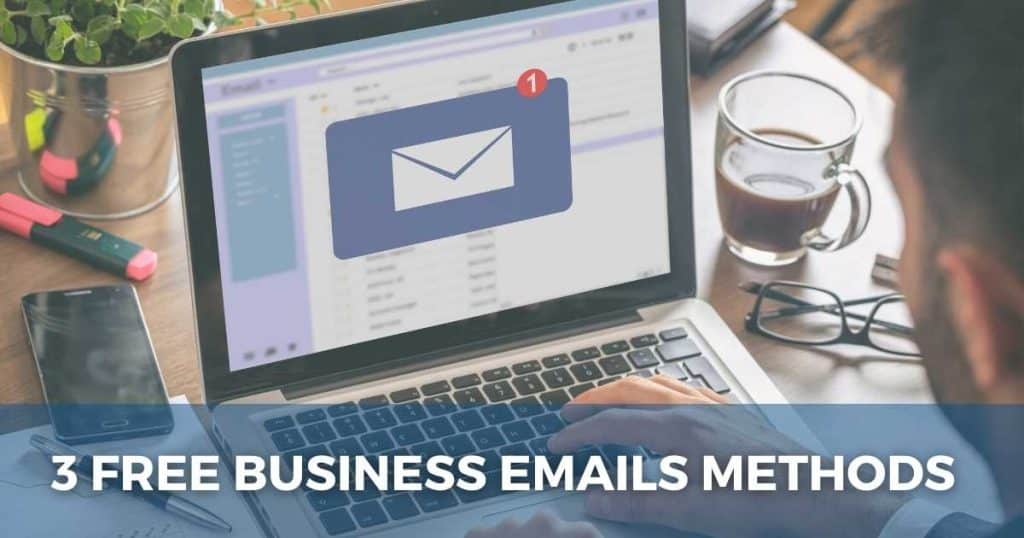 Okay, so now that you've set up and created your domain name, it's time to get stuck into the 3 methods for creating free business emails.
That's right; these methods are all FREE (once you have a domain name!)
Say goodbye to unprofessional emails today!
1. Free Gmail Email Setup
If you have a Gmail business account and want to create professional business emails quickly, this is the perfect option for you.
This method involves setting up your business email with Google Domains, then connecting that email with your Gmail.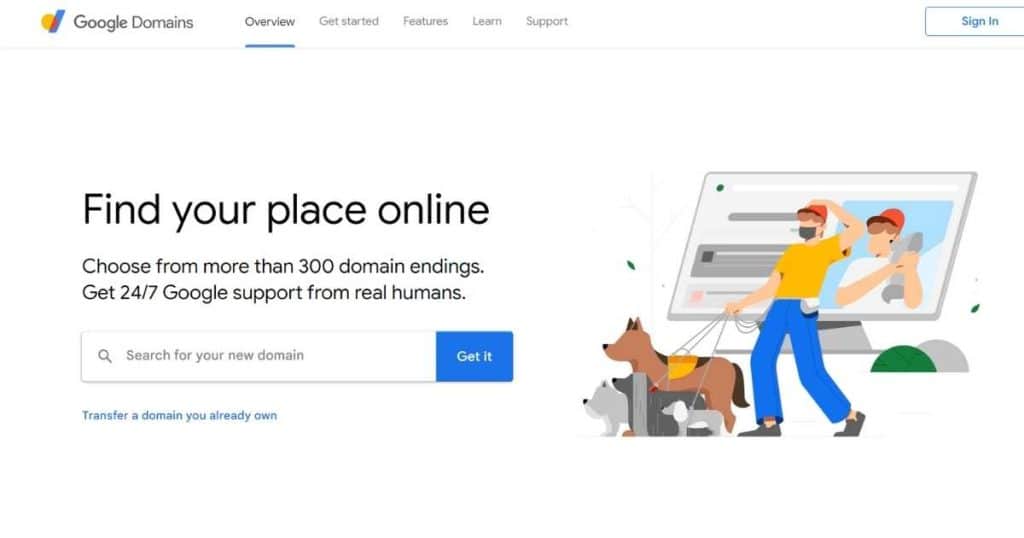 A professional email and domain through Google is ideal if you don't have a website or if you have a free website that provides you with basic hosting (like Wix or Google Sites).
That's right; with this method, you don't have to muck around with or pay for hosting!
Check out my comprehensive Google Sites vs Wix article here!
How to create a free business Gmail?
Connecting your professional business email with Gmail is pretty simple.
Set up, create, and buy a domain through Google Domains.
Create an email forwarding address (email alias) using your domain name within your Gmail account.
Once you've done this, you can send and receive emails from this professional email address right within Gmail!
Simply promote this professional email address on your website, business cards, social media, and more so people can easily contact you.
Basically, people will see this professional business email address and know you're serious about your business!
To create a domain name with Google Domains, you're looking at about $12USD per year, which is a pretty affordable option for small business owners!
I know all this can sound a little daunting, but I promise this method is super simple once you've completed the initial setup.
What I like:
Easy to use, especially for Gmail or Google Workspace users that already know their way around the platform.
Google is a credible and trustworthy platform, so you know your emails and data are safe and secure.
You can create up to 100 email aliases!
What I dislike:
Not ideal for people who have a website that requires hosting.
Sometimes, emails can go into your recipient's spam folder.
Make sure you check out our full visual in-depth guide on this process below:
2. Free Business Email with Hosting
My 2nd method for creating a free business email is ideal if you already have web hosting or want to create a WordPress website (which doesn't include hosting).
You'll need to set up a free webmail (email service) through a hosting provider and then connect that to Gmail.
Note: You can do this with Gmail or Outlook. I just use Gmail as my example.
How to set up a free business email with a hosting provider?
The first step is to set up and create your business email within the cPanel of your hosting provider.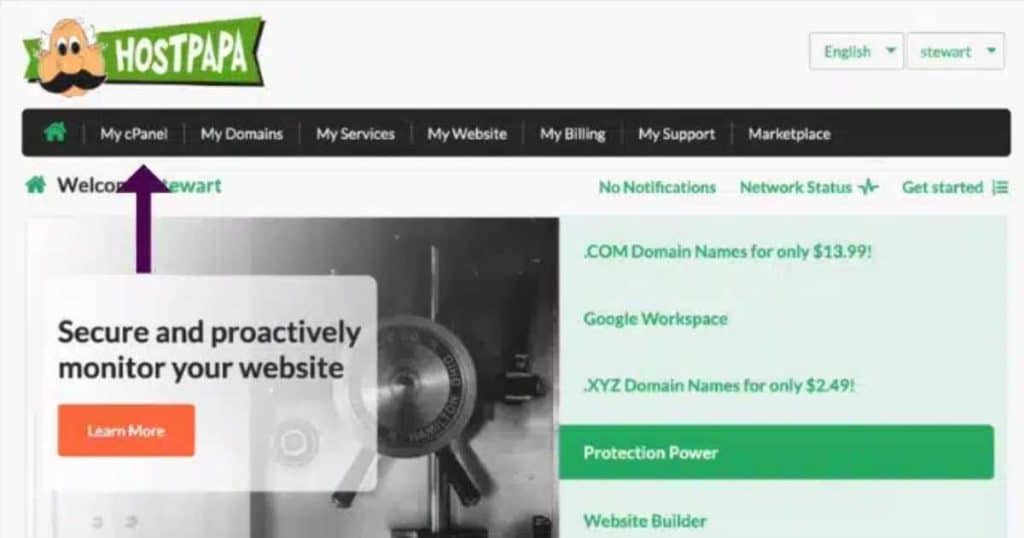 If you're unsure how to do this, follow my comprehensive article here.
In that how-to guide, I show you how to set this up through one of my favorite hosting provider platforms – HostPapa.
However, the process is similar to any other hosting provider you choose.
In addition to HostPapa, I recommend Hostinger, Bluehost, and Siteground as alternatives.
Read more: Hostinger vs Bluehost, Hostinger vs Siteground.
Connect to Gmail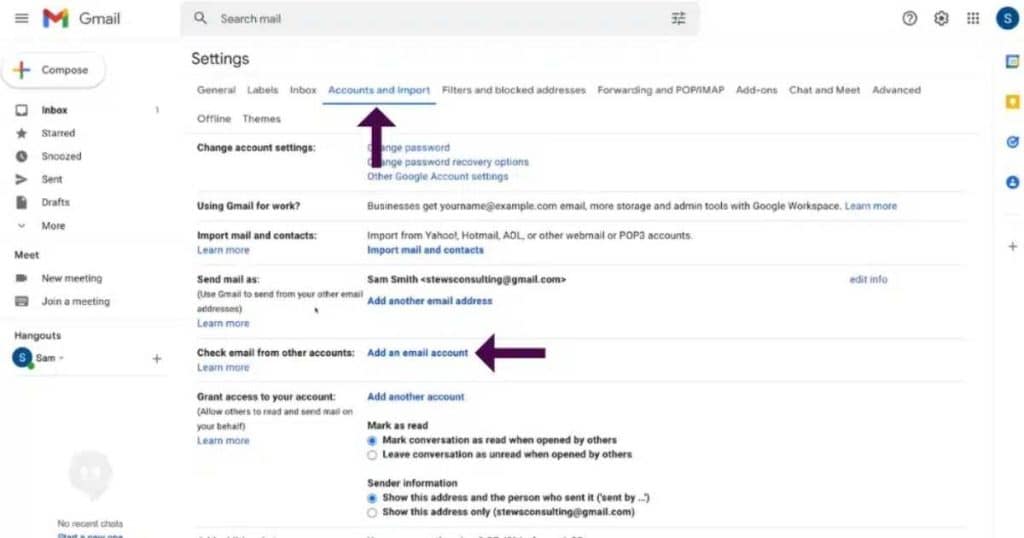 Once you've done this, you're ready to link your professional business email to your email provider!
This will enable you to send and receive emails using the email ID you just created through your free Gmail account.
To check out how to do this, make sure you follow my step-by-step process here.
By doing this, you'll save money on a monthly subscription service offered by platforms like Google Workspace or Microsoft 365.
These business email services can cost around $6 per user per month. This can certainly add up over a while, especially if you're a small business owner on a budget!
Make sure you check out my complete in-depth how-to guide on setting up your business email within Google here, which covers this whole process.
 What I like:
Great free option for business owners with a website.
You can follow this process with Gmail or Outlook.
What I dislike:
Not the most secure option for business emails.
Sometimes, emails can go into your spam folder.
3. Free Business Emails with Zoho Mail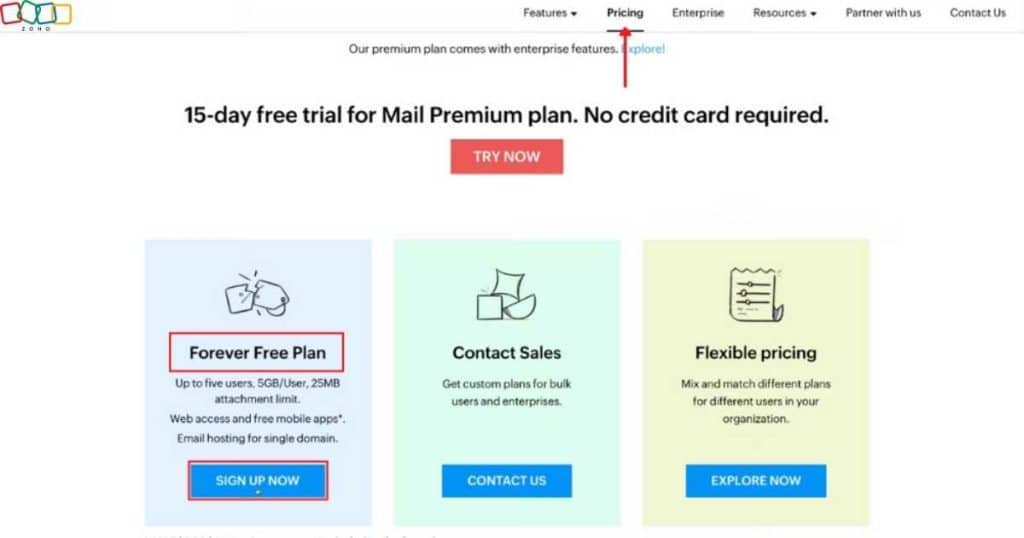 Do you already use Zoho CRM or Zoho Projects? This method is for you!
Zoho Mail is my 3rd and final method for creating free business emails.
This is a more extensive and total email service and management platform compared with the other 2 methods.
Known for its premium features offered within the free plan, a 5GB storage limit per user, and a 25MB attachment limit, Zoho Mail is the perfect option for small businesses.
Although, it's worth mentioning that you can only create up to 5 email addresses on the free plan. If you need more, you'll have to upgrade to a paid plan (more on that later).
But the free plan does include:
Mail filters.
Mobile apps.
Note sharing.
Event creation.
Task assignment.
Announcement making and more.
And specifically, inside your email inbox, you'll find bookmarks, contacts, calendars, and more.
To learn more about setting up your free business emails with Zoho Mail, check out my total how-to guide here.
Zoho Mail is certainly a comprehensive and user-friendly option for small business owners!
What I like:
Seamlessly integrates with other Zoho products.
All in one business suite.
Extremely reputable and secure.
What I dislike:
The number of emails and storage is limited.
The learning curve can be steep if you're unfamiliar with the product.
Improve Deliverability with Paid Business Email Clients
The business email methods I've mentioned are pretty impressive for small businesses just getting started.
All 3 options mean you can create a free and professional business email!
What's the catch? Well, if you do choose any of these methods, you might find your email deliverability isn't that good.
In other words, your email may arrive inside your recipient's spam folders.
This can result in missed opportunities or leads and looks spammy and unprofessional.
So, how do you stop this from happening?
You can set up Learn how to set up Google Workspace SPF, DKIM, and DMARC to improve email deliverability if you choose the Gmail method.
However, the best way to completely avoid this is to use a paid business email provider.
My top 4 paid include Titan, Google Workspace, Microsoft 365, or the paid version of Zoho Mail!
So with that said, let's dive into these paid business email services and see what they're about.
Read more: 3 best Google Workspace alternatives for small businesses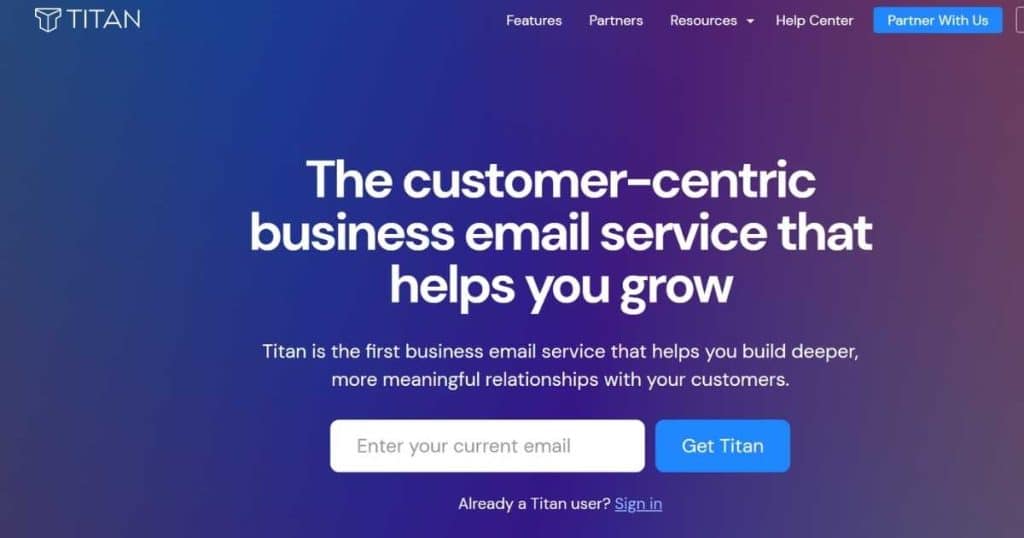 If you're a small business looking for an affordable, easy-to-use, and complete paid email service, Titan may be the perfect solution.
With a focus on user-friendliness and accessibility, Titan makes it easy for anyone to set up and benefit from their email services, regardless of technical expertise.
Titan partners with popular companies like Hostinger, WordPress.com, and Name.com.
There are two ways to get started:
Purchase an email service from a hosting website.
Create a website, purchase your domain, and host (as well as Titan) through WordPress.com or a similar platform.
Then, simply set up your business emails!
Titan offers essential email features that other tools typically overlook.
Some key features include:
Email templates.
Schedule Send.
Read receipts
Follow-up reminders.
Signature builder.
Plus, Titan is significantly cheaper than other paid email services on the market.
If you're a small business and don't need all the bells and whistles that Google Workspace offers or Microsoft offer, this is the solution you've been looking for!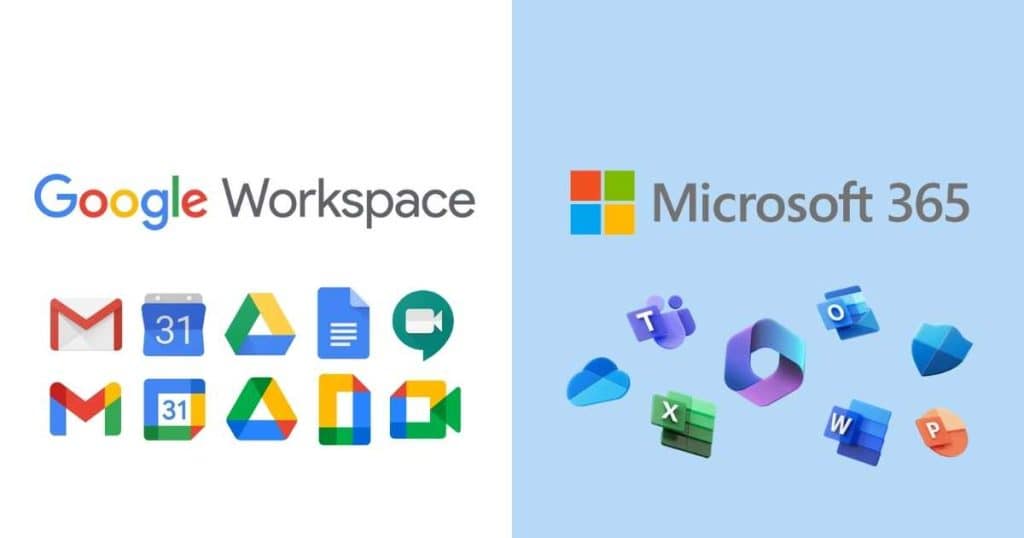 If you're looking for a premium online productivity platform and a robust email service for your business emails, Google Workspace or Microsoft 365 is what you need!
With a subscription to Microsoft 365, you'll have access to all the latest Microsoft productivity and collaboration apps, including:
Word.
Teams.
Excel.
Powerpoint.
Outlook.
OneDrive.
Yammer.
Power BI and more.
And with Google Workspace, you'll get similar apps, including:
Google Docs.
Google Sheets.
Google Drive.
Google Calendar.
Google Meet.
Gmail.
Google Sites and more.
So as you can see, both platforms are an all-in-one solution that allows you to create, share, and collaborate with your team members in one place.
Both Google Workspace and Microsoft 365 are pricier than Zoho and Titan, starting at $6 per user per month. However, you get so much bang for your buck that I think it's worth it!
Whether you're a sole trader, freelancer, or small to medium-sized business, you'll find value in the powerful range of tools Google Workspace and Microsoft 365 offer.
Both Google Workspace and Microsoft 365 are excellent options for companies seeking a professional email service and collaboration platform.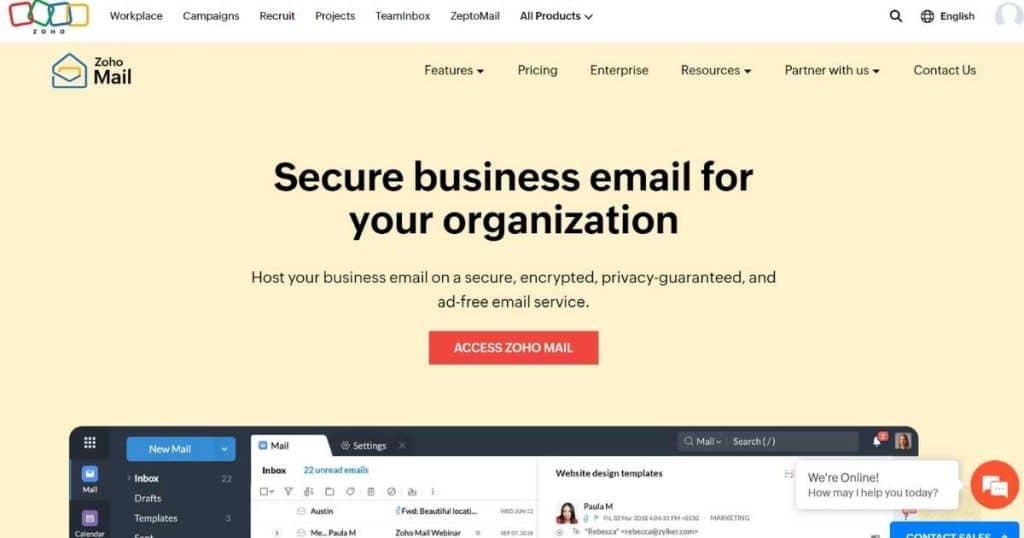 I talked earlier about how Zoho Mail is a great free option if you're a small team and already use other Zoho products.
However, with the free plan, there are limitations.
On the paid plan, you can be sure your emails are safe with Zoho's advanced security features. These include:
Two-factor authentication.
Suspicious activity reports.
Encryption.
Compliance certificates.
Plus, you'll receive more storage space and email addresses, custom domain hosting, and advanced email backups.
And if you need to collaborate with your team, Zoho Mail offers shared calendars, group chats, and task management.
Zoho's paid plans range from $1-3, depending on your plan. Therefore, it's a pretty affordable option!
So if your team requires more than 5 email addresses and is after a more advanced and secure email service for your business emails, Zoho Mail's paid plans are ideal!
Read more on how to create free business email with Zoho Mail.
Stews Final Thoughts
As you can see, there are so many options for creating professional business emails that reflect your brand.
By using one of my 3 simple free business email methods mentioned above, people will finally take your business and brand seriously!
These methods are perfect for businesses that don't have the budget to fork out on expensive email service platforms.
And when your business starts to grow, you can upgrade to one of the paid options I mentioned!
As a result, you can be sure your emails will safely land in your recipient's Inbox!
Let me know what you think below. What method do you prefer?