If you need a web hosting provider, you've likely come across two of the biggest rivals in the game – Hostinger vs Bluehost.
And these two companies are well-known in the industry for good reason!
So, what is the right choice for you? And is there even a right choice?
With so much information online today, it can be overwhelming, to say the least.
But don't worry, you're in good hands.
I will deep dive into Hostinger vs Bluehost and compare their web hosting tools, prices, security, support, and other dynamic features!
My aim is to determine what comes out on top.
No matter what type of business you run, by the end of this article, you'll know which is best for you – Hostinger vs Bluehost.
Lets dive in and find out now.
Hostinger vs Bluehost 2023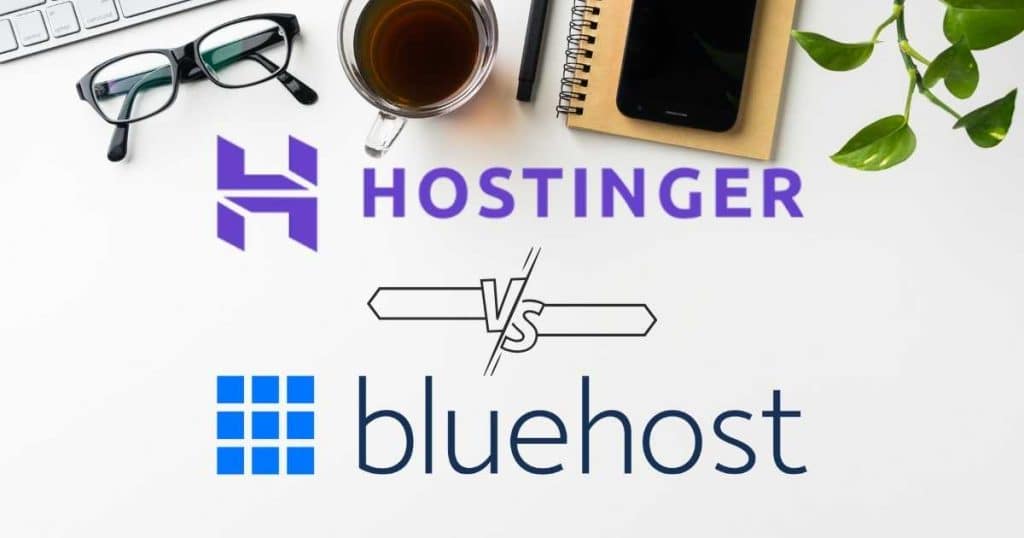 Both Hostinger and Bluehost have a massive following in the online world.
Why? They are constantly strive to improve their web hosting services to stay ahead of the competition!
With so many users and fans of each provider, it's no wonder that discussions comparing Hostinger vs Bluehost can quickly turn into heated debates.
From endless comments and reviews to detailed comparisons of features and pricing, the battle between these two web hosting giants rages on.
So with that said, which is best for you?
Read more: Hostinger vs SiteGround.
What are they? Hostinger and Bluehost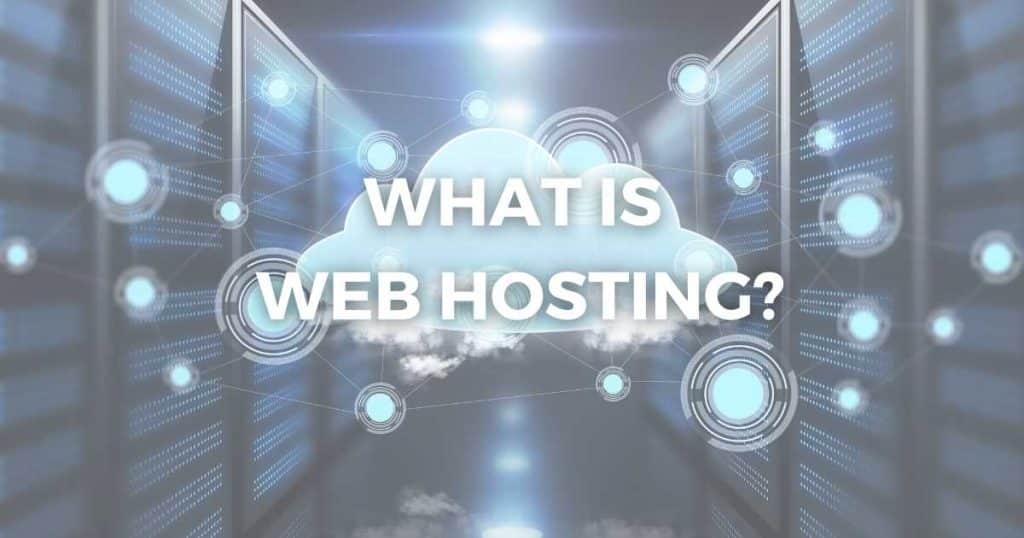 Hostinger and Bluehost are two leading web hosting providers.
If you're completely new to the online world, you may be thinking..what is web hosting? And do I need it?
The answer is yes, you do!
Web hosting provides storage space and access to websites on the Internet.
To keep things simple: When you create a website, all the files and data that make up your website must be stored somewhere so people can access it online.
A web hosting provider offers this storage space on their servers, meaning your website can be accessed by anyone with an internet connection.
Web hosting providers also offer other services to help you create and manage your website.
These include:
Website builders.
Email hosting.
Security features.
In short, web hosting is crucial to build and maintain a website online.
What is Hostinger?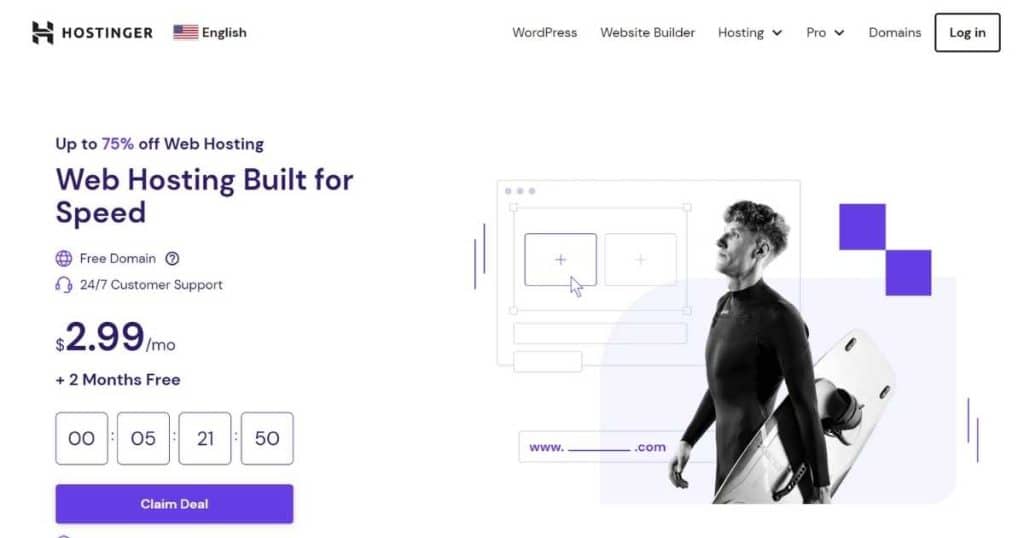 Hostinger is a web hosting provider with over 29 million users worldwide!.
Known for its affordable hosting plans with fast loading times, easy-to-use interface, and wide range of features, it's no wonder why Hotstiner is such as popular choice.
What is Bluehost?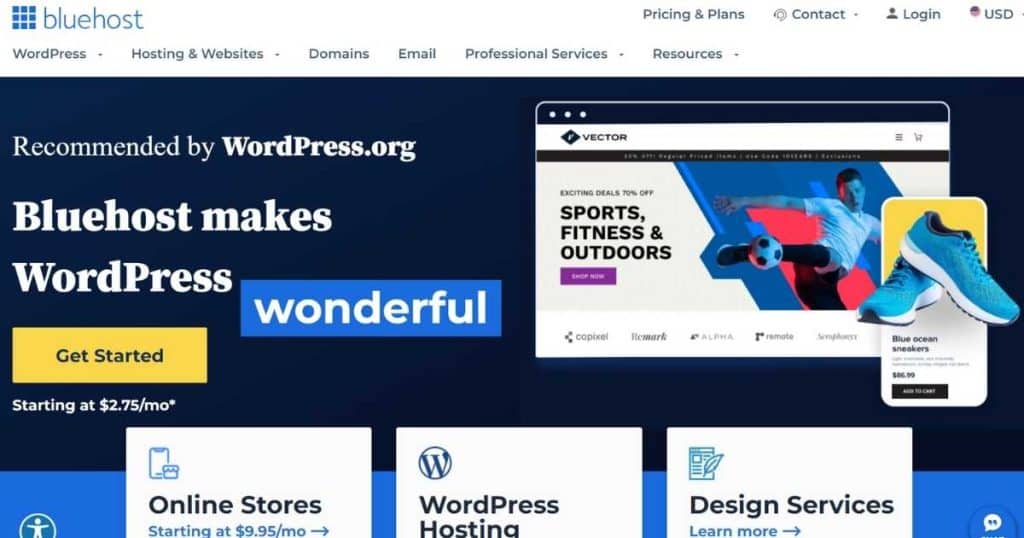 Bluehost is a web hosting provider that offers a range of hosting plans trusted by over 2 million users.
In fact, did you know that Bluehost is the recommended web hosting provider for WordPress?
This is because anyone can use their fantastic and easy-to-use yet comprehensive features.
Plus, their services provide incredible support and scalability.
What are the differences between Hostinger and Bluehost?
Now that you're aware of what Hostinger and Bluehost are, let's dive into the nitty gritty of both platforms and the differences between Hostinger vs Bluehost.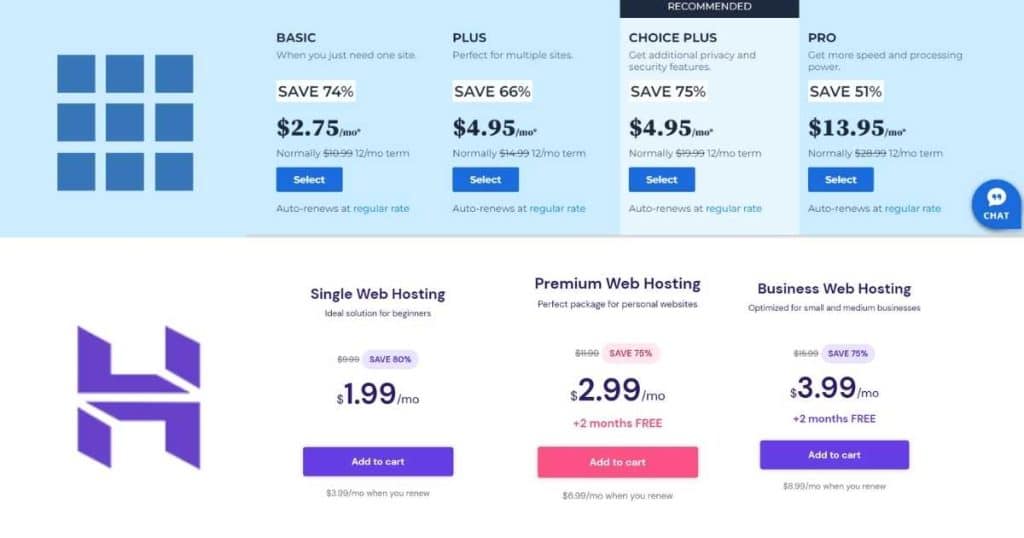 Hostinger offers some of the most affordable web hosting plans on the market, with prices starting at $0.99 per month for shared hosting.
In contrast, Bluehost's shared hosting plans start at $2.95 monthly (on annual billing).
If we're talking about shared hosting, Hostinger wins by a landslide.
However, Bluehost offers VPS (virtual private servers) and dedicated hosting. Hostinger doesn't offer these services.
Bluehost's VPS plans start at $18.99 monthly, while its dedicated hosting plans start at $79.99 monthly.
Hostinger, on the other hand, offers cloud hosting plans starting at $9.99 per month.
In terms of scalability, Hostinger charges less for its scalability options.
It's important to note that both platforms offer other pricing plans for add-on features such as website building and email services that I won't be discussing in detail.
I will, however, link those particular pages when mentioning these features (more on this later).
Winner = Hostinger.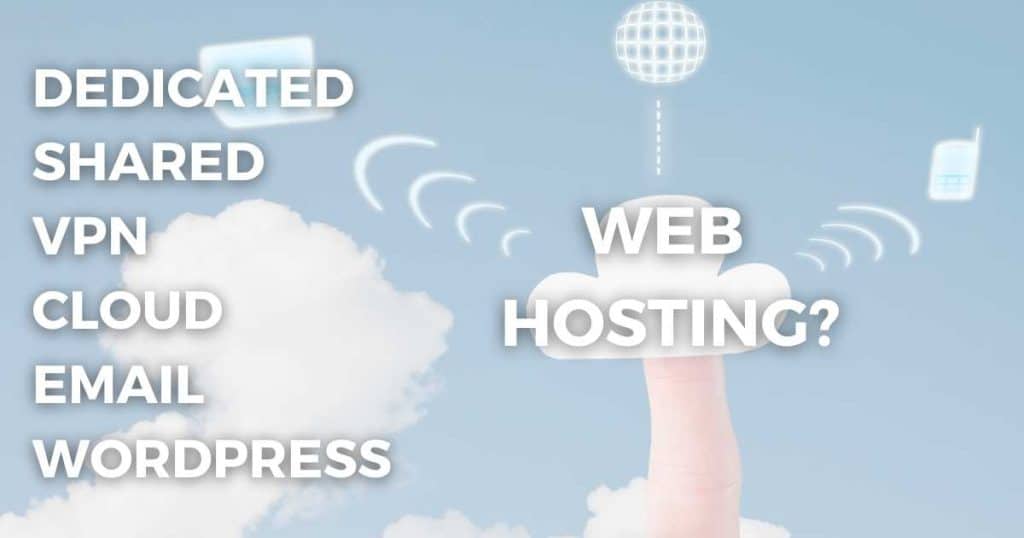 One of the main differences between the two hosting platforms is the types of web hosting services they offer.
Bluehost offers a range of web hosting services for all business types and sizes:
Shared hosting.
Dedicated hosting.
VPS hosting.
WordPress hosting.
The shared hosting plans are pretty impressive and aim to target small or medium-sized blogs or websites.
All plans include resource protection, Google Ads, Google My Business, SSL certificates, and a free domain for 1 year.
Plus, the higher shared hosting plans offer more dynamic features.
So, what about Hostinger?
Hostinger also provides shared plans that are cheaper than Bluehost. However, their features aren't as advanced.
Other hosting options offered by Hostinger are:
Cloud hosting.
WordPress hosting.
VPN hosting.
Titan email hosting
Basically, you won't find dedicated hosting plans with Hostinger, and you won't find cloud hosting on Bluepost.
In terms of web hosting, it's a close call!
Winner = Bluehost.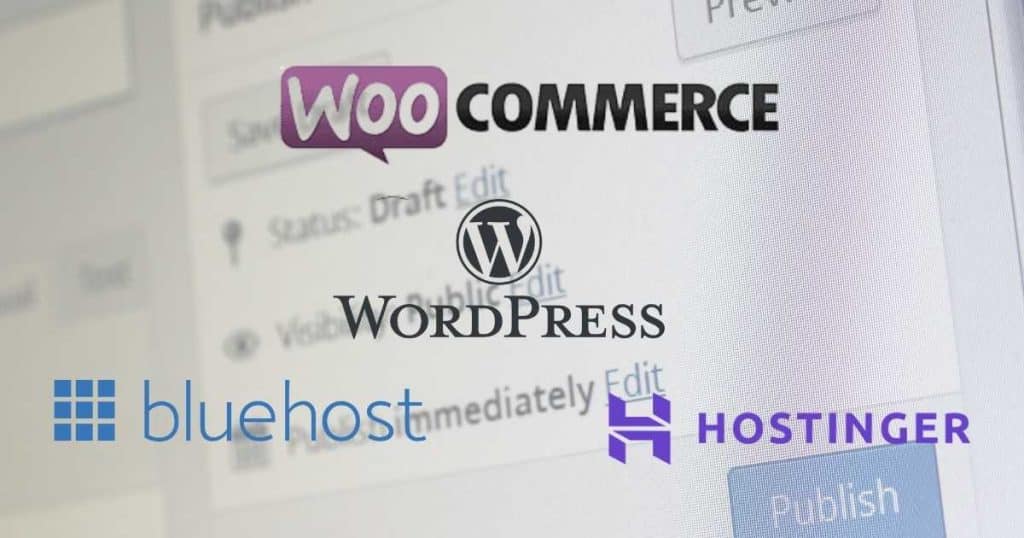 If you have a WordPress website, you'll be pleased to know that both platforms have a one-click WordPress installation feature and offer automatic WordPress updates.
However, Bluehost is a match made in web-hosting heaven when it comes to WordPress.
Even WordPress themselves think so!
Plus, if you have an online store, you can easily set up the popular WordPress plugin WooCommerce with Bluehost to start selling online.
Check out Bluehost's WordPress hosting pricing plans here.
Don't get me wrong, Hostinger isn't a bad choice for WordPress website users. Bluehost is just better!
So with that said, I'd recommend giving Hostinger a go if you don't have a WordPress website.
Find out more about everything Hostinger has to offer for WordPress hosting here.
Winner = Bluehost.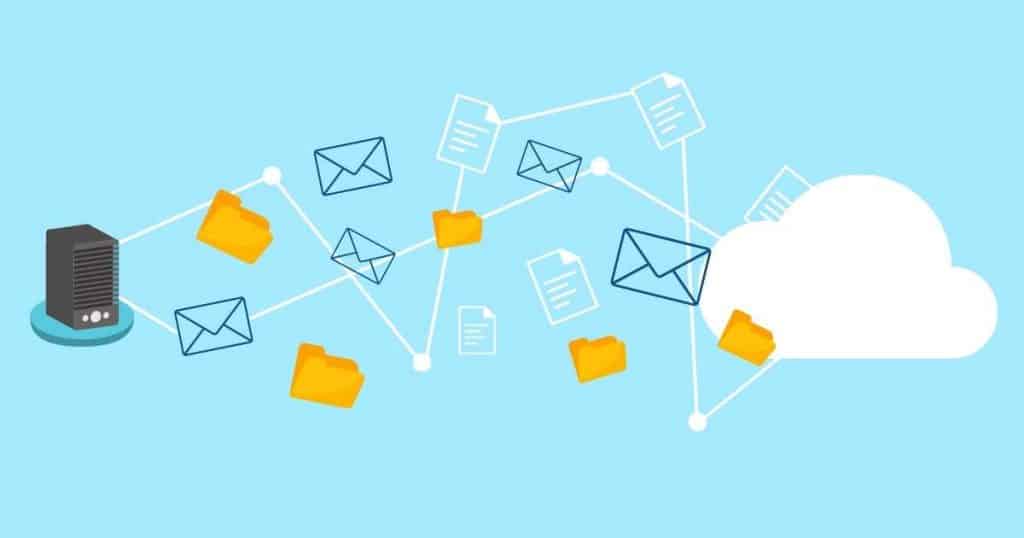 If you already have a hosting provider but want to migrate your domain to Bluehost or Hostinger, don't worry!
With Bluehost, you can easily point your existing domain to your new account during the signup process or transfer it to Bluehost entirely.
This may sound daunting, but don't worry! Bluehost walks you through the whole process.
You'll have to register and set up your domain through the cPanel with Hostinger.
And if you want to point your existing domain to Hostinger, they provide a handy detailed guide complete with a video tutorial to help you!
What about transferring your domain to Hostinger? You can do this in just four simple steps! Overall, this is a much easier process than Bluehost.
Winner = Hostinger.
Migrating your website is another daunting task for many business owners, but both Bluehost and Hostinger offer solutions to make it easy!
Bluehost is the best choice for WordPress websites, offering free expert migrations.
All you have to do is fill out the migration form in your Bluehost dashboard, and their team will take care of everything for you.
On the other hand, Hostinger offers an easy-to-use automatic migration tool and other migration options to help you easily migrate your WordPress website (for free!)
Non-WordPress sites can also be migrated using the same form (or during the setup process).
While Bluehost has helpful guides for non-WordPress site migration, it can be more challenging.
Alternatively, you can pay for Bluehost's professional site transfer service. Within this, you'll get expert assistance in migrating up to five sites and 20 email accounts.
Bluehost = winner (WordPress migration).
Hostinger = winner (non-WordPress migration).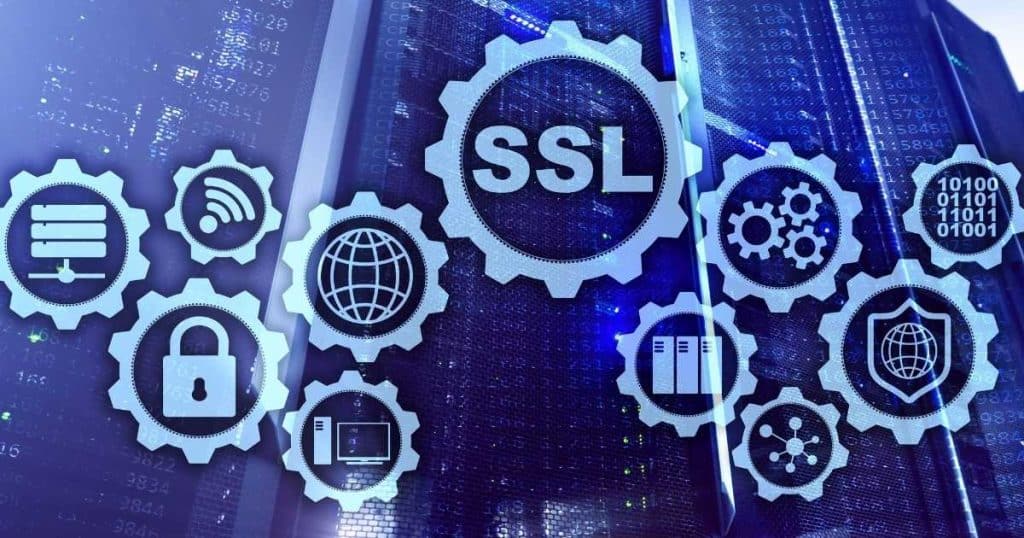 Both Hostinger and Bluehost offer free SSL certificates.
However, I particularly liked that Bluehost prioritizes security during WordPress onboarding.
This is done by securely changing login details from the default option (which many beginners may not do).
I also noticed Bluehost is more transparent about its security features, including automatic security updates, backup data protection, and malware detection.
However, both web hosts monitor online threats and have protective measures in place to detect attacks.
Winner = Bluehost
Did you know that Hostinger and Bluehost offer dynamic website builders in addition to web hosting?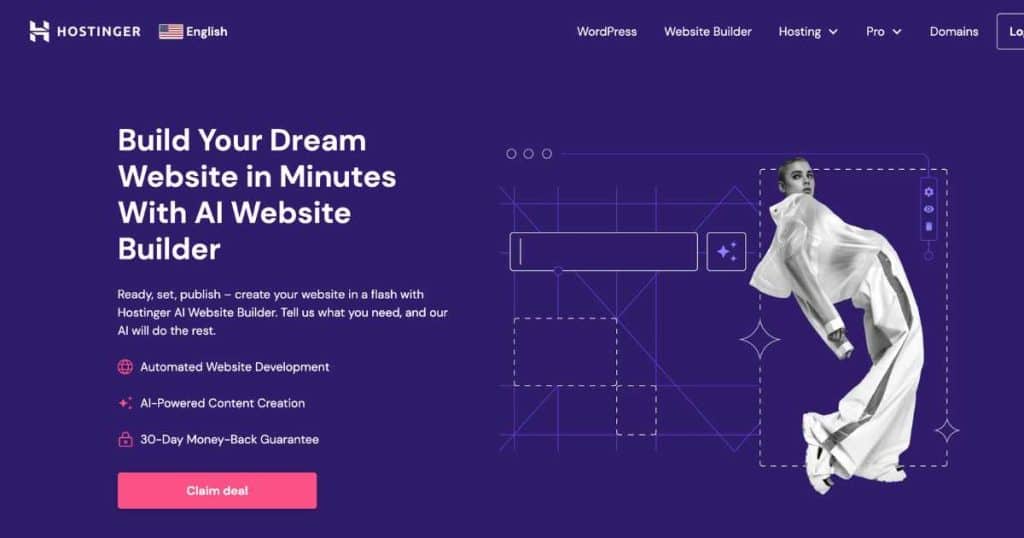 Hostinger's AI website builder offers a drag-and-drop interface and over 100 templates.
It is an incredible AI (artificial intelligence) website builder that aims to help users create websites quickly and easily.
I'd recommend Hostinger's AI website builder for eCommerce businesses after an affordable website builder option.
Learn more about Hostingers AI website builder here.
On the other hand, Bluehost's also offers a website builder based on WordPress.
Essentially, Bluehost's website builder is more like a WordPress theme.
The great thing about this is that you'll still have the option to install WordPress plugins and access your WordPress dashboard.
You'll just need to simply click the Bluehost website builder option during the WordPress sign-up process, then leverage their drag-and-drop editing tool to create a stunning website!
Bluehost's website builder is good, but it doesn't compete with how advanced, efficient, and easy Hostinger's is.
Winner = Hostinger.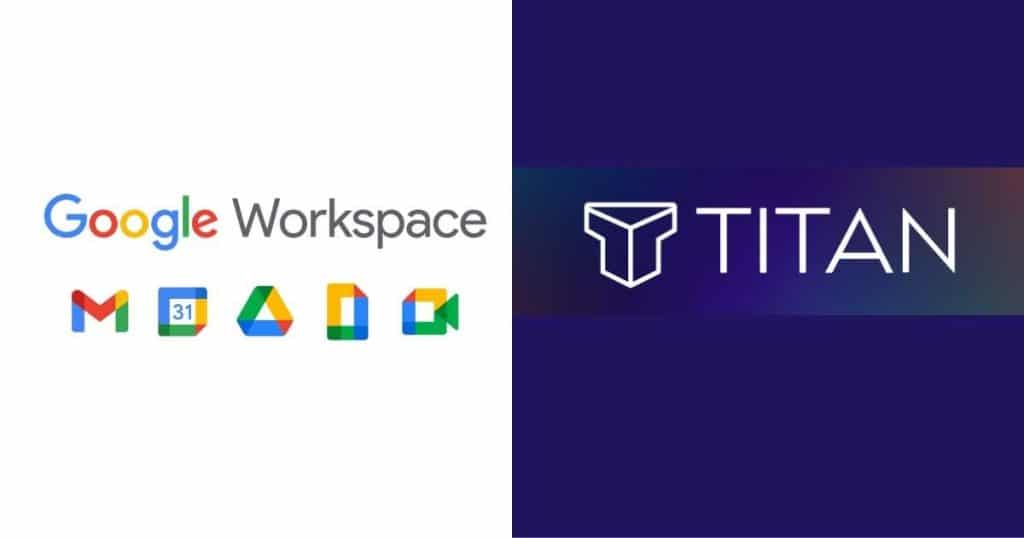 Bluehost directly integrates with Google Workspace through your control panel, so you can easily collaborate with your team through Gmail, Google Drive, Google Docs, and more.
All you have to do is add Google Workspace to any website hosting plan.
 All Google Workspace plans include:
An email matching your domain.
Gmail.
Google Calendar, Docs, Sheets, and Slides.
30GB of cloud storage.
Google Meet and Chat.
Plus, if you upgrade, you'll receive more storage, advanced security features, and fewer limitations regarding Google Meet and Chat.
Learn more about Google Workspace here.
Hostinger offers professional business email services with the email service provider Titan.
You can choose between two plans, each offering dynamic email services such as:
Read recipes.
Limited email templates.
Undo-send.
Auto-reply.
Email aliases and rules and much more.
If you upgrade to the enterprise plan, you'll also receive advanced features like follow-up reminders, a priority inbox, unlimited templates, and more storage.
Find out more about Titan here.
So, who comes out on top regarding email services? This is a tough one.
If you have a bigger team and want robust collaboration features and professional email service to complement your web hosting, I'd go with Bluehost.
However, if you have a small team and just need an affordable email service alone, I'd go with Hostinger.
Want to know more about Titan vs Google Workspace? Check out my full Google Workspace comparison guide here.
Winner = DRAW. Depends on your specific needs.
Hostinger and Bluehost both offer good customer service options that include:
     24/7 live chat.
     Tickets.
     Knowledge center.
However, Bluehost has a slight cutting edge over Hostinger, with 24/7 phone support. I also found their knowledge center particularly helpful!
Hostinger's support is more limited, with access to live chat only after creating an account.
Plus, they currently don't offer phone support.
On the flip side, Hostinger's support team is multilingual, and their help articles feature helpful video tutorials.
Winner = Bluehost.
Hostinger vs Bluehost – who are they best for?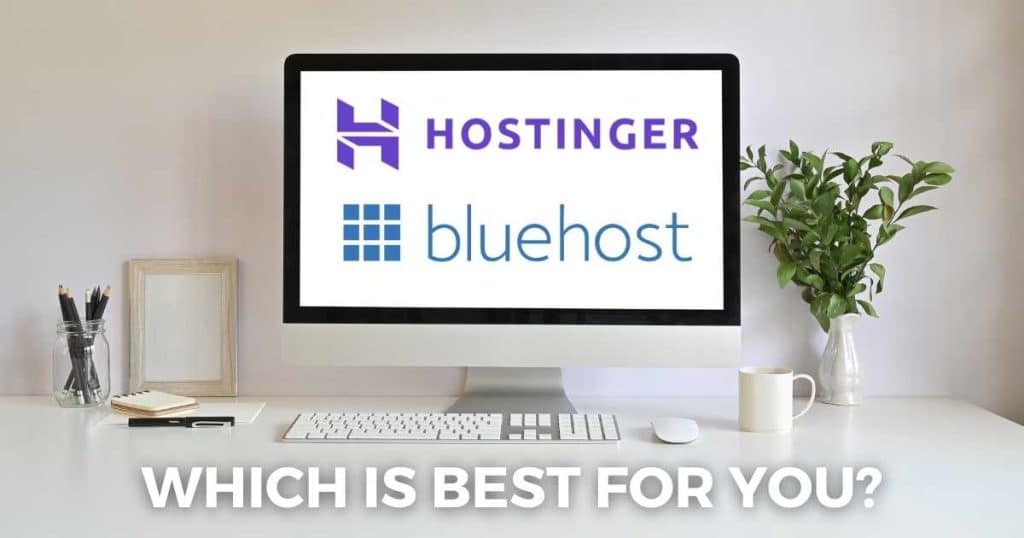 Now its time to answer the question everyone's been wondering…which is best for you – Hostinger or Bluehost?
Well, like many other comparison articles I've talked about, it ultimately depends on what you want to get out of a web hosting platform.
Hostinger is an excellent choice for:
Small business owners on a budget.
Non-WordPress websites.
Users after a cloud hosting service.
Bluehost is a better option for:
People after dedicated hosting plans.
WordPress websites.
Businesses after unlimited resources.
Overall, both Hostinger and Bluehost are impressive web hosting platforms.
I believe both would be sufficient for anyone wanting to create a powerful online presence, whether you're a service or eCommerce-based business!
Check out my complete Hostinger AI website builder review down below.
Stews Final Thoughts
Congratulations!
You've made it to the end of my Hostinger vs Bluehost 2023 comparison guide. I've covered everything these web hosting platforms have to offer.
As you can see, it's no wonder these web hosting platforms are so popular for users all around the globe.
So, let me know what you think and what you end up choosing. I'd love to know!
Thanks for reading.