Monday.com vs Trello – what is the best project management platform for you and your small business?
Let's find out!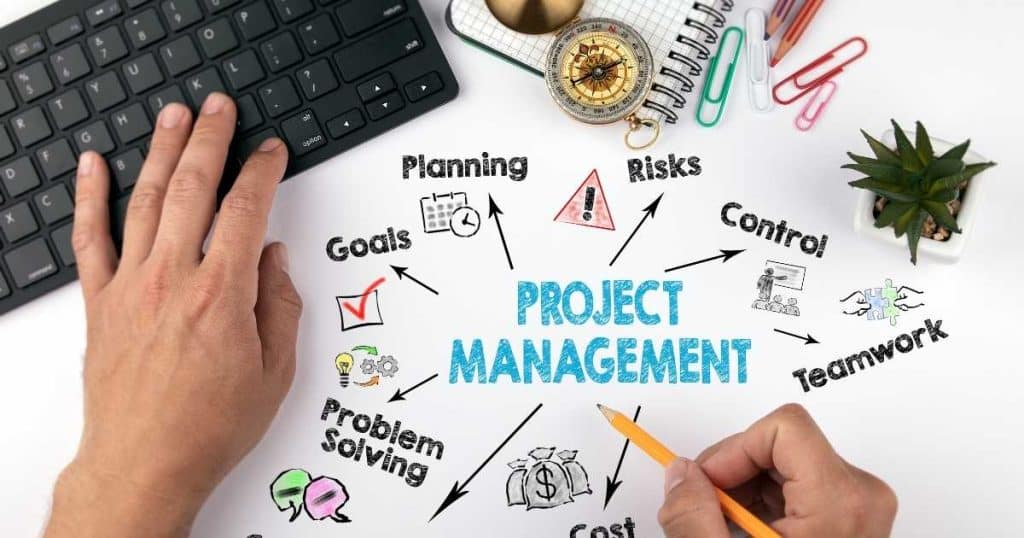 I talk extensively about how the right project management software can keep you and your team organized and on track.
Two popular project management tools that I love are Monday.com and Trello.
Both of these platforms are designed to streamline, organize, automate, and manage your:
Projects.
Tasks.
Teams.
Monday.com and Trello both offer intuitive interfaces and a range of features to help teams collaborate and manage their work.
However, they both have different strengths and weaknesses that make them better suited for certain types of projects or teams.
In this blog post, I'll directly compare Monday.com and Trello to help you decide which tool to choose!
Monday.com vs Trello – what's best for you?
You'll find out by the end of this comparison guide.
Introduction to Monday and Trello
Before I get stuck into comparing Monday.com vs Trello, let's introduce the two.
Monday.com is a leading work operating system that helps teams of all sizes easily manage projects, workflows, and tasks.
Known for its visually appealing and intuitive interface and fully customizable boards and dashboards, it's no wonder Monday.com is such a popular choice!
However, Monday.com is not just a project management system! They also offer CRM, product management, and marketing management tools.
Learn more about Monday CRM here.
On the other hand, Trello is another popular visual, intuitive, and flexible project management tool.
With over 2 million teams worldwide, Trello dominates the online community with its easy-to-use Kanban-type board views.
Essentially, Trello combines everyday to-do-list tasks with larger projects to easily collaborate and communicate with your team and bring your projects to life!
Monday.com vs Trello for Project Management
Now that I've briefly discussed both platforms, it's time to get stuck and directly compare both to find out what is the best project management tool for you and your team!
User experience and adoption: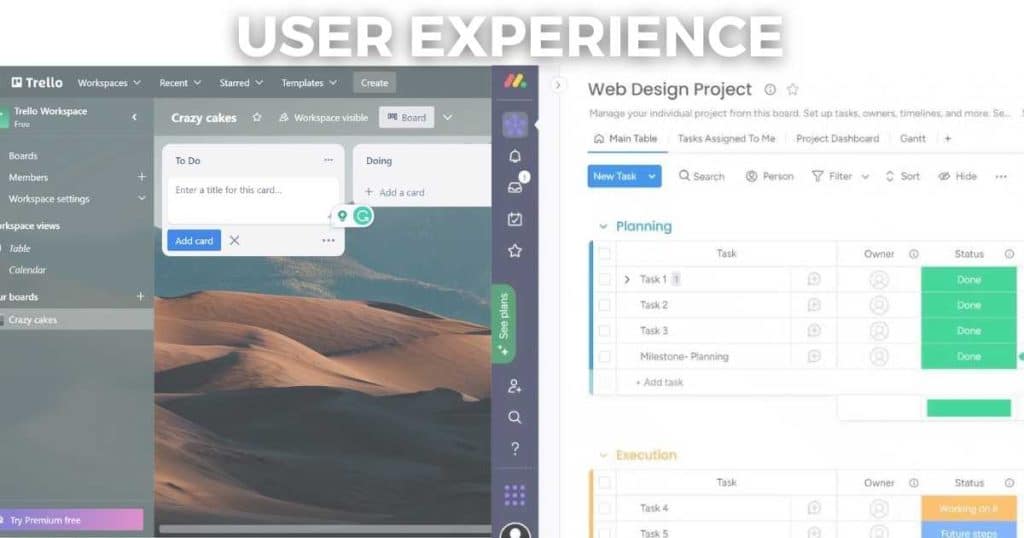 It's safe to say that both Trello and Monday.com are easy-to-use. But exactly how easy are both platforms? Is there one user interface that trumps the other?
In my opinion, Monday.com's visual and colorful interface beats any other project management software. It is by far the most attractive and customizable way you can create and manage projects and tasks!
However, there are quite a large number of features and view types to choose from. And for some users, the sheer amount of options can be quite overwhelming.
Also, their hierarchical structure can take a minute to wrap your head around. But it's quite easy once you do:
Workspace (department).
Folders (used to manage different projects).
Boards (projects)
Groups (used to manage your tasks)
Items (tasks).
Once you become familiar with Monday.com, I promise you'll wonder why you were overwhelmed to begin with! It truly is so fun and easy to use.
Now let's talk about Trello.
If this isn't the first time hearing about Trello, you'll no doubt know about Trello's Kanban-style approach to project management.
Trello's card system has gained popularity in the world of creatives.
You can easily add cards (tasks) to your board (project) and then scribble down notes about your task, add due dates, attachments, and more. Then, you can simply drag and drop those cards between lists.
Think of Trello's card system as a visual post-it note system, but better.
Trello is more simple to use than Monday.com..but simple comes with limitations.
So, what do I think? Well, both platforms are easy to use and adopt, with Trello having a slight edge in terms of initial user-friendliness and adoption.
If you prefer a visual working approach, go with Trello. However, if you prefer flexible over simple, Monday.com is better suited for you.
Winner = Trello
Key features
Project views: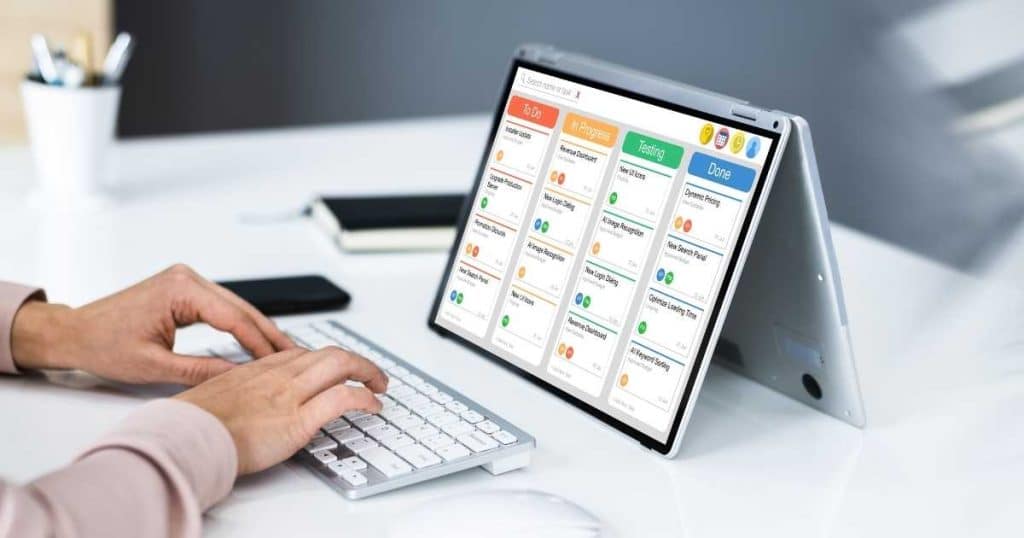 On the free plan, you can view your projects and tasks within Monday.com on either a list (table) or table view. Trello only offers the Kanban view type on the free plan.
If you upgrade to the standard or higher plans on Monday, you'll get timeline, calendar, map, and chart views.
With Trello, you'll need to upgrade to the Premium or higher paid plans to receive dashboard, timeline, table, calendar, map, and workspace table and calendar views for your projects.
Winner = Monday.com
Templates:
A wide template selection of project management, CRM, HR, sales, design (and more!) are available on both platforms.
Draw = No winner
Time tracking:
Both Trello and Monday.com offer time tracking features. With Monday, time tracking is only available on the Pro plan and can be added in as a new column.
Trello's time-tracking feature is a little bit more complicated (but not by much).
You have to add it in as a power-up (integration). However, all plans offer unlimited power-ups, meaning you can access this dynamic feature even on the free plan!
Winner = Trello
Integrations: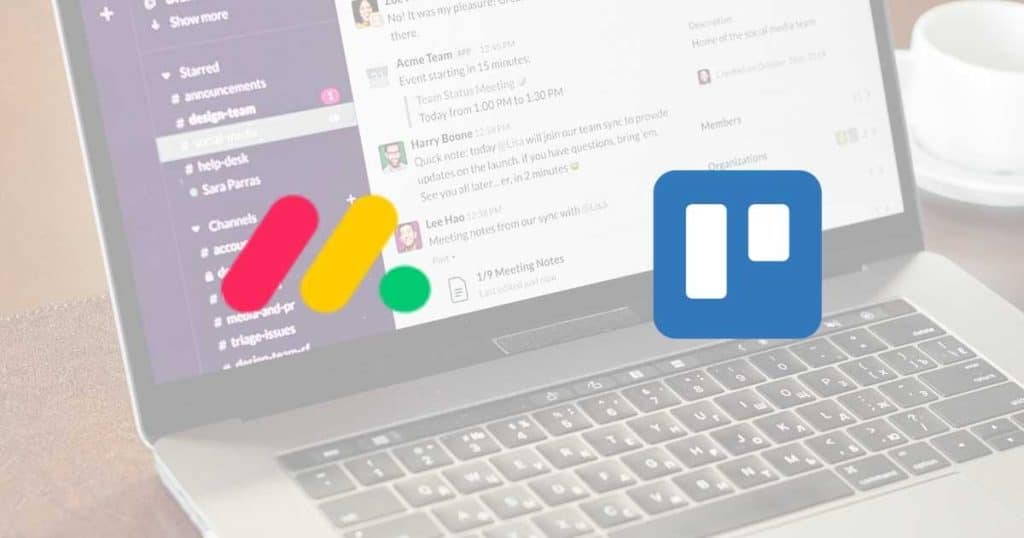 Monday.com offers over 50 integrations through its integration center, including popular sites like Slack, MailChimp, Microsoft, Google Drive, Zoom, and more.
The only downside is that you can only add integrations on the standard plans and above.
Plus, because Monday is an all-in-one work management platform, you can easily interconnect your boards with each other.
For example, you can seamlessly connect your Monday.com CRM, sales, or marketing boards together (if you use those Monday products).
On the other hand, Trello offers a whopping 200 integrations through their 'Power Ups'. You can integrate with different marketing, analytics, HR, and automation tools, including popular platforms like Slack, Jira, Pipedrive, Zapier, and Typeform (just to name a few).
Plus, Trello and Monday.com can integrate together!
So, who wins? This is a tough one.
Winner = Trello (third-party integrations)
Winner = Monday.com (internal integrations)
Automations:
Both platforms offer a wide range of automations that can be customized to you and your team's needs.
I believe Monday's automation capabilities are one of the best in the business.
With Monday.com, you can choose from their wide variety of extensive pre-made automations. Alternatively, you can create your own automations from scratch to suit your team and workflows perfectly.
There are so many categories of pre-made templates to choose from, such as:
Status change.
Recurring.
Notifications.
Features.
Due dates.
Item creation.
Move item.
Subitems.
Dependencies and more.
While Trello does offer automations through their 'Butler' tool, these options are far more limited than Monday.
Additionally, you can integrate automation power-ups if you wish.
Winner = Monday.com
Mobile App: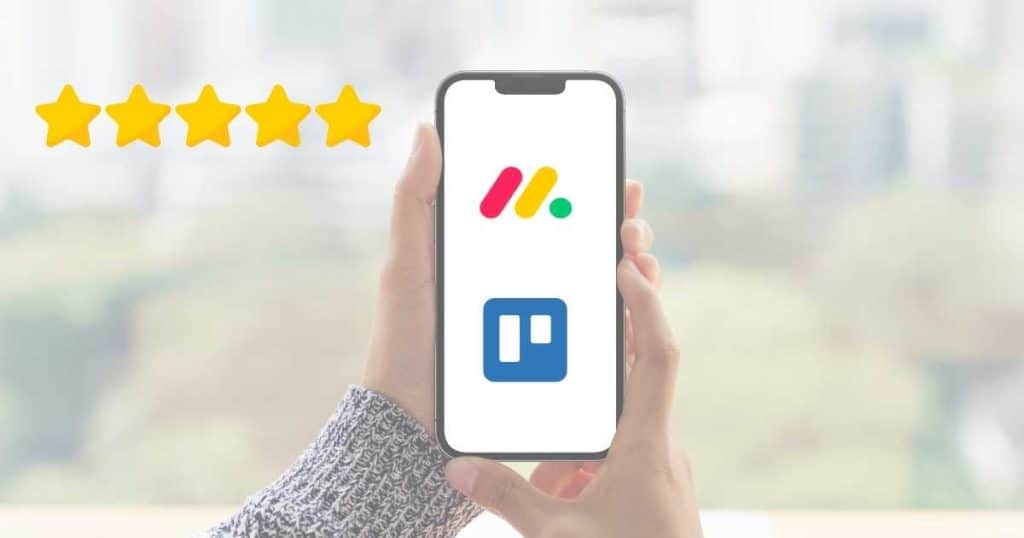 Monday.com and Trello both offer iOS and Android mobile apps where you can simply manage your tasks and projects on the go.
According to user reviews on the App Store and Google Play Store, both Trello and Monday.com's mobile apps have high ratings and positive feedback!
-< Draw
To learn more about Monday.coms automations, read our complete guide here.

Pricing
Next up is pricing – both plans offer similar pricing models with slightly different prices.
Let's dive into both:
Monday.com Pricing: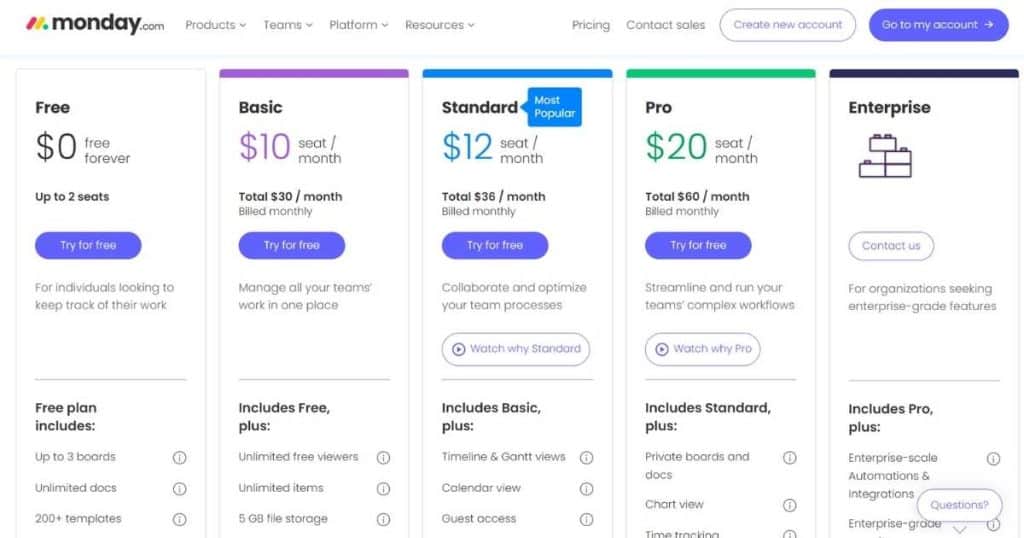 Individual plan (Free for up to 2 users) – 500MB of storage and 3 view types (files, forms, and Kanban view). One board per dashboard and limited search functionality.
Basic plan ($12 per user per month) – 1GB of storage, unlimited number of boards and viewers.
Standard plan ($14.50 per user per month). 20GB storage, shareable boards, more view types, advanced filters, and 250 automations and integrations.
Pro plan ($25 per user per month). 100GB of storage, private boards, more integrations and automations, advanced permissions, advanced view types, and access to the column center.
Enterprise plan (Custom price)
Trello Pricing: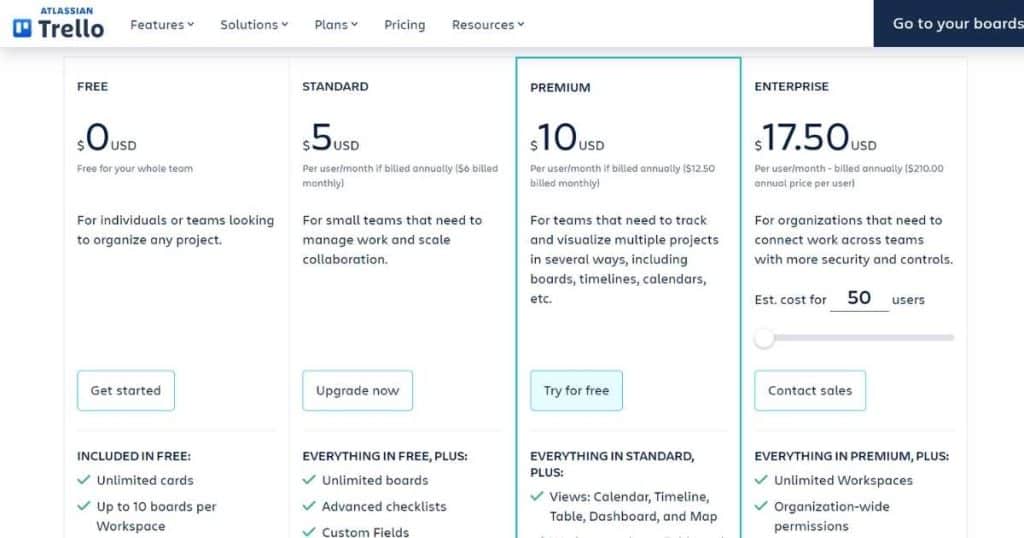 Free plan ($0 – free for your whole team). Unlimited cards and activity logs, 10 boards, unlimited power-ups per board, unlimited storage (10MB per file)
Standard plan ($6 per user per month). Unlimited boards, custom fields, advanced checklists, and unlimited storage (250MB per file).
Premium plan ($12.50 per user per month). Multiple view types, admin and security features, and simple data export.
Enterprise plan ($17.50 per month for 50 users. The price increases the more users you have). Unlimited workspaces and advanced permissions.
As you can see, Monday is slightly more expensive than Trello, which can add up if you have a lot of users. You'll also get more storage, users, and integrations with Trello's free plan.
However, Monday offers more view types and flexibility on lower-tiered plans.
Winner = Trello
Trello for Project Management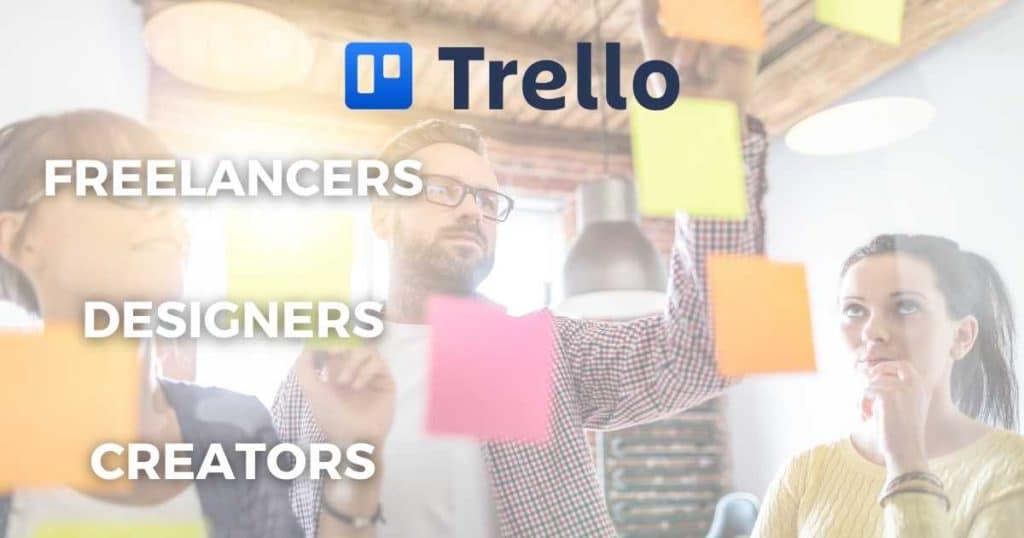 Trello project management is designed for freelancers, designers, creators, or small teams after a simple, visual way to manage their projects and tasks.
This is because of Trello's flexible, Kanban-style board system, where you can organize your tasks and workflows in a way that makes sense for you.
If you're after a project management tool that focuses on tasks such as task tracking, collaboration, and project visualization, Trello's card-based system allows you to do just that!
You can also add such a high level of detail to your cards (tasks) including:
Titles.
Descriptions.
Videos.
Attachments.
Labels.
Checklists.
Due dates.
Members and more.
The best part? You can easily see all that information within your cards in one easy glance.
So, if you want to watch your projects and tasks come to life, Trello is the ideal choice!
Monday.com for Project Management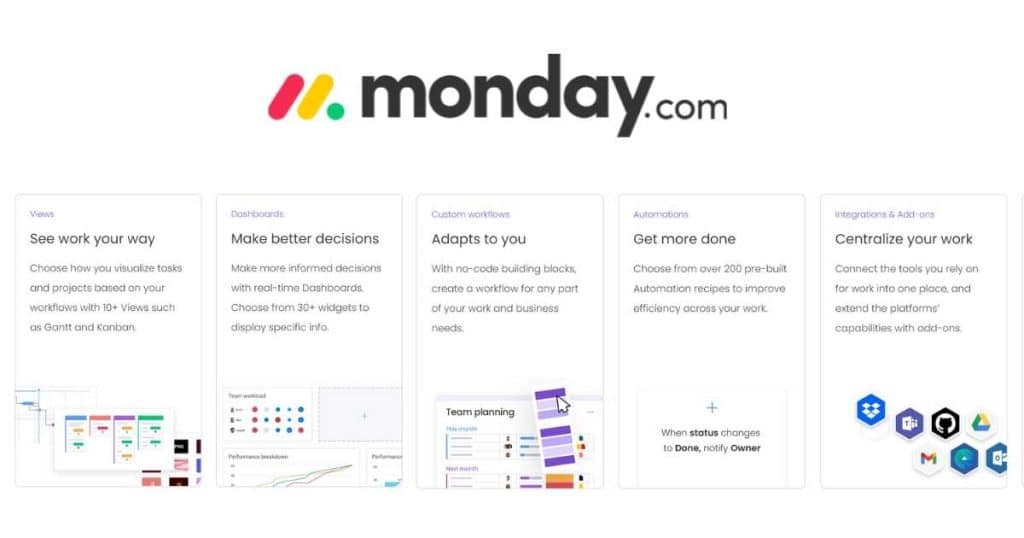 As I mentioned earlier, Monday.com may initially seem overwhelming.
However, once you take some time to navigate your way through your dashboard, you'll love how simple it is to create, customize and manage your projects and tasks.
Within each board, you can create items (tasks or projects).
Then, simply customize your boards and items by adding columns, which can be used to track information such as:
Due dates.
Status.
Task owners.
Additionally, you can comment, tag, and '@' mention team members to ensure you're always in touch with your team!
My favorite feature of Monday.com is how you can easily connect your elements, items, and dependencies across multiple boards.
If you're a small team after a comprehensive, fully customizable, yet easy-to-learn project management system, look no further than Monday.com!
Monday.com vs Trello: Which is best for your Business?
Choosing the right project management tool is never easy.
So with that said, what do you choose? Monday.com vs Trello?
Ultimately, the choice is yours.
Monday.com is more feature-rich, with built-in automations and a customizable board system.
I believe Monday is best suited for small to medium-sized teams that require more advanced and flexible project management capabilities.
On the other hand, Trello is a great option for creators, freelancers, or small unique teams, as their Kanban-style board system can fit a variety of workflows or teams.
My Final Thoughts
And with that said, you've now reached the end of this Monday.com vs Trello 2023 review!
As you can see, both platforms are great project management options for you to stay on top of your tasks and projects.
I suggest considering factors like your team size, your work style, project complexity, required integrations, and budget.
And if you're still stuck after that, check out both free plans and give them a go!
What have you got to lose?
Let me know how you get on.