Zoho is a leading all-in-one business suite and cloud-based software with integrated customer relationship management (CRM), business emails, email marketing, collaboration, customer service, accounting software, and more.
These tools and important activities help your small business grow and succeed online!
One of the things we love about Zoho is that all of their products interconnect with each other.
Zoho also offers a completely free plan no matter what product you're using within the platform.
This is perfect for small teams wanting to leverage core business activities without blowing their budget!
Now the focus of today's guide is on Zoho Projects.
This online project management software is ideal for both basic and complex project management requirements.
Zoho Projects: Best Online Project Management Software
In this Zoho Projects tutorial, you'll learn how to use Zoho Projects to manage, streamline, and enhance your project workflows.
If you're a beginner, you'll absolutely love Zoho's user-friendly interface.
Let's get stuck in below and find out why!
How to Use Zoho Projects?
This detailed guide will help you setup and use Zoho Projects and all their incredible unique features they offer.
So, lets get dive into it!
The first step in getting started is to sign into your Zoho account.
Don't have a Zoho account?
Get started with Zoho Projects for FREE here 
*The link above is an affiliate link, which means we will get a commission if you upgrade to a paid plan (with no extra cost to you). This helps support our education based website and we thank you in advance!
Once you've signed up and signed into Zoho, we'll meet you inside.
Also Read: How To Use Zoho Mail
Step 2: Choose a Pricing Plan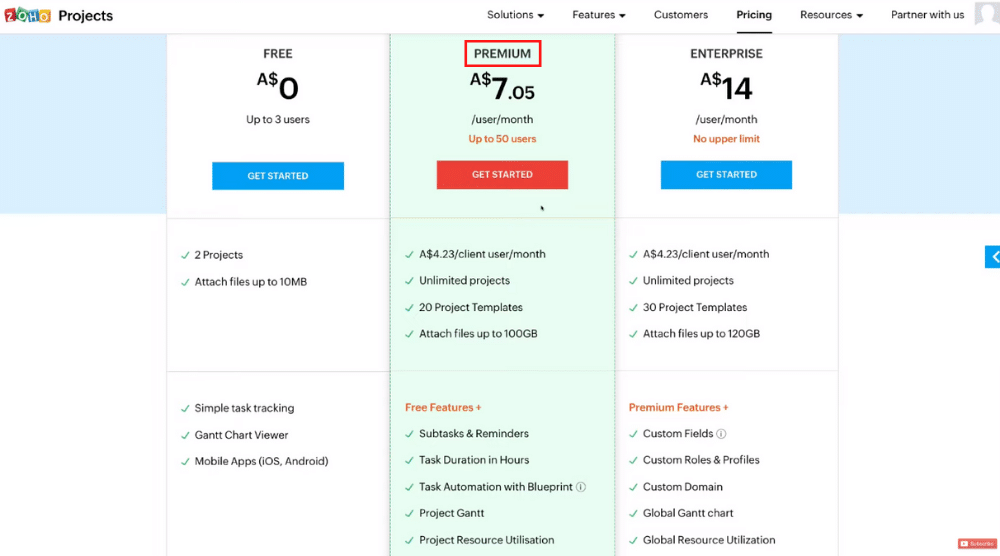 The next step is to simply pick a pricing plan.
Simply click 'Pricing' on the menu bar, and choose between the three pricing plans:
Free, 
Premium (at $7.05 per user, per month)
Enterprise (at $14 per user, per month).
As you can see, each plan has its unique advantages.
Whilst the free plan doesn't cost you anything, it does have its limitations,including a maximum of three users and file attachment size limits. 
However with that said, the free plan is more than sufficient for small businesses wanting to get started with project management activities.
For this Zoho Projects tutorial, however, we'll go ahead with the Premium plan.
With this plan, you can attach 100 GB worth of files, access 20 project templates, and create and manage unlimited projects.
Since we're going to cover these features in this guide, we've opted for the Premium plan.
The other important thing to mention is that you get a 10-day free trial with the premium plan!
This is awesome, as it means you can try out all of Zoho's impressive features before commiting.
Once you've picked a plan:
Click the 'Get Started' button under the Premium plan.
Follow the step-by-step process as guided by Zoho Projects to complete your sign-up.
You'll then arrive at your Zoho Projects dashboard.
Step 3: Set Up Your Account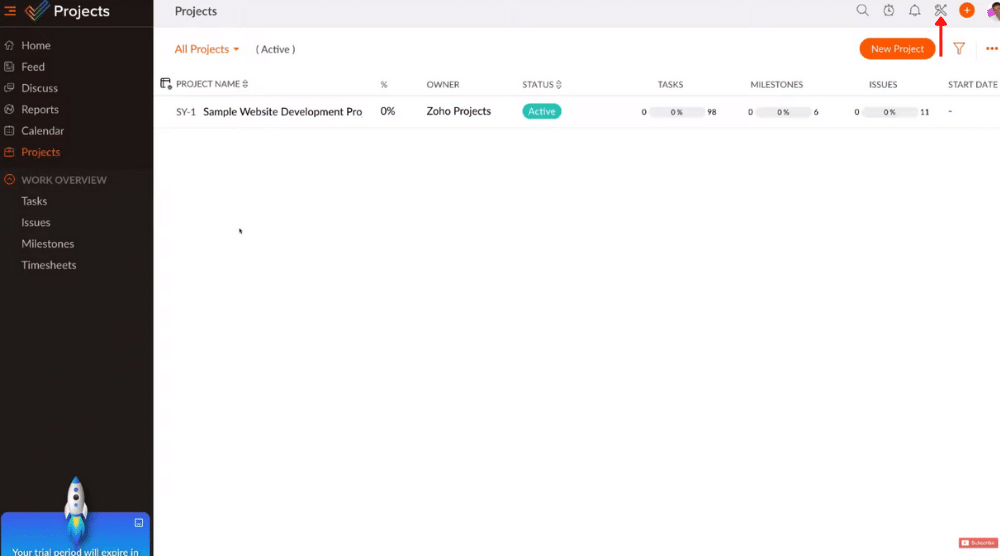 Inside your fresh Zoho Projects account, notice the trial period widget in the bottom-left corner.
Simply upgrade at any time by clicking 'Upgrade Now'.
If you decide not to, upgrade you'll be automatically downgraded to the free plan once your trial period ends.
Now, follow these steps to complete the initial setup:
Navigate to your top-right corner and select 'Setup' (refer to the screengrab)
Start customizing your account under the 'Personal Settings' tab.
For instance, you could choose the most used module under the 'Landing Page' section.
Every time you log in, you'll then land on this module (Home, Feed, Projects, Reports, Calendar, and Discuss).
Click 'Update' after selecting the module.
Under 'Configurations',  set up and verify your email and change your portal URL.
For this Zoho Projects tutorial, we'll keep the default settings on for Date & Time Settings, Project & Budget, Task & Timesheet.
However, you might want to change these depending on your business and account requirements.
Step 4: Create Zoho Project Templates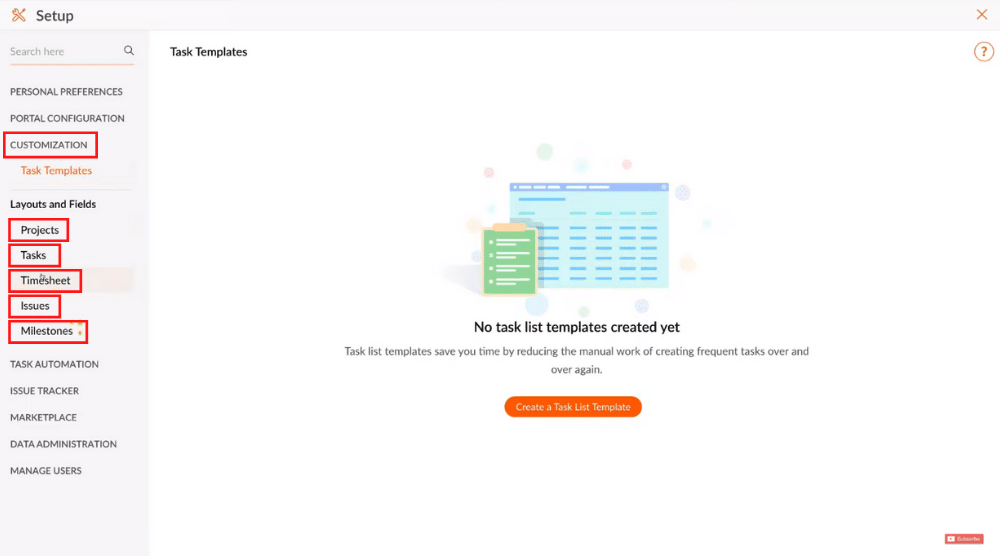 Under the 'Customization' tab, you can create Zoho Projects templates for tasks, projects, timesheets, issues, and milestones.
Think about the time you could save by not doing this from scratch every time you need to create a similar new project, task, or workflow?!
We'll skip task automation and issue tracker features for now (see the navigational panel on the left), and dive into those features in a more advanced tutorial.
Step 5: Leverage Marketplace / App Integrations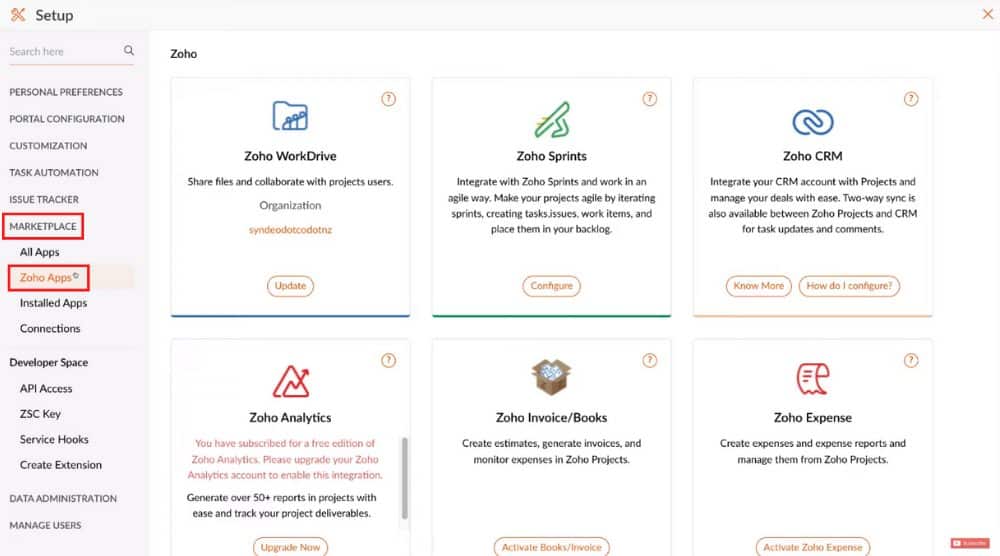 Next:
Below 'Issue Tracker', click 'Marketplace'.
This is where you can integrate important apps with your Zoho Projects account.
Click 'Zoho Apps' (see the menu on the left).
Here you'll find all the other Zoho Projects integrations!
Because of these dynamic integrations, Zoho Projects has truly become an incredibly well-known and well-used project management software globally for small businesses!
Step 6: Add Users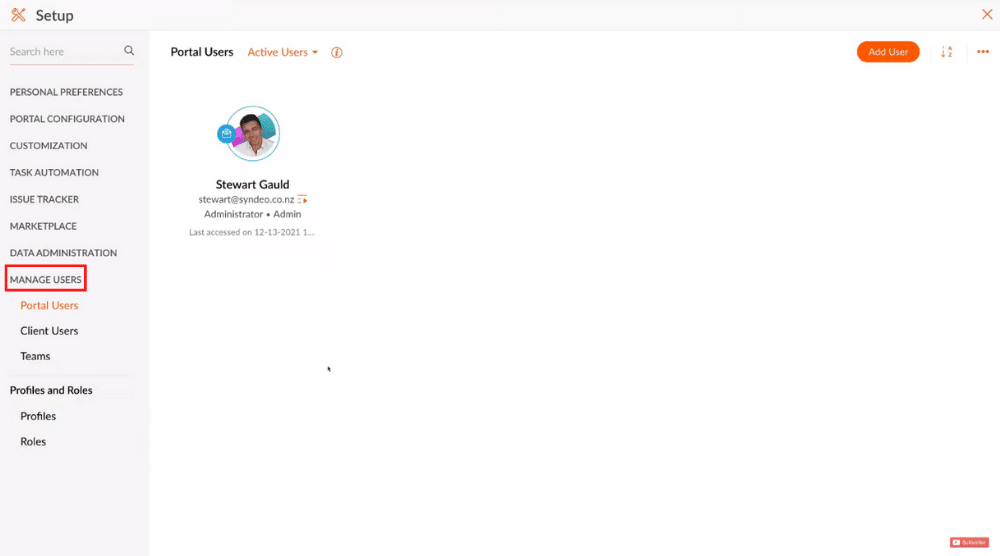 To add a new user:
Click Manage Users' on the left-hand side bar.
Select 'Portal Users'.
Click 'Add User' in the top right-hand corner.
And it's that easy to collaborate with your teammates on this amazing online project management software!
What about if you want to add your client users too?
Well, you can! Simply do that under 'Client Users'.
Don't worry, they'll have limited permissions on your account.
Apart from that, you can also manage teams, profiles, and roles.
So go ahead and add a few users you want to collaborate on projects.
When you've finished adding users:
Click the 'X' button to exit in the upper-right corner.
Again, in the far-right corner, you'll find your profile section.
This is where you can see your subscription details and change your pricing plan.
Below that, you'll notice basic appearance settings such as themes and night mode.
Step 7: Know Your Dashboard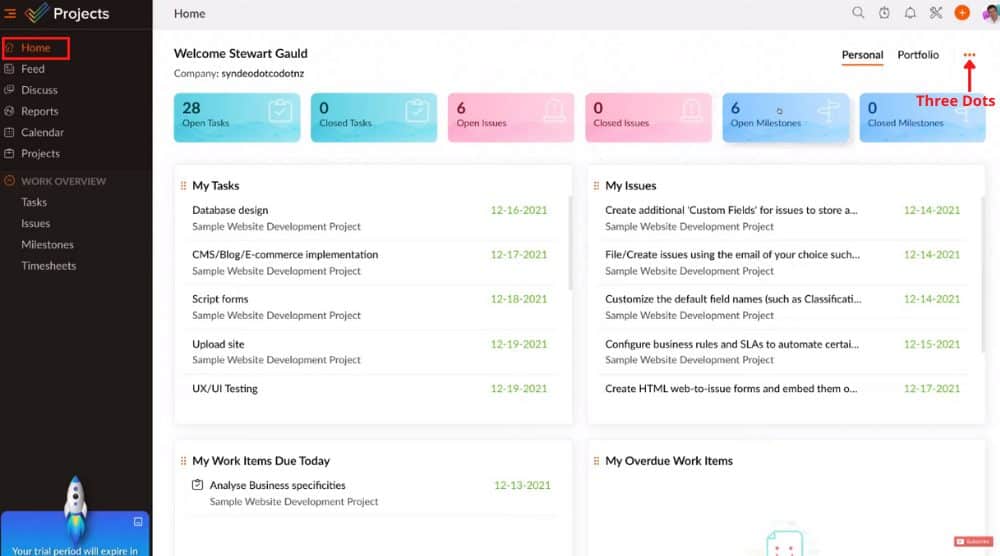 Now its time to familiarize yourself with the Zoho Projects dashboard:
Click 'Home' (see left-hand side menu), to view a snapshot of your activities such as open tasks, closed tasks, open issues, closed issues, open milestones, and closed milestones.
The widgets can be customized by clicking the three dots in the upper-right corner.
Below 'Home', you'll find 'Feed'.
This is where you can start a discussion with your team on Zoho Projects.
To find updates from different people, click 'Status' next to 'Feed'.
Click 'Activity Stream' next to 'Status'  to view the timeline of activities happening in your Zoho Projects account (refer to the screengrab).
When you need to converse with your entire team, select 'Discuss' on the left-hand side bar.
Under 'Reports' (below 'Discuss'), view various reports related to your projects, milestones, task lists, tasks, and subtasks (more on that shortly).
Select 'Gantt Chart' and pick a reporting type that you wish to review.
Just above your Gantt Chart, click 'Add Task'.
Next:
If you want to see a calendar representation of your projects, click 'Calendar' below 'Reports'.
To view your projects dashboard, select 'Projects' below 'Calendar'.
This is where you can create, view and manage all your projects within this online project management software.
Under 'Work Overview' (see the menu again), you'll find tasks, issues, milestones, and timesheets
If you click 'Tasks', you'll see that Kanban view is selected by default.
To change this:
Simply click on it to switch modes.
If you select 'Classic', it will display a list of all your activities.
Select 'Plain' to show a list of tasks.
We prefer the Kanban view, as it's the best visual representation of our workflows.
Similarly, you can select the view type for 'Issues' as well.
Milestones on the other hand, are basically sequences in your project timeline that you need to complete to close your project.
This project management software for small businesses can also be used to manage invoices, expenses, forums, feeds, documents, and pages.
These additional modules work towards further enhancing the collaboration between your teams.
However, we're not going to cover these modules in this Zoho Projects tutorial.
Step 8: Create a Project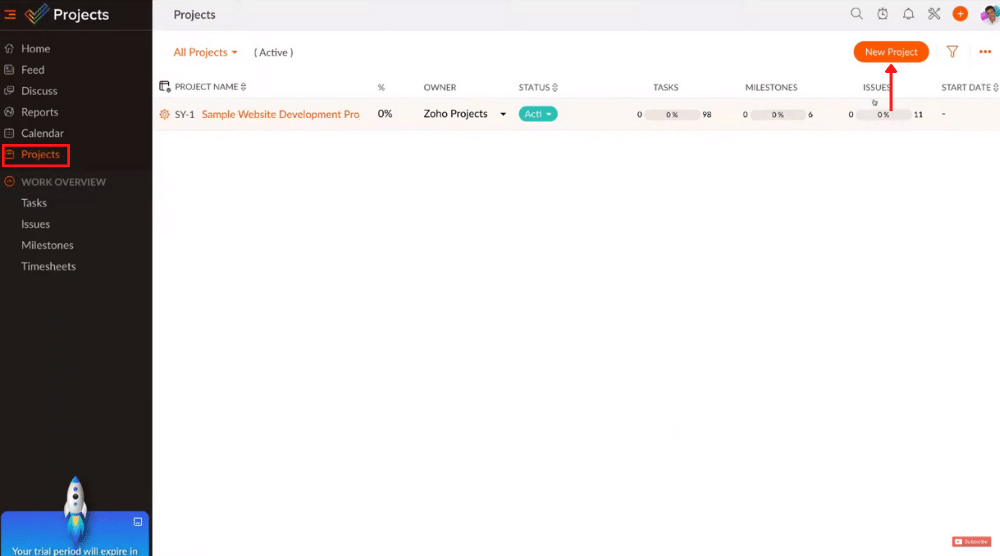 Before you create your first project, it's important to understand the Zoho Project structure, which looks like this:
Project > Milestones > Task Lists > Tasks > Subtasks
To create a project:
Click 'Projects' on the left-hand side bar.
Select 'New Project' in the upper-right corner
Fill in the required details like project title, owner, start date, end date, overview, template, task layout, group name, tags, customized tabs and more.
Choose the project access – 'private' if you want project users to only access it or
Click 'Public' if you want clients to access it.
Remember, they can only follow, view, and comment, whereas project users have complete access.
We'll select 'Private' for this Zoho Projects tutorial and click 'Add'.
Now head back to your 'Projects' dashboard.
You'll see two projects – the sample project and the one you've just created.
Your newly created project can also be seen under 'Recent Projects' on the left-hand side menu.
Select your new project to start customizing and managing it.
To view a snapshot of activities within this project, click 'Dashboard' at the top.
Next to that, you have 'Tasks' where you'll see the project-specific tasks when you create them.
Notice the other options including Gantt & Reports, Documents, Milestones, Timesheet, Issues, and Users.
'Timesheet' is where you can review the amount of  time spent on tasks and issues, and thus manage it properly.
Also Read: Create FREE Business Emails with Zoho Mail
Step 9: Create a Milestone
To add a milestone:
Under the newly created project, navigate over to the 'Tasks' tab.
Click 'Add Milestone'.
Fill out the information (refer to the screengrab)
Click 'Add'
Using the same process, you can add as many milestones as you like.
Also Read: Zoho CRM Tutorial for Beginners
Step 10: Create a Task List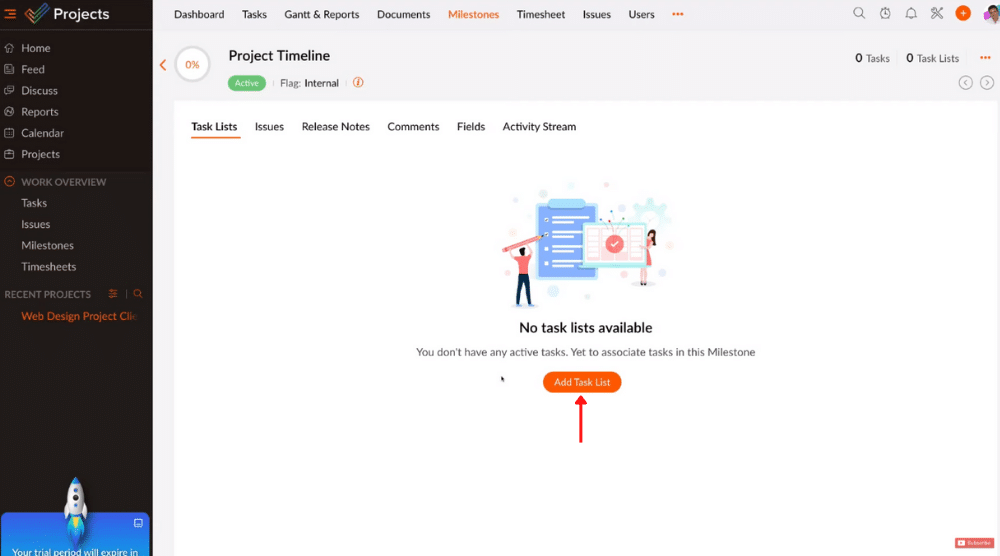 Under your newly created milestone, you can then create a task list.
To do that:
Select 'Add Task List'.
Fill in details such as 'Task list', 'Name', 'Tags'.
Click 'Add'.
For this Zoho Projects tutorial, we'll add another Task List using the same process.
Click on any of these tasks lists.
Select 'Add Task' to create tasks within them.
For each task, you can also attach relevant files if you like.
Select the associated team, owner responsible, work hours needed to complete the task, priority, and more.
Set a reminder, and add a billing type if you like.
If you decide Zoho Projects isn't the right tool for you, check out our other tutorials for some more leading project management tools for small businesses!
Zoho Projects Tutorial: Beginners Guide
This completes our overview of how you can get started and make the most of Zoho Projects.
If you're interested in watching our full Zoho Projects tutorial or beginners, you can do so here.