Having a Facebook Business Page is no longer just a "nice to have" thing, it's a necessity for every business – no matter the type and size of business.
Learning how to create a Facebook Business Page will help you build authority, establish a strong online presence, connect with your target audience, and more.
What's more, is you can create a Facebook Business page completely for free, and setting it up is fairly simple.
You can do so in under ten minutes by following this tutorial.
Since Facebook keeps updating its features and processes, it's important that you read this updated Facebook Business Page tutorial.
How to Create a Facebook Business Page?
Let's begin with our updated, step-by-step guide of how you can create a Facebook Business Page in 2022.
Step 1: Log in to Your Facebook Account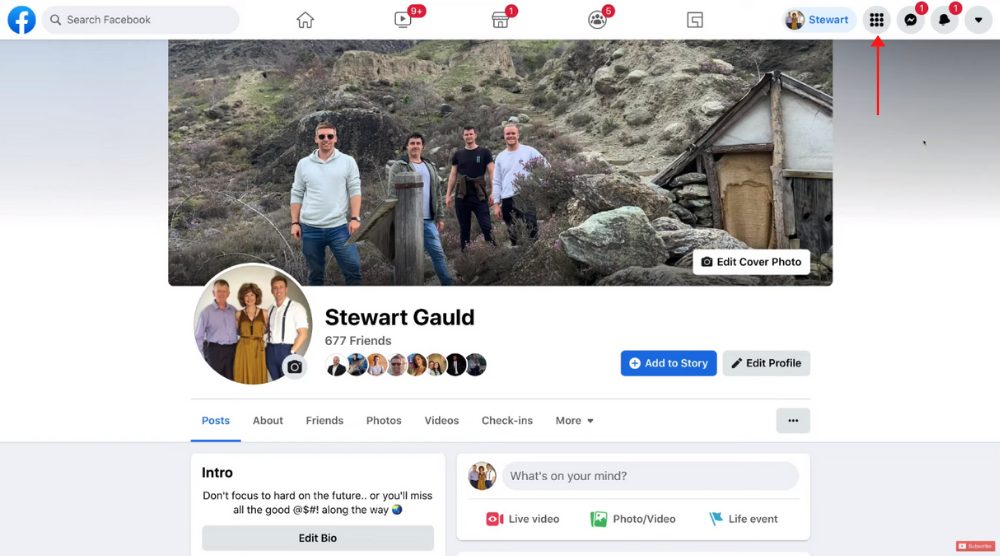 Before we go ahead and explain how to create a Facebook Business Page, we first need to sign up or login to our Facebook Profile (You need a personal profile to create a business page).
To do that:
Either create a new account or log in to your existing Facebook account
Inside your Facebook account, click on the menu (refer to the screengrab to locate the icon).
Now, it's time to move forward with the next step of our Facebook Business Page tutorial.
Step 2: Enter the Page Information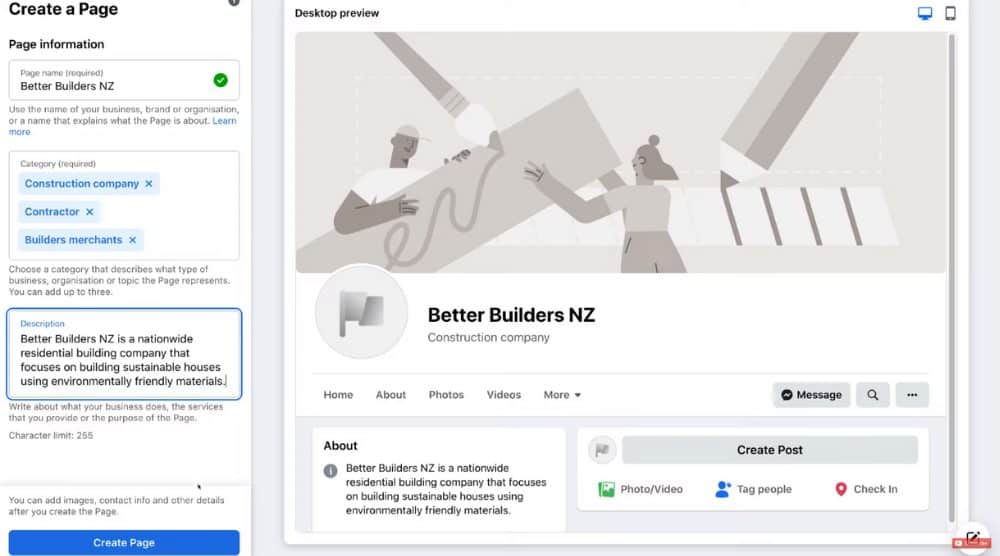 Below 'Create a Page', start filling out the given fields like Page Name, Category, and Description.
On the right-hand side, you will notice the preview of what your Facebook Business Page will look like on mobile and desktop.
For this Facebook Business Page tutorial, we'll create a business page for an example local business called 'Better Builders NZ'.
Our Facebook Business Page name will be the same as our business name (refer to the screengrab).
Under 'Category', you can add up to three categories that best describe your business type.
In this example, we'll pick:
Contractor
Builder merchants
Construction company
You need to enter the required keyword and choose the appropriate option from the drop-down.
Easy enough?
Now, the first category that you selected will be displayed below the page name (refer to the preview on your right).
Below the categories, you also need to enter a brief description of your business (3-4 lines would suffice).
If you have an existing website, just copy and paste the relevant content from the 'About Us' page in the description field.
After adding the description, hit 'Create Page'. Your Facebook Business Page has been created!
Step 3: Add Profile Picture & Cover Photo
Once you've created your first Facebook Business Page, it's time to add some visual elements to it.
Under 'Images' (on your left) is where you'll find the option to add a profile picture.
This should ideally be your business logo in the PNG format (500 × 500 px).
You can also resize your picture through Facebook if needed.
Click on 'Add Profile Picture', upload a logo (if you have one), and that's it.
However, if you currently don't have a logo or don't have the right dimensions, we advise watching this tutorial on how to create a logo with Canva.
This is a powerful free design tool that allows you to create all sorts of marketing materials.
Once you upload your profile picture, it's time to add a cover photo in this Facebook Business Page tutorial.
To do so:
Click on 'Add Cover Photo' on the menu
Locate and upload the required cover photo in the PNG format (315 × 850 px in dimensions). Again, the cover photo can be designed using Canva for free. If you wish to make the most out of Canva, watch this complete Canva tutorial for beginners.
Read more: Canva Free Logo Maker
Step 4: Connect with WhatsApp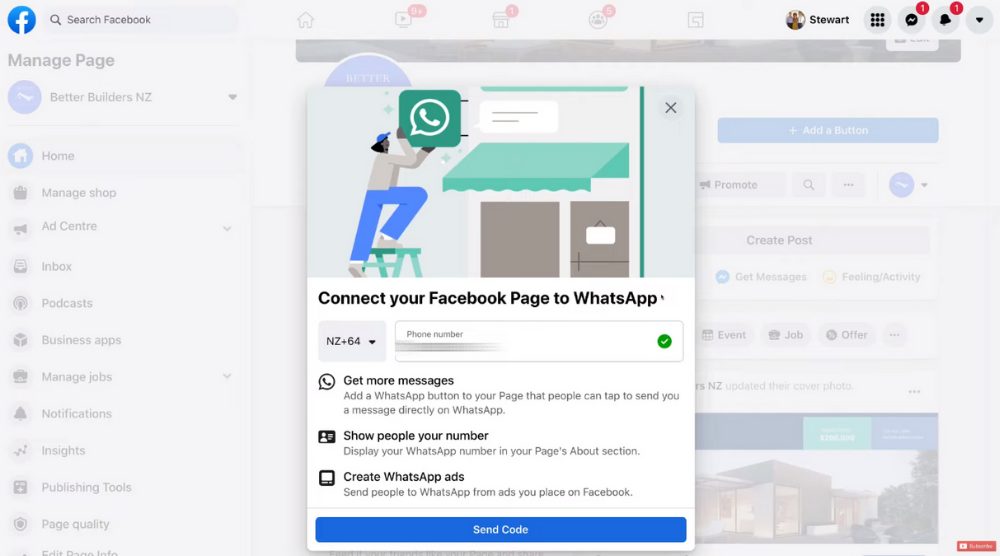 Recheck the page appearance on desktop and mobile.
When you are satisfied with all the details, click on 'Save' in the bottom-left corner.
Since Meta (formerly known as Facebook) owns WhatsApp, you can connect your Facebook Business Page with your WhatsApp number.
This WhatsApp connection allows you to have one-on-one, swift communication with your visitors via WhatsApp.
However, for this Facebook Business Page tutorial, we'll exit out of it for now.
If you have WhatsApp for business, we feel it's beneficial to connect it to your Facebook Business Page.
Step 5: Unpublish the Page for Edits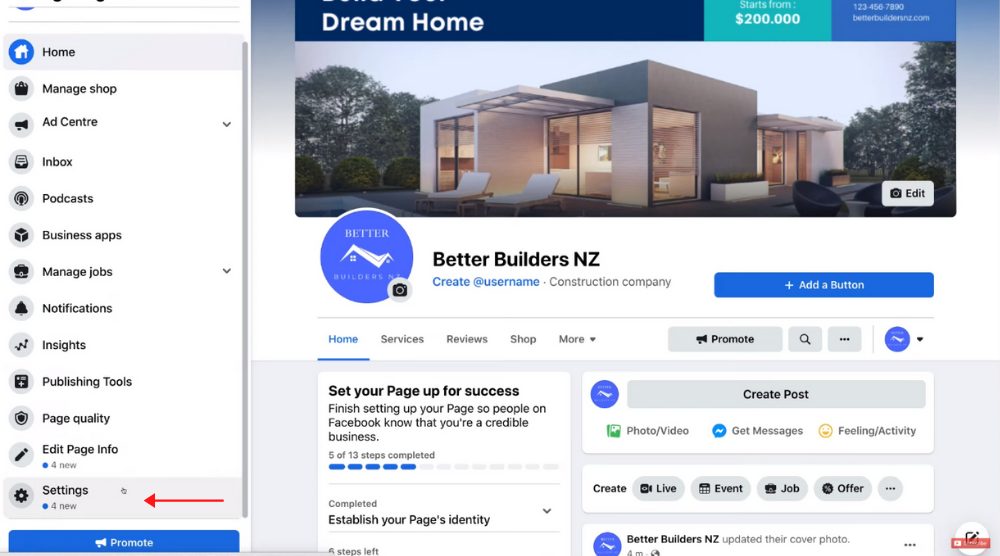 Remember that this page is now live for anyone to find.
However, we still need to further optimize our page before it's ready to be viewed publicly.
Hence, we'll unpublish our Facebook Business Page in this section.
You can unpublish your Facebook Business page by navigating through the following actions:
Head over to the left-hand side navigation menu.
Scroll down and select 'Settings'
The first option seen on your right is 'Page visibility'.
Click the pencil icon next to 'Edit'
Select 'Page unpublished' and hit 'Save changes'
For the reason to publish, click 'The Page isn't finished yet' and hit 'Next'
Select 'Unpublish' and click 'Close'
Your page is now successfully unpublished.
We'll republish it later in this Facebook Business Page tutorial after completing the additional settings.
Step 6: Optimize Your Facebook Business Page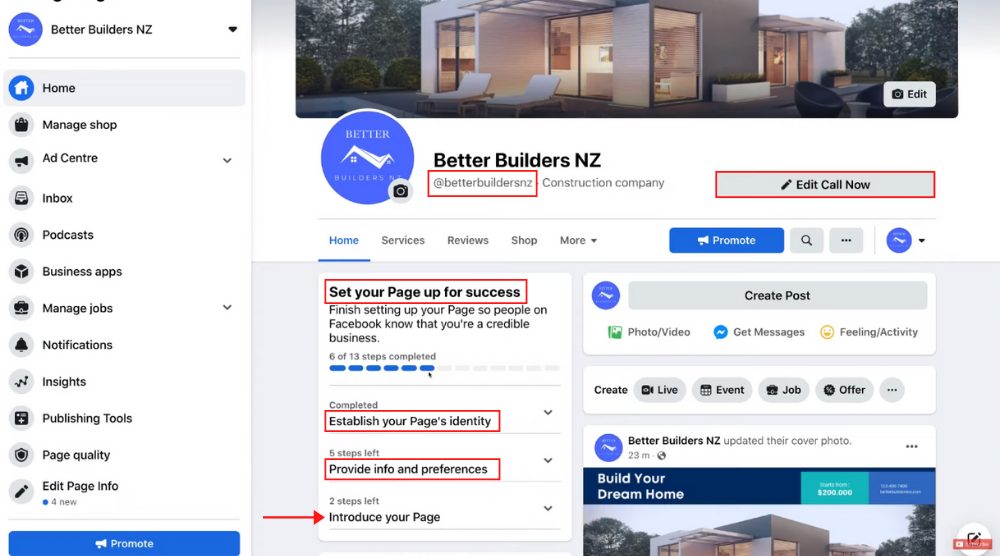 See your business name in the upper-left corner above 'Page Settings'?
Click on it to head back to your Facebook Business Page.
Add a Call-to-Action (CTA) Button
Before we republish our page, we need to optimize it.
To do so, we will first include a CTA button.
Listed below are the steps required:
Click on 'Add a Button' (This is your pages' CTA or Call-To-Action button)
Select the appropriate action that your visitors should take when they land on your page. In this Facebook Business Page tutorial, we'll go for 'Call Now'(we want our potential customers to call our business)
Add your phone number and hit 'Save'
Using this button, visitors will be able to call our business.
You can see the preview which shows the newly added button.
Create a Username
Adding a username helps your target audience to discover your Facebook Business Page.
Create a username using these steps:
Click on 'Create @username' below the Facebook Business Page name
Ideally, go for a username that is similar to your business name. Otherwise, it will just confuse the target audience. If the username isn't taken, you'll see a green tick. If not, you'd need to use a variation of your business name. But it should resemble your business name if it can't be exactly the same.
Select 'Create Username' and click 'Done'
Congratulations! You now have a username for your Facebook Business Page.
Complete Page Setup
We now need to ensure that the settings are correct.
Can you see the 'Set your Page up for success' section?
Under it, you'll see that there are 13 stages in total.
At this point, you should've completed six stages by now.
'Establish your Page's identity' is what you've finished doing in this Facebook Business Page tutorial.
Under this, we've completed five actions:
Create a Page name
Choose a category
Add a profile picture
Add a cover photo
Add a description
Next, you need to:
Provide info and preferences
Introduce your Page
For example, if you click on 'Provide info and preferences', several other options appear, such as adding a website (if you don't have one, watch this beginner's tutorial on how to use a free website builder called Google Sites), location info, business hours, messaging preferences (like WhatsApp), and more.
On the other hand, when you select 'Introduce your Page', you'd need to complete the following two steps:
Invite Friends
Create a Welcome Post
Once you complete all the 13 steps, it's time to publish our page in this Facebook Business Page tutorial.
Read more: Google Sites Tutorial for Beginners
Step 7: Publish Your Facebook Business Page
When you're ready to go live, complete the following steps.
Locate 'Settings' on the navigation menu and select it
Under 'Page Visibility, select 'Page published' and hit 'Save changes'
It's that simple!
Here's what you can do next:
You can now start publishing your posts, which could be videos, infographics, articles, or other forms of content.
Send, view, and manage your messages (via Messenger) under 'Inbox'. You'll find it on the navigation menu. Alternatively, you may simply head over to Messenger from the upper-right corner. That will display both your personal profile and business messages.
Notice the menu navigation below your profile picture? To change the navigation section, click on 'More' and select the 'Edit tabs' option. Go ahead and rearrange or enable/disable the navigation tabs.
If needed, you can bring back the default settings by clicking 'Reset to Default'
Navigate back to your business page and select 'Insights' from the left-hand side menu to view basic analytics, such as page followers, post engagement, story reach, post reach, page views, and more.
Create Facebook Business Page in 2022 (Video Tutorial)
You are now ready to establish and supercharge your online presence with a Facebook Business Page!
Check out our complete Facebook business page video tutorial down below, if you prefer to watch rather than read: