Is Elementor AI the best WordPress AI website builder?
I'm sure you're already aware of the revolution that is AI (artificial intelligence).
AI is certainly reshaping our world, and its impact on marketing and website building is no exception.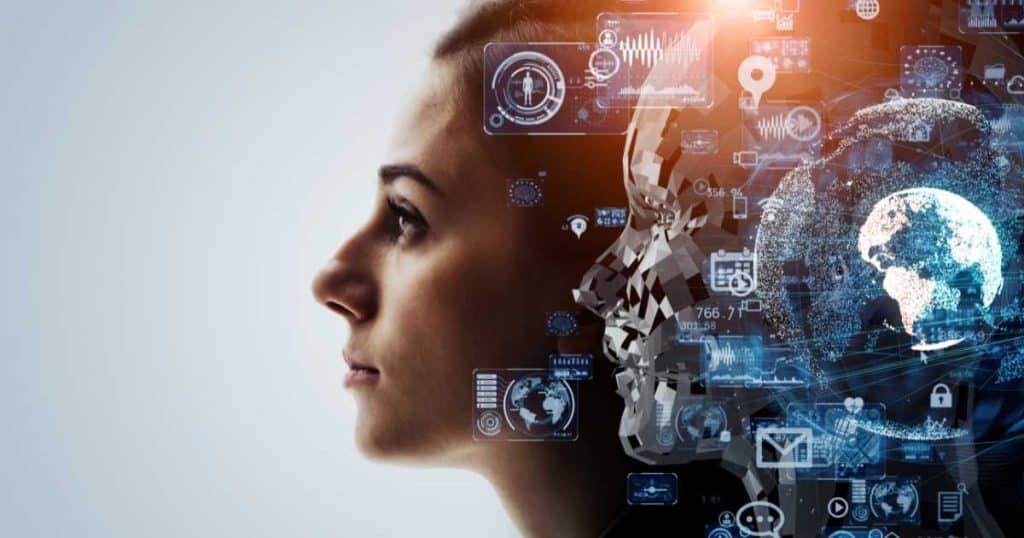 And with Elementor being one of the best WordPress page builders out there, it's no surprise they've gotten on board the AI train.
Introducing….Elementor AI.
There are already dozens of AI website builders out there that can help you build a website in minutes.
So, what sets Elementor AI apart from the rest?
That's what I'm here for!
I'm going to dive into this newly released WordPress-supported AI product to find out…is it any good?
And is it the best WordPress AI plugin out there?
What Is Elementor AI?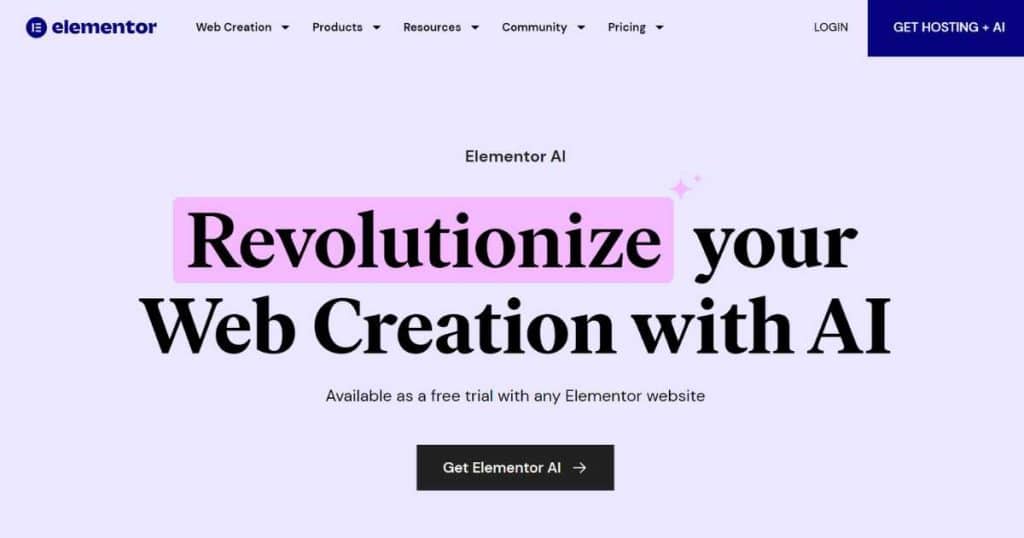 If you have a WordPress website, I'm sure you've already heard of Elementor.
Elementor AI is an AI-powered tool within Elementor to help you build your website quickly and easily.
I always rave about how easy it is to create a professional and full-functioning website with Elementor.
What if I told you Elementor AI makes this process even easier???
Do you need help with your website's content, copy, layout or design? Elementor AI has you covered!
With smart AI tools such as:
Text generator.
Image generator.
Custom code.
Custom CSS.
You can guarantee Elementor AI will transform how you build your website!
So whether you're new to website building or simply want to fully customize your current site, Elementor AI has the potential to revolutionize WordPress page building.
Are you ready to find out what it's all about?
Let's get stuck in.
Pricing
Elementor AI starter: $2.99 per month.
Elementor AI power: $8.25 per month.
One of the things I love about Elementor is that you can use it no matter what Elementor plan you're on.
So if you're currently using the free plan, you can still use these incredible AI features to build your websites! All you have to pay is the additional AI plan fee.
With that said, there are limitations. You won't be able to generate custom code or CSS with a free Elementor plan.
But you can still use the AI content writer to do things like:
Generate text.
Modify the tone of your text.
Translate the language.
Create images.
Fix your spelling and grammar.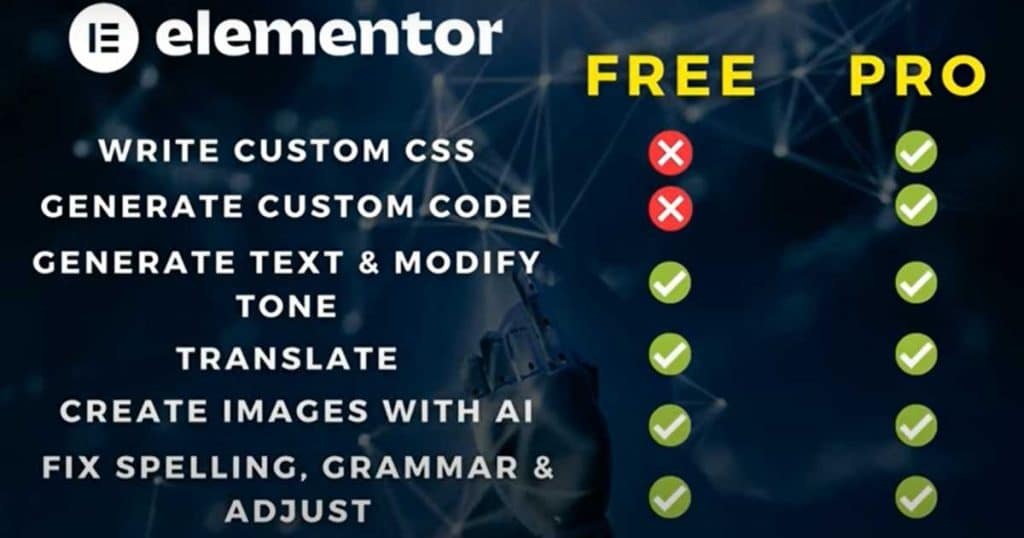 Ease of use
One of the reasons why Elementor is so popular is because it's so easy to use.
Elementors easy-to-use editor works by adding and dropping your widgets (sections) directly onto the front end of your website.
As Elementor AI is located right within Elementor, the way you use it is relatively similar.
This means there is practically no learning curve! All you need to do is learn where the AI feature you want to use is located within the editor – it's that easy.
And with that said, let's jump into some of the key AI-generated features for Elementor AI.
Elementor AI text generator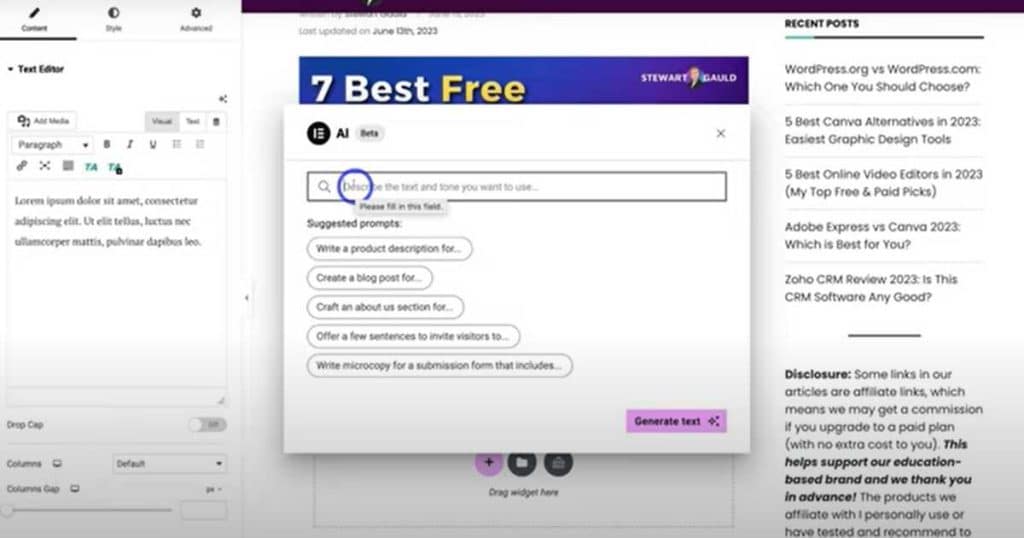 The Elementor AI text generator is essentially an AI writing assistant that helps you create professional and high-quality content and text for your website.
This feature works like other AI-powered copywriting assistants like ChatGPT, Copy.ai, or Jaspar.ai by using prompts.
If you're not a professional copywriter or simply want to save time or money, this could be the answer you're looking for!
So, how does it work?
All you have to do is:
Add a text editor widget to your website (within the Elementor editor)
Click 'Write with AI'.
Type in a prompt.
Click 'Generate text'.
Tweak, delete, or add more content as you wish.
Once Elementor has created your content, you can change the tone, fix any spelling or grammar errors, change or simplify the language or change the length of your text.
And the best part? You can do all that in just one simple click!
This feature is perfect for blog posts, product descriptions, titles, or specific sections on your website.
Simply enable the AI content generator for each widget you add to your website pages.
That's right; this dynamic AI tool is not just for long-form content.
This is the way to go if you want to maintain a consistent and compelling writing style throughout your content and website.
However, like all AI tools, Elementor AI is not perfect.
I would suggest using this feature as a foundation for your work. You'll need to add your personalized brand and human-like touch, as the information can be pretty generic.
Elementor AI image generator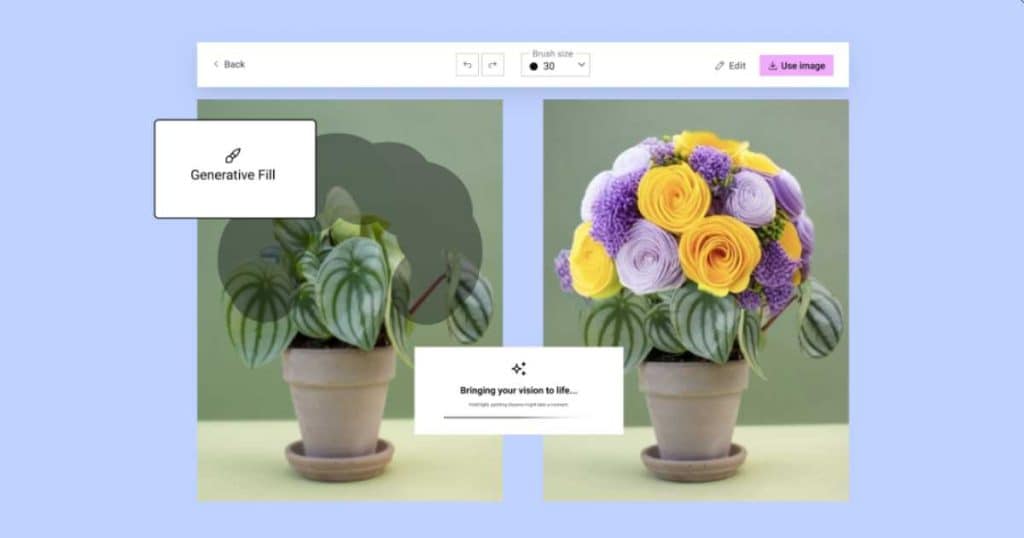 Elementor also offers an AI image generator feature that complements the content generator I just mentioned.
Yup – get ready to create stunning images to bring your content to life.
It works in the same way as the content generator does with 3 easy steps:
Add an image section within the editor.
Type in a prompt describing what kind of image you want to create.
Fine-tune the prompt if it's not exactly what you're looking for.
Plus, if you like the image but want to change, for example, the dimensions or color, you can do this in one click!
Think about how much time you spend on Photoshop or Canva to create the perfect image or the money you spend hiring professional graphic designers.
Well, now you don't have to!
You can guarantee this tool will help you save time, money, and resources.
Elementor AI custom CSS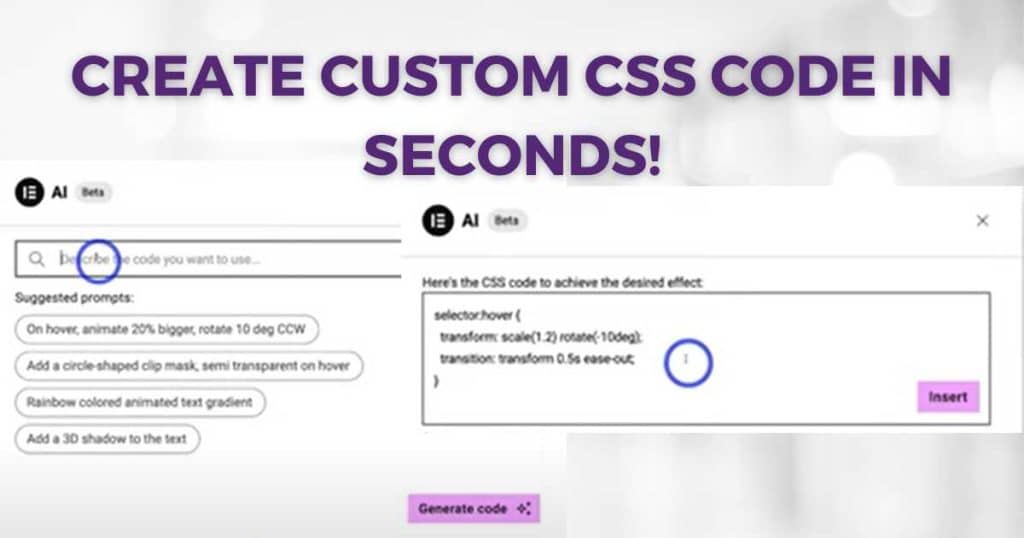 Have you ever wanted to change the color, transparency, size, and more to elements or widgets within your website but don't know how?
Well, did you know that you can add custom CSS to any of your text and image elements or within Elementor AI in just a couple of seconds?
That's right! You can have complete control over the design of your website style without any of the usual energy or technical skills required.
Just select the 'Custom CSS' tab within your Elementor editor, then 'Code with AI', and get ready to customize your widgets without changing a single line of code.
The custom CSS tool works the same way as the text and image generator does.
Simply type in a prompt describing what you want to add or change, and Elementor AI does all the hard work for you.
And if you do have some coding knowledge and want to change something once they generate the code, you can!
This is the perfect solution if you want to change the way something looks, add in a shadow, animation graphic and more.
Elementor AI custom code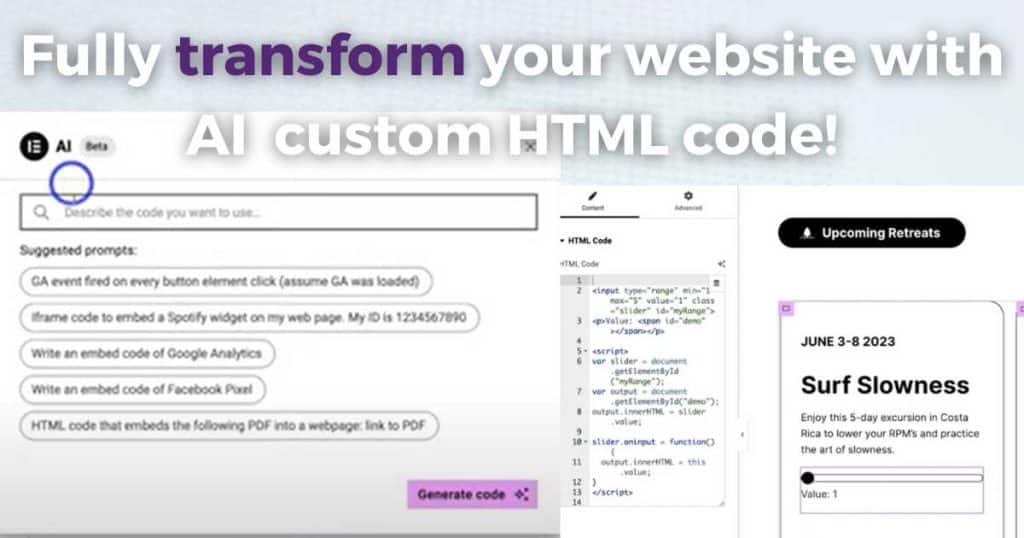 You don't have the time to learn how to code or the budget to hire a professional. Am I right?
One thing we small business owners love about website builders is that they take care of the scary code for us.
But the problem with that is that it limits your creative freedom. In other words, your website is only as unique as the website builder's themes and limited customization options.
With Elementor AI simply:
Add in an 'HTML code' widget within the editor.
Drop it where you want it to go.
Select 'Code with AI'.
Type in the type of code you want to use as a prompt.
This is an absolute game-changer when it comes to website customization!
You can add anything from Spotify playlists or analytical tools like Google Analytics or Facebook Pixel.
Plus, you can add sliders, unique buttons, and more to your website.
Learn how to use Google Analytics here.
Basically, you have the total creative freedom to make your web pages as unique as you want them to be without having to learn any code!
However, I do have to mention it's definitely not perfect. You may have to regenerate your prompt or play around with the code a bit to get it just how you like.
With that said, it is helpful to have some basic coding knowledge up your sleeve.
AI for WordPress (Other tools)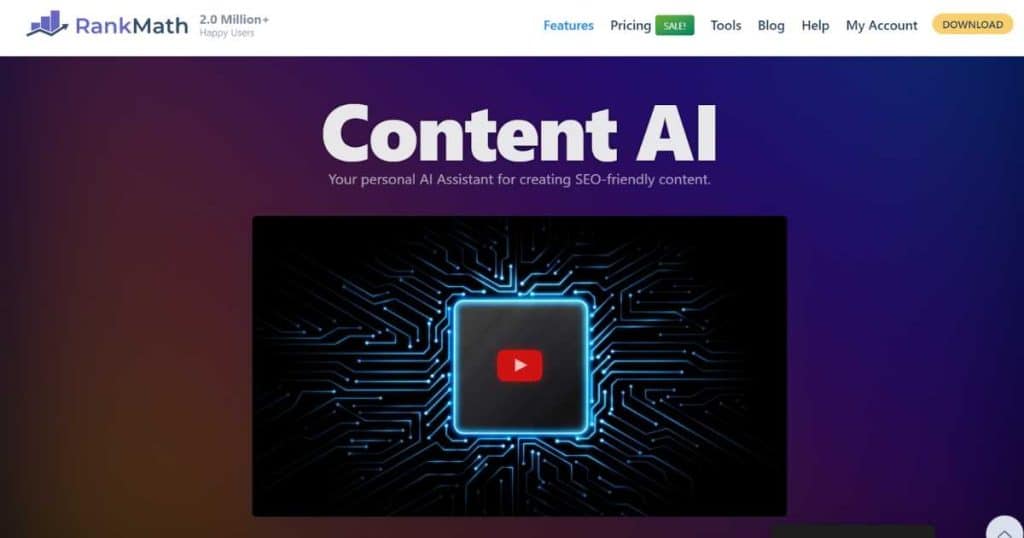 RankMath is undoubtedly one of the best plugins available for WordPress for SEO.
And they've just gotten even better with their new AI-powered feature – Content AI.
Basically, you can create SEO-friendly content that is perfect for your readers and optimized for search engines.
All you have to do is type in a keyword; they do the rest for you.
Content AI generates a list of similar long-tail keywords from 80+ countries that you can use to optimize your posts further.
Read more: How to use ChatGPT for keyword research
Plus, Content AI scours the internet for external links you can use for citations in your content (which is a big hit with search engines these days).
And if you use the Divi theme within WordPress, it gets even better!
RankMath has a dedicated Divi theme integration.
With RankMath's AI-powered Content AI, you can be confident that your content is engaging and optimized for maximum visibility.
If you have a WordPress website, you'd be silly not to use RankMath!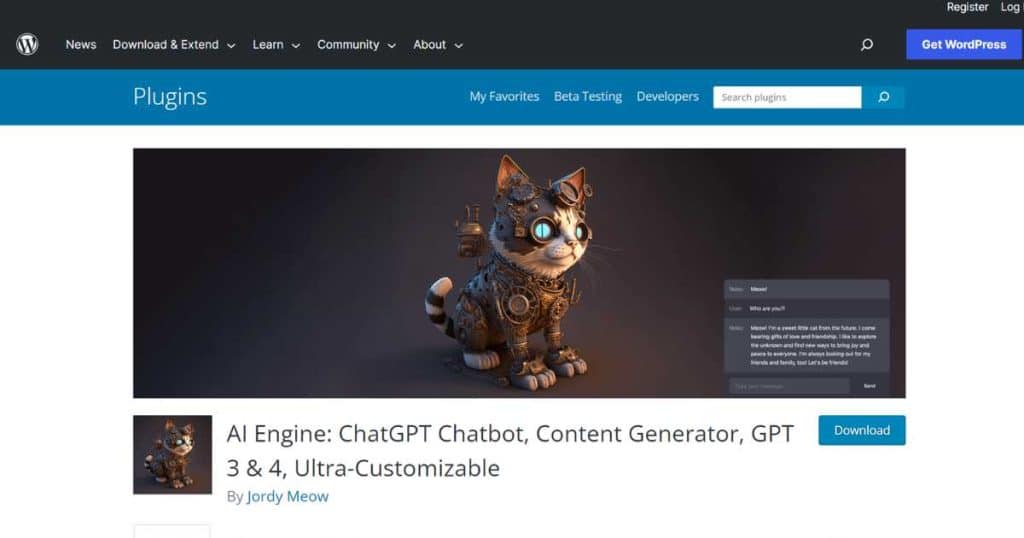 Powered by OpenAI, Engine is one of the best WordPress AI plugins out there.
AI Engine is essentially your own mini ChatGPT chatbot right inside your WordPress dashboard, providing you with everything you need as you maintain your website.
AI Engine gives you a range of prompts and templates to help you create AI-optimized and generated content.
This includes:
Blog posts.
Product descriptions.
Titles.
And more!
Plus, with AI Engine's 'Image generation' feature, you can create and edit stunning visuals to complement your blog posts.
And if you want to take customization to the next level, let me introduce you to the 'Playground' tab.
This is where you can create custom code snippets right on your WordPress website.
But perhaps the most impressive feature of all? The AI Engine virtual assistant.
Simply ask the virtual assistant any WordPress-specific questions, and you'll receive an impressive and accurate answer.
With free and paid plans available, AI Engine is one of the best AI plugins available for WordPress users who want a truly WordPress-centric AI experience.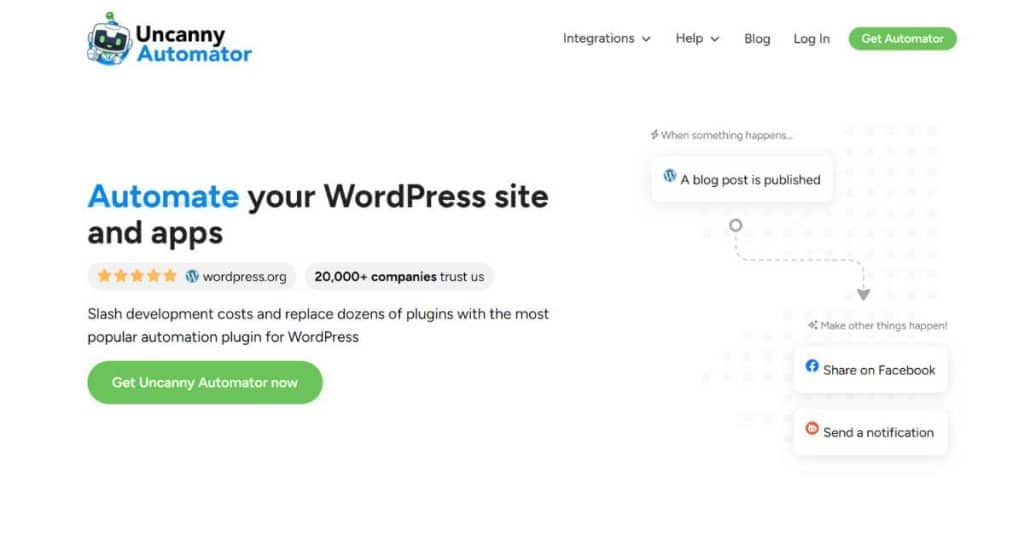 This game-changing automation plugin is a must-have for anyone wanting to create seamless automations!
Basically, think of Uncanny Automator as a built-in WordPress version of Zapier.
You can connect it with all your WordPress sites, plugins, and apps to automate all your tasks!
And with over 100 plugin and service connections, you'll be sure to streamline your workflows and save time.
And now, Uncanny Automator has integrated with OpenAI, meaning Artificial intelligence is now at your fingertips.
This means you can create content, manage comments and answer questions all via an AI-powered chatbot. All you have to do is add a prompt to your automation 'recipe'!
Plus, with delay and schedule automation features, Uncanny Automator is a must-have for any WordPress user who wants to take their website to the next level.
The best part? There's a free plan! So what are you waiting for?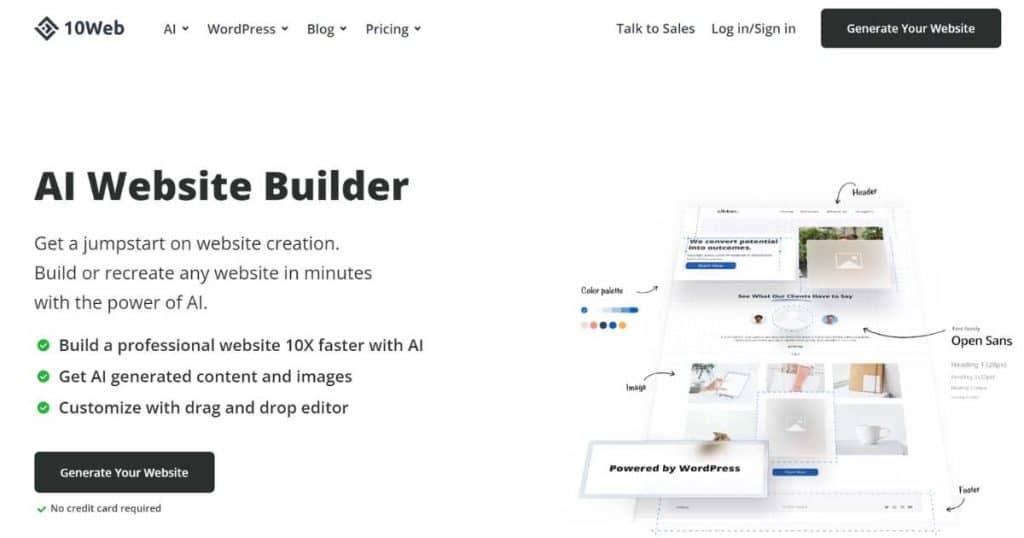 10Web is a total WordPress website builder driven by AI.
By leveraging the power of WordPress and AI, 10Web AI builder can craft the first version of your website in just a few minutes, which is why it's so popular!
With 10Web, you'll virtually eliminate the frustrations, confusion, and technical difficulties beginners face while creating a WordPress website manually.
Like Elementor, you don't have to know an ounce of code to create a fully functional website.
All you have to do is answer a few simple questions, then tweak and customize the AI-generated text and images.
And again, 10Web also uses a drag-and-drop editor and AI assistant to help you craft engaging content (similar to Elementor).
While 10Web is a premium paid platform only, the prices are relatively reasonable for a fully-fledged website builder, starting at just $10 per month for one website.
And with 10Web's web hosting included, you can rest easy knowing your website is in good hands!
But that's not all – 10Web also offers a writing assistant and page speed booster to help you further optimize your website.
Stews final thoughts
And that is everything I wanted to cover in this Elementor AI 2023 review.
So, what do I think? Is Elementor AI the best AI WordPress builder?
There are so many AI plugins, themes, and website builders out there.
Elementor AI has everything you need to create a stunning, personalized and fully functional website in minutes.
If you already use Elementor for your WordPress site, this is definitely the best choice for you.
And if you don't, then the learning curve my be slightly steeper. I recommend trying out 10Web and Elementor AI to see what one works best for you and your WordPress website.
Let me know what you think – have you given Elementor AI a go?
Thanks for reading!