Have you been looking for the ultimate Semrush coupon code? I have good news for you!
If you're serious about driving growth and ranking higher on Google, Semrush is your new best friend.
Semrush is my favorite premium online SEO (search engine optimization) and SEM (search engine marketing) platform in 2023.
And what's more, they offer a generous, no-obligation 7-day trial on all plans so that you can test it out for free.
But did you know that you can actually extend this trial period?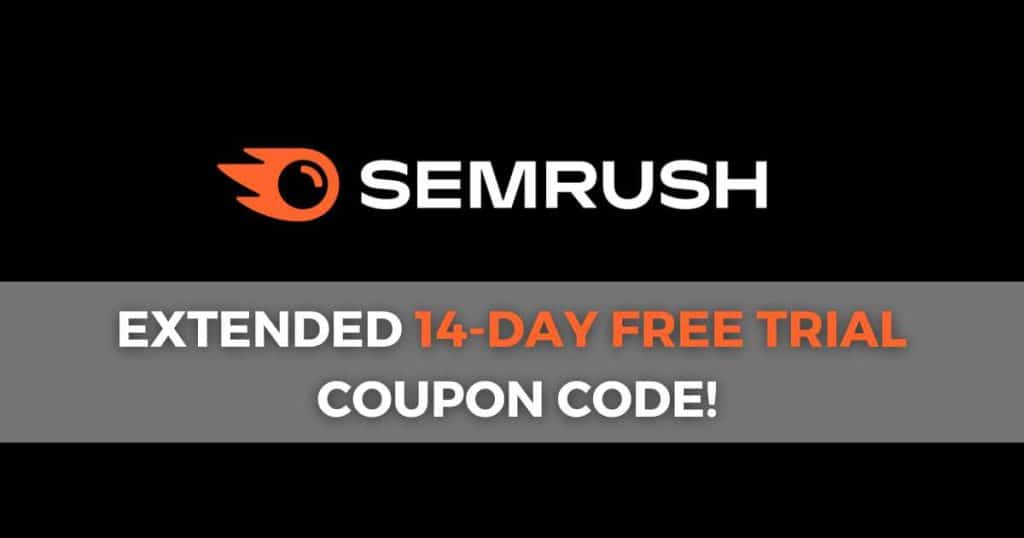 That's right; you can enjoy all the incredible features Semrush offers for free for 14-days with my unique Semrush coupon code (well, it's actually a link that you can simply use and sign up with and access the 14-day free trial).
Follow along to find out how easy it is to redeem the best Semrush discount code on the web.
Semrush Coupon 2023
You won't believe how super simple it is to redeem your Semrush coupon code and receive a 14-day trial!
All you need to do is:
Jump onto the Semrush web page using our Semrush link here.
Click 'Try it Free.'
Enter your details and create an account on the Semrush sign-up page.
Select 'Place the Order' on the 14-day PRO trial plan web page.
The link above is an affiliate link, which means we'll get a commission if you upgrade to a paid plan (with no extra cost to you!) through this link after your trial period ends.
This helps support our education-based brand, and we thank you in advance.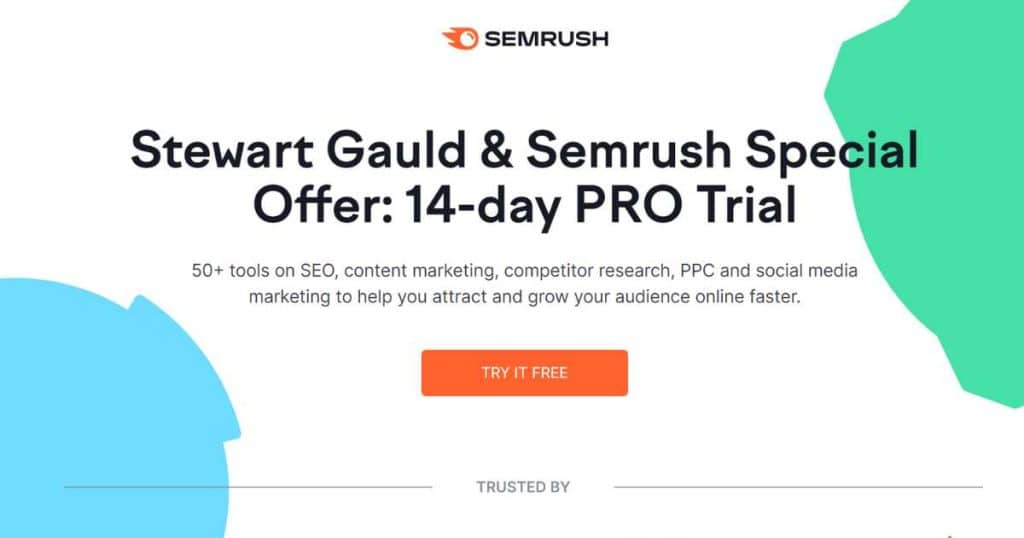 The Semrush coupon code is then added automatically to your account. It really is that easy!
One thing to keep in mind is that you'll need to enter your billing information when signing up.
So, if you decide Semrush isn't for you (although I doubt it!), then you'll have to remember to cancel it after the trial period ends. Otherwise, you'll be charged the full monthly fee.
Read more about Semrush in my comprehensive Semrush review here.
Semrush Free Trial (14-days)
The Semrush extended free trial coupon means you can access everything the Semrush Pro plan has to offer.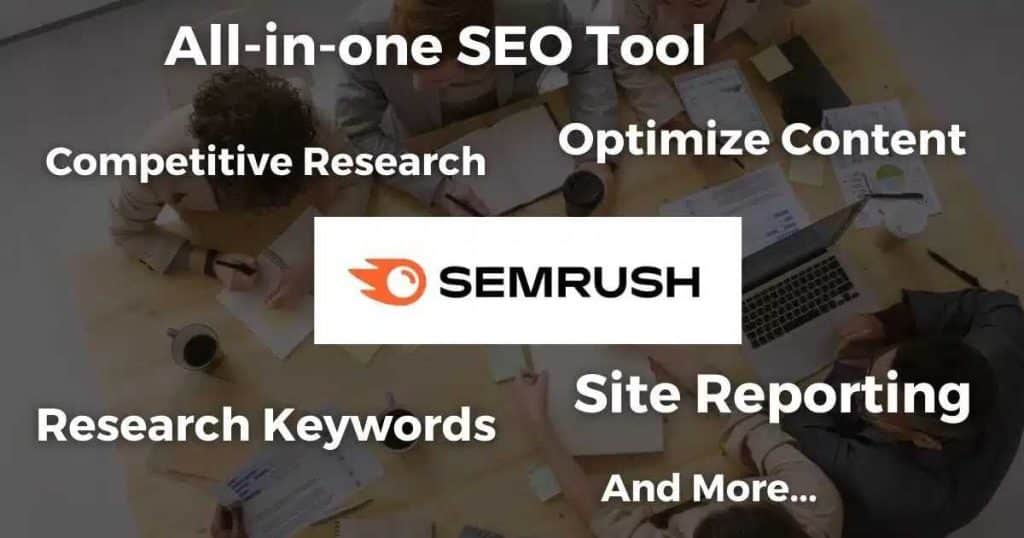 The Pro plan is the perfect choice for bloggers or small businesses and includes incredible features such as:
Competitor strategy analysis.
Keyword research and management with 21 billion keywords.
Website audits.
Backlink opportunities.
Social media management, and more.
You'll also have access to 5 projects, 500 keywords to track, and 10,000 results per report.
And once that 14 days is up, you can decide if Semrush is right for you!
If you want to invest heavily in SEO and SEM activities and have multiple locations, I believe Semrush is the best option on the market.
Alternatively, if you're after a basic keyword research tool, check out my article on how to do keyword research here.
Semrush Pricing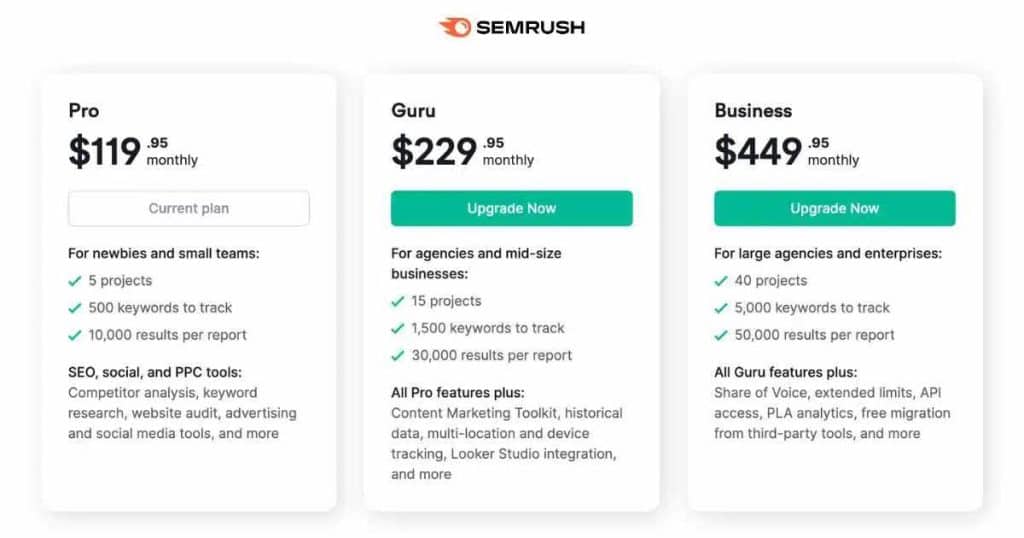 As I mentioned earlier, Semrush is a premium marketing and SEO tool.
There are 3 plans to choose from:
Pro plan 119.95 per month.
Guru plan 229.95 per month.
Business plan 449.95 per month.
You can also add another user to your account for $45 monthly.
How to use Semrush (Beginners Guide + Video Tutorial)
Step 1: Sign up for your extended 14-day trial and create an account.
Step 2: Enter your domain or the keyword you want to analyze in the search bar.
Step 3: Identify relevant keywords you want to rank for through the 'Keyword Magic Tool.'
Step 4: View important information about each keyword in the 'Keyword Overview.'
Step 5: Manage and list all your keywords through the 'Keyword Manager.'
Step 6: Measure your website's ranking for selected keywords over time through the 'Position Tracking' feature.
Step 7: Within 'Domain Overview,' you can enter your competitors' domains to see how well they're performing.
Step 8: Discover backlink opportunities and analyze your competitors' backlinks within the 'Backlinks' tab.
Step 9: Measure your website's overall health, including errors, warnings, or issues, through the 'Site Audit' tool.
Read my full Semrush review and article here.
Basically, by following this step-by-step guide, you can use SEMrush to analyze your competitors' domains, engage in keyword research, track your rankings, and monitor your backlinks.
Make sure you check out my comprehensive step-by-step video guide on how to set up and use Semrush.
Semrush backlink tutorial (Beginner friendly)
Also, if you are interested in taking a deep dive into how to use Semrush for creating backlinks, then I will add a helpful tutorial down below.
Backlinks are vital for SEO and Semrush has the essential tools that you need to effectively discover and attain backlinks. 
Stew's final thoughts
Do you want to make the most of this Semrush discount to determine if it works for your marketing goals, budget, and business type?
I personally use Semrush on a daily basis for keyword research, content optimization, competitive research, reporting, and more.
It truly is an all-in-one powerful SEO and marketing platform!
Simply follow my instructions above to redeem your Semrush discount coupon code and receive your 14-day extended trial period today!