SEMrush Review 2023
Are you looking for an updated SEMrush review?
Most likely you want to identify if SEMrush is the best all-in-one marketing and SEO tool ideal for you.
Maybe you've already heard of SEMrush, but you're still not convinced it's the best solution for your small business's marketing needs.
I know what you might be thinking… SEMrush is a relatively expensive all-in-one marketing product to invest in each month. Is it worth it?
However, for individuals, small businesses, and enterprises that are serious about improving their visibility and discoverability online then tools like this need to be considered.
Why? Keyword research platforms like SEMrush, Moz, Ahrefs and others can be a highly profitable investment when used in the right way.
And in this updated SEMrush review, I'm going to identify and discuss what SEMrush is, how to use it, the pros and cons and the possible SEMrush alternatives for 2023.
My primary focus is to help you understand if SEMrush is the right tool for your business and personal requirements.
What is SEMrush?
SEMrush is a comprehensive digital marketing platform that offers a suite of tools designed to help businesses optimize their online presence.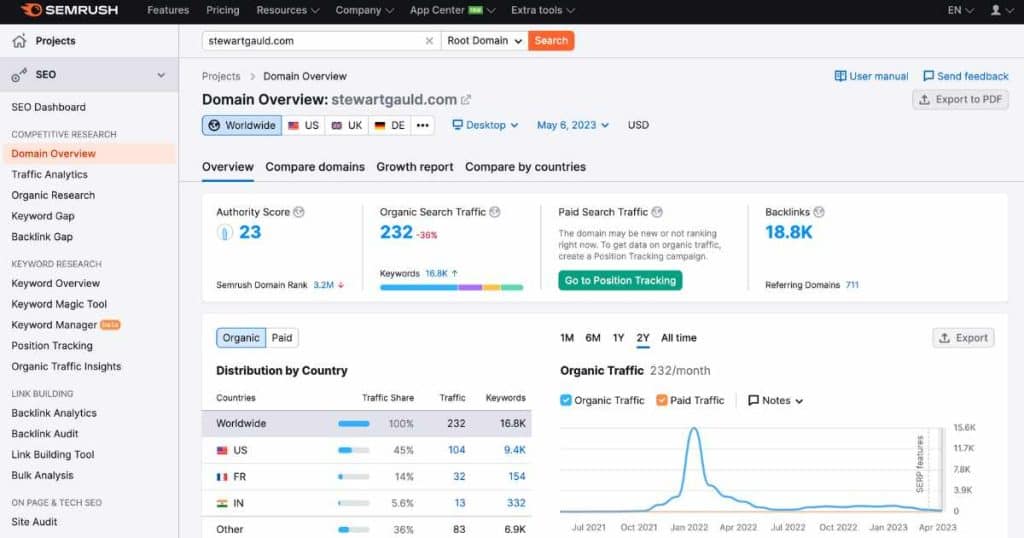 It enables users to conduct:
In-depth keyword research
Monitor search engine rankings
Analyze competitor strategies
Identify new organic and paid advertising opportunities.
Additionally, SEMrush provides resources for:
Social media management.
Content marketing.
pay-per-click (PPC) campaigns catering to businesses of all sizes looking to enhance their digital marketing strategies.
It's also incredibly easy to use for beginners just getting started with digital marketing activities like SEO (Search Engine Optimization).
What Can I Actually Do with SEMrush?
This is a powerful question! And as I mentioned above, there is A LOT you can do with this dynamic research tool.
However, I want to highlight the essential and practical features that every business can benefit from.
We need to take a look at how this tool can actually grow business online.
SEMrush Features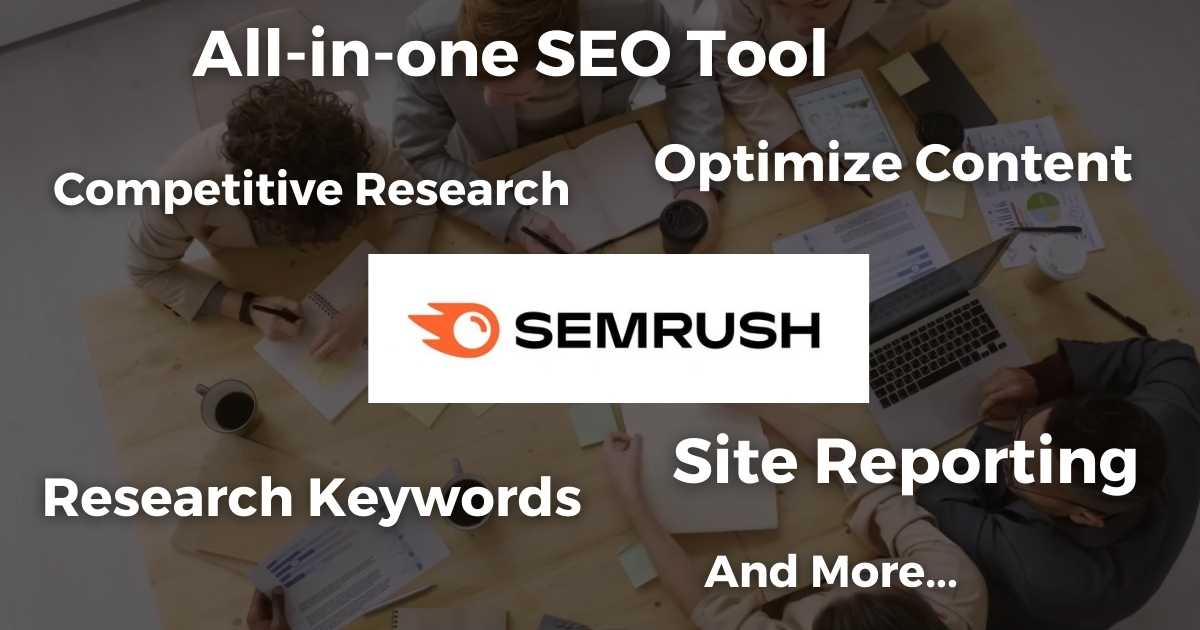 There are 7 excellent features that I use on a weekly basis for my brand and my client's businesses.
Before I dive into them, I want you to be aware of this SEMrush tutorial down below.
This tutorial will further break down the following features so you know how to use them.
Here they 7 powerful features that you can use:
1. Keyword Magic Tool – Researching keywords & Discovery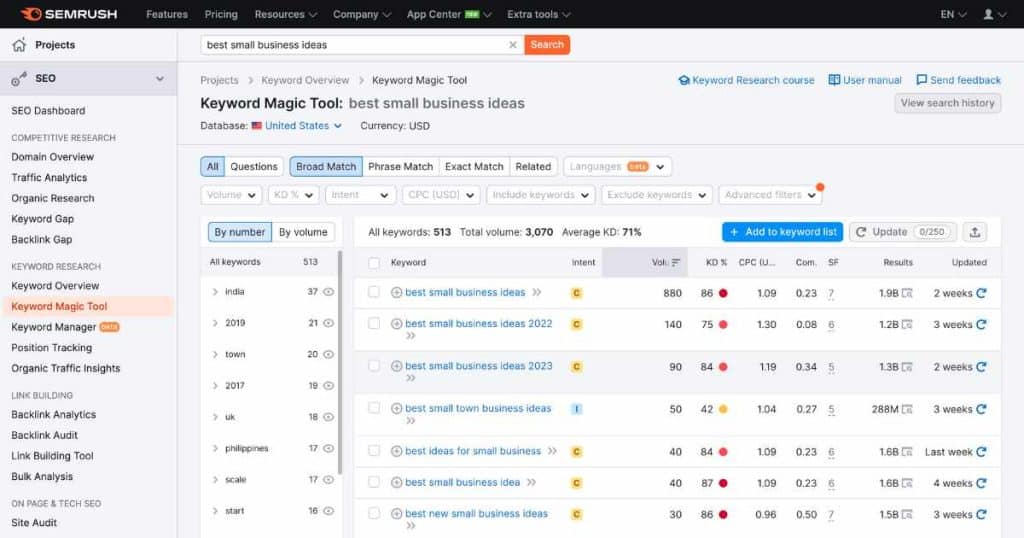 This SEMrush feature is where I spend most of my time. This keyword research tool allows you to identify the relevant keywords that you want to rank for.
Each keyword gives you some important information that you can then use to identify if that keyword is worth targeting and therefore use it in your content.
For example, some key metrics to look at include:
The volume of searches per month.
Keyword difficulty.
Competition level.
Type of intent for that keyword.
You can also define your search by using the different filtering options. Make sure you watch our video to learn how to use this feature.
So, for me, I typically ask these basic 3 questions for choosing the right keywords:
Is the keyword easy to rank for?
Does the keyword have a high enough search volume?
Does the keyword have the right intent?
If the answer is yes to all of these questions, then I use this keyword and add it to my list.
Before we move on you might be wondering what the keyword intent is.
Well, the awesome thing about SEMrush is they give you an idea of what the keyword intent is for someone searching online.
There 4 keyword intents and these are: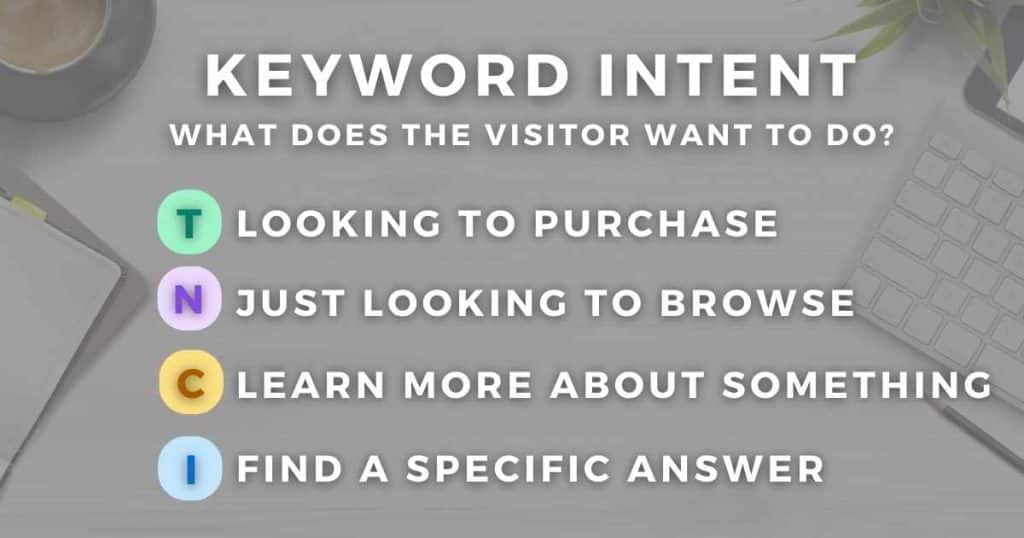 Transactional: The searcher is looking to complete a purchase.
Navigational: The keyword searcher is looking to complete a purchase.
Commercial: The keyword searcher wants to learn about something.
Informational: The keyword searcher is looking for an answer to a specific question.
This is powerful! Because you can identify what type of intention people are going to have when searching for specific keywords.
Top Tip: It's important to create a mix of content that targets different intentions.
2. Keyword Overview – Keyword Breakdown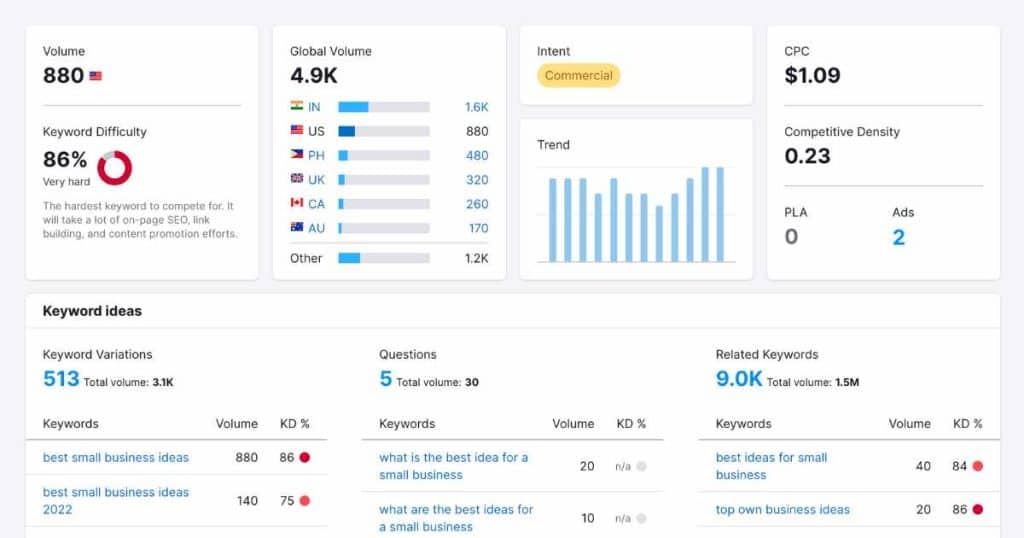 Next, we have the keyword overview. If you click on a keyword from the keyword magic section or other areas, you can view more important information about that keyword.
You can see more information about the traffic, related keywords, intention and more.
3. Keyword Manager – Managing your keywords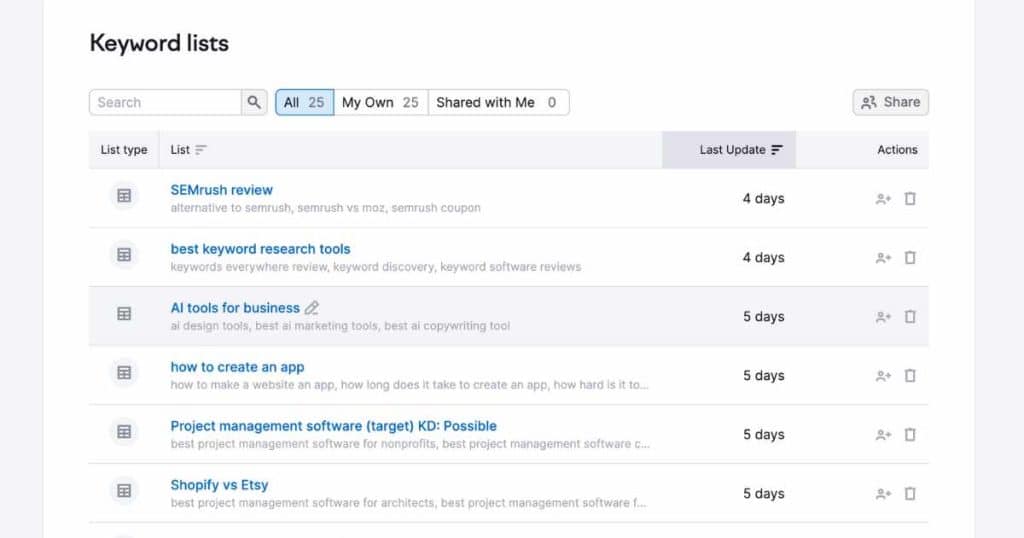 The feature allows you to create and manage a list of all your target keywords.
This makes it easy to organise all your different keywords. You can then export any of your keyword lists at any time.
4. Position Tracking – Measuring website rankings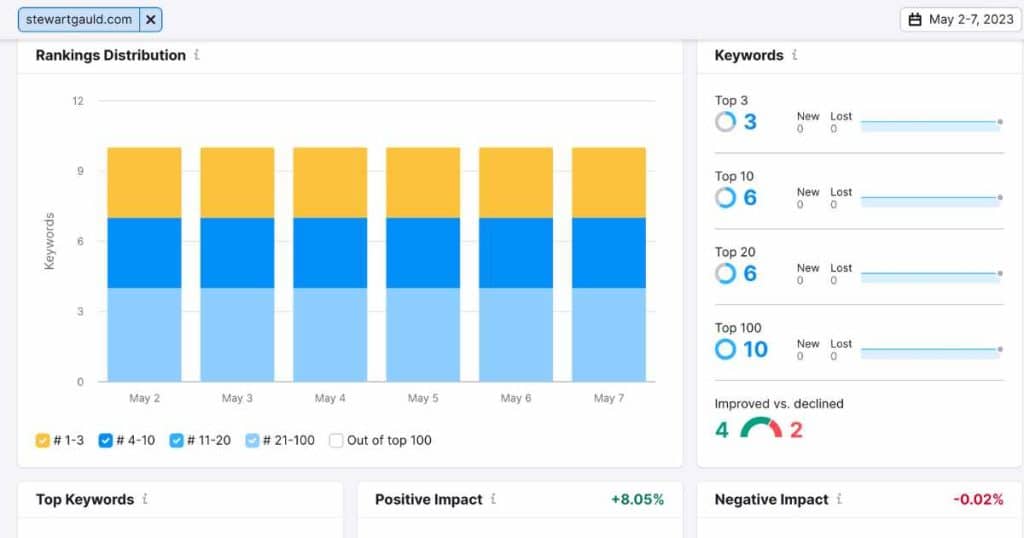 The position tracking feature allows you to add and track the primary keywords that your website is ranking for.
Each week you will receive an email updating you on your ranking position for your selected keywords.
For example, this week you could have a blog post ranking in the 5th position on the first page of Google SERP (Search Engine Results Page). The next week you might receive another email that tells you that you're now ranking in the 3rd spot.
If your website is losing its position on Google for the keywords you are tracking…
Then it's time to improve your website pages!
5. Domain Overview – Competitive research
This is where we can dive into competitive research and identity exactly how our competitors are performing online.
You can take a look at the company's keywords, website pages and more.
The domain overview can help you discover opportunities like keywords that your competitors are ranking for and you are not.
Have a looking at their website pages that are performing.
Think about how you can create better content using the newly identified keywords that your currently not ranking for.
6. Backlinks – Discover backlink opportunities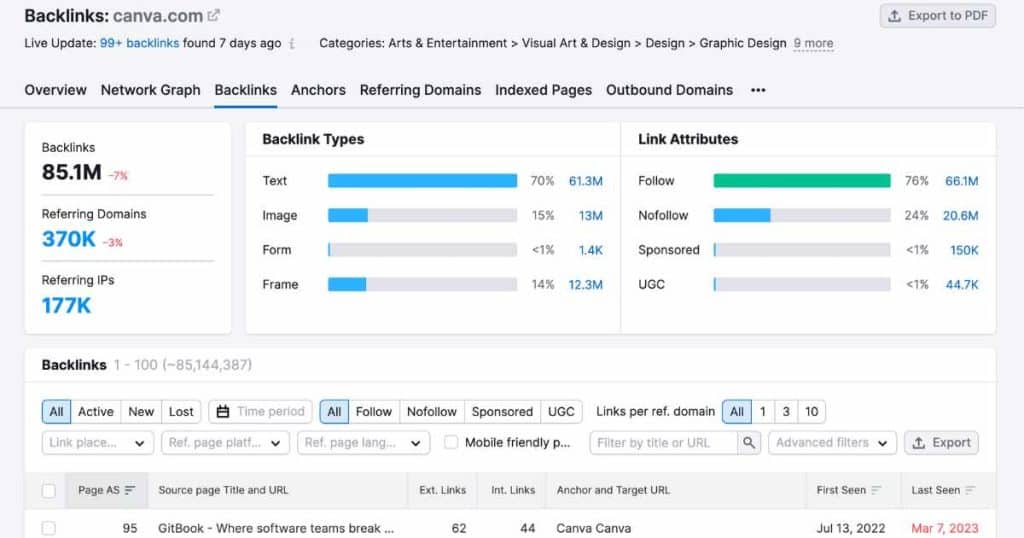 Next, we have to discuss backlinks. Under this section, you can identify everything to do with your competitor's backlinks.
This will help you find backlink opportunities.
(Backlinks: These are outbound links from other websites that point to your website pages. The more high-quality backlinks you can get, the more authority and credibility your website will have online.)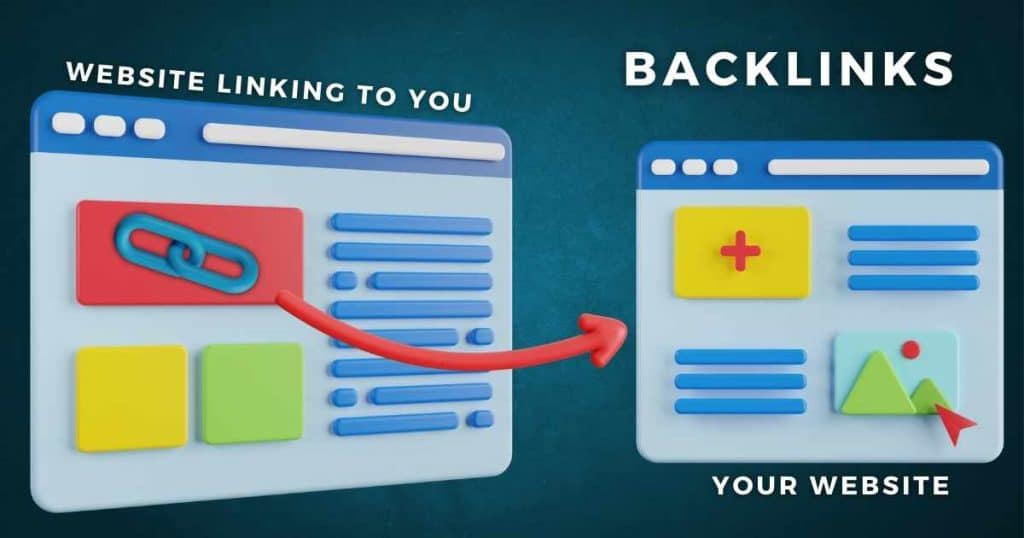 7. Site Audit – Measure the health your website
It's important to keep an eye on your website's overall health. SEMrush keeps it easy for anyone to understand the health of their website.
Here you can see important information like the errors, warnings and issues on your website.
Simply export a report and share this with your developer to help manage and ensure your website is error-free!
After reading the above 7 points you will be well aware of the benefit SEMrush has on your business growth online.
The great thing about SEMrush is although they offer market-leading and advanced tools, the entire platform has a shallow learning curve.
This means it doesn't take long before even those with zero experience can become experts.
What I like
Visually engaging user interface. It's easy to navigate and find the information that you are looking for.
Organic research is simple but powerful!
SEMrush has a database of over 21 billion keywords (the largest database).
They offer a full-feature PPC competitive analysis tool.
What I dislike
Costly for micro businesses that have a tight budget. If you fall into this category, check out our SEMrush alternatives.
The data can be a day delayed with what I've seen and what other experts have noticed.
SEMrush Pricing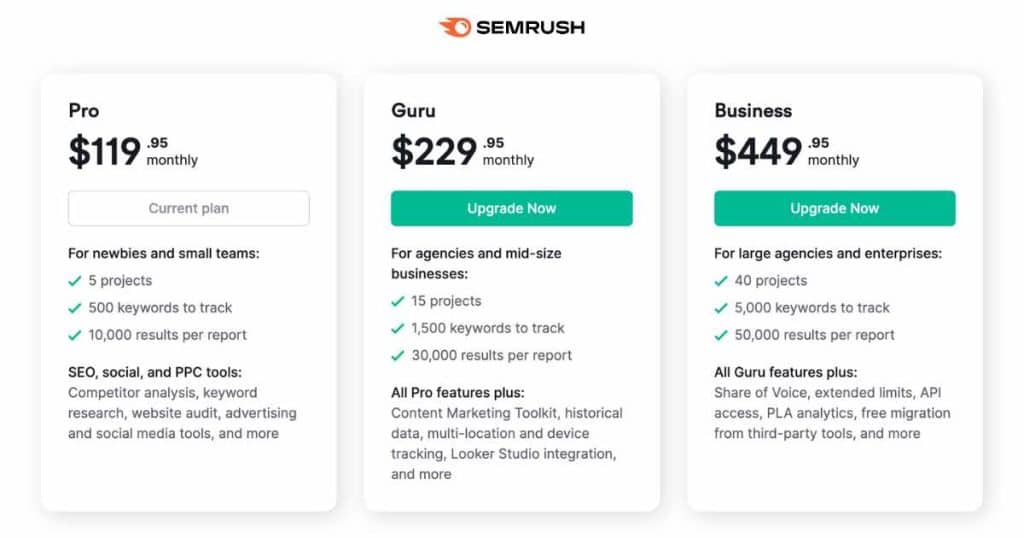 All plans offer a 7-day free trial.
Pro plan 119.95 per month.
Guru plan 229.95 per month.
Business plan 449.95 per month.
It's another $45 per month for each user added to your account.
Let's continue with the SEMrush review and talk about the features of SEMrush.
My Favorite Feature of SEMrush
The seamless switch between internal tools. For example, when engaging in competitor research. It's easy to research and seamlessly jump between keywords, pages, backlinks and more.
I use this tool a lot for competitive research and for me, it's the best tool I've used for this activity.
From my perspective, SEMrush is ideal for growing teams and Businesses that are serious about driving more growth from Google.
This is my #1 recommended tool for 'most' SMEs.
However, I would not recommend this keyword research tool for local businesses unless they have multiple locations and are heavily investing in SEO and SEM (Search Engine Marketing) activitiesF
How to use SEMrush (Beginners Guide) 2023
SEMrush is surprisingly easy to use. You ideally should have at least a basic understanding of keywords and keyword research as this is the foundation for using this tool.
But how can you actually use SEMrush to grow your business presence and discoverability online?
This is a great question that we need to answer before you decide if SEMrush is the best option for you.
The best way to quickly learn how to use SEMrush is to get started with SEMrush for free (7-day trial) and follow along with our 20 minutes video tutorial (become a SEMrush expert!).
In this SEMrush Tutorial, I talk about the 7 fundamental features and how you can use them.
Watch my complete SEMrush tutorial for beginners.
SEMrush Worth it?
The big question is… Is SEMrush worth it?
The simple answer is yes!
SEMrush is a premium marketing platform that provides all the essential tools for keyword research, optimizing your content, competitive research, reporting and more.
However, this depends on your marketing goals, budget, business type and personal requirements.
So, let's take a look at some popular SEMrush alternatives if you believe SEMrush is not quite the best fit for you
SEMrush vs Moz
SEMrush and Moz are two leading digital marketing and keyword research platforms that offer a variety of tools to help businesses optimize their online presence.
While both platforms share a focus on SEO and provide keyword research, rank tracking, and backlink analysis features, there are a few key differences between the two.
SEMrush is best known for its comprehensive suite of tools that extend beyond SEO into areas such as social media management, content marketing, and pay-per-click (PPC) campaign optimization and robust keyword research capabilities and competitive analysis features.
On the other hand, Moz is primarily an SEO-focused platform with a strong emphasis on user-friendly tools and resources.
Its flagship feature, the MozBar, is a popular browser extension that provides instant, actionable insights into a website's SEO performance.
Moz also stands out for its community-driven approach, offering you access to a wealth of knowledge through its extensive blog, Q&A forum, and educational resources.
While both SEMrush and Moz provide valuable SEO tools, SEMrush's broader range of features makes it an ideal choice for businesses seeking an all-in-one digital marketing solution.
Moz, with its focus on usability and community-driven resources, may be better suited for those specifically looking to improve their SEO game and learn from industry experts.
Ahrefs vs SEMrush
Ahrefs is renowned for its powerful backlink analysis and comprehensive index of live backlinks, making it a go-to choice for marketers seeking to improve their off-page SEO.
Its intuitive interface and robust site audit tool allow you to efficiently identify and resolve on-page issues.
Ahrefs also boasts a content explorer, which helps users discover the most successful content in their niche.
SEMrush, on the other hand, is known for its extensive suite of tools that cover a broader range of digital marketing aspects, from SEO and content marketing to pay-per-click (PPC) advertising and social media management – Like we have already mentioned, it's an all-in-one online market research solution.
From my perspective, both Ahrefs and SEMrush provide invaluable tools for SEO and digital marketing professionals.
Ahrefs excels in backlink analysis and on-page optimization, making it a great choice for those focused on building a strong link profile.
SEMrush, with its wider range of features and focus on competitive analysis, is ideal for businesses seeking a comprehensive digital marketing platform.
SEMrush vs Keywords Everywhere
Keywords Everywhere is a powerful browser extension that focuses solely on keyword research.
As you browse the web, it displays essential metrics like search volume, CPC, and competition data for any keyword you are searching.
This is amazing because as you are searching on Google you can automatically see all this data. Not only do you get keyword metrics, but you also see suggested keywords that help with identifying new keywords to target.
The main reason I like this tool is because of its simplicity, which makes it a popular choice among beginners and those who prefer a more lightweight solution for keyword research.
The main differences between SEMrush and Keywords Everywhere lie in their scope and target audience.
SEMrush, with its extensive suite of digital marketing tools, caters to professionals seeking a comprehensive solution to optimize their online presence.
Keywords Everywhere, focusing exclusively on keyword research, offers a straightforward and accessible approach for users who desire a quick and easy way to access keyword data while browsing the web.
Personally, I use both Keywords Everywhere and SEMrush.
Keywords Everywhere helps me discover ideal and new keywords organically while searching on Google and SEMrush is where I can engage in more comprehensive marketing research.
Read more: Copy.ai Review 
My Final Thoughts
There we have it!
That is my honest SEMrush review for 2023.
I hope this review helped you identify if SEMrush is the keyword research platform for your small business requirements.
I suggest testing out SEMrush on their 7-day free trial and watching our updated SEMrush review tutorial video to see if you think this tool is for you.
I personally use SEMrush and Keywords Everywhere.
If you're just looking for a basic keyword tool, then Keywords Everywhere alone could work for you.
But for those who are serious about Keyword research and dominating Google search, SEMrush is definitely an ideal solution.
Let me know your thoughts and if you got value from this SEMrush review!