Let's learn how to create an app for your small business for free!
Most people when they think about creating an app get intimidated by the potential cost, and lack of technical and/or coding knowledge.
I have good news! And the best part is it won't break the bank or require an IT degree.
If you've been exposed to my content before you know I constantly ramble on about how important it is for small business owners to…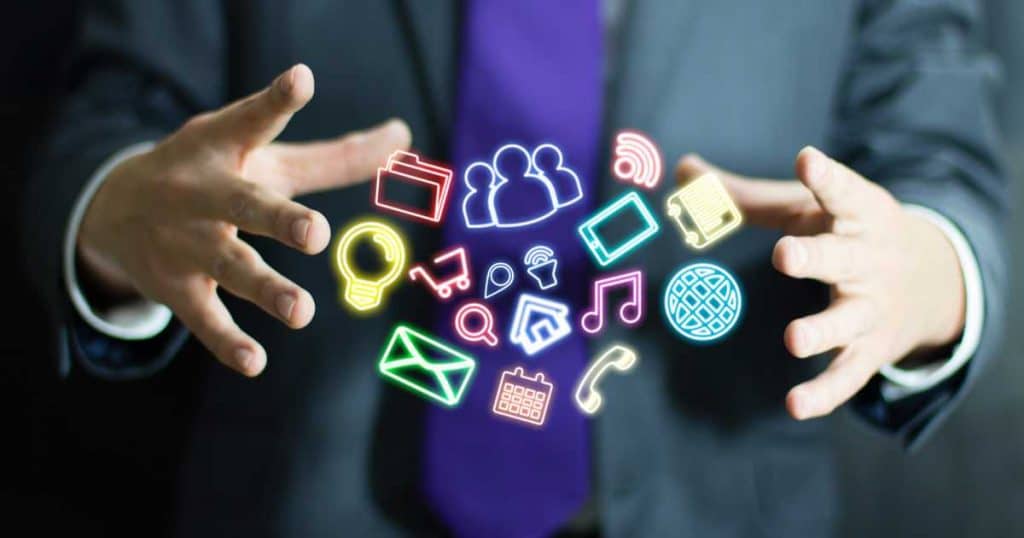 However, did you know that around 85% of the global population owns a smartphone?
That's a lot of people your business can reach and connect with, and what better way to do that than by creating an app for your business?
In this post, you'll learn how to create an app so that your customers can simply add your app to their phones and engage in business with you through the app.
An app can help you build brand loyalty, increase customer engagement, and increase your sales and revenue.
Think about the wide range of apps you use daily!
There's basically an app for anything, from social media, banking, fitness, shopping, and accommodation (just to name a few).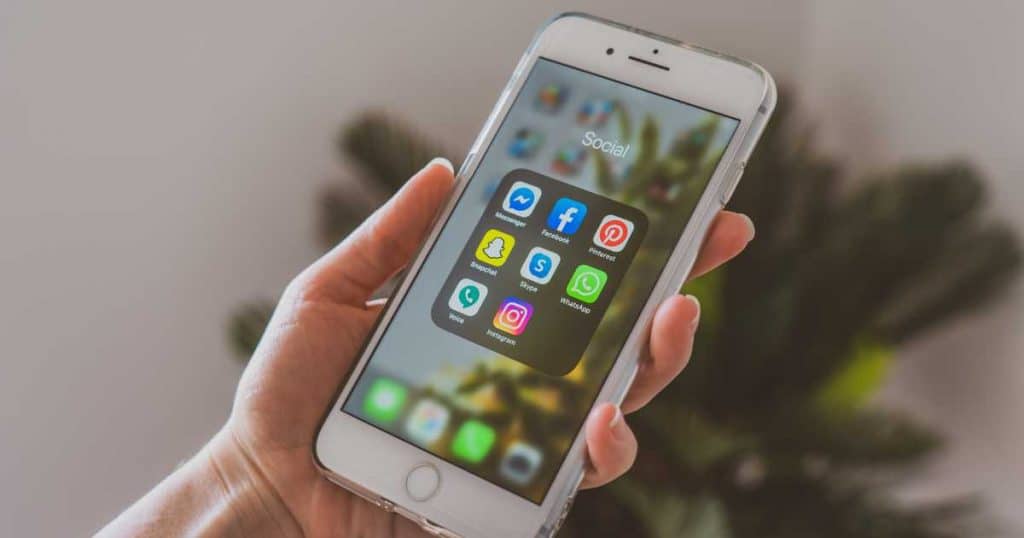 Apps mean you can access your favorite businesses or platforms easily, which is why it's so important to get on board and create one for your business, whether you're an eCommerce, service, hospitality, healthcare, design, or manufacturing-based business.
We know what you're thinking… how on earth do you create an app, and how much does it cost to create an app?
And what if I told you ANYONE can create one no matter how tech-savvy they are?
Get ready to take your business to the next level with this ultimate guide to mobile app creation!
I'll walk you through everything you need to know, from the difficulty level and cost to the step-by-step process of how to create an app using our favorite app creation platform, Jotform.
Plus, we'll show you how easy it is to transform your website into a user-friendly app your audience will love!
Are you ready to elevate your online presence and provide your customers with a seamless digital experience?
Let's get started!
How hard is it to create an app?
Traditionally, creating an app is similar to building a website and can be pretty challenging if you lack programming knowledge or skills.
And how long does it take to create an app?
Depending on the type of app you're creating, it can take weeks or even months for an experienced developer to design, code then test the app.
In fact, it could even take years if you want to create a complex app with advanced features and integrations!
So, how hard is it to create an app? Traditionally, app development is daunting and should be left to experienced designers and coders.
As a small business owner, we know the number of hats you have to wear and how many tasks you juggle daily.
Therefore, it's simply not feasible to learn web development skills (or to pour your money into hiring web developers).
However, don't let this scare you into thinking you can't create your own mobile app for your online brand!
With the rise of innovative and easy-to-use app development tools available online, you can create a high-quality mobile app with absolutely NO coding knowledge.
Yup – that's right! You read that correctly! 
You can save time, money, and stress by using an intuitive no-code app builder through one of our favorite platforms, Jotform, to take your business to the next level!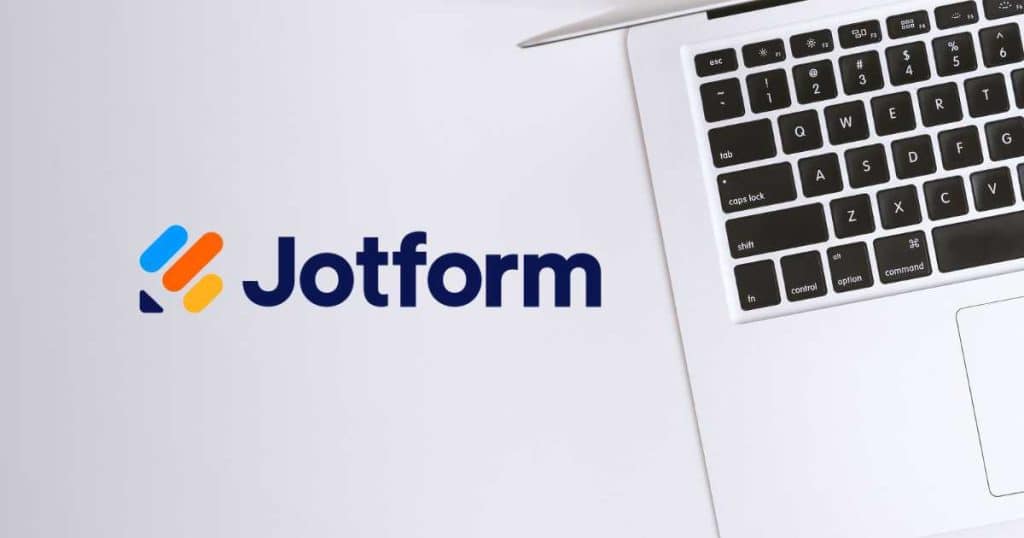 How much does it cost to create an app?
Creating a mobile app for an online small business is expensive if you go down the traditional route of hiring a web developer.
The cost of making and maintaining an app depends on the complexity of your app, the features you want to showcase, and your developer costs.
However, as a ballpark figure, you'd be looking at around $25,000 – $150,000, not to mention the ongoing annual fees if you want to appear on the Apple or Google Play store!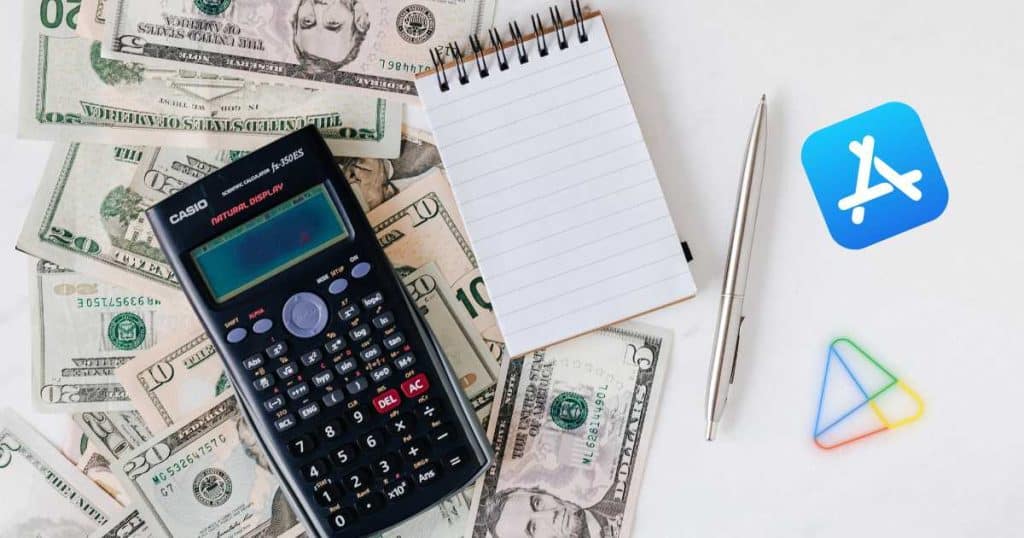 With that said, it may seem like an impossible feat for your small business, and the question remains.. is it actually possible to create an app for free?
The short answer is…yes!
You can create a completely free mobile app for your business with Jotform.
So, what is Jotform, how does it work, and is it really free?
Let's find out below as we continue this how to create an app for a free guide.
Jotform App builder for Small businesses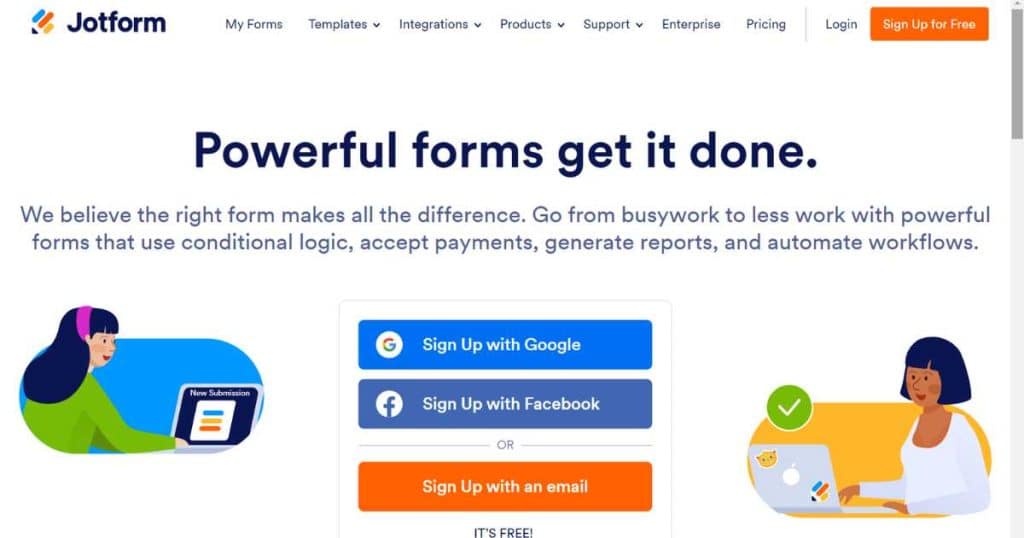 Jotform is a popular online form builder tool best suited for beginners that want to create stunning forms without using any code through their easy-to-use and intuitive drag-and-drop interface and hundreds of templates.
In addition, one of their dynamic tools is the no-code app builder, where you can create fully customizable apps for any type of business brand or niche with various layout options!
With over 300 templates, you can make the ultimate unique app for your business type or size and add relevant forms, documents, links, images, and widgets to reflect your branding.
Jotform works a bit differently from your typical app user experience of going into your Apple store or Google Play store and downloading an app (which is great for you as you don't have to pay any of those annual fees!)
So how does it work?
Once you've created your app, simply share your app through email, QR code or website embedding, and you're good to go!
Users can then download your app onto their mobile, desktop, or tablet device home screen.
One of the best things about Jotform is that it's completely free to use!
With their free plan, you can use all features of Jotform, which is completely sufficient for small business owners.
However, it does come with a few limitations, including a five-form limit, Jotform branding on your app, a maximum of 100 monthly submissions on your app form, and the ability to access Jotform Apps.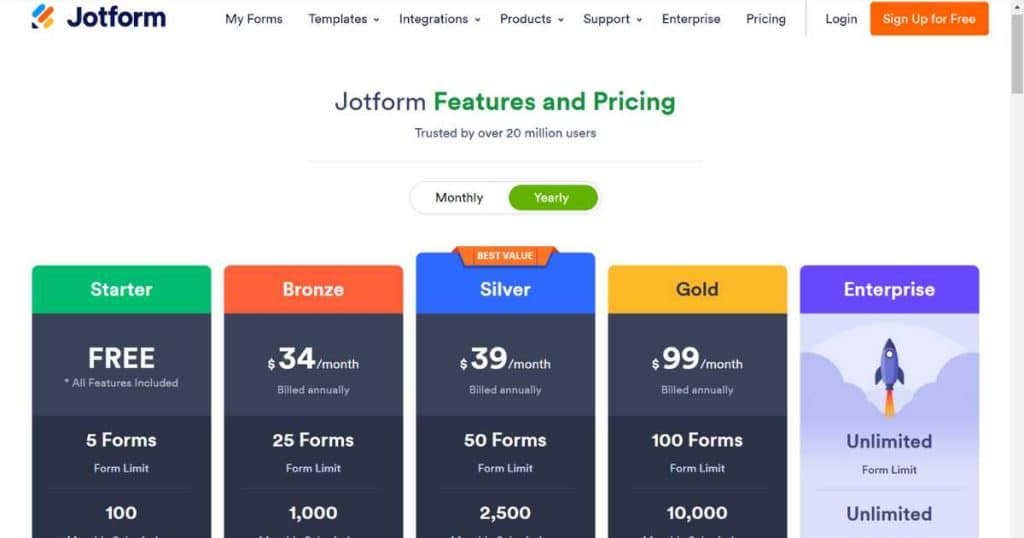 We recommend starting with the free plan and upgrading later to utilize more advanced features.
Jotform Apps also seamlessly integrates with Jotform's form-building, reporting, and other no-code tools!
So, Jotform is cheaper, easier, and quicker to build than any other app creation method, but how easy is it really?
How to create an app (7 simple steps)
Alright, now you know what Jotform is, let's talk specifics. How can you create an app with Jotform?
Keep reading to find out how it's done:
Simply sign up and sign into your free Jotform account.
Select 'Products' > 'Jotform Apps' > 'Get started now'.
Choose an app template from hundreds of pre-made templates.
Customize your app template using Jotform's simple drag-and-drop editing tool to add and edit your own text images, logo, and other elements.
Add and edit a form to add to your app. This could be anything from an order form, booking appointment request, contact form, or more.
Edit your app settings to reflect your brand.
Preview, test, then publish your app!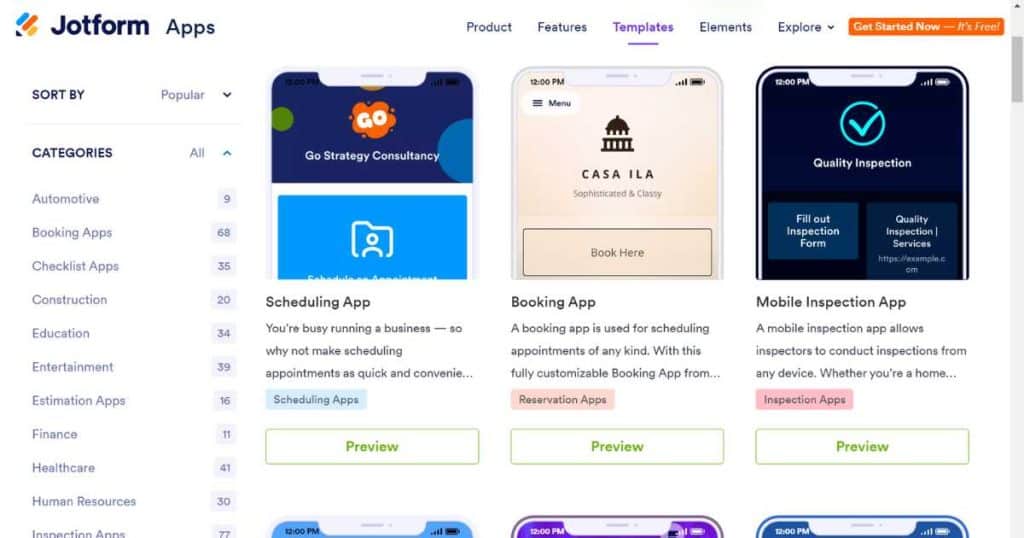 As you can see, with Jotform's free no-code app builder, you can effortlessly create and customize your mobile app without writing a single line of code.
Get ready to impress your friends, colleagues, and customers with your stunning new mobile app!
Want to know more?
Check out our full tutorial, where we dive into how to create an app for free using Jotform.
How to make a website an app?
While Jotform doesn't let you directly turn your website into an app, there is a simple way to convert your website into an app in just a few clicks!
This is perfect for those who want to skip the hassle of adding complicated elements, forms, features, or widgets to their app.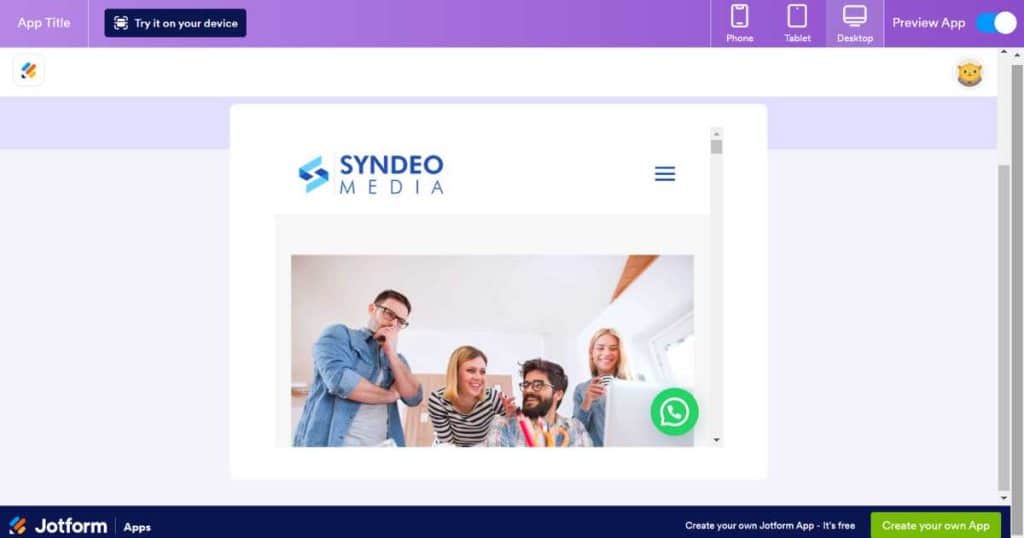 To learn how to make a website an app:
Click the arrow next to the Jotform logo on your 'My Forms' page.
Select 'My Apps.'
Click 'Create App.'
Select 'Start from Scratch.'
Click '+ Add Your First Element.'
Under the 'Widgets' tabs, find the 'iFrame Embed' widget.
Drag and drop that widget onto your app.
Click the Gear Icon on the widget.
Paste your website URL to your webpage in the 'Frame URL' element section.
You can then preview your app in mobile, tablet, and desktop mode. However, just be mindful of how your website displays on all three devices. You want to make sure it doesn't look unresponsive or unprofessional.
However, this is a basic way to convert your website to an app.
If you want to create a compelling, professional, and highly responsive website as an app version, you'll need to bite the bullet and hire a professional to help you.
Final thoughts
This brings us to the end of my guide showing you how to create an app for free with our favorite online form and app builder, Jotform!
So, what do we think? Should you create an app with Jotform? Is it worth it?
When it comes down to it, it depends on your business needs and the complexity of the app you want to build.
You simply can't build a complex app for free within Jotform. You'll, unfortunately, need to hire a developer for that.
However, if you want to create a basic custom app for online bookings, selling online, appointment requests, or more, trust us when we say that creating an app for your small business in 2023 with JotForm is a smart move that can help you stay ahead of the game!
Not only is it cost-effective, but it's also a lot easier than hiring a web developer. With JotForm's user-friendly platform, you can create a custom app that meets your business needs in just a few clicks.
So whatever the purpose of your app is, whether you're looking to streamline your internal processes, engage customers, or increase revenue, JotForm has everything you need.
So start building your app for free today and take your business to the next level!