Chances are, you've landed on this article because you're tossing up between Airtable vs Notion.
If you're ready to say goodbye to paper notes and spreadsheets, a good project management tool is what you need!
Airtable and Notion are two extremely popular choices to help you organize, plan, and automate your projects and tasks (hence why you're here, right?)
But what exactly are they, and what are the differences between them? And most importantly, which is the best project management platform for you?
I will answer the above and more in this Airtable vs Notion 2023 comparison guide.
Keep reading to find out how you can streamline your projects!
Airtable vs Notion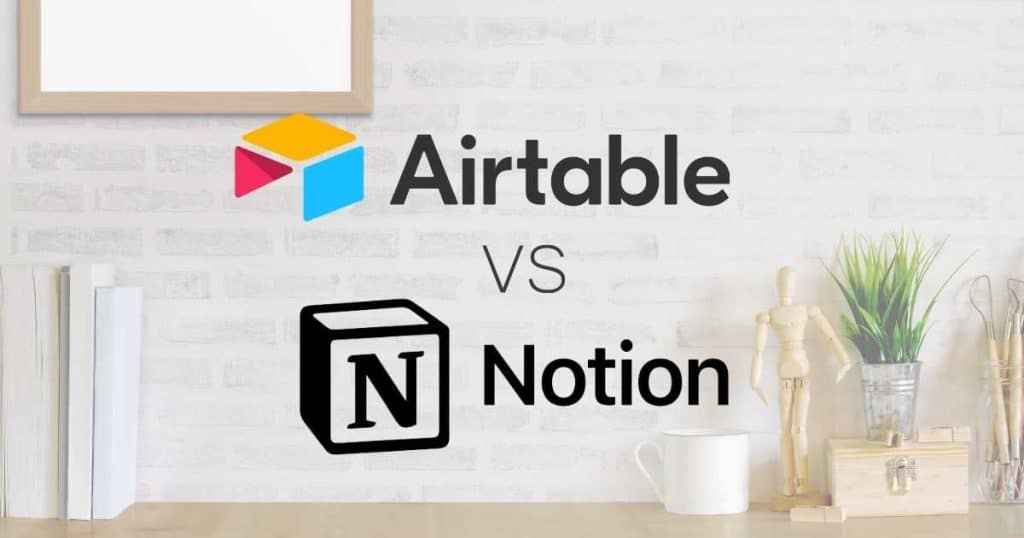 Airtable and Notion are project management tools that make your life easier by organizing your projects and tasks.
However, that doesn't mean both are the best choice for every project and business type.
I will dive deeper to discover the user experience, integrations, pricing, key features, and main differences between both platforms.
But before I do that, it's essential to understand each software.
So, what are Airtable and Notion? 
What Is Airtable?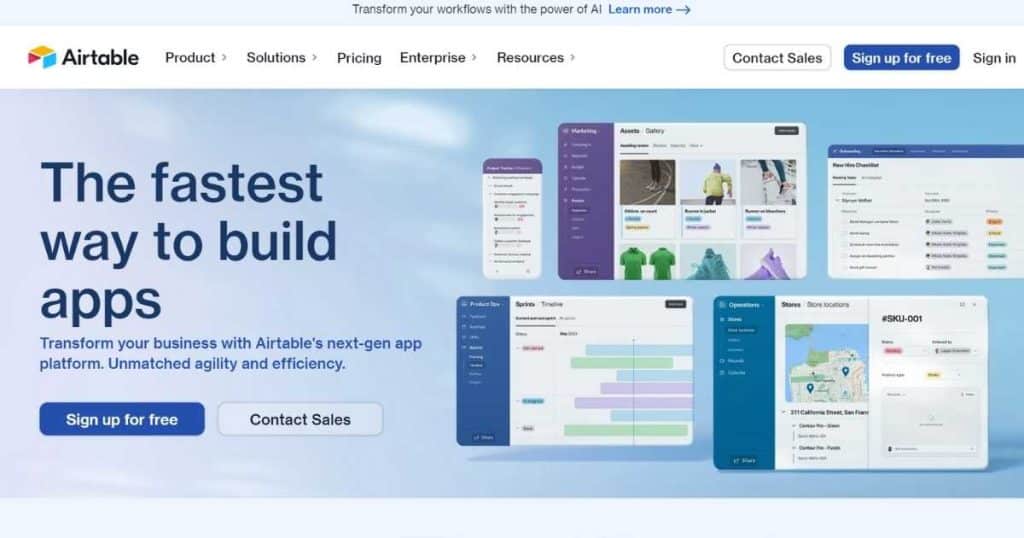 Airtable is a robust online relational database system software that revolutionizes how you create and use data-driven applications.
With Airtable, you have the power to effortlessly organize, store, track, and collaborate on your projects using highly customizable spreadsheets.
By blending spreadsheet functionality with database capabilities, think of Airtable as a superior alternative to Google Sheets or Microsoft Excel.
Do you want to establish and manage databases for your events, inventory, and sales data as well as your teams, project, and CRM activities?
Airtable is the ultimate solution that will empower you to streamline your workflows! 
What Is Notion?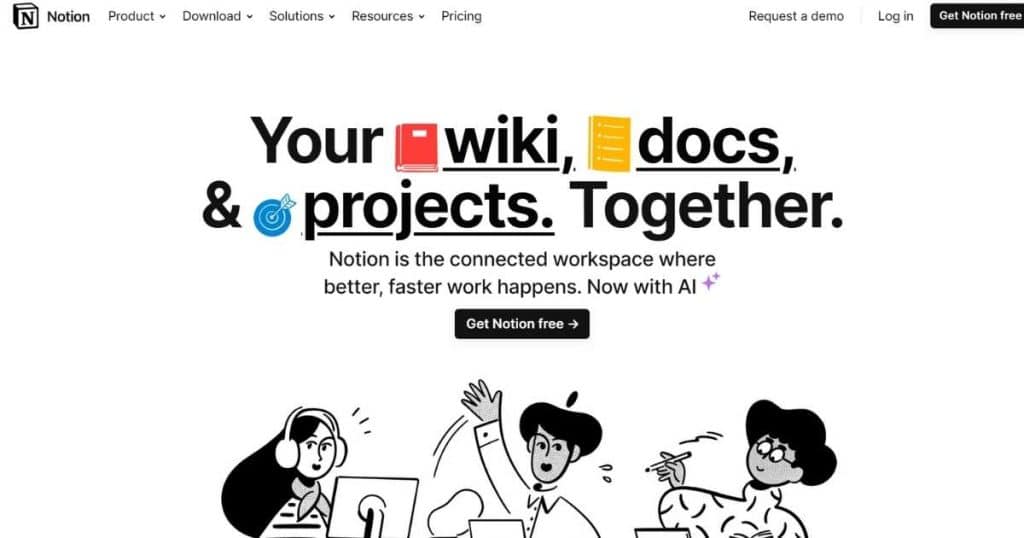 Notion is a dynamic productivity and organization app that helps you create, manage, and collaborate on tasks, notes, wikis, and projects.
Known for its user-friendly interface and strong team collaboration and project management features, you and your team can work together effortlessly!
Notion automatically saves all your notes, so you know your work is always secured and up to date.
Plus, Notion has a web, mobile, and desktop application, meaning you can stay productive in the office, at home, or on the move. 
Airtable vs Notion for Project Management
Okay, now that I've covered each tool, let's talk about project management.
At first glance, Airtable might just seem like a basic spreadsheet software, and Notion a basic note-taking app. However, they both have so much more to offer!
With that said, let's dive into specifics.
Airtable for Project Management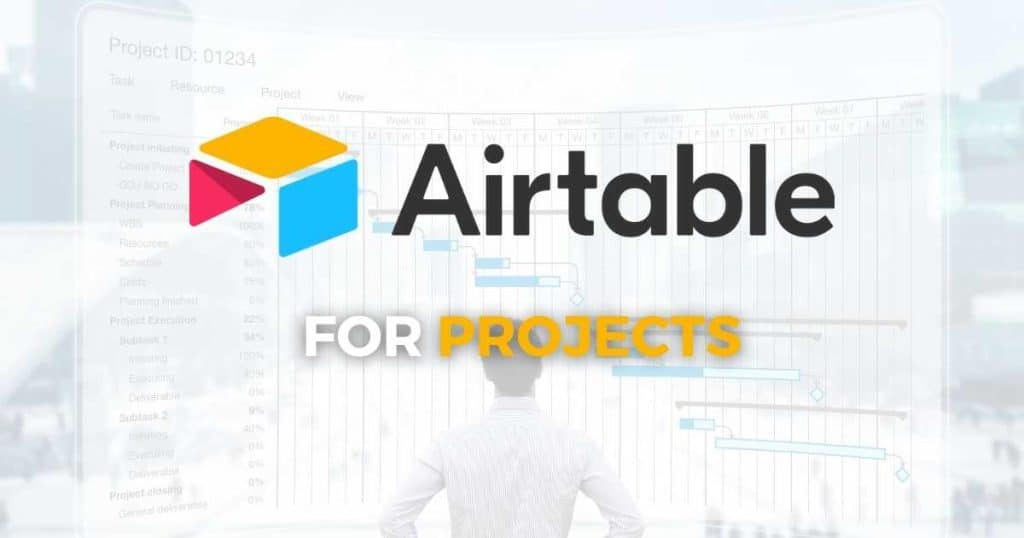 Airtable differs from other spreadsheet applications because you can make your data actionable.
With seamless syncing capabilities, centralized data, and smooth collaborations across multiple use cases, it's no wonder so many business owners love and use Airtable.
Simply manage and track your contact databases and projects, create or plan content ideas, document task lists, and organize your documents all in one place.
And Airtable's 'Spreadsheet' type interface and customizable templates mean almost anyone can set up complex projects or databases.
Airtable's unique and innovative 'table' format effectively combines the power of a spreadsheet with the flexibility of interconnected data lists.
This means you can easily store and share your data across different use cases! 
Notion for Project Management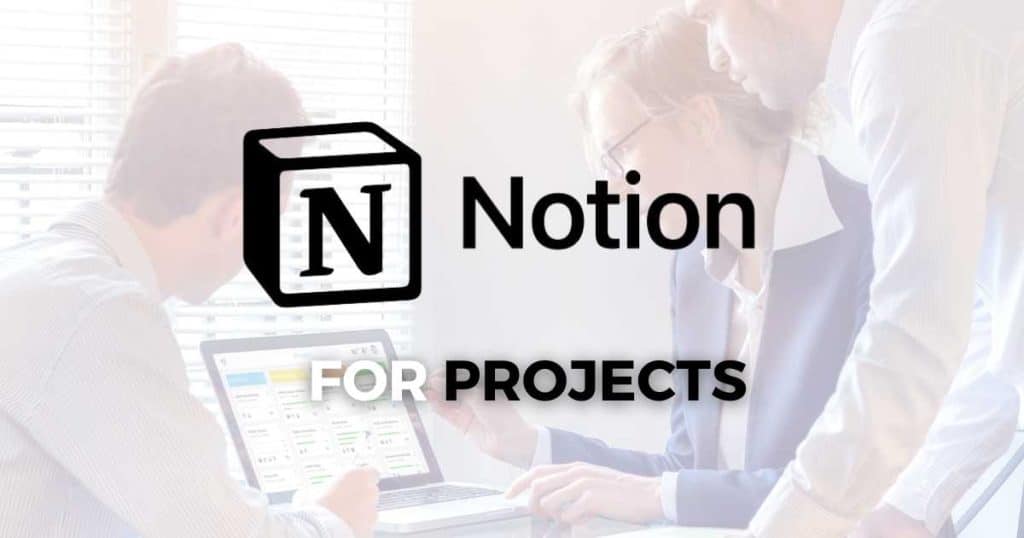 If you're after a complete digital workspace to create, collaborate and organize your to-do lists, notes, or projects, Notion is a great choice!
Notion is a total productivity, team collaboration, and knowledge management platform.
Basically, you can create:
To-do lists.
Habits or goal trackers.
Share pages, databases, and documents.
Or store and organize your notes, articles, and research.
All on one easy-to-use platform!
Plus, Notion's modular approach means you can easily create and build different blocks and then arrange them in different ways to suit you.
Read more: Notion vs Obsidian for project management 
User experience & Ease of use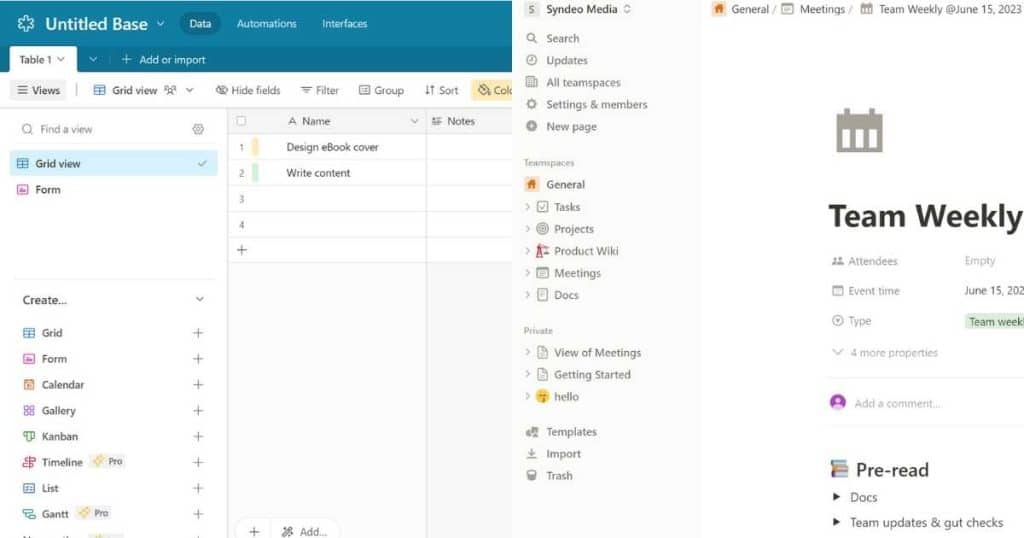 If you prefer a systematic approach to organizing your projects and data, you'll find Notion's structured and hierarchical system (similar to Monday.com or ClickUp) an absolute breeze!
Read more about Monday and ClickUp in my comparison article here.
Notion was made for complete beginners.
For example, to add blocks, all you have to do is press the slash button then a list of different blocks will pop up!
And the text-editor interface and intuitive drag-and-drop tool allow anyone to customize their pages how they like.
You can choose different view types, such as Board, Table, Timeline, List, Calendar, or Gallery, adding more pages or changing the layout is pretty easy to grasp.
On the other hand, Airtable is a little more complex to set up, especially for beginners.
The interface is clean and resembles a familiar look to other spreadsheet-like software, but the learning curve is fairly steep, especially compared with Notion.
However, the number of views is good – you can choose Kanban, Form, Gallery, Calendar, or Grid view (and more on paid plans).
Some users may find the interface or range of powerful features overwhelming, but I promise once you get over that learning curve, you'll understand just how powerful Airtable is!
And if you're still stuck, you can always hire a professional Airtable developer to help you.
Winner = Notion 
Integrations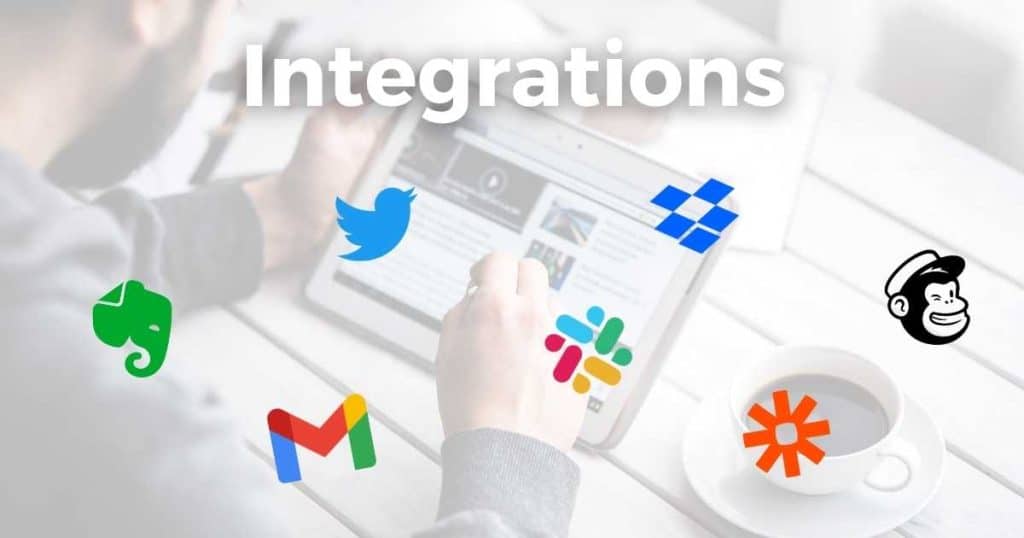 Integrating your project management software with other tools you already love and use is vital.
Let's start with Airtable.
With over 30 integrations, including Gmail, Slack, Twitter, Dropbox, Evernote, MailChimp, and more, it's safe to say that you'll find integration with most of your favorite platforms.
Plus, you can use Zapier to connect over 1000 apps to seamlessly and efficiently automate just about anything.
And if you previously used Google Sheets or Excel, you can import that data directly into Airtable!
Notion also offers integrations, but not as many as Airtable.
Although, you can embed information directly to your Notion pages from other software and connect Zapier in the same way you can with Airtable.
Winner = Airtable 
Features
Now that I've covered what each platform is, the ease of use, and integration capabilities, it's time to explore and compare some key features of both.
Workspaces: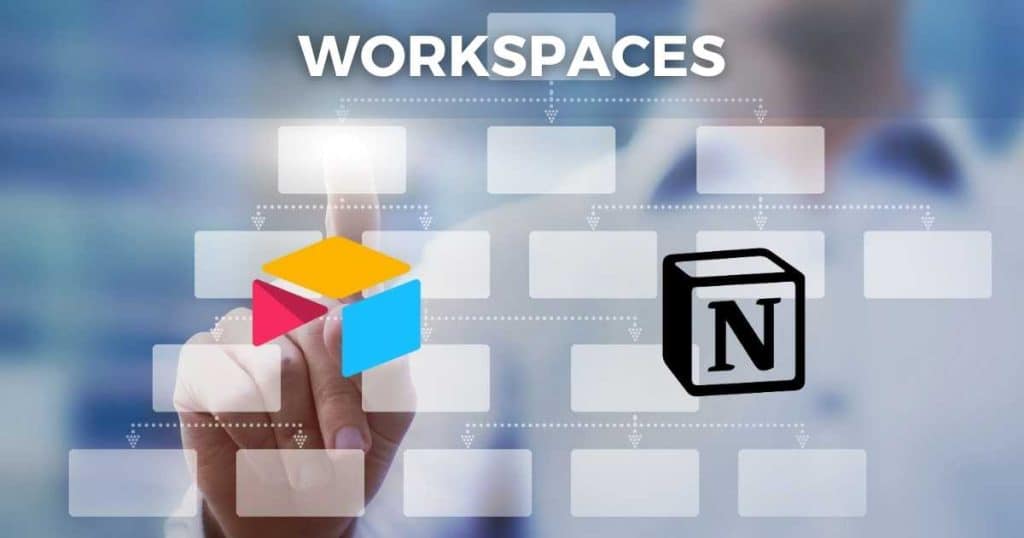 Your workspace is where you can organize and manage projects, tasks, and data, but they approach this concept differently.
Both platforms have quite different structures.
I mentioned earlier that Notion follows a systematic visual approach similar to other platforms.
Here's how it works:
Workspace (the foundation for your organization).
Pages (Wikis, notes, documents, etc). You can add headers, icons, and descriptions for these pages.
Teamspaces (collaboration pages)
Blocks (information within your teamspace). For example, your to-do lists, videos, meeting agendas, and more.
This visual approach means you can add and customize your workspace and pages as you like!
Airtable's spreadsheet workspace format and terminology are as follows:
Bases: (Your databases).
Tables: (Specific project or data tabs, similar to a spreadsheet. You can add multiple tables to your base).
Records: (Rows that store your items within your Base)
Column fields: (Details about your records. These could include user names, notes, dates, links to another record, status, etc).
All information is easily shareable amongst multiple bases and tables.
In addition to your bases, you can add different extensions to your workspace and tables. Extensions are essentially visual dashboards to help you analyze and action your data.
These include pivot tables, charts, and more.
Winner = Draw (depending on what you need it for!)
Customization: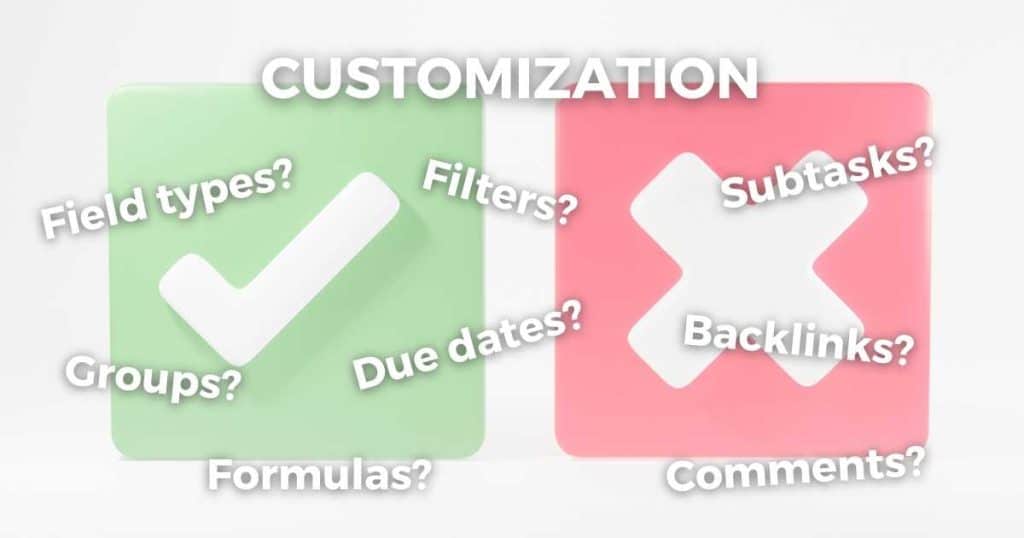 At first glance, Airtable's spreadsheet-like interface resembles Google Sheets or Excel.
However, when you dive in a little deeper, you'll notice the level of customization is higher than those tools.
You can:
Change the base color name and icon.
Edit your table names.
Handpick the color of statuses.
Add subtasks.
Add due dates.
Create formulas.
Tweak or modify your column field types and statuses and more.
A standout feature I particularly like is the ability to customize the record name based on the type of project you're currently working on.
For example, you could rename your records as Projects, Tasks, Approvals, Events, Campaigns, Requests, and more.
Within these blocks, you can add and customize task names, project names, statuses, and assign team members.
However, when compared with Notion, the level of customization is unparalleled.
If you start a page from scratch, you can drag and drop different blocks anywhere you like, meaning there are no limits on your page structures.
You can add cover photos, backlinks, comments, change your text size or font, and more.
And if you choose one of their easy-to-use templates, the range of customization and filter options continues!
Winner = Notion
Templates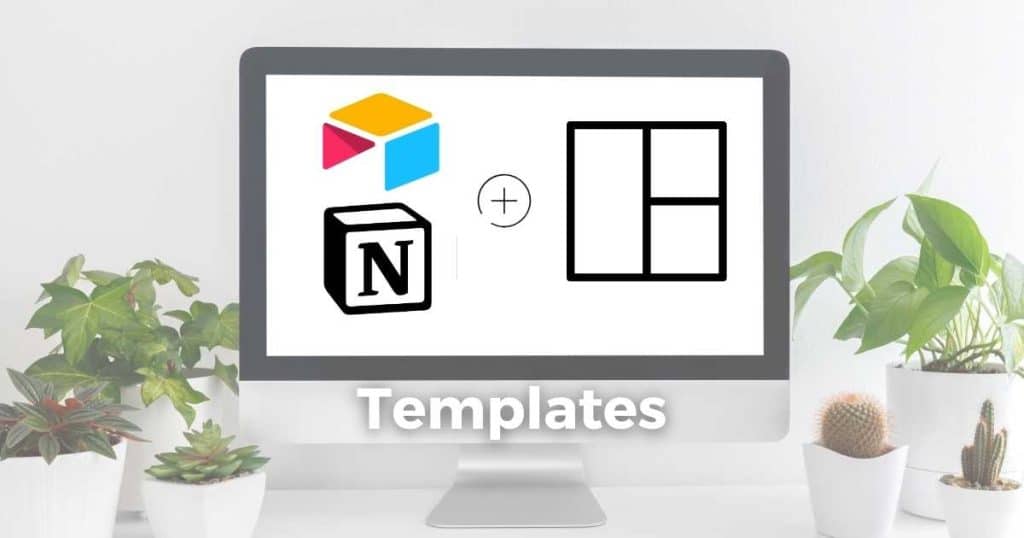 Airtable offers a range of pre-made templates covering anything from event planning, sales pipelines, business development CRMs, content calendars and product launches.
These templates are handy but can be overwhelming for beginners because of the amount of dummy data and pre-made fields.
I suggest starting from scratch if you're a newbie, then delve into the templates once you've figured out how the software works.
Notion also provides pre-made templates that are much easier to use than Airtable.
All you have to do is pick one from the left-hand side. You'll find anything from project tracking, CRM, travel planning, mood boards, presentations, onboarding, etc.
As I mentioned earlier, you can fully customize your templates, including the layout, view type, elements, and more.
Winner = Notion
Automation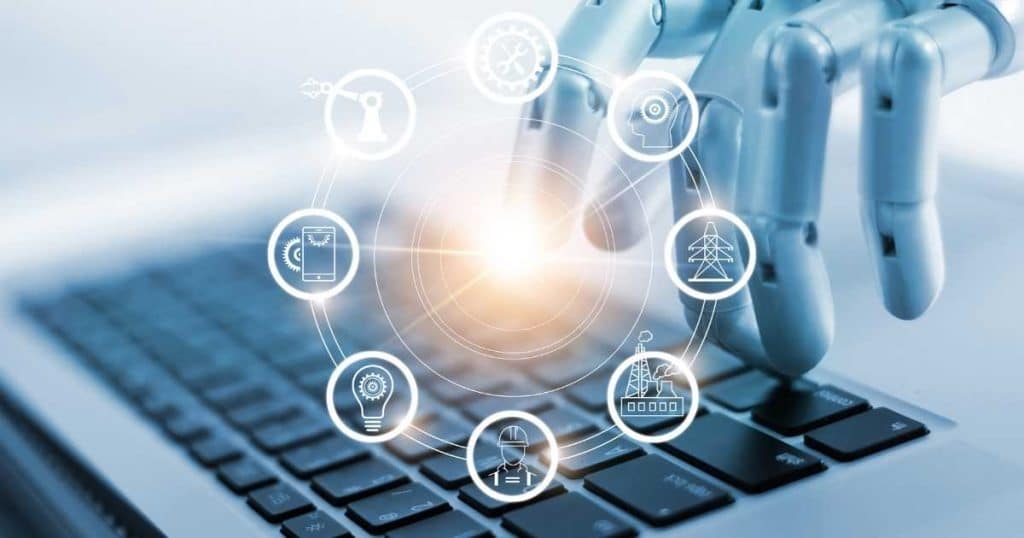 Airtables free plan offers a generous 100 workflow automation templates for triggers based on a specific action.
Or, you can manually set up an automation.
For instance, if you want someone in your team to know when something has been updated within a record, you could set it up so that that person automatically receives an email.
You can even run the same action on every item on your list!
Plus, you can set up a bunch of automations through some of the third-party integration tools I mentioned earlier.
Notion doesn't currently offer any built-in automations. However, you can use Notions API and third-party tools to create powerful triggered automations.
Winner = Airtable.
Collaboration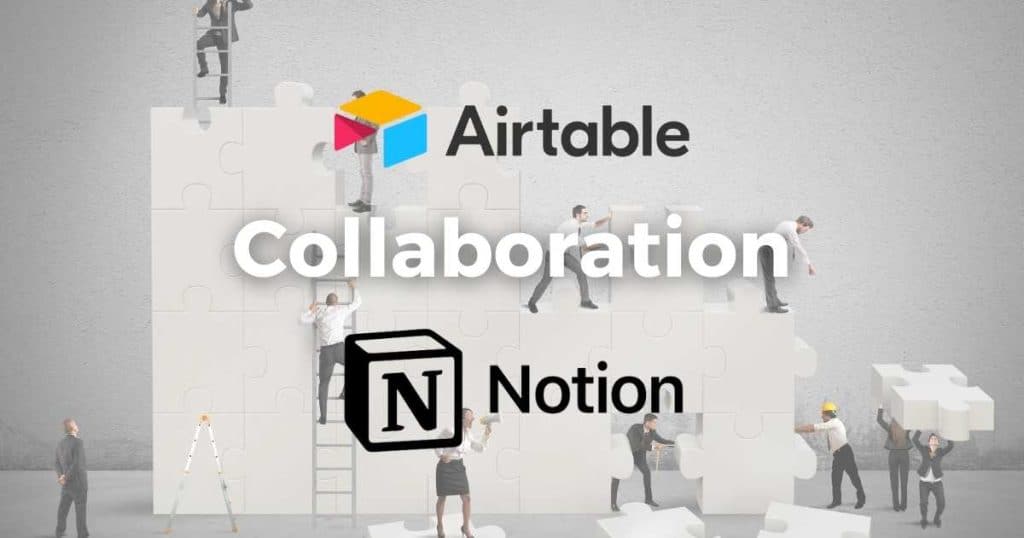 The collaboration capabilities of both platforms are impressive, with similar features across the board.
On both platforms, you can:
Add and view comments.
Share and edit pages, tables, and lists.
Notion's flexibility ranges from entire Teamspaces, databases, and documents to granular options for sharing individual pages with specific members.
And with full control over who has access to your information, Notion ensures secure collaboration.
Notion also offers an innovative backlink feature, allowing users to create automatic backlinks by '@ mentioning' specific pages.
On the other hand, Airtable offers real-time collaboration, enabling team members to work together on the same database simultaneously.
And with real-time updates, you can be sure your communication is streamlined for optimal team productivity.
Plus, both platforms externally integrate with Slack, my top choice for business productivity and internal communication.
Winner = Draw 
Pricing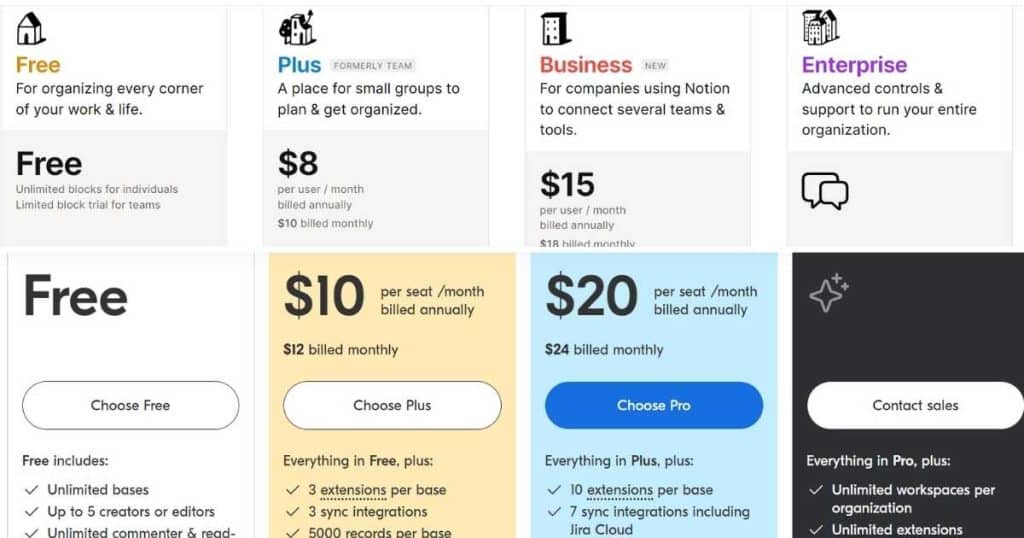 Airtable pricing:
Free (Maximum of 5 users)
Plus ($12 per seat per month)
Pro ($24 per seat per month)
Enterprise (Custom price)
Notion pricing:
Free
Plus ($10 per user per month)
Business ($18 per user per month)
Enterprise (Custom price)
Add-ons: Notion AI ($10 per user per month).
Primary differences between Airtable vs Notion
So, although Airtable and Notion may do the same thing at the surface level, they are actually quite different.
Some key differences are:
1. Functionality:
Notion is a versatile note-taking, project management, and knowledge-management tool that goes beyond databases.
Airtable is a powerful relational database project management tool built on a spreadsheet platform.
2. Customization and Workflow:
As mentioned earlier, both Notion and Airtable provide customization options, such as base colors and field types.
Notion goes one step further with backlinks and the flexibility to create a diverse range of page structures.
3. Scalability:
Airtable's spreadsheet-like functionality and extensive integrations mean it can serve as the backbone of an organization.
On the other hand, Notion's strength lies in knowledge management, and its limited integrations may affect its scalability.
Airtable vs Notion – Which is Best for You?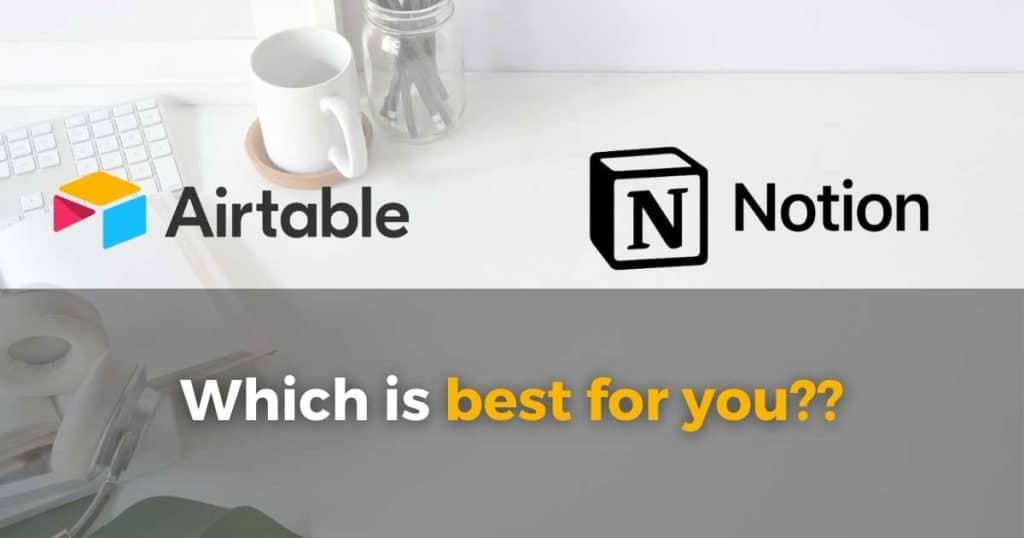 You should now have a pretty good idea of what project management solution will work best for your business.
So, to sum it all up, if you're after an easy-to-use centralized place to store your business documents, process, policies, tasks, and projects, Notion is the best option for you.
With Notion, you can create, edit and share anything from simple to-do lists to complex projects, and everything in between!
However, if you need a place to add, filter, sort, and group your important data-driven projects and tasks and Google Sheets or Excel isn't cutting it, Airtable is the way to go.
Airtable is the perfect place to organize and manage significant event, inventory, or sales data.
Stew's final thoughts
And that is it for this Airtable vs Notion guide!
Both are impressive project management tools, and you'll be in good hands regardless of your choice.
I hope I've shed some light on each platform's unique features, so you can decide what to go with.
And if you're still unsure, why not try both free plans?
Plus, there are so many other project management tools beyond Airtable and Notion.
Rest assured that no matter what you go with, there's something out there for you!
Thank you for investing your time in reading this guide.
Let me know your thoughts below!