Airtable vs Monday – which project management tool should you use?
Are you looking to automate, plan, organize, and oversee your projects, data, tasks, and communication? A powerful project management platform is what you need!
And if you've been searching for software options that align perfectly with your business, you've likely narrowed it down to Airtable vs Monday.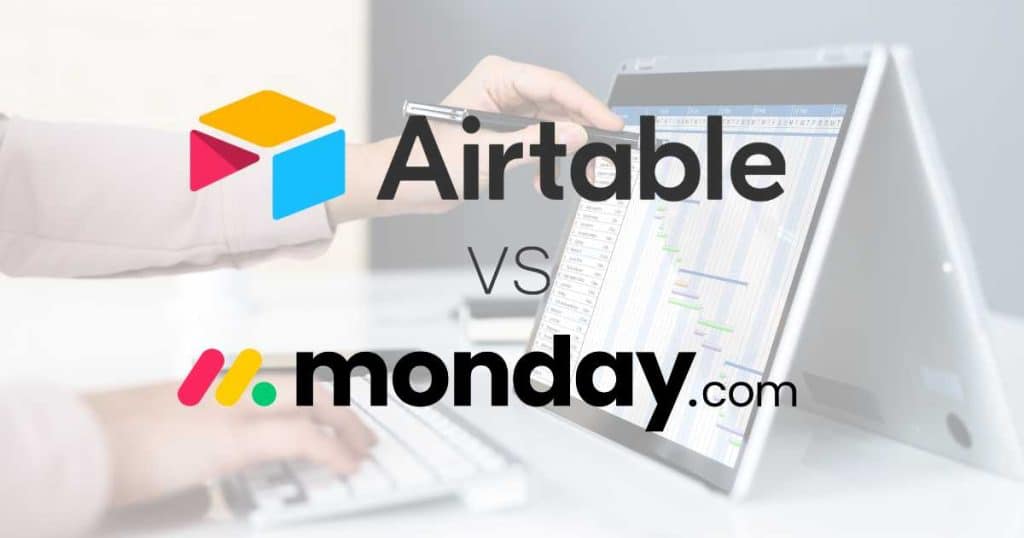 Airtable and Monday.com are two leading project management platforms.
Both are excellent project management choices. So, how do you pick the best one for you?
Read more: My 7 Best Project Management Software for Small Business
Airtable vs Monday
I'll explore both platforms' user experience, integrations, features, pricing, and differences so you can determine the most suitable for your project management requirements!
Whether you're looking for an easy-to-use, customizable workflow tool or a comprehensive database solution, I will provide you with everything you need to know to decide…
Which tool is best for you?
Let's dive right in.
What Is Airtable?
Airtable is an online database software founded in 2012 for creating and sharing data-driven spreadsheets and apps.
With Airtable, you can organize, store, track, and collaborate on your projects with customizable spreadsheets.
Think of it like a Google Sheets or Microsoft Excel alternative, but better because its both a spreadsheet and database.
If you want to create and manage databases for events, inventory, or sales data, Airtable empowers you to streamline your workflows and unleash your creative potential! 
What Is Monday?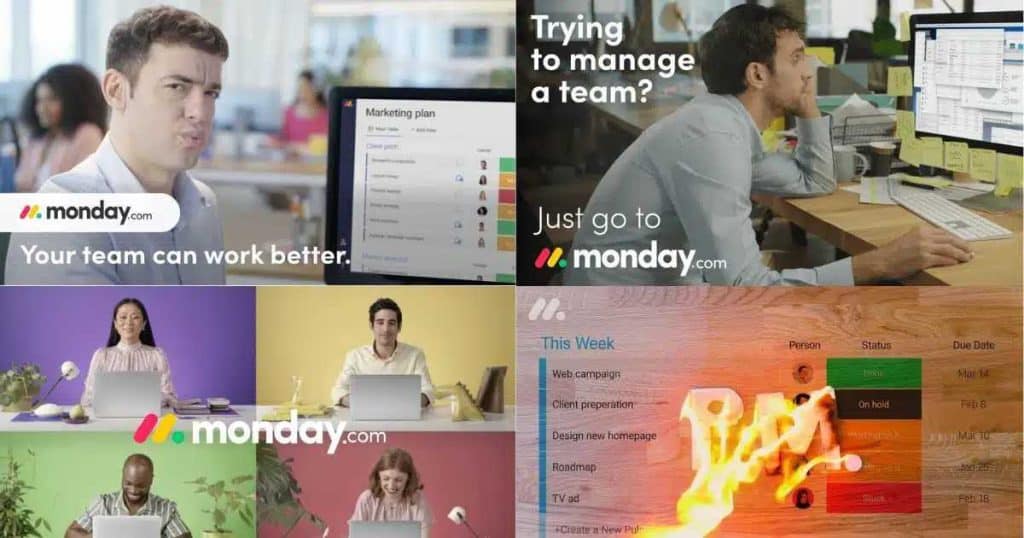 Monday.com is a fully customizable work management platform known for its visual interface, intuitive automations, and interconnecting board capabilities.
Unlike other project management platforms, Monday focuses on processes to help you seamlessly manage your workflows, tasks, and projects.
Monday is also a multi-product company offering CRM (customer relationship management) work management, product management, or marketing management services in addition to project management.
Read more: Monday.com review 
Airtable vs Monday for Project Management
Airtable and Monday.com cater to teams and businesses needing a robust project management tool.
Both platforms excel in their own ways – so with that said, which one is best for you?
Let's dive in and find out!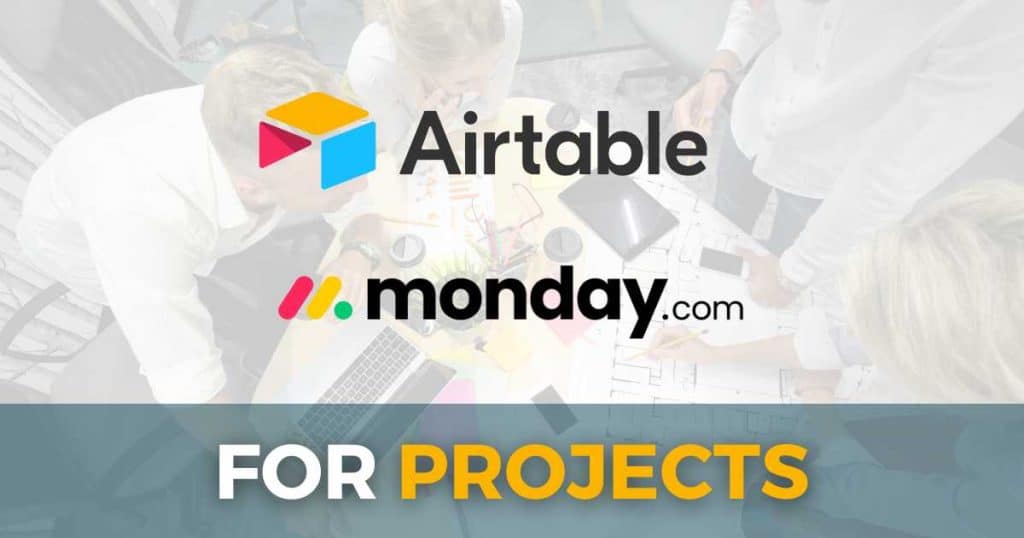 Airtable for Project Management
Airtable's innovative 'table' spreadsheet-like format and flexible interconnected data lists make it the perfect intuitive environment for storing and sharing data.
In addition to project management, you can use Airtable for contact databases, task lists, and document management.
It's no wonder teams love Airtable for syncing and storing data across multiple use cases!
Monday for Project Management
On the other hand, Monday.com's visually appealing interface and automation tools can't be beaten.
Monday's dynamic 'boards' allow for multiple views and seamless collaboration for many different business types.
And with a shallow learning curve, it's no wonder Monday has gained massive popularity in recent years.
User Experience & Ease of Use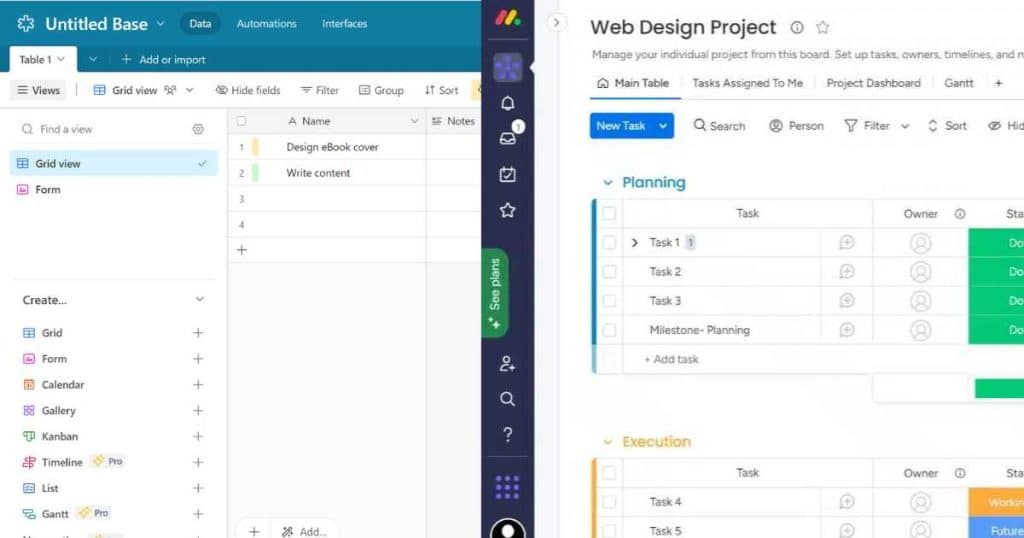 Airtable is a game-changer in the data organization and management world, offering unparalleled flexibility and connectivity for users.
However, unless you set up and categorize your information purposefully, it can lead to an overload of information.
And the learning curve is steeper with advanced features like calculated fields and automations.
But that's not to say that Airtable isn't user-friendly! The interface is clean and fairly easy to use. It just takes a little longer to figure out.
But don't worry; Airtable will walk you through everything you need to know.
And if you're familiar with Google Sheets or Excel, you'll love the 'Grid' view!
If you're after more versatile views, you can make use of these other view types all on the free plan:
Kanban.
Form.
Calendar.
Gallery.
So, what about Monday?
In my opinion, Monday has one of the most visually appealing and most straightforward interfaces.
Even the way you can connect your elements or dependencies across different boards is super simple.
They offer so many different fully customizable templates to help you get started, or you can start from scratch.
Monday only offers 2 view types on the free plan.
You'll get more versatile views such as 'Timeline,' 'Calendar,' and 'Map' on paid plans.
Despite this, I still think Monday is the easier platform to use.
Make sure to check out my step-by-step Monday.com tutorial here.
Winner = Monday.com 
Integrations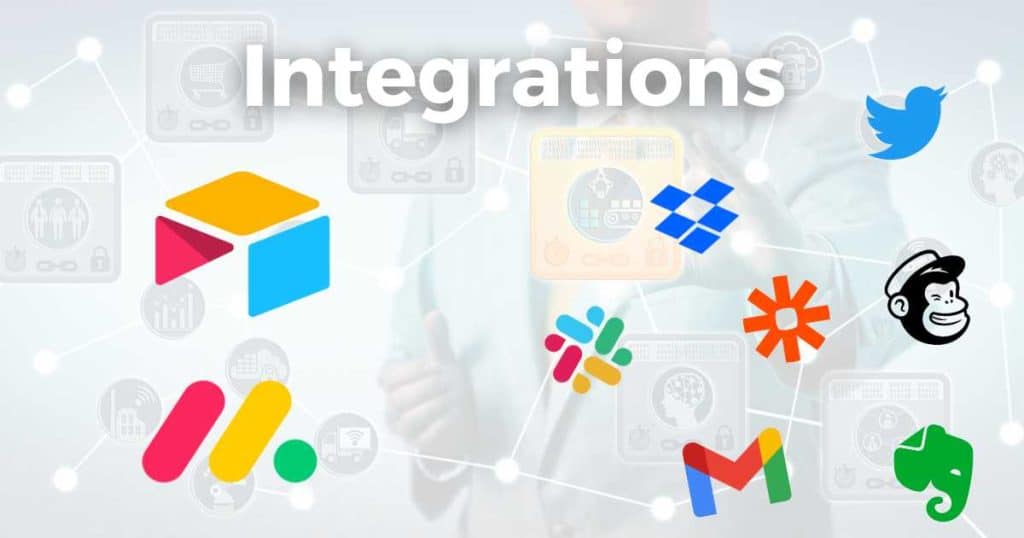 Both Airtable and Monday offer a pretty decent amount of third-party integrations.
Some of Airtable's integrations include Gmail, Slack, Twitter, Dropbox, Evernote, and MailChimp.
You can even connect and add your CSV, Google Sheets, or Excel data directly into your Airtable table and sync one external app on the free plan (and more on paid plans).
Plus, you can accelerate your workflows and connect those with other use cases through the  built-in app builder.
And if you're really technical and want to transform the way you work, you can build your own apps with Javascript and Airtables API.
With Monday, you'll be able to integrate with all your favorite apps like Slack, Microsoft Teams, MailChimp, Google Drive, Zoom, and more.
These integrations are only available on paid plans, which is a huge drawback.
However, as I mentioned earlier, one of the best things about Monday is that its a total work management platform.
This means you can connect your Monday CRM, sales, or marketing boards with your Monday project board!
Read my full Monday.com CRM review here.
Winner = Airtable 
Features
So, what are the key features of these project management solutions? Do they share anything in common? Let's find out.
Workspaces: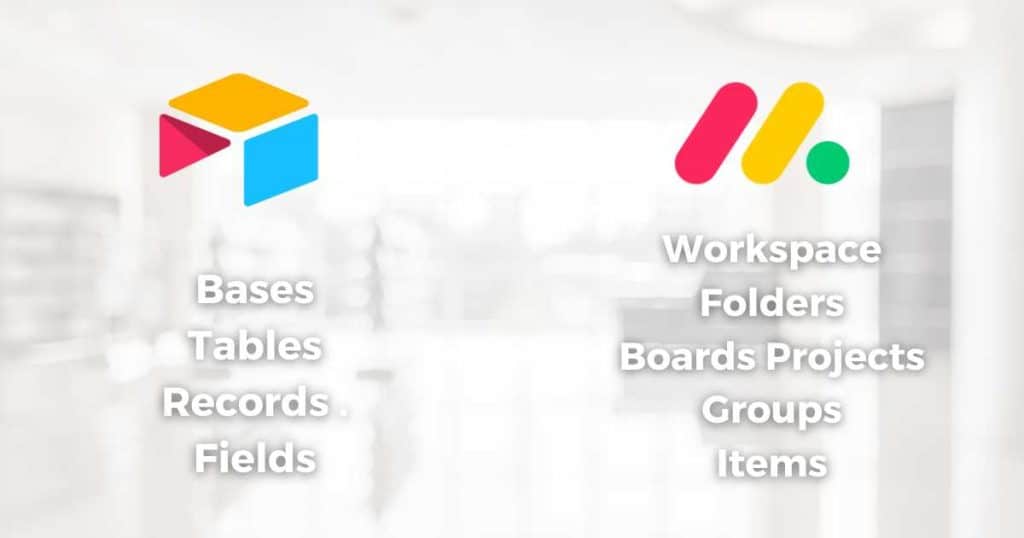 Both platforms have slightly different workspace structures.
With Airtable, you have:
Bases: This is your spreadsheet.
Tables: Think of these like different tabs within your spreadsheet. You can have multiple tables within your spreadsheet for different groups of data.
Records: These are the number of rows on your spreadsheet.
Fields: Think of fields as different columns. Your fields could include user names, notes, dates, links to another record, status, etc.
You can easily share information and records in your tables across different tables.
On Monday, you have:
Workspace: Your department.
Folders: Used to manage different projects.
Boards: Projects.
Groups: Used to manage tasks.
Items: Tasks.
In addition to this, you also have columns and field types similar to Airtable where you can share and store information.
Winner = Draw
Customization: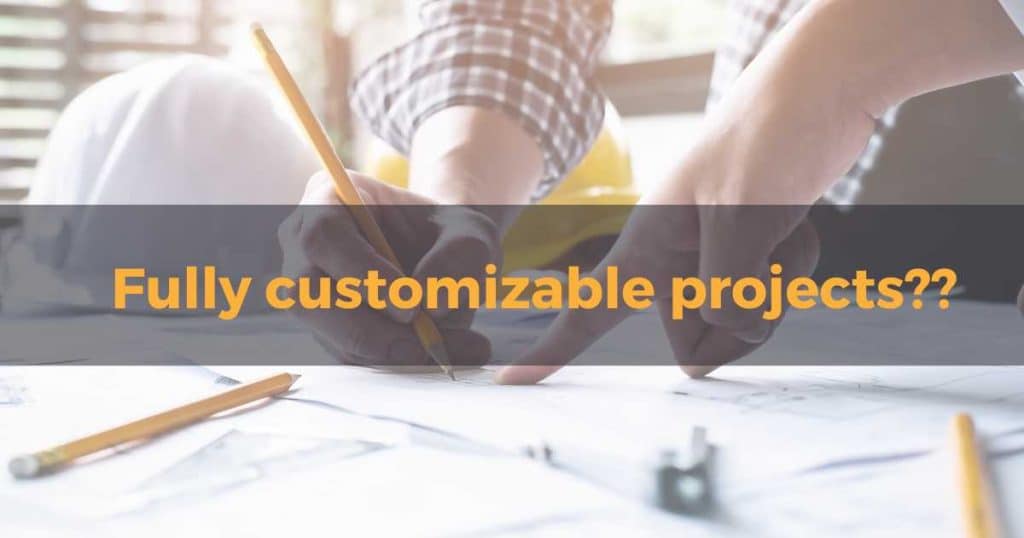 Monday is one of the easiest yet fully customizable project management tools I've ever used.
You can edit your project board types, columns, and statuses, meaning you can fully personalize your workspace and board depending on the type of project you're working on!
Monday even lets you add combo field types to combine multiple things, such as 'Date + Status.'
Although I love Monday's level of customization, there is limited permission control for fields and field formatting settings.
Check out my Monday vs SmartSuite comparison guide if you're after an alternative that challenges Monday's customization and permission controls.
So, what about Airtable?
I must admit; when I first opened a new Base in Airtable, I was met with a pretty plain 'Excel' lookalike.
However, when I played around with it a bit, I noticed you could change the color, name, and icon of your base and the color of statuses, add new field types, and more.
Plus, one of the cool things I love about Airtable is that you can change your record names to reflect what type of project you're working on.
Some different record names are:
Projects.
Tasks.
Approvals.
Events.
Campaigns.
Requests and more.
It doesn't look as pretty as Monday, and it takes a little more work to set up, but overall I think the customization level within Airtable is pretty good!
Winner = Monday
Templates: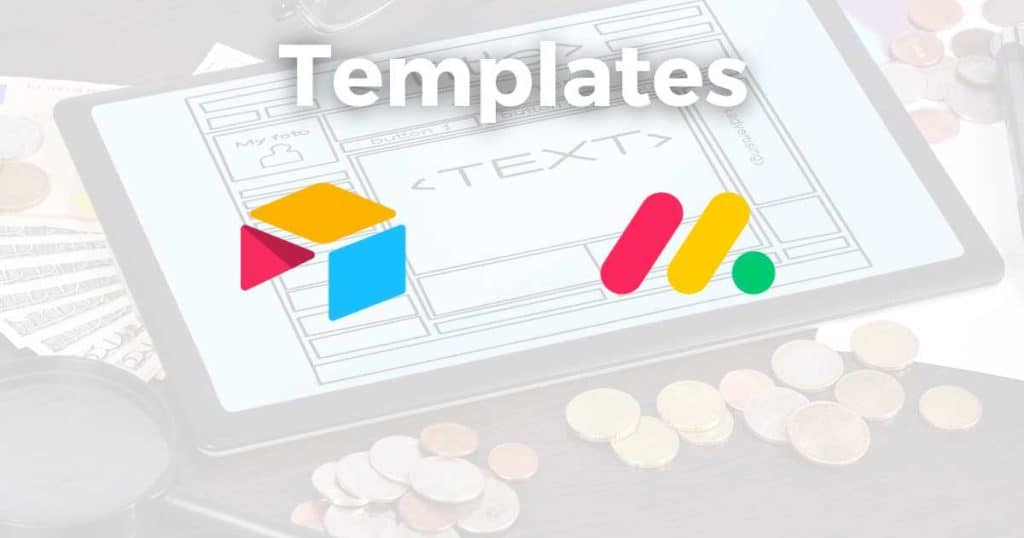 Both platforms have a diverse range of templates catering to various industry-specific needs.
Airtable's templates range from content calendars and project trackers to event planning and customer relationship management.
These are all excellent foundations to help you work collaboratively and efficiently, although can be pretty overwhelming. If you're new to Airtable, I'd recommend starting a new Base from scratch.
Monday.com's template library features ready-made, fully customizable templates for specific workflows, such as project management, sales pipelines, and marketing campaigns.
These templates mean you can jumpstart your projects and adapt them to your unique needs effortlessly.
Winner = Draw
Automation:
Monday.com is known for its stand-out automation abilities.
With Monday, you and your team can automate repetitive tasks more efficiently,  reducing time spent on manual efforts.
Monday.com's automation features include custom workflows, notifications, and integrations with third-party apps.
You can automatically assign tasks, change statuses, and send notifications, among other actions, based on specific triggers.
So, how does Airtable stack up in comparison?
On the free plan, you'll get up to 100 powerful workflows that trigger actions based on specific criteria.
For example, you could create an automation for an email to be sent to a specific team member when something has been updated within a record.
You can even run the same actions on a list of data with repeating groups.
Airtables automations are pretty good, but in my opinion, they don't compare with what Monday has to offer!
Winner = Monday
Read more about Monday automations here.
Collaboration: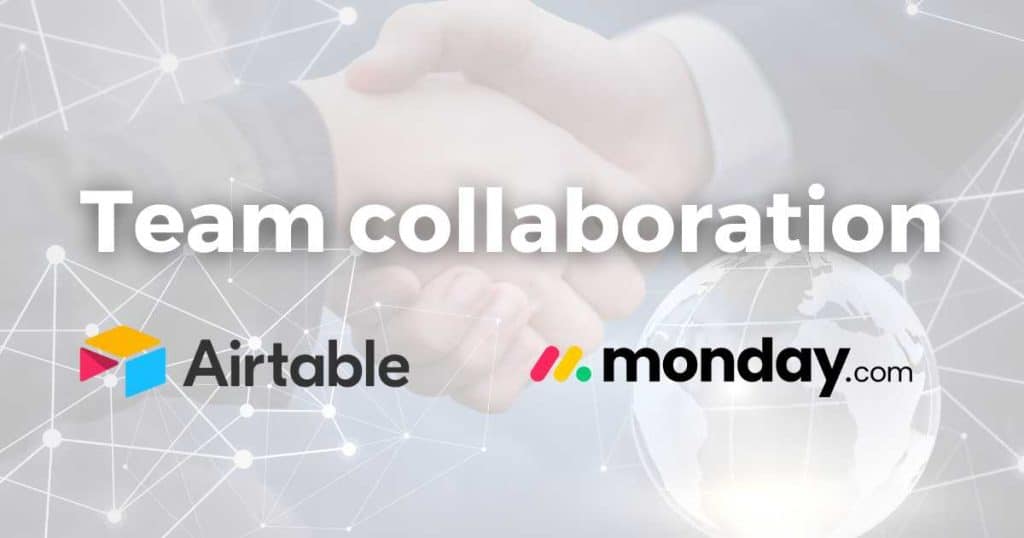 With shared boards and customizable views, teams can collaborate and communicate efficiently on Monday.com.
You can:
Assign tasks.
Set due dates.
Add comments.
Plus, you'll get real-time updates, activity logs, and notifications so that you can keep up to date with your projects in real-time.
Airtable also offers a similar environment for teams to work together. Multiple team members can collaborate, view, and edit data with shared bases and tables.
Plus, you get unlimited commenting ability and boards, all on the free plan!
While neither platform offers a built-in chat feature, both provide you with all the tools you need to share and collaborate effectively with your team!
You can, however, integrate both software with Slack, my favorite business communication tool.
If you're after total productivity, collaboration, and communication project management software, my top choice is Basecamp!
Check out how to use Basecamp here.
Winner = Draw 
Pricing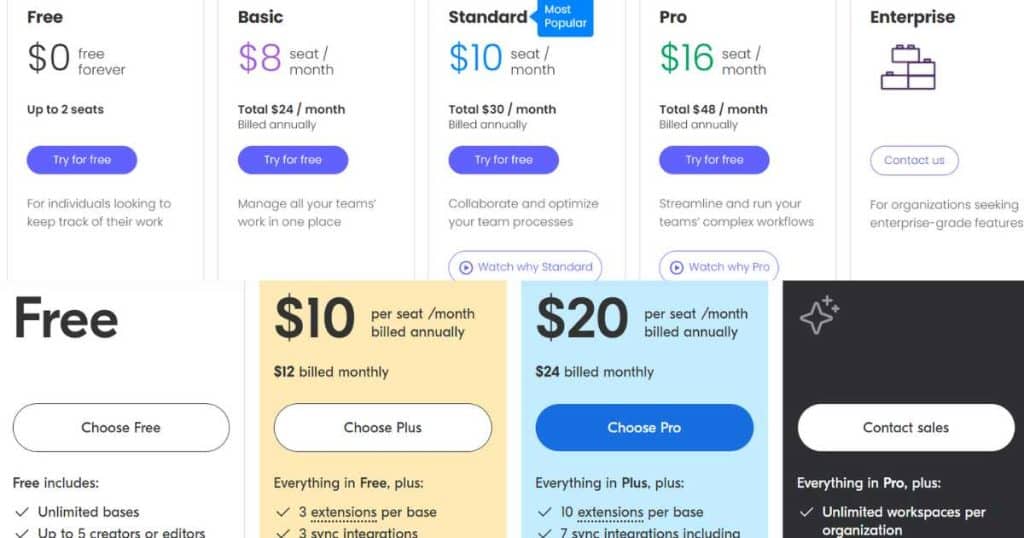 Airtable pricing:
Free (Maximum of 5 users)
Plus ($12 per seat per month)
Pro ($24 per seat per month)
Enterprise (Custom price)
Monday.com's pricing:
Individual plan (Free for up to 2 users).
Basic plan ($8 per user per month).
Standard plan ($10 per user per month).
Pro plan ($16 per user per month).
Enterprise (Custom price).
Winner = Monday 
Primary differences between Airtable vs Monday
While there are many similarities between these cloud-based project management solutions, there are three key differences.
1. Basic structure.
Although both focus on boards (or tables) to organize, streamline and plan projects and data, the basic structure is quite different.
Airtable is essentially a database with a spreadsheet-like interface, whereas Monday.com is a visual project management tool with flexible board structures.
Therefore, Airtable's relational database is a great option for storing, organizing, and analyzing complex data, as its spreadsheet-like interface makes it easy to use for data entry and analysis.
On the other hand, Monday.com's visual project boards provide a clear and intuitive way to organize and manage workflows, making it an excellent choice for various projects or tasks.
2. Automation capabilities.
Airtable offers various customizable automations that help you streamline your workflows and reduce manual tasks.
Monday also offers automations. However, Monday's visual automation shave more flexibility and customization options.
3. Collaboration and communication.
Again, both platforms offer similar collaboration features, but the approach differs somewhat.
Monday.com provides highly visual and customizable boards to assist with team collaboration.
Airtable is more data-driven, with collaboration features built around the data itself.
This approach makes Airtable more suitable for data-heavy workflows.
Monday.com is better suited to workflows that demand strong visual organization, team coordination, and pipeline and deal management.
Which is Best for You?
So, you've narrowed down your project management search to Airtable vs Monday.
What do you pick?
As you can see, both platforms offer very different things! It all depends on your business and what you're looking for.
Are you a small to medium-sized business that wants a centralized place to manage your:
Work.
Projects.
Sales.
Marketing.
CRM.
There's no doubt about it that Monday.com is the best choice!
However, are you a data-driven agency or content creation team and want to pull, sync, and organize large databases for events, inventory, or sales data management?
Airtable is the way to go.
Stew's final thoughts
That brings me to the end of this comparison guide on Airtable vs Monday.
I hope you gained value from everything I've mentioned above and can see which of these incredible platforms is best for you!
And if you're still not sure, check out my other project management articles here, where I take a deeper look into all my favorite tools.
I promise the perfect project management platform is out there for you.
Thanks for reading.