Airtable vs Asana – Which project management tool is best for you?
Airtable and Asana are popular online project management choices in 2023.
Both are excellent options to help you plan, organize, streamline, and automate your projects and tasks.
But with that said, what is the best software to use for your business?
That's where I step in!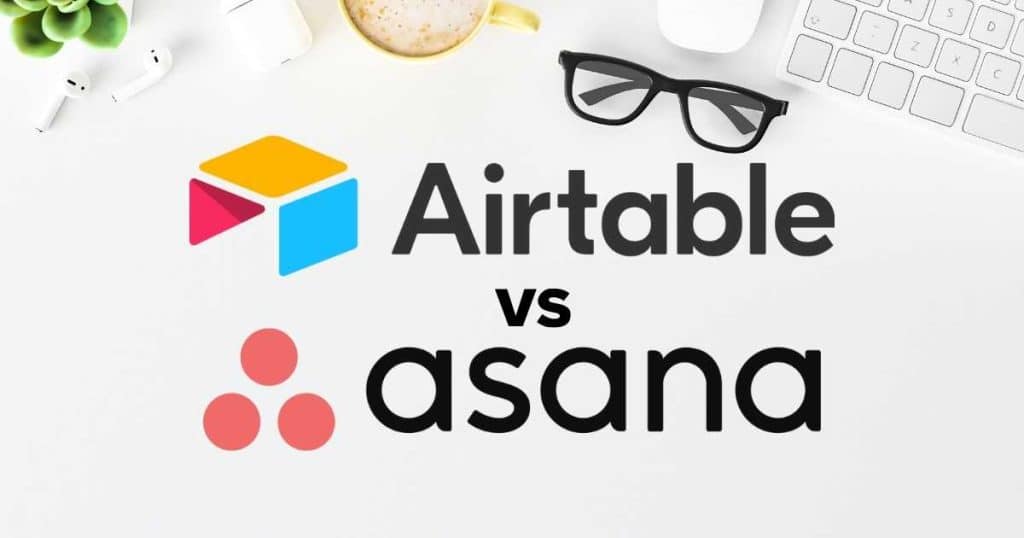 I'm going to dive into both platforms and compare the user experience and ease of use, integrations, key features, and pricing, plus the primary differences between Airtable vs Asana.
By the end of this article, you should be able to determine the best project management platform for you.
Let's get stuck in!
What Is Airtable?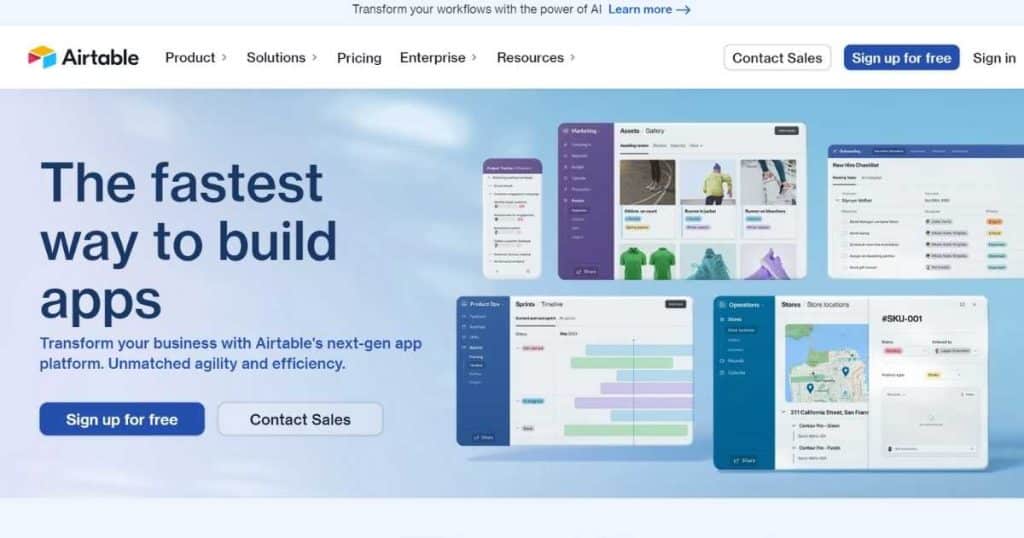 Airtable is game-changing online relational database system software that will reshape how you create, manage, and leverage your data and projects.
With Airtable, seamlessly organize, store, sync, track, and collaborate on your projects with highly customizable spreadsheets.
Imagine combining the best of limited spreadsheet platforms like Google Sheets or Excel with the power of a robust database?
Get ready to take control of your data with Airtable!
Airtable is amazing for teams wanting to establish and manage databases for their events, inventory, or sales data or for tracking team activities, projects, and CRM efforts.
No matter the data, Airtable provides the all-in-one solution to streamline your workflows.
What Is Asana?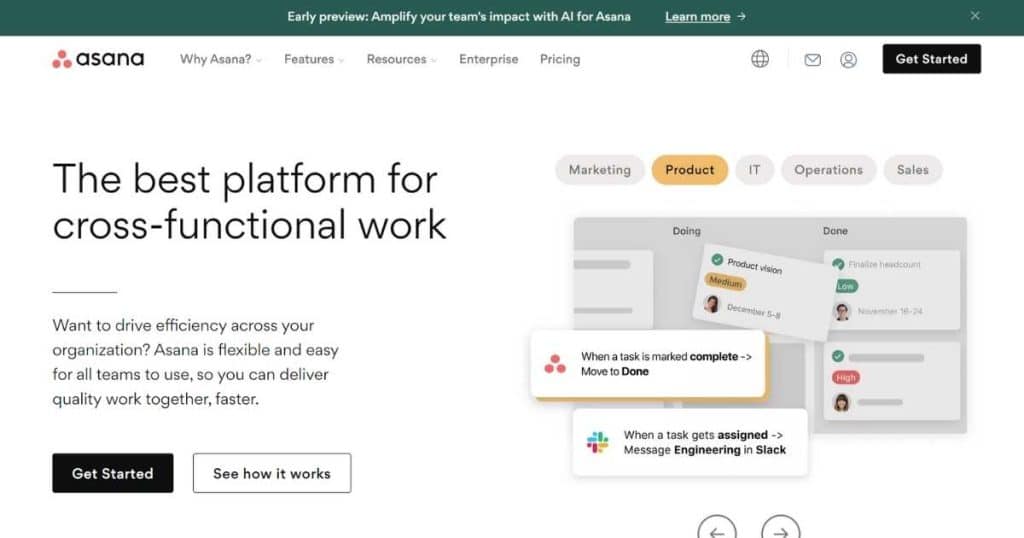 If you're after a streamlined and effective tool to organize and track your teams and projects, Asana is the solution you've been searching for.
Why? Asana is the epitome of simplicity and efficiency!
Think of it as an online to-do list, but better. Asana combines collaboration, organization, and coordination seamlessly on one easy-to-use platform.
So if you're a small business on a budget looking to reap the benefits of task and project management software without sacrificing valuable resources, look no further!
Airtable vs Asana for Project Management
Airtable is a total relational database management system, whereas Asana focuses on a simplistic approach to staying on top of your tasks and projects.
It's difficult to directly compare Airtable vs Asana for project management as they cater to different business needs.
Let's dive in and learn more about what each has to offer!
Read more: Asana vs Monday
Airtable for Project Management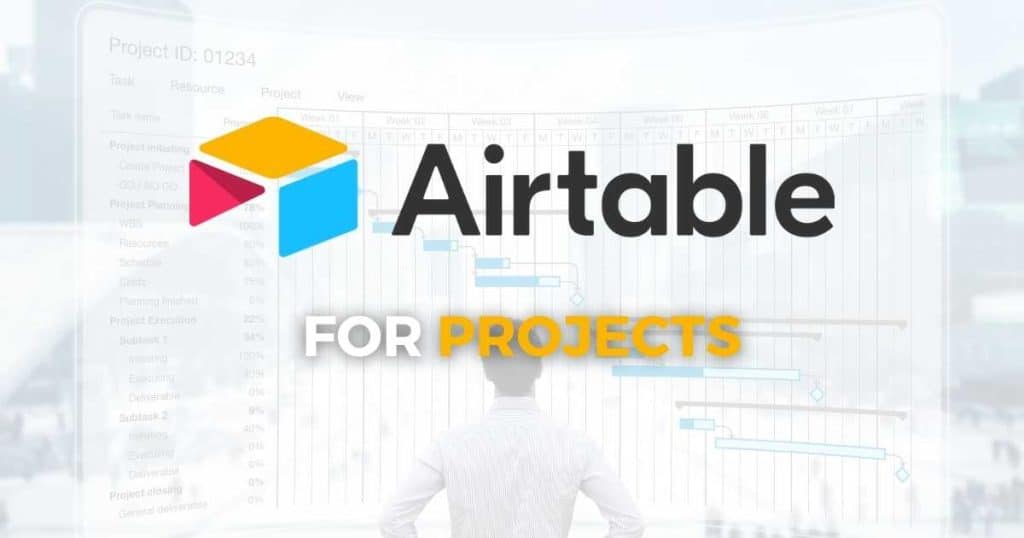 Unlike other spreadsheet applications, Airtable unlocks the full potential of your data by making it actionable.
With many features like data organization, tracking and syncing across different use cases, Airtable is your one-stop shop for centralized data.
Effortlessly manage your contact databases and projects.
Brainstorm and plan content ideas.
Create task lists.
Organize your documents through Airtables 'Table' format.
Plus, with customizable templates, Airtable is suitable for beginners or experts with simple or complex projects!
Asana for Project Management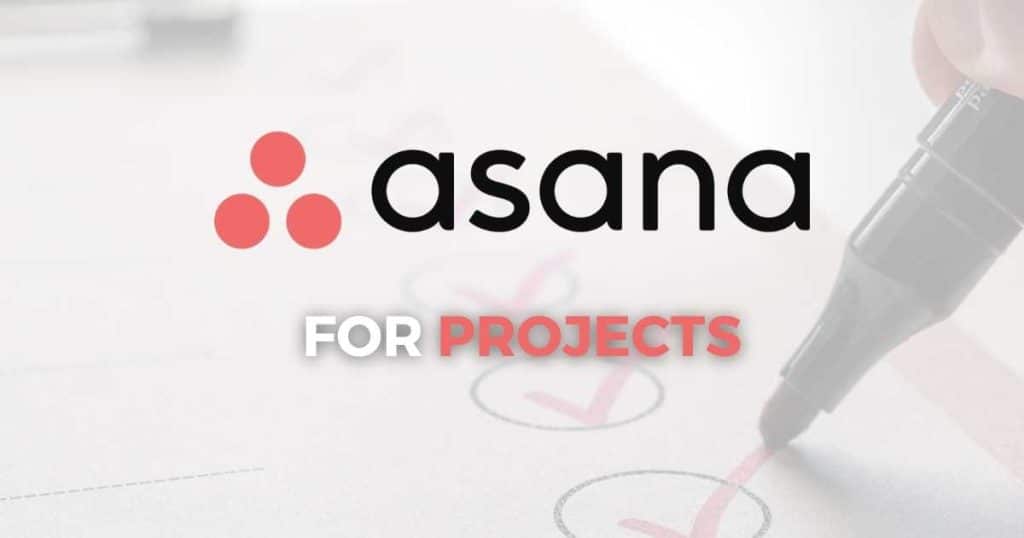 Asana is a basic yet versatile project management software best suited for small teams after a range of features to streamline and optimize their projects.
You can easily track and organize your tasks, assign responsibilities, collaborate with your team, and customize fields.
In my opinion, Asana has the best free plan on the market!
On the free plan you'll get unlimited:
Projects.
Tasks.
Activity logs.
Comments.
And Storage.
You truly can't beat it!
Although, in saying that, if you're after expense tracking or budgeting features, Asana isn't the best choice for you.
I recommend using a more complex database software such as Smartsuite – or Airtable of course!
Read more: Monday.com vs Smartsuite
If you prefer learning through video, then I will add the Asana tutorial for beginners for project management software for this process below.
User experience & Ease of use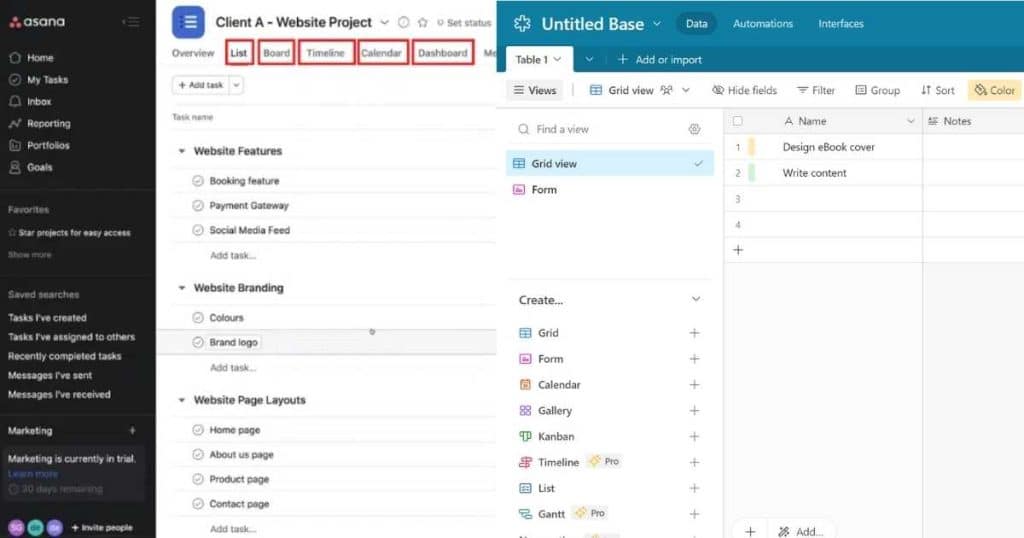 Both Asana and Airtable have pretty intuitive interfaces.
With that said, Asana's interface is, without a doubt, a lot more user-friendly, less overwhelming, and easier to navigate than Airtable.
This makes sense, considering Asana is a much more basic project management software!
Asana's design is optimized for streamlining and managing your tasks and project workflows with the following main features:
Drag-and-drop task assignment.
Real-time collaboration.
Activity feed updates.
Plus, you can view your tasks and projects in three dynamic views on the free plan -list, board, and calendar (plus more on paid plans)!
Because Airtables is a complete database system, the interface is more complex than Asana and, therefore, can take a little longer to figure out.
In saying that, the number of views on the free plan trumps what Asana offers, including Kanban, Form, Gallery, Calendar, or Grid view.
Once you take the time to learn how Airtable works, you'll realize how flexible and customized you can make your projects through their table 'spreadsheet' format.
Winner = Asana
Integrations
Asana integrates with over 100 of your favorite tools (all on the free plan!), including Slack, Dropbox, Trello, Google Drive, and much more.
So, although Asana is a basic tool at its core, you can actually do more with your projects by using these integrations, including:
Automations.
Colloborations.
Marketing (just to name a few).
Airtable also offers an integration library. However, the number is significantly lower than Asana (around 30).
In saying that, the integrations included are all my favorite tools, such as Zapier, Gmail, Slack, Twitter, Dropbox, Evernote, and MailChimp, which is a tick in my books!
Winner = Asana
Read more: Top 10 MUST have digital tools for small businesses
Features
Workspaces: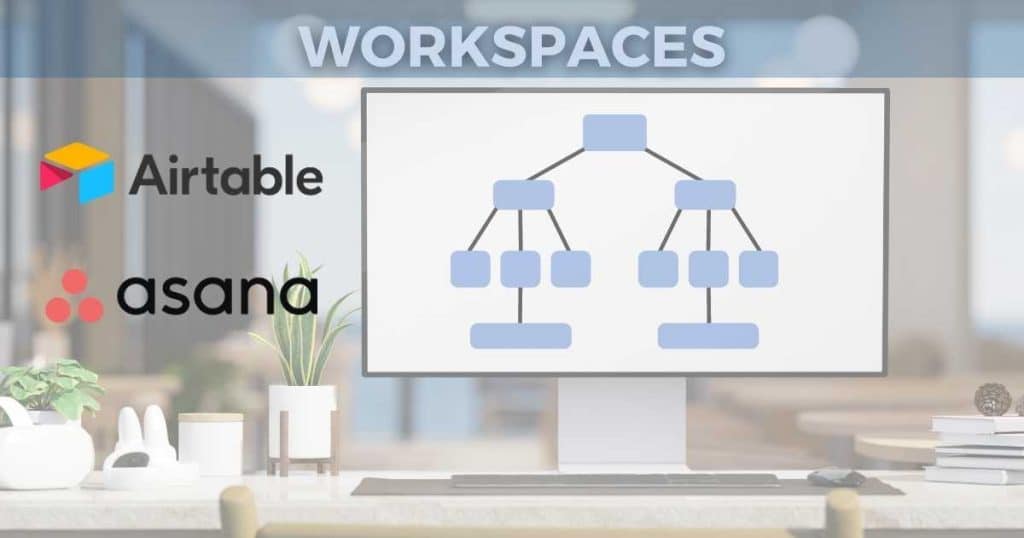 Asana and Airtable have different workspace approaches.
With Asana, the structure heavily relies on projects and tasks:
Organization (Your business name).
Teams (Departments or groups of teams that work together).
Projects (The specific projects, goals, brainstorms, meeting agendas, or initiatives the team is working on).
Tasks (Actionable steps within that project).
Sub-tasks (Multiple steps within your tasks).
Comments (Relating to your tasks).
This hierarchical workspace structure means you and your team can easily collaborate and manage your projects!
Airtable takes a slightly different approach with workspaces, primarily focusing on the organization and management of your data:
Bases (Your databases).
Tables (Specific project or data tabs, similar to a spreadsheet. You can add multiple tables to your base).
Records (Rows that store your items within each Base)
Column fields (Specific details about your records, including user names, notes, dates, links to another record, status, etc).
And if you want to enhance your workspace and tables, you can incorporate various extensions in addition to your bases.
These extensions serve as visual dashboards, empowering you to analyze and take actionable steps with your data.
Winner = Draw
Customization: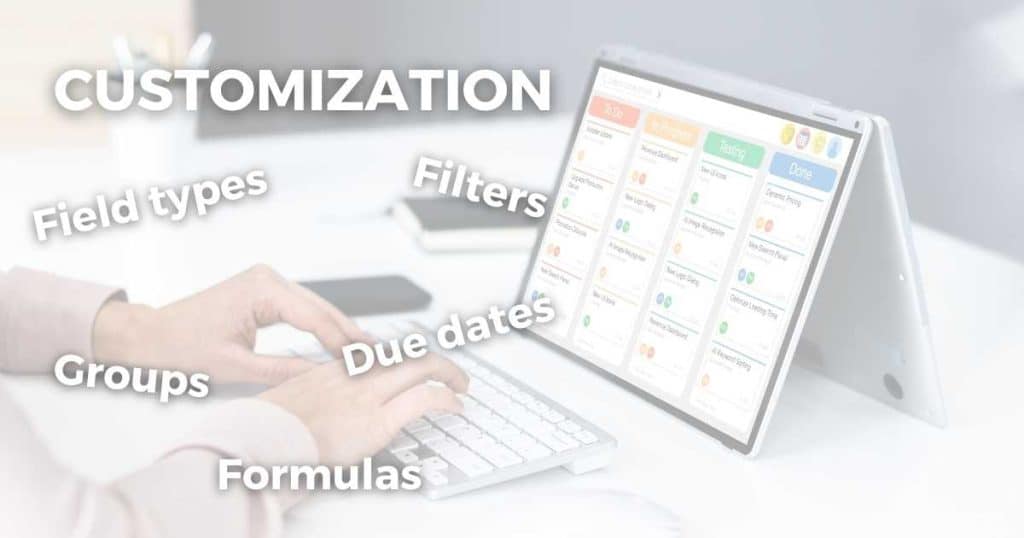 Airtable is known for its extensive customization options, particularly regarding data organization.
You can:
Choose and modify field types.
Customize your data views through sorting, filtering, and grouping.
Configure forms to gather information from external stakeholders.
Create formulas.
Plus, you can do all the basic things like change your base's appearance, icon, and name, add subtasks and due dates, and assign team members to tasks.
This level of customization and flexibility means you can adapt the platform to meet your needs, whether that's complex data or tracking project progress.
Asana, on the other hand, has a more structured interface.
While it may not offer the same level of customization as Airtable, Asana does allow users to tailor their experience to some degree.
You can add and edit descriptions, assignees, due dates, recurring tasks, priorities, and attachments, choose if your project is private or public, and more.
One of the things I personally love about Asana is that you physically tick off tasks when you complete them (like you would on an actual to-do list), which is just so satisfying!
Winner = Airtable
Templates: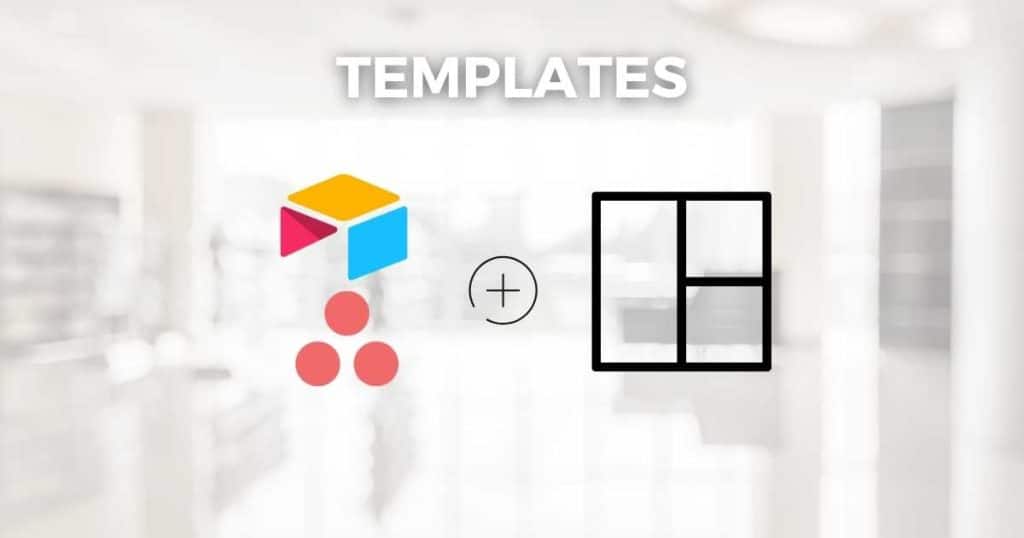 Templates are a great way for you and your team to jumpstart your projects and workflows.
Asana provides a wide selection of pre-built templates to help with:
Project planning.
CMR
Meeting agendas.
Events.
Onboarding and more.
These templates are pretty easy to use and have been designed to offer a good starting point for you, with pre-populated tasks, due dates, and dependencies.
And if you upgrade to a paid plan, you'll get custom templates and a workflow builder!
Airtable also offers a range of templates focusing on data organization and management.
Users can choose from templates tailored for different purposes, such as CRM, project management, inventory tracking, events, content calendars, product launches, and more.
Read more: My top 7 CRM software for small businesses
These templates also come with pre-defined fields and configurations. However, it's important to note that these can be slightly overwhelming for complete beginners.
If you're new to the world of project management, I suggest starting from scratch with Airtable.
Winner = Asana
Automation: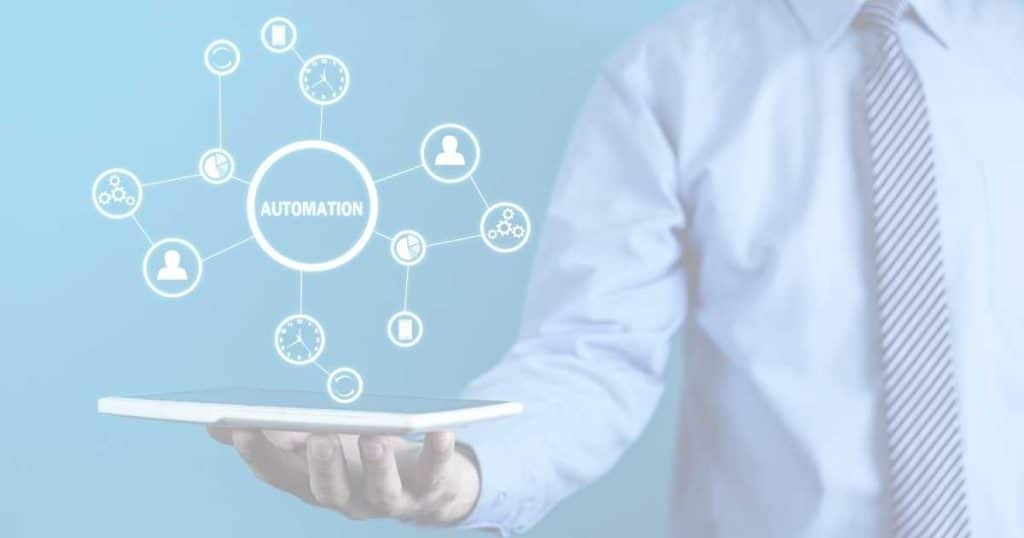 On both platforms, you can automate everyday tasks to help you save time, like sending emails or adding new records based on external triggers.
In Asana, the automation feature is called "Rules."
Basically, you can create custom rules based on triggers and actions to automate mundane and repetitive tasks.
For example, when you add a task to a project, set up a rule to automatically assign that task to a particular team member.
With Airtable, you can build up to 100 powerful automated workflows (on the free plan!) for different functions.
Simply set up triggers based on record changes, and define actions that include:
Sending notifications.
Updating fields.
Creating new records.
Airtable's automations are more advanced and customizable for data-driven workflows, whereas Asana's are simple yet effective.
Read more: How to use Monday.com automations
Winner = Airtable
Collaboration: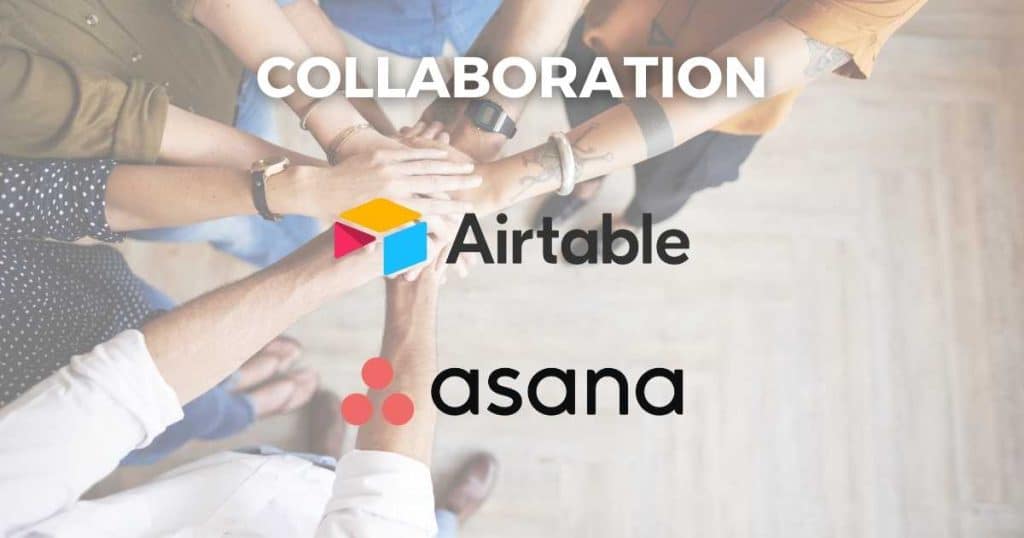 You'll love Asana's collaboration features if you're a cross-functional team!
With Asana, simply assign the same task to different project boards or break up your tasks into subtasks to make cross-departmental collaboration easier.
With real-time updates and notifications, you and your team will stay in sync and track the progress of your projects seamlessly.
Asana also allows for task dependencies, making it easy to visualize and manage workflows with multiple interconnected tasks.
Additionally, users can use the "@mention" feature to tag specific team members.
On the other hand, Airtable's level of collaboration is more advanced than Asanas. Teams can create and manage databases by assigning different access permissions for team members.
Other features include:
Collaboration within bases.
Comments on records.
Table sharing.
Tracking changes made by users.
File attachments.
Automated notifications and reminders.
Asana is the best out of the two for internal communication, whereas Airtable is the go-to option for teams needing to communicate with external teams.
Winner = Airtable
Pricing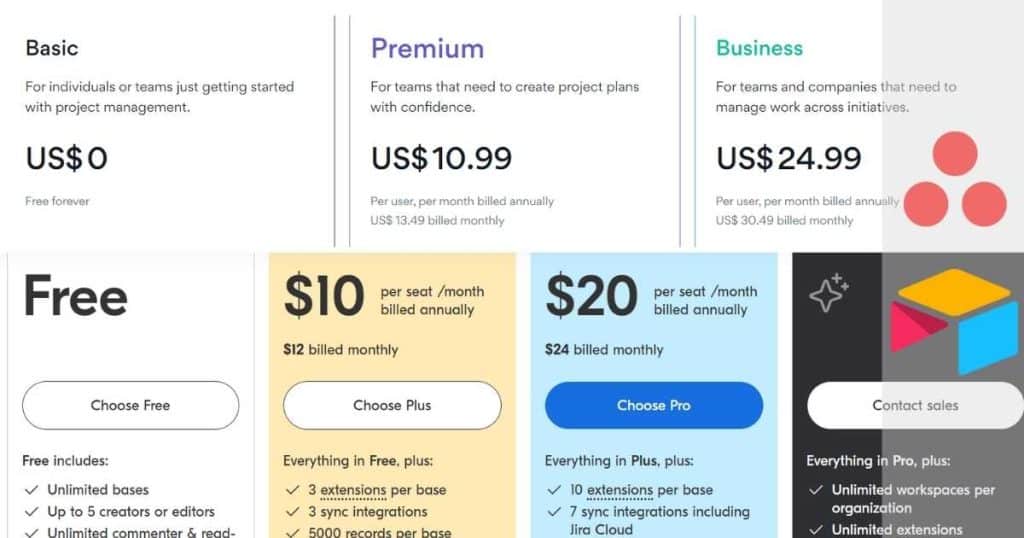 Airtable pricing:
Free (Maximum of 5 users)
Plus ($12 per seat per month)
Pro ($24 per seat per month)
Enterprise (Custom price)
Asana pricing:
Basic ($0 unlimited users, projects, and storage)
Premium ($13.49 per user per month)
Enterprise ($30.49 per user per month)
Winner = Asana in terms of how much you can do on the free plan.
Winner = Airtable for slightly cheaper paid plans.
Primary differences between Airtable vs Asana
1. Flexible vs structural model.
As Asana is primarily used for tasks and projects, naturally, the software is very structured.
In fact, I personally believe Asana is one of the easiest platforms to understand and use, and is perfect for teams after a streamlined task management solution.
However, Asana may not be the best choice if you're after dynamic workflows.
Airtable's database is flexible and customizable and its strength lies in its versatility for data organization and management!
2. Reporting.
Because Asana only focuses on task and project management, the reporting tools are limited.
However, they still offer basic reports, plus integrations with powerful reporting tools like Power BI.
Airtables custom and interactive reports are a stand-out feature of the platform that helps you combine or drill into specific information.
3. Scalability
If you're after a solution for different use cases or to help you scale your business, Airtable is the way to go!
This level of scalability is just beyond what Asana can offer.
Which is Best for You?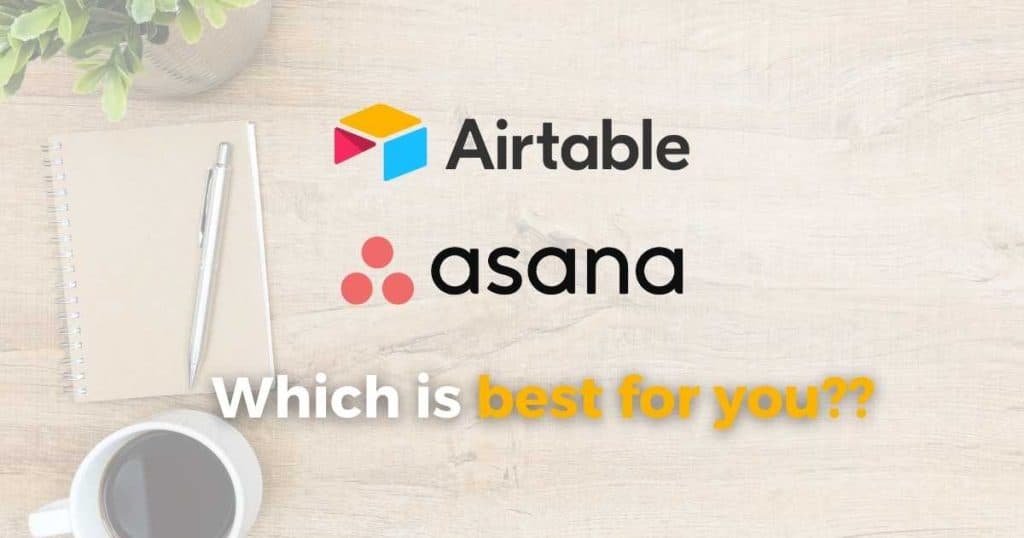 So with that said, what is the best solution for you?
If you're a small team after a basic yet effective task and project management system to help you organize your projects, go with Asana.
With its user-friendly interface and robust features like task assignments, deadlines, and progress tracking, Asana is perfect for beginners!
On the other hand, if you're a data-driven business and need an online system to help you organize your event, inventory, or sales data, Airtable is the way to go!
Not only is it highly customizable, but you can use it as a database, CRM, or content management system!
Stew's final thoughts
And there we have it! That concludes this Airtable vs Asana 2023 article.
I hope you understand more about each platform and what they offer and can now identify the best option for you.
In saying that, both are excellent options! They just cater to different teams and needs.
Have you tried Airtable or Asana? Or is there a better tool out there?
Let me know what you think below.