Welcome to Monday.com – There's no shortage of comprehensive business management systems available to help you streamline operations and scale your outfit. Let's see what makes it so unique.
But even the highly customizable options out there fall short sometimes.
Your business is unique, and that means if you really want to optimize comms, productivity, and reporting whilst uniting all three needs in a singular ecosystem, you have to build your management software yourself — Enter monday.com.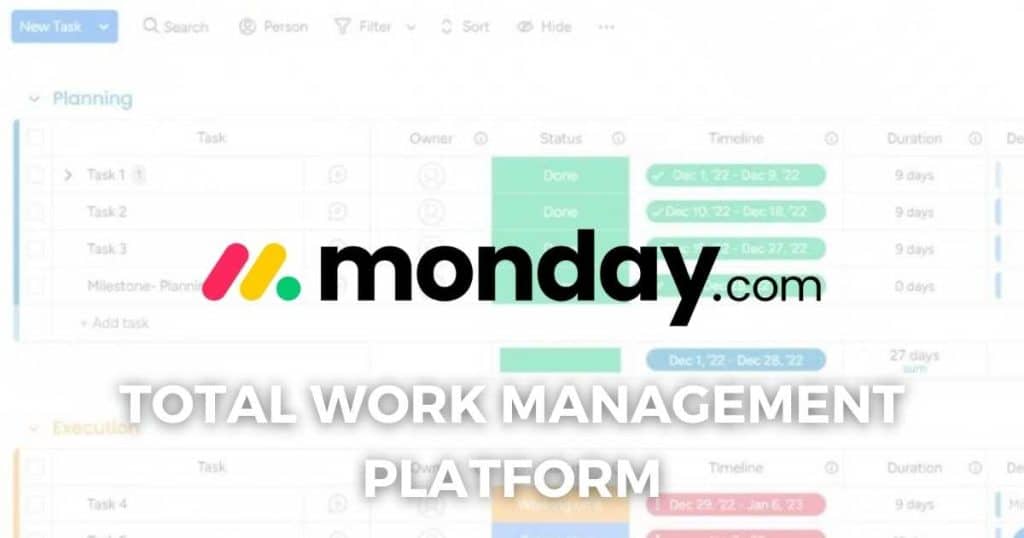 In essence, monday.com makes this all possible for businesses without having to hire a wealth of expensive experts to do it for them.
I'm going to get up close and personal with this software to see what makes it tick, and – more importantly – see if it's the right management system for your business.
Monday.com — A Bit Of Background
Based in Tel Aviv, Israel, monday.com was founded in 2012 by Roy Mann, Eran Kampf, and Eran Zinman.
It was launched in 2014 after generating $1.5 million in seed funding and has since gone from strength to strength.
Monday.com is now the operational basis for the directors of 127,000 companies spread over 200 business verticals, a feat that helped snag them the 2020 Webby Award for Productivity in the Apps, Mobile, & Voice category.
What Does Monday.com Do?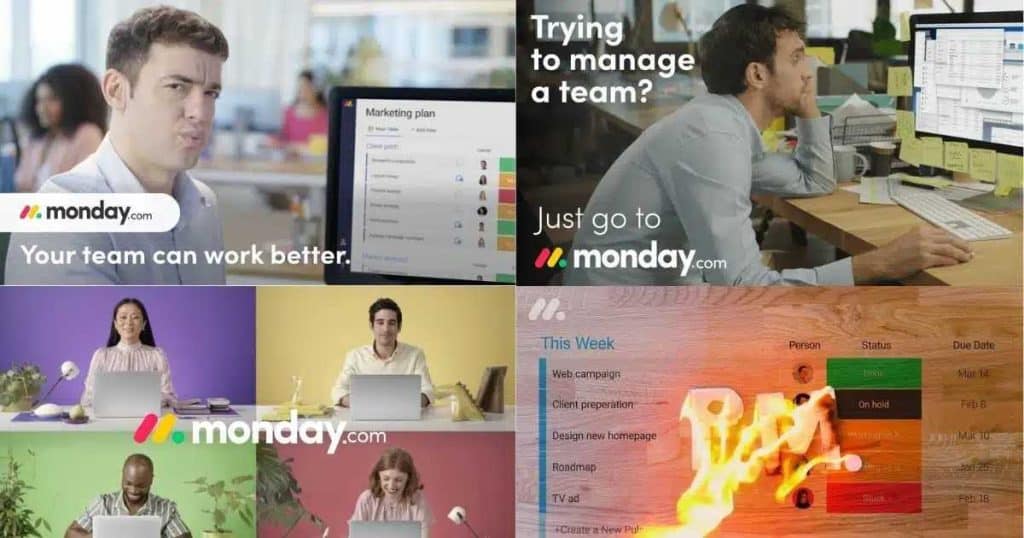 It's tricky to put what monday.com does into words because, really, it does whatever you want it to.
I mentioned the fact there are lots of customizable management platforms around a moment ago, but none can be tailored to your business the way that monday.com can.
All things considered, monday.com has three primary functions:
Tracking projects and workflows — Wherever sort of industry your business operates within, Monday has the tool to track progress and organize workload, meaning less time is spent managing work and almost all your time can be spent doing
Gathering, visualizing, and reporting data — As businesses grow and evolve, the only way to monitor performance and make educated decisions about direction is to establish quality reporting, and monday.com has excellent reporting capabilities that morph into a shape that suits your operation.
Encouraging and facilitating team collaboration — No matter the specifics of your monday.com ecosystem, you can add social aspects that allow people to communicate directly about the most specific details of your service.
This function can streamline and expedite projects, prevent errors, and generally improve productivity.
… But why does monday.com do these things?
Well, ultimately, the goal of monday.com is to improve operational efficiency of a team or organization.
You can think of it as a one-stop hub where everyone in a company gets all the information they need to do their job to the highest standard, especially when paired with a dedicated comms app such as Slack or Microsoft Teams.
Want to know more about Slack? Check out my step-by-step guide here.
And speaking of outside software, monday.com supports a massive array of integrations and automation, so if you don't want to transfer all operational aspects of your business to the platform, it'll happily sit alongside your other facilities synergistically. 
How Does Monday.com Work?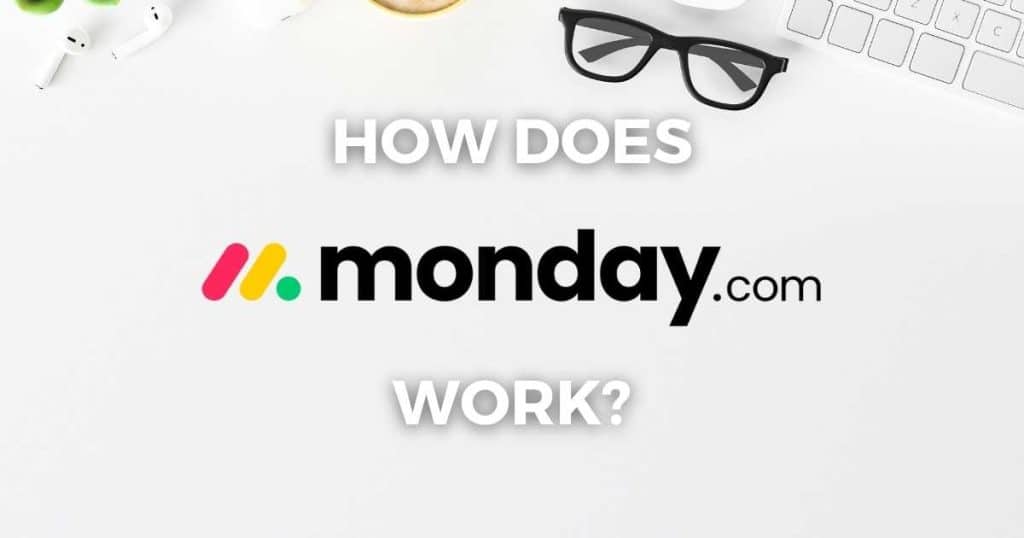 By definition, a management system handles a lot of data, and if you multiply that by the number of unique systems established on the monday.com platform, the storage burden is truly incomprehensible. Unless, that is, you make use of The Cloud.
This is precisely what monday.com does — Cloud computing allows virtually infinite amounts of data to be stored without compromising platform performance.
And as for how you build your monday.com management OS, it's much easier than you might at first think.
Much like any other customizable management system, monday.com utilizes an incredibly diverse set of templates for both macro and microscopic aspects of your business.
You simply choose a collection of the most appropriate for your enterprise, and voilà; you're up and running.
Read more: Monday.com for CRM.
Yet, easy though it is to use monday.com's structural elements, building your OS isn't without challenges, as you can only choose appropriate templates and fill them with the correct information if you truly understand how a business works.
You'll also need to know in no uncertain terms what the goals of the business are, as well as how to monitor progress towards them. 
Monday.com Integrations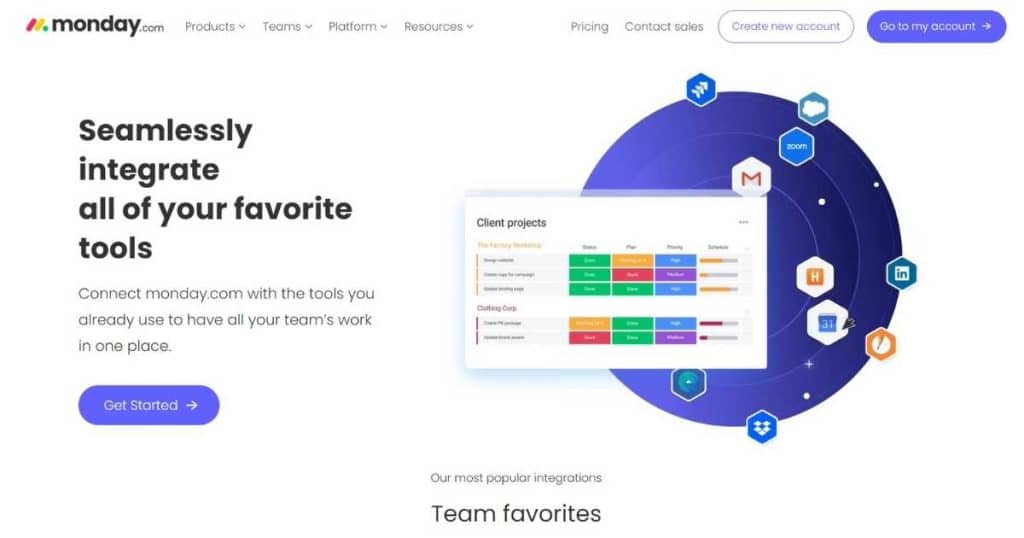 As of June 2020, monday.com's GraphQL API is open to 3rd-party developers, essentially allowing customers to extend the platform's capabilities through stacking integrations and setting up even more automations than were already possible.
This means that a suitable monday.com OS can be made for pretty much any team or organization, no matter how obscure or specific their operational needs are.
Here's just a taste of the available integrations on monday.com:
Google Drive 
Google Calendar
Gmail
 Zoom
Slack
Dropbox
Microsoft Teams
Excel
Outlook
LinkedIn
OneDrive
Zapier
Twilio
Salesforce
Docusign
Aircall
PandaDoc
Zendesk
Copper
Stripe
Pipedrive
Eventbrite
Data Studio
JotForm
com
Typeform
Clearbit
HubSpot
Facebook Ads
Mailchimp
SurveyMonkey
Hootsuite
GitLab
Jira
Basecamp 
Toggl 
Asana
Trello
Harvest
Each of these services (and more) can essentially be plumbed into the monday.com OS, meaning your management system will coordinate perfectly with them, ensuring important information is represented across your business as a whole.
In other words, monday.com and these 3rd-party tools act as one, guaranteeing your business functions as a cohesive entity with no employees left in the dark about crucial data.
Read more: Monday.com vs ClickUp 
Is Monday.com Reliable?
I love and use monday.com, so I can attest to the platform's reliability!
Of course, some hiccups here and there are inevitable, no matter the platform you use.
But Monday.com's support team is second to none, and any problems are often resolved in minutes!
Want to know more? Check out my range of Monday.com articles here!
Final Thoughts
The wonderful thing about monday.com is that it can be whatever you want it to be — it's putty in your hands!
It can handle almost all operational aspects of business, whether yours is a content creation company, a construction company, or anything in between.
Thanks to the open API, it's usable in all sectors and is quickly leaving competing management software in the dust.
Few others can compete with the depth of customizability on offer.
Does it sound like the sort of thing your business is lacking?