In this post-pandemic world, streamlined business communications have never been more essential, with companies always on the hunt for the best collaboration tools to keep their employees connected, even over great distances.
Undoubtedly two of the biggest names in the business comms industry at the moment are Microsoft Teams and Yammer.
But does one have an edge over the other? Well, as you might expect, the answer depends on the nature of your business, and of course the nature of each specific interaction.
I know, I know… that wasn't the clean-cut answer you were looking for, but if you're really dedicated to business optimization, read on to learn how and when you should use both Microsoft Teams and Yammer. 
What Is Microsoft Teams?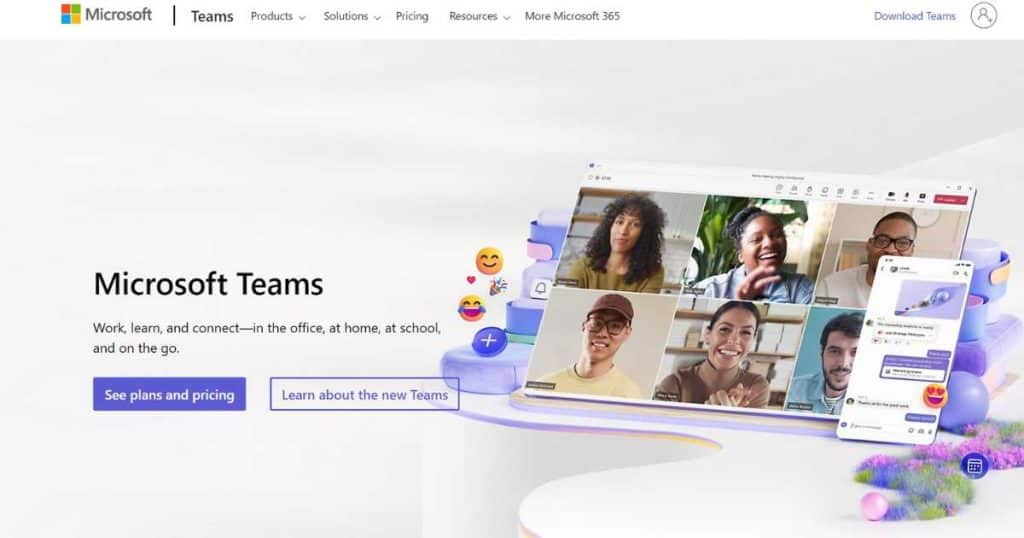 Released in 2017, Microsoft built Teams from the ground up to reduce the impact of distance on business processes.
But little did they know back then that it would become so integral!
When the Covid-19 pandemic swept the globe, Teams, along with a few other comms systems kept the business world turning.
Before Teams hit the ground running, the only real comms giant in the industry was Slack.
But with seamless integration in the Microsoft 360 ecosystem, Teams promised a much more comprehensive and complete communications experience.
Read more about how to use Slack here.
Millions of professionals rely on Teams to collaborate with or chat with colleagues, hold meetings, and share essential information to keep things running smoothly.
Much like Slack, Teams allows you to split your workforce into departments or task forces, leading to optimal organization and enhanced productivity.
Forget email, DMs, and socials… Teams has everything a disparate crowd of people needs to act as one cohesive entity.
Read more: 3 Google Workspace alternatives for small businesses 
What Is Yammer?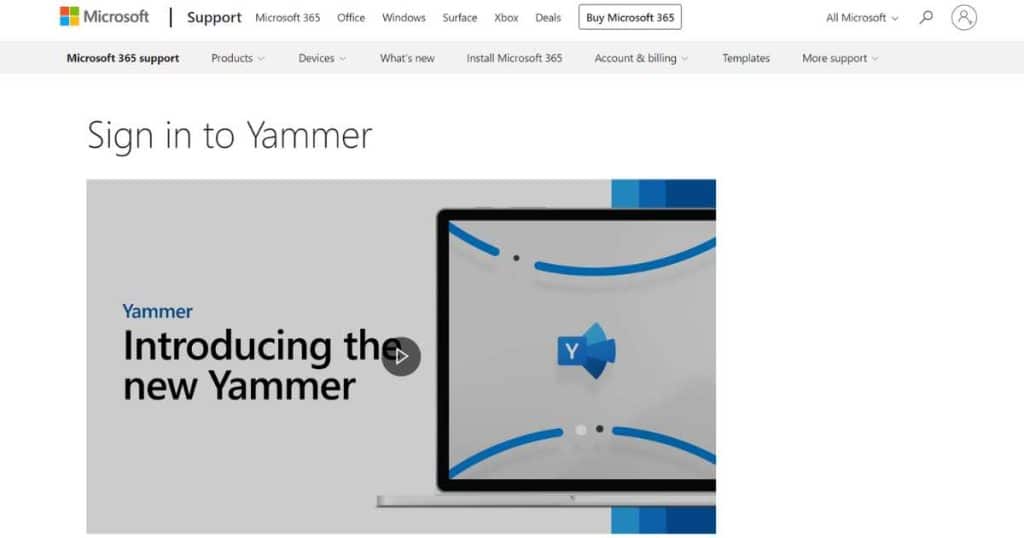 Yammer is an ESN (Enterprise Social Network), which simply means that it's a social network tool designed specifically for organizations rather than the general public.
It covers a lot of the same ground as tools in that you can post messages and documents, chat to colleagues, send videos and images, and generally connect your workforce.
That said, the community creation facilities of Yammer are a little more democratic than those of Teams, amounting to more flexibility for workforces at large.
Yammer is another Microsoft offering, but it's not native to the tech giant's roster, rather, it was acquired by Microsoft in 2012 for $1.2 billion, meaning it predates Teams.
In light of this, you're not really choosing between these two comms programs, as they're both available to you if you use the 365 suite.
Instead, you simply need to know which is best for any potential scenario.
When Should You Use Microsoft Teams?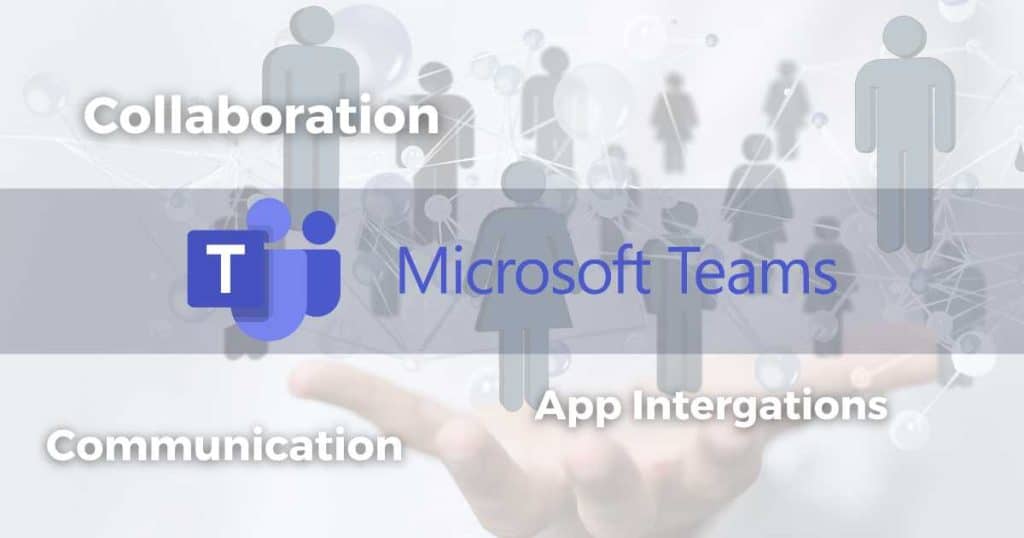 I think it's wise to view Teams as the more formal and official of the two comms programs. Here's how you should use it to streamline collaboration within your employee network. 
Important Collaboration
Don't get me wrong, Yammer is an impeccable collaboration tool, but when it comes to important projects that require the utmost transparency and immediacy between coworkers, Teams is the obvious winner.
Entire projects can be structured on Teams, ensuring all relevant parties can discuss matters in a clear and concise manner, either with typed messages, in one-to-one meetings, posts, or full team calls.
Read more: 7 best project management software for small business
What's more, any documents posted in a Teams project channel can be accessed and edited by multiple people simultaneously, meaning employees can ask questions and comment on processes in real-time — Expedited results guaranteed!
Efficient Communication
Communication is of course the name of the game for both apps, but when you need to converse with colleagues efficiently, there's no substitute for Teams.
If you send a direct message or post in a Teams group, all relevant parties will receive an instant notification, meaning, if they possibly can, they'll get back to you immediately.
You can also bookmark a message to ensure it doesn't get buried in a busy channel before people see it.
By contrast, Yammer is more about lengthy discussion, with singular topics of conversation playing out over days or weeks. It's a little looser in this respect, allowing people to chime in whenever they feel necessary.
Read more about my top 5 team communication software for small business here.
Seamless App Integration
If you'll be dipping into one or more M365 tools for a project or just as a consistent aspect of running a specific department, Teams will facilitate smoother communications.
This native Microsoft instrument gives you the option to collaborate using Word, Powerpoint, Excel, etc.
Now, that's not to say that Yammer doesn't have some useful integrations, such as Viva Topics, but these links are targeted more towards content sharing and engagement rather than operational functionality.
Learn how to create a free business email (3 simple methods) here.
When Should You Use Yammer?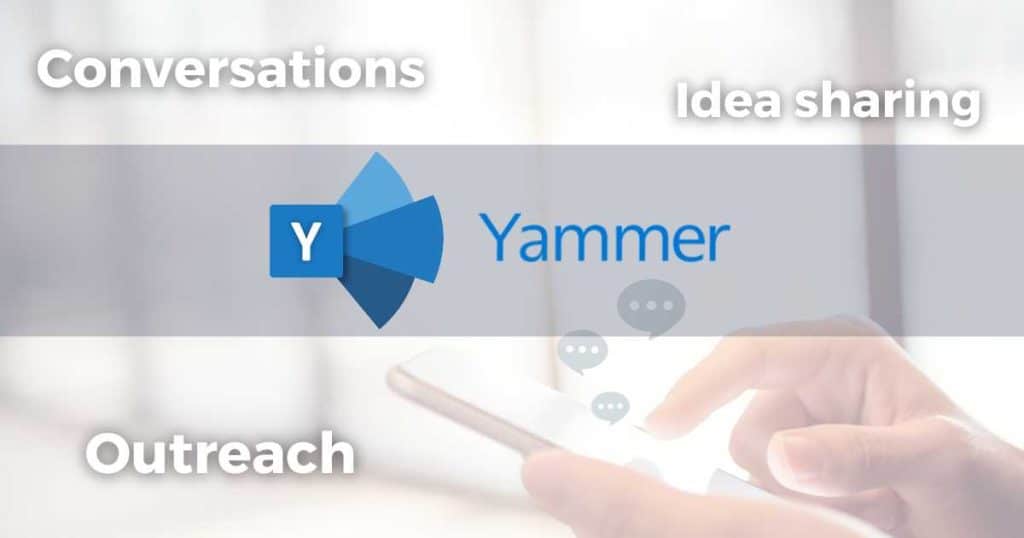 Yammer is the informal side of the comms coin we're examining today. Observe the following suggestions to unlock its full potential. 
Maximized Outreach
Although it has a 10,000-person capacity, exclusivity is a big part of Teams; it's all about creating highly focused groups and increasing productivity. Yammer, on the other hand, is far more open, inviting anyone within the company account to come together and join the discussion.
It's less restrictive and more approachable, encouraging public collaboration as opposed to highly structured collaboration.
Yammer communities are effectively boundaryless in terms of scale. In other words, if you want to reach as many people as possible – Yammer is the way to do it.
In a nutshell, you can think of Teams as an inner circle sort of comms device, while Yammer is more of a general network.
Read more: Top 10 MUST have digital tools for small businesses
General Inquiries & Idea Sharing
Considering the openness of Yammer, it's far superior if you have a general inquiry or you're hoping to get some broad feedback on an idea.
A perfect example of this type of usage would be a newcomer asking for help while trying to wrap their head around the plethora of tools and processes used within the company.
Broad Conversation & Discovery
With Yammer, you can take the above principle and apply it to more open-ended conversion and knowledge sharing.
It's an amazing team-building tool, especially for a remote workforce who may only meet up a handful of times a year if at all.
For instance, someone might share a playlist they've curated and ask for people to add to it with their own suggestions.
Or, people might discuss their plans for the weekend, their favorite movies or holiday destinations, or ask for advice on comfortable office chairs.
Anyone on the company network has access to public groups on Yammer, so you'll be reaching out to a much larger hive of minds, and you'll get answers from a diverse range of people throughout the company regardless of role.
In essence, you're allowing your colleagues to step outside their professional position, momentarily drop their job title, and respond as human beings rather than cogs in the company machine, which is as satisfying for them as it is useful to you.
Final Thoughts
As mentioned earlier, you don't have to choose between these fantastic comms apps, as they're both included in the standard Microsoft 365 ecosystem — Hooray!
And now that you know how they differ, you can use both to optimize communications and oil the gears of your operation.
Just to recap, Teams is a more functional, nose-to-the-grindstone sort of app. It's a no-nonsense, super streamlined and direct tool designed to expedite the work of small, dedicated task forces.
Conversely, Yammer is more informal and less functional in nature, connecting the company at large and encouraging general discussion and the open sharing of ideas.
Tailor your choice of comms app to the intent of your reaching out, and you'll always get the best results!