While responding to emails from prospects and customers on a day-to-day basis, you might've noticed that many of the responses that you are typing out are the same…
Typing each email from scratch is incredibly time-consuming and taxing.
As a business owner, you may have noticed that each day you spend hours composing and responding to emails.
Today, I want to share a solution for saving time and energy when composing emails.
(This guide is for those that use Gmail to manage their business emails)
In this guide, I'm going to share how to set up an email template in Gmail.
Creating free Gmail email snippets will ultimately save you a ton of time for that you can focus on business activities that are significant to you.
This brief tutorial will introduce you to CloudHQ, a free integration tool required to create free Gmail templates.
We'll do so by using the free CloudHQ Chrome extension.
How to Setup an Email Template in Gmail?
Let's help you save time with Gmail templates!
1. Get Started with CloudHQ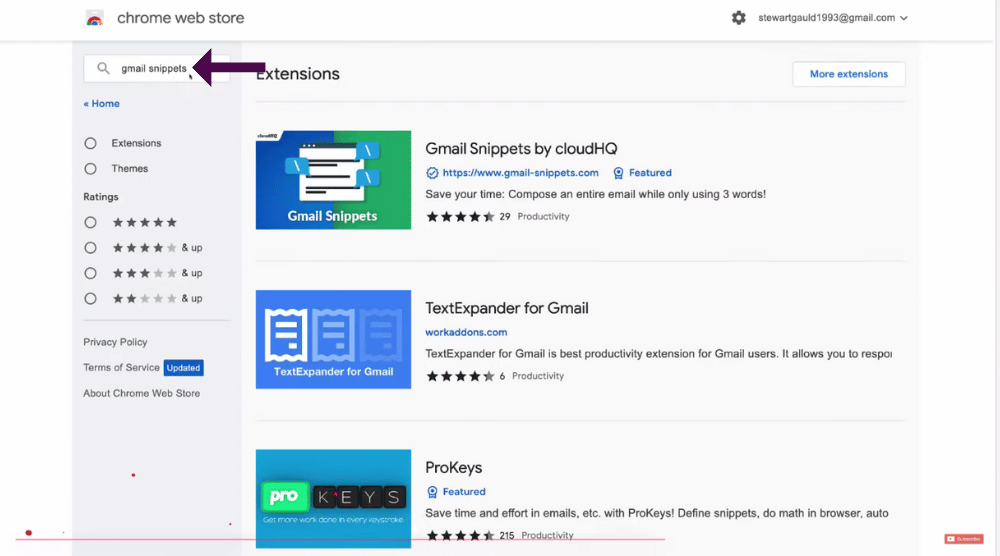 To leverage CloudHQ, you do need to use the Chrome browser.
Now, follow these steps:
Type in 'Gmail snippets' in the search bar
2. Add CloudHQ Chrome Extension
Locate 'Gmail Snippets by CloudHQ', which should be the top result on the chrome web store after entering the search query
Choose your free Google account or paid Google Workspace account associated with your Gmail. To create email templates for Gmail, we'll use our free Gmail account throughout this tutorial.
3. Create or Edit Snippet Templates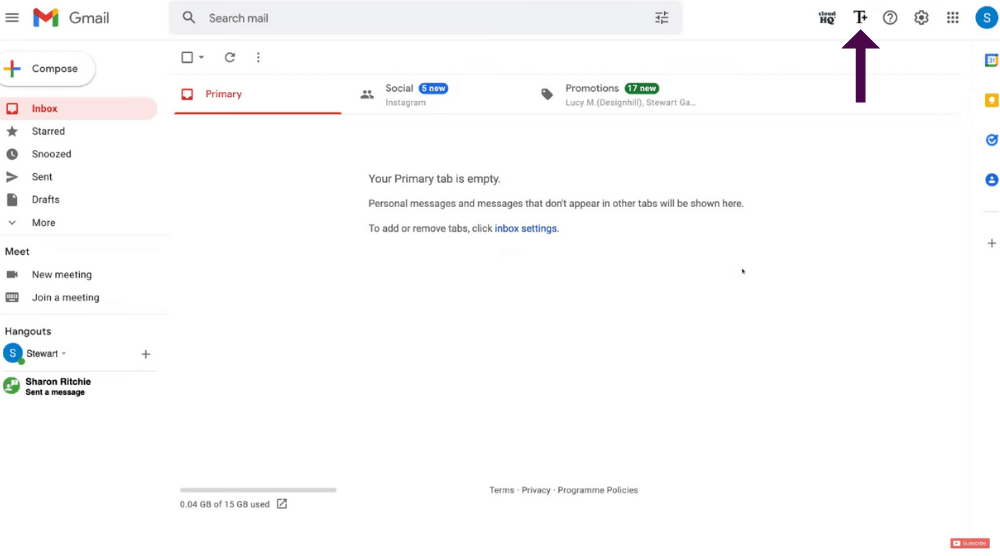 Now, making email templates in Gmail requires you to:
Locate the T+ symbol (hint: see top-right area)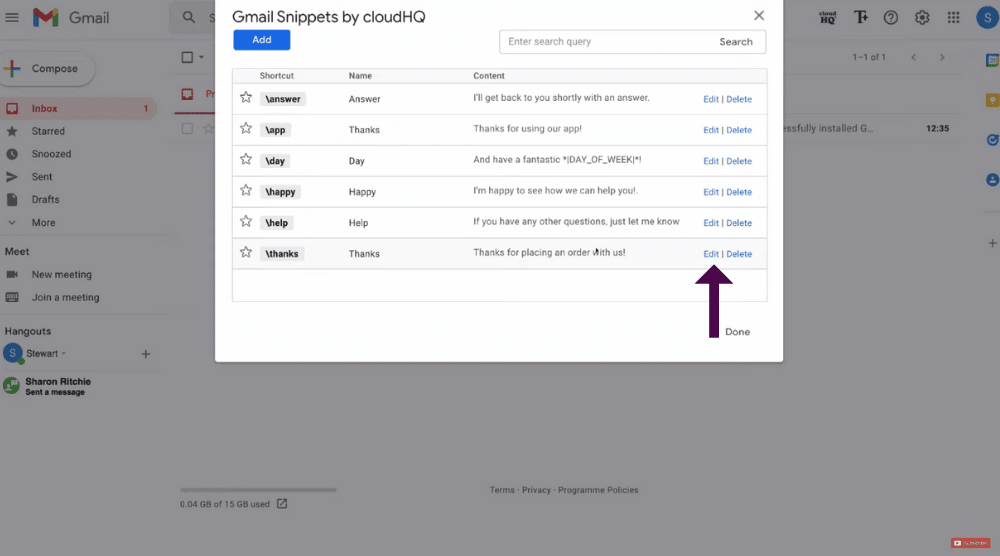 This action will generate Gmail email templates that you can utilize when composing emails.
You can now add the snippets or edit them first.
Let's say, you want to customize an email snippet, you'd then tap on 'Edit' right next to the relevant template. (Refer to the screengrab)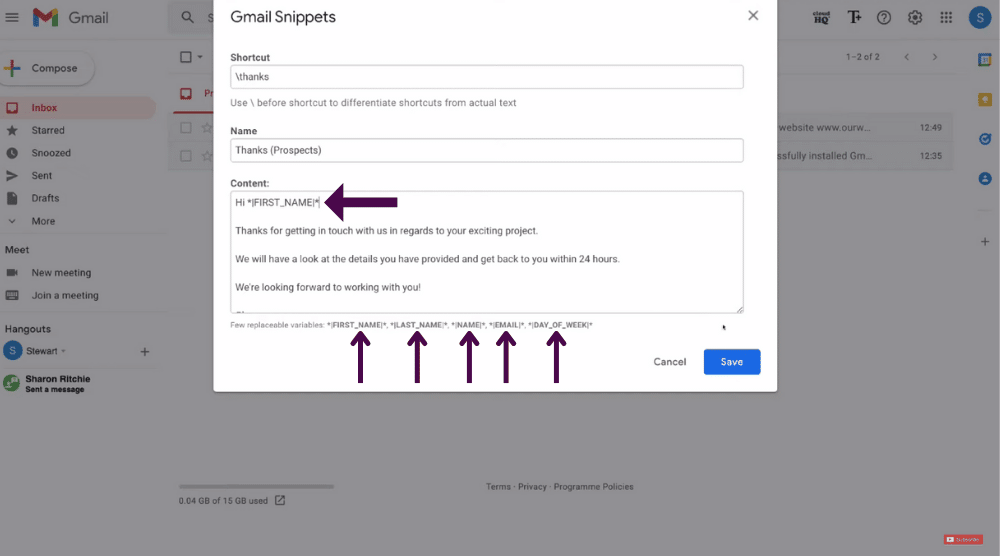 To edit a snippet:
Modify the shortcut used to generate the snippet, if needed
Change the name of this Gmail snippet. For this CloudHQ tutorial, we'll change it to 'Thanks (Prospects)'
Customize the content of the free Gmail email snippet
Now when a prospect or lead contacts you, use this snippet instead of typing the entire email from scratch.
This is where you can save a ton of time!
You also have a few replaceable variables that you can leverage.
For instance:
Click on the first name variable (see the screengrab)
Paste the variable on the top of your content
Type in 'Hi' to the left of the first name variable
When you reply to an email using the snippet, the first name of the receiver will now be automatically generated.
Similarly, you can add other replaceable variables like last name, day of the week, and email.
Once you're happy with your free Gmail template, hit 'Save'.
Now, instead of editing an existing snippet, you can also create your own.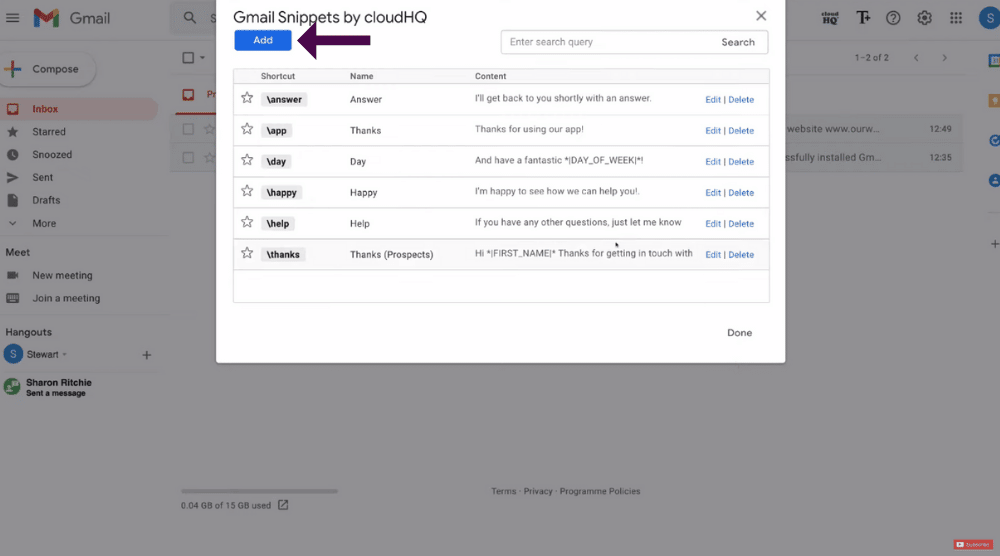 To do so:
Use replaceable variables
You can, of course, create multiple snippets for your clients, contacts, employees, suppliers, etc.
Emails that are quite similar in content and have to be typed over and over again can be replaced with templates.
After adding the template, you can always make the necessary changes in the content when needed.
To explain how to use snippets, we'll continue with our 'thanks' snippet template edited earlier.
4. Understand How to Use Snippets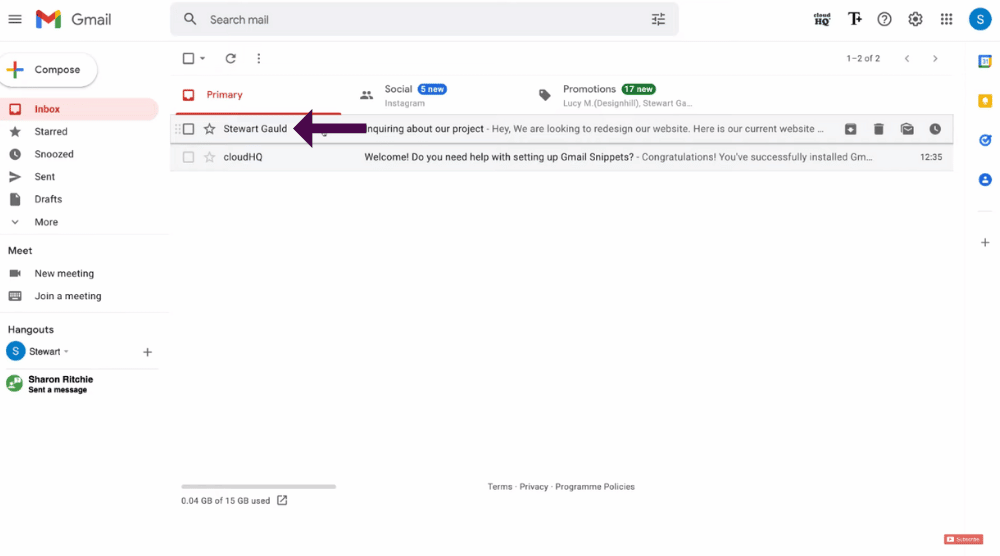 Open an email from a lead or prospect. We'll open an inquiry email that we typically receive from our prospects at Syndeo Media.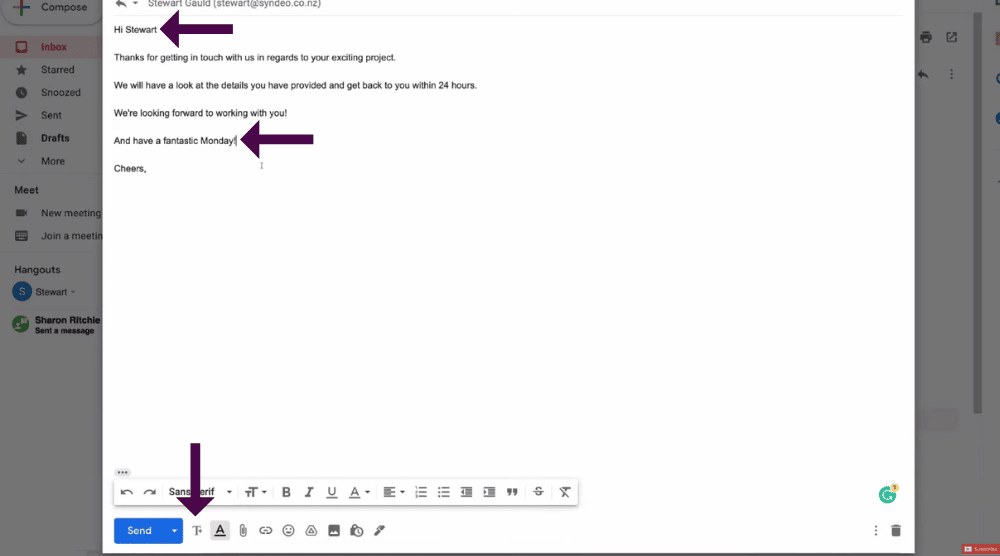 Place your cursor in the email body where you'd type your content
Enter the snippet shortcut, which is  \thanks n our case. You can also use the new Google snippet created earlier.
When the shortcut is generated, click on it (refer to the screengrab). The template will be embedded in your email.
Notice that the receiver's first name has also been generated automatically
Similarly, you can add multiple snippets in a single email. For instance, you can embed a day-of-the-week snippet. (Refer to the screengrab)
It's that easy to create and customize Gmail email templates!
You can also:
Tap the T+ symbol next to the Send button
Browse the free Gmail email snippets
Select 'Create from this message' to turn the email you're composing into a snippet. Add the name, shortcut, and replaceable variables, and hit 'Save'.
Create Email Templates in Gmail (Video Tutorial)
That wraps up our CloudHQ tutorial.
We hope you've learned the process of how to set up an email template in Gmail and thus save valuable time.
Check out our complete video guide below.