"Did you get my email?"
This is a question that almost all of us have asked in our professional lives.
When clients, employees, or contractors fail to respond to our email within the expected timeframe, we're forced to send a follow-up email asking the above question.
Talk about a BIG waste of time!
What if we told you that there is a way you can identify engaged contacts in your email list?
Well, believe us!
This is what email tracking is all about.
In this tutorial, we'll introduce you to the best email trackers in 2022.
This email tracking software helps you focus your energy on the right audience for your business.
By the end of this tutorial, you'll be able to pick the best email tracker based on the extensive and complementary features offered by each tracker on this list.
But let's cover the basics first.
What is Email Tracking?
Email tracking is the method of monitoring clicks and opens of emails sent to clients, vendors, leads, job applicants, and partners.
Why Should You Track Emails?
Email tracking helps you follow up with the recipients promptly.
It is also valuable in email marketing campaigns.
Marketers can use these insights to improve their campaigns in the future.
Imagine talking to a room full of people but there is a wall in between.
You just don't know if the message is being heard by your audience.
It's similar to email communication.
Without the use of email tracking software, you don't know if people are even opening your email or clicking on a link in the email.
With email tracking, you're no longer just shooting in the dark.
You know exactly who is engaging, when, and how you can leverage it with a follow-up.
There's zero guesswork involved.
You now know if your contacts, leads, and customers and interested in your offerings.
How to Track Emails for Free?
Now, let's understand how to track emails for free using our top 3 email tracking tools!
1. HubSpot CRM Email Tracker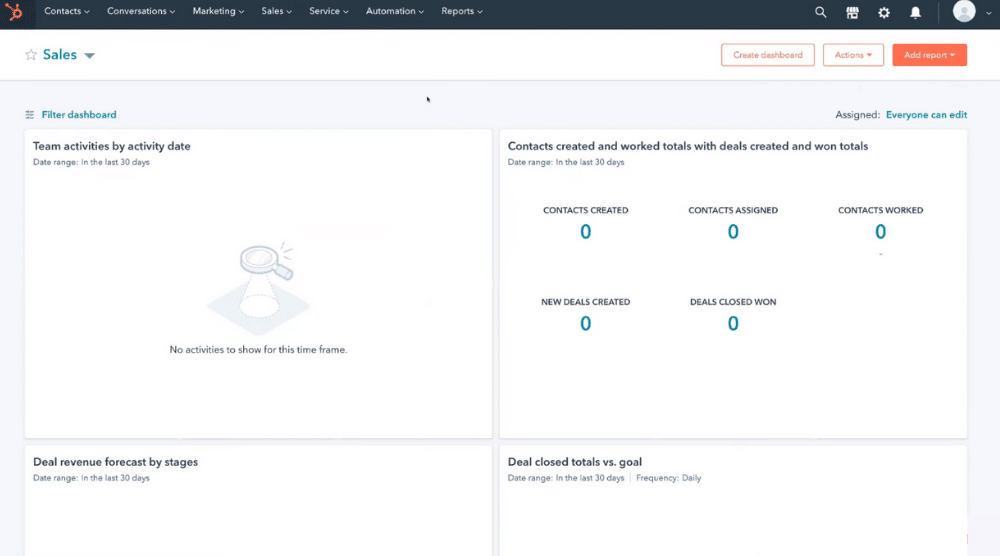 Get started with Hubspot CRM for FREE here
 *The link above is an affiliate link, which means we will get a commission if you upgrade to a paid plan (with no extra cost to you). This helps support our education-based website and we thank you in advance!
The first email tracking software that we want to discuss is HubSpot CRM Email Tracker.
If you're not currently using customer relationship management (CRM) software, we highly recommend giving HubSpot CRM a go.
HubSpot helps you:
manage your customers and leads
optimize your sales process
engage in email marketing, etc.
The best part is that HubSpot CRM is available completely for free.
Hence, if you're looking for an email tracking software and you don't have a CRM yet, go ahead and test out the free HubSpot CRM and see if this platform is the right solution for your business.
To track emails using HubSpot CRM:
Click on 'Contacts' (see top menu)
Select 'Contacts' from the drop-down
Choose a contact that you've sent an email to
Notice that under 'Activity', you can find all the communication with this contact – including email tracking. Refer to the screengrab.
You can also see the number of times your email has been opened as well as the number of clicks inside your email.
Using this information, you can further refine your email strategy.
HubSpot offers a free email tracking tool that also allows you to enable desktop notifications.
If you're interested in learning about all the incredible features offered by this free CRM software, we advise watching this beginner's tutorial
2. Email Tracker for Gmail by Mailtrack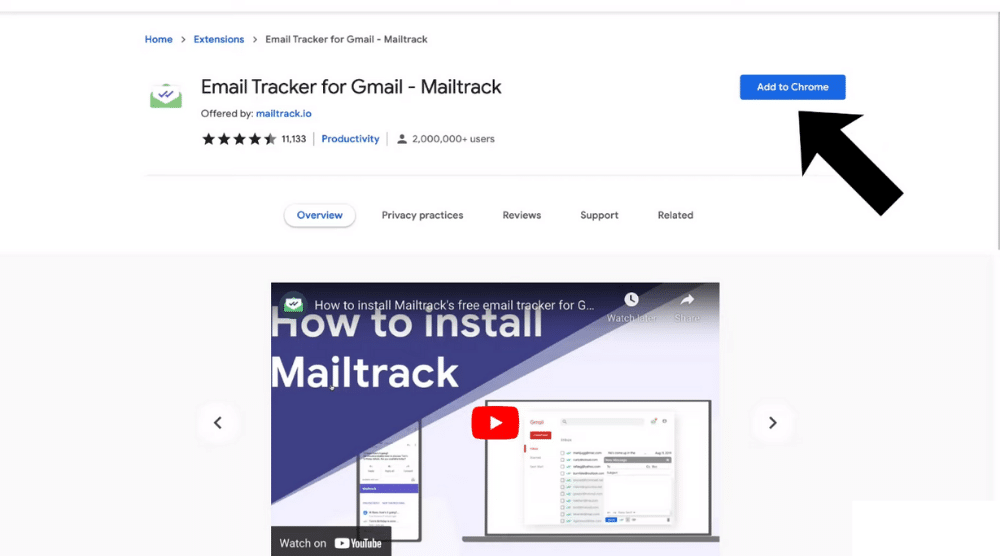 Next on our list is an email tracker for Gmail called Mailtrack.
To understand how to track emails for free, you have to install the Mailtrack chrome extension.
Type in 'Mailtrack' in the search bar
The Mailtrack extension has been installed. Now, head over to your Gmail inbox.
Notice the Mailtrack sender notification – this means you'll be tracking this email.
Navigate over to Mailtrack settings 
Notice the green toggle? It means that tracking is active.
You can activate notifications for when:
The email is first opened
Links are clicked – this requires a paid plan
There's no response within 24hrs
With the free version of this email tracking tool, you can track unlimited emails and receive real-time desktop notifications.
In addition to that, you can also track emails on your mobile device using Mailtrack.
We have a beginner's tutorial on how to get started with Mailtrack.
This explains how to set up Mailtrack on chrome and your mobile device.
You can check that out if you feel it's right for your business.
Read more:
3. Streak Email Tracker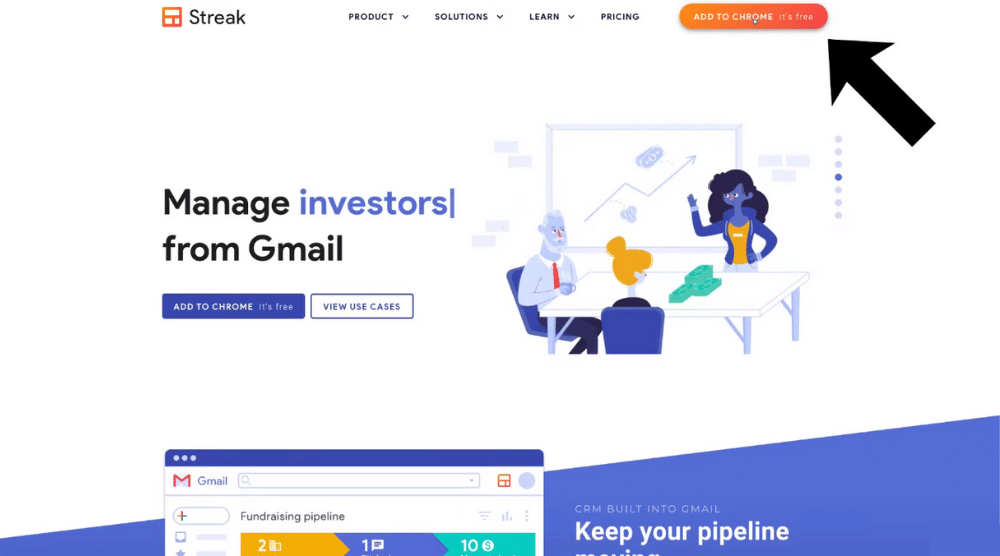 Last on our list of the best email trackers is called Streak.
Like HubSpot, Streak is also a free CRM.
However, it's specifically built for Gmail.
Hence, if you want a free CRM and email tracking software that's not as comprehensive as HubSpot, then Streak is for you!
As you might've guessed by now, Streak integrates with your Gmail account and allows you to track emails and enhance communication.
To get started with Streak, you can:
Add a chrome extension or a safari extension
Head over to your Gmail account
Next to the 'Send' button, notice that the Streak email tracker is on
Navigate over to the eye icon to see the tracking. It shows you email opens, time, and location.
You also receive desktop notifications via Streak.
On your right, you can see the features that Streak's paid plan offers:
Get notifications when links are clicked
Track hirings, sales, and fundraising
…and more such CRM features!
Watch this in-depth tutorial on Streak to get the most out of this powerful CRM software for small businesses.
That concludes our list of the top three email tracking tools for small businesses!
Choose the best Email Tracking Solution for your requirements (Video Tutorial)
The choice is pretty clear.
If you want comprehensive CRM software that also lets you track emails, HubSpot is the perfect solution.
However, if you want a standalone email tracking solution for Gmail, your choice should be Mailtrack.
Then we have a third option that meets the middle ground.
Streak is a free CRM and email tracking software for Gmail.
It's not as comprehensive as HubSpot but the extension is available for both Google and Safari.
Hence, you should go for Streak if that's the kind of solution you're looking for.
Top Email Trackers (Full Comparative Video Guide)