Creating professional email templates requires time and effort.
Unfortunately, small business owners don't have enough time or skills (usually) to create email templates from scratch and send them to their contacts.
Fortunately, there is a free chrome extension called Gmail Email Templates by CloudHQ to help you solve that problem.
Using CloudHQ, you can create and customize free email templates within your Gmail inbox.
Create Email Templates in Gmail using CloudHQ
In this brief tutorial, we'll share how to create email templates in Gmail using CloudHQ.
1.       Get Started with CloudHQ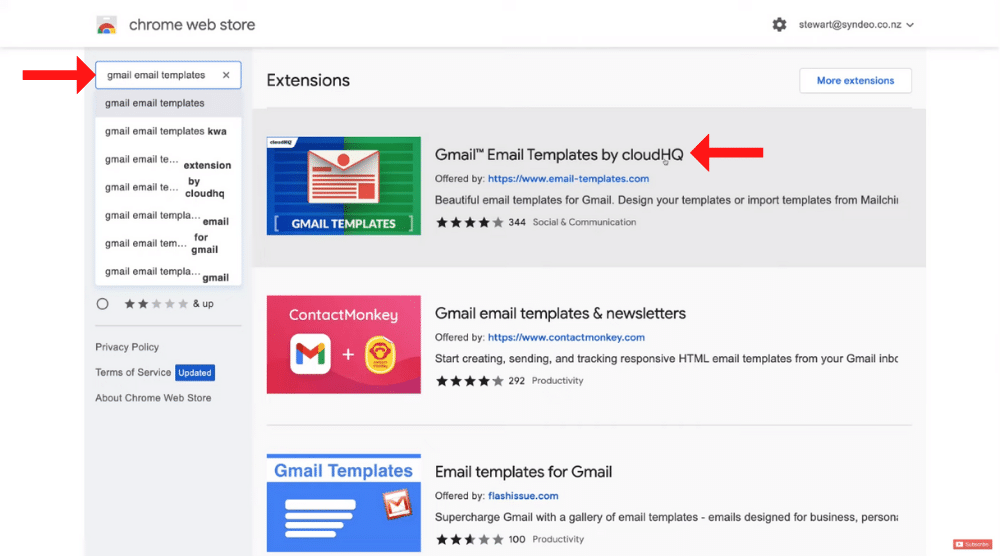 To use free Gmail email templates by CloudHQ, you'd need the Chrome browser to use the Chrome extension.
Now, these are the actions you'll need to take:
2.       Add the Free CloudHQ Extension
Locate the free extension called Gmail Email Templates by CloudHQ
You'll arrive at your Gmail inbox where you'll be greeted by a guide.
However, you can click exit as we'll cover the needful in this CloudHQ tutorial.
3.       Create a Free CloudHQ Account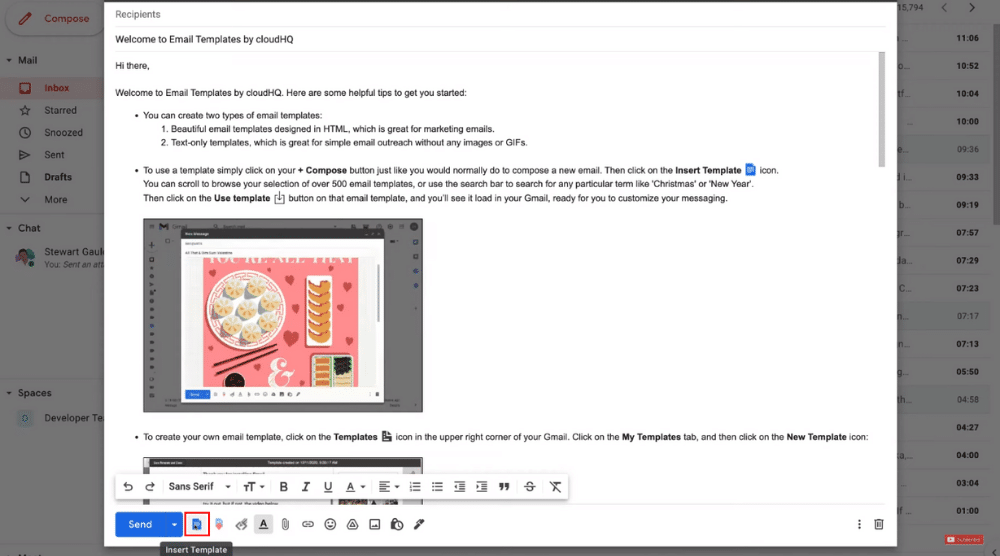 Click on 'Insert Templates' (refer to the screengrab)
Choose your Gmail account
Once you're signed in, use these steps below:
Select 'Compose' (top-left corner)
Scroll down and select 'Insert Templates'
The last action will generate hundreds of free email marketing templates.
4.       Browse Email Templates
Under the 'Free Templates' tab, select 'All'. A drop-down list will appear showing you different categories of free email marketing templates for Gmail.
For this tutorial, we'll select 'Marketing'. Under this category, we have access to over 130 templates. Scroll through them and pick one.
Hover over a free email template and click on the pencil icon.
5.       Customize the Email Template

On the left, you can customize the free email template by CloudHQ.
On your right, you can see its preview – for both mobile and desktop.
To customize the template:

Select any of the elements, let's say the headline.
Replace the default text with your own copy.
Notice the formatting options above the email template. You can, for instance, highlight the text and make it center-aligned.
Try the various other formatting options.
Click on the button this time. Replace the default copy with 'Book Online Today'. You'll simultaneously see all the changes in the preview.
You can link the button copy with the contact page. To do that, select 'Insert/edit link'. (Refer to the screengrab).
Enter the URL and hit 'Ok'
Go through all the customization features thoroughly.
Try editing the other elements on the professional email template – say, an image.
Click on the existing image and select 'Insert/edit image' on the menu to change it.
Just upload a new image and hit 'Ok'. It's that simple!
After making all the required changes to your template, select 'Save and Close'.
You'll find the newly created template under 'My Templates'.
6.       Learn How to Use Email Templates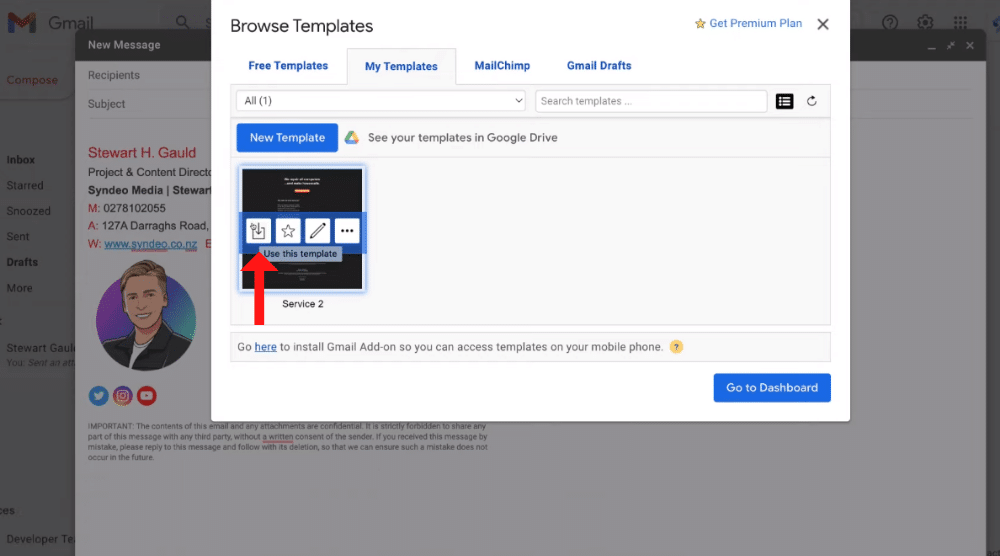 So, you've customized a free Gmail template.
To use it, simply click on 'Use this template' (refer to the screengrab).
This action will insert the email template that you've just customized.
Did you know you can customize the template from the email itself?
For example, to replace the image: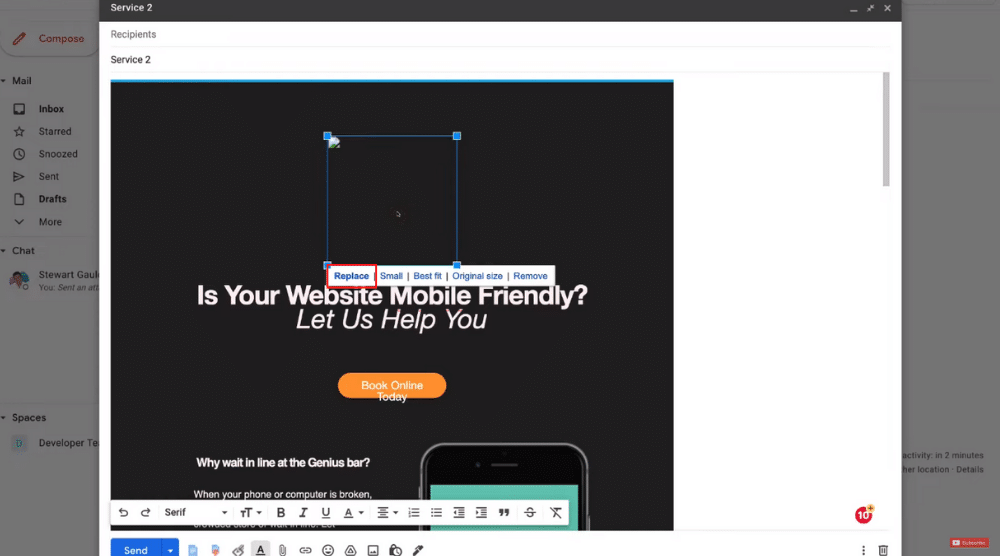 Select the image on the template
Click on the image and select 'Small' to change the size. Alternatively, you can just drag the image to change its size.
Similarly, you can edit the copy on the button – again from the email itself.
Click 'Send' when you're ready!
Read more: Canva Free Logo Maker
7.       Save Email Templates
If you want to save any changes made to your email template, click on 'Save draft as template' (refer to the screengrab).
You can either replace the existing template or create a new one. For this tutorial, we'll opt for the former.
You've successfully created and customized your free Gmail email template.
8.      Access Templates on Mobile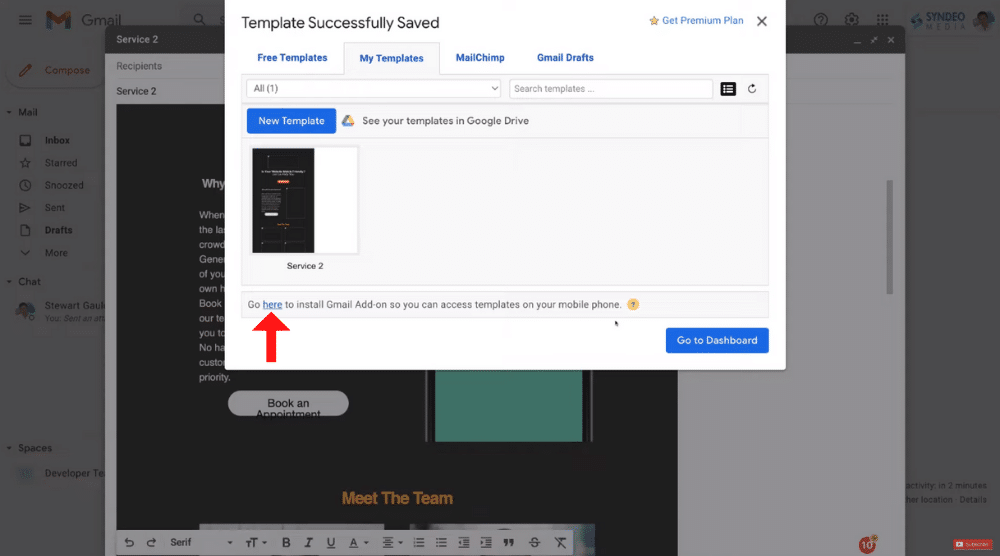 To customize professional email templates, you don't have to use the web version of Gmail all the time.
You just need to install the Gmail add-on by clicking 'here' (refer to the screengrab).
This would give you access to the templates on your mobile phone.
You can easily create templates through the Gmail app as well.
9.      Copy & Save Templates
Another powerful feature of CloudHQ is allowing you to copy and save templates.
If you receive a promotional template, for instance, you can save and customize it.
You can now exit the email and test it yourself.
Open up the Promotions tab in your free Gmail account
Click on a promotional email that you'd like to use in the email marketing for Gmail
Select 'Save to' > Convert to Template (refer to the screengrab)
Give CloudHQ a moment to load. You'll notice that the saved template has appeared under 'My Templates'.
From here, you can customize it by clicking the pencil icon and using the internal editor.
Alternatively, you can select 'Use this template' and customize it from within the email itself as we explained earlier.
After customization, you can click on 'Save draft as template' to use it in email marketing using Gmail.
Free Email Templates with CloudHQ (Video Tutorial)
Understanding how to create email templates in Gmail is a powerful strategy for small business owners who don't have the time to create them from scratch.
It's also incredible for businesses that do not yet have the funds to engage in email marketing through independent platforms like HubSpot, Mailchimp, Constant Contact, and others.
All you need is a free Gmail account and a free Chrome extension called CloudHQ.
Using the free Gmail email templates provided by CloudHQ, you can save both time and resources.
There are hundreds of templates for several categories, which is why you'll never run out of options in the future.
CloudHQ also allows you to save and customize email templates that you receive in your Gmail inbox.
You can utilize them in your future email marketing activities.
All of this, without spending any money!
And with that, we wrap up our CloudHQ tutorial for beginners.