Google has been recommending that Google Analytics 4 (or GA4) should replace the old Universal Analytics.
GA4 is expected to completely replace Universal Analytics (or GA3) in 2023.
Most people are still using the older version of Google Analytics to track and measure website performance.
In this guide, I will help you with the Google Analytics 4 setup for Squarespace and Wix websites.
You can then start or continue tracking and measuring important activities occurring on your website.
If you have a WordPress website, then check out this article that will guide you on how to Connect Google Analytics 4 with Wix & Squarespace.
What is Google Analytics 4?
This is the latest version of Google's popular analytics platform.
GA4 gives you an in-depth understanding of your customer journey by helping you track user data.
You can now track both analytics on apps and websites.
Google Analytics 4 vs. Universal Analytics
The first difference you'll notice right away is the navigation and appearance of GA4.
It might take some getting used to if you've been using Universal Analytics till now.
Besides looks and navigation, GA4 is constantly being updated with more functionality and reports.
Another major difference is that Google Analytics 4 only tracks conversions and events rather than goals.
GA4 will also track certain events happening on your site, without you having to alter the code.
Also, the "bounce rate" has been replaced by "engaged sessions".
So, you won't see the percentage of visitors who abandoned your site without taking any action, but those who did engage with your website.
Clearly, the emphasis now is on the engagement rate instead of the bounce rate.
Though there's no harm if you keep using Universal Analytics, for now, it's crucial to move forward with the latest versions and updates.
After all, GA4 has been coined the 'Future of Analytics'.
Check out this article and video that will help you navigate the GA4 dashboard.
How to Add Google Analytics 4 to Squarespace & Wix?
Now that you know more about GA4, let's understand how to connect Google Analytics 4 with Squarespace and Wix, two of the most widely used website builders in the world!
1. Sign Up with Google Analytics 4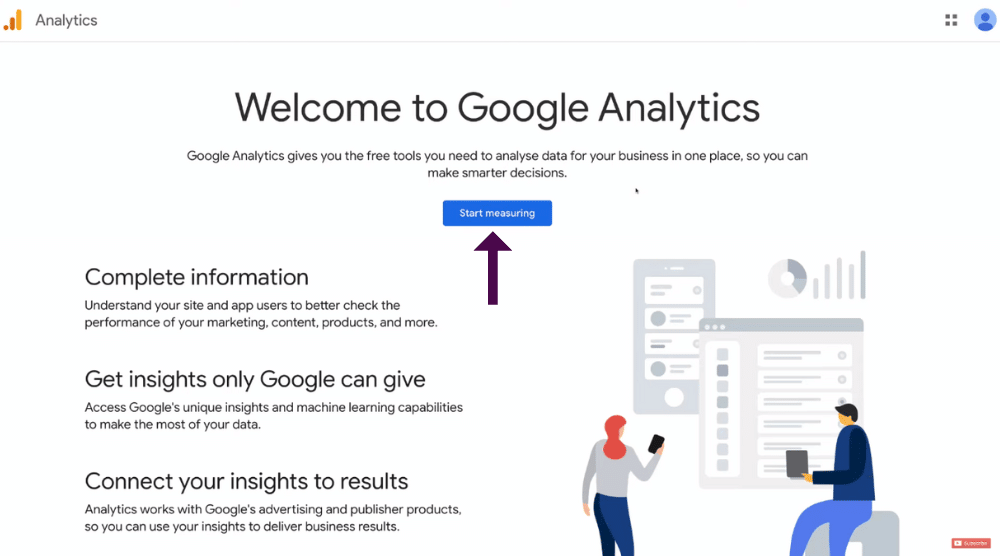 Adding Google Analytics to Wix or Squarespace requires you to first sign up to Google Analytics if you haven't done so already.
To connect the Google Analytics 4 property, you first need a Google account.
Hence, you're required to:
Select 'Start measuring' (refer to the screengrab)
Enter your account name under 'Account setup'. For this Google Analytics 4 tutorial, we'll add 'Stewart's Tutorials'. You can, of course, add your business or brand name.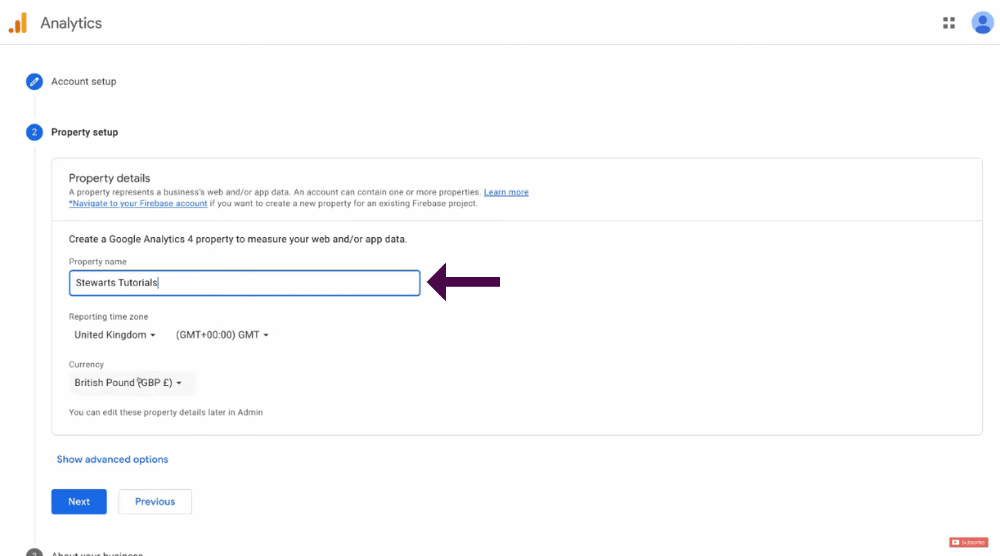 Enter the property name under 'Property setup'.
The website that you wish to track is your property.
Your property name can be the same as your account name or it can be different.
If you had multiple properties and wanted to track multiple websites, then you'd add multiple properties within that one account.
But for this Google Analytics 4 setup guide, we'll focus on one account and one property.
For the property name, we'll also use 'Stewart's tutorials'.
Note that you can change the property details later on and hit "next"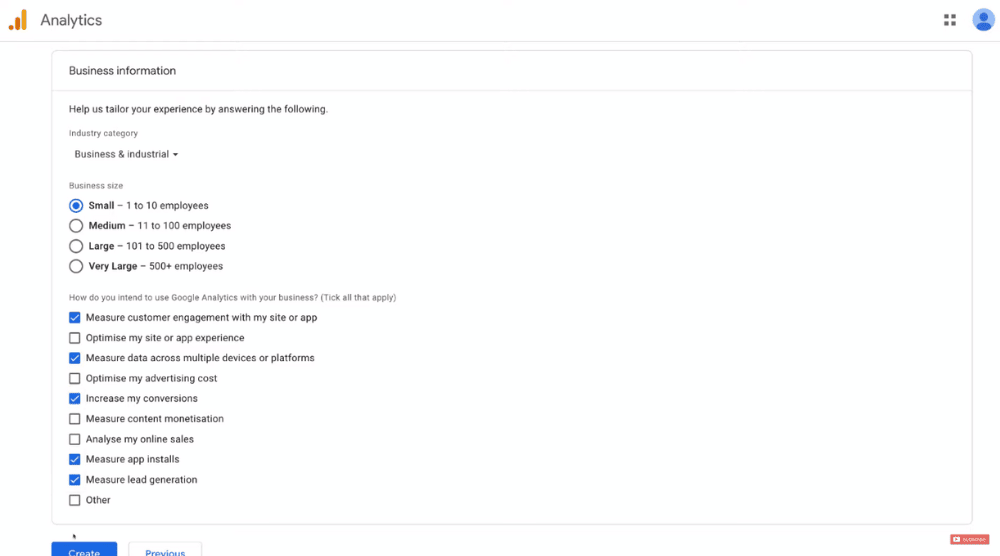 Now, follow these steps:
Select the reporting time zone
Under 'About your business', pick your industry category. For this Google Analytics 4 tutorial, we'll choose 'Business & industrial'
Select your business size (for instance, a small business comprising of 1-10 employees)
Choose the reasons why you're initiating Google Analytics 4 setup (check the screengrab)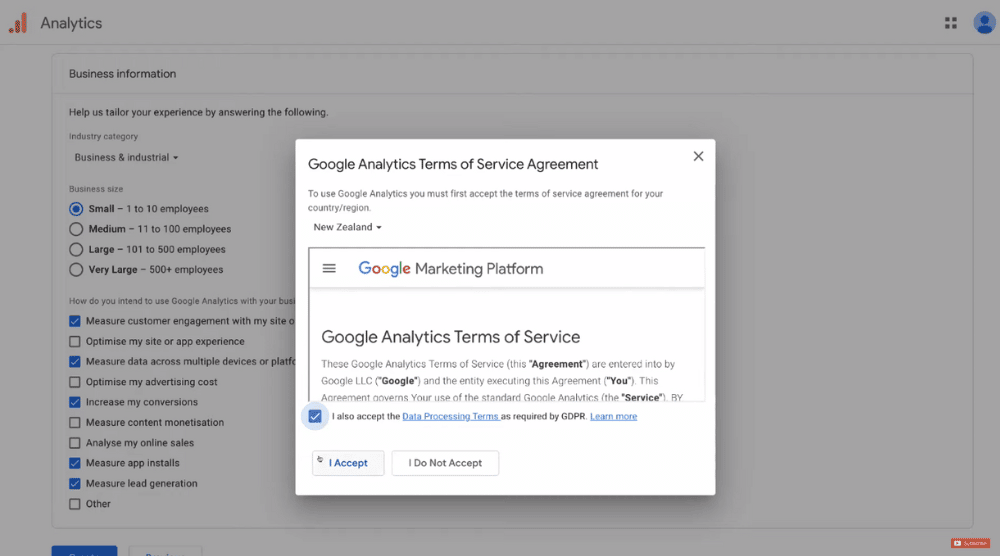 Read the GA terms of service carefully and accept it
If you wish to receive emails regarding offers, feedback and testing, future announcements, performance suggestions, and updates from Google Analytics, tick the required boxes under 'My email communications'.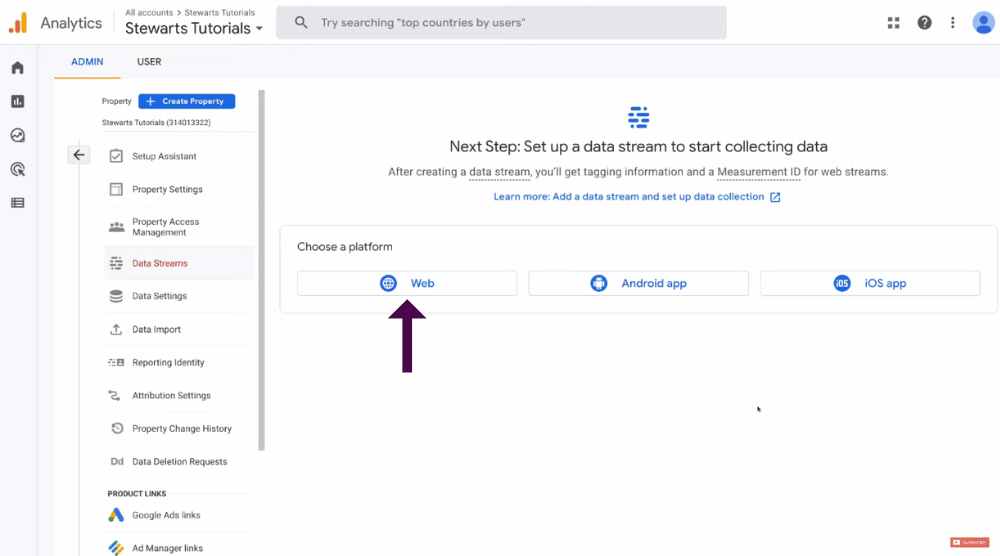 Since this GA4 tutorial is about adding Google Analytics to Squarespace and Wix, we'll select 'Web' on the dashboard.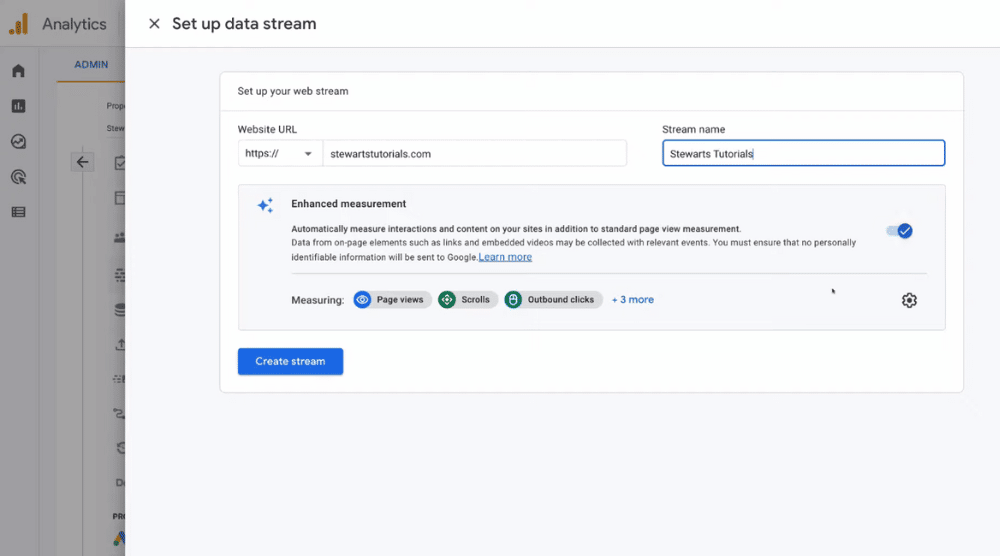 Now, take the following actions:
Enter the URL of your Squarespace or Wix website
Add your stream name. We'll type our site name again i.e  'Stewart's tutorials'
Congratulations!
You've successfully finished the Google Analytics 4 setup.
Let's continue with our Google Analytics tutorial for Wix in the next section.
2. How To Connect Google Analytics to Wix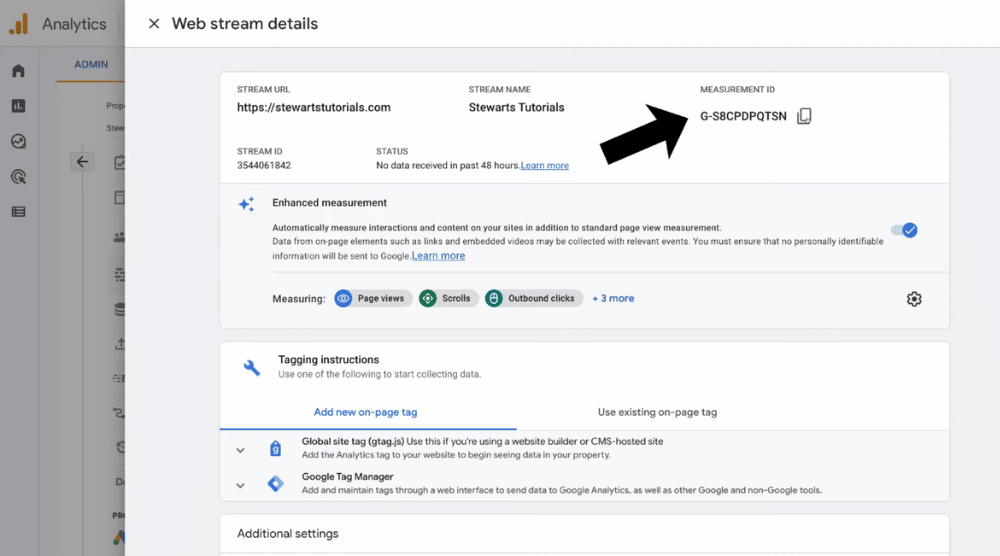 Under 'Web stream details', copy the measurement ID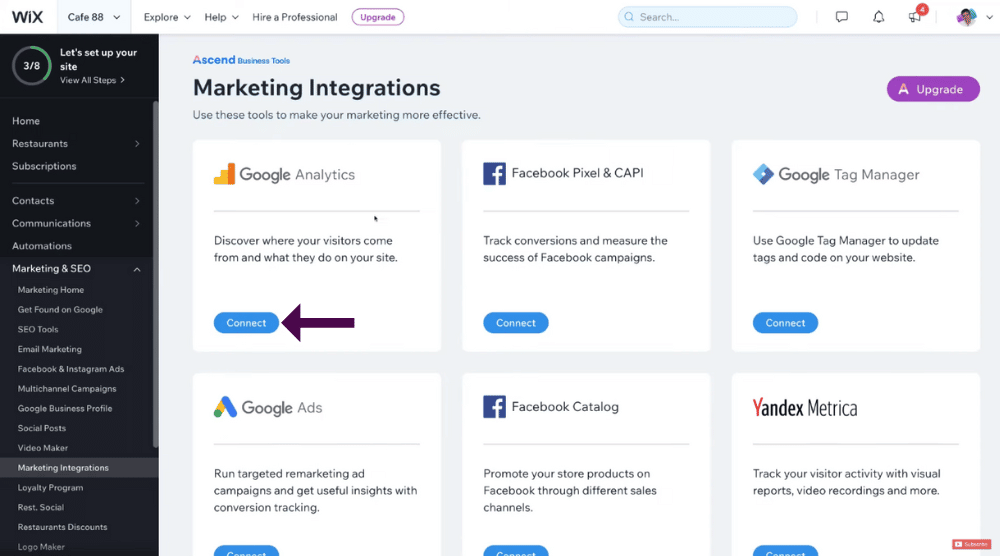 Navigate over to 'Marketing & SEO'
Select 'Marketing Integrations'
Locate the Google Analytics integration
Tap on 'Connect'. Note that, for adding Google Analytics 4 to Wix, you need a premium plan and a custom domain.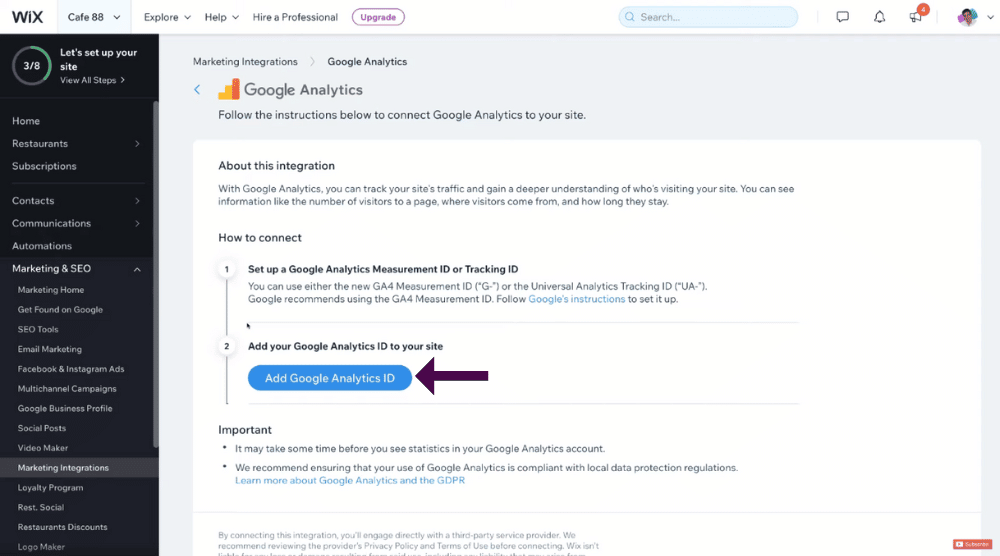 Press the 'Add Google Analytics ID' button
Paste the measurement ID copied earlier
Congratulations!
You've successfully completed the Google Analytics 4 setup for your Wix website.
It may take up to 48 hours before you start seeing any data from Google Analytics.
Now, if you have a Squarespace website, continue reading the Google Analytics tutorial for Squarespace next.
3. How To Connect Google Analytics to Squarespace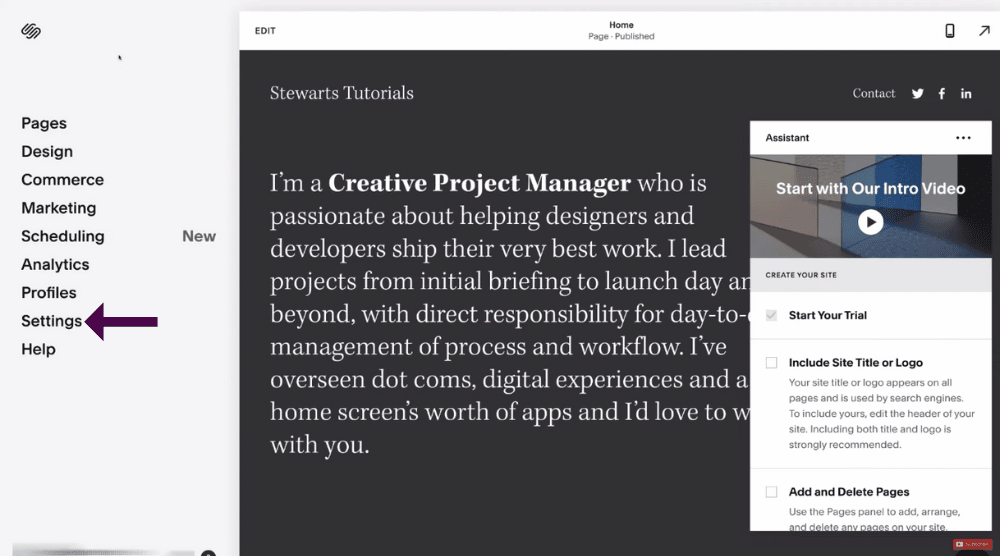 Log in to your Squarespace site backend
Click on 'Settings' (see the screengrab)
Locate 'Advanced' and tap on it
There are actually two methods of connecting GA4 with Squarespace.
Let's discuss method one first.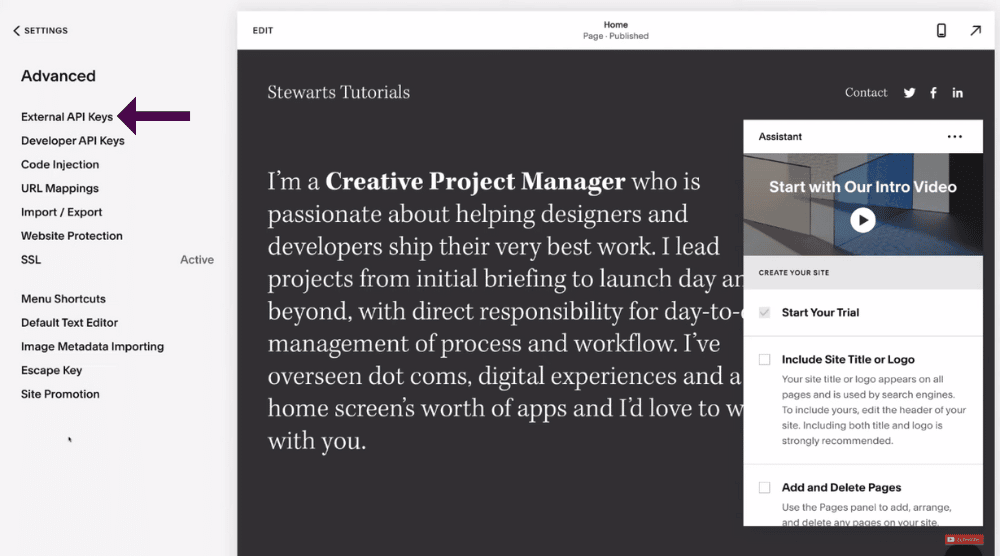 The First Method
Select 'External API Keys' on your left (refer to the screengrab)
Inside the 'Google Analytics' field, insert the measurement ID
If you wish to keep Universal Analytics connected, add a comma between the two codes 
Adding Google Analytics to Squarespace is that easy!
Again, it might take up to 48hrs before you start observing any data.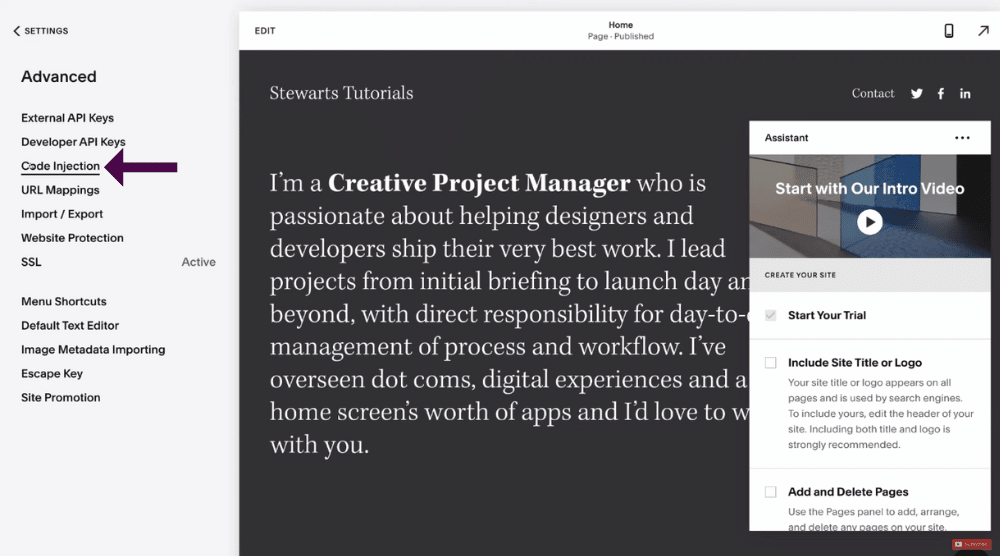 The Second Method
Select 'Code Injection'. In order to use code injection, you do require a business plan. The lowest-paid plan does not provide access to this feature.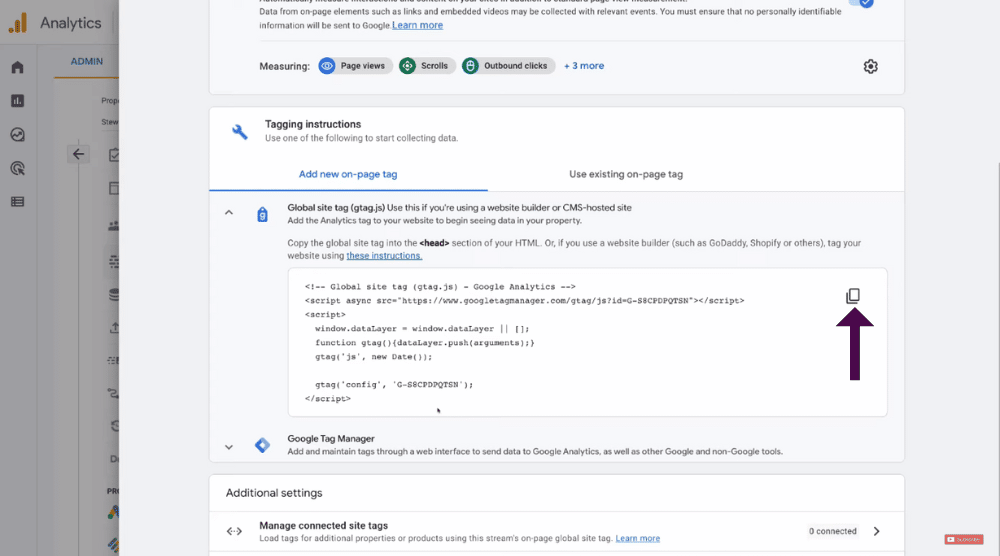 Navigate back to your Google Analytics 4 account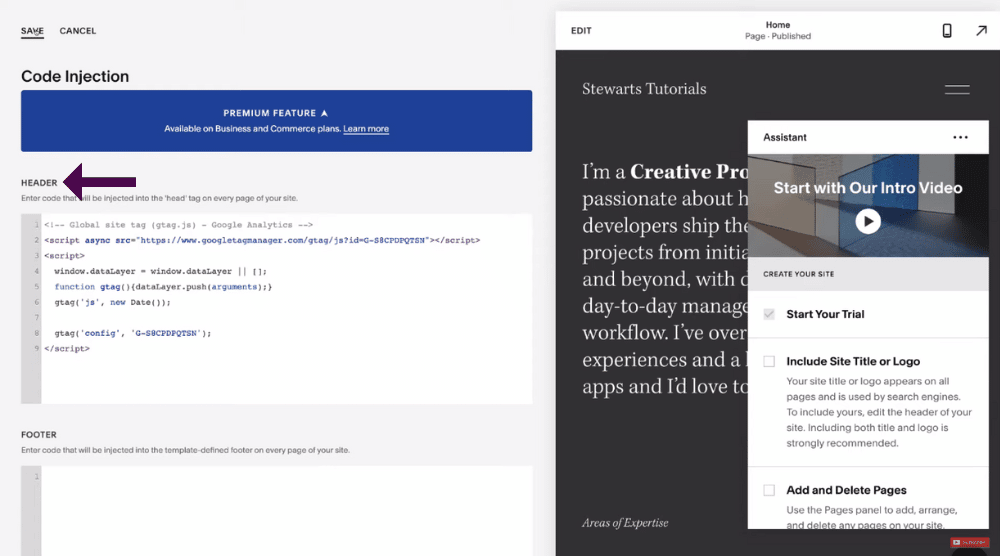 Inside 'Header', paste the code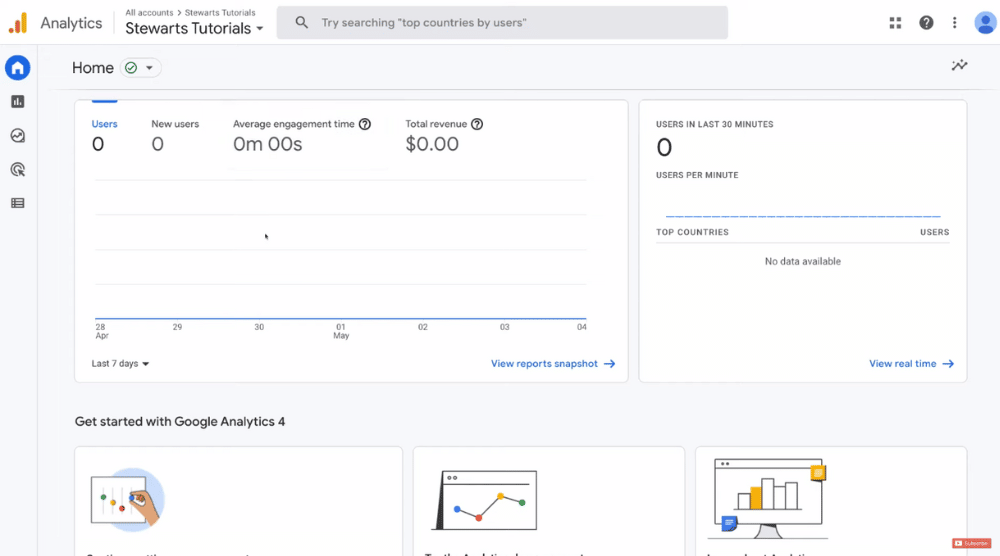 You can utilize either of the two techniques to connect G4 with your Squarespace website.
Within the Google Analytics dashboard, tap on 'Home'.
Here you'll find the basic overview of data and information concerning your website.
Google Analytics 4 Tutorial for Wix and Squarespace (Video Guide)
We hope you've learned how to connect Google Analytics 4 with Wix and/or Squarespace.
If you wish to understand how to navigate Google Analytics 4 (once you are all set up), we suggest watching this beginner's guide.
It will help you make the most out of GA4.
With this, we conclude our Google Analytics 4 tutorial for Wix and Squarespace!
Check out the full video walkthrough below.