Introduction: ClickFunnels Alternative
Welcome! You are here because most likely you're looking for a better, more affordable and easier-to-use ClickFunnels alternative for creating a profitable sales funnel.
Well, I'm pretty confident that I can help you with that.
ClickFunnels is one of, if not the most popular sales funnel builders worldwide.
But is it the best sales funnel solution?
And surley there is a more affordable solution, I mean who can afford $127USD per month (May 2023) when just getting started?! And that's just for the most basic plan.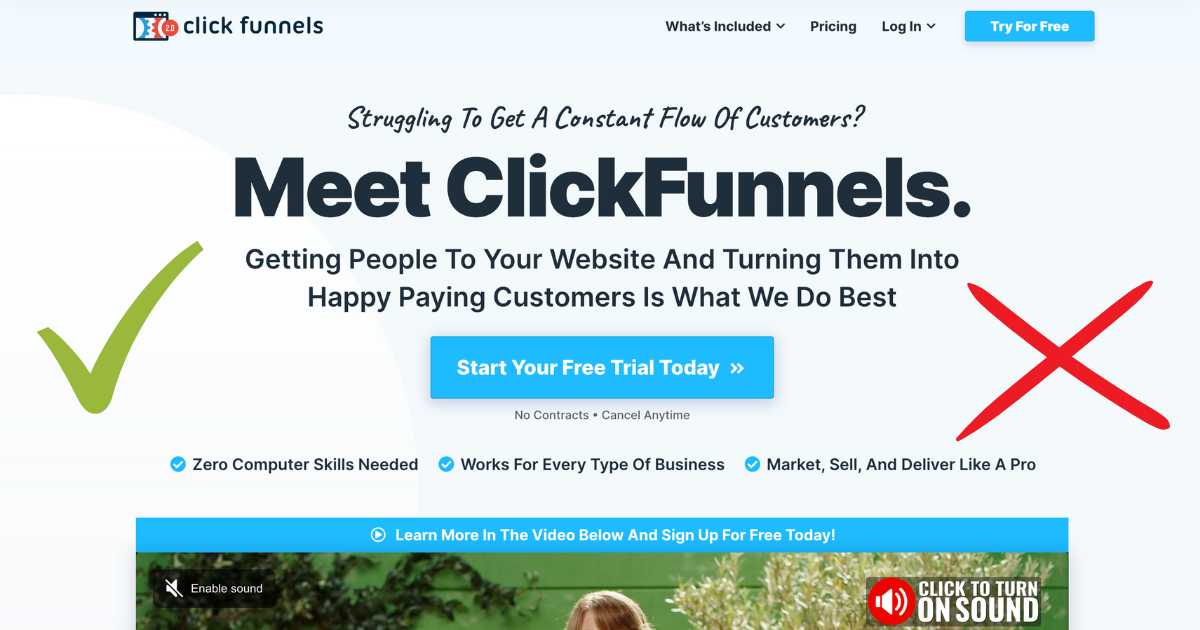 ClickFunnels' target market is for moms and dads that want to leave their 9 – 5 job or are looking to create a side business. They also, want to reach college grads or essentially anyone that has an entrepreneurial spirit and wants to make extra money online.
But again, money is tight for many of these individuals, especially when their just starting out.
If you're not too sure what a sales funnel is, you can read all about sales funnels here.
So, what other sales funnel solutions are there? When should you choose or not choose ClickFunnels and is a sales funnel builder even right for you?
Let's dive right in.
Read more: Clickfunnels vs Shopify
What is ClickFunnels?
ClickFunnels is known as a one-stop shop for all your digital marketing needs.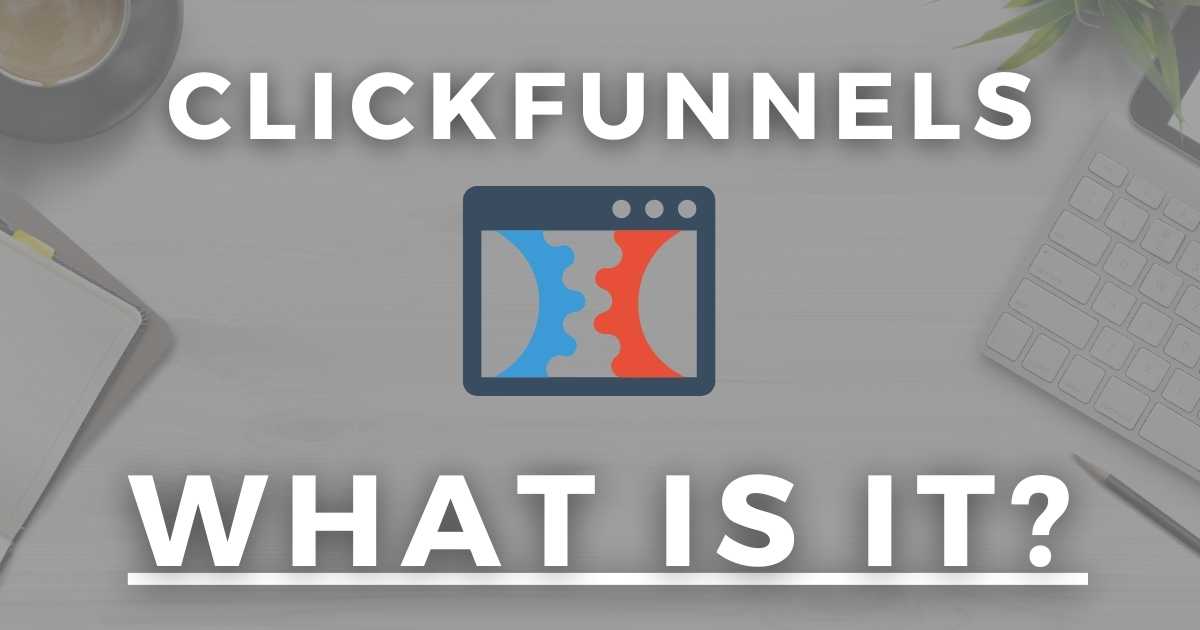 It's essentially a marketing toolbox providing everything you need to create a high-converting multi-step sales funnel or website.
Check out the image below of an example of a multi-step sales funnel. With ClickFunnels or any sales funnel builder, you can customize each stage (page) of your sales funnel.
Each stage has a purpose, for example:
Sales funnel image
Multi-step sales funnel website
Squeeze page – A landing page designed to obtain email addresses.
Sales page – A detailed page showcasing your offer.
Order page – The designated page for gathering payment information.
Upsell page – A chance to promote extra products/services with a single click.
Thank you page – The appreciation page displayed after a visitor converts.
Email automations – Continuously delivering value to your audience.
Read more: What is a sales funnel and how does it work?
The main reason you would typically choose ClickFunnels over other marketing platforms is because of their conversion-focused sales funnels.
Once you create a sales funnel using ClickFunnel, you also have access to the following tools designed to drive more sales.
Email marketing tools.
Marketing automation.
Membership areas.
Easy-to-use page builder.
Templates.
So, ClickFunnles allows you to build a conversion-optimized multi-stage sales funnel (from scratch or with templates). Then you can leverage all of their marketing tools mentioned above.
ClickFunnels launched in 2014 and was the first sales funnel builder of its kind up until the last few years.
Before online marketing platforms like ClickFunnels, business owners would use an eCommerce website to sell their products or services online.
Although a website is a great way to sell your products or services online, if you have just a handful of complimentary offers then a sales funnel builder will be more appropriate.
I'll discuss the difference between standard websites and multi-step sales funnel builders later on in the article.
If you are interested in watching how you can use ClickFunnels, check out my walk-through video tutorial down below.
Why you should not choose ClickFunnels?
Honestly, ClickFunnels is a good product don't get me wrong but it's not the best solution for small businesses…
If you're an expert at selling online already or have an existing online business model and brand, then ClickFunnls will work for you and can be a worthwhile investment.
Again, if you're a small business owner or you're just getting started with a side business, then this platform is not suitable.
As I mentioned ClickFunnels is designed for startups, stay-at-home moms and those that want to leave their 9 – 5 job. But, in my experience and opinion, it's simply not ideal for this segment.
Why is it not suitable for small businesses, startups or side hustles?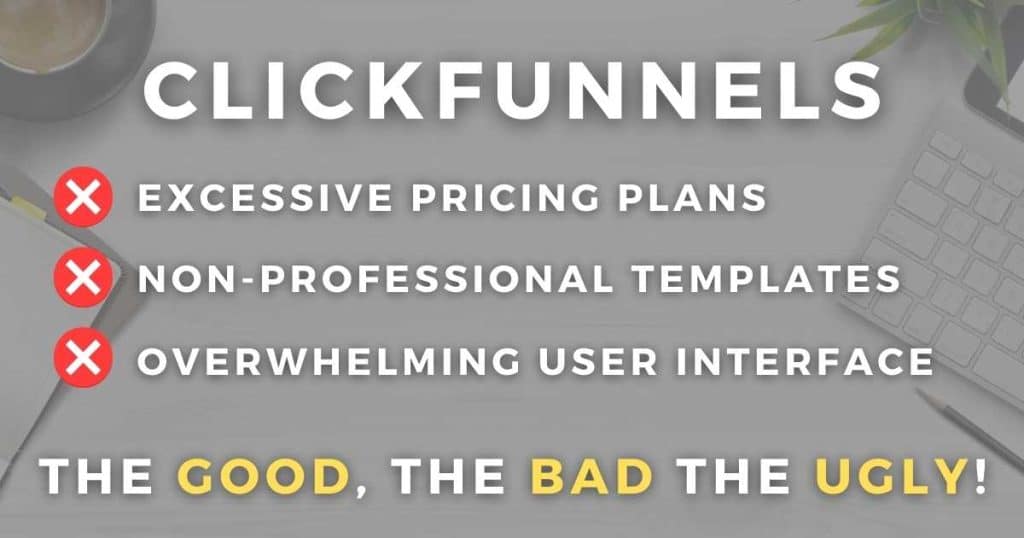 Excessive pricing plans
First, it's excessively expensive for this market. As I mentioned before $127USD per month for the basic plan is insane when just getting started!
Who has that money to invest in the very early stages of a new business?
ClickFunnel prices (May 2023):
$127 per month.
$157 per month.
$208 per month.
However, they do offer a 14-day free trial which is ideal for users that want to test the platform out first.
Non-professional templates
Secondly, ClickFunnels templates are overly sales focused, they also look cheap and give off a scammy vibe. This overall theme and style just aren't ideal for small businesses.
The same is said for their own sales tactics. Have you seen them? Basically, all they talk about is how much money you can make and motivational success stories.
They rarely ever talk about the value of the actual product. They sell through the 'potential' of becoming wealthy. You can see I'm not the biggest fan!
Overwhelming user interface
Thirdly, their user interface is so bad!
They use a drag-and-drop editor but it's very clanky and it's actually quite hard to create the sales funnel stages the way that you like.
Although you can actually do a lot with this builder it can be very overwhelming for beginners.
Okay, so without wasting any more time with ClickFunnels, let's talk about ClickFunnels alternatives and the best sales funnel to get you up and running with a sales funnel.
Best Sales Funnel Builder
Hands down my number one favourite sales funnel builder for small businesses is Systeme.io.
And there are many reasons for this.
The sales funnel builder market is filled with options for those seeking to craft a conversion-centric funnel.
Some well-known tools include ClickFunnels, Kajabi, Convertflow, Unbounce, and GetResponse, among others.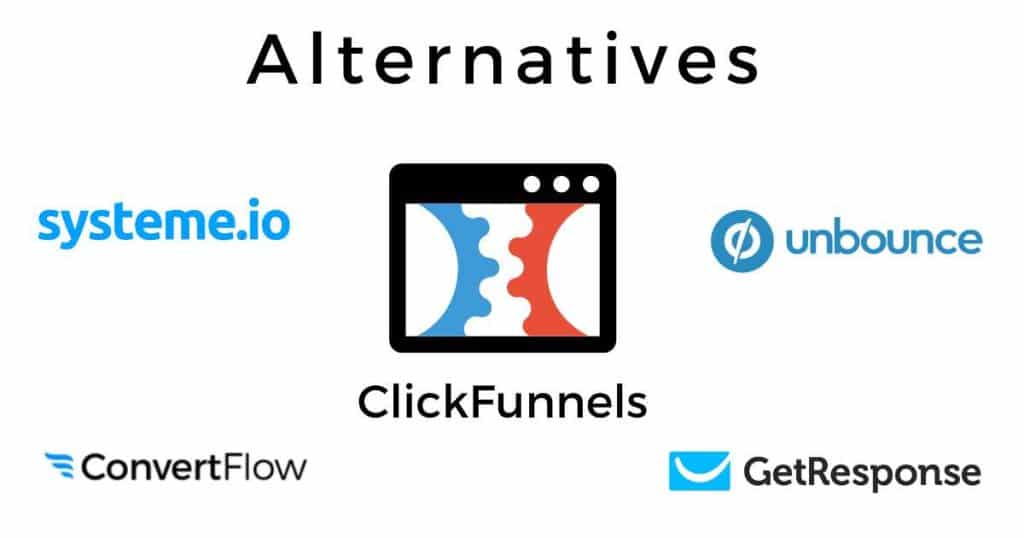 But let's cut to the chase…
In my experience, one sales funnel builder outshines the rest: Systeme.io. It's the go-to choice for small businesses, service-based companies, and those new to sales funnels, looking for a platform that evolves with them.
Systeme.io is a FREE sales funnel builder that also provides:
Email marketing
Online memberships
Online course hosting
Affiliate programs
Subscriptions
Websites, and more.
Everything you need to effectively sell your products or services online.
I frequently recommend Systeme.io to my clients, as the free plan is often more than enough for small businesses looking to launch a sales funnel quickly and easily to start selling their products or services.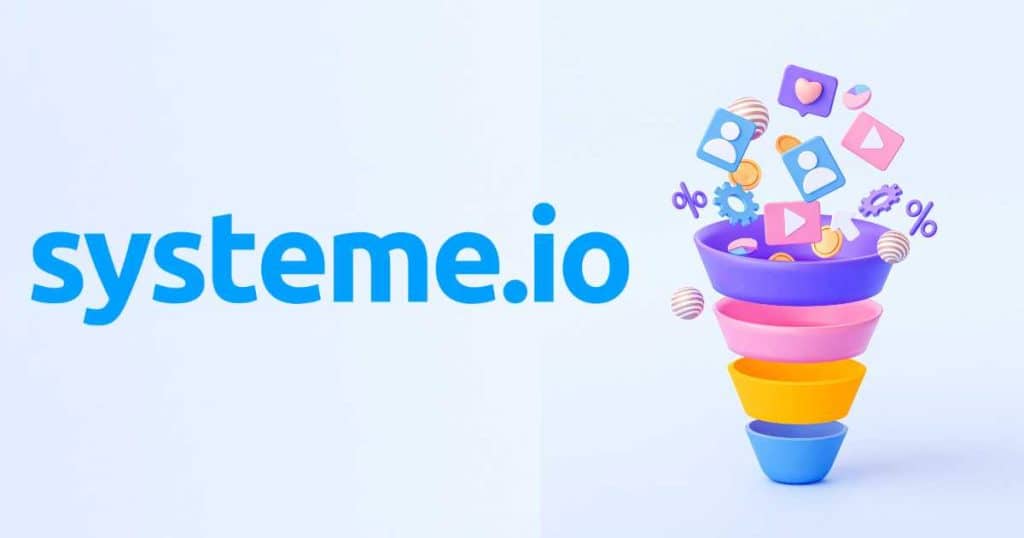 What I like:
User-friendly drag-and-drop visual builder for quick and easy funnel stage creation without any coding worries.
Setting up email automations for ongoing audience engagement.
Selling physical and digital products, services, or online courses directly through Systeme.io – all for free!
A wide selection of templates for every stage of your sales funnel.
What I dislike:
While the templates are excellent, there's a lack of consistent themes when building each stage/page of your funnel. Ideally, the pages should have a unified theme, style, and layout.
Systeme.io prices (May 2023):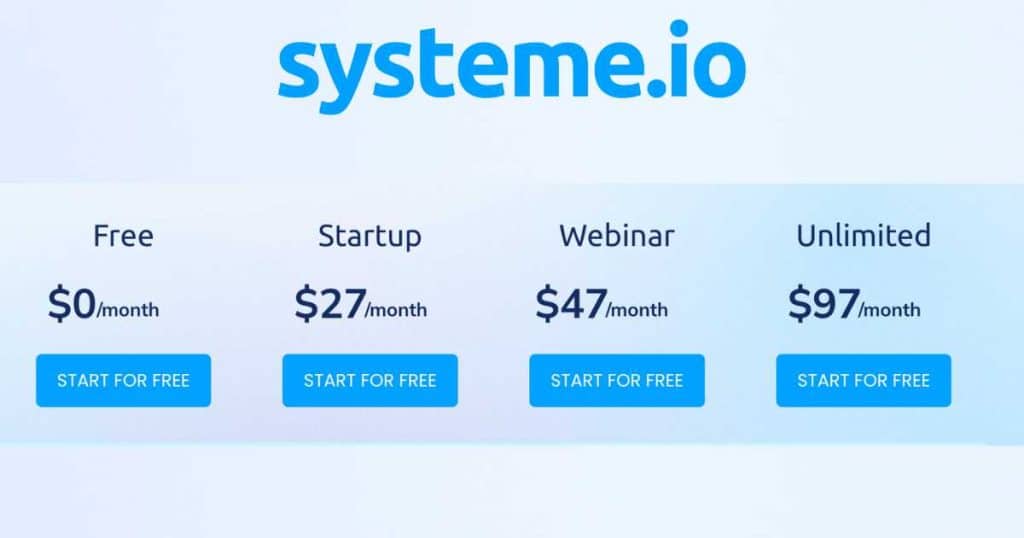 Free – A forever-free plan!
Startup – $27 USD per month.
Webinar – $47 USD per month.
Unlimited – $97 USD per month.
My favorite feature of Systeme.io:
I adore how Systeme.io offers all of its features for free. You only need to pay when your business naturally expands, with limits on the number of funnels, contacts, etc.
Check out my Systeme.io tutorial to learn how to build your own sales funnels in minutes!
ClickFunnels vs Systeme.io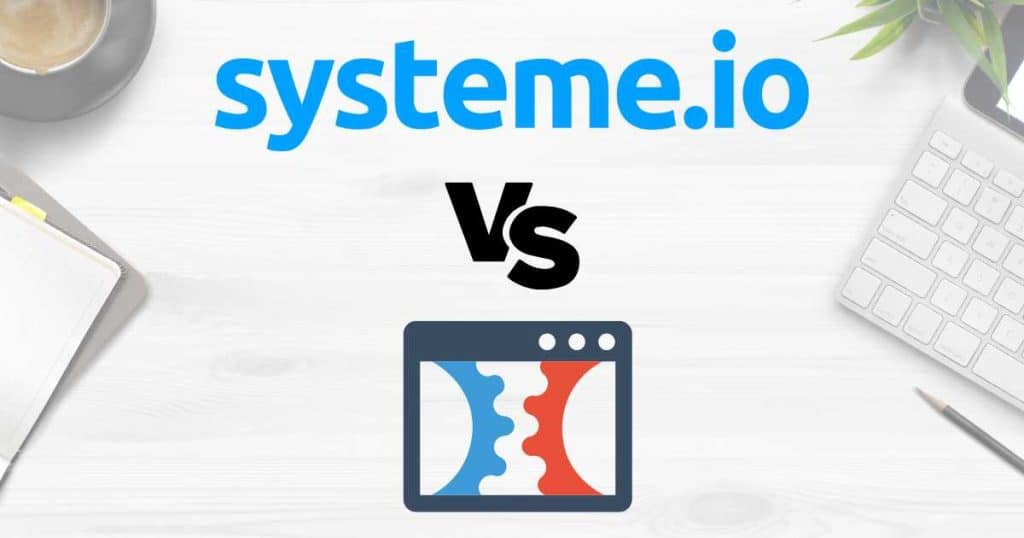 Okay so let's compare side by side, what is the best option for you?
ClickFunnels and Systeme.io are two powerful sales funnel builders with their own unique set of features designed to drive sales.
Let's compare them and see which one will become your ultimate sales funnel partner! 
Pros and Cons – Winners and losers
1. Comprehensive funnel builder: With an array of pre-built templates and integration options, ClickFunnels offers a full suite of tools to help you optimize your funnels for maximum results.
On the other hand, Systeme.io is a younger company and therefore has many fewer tool integrations and templates to use.
Winner = ClickFunnels
2. Community driven: ClickFunnels boasts a massive and supportive community as well as events online and offline. All focused on helping users with tips, tricks, and 'of course inspiration and motivation to help them on their sales funnel journey. This has proven to have a significant positive impact on ClickFunnel users.
In comparison, Systeme.io does not have a huge and well know brand (yet) and there lacks the community that ClickFunnels has established.
Winner = ClickFunnels
3. Insane pricing: ClickFunnels' plans come at a much higher price compared to Systeme.io, with their basic plan starting at $127/month. This is much too high for small business owners and those just getting started online.
System.io takes the lead in terms of pricing. They offer a completely free plan (Forever-free plan) that literally offers everything you need to successfully start selling online.
Also, their highest-tier paid plan is more affordable than ClickFunnels basic plan! It's affordable to Scale quickly. As your business grows, Systeme.io offers affordable paid plans that grow with you.
Winner = Systeme.io
4. Overwhelming user interface: ClickFunnels offers everything you would expect in a premium website and sales funnel builder.
However, it is incredibly overwhelming for new user! The learning curve is relatively steep, which you would expect from a visual drag-and-drop editor.
Systeme.io is just so easy to use. It offers fewer capabilities when building your funnel, but you have access to only the essential elements you need to create a successful funnel.
Winner = Systeme.io
5. The unprofessional templates: The pre-built templates are not terrible… but they are not amazing either (remember how much you paying!). The styles, themes and typography are just so sales and scammy-like. I honestly don't understand how people trust putting their credit card details in!
If we take a look at Systeme.io templates they actually look like they can convert! They are more simple yet sleek and attractive.
Although, in terms of template consistency, Systeme.io's templates lack consistent templates across various funnel stages, which may require extra customization to achieve a uniform look.
Winner = Systeme.io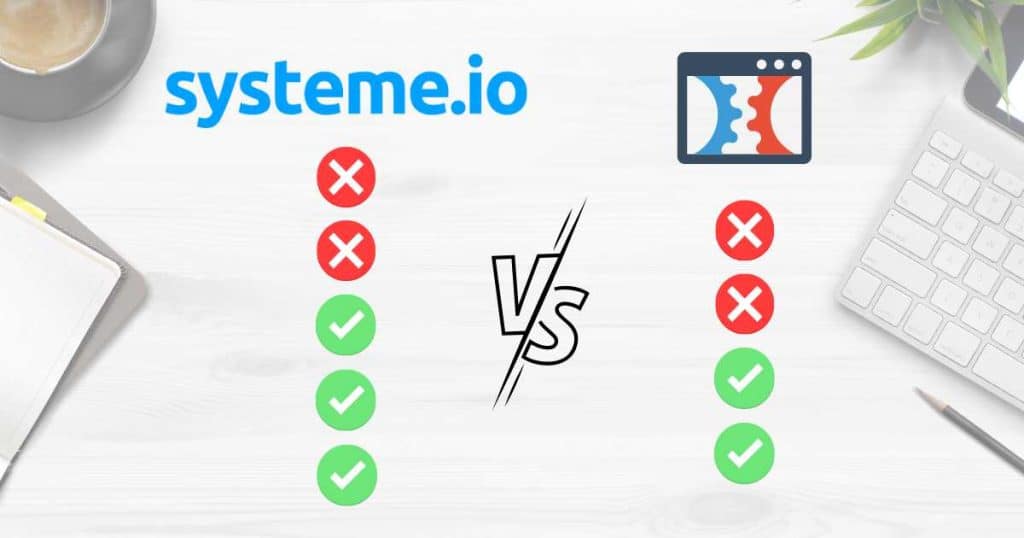 The winner?
Systeme.io is a better ClickFunnels alternative in 2023. However, not in every case…
For those new to the online business world like stay-at-home moms and dads or those that want to start a side hustle then hands down Systeme.io is the best solution for your sales funnel needs.
ClickFunnels offers an outstanding 'premium' product that requires an intermediate to advanced level of online selling experience. This platform I believe is ideal for larger businesses or established brands that already have an online presence.
Ultimately, the best sales funnel builder for you depends on your budget, business goals, and personal preferences.
So I suggest checking out Systeme.io by testing their complete free forever plan and see how that goes for your business. If your not satisfied then trial ClickFunnels on their 14-day free trial.
Better Clickfunnels alternative (free)
Again their are a few other ClickFunels alternatives that include Kajabi, Convertflow, Unbounce, and GetResponse, among others.
However, these are more marketing funnels and don't exactly offer a smooth multi-step sales funnel journey like System.io and ClickFunnels.
Convertflow, GetRespose and System.io are the ClickFunnel alternatives that offer complete free plans. However, even out of these other sales funnel builder alternatives, Systeme.io still takes the lead with the best value for money.
If you're interested watch our Top 3 BEST Sales Funnel Software 
My Final Thoughts
And that is it for my ClickFunnels alternative guide, helping you identify the best sales funnel builder for your small business.
Again, take your time to test out each product and see what one works best for you. Remember to make use of our video tutorials and articles.
All the best on your sales funnel journey!