Struggling to pick between ClickFunnels vs ActiveCampaign to help streamline your marketing efforts?
We all know how important marketing is for small business growth.
If you want to create brand awareness, drive profit, acquire new customers, and maintain relationships with your current audience, you're in the right place!
Read more: Top 5 Digital Strategies For Small Business.
ClickFunnels vs ActiveCampaign 2023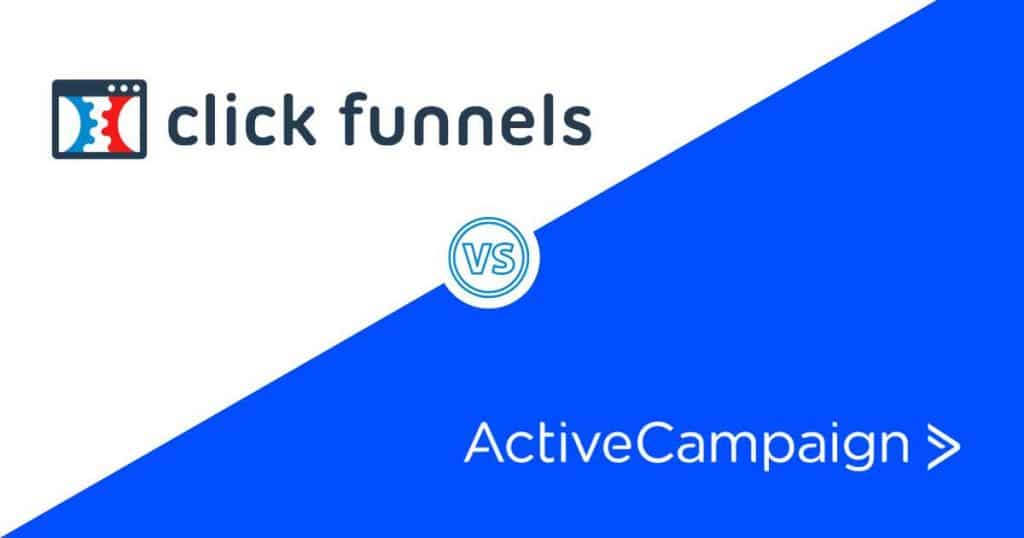 ClickFunnels and ActiveCampaign are two powerful marketing tools for email marketing, sales funnel creation, and automation.
But I'm guessing you already know that, which is why you're here.
So, what's the difference between the two, and how do they stack up against each other?
I will dive into this (and more) to see who wins the battle – ClickFunnels vs ActiveCampaign?
Let's go!
Read more: Top 5 FREE Email Marketing Software For Small Business. 
What Are They? ClickFunnels vs ActiveCampaign
First things first – both are excellent at what they do. But did you know that they fundamentally offer different things?
What is ClickFunnels?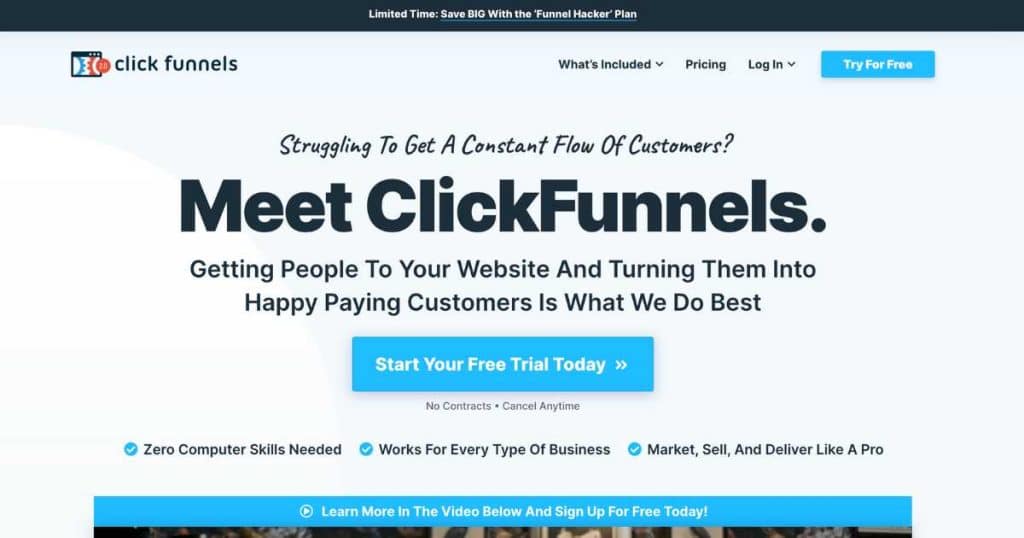 ClickFunnels is a comprehensive online solution for selling products and building entire marketing sales funnels, online courses, memberships, and landing pages.
Aiming to simplify the lead generation and sales process, ClickFunnels helps you guide your website visitors through custom, multi-step sales-driven stages (pages) to convert them into loyal customers.
Unlike traditional website builders, ClickFunnels is ideal for businesses focused on optimizing sales and generating revenue. 
What is ActiveCampaign?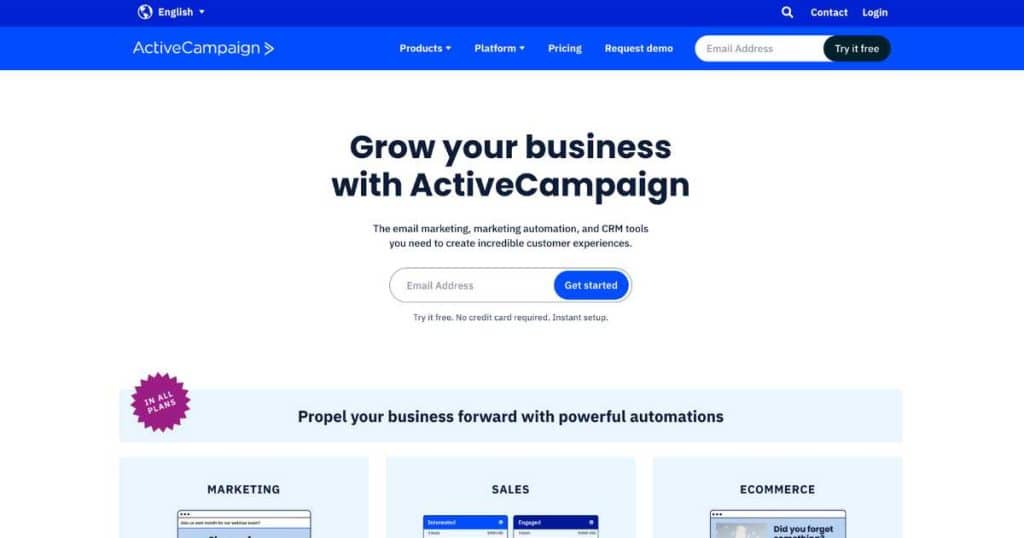 ActiveCampaign is an email marketing and powerful automation platform that helps you build your audience, boost engagement, grow your email list, and manage your audience effectively through engaging email campaigns, landing pages, forms, and CRM tools.
Built for eCommerce or service-based teams, anyone can easily deliver personalized, timely, and targeted emails to their audience through ActiveCampaign's impressive segmentation, automation, and personalization tools!
What Are The Differences Between ClickFunnels vs ActiveCampaign?
The biggest difference between ClickFunnels and ActiveCampaign is their functionality.
ClickFunnels is a total marketing solution where you can build online courses, create a website or blog, engage in email marketing, and more.
Plus, you can effortlessly create high-converting sales funnels with their dynamic and sales funnel builder tool!
ActiveCampaign is essentially an email marketing provider with a built-in CRM.
With ActiveCampaign, you can send targeted, automated email campaigns to your audience to effectively acquire, manage, and nurture your leads and customers.
Read more: How To Use ClickFunnels.
Sales Funnel Builder vs Email Marketing Platform
So, what is the difference between a sales funnel builder solution and an email marketing platform?
Sales funnels can be somewhat confusing for new kids on the block. So, let's break it down for you.
Think of sales funnels as a multi-step guide that takes potential customers through a journey to become loyal, valued customers.
It starts with attracting visitors from various channels and then enticing them with something valuable to capture their interest.
Once you have their attention (when they're in the funnel), you can nurture and advance these leads using email marketing automation and smart upselling strategies.
The ultimate goal is to get them to do something (such as register for your event, opt-in for your newsletter, or purchase a product you're selling).
Check out an example of a multi-step sales funnel below: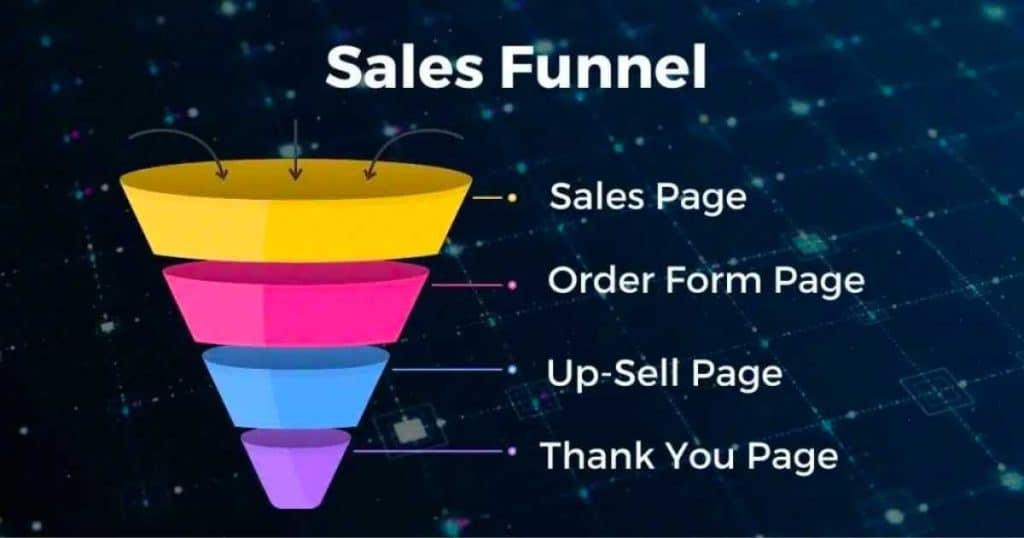 That's where a sales funnel builder like ClickFunnels steps in.
A sales funnel builder aims to provide you with a complete marketing toolkit so you can create personalized, high-converting sales funnels.
Learn more about our Top 3 BEST Sales Funnel Builders For Small Business.
In the realm of online business tools, email marketing is undoubtedly one of the most powerful instruments at your disposal.
Email marketing software features tend to include:
Email list management.
Email automation.
Audience segmentation.
Performance tracking.
Email marketing software is the best and easiest way to connect with your audience!
In fact, research shows that more and more people each year around the world are on email.
Email is not slowing down!
Email marketing software like ActiveCampaign has been specifically designed to help you achieve various goals, including building and nurturing relationships, promoting products, and announcing exciting deals.
It accomplishes this through personalized and targeted email communication and campaigns.
With ActiveCampaign by your side, you can deliver personalized messages to your audience and save a whole lot of time doing it! 
ClickFunnels vs ActiveCampaign – Ease Of Use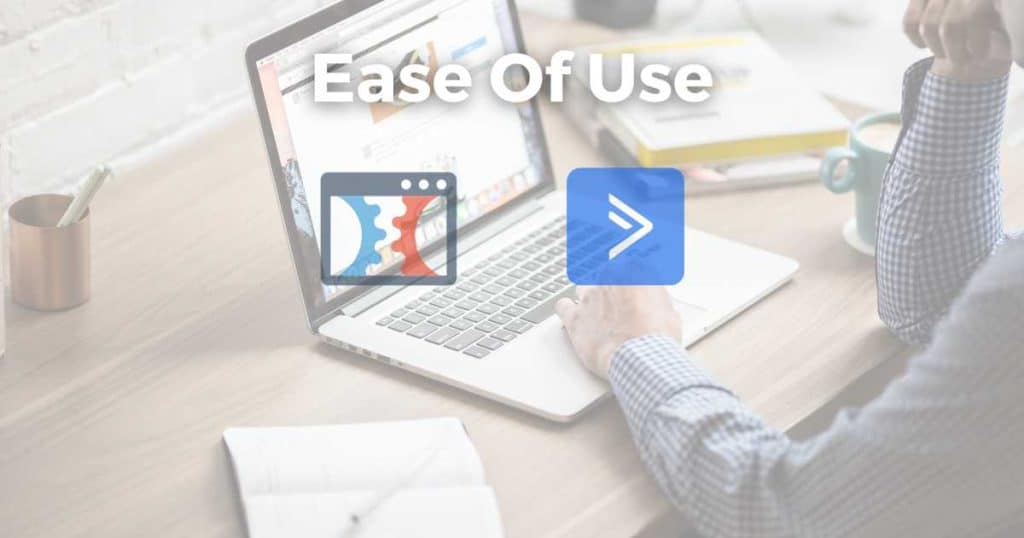 Ease of use is imperative for small business owners with limited experience.
ClickFunnels is known for its user-friendly interface, premade templates, and no code intuitive drag-and-drop editor.
And despite it being an all-in-one marketing platform, ClickFunnels does a pretty good job of simplifying the process of building high-converting sales funnels and marketing campaigns.
I personally think the editor is a tad more clunky than other online tools, but overall, beginners will find it easy to use.
On the other hand, ActiveCampaign offers powerful automation and email marketing features, 800+ pre-made automations, stunning email templates, and a drag-and-drop editor.
Users who are familiar with automation and segmentation tools should find ActiveCampaign easy to use.
However, due to the number of sub-headings and features displayed within the interface, beginners may find it overwhelming.
Winner = ClickFunnels
Read more: ClickFunnels vs Wix 
ClickFunnels vs ActiveCampaign Pricing
ClickFunnel has 3 simple tiered pricing plans:
Basic: $127 per month.
Pro: $157 per month.
Funnel Hacker: $208 per month.
ActiveCampaigns pricing plans are a wee bit more complex than ClickFunnels, with 4 plan options and various plan types within those options.
The marketing plans are what you should be looking at for email and automation marketing and are as follows:
Lite: $29 per month.
Plus: $49 per month.
Professional: $149 per month.
Enterprise: Custom price.
Additionally, you can choose a Sales plan (CRM and sales engagement tools) or combine the power of email marketing and CRM with the Bundle plan!
Overall, ActiveCampaign is quite a bit cheaper than ClickFunnels. And you're probably thinking…well that makes sense, right, considering ClickFunnels brings so much more to the table?
Well, you're right! However, ActiveCampaigns plans are pretty reasonably priced, considering the number of advanced automation capabilities available on ALL plans.
In comparison, ClickFunnels plans are, in my opinion, overpriced.
If you're after a more affordable sales funnel builder option, check out Systeme.io (my favorite sales funnel builder!)
Winner = ActiveCampaign 
ClickFunnels vs ActiveCampaign Tools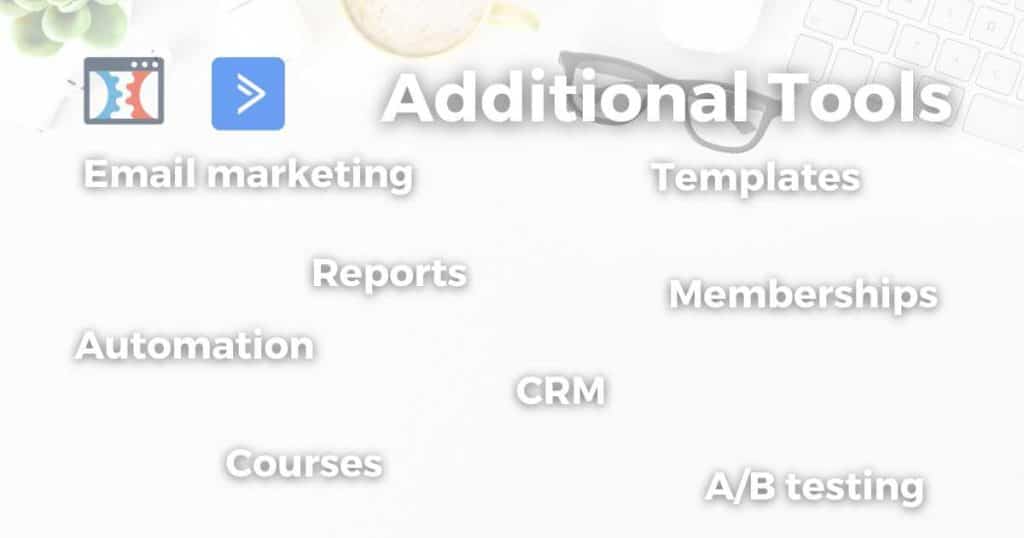 Like I said, ClickFunnels offers email marketing capabilities alongside other impressive tools and features.
ActiveCampaign focuses largely on email marketing and powerful automation tools (with a hint of CRM thrown in there).
ClickFunnel's comprehensive platform offers all the marketing bells and whistles you could dream of.
But do you really require all the features that ClickFunnels provides? Or are you primarily focused on email marketing and automation?
Let's find out what other tools each has.
ClickFunnels provides a range of tools, such as:
Email marketing.
A/B testing.
Membership sections.
Automation capabilities.
An assortment of templates for funnels, landing pages, and websites.
Additionally, ClickFunnels allows you to create unlimited courses, products, pages, workflows, and email sequences.
And excitingly, they plan to introduce a built-in CRM and eCommerce store tool shortly.
If you're seeking the ultimate all-in-one solution, ClickFunnels certainly provides it all!
In comparison, ActiveCampaign's impressive marketing automation features are a highlight of the platform (more on this soon).
Additionally, you'll get:
Landing page builder and templates.
A/B testing.
Check out forms.
Lead scoring and segmentation.
Sales reports.
Built-in CRM.
Predictive analysis.
The best part? Most of these tools are available on all plans!
And if you're a 'Plus' member or above, you'll also get SMS marketing with your plan.
In terms of tools, ClickFunnels is the winner on paper. But the real winner here comes down to you.
What do you want to get out of the platform? And what tools can help you get there?
Winner = ClickFunnels
Read more: ClickFunnels vs Shopify 
ClickFunnels vs ActiveCampaign Standout Features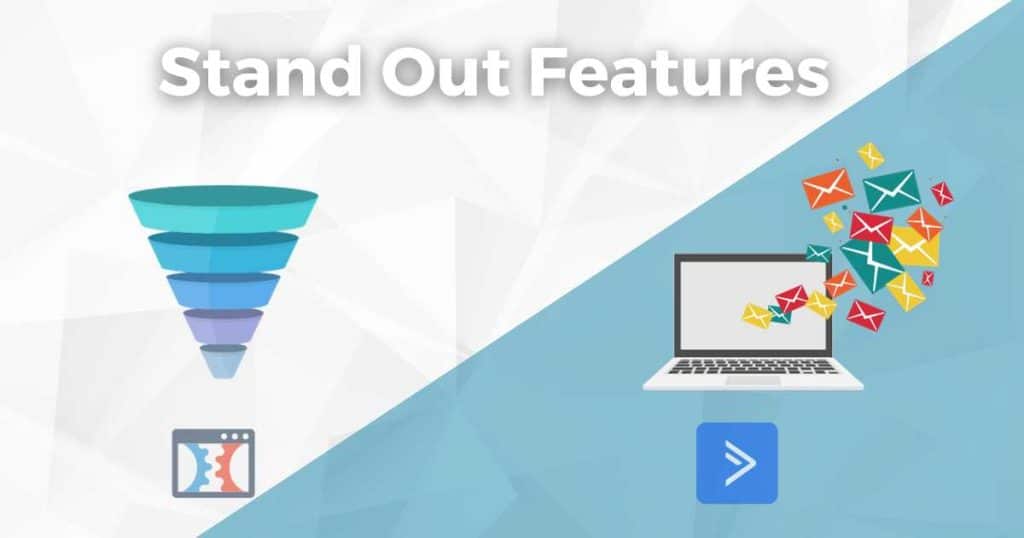 ClickFunnels
ClickFunnels' most impressive tool is, without a doubt, its sales funnel builder.
But how does it actually work?
Funnels, landing pages, and sales pages can be built in no time, thanks to ClickFunnel's handy pre-made templates and user-friendly drag-and-drop interface.
And speaking of templates, they're all designed to suit different types of businesses and purposes and can be customized to suit you and your individual funnel stages.
The idea is that people can click on your funnel through various channels (like Google, Facebook, YouTube, Instagram, and more).
Then, once visitors have entered your funnel, you can simply guide them through each step of the marketing journey (your sales funnel) to turn them into leads and paying customers.
Basically, using a sales funnel approach is the best way to gain more leads and customers.
And sales funnel builders like ClickFunnels have made the process of building and optimizing sales funnels ridiculously simple!
Read more: ClickFunnels vs WordPress.
ActiveCampaign
ActiveCampaign is well-known for its marketing automation, and for good reason.
But first, let's dive into why email marketing automation is so important for any brand.
Automation ultimately helps you save time and money – which is the ultimate goal for any business owner!
With ActiveCampaign, you can seamlessly personalize, segment, and set up conditional triggers for specific automated workflows (such as welcome emails, abandoned cart recovery, engagement scoring, automatic reminders, and more).
Types of email campaigns include:
Autoresponders.
Triggered emails.
One-time broadcast emails.
Targeted emails.
Plus, you can automatically schedule and then send your emails at a particular time of day or date, depending on your audience, for things like birthdays, anniversaries, or recent purchasing behavior.
Many email marketing platforms have automation capabilities, but I love that ActiveCampaign's automation features give you as much control as you want.
Additionally, you can segment your audience through website visits, industry, interests, customer value, the date they subscribed, contact with your team, geographic location, and more.
Their workflow system and segmentation feature is powerful yet easy to manage.
With ActiveCampaign, you can literally set up your automated workflows in just a few minutes!
Plus, it even integrates directly with their CRM software, so you can easily automate both your sales and audience.
Read more: 7 Best CRM Software For Small Business. 
ClickFunnels vs ActiveCampaign Integrations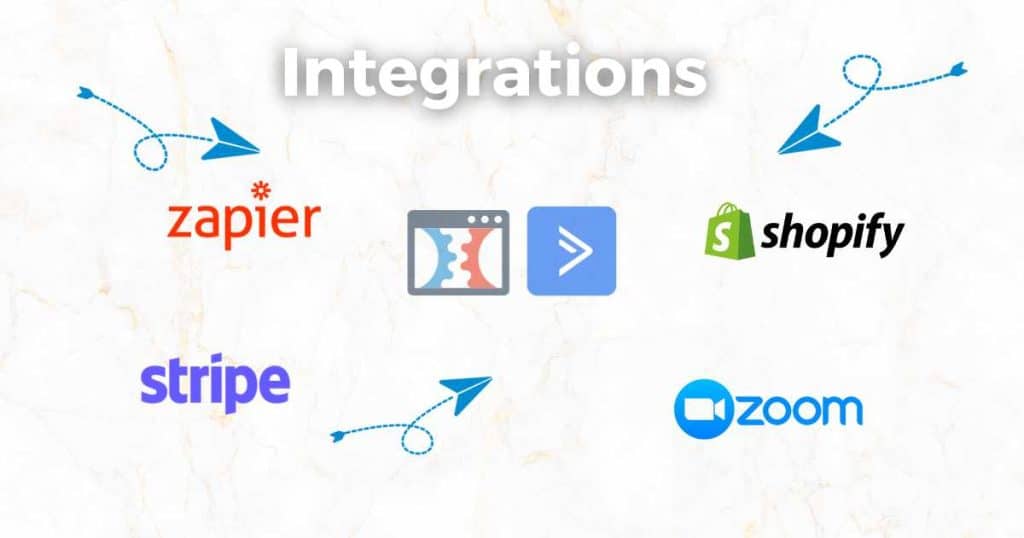 Like many online tools, ActiveCampaign and ClickFunnels both integrate with various popular third-party software to improve functionality.
They seamlessly integrate with popular platforms such as Shopify for eCommerce, Zoom for video conferencing, and Stripe for secure payment processing.
The number of integrations that ActiveCampaign offers trumps ClickFunnels, with over 900 integrations available within their app marketplace.
In saying this, ClickFunnels offers many built-in features, so perhaps integrations aren't necessarily needed as much? I'll leave you to be the judge of that!
Both integrate with Zapier, an integration app connecting over 5,000 applications.
However, it's important to highlight that, unlike ClickFunnels, ActiveCampaign restricts access to specific integrations on lower-tiered plans.
For instance, eCommerce integrations are only available on the Marketing Plus plan.
Both are pretty evenly matched, but I have to give this one to ActiveCampaign for the sheer number of integrations it offers.
Winner = ActiveCampaign 
ClickFunnels vs ActiveCampaign Support
ClickFunnels offers several support channels, including live chat with real-time assistance, an online knowledge base with videos and articles, and a vibrant Facebook community group.
These multiple channels empower ClickFunnels users with a wealth of resources for guidance and troubleshooting assistance.
On the other hand, ActiveCampaign's primary support channels are live chat, 24/7 email support, and phone support during business hours.
Plus, there's a handy 'Education Center' with blogs, courses, webinars, workshops, and web forums to help you out.
Winner = Draw 
ClickFunnels vs ActiveCampaign – Who Are They Best For?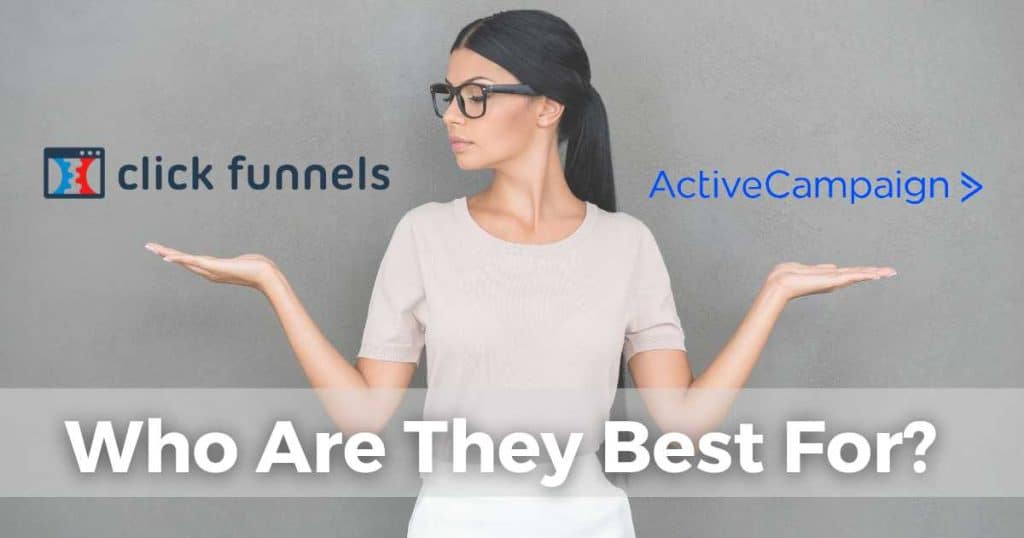 So, what's the verdict?
Which platform best fits your needs? ClickFunnels vs ActiveCampaign?
The answer largely depends on your specific lead generation requirements and goals.
ClickFunnels is a top choice for building sales funnels and facilitating online sales, whereas ActiveCampaign is one of the best in the business for email campaigns and automation.
ActiveCampaign provides powerful email marketing, automation, and CRM tools to manage and grow your entire business.
If automation is critical to your overall marketing strategy, it's the best option for you.
Alternatively, ClickFunnels is the obvious choice for businesses that prioritize selling products, memberships, courses, and other services online.
Plus, the good news is that you don't have to choose between one or the other!
Did you know you can leverage both strengths for maximum results?
Both platforms are fully compatible and can seamlessly integrate via the ActiveCampaign ClickFunnels integration.
I strongly recommend utilizing both services together if you have the budget to maintain active subscriptions with both platforms. 
My Final Thoughts
That wraps up my comparison between ClickFunnels vs ActiveCampaign!
The key takeaway? Sales funnel builder software and email marketing services are very different from one another.
Before jumping into either software, I suggest carefully considering what you require from a marketing software (plus how much you want to spend).
After that, if you're leaning towards ClickFunnels, take advantage of their 14-day free trial!
Alternatively, ActiveCampaign also offers a free trial.
And remember that there are many other email marketing and sales funnel builder options out there, some of which offer free plans.
Check out my Top 5 Email Marketing Software and ClickFunnels Alternatives before making your final decision.