Which is the best software for you – Wix vs ClickFunnels?
Many people love the game-changing and easy-to-use website builder Wix. But, Clickfunnel's high conversion rates are pretty hard to look past!
Wix and ClickFunnels have one thing in common – both allow you to create your website and grow your online presence without any prior web design or coding experience.
The great news is that both products excel at what they do. But they actually offer quite different services!
So, which one to pick? Wix vs ClickFunnels?
Wix vs ClickFunnels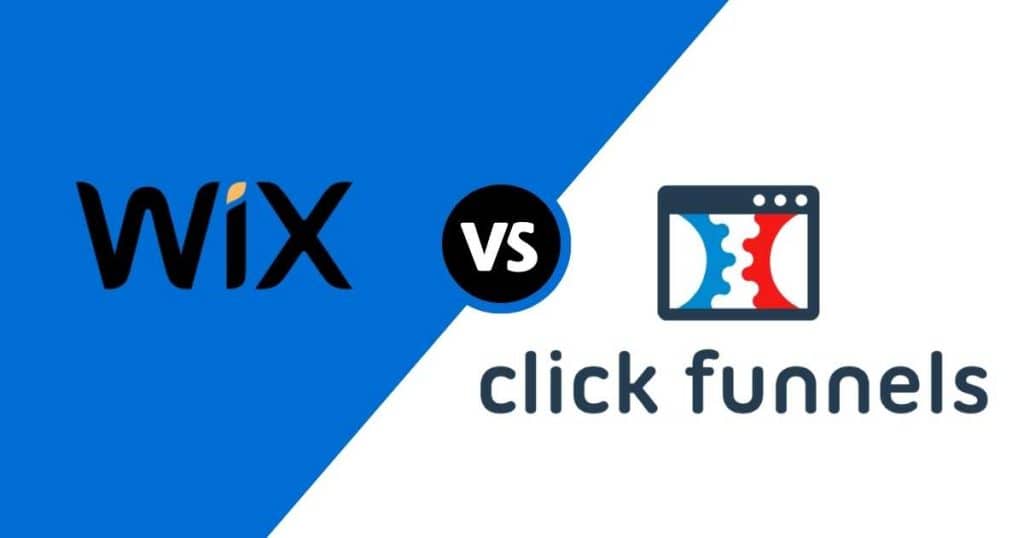 The first step is to learn what Wix and ClickFunnels are. Then, you'll need to figure out what tools and resources your business needs.
Once you've done that, you'll be able to confidently identify the best solution for you!
With that said, let's get into it. 
What are they? Wix vs ClickFunnels
Wix
Wix was one of the first no-code website builders. And now, with over 200 million users, it's safe to say that Wix is one of the most popular drag-and-drop website builders out there!
Through continuous evolution, Wix has emerged as one of the most comprehensive website builders available.
Boasting an extensive selection of apps, templates, and features, Wix truly empowers you to establish a strong online presence.
And now, in 2023, you can build your website in three simple ways:
Start from scratch and use the Wix editor.
Use and edit one of Wix's professional templates.
Leverage Wix's ADI technology.
All three options allow you to create the website of your dreams without knowing a smidge of code!
Read more: Wix Editor vs Wix ADI. 
ClickFunnels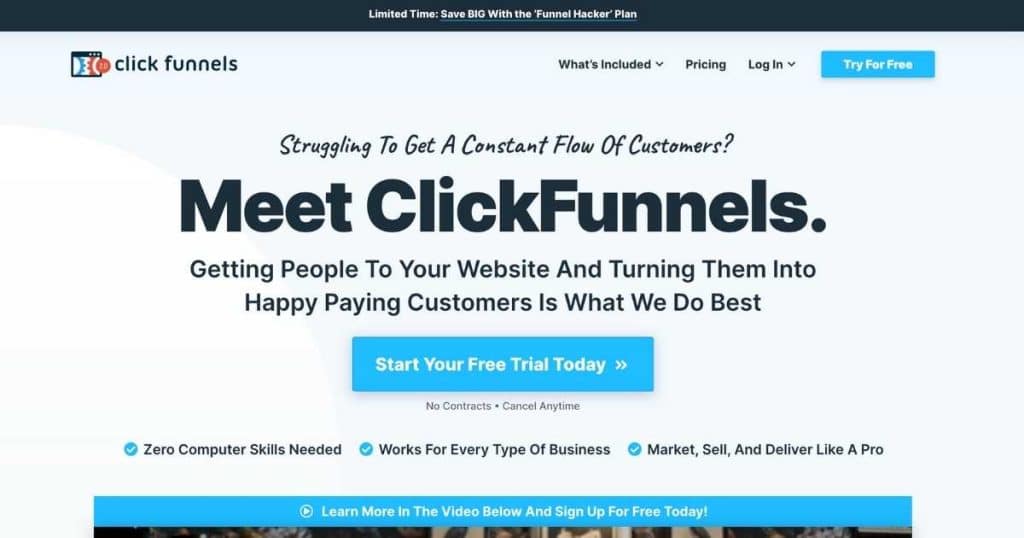 ClickFunnels was one of the first (and continues to be one of the best!) comprehensive sales funnel solutions on the market.
With ClickFunnels, you can effortlessly create highly converting and personalized multi-step sales funnels (pages) with ClickFunnel's all-inclusive digital marketing toolkit.
Sales funnel builders are preferred over traditional eCommerce websites for business owners focusing on a conversion-centric sales website.
Before sales funnel platforms like ClickFunnels, you'd have to market your products and services on traditional eCommerce websites.
And don't get me wrong, this is still an excellent option for some businesses!
However, if you have limited complimentary and high-ticket offers, trust me – a sales funnel builder like ClickFunnels is the way to go!
Read more about ClickFunnels and how you can build a sales funnel from scratch here. 
What are the differences between Wix vs ClickFunnels?
The main difference between Wix vs ClickFunnels is that one is simply a website builder, and the other is a sales funnel builder.
To understand the difference between the two, you'll need to understand the goal behind building your website. Ask yourself the question…why are you creating a website?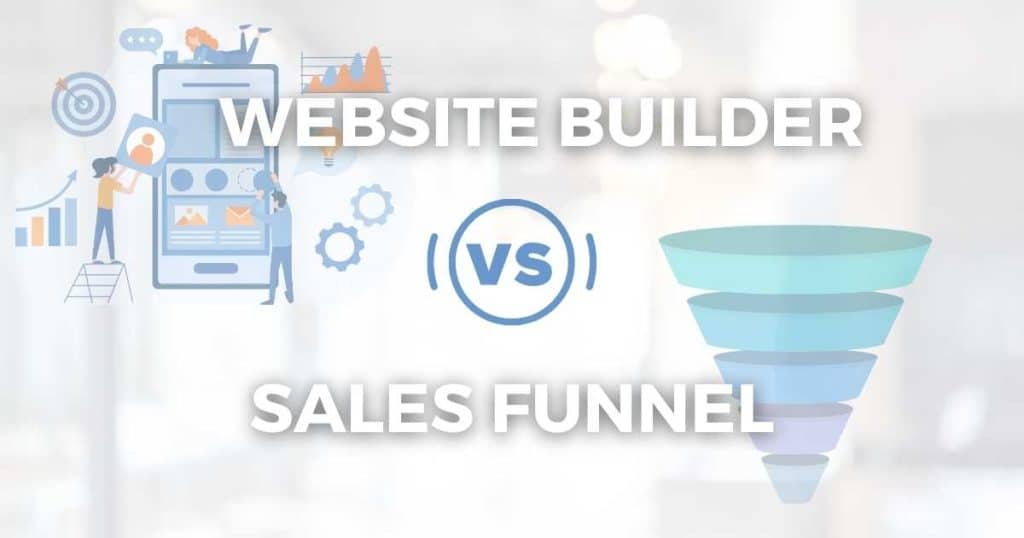 Website Builder
A website builder assists you with creating a website, attaching a domain, and integrating with other handy tools without any messy coding involved.
Website builders like Wix are for businesses wanting to build an information-based or eCommerce website to grow their online presence.
Think of this type of website as a place to showcase your brand as a 'digital brochure.'
Want to know more? Check out my Top 10 Website Builders here.
 Sales Funnel
A sales funnel guides potential customers through various stages until they convert.
Typically, a sales funnel revolves around a primary action, like selling an online course.
Each sales funnel usually focuses on one product or service, unless an upsell page offers complementary add-ons.
Unlike a regular website, a sales funnel doesn't have other pages for visitors to navigate.
Each call-to-action button on the funnel leads to the next stage, enabling you to concentrate on one specific action at each stage.
If you want to generate new leads, collect emails, pitch new products, and sell stuff (and make money), then a sales funnel builder like ClickFunnels is the way to go.
Read more: How To Build a Sales Funnel For Free.
Wix vs ClickFunnels Ease Of Use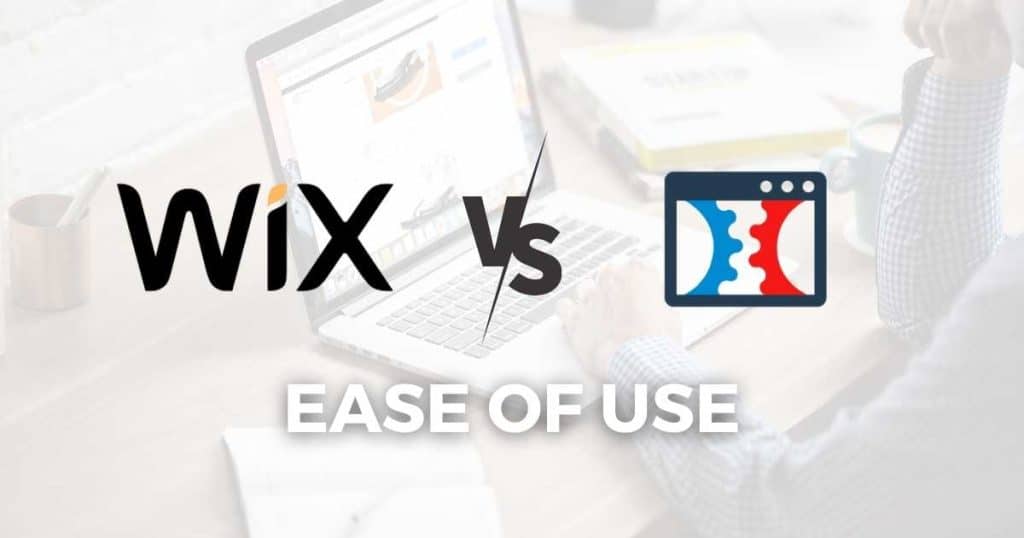 Wix and ClickFunnels both have user-friendly interfaces that make it relatively simple to build websites or funnels without any technical experience.
Wix is known for its straightforward setup process, easy-to-use drag-and-drop editor, and hundreds of pre-designed customizable templates.
With the editor, you can customize your website layout and add and edit elements as little or as much as you like.
I love this about Wix. You can choose the level of control over your website, depending on your experience or how complex your website needs to be!
And if you already have a website elsewhere, you can simply import your images and information directly from your old website to Wix.
ClickFunnels also offers pre-built sales funnel templates and a drag-and-drop visual editor, which you can customize based on your goal.
However, I personally find the editor a bit clunky. And although you can do a lot with the builder, some users may find it overwhelming.
Plus, the number of templates is far from what Wix offers and can look slightly scammy.
Read more: ClickFunnels vs Shopify.
Winner = Wix 
Wix vs ClickFunnels – Pricing
Wix:
Free plan: Wix branding and domain.
Connect domain: $4.50 per month.
Combo: $8.50 per month.
Unlimited: $12.50 per month.
VIP: $24.50 per month.
eCommerce plans: $17 – $35 per month.
ClickFunnels:
Basic: $127 per month.
Pro: $157 per month.
Funnel Hacker: $208 per month.
Wix offers 8 pricing plans, which is (in my opinion) way too many.
In saying this, they offer a free basic plan for beginners or businesses just starting out. Overall, Wix's plans are significantly cheaper than ClickFunnels!
On the other hand, I believe ClickFunnels prices are way too high.
In fact, I compared ClickFunnels with my other favorite sales funnel builder Systeme.io, and ClickFunnels prices were excessively higher.
Winner = Wix
Wix vs ClickFunnels Tools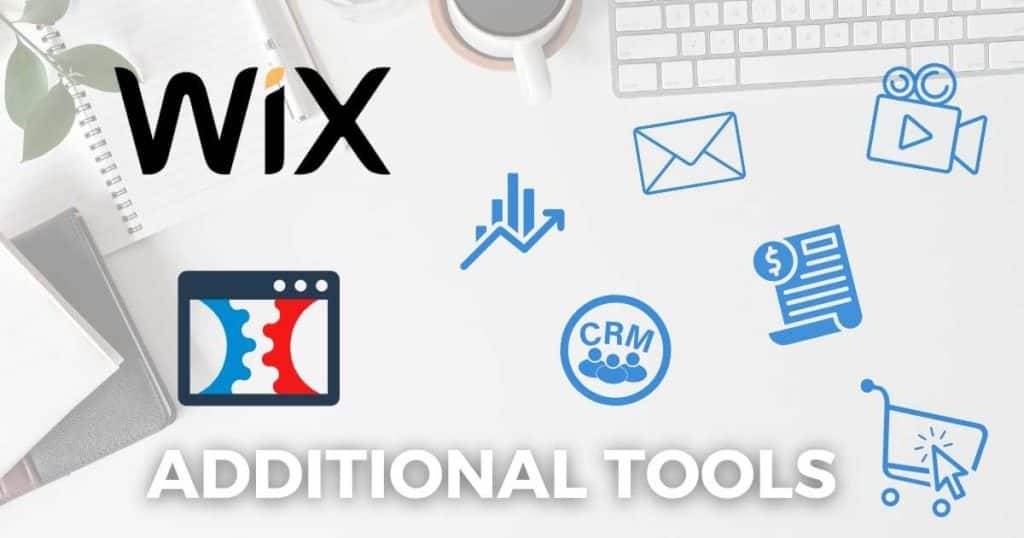 Okay, so we've established that Wix and ClickFunnels are great for different reasons. But what additional tools do both offer?
First, let's focus on Wix.
Wix offers a range of helpful tools that can enhance your website-building experience.
These tools include:
Logo maker.
Video maker.
Business name generator.
QR code generator.
Invoice generator, and more.
These features can be beneficial for creating a professional and visually appealing website.
Additionally, Wix has built-in email marketing, business emails, and CRM tools designed to optimize your website's performance.
Plus, with Wix, you can create a single or multi-page website for eCommerce, blogs, SaaS products, and more.
Now let's take a look at ClickFunnels.
With innovative:
Email marketing tools.
A/B testing.
Marketing automation.
Membership sections.
And Pre-made funnel stage templates.
You can easily personalize each page of your sales funnel with ClickFunnels to help you boost sales and build your customer base!
Additionally, you'll receive unlimited courses, workflows, pages, products, and email sequences on all ClickFunnels plans.
And soon, ClickFunnels will be introducing its very own built-in CRM system and eCommerce store.
The similarities? Both offer web hosting and have a heap of integrations with all your favorite tools!
Read more: Create An Online Store with Wix. 
Standout Features
Funnel Builder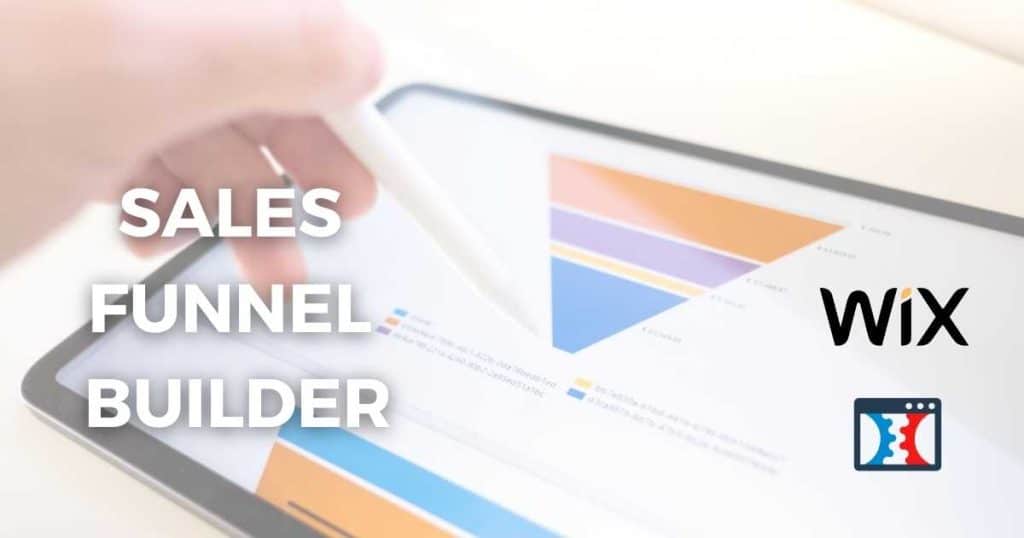 Did you know you can create a sales funnel with Wix by building tailored landing and sales pages?
But unfortunately, Wix doesn't stand a chance with ClickFunnels when it comes to funnel building.
This is, of course, because ClickFunnels's main purpose is to build sales funnels.
You can dynamically funnel your users across different social media sites to your website with the help of ClickFunnels.
Essentially, ClickFunnels guides your potential leads to your product or service, then all the way to the sale through several steps.
So, although you CAN create sales funnels with Wix, it doesn't compete with what ClickFunnels offers.
Read more: Best Sales Funnel in 2023.
Winner = ClickFunnels
SEO and Analytics: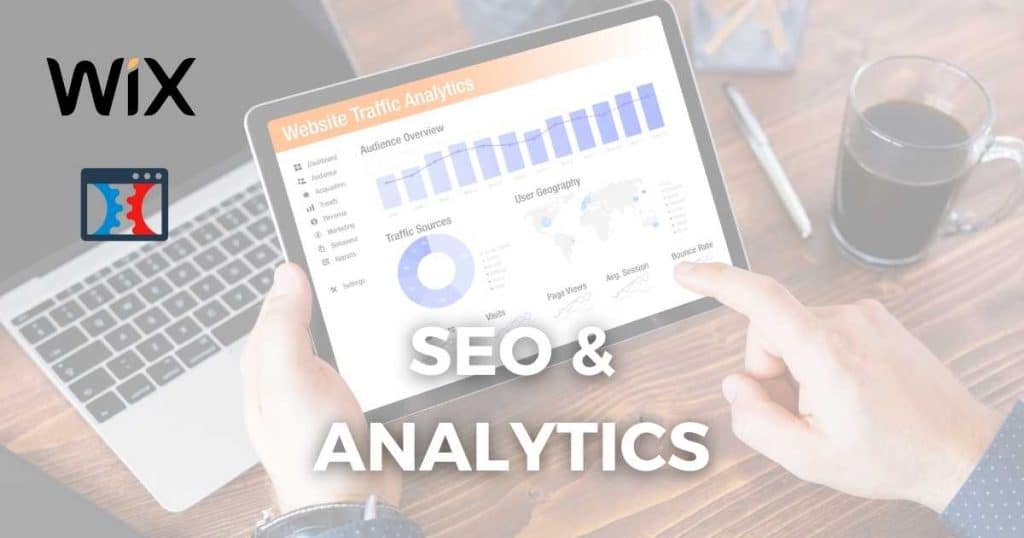 How do Wix and ClickFunnels stack up in this department? Let's start with ClickFunnels.
All plans offer built-in analytic tools that can track the following metrics:
Conversions.
Page views.
Opt-in rates.
Open rates.
Click-through rates.
Average cart value.
Plus, with dynamic features such as A/B testing, you can test and optimize your campaigns to ensure you receive the best results.
And the best part is that you can track all that and more in real-time!
On the other hand, Wix has some strong SEO and analytics tool on an easy-to-use dedicated dashboard.
This is an easy way to help you track your website traffic and visitor behavior. Plus, you can easily integrate Wix with Google Analytics.
However, in terms of built-in options, Wix offers less comprehensive support compared to ClickFunnels.
Winner = ClickFunnels
ArtificiaI Intelligence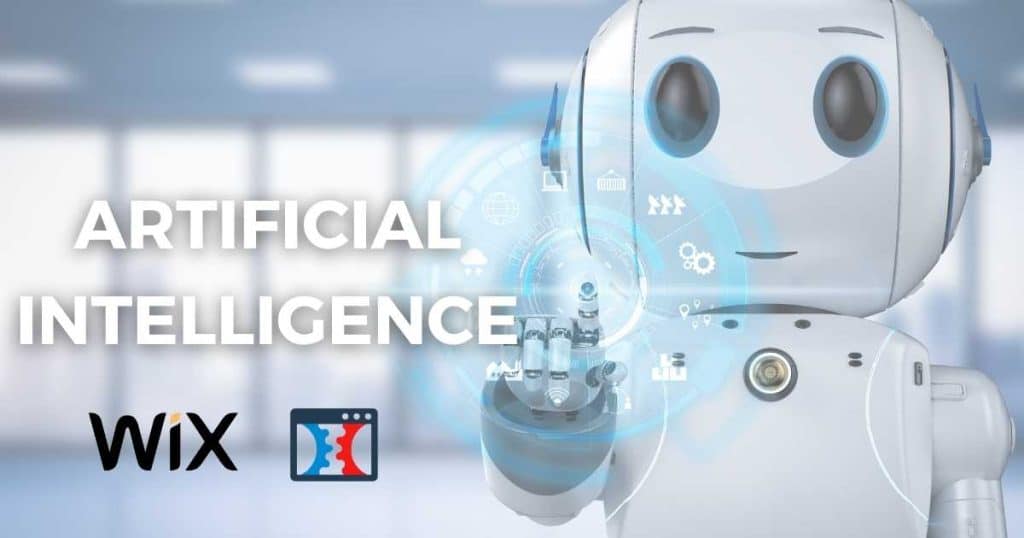 AI has taken the world by storm. And this wouldn't be a 2023 article if I didn't mention it!
As I mentioned, you can create a full-featured and stunning website with Wix ADI in just a few minutes.
All you have to do is answer a few simple questions about your business, and you're good to go!
ClickFunnels has recently launched a new AI feature called Payments AI which is available for ClickFunnels 2.0 members.
This is where you can use AI to help you manage metrics, data, automation, payment gateways, and more.
However, Wix's AI tools have been around for years and have done a lot of fine-tuning to get to where they are today. Therefore, I'm giving them the win for this one!
Read more: My 11+ AI Tools For Small Business in 2023.
Winner = Wix
Support
Wix offers 24/7 support options like callback and live chat support in English (and other languages during specific hours).
Wix also offers customer support through their blog, knowledge base, support email, and ticketing/helpdesk system.
On the other hand, ClickFunnels also provides 24/7 support, including ticket and email help and live chat (on weekdays).
ClickFunnels typically aims to respond to queries within 24 hours on weekdays and slightly longer on weekends.
Plus, ClickFunnels has an active official Facebook group where you can ask many questions.
However, it's important to note that the Facebook group relies on fellow users for assistance, so response times and support quality may not be guaranteed.
Winner = Draw
Wix vs ClickFunnels – Who Are They Best For?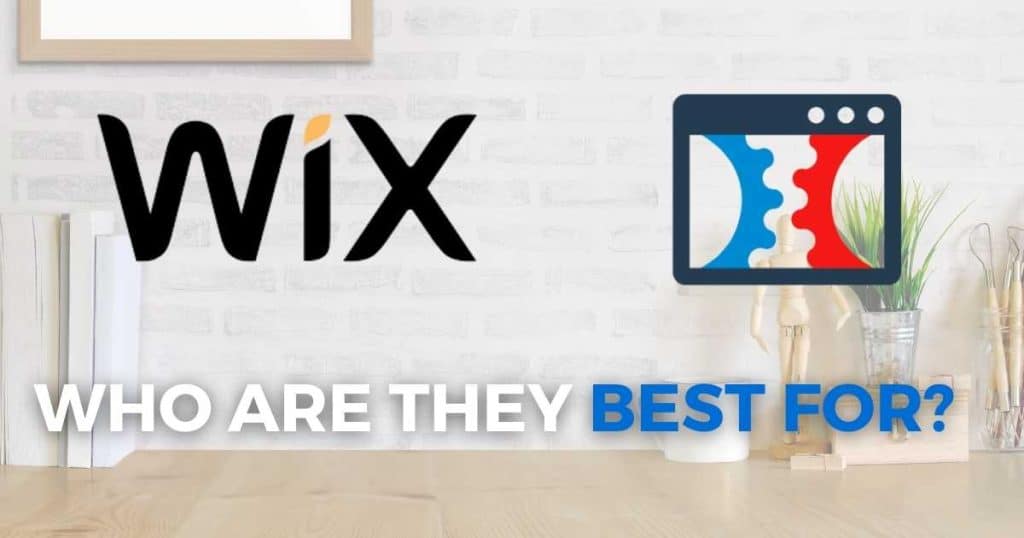 It's clear that Wix and ClickFunnels serve different purposes. So, who exactly are they best for?
Of the two, I recommend using ClickFunnels if your focus is driving and converting leads and sales.
I know what you're thinking…ClickFunnels is expensive! Is there a more affordable option?
If you're a small business or don't have the budget to fork out on ClickFunnel's (in my opinion) overpriced plans, check out my favorite sales funnels platform Systeme.io as an alternative!
You can read more about Systeme.io and ClickFunnels here.
But if you want to work on building and growing your brand and online presence, then Wix is your best option!
Wix is a great option for beginners and all business types, including eCommerce, restaurants, construction businesses, consultants, marketers, and more.
Plus, Wix is much more flexible and offers more customization options when compared with ClickFunnels.
I personally believe Wix is the best all-in-one and affordable website builder out there!
Read more: 10 Disadvantages of Wix. 
Stew's Final Thoughts
And congratulations! You've made it to the end of this Wix vs ClickFunnels article.
As you can see, both platforms are exceptional in what they do.
Wix is a versatile website builder, and ClickFunnels is a dynamic tool for creating high-converting sales funnels.
If you want to sell a product and need assistance optimizing your sales process, check out ClickFunnel's 14-day free trial.
On the other hand, if your primary focus is establishing an online presence, give Wix's free plan a go!
The main takeaway? Consider your business needs, then choose the best platform for your objectives!
Thanks for reading.