Are you feeling confused or stuck between choosing Hostinger vs Namecheap for your web hosting?
I know, I know, the number of web hosting options in 2023 is overwhelming.
And we all know how important fast and reliable web hosting is these days to ensure your website is easily accessible!
The good news is that you're on the right track!
Both Hostinger and Namecheap are popular, trustworthy, and reliable hosting platforms.
Hostinger vs Namecheap 2023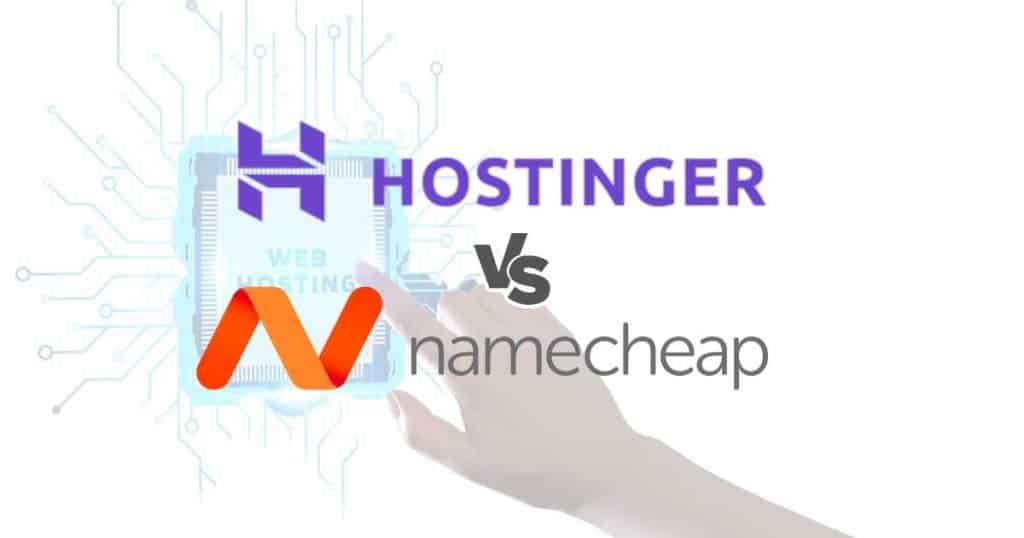 There are some similarities and differences between Hostinger and Namecheap, making it difficult to determine the right fit for you.
But I'm here to help!
The goal of this post is to take a deep dive into both platforms and their key features so you can make the right decision.
So, Hostinger vs Namecheap – what should you choose?
Read more: Hostinger vs Bluehost. 
What are they? Hostinger and Namecheap
As I'm sure you're aware, Hostinger and Namecheap are two prominent names in the hosting world. But why?
Hostinger is a power-packed web hosting platform known for its affordability and exceptional performance.
With lightning-fast loading speeds, strong security measures, and a user-friendly interface, Hostinger is a popular choice for many businesses looking to build their online presence effortlessly.
As its name suggests, Namecheap also focuses on affordability and simplicity within its feature-packed hosting plans.
Namecheap specializes in domain registration and management services with incredible RAM and bandwidth capabilities.
What are the differences between Hostinger and Namecheap?
Each platform offers different plans and tools and WordPress, email, and website builder capabilities.
But there are some key similarities and differences between Hostinger and Namecheap that I'll cover below.
Let's dive into both now!
Read more: Hostinger vs SiteGround.
Hostinger vs Namecheap Web hosting: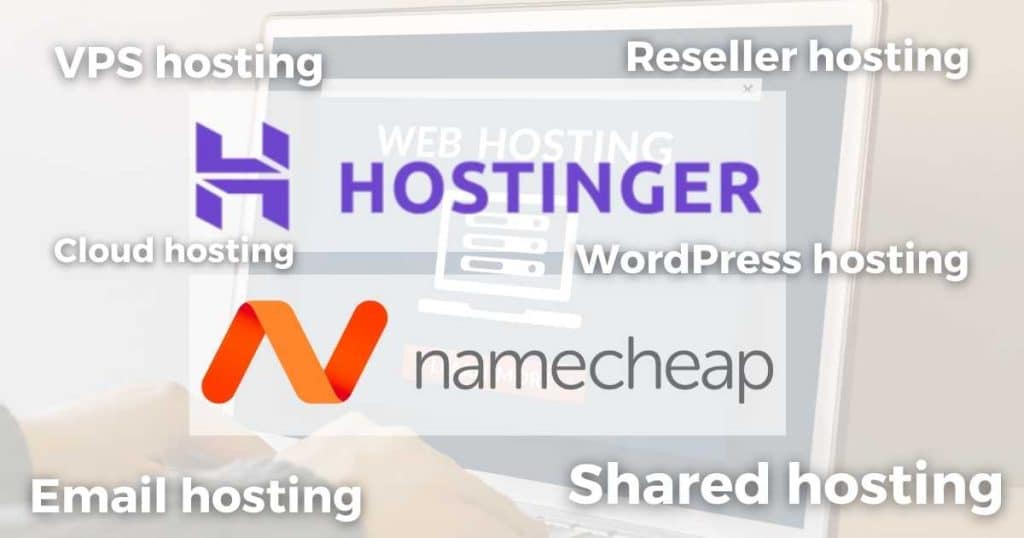 Both platforms offer a 30-day money-back guarantee and:
Additionally, you can get cloud VPS hosting plans with Hostinger and dedicated reseller hosting on Namecheap.
In terms of pricing, let's start with shared hosting plans.
If you opt for a yearly basic shared hosting plan with Namecheap, you'll pay $1.98 for the first year (then $4.48 monthly).
With Hostinger, if you sign up (annually) for their basic shared hosting plan, you'll pay $2.29 for the first year, then $5.99 per month thereafter.
However, if you sign up for a 48-month term with Hostinger, you'll only pay $1.99 monthly, then $3.99 monthly after your term ends.
This ends up being cheaper than Namecheap in the long run.
And if you're after WordPress or VPS plans, Hostinger's 48-month term ends up being cheaper than Namecheap.
But, of course, you'll have to make a long-term commitment to grab the best deal!
Read more: Web hosting for beginners with HostPapa.
Winner = Hostinger (overall cheapest plans)
Hostinger vs Namecheap – Tools: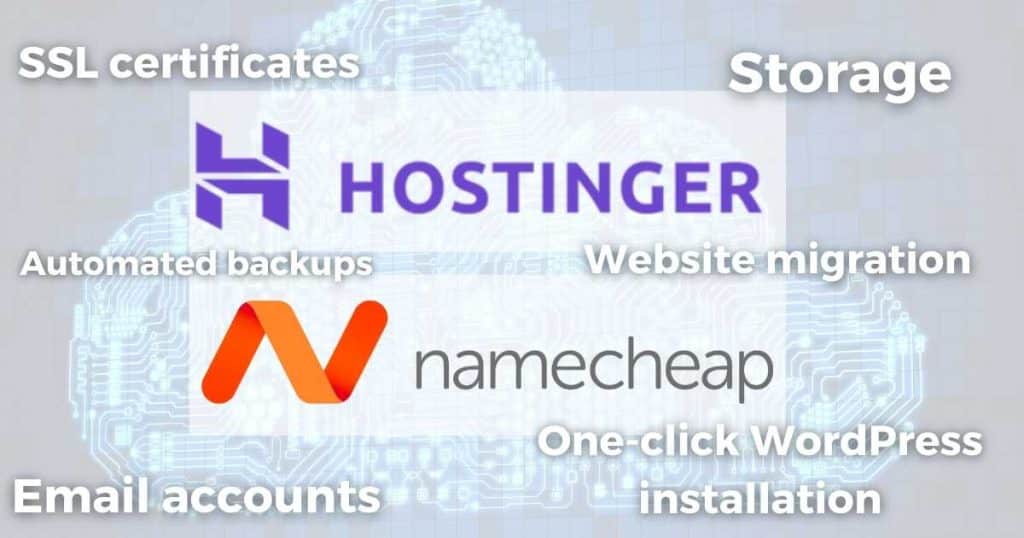 When it comes to web hosting tools and features, there are a few similarities between Hostinger and Namecheap.
Both have website builders, email accounts, and easy one-click WordPress installations (more on these later).
However, some key features set them apart from one another.
For example, all Hostinger plans have a free forever SSL certificate. Namecheap is only free for the first year, which is a bit of a bummer.
Another notable difference is bandwidth – on Hostinger's cheapest shared hosting plan, you're limited to 100GB. On Namecheap, bandwidth is unmetered on all plans.
Both offer free website migrations and automated backups, and Hostinger's in-house hPanel tool is just as easy to use as Namecheap's cPanel for simple account management.
And Hostinger's shared hosting plan has more storage space to begin with (20GB on the most basic plan vs 10GB with Namecheap). However, Namecheap's unlimited storage quickly becomes a desirable attraction for many!
And finally, when it comes to performance, although Namecheap's response time, uptime, and site test load time are above average, it can't quite compete with Hostinger!
Winner = Namecheap (for its storage and bandwidth capabilities).
Hostinger vs Namecheap – WordPress: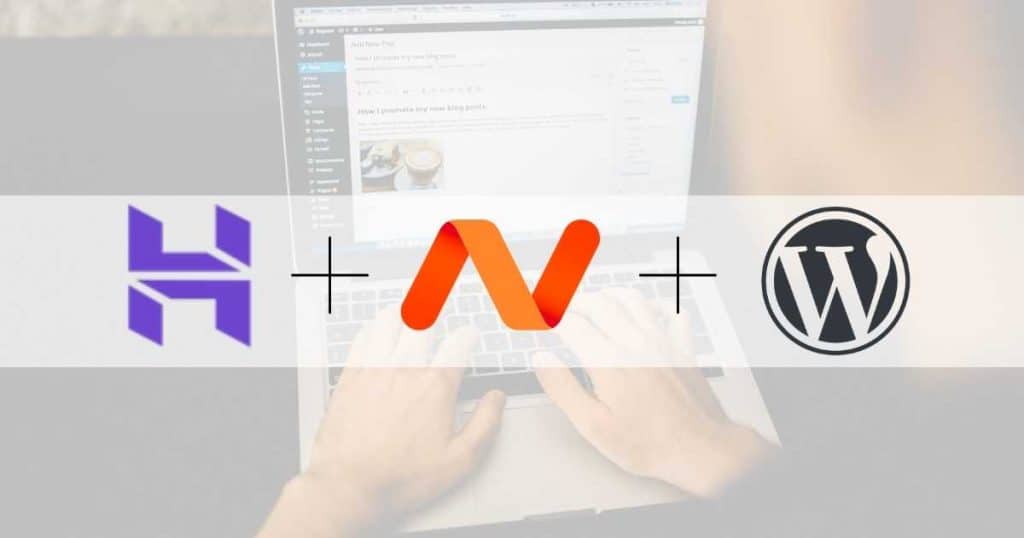 As mentioned earlier, if you want to build your website with WordPress, you're in luck. Both platforms have dedicated and reliable WordPress hosting plans!
Hostinger provides an optimized WordPress hosting solution tailored for WordPress websites, ensuring fast loading speeds and top-notch performance.
Some features include:
100 websites.
Basic WooCommerce
100GB of storage.
One-click installation.
Weekly backups.
Easy migration.
Unlimited bandwidth (and much more on the basic plan!)
On the other hand, Namecheap also offers WordPress hosting plans optimized for WordPress websites.
Learn more about how to create a WordPress website here.
With Namecheap, you'll receive:
One website.
10GB of storage.
Easy backups, installation, and migration.
Automatic updates.
24/7 support.
One of the key differences between the two is that all Hostinger WordPress plans come with a free CDN. With Namecheap, this is only available on the top two paid plans.
Overall, both web hosting services are suitable for WordPress. But Namecheap is the better choice for absolute beginners.
Read more: WordPress.org vs WordPress.com.
Winner = Hostinger
Hostinger vs Namecheap – Email: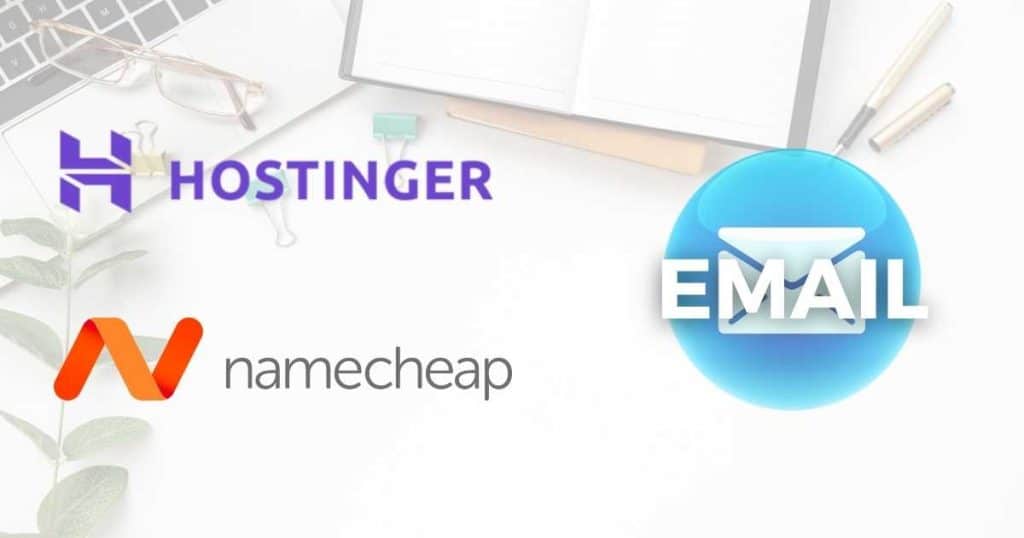 One of the things I love about Hostinger is that they partner with Titan, an email service provider.
Titan offers two dynamic plans with features such as:
Read receipts.
Email templates.
Undo-send
Auto-reply
Email aliases and more.
Plus, by using their free migration tool, you can migrate your contacts and emails from all your favorite providers!
Namecheap, on the other hand, offers three email services:
Their Business Email plans all come with anti-spam protection, tighter app security, free forwarding addresses, two-factor authentication, and more.
And with their new anti-spam protection, 'Jellyfish,' you'll remove any email threats, spam emails, and more without lifting a finger!
Jellyfish has two different plans, the 'Private Email' and 'Shared Hosting' plans.
I personally love and rate Titan as a basic email service provider, but if you're after an in-house solution, Namecheap's email options may be a better fit!
Winner = Namecheap
Hostinger vs Namecheap – Website Builders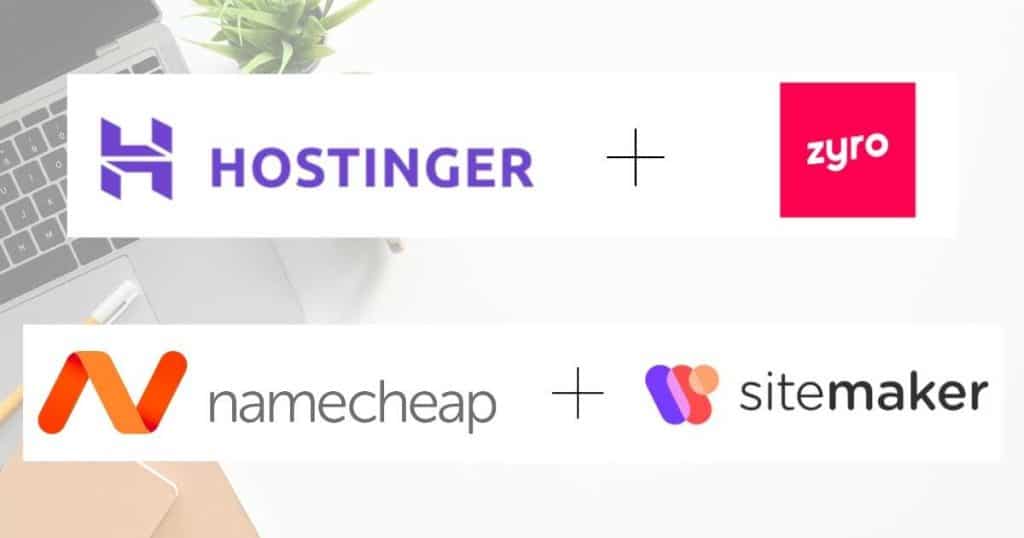 If you want to host and build a website with Hostinger or Namecheap, guess what..you can! And better yet, both offer user-friendly options!
Namecheap's website builder Site Maker is basic, but does the job.
Customize your website (to an extent) with the drag-and-drop builder and website templates, then use their simple analytic tools to manage your website's performance.
Plus, you can create your own logo or business cards within Site Maker, which I thought was a nice touch.
On the other hand, Hostingers AI-powered website builder Zyro wins by a landslide.
With over 100 dynamic templates, easy eCommerce integrations, customizable design options, and a drag-and-drop interface, you just can't beat it.
With Zyro, you can create stunning websites both easily and quickly!
Winner = Hostinger (Zyro) 
Who are they best for?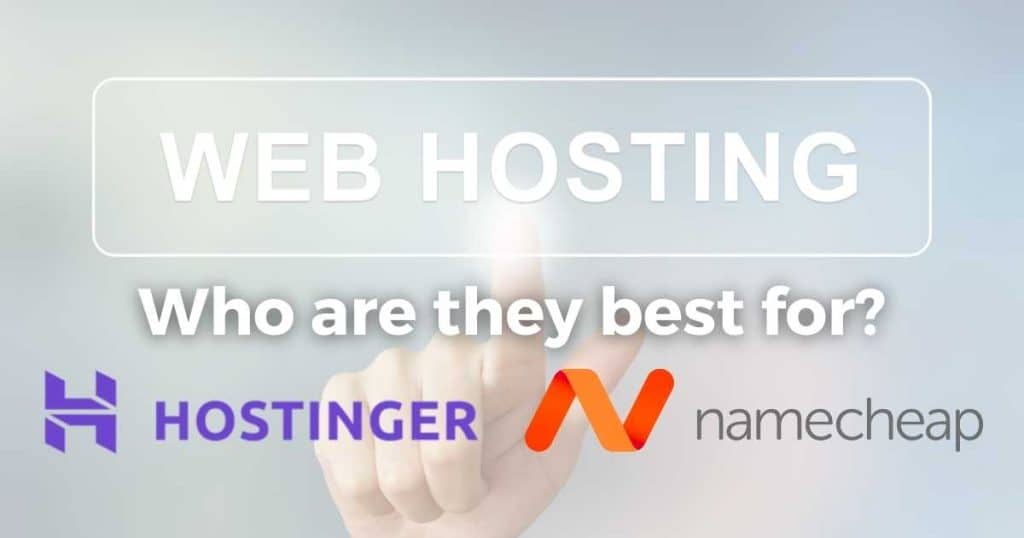 As you can see, these two amazing platforms have many similarities and differences.
So, what do you pick?
If you're after an affordable, simple, fast, and reliable feature-rich cloud-based, VPS or shared hosting platform, Hostinger is the perfect choice for you.
Plus, you can't go wrong with their intuitive AI website builder Zyro.
Namecheap is best for web developers, freelancers, or businesses after domain registration services and affordable hosting plans.
And their reseller hosting plan is perfect for personal websites and growing businesses.
Read more: Durable AI website builder review
Stew's final thoughts
That brings us to the end of this Hostinger vs Namecheap 2023 comparison guide!
As you can see, there's a reason why these two web hosting platforms are so popular.
I hope you can now pick the best option for you and your small business.
And if you're still not sure, you can check out both! Both platforms have a 30-day money-back guarantee.
So, what are you waiting for?