Is Hostinger's AI website builder any good? Find out our review?
AI-powered website builders are all the rage in 2023, and for a good reason! Why? AI website builders make it seriously easy for anyone to create an impressive website!
And now, the popular web hosting platform Hostinger has added a shiny new AI tool under its belt.
Introducing…Hostinger's AI website builder.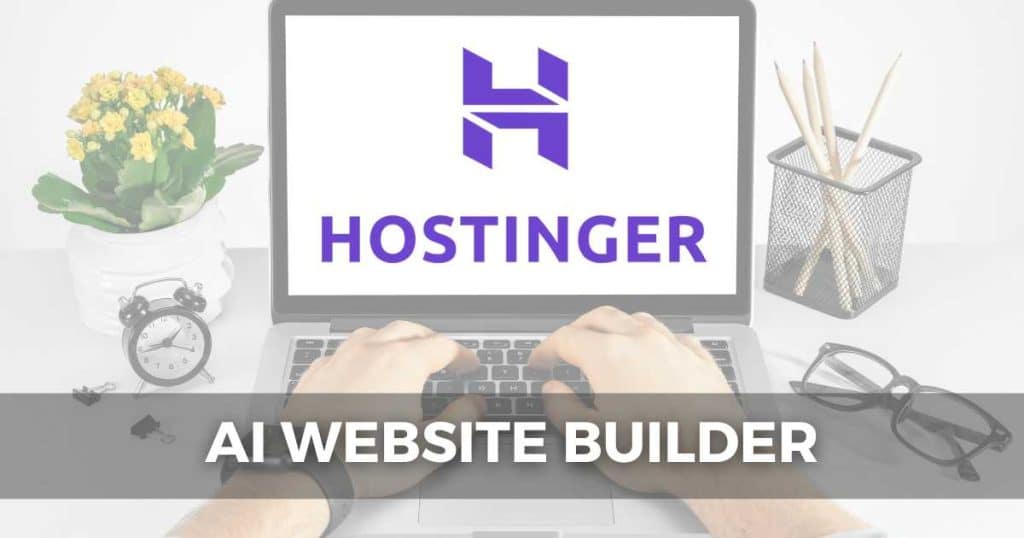 You may have heard of Hostingers AI website builder Zyro. I've talked a lot about Zyro, Durable and other AI website builders and how they can transform how you work online.
So, should you choose Hostingers AI website builder over other AI website building tools?
I will look at everything Hostingers AI website builder has to offer to find out – is it everything it's cracked up to be?
Read more: 11 Best AI Tools for Small Business in 2023 
What is Hostinger?
If you don't already know, Hostinger is a leading web hosting platform. And by leading, I mean leading! Hostinger has a whopping 29 million users worldwide!
So, why do so many people love and use Hostinger?
Hostinger is known for its ridiculously affordable VPS, WordPress, shared and cloud hosting plans, fast loading times, and easy-to-use interface.
Other popular features include website domain migration, free SSL certificates, automatic backups, email integration with Titan, and of course…a built-in AI website builder.
Read more: Hostinger vs Bluehost and Hostinger vs SiteGround. 
What is Hostinger AI Website Builder?
Hostinger AI website builder is a no-code website builder powered by Chat-GPT.
To get started, all you need to do is answer three simple questions about your business, and Hostinger will generate your website in just a few minutes!
You'll then be able to reap all the benefits Hostinger is known for, including website hosting, a free domain, website migration and SSL certificate, and super speedy loading times.
Let's dive into exactly what Hostingers AI website builder has to offer.
Read more: How to Use ChatGPT for Business.
Pricing: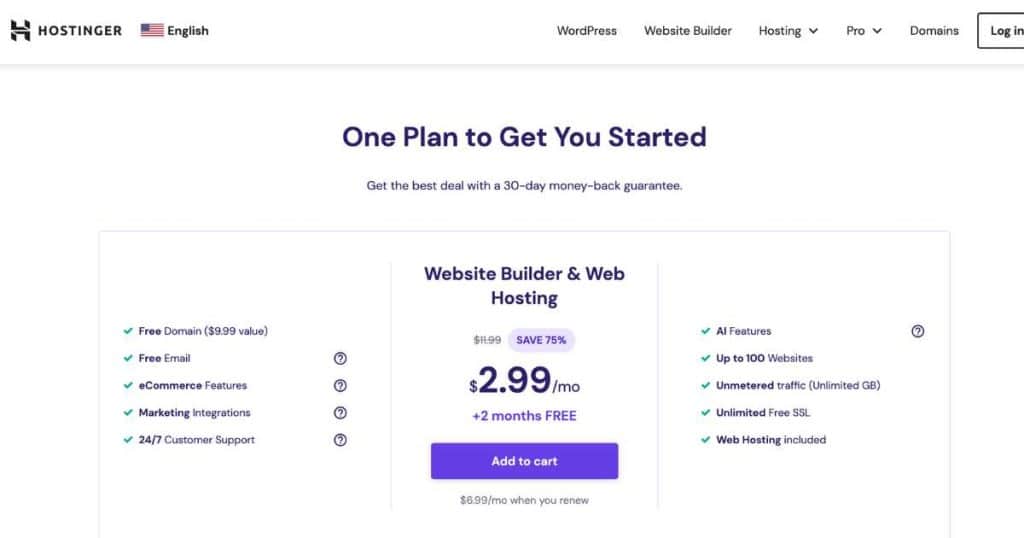 Hostinger has just one simple Website Builder & Website Hosting plan, priced from just $2.99 per month (depending on what term you opt for).
Some key features include:
Up to 100 business email accounts.
AI-integrated SEO, copy, logo, and analytic features.
Free domain (for the first year)
100GB of disk space.
Unmetered bandwidth.
eCommerce features.
The ability to create up to 100 websites.
Marketing integrations with Google Analytics, Google Tag Manager, and Facebook Pixel.
As the plan name suggests (and as you can see), you have everything you need to get the most out of your web hosting and website.
And if it's not for you, simply utilize their 30-day money-back guarantee!
Read more: How to install Facebook Pixel on Shopify or WordPress. 
Hostinger AI Website Builder Key Features:
There are many key features that Hostinger's AI Website Builder offers.
So let's jump in!
Templates: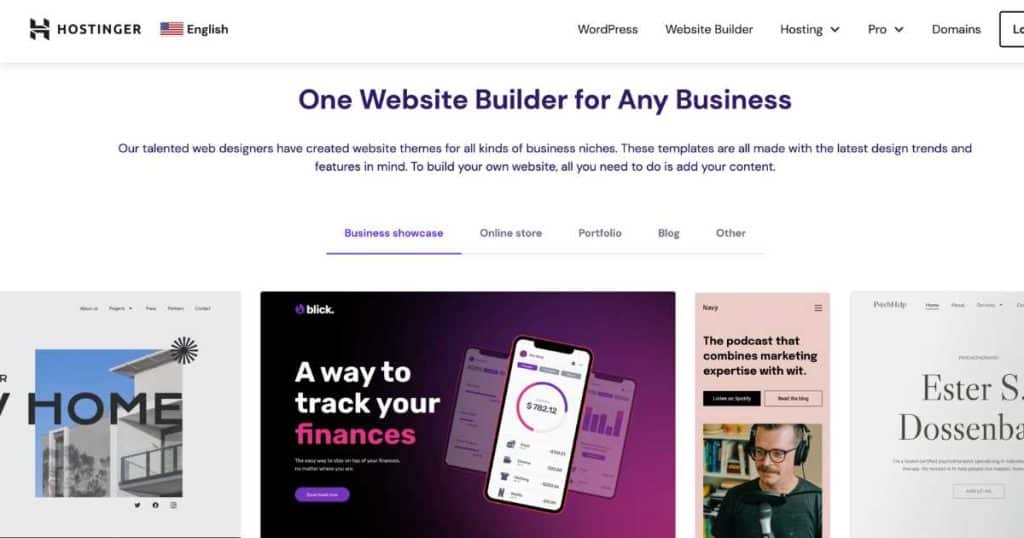 When building your website with Hostinger, you have two options:
Build your website with AI (and customize it further).
Stick with the traditional website builder to build your website from scratch or with one of Hostinger's generous 100+ responsive pre-made templates.
Whatever option you choose, you'll be met with the same easy-to-use drag-and-drop editor, so you can simply customize your website the way you want!
Editor: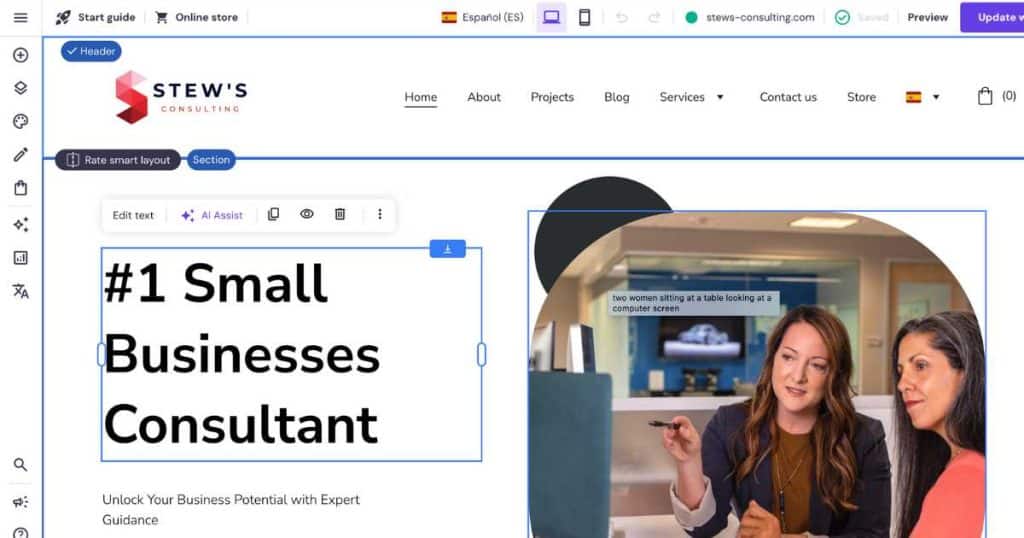 AI website builders are designed to make your life easier by generating your images and content for you. However, AI isn't perfect.
Plus, there's nothing worse than a generic website with no personality or style, right?
That's where Hostingers drag-and-drop editor comes in.
You can play around with the color scheme, buttons, and website style within the crisp and intuitive left-hand sidebar.
Plus, you can simply manage your online store, blog, and analytics from here too!
And if the AI-generated images aren't quite what you're after, simply replace them with your own (or choose from one of Hostinger's free images).
Additionally, simply click on each section to edit the background, color, and anchor and use the 'AI assist tool' to regenerate the copy throughout your website!
All in all, the drag-and-drop editor is sleek and easy to use. However, the level of customization is limited when compared with other AI platforms like Wix or 10Web.
Read more: Zyro vs Wix. 
eCommerce Features: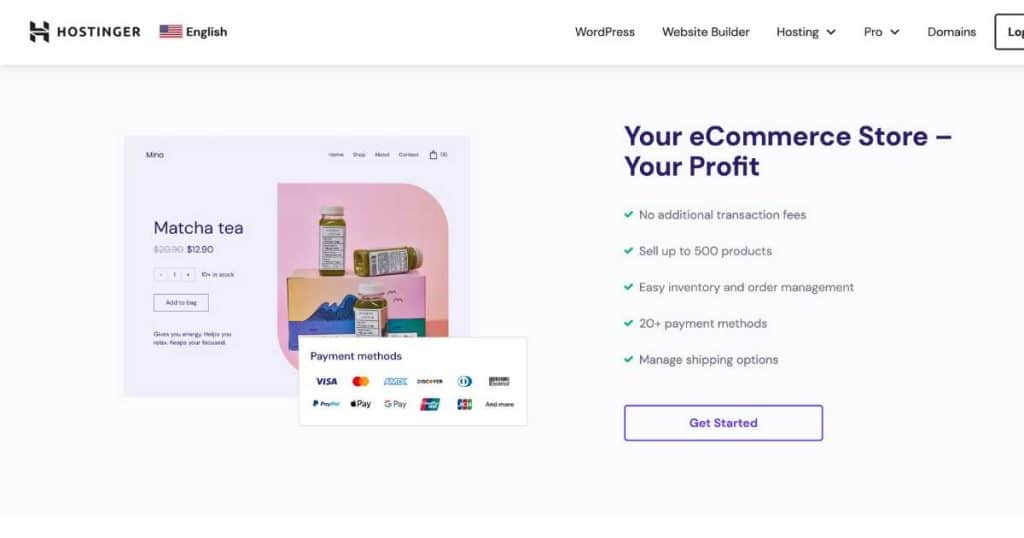 Hostinger boasts that their AI website builder is for all types of businesses.
And for eCommerce businesses, you can easily build product pages and manage your orders and inventory all within Hostingers editor!
Some integral eCommerce features include:
20+ payment methods.
Shipping management.
The ability to sell up to 500 products.
Plus, they don't charge additional transaction fees, so you don't miss out on potential profits.
Read more: WooCommerce v Shopify. 
Integrations and Analytics: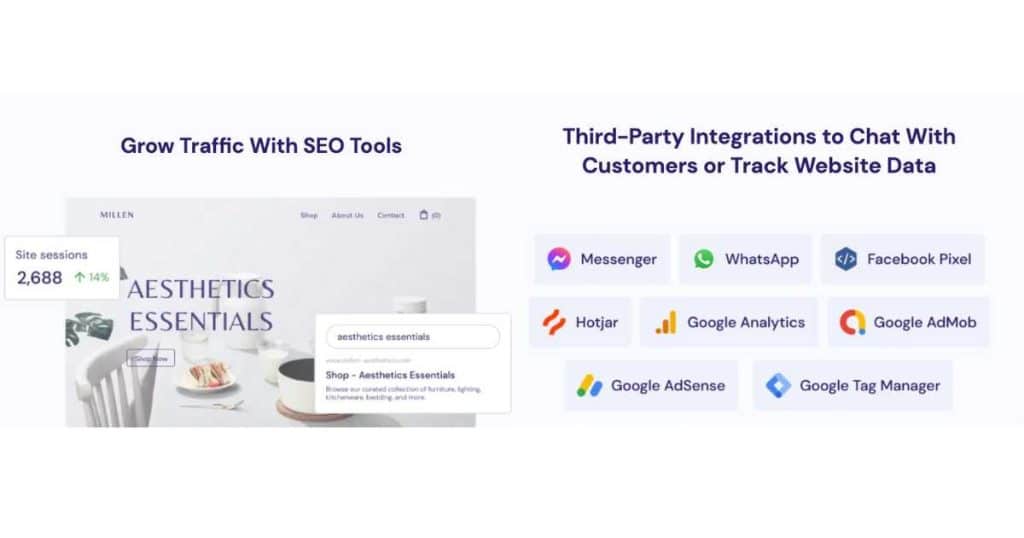 With Hostinger AI, you can integrate your website with external chat and performance-tracking platforms, such as:
WhatsApp.
Messenger.
Google Analytics.
Google Tag Manager.
Facebook Pixel and more.
And if you need help with keyword research, meta titles, descriptions, or alt text, Hostinger has you covered! Their basic AI SEO tools can help you rank higher on Google.
Plus, you can track and measure your website performance and information about your visitors all within Hostinger.
Read more: How to Use Semrush. 
What I like:
You can choose from Hostingers AI or traditional website builder.
Internal integrated blog and eCommerce features.
Very affordable!
The AI assist tool works really well across your whole website.
What I dislike:
There's no free plan.
Limited SEO and page elements compared with other website builders.
You can't easily integrate third-party apps (you'll have to use code).
My Favorite Feature of Hostinger AI Website Builder
The best thing about Hostingers AI website builder is the price!
Hostinger is one of the best and most affordable all-in-one web hosting, free business email, and website builder on the market.
In my opinion, you really get the most bang for your buck with Hostinger.
Combing robust AI website building features such as its AI logo maker, assistant, and heatmap with reliable, secure, and fast web hosting – Hostinger does it all!
Hostinger AI Website Builder Alternatives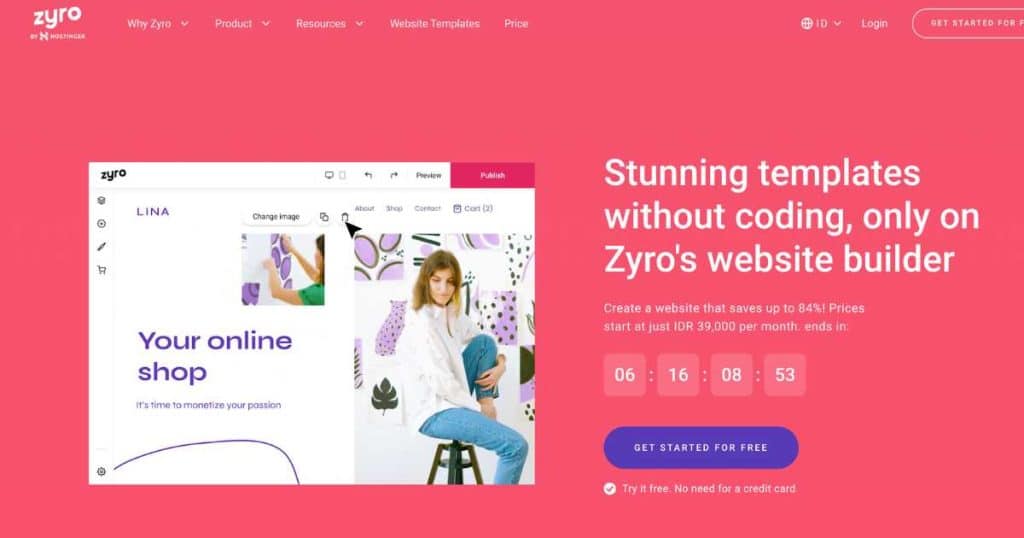 As I mentioned at the beginning of this blog post, Zyro is an AI-powered website builder (also part of Hostinger).
Zyro is an all-in-one comprehensive website builder that offers dynamic AI tools and pre-made templates to help you build your website.
Additionally, because Zyro is a Hostinger product, all your web hosting needs are handled for you.
I know what you're thinking…this product sounds almost identical to Hostinger AI website builder? Well, that's because it is.
Zyro is basically the same product as Hostinger AI website builder, and the name 'Zyro' will most likely phase out in the future.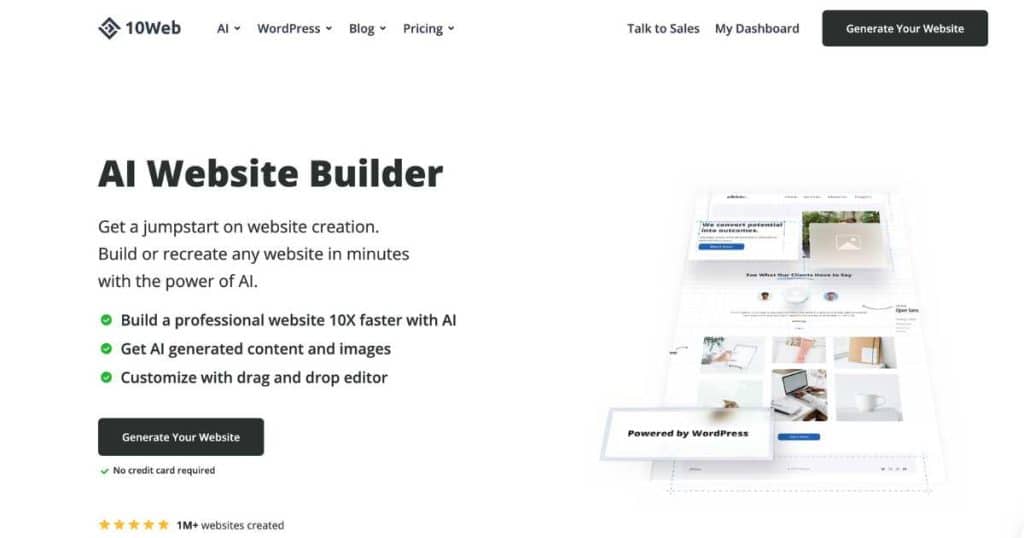 10Web is a WordPress AI website builder designed specifically for WordPress websites.
With 10Web, you can build a powerful and stunning website using AI technology. And the best part?
10Web is a WordPress product. Therefore, like traditional WordPress websites, there are no limitations! You have the freedom to create the perfect website for you.
10Web is the perfect solution for businesses wanting to create a dynamic and customized WordPress website without all the general barriers that come with WordPress (like plugin or theme issues).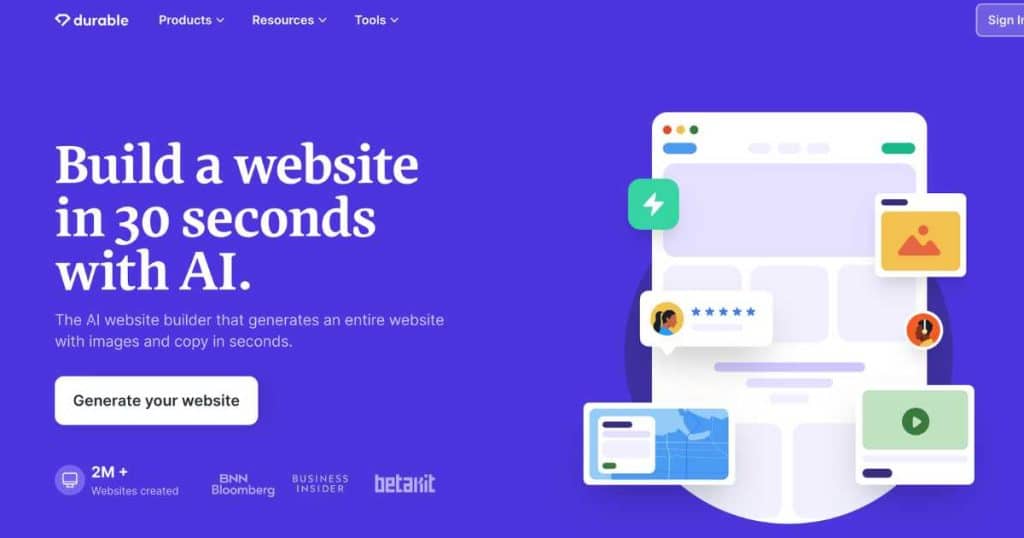 Durable AI is currently the fastest AI website builder in 2023.
In just three clicks and 30 seconds later, you'll have a fully-functional AI website with images, forms, content, and copy that you can tailor to your liking.
Durable comes jam-packed with dynamic AI features to help you with search engine optimization, content creation, and business name creation.
But it doesn't stop there! Durable AI also provides a built-in CRM and invoice management tool.
Durable AI is quickly becoming a one-stop shop for all your business management needs.
Tossing up between 10Web and Durable? Check out my direct comparison post here  
Stew's final thoughts
And that brings us to the end of this Hostinger AI website builder review!
But the question still remains..is it any good?
In my opinion, Hostinger's AI website builder is an excellent choice for eCommerce businesses after an affordable web hosting and website builder option.
Additionally, if you've already used Zyro, you'll love this AI website builder (as I said, it's pretty much the same product!)
However, I recommend Durable if you're time-poor and want to create your website quickly.
And if you require a complex website with minimal limitations, 10Web is an excellent choice!
Thanks for reading all the way to the end!