10Web vs Durable AI – Which AI website builder do you choose?
Leveraging AI tools like AI website builders is essential to stay ahead of this ever-changing digital landscape.
With AI website builders, you can create a fully functional and polished website in just a few minutes!
10Web and Durable AI are undoubtedly two of the biggest AI website builders.
Stew's Recommended AI Website Builders for Small Businesses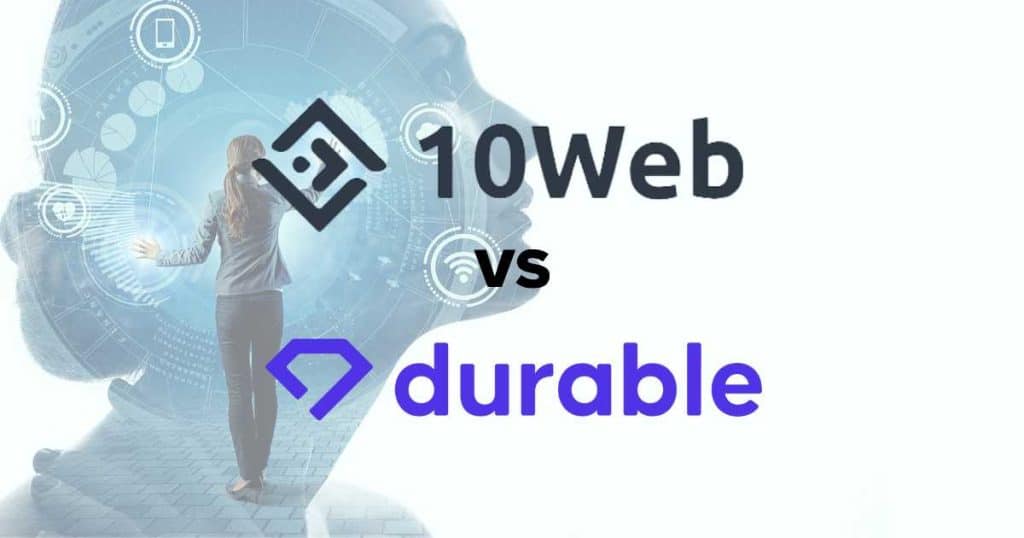 So what do you pick? 10Web or Durable AI?
Well, you're in luck – that's exactly what I will uncover! I have lots of experience with both platforms, so let me do dirty work for you.
It's time to sit back, relax and find out…which AI website builder is best for you?
Read more: 7 Best AI Website Builders.
What is 10Web?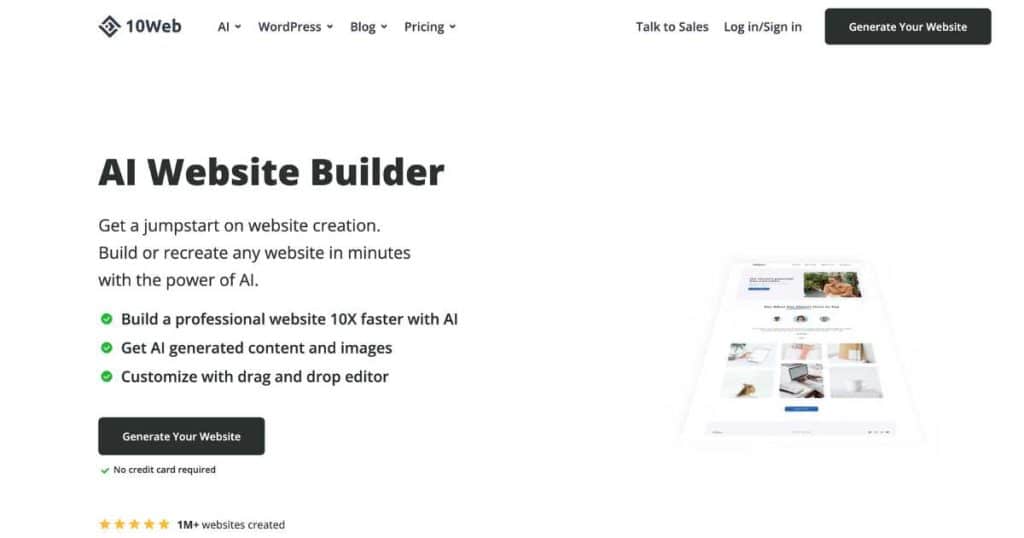 10Web is a leading cloud-based AI-driven WordPress website builder that swiftly creates your website using the power of WordPress and AI technology.
Are you a small business wanting to create a WordPress website but struggling with manual website creation or the technical hurdles that come with WordPress?
10Web is the ideal solution for you.
All you have to do is answer a few questions, and then AI effortlessly generates a fully-functional WordPress website for you!
Plus, 10Web is not just an AI website builder. You'll also be able to make use of their Ai writing assistant tool and PageSpeed Booster plugin!
What is Durable AI?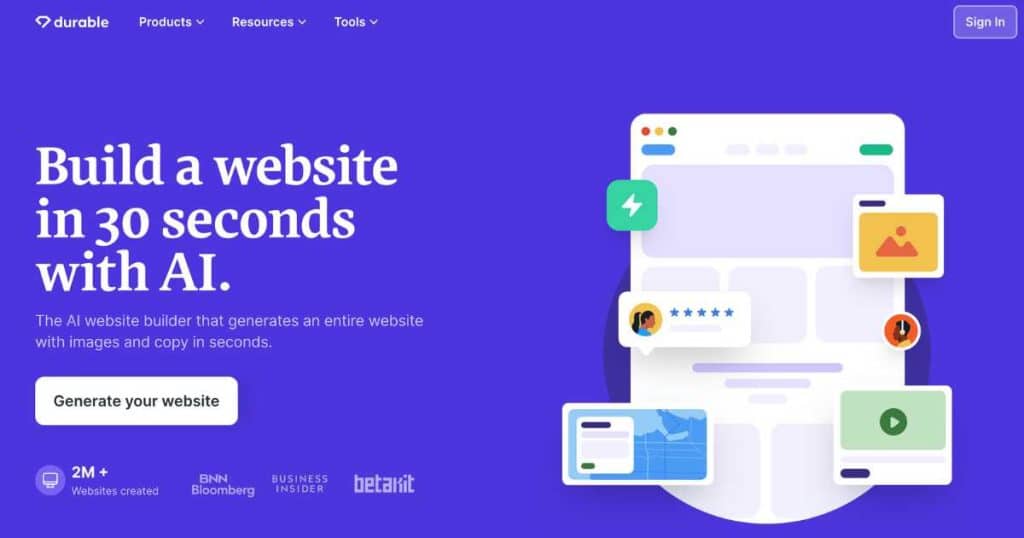 Do you have 30 seconds to create a website?
Durable AI is the fastest AI builder on the market in 2023.
With Durable AI, you can create a fully functional website specific to your brand in just three clicks.
That's right; that includes all your content, images, colors, icons, forms, and more.
Plus, Durable AI also has other dynamic AI tools for search engine optimization, content creation, and business name and ad copy generation.
You don't have to lift a finger with Durable! Just wait…30 seconds!
And if you don't like what Durable AI has created for you, you can simply regenerate the copy, images, or design style to make it your own.
10Web vs Durable AI
Okay, so we've established that 10Web and Durable AI use artificial intelligence to build your website.
But now it's time to get down to business to find out – what makes them different?
Let's jump in.
10Web vs Durable AI page building experience
10Web combines the beauty of WordPress and AI technology to give you both limitless possibilities and a customizable page-building experience.
The best part? It is SO easy to use!
All you have to do is answer a few questions about your business, and BOOM…your website (including content and images) is automatically generated for you.
Then simply customize your website with the Elementor lookalike drag-and-drop page editor.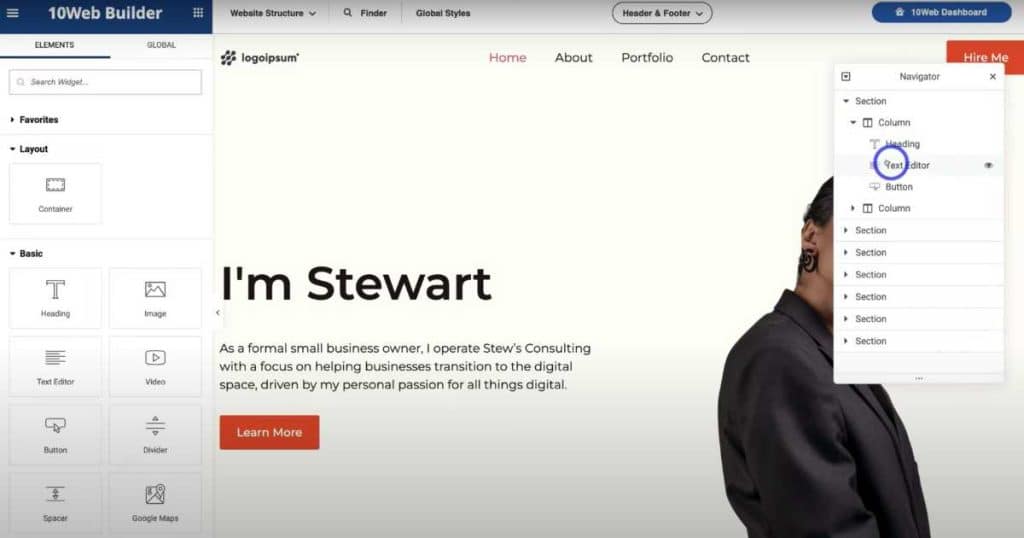 New to Elementor? Check out my full Elementor Page Builder guide here.
And you can even use their AI writing assistant to re-generate or create new and compelling copy.
Additionally, 10Web offers a wide range of WordPress plugins and features we all know and love to enhance the functionality of your website.
On the other hand, Durable AI focuses on two things.
Simplicity.
Speed.
And as I mentioned, you can generate a fully functional website specific to your brand with AI-generated sections in just a few clicks.
You can then regenerate those designs with the help of Durable's easy-to-use drag-and-drop editor.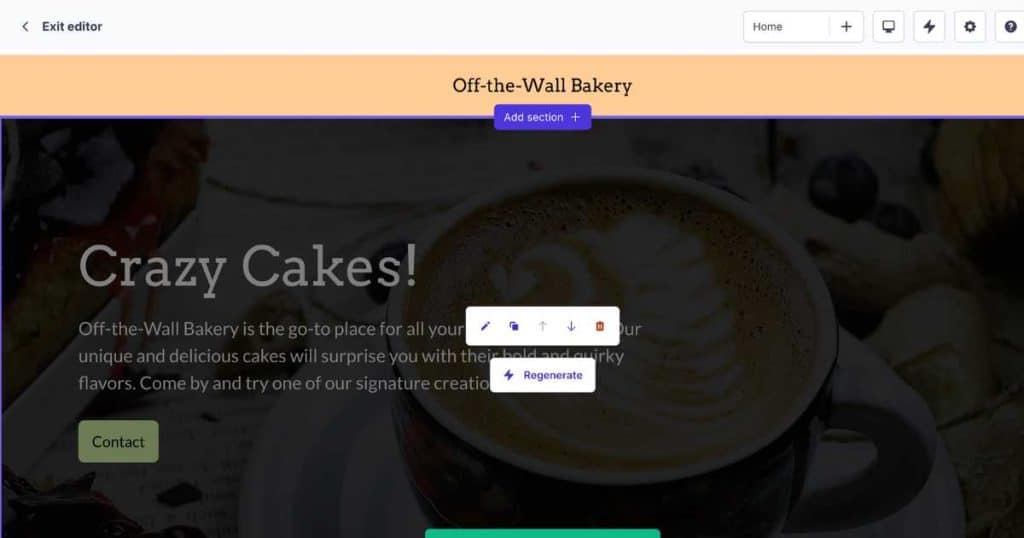 With Durable, these sections create the foundation you can then build from and make your own.
It's safe to say that Durable AI offers less flexibility and customization than 10Web.
However, if you want an efficient page-building experience and want to create your website quickly, Durable is your best bet!
Read more about how you can use 11 AI tools to make your life easier here!
10Web vs Durable additional tools
10Web and Durable are so much more than just website builders.
Included within your 10Web plan is the AI writing assistant.
You read correctly! 10Web completely eliminates the need for third-party AI writing software with its built-in AI writing assistant.
This tool helps you optimize and improve your website content.
With just a few clicks, you can access various tools, such as:
FAQ generator.
Content enhancer.
Paragraph generator.
Blog post outline tool.
AI business name generator.
And these tools are all available to use within your WordPress Gutenberg and Classic Editor!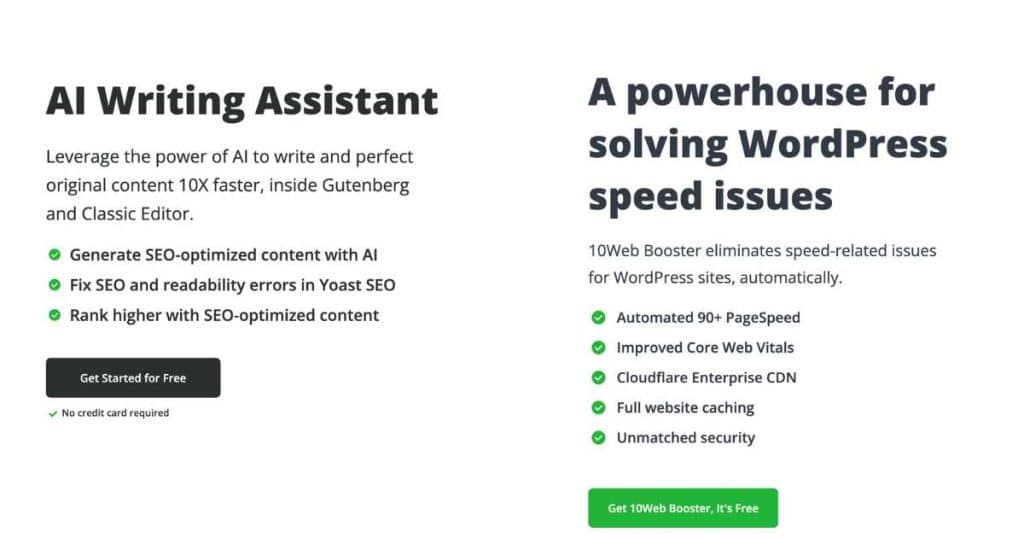 Plus, you'll also have access to 10Web's free PageSpeed Booster, a powerful plugin that effectively resolves all your WordPress speed issues.
I've personally used this plugin for my client's websites, and the improvement in speed score is truly impressive. And now you can even use it beyond the scope of 10Web!
Like 10Web, Durable AI also offers a range of other AI features besides their website building tool.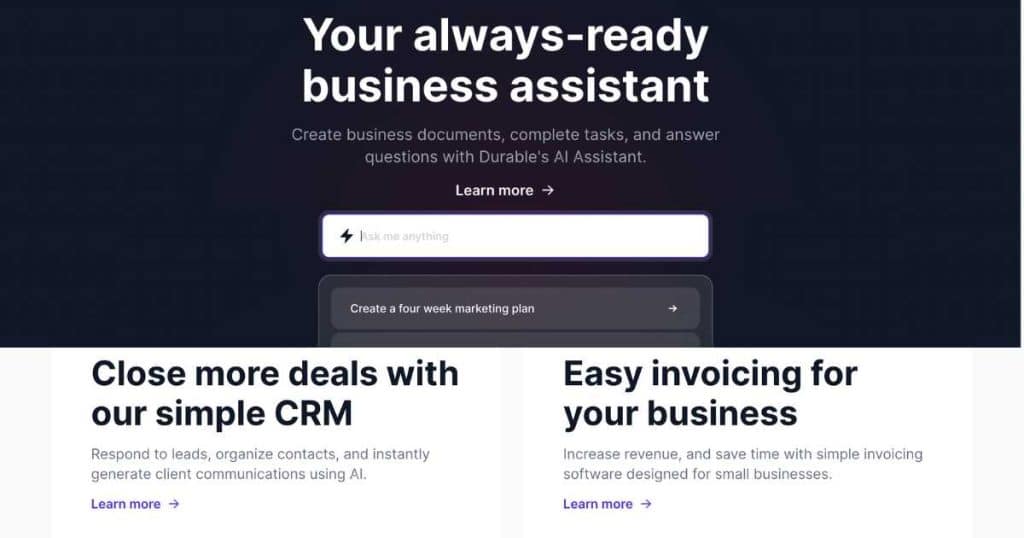 With Durable, you'll also receive:
Durable AI also has an AI-driven writing assistant that can help you create documents, complete tasks, answer questions, and more.
With these additional tools and upcoming features, Durable AI is quickly becoming a comprehensive solution for various aspects of business management!
Read more: Elementor AI – Is it any good?
10Web vs Durable AI Pricing: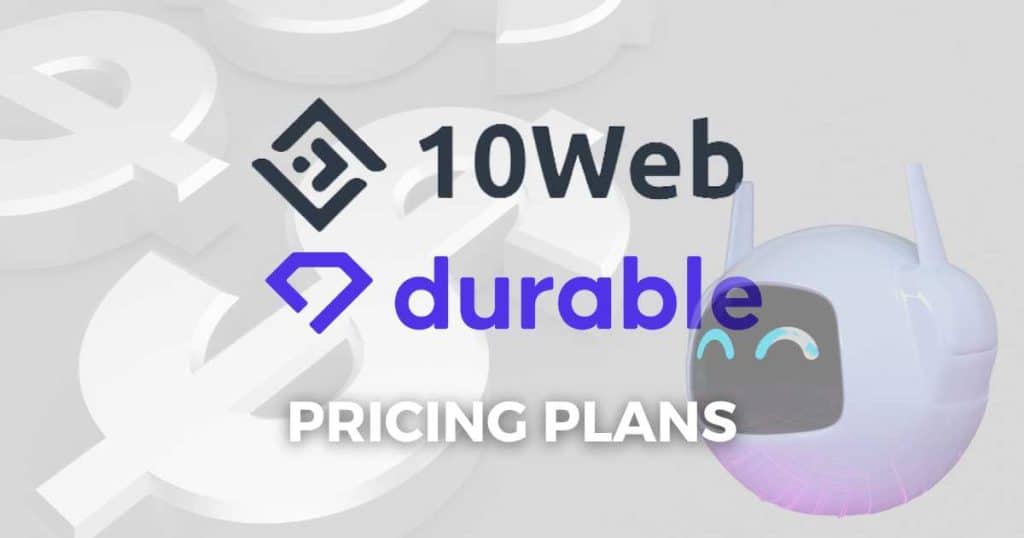 As both are premium website builder options, neither platform offers free plans.
10Web offers three plans catering to all business sizes:
Personal ($10 per month) – Best for just one small business website.
Premium ($24 per month) – Up to three websites.
Agency ($60 per month) – Ideal for web design agencies.
Durable AI has just two plans:
Starter ($12 per month) – Best for teams just starting out.
Business ($20 per month) – Perfect for teams looking to expand.
Both 10Web and Durable AI's plans come with web hosting and trial periods. 10Web offers a 7-day trial period, and Durable AI's generous trial period runs for a whopping 90 days!
Read more: Zyro vs Wix 
10Web – What I like:
The familiar and easy-to-use Elementor-type page builder.
Access to the 10Web engineer's Slack channel (so you can talk with a 10Web engineer).
Because it's built on WordPress, there are endless possibilities for creating your perfect website.
10Web – What I dislike:
You'll need to update your website and plugins manually.
Some images generated may not be relevant to the type of website you need.
Durable – What I like:
You can make a stunning, responsive, quick website in 30 seconds.
With all the additional tools, it really is an all-in-one AI-driven business management platform.
Easy drag-and-drop editing tool.
Durable – What I dislike:
The level of customization and flexibility is limited.
Not suitable for bigger companies or niche businesses requiring specific content.
My Favorite feature of 10Web and Durable AI Website Builder: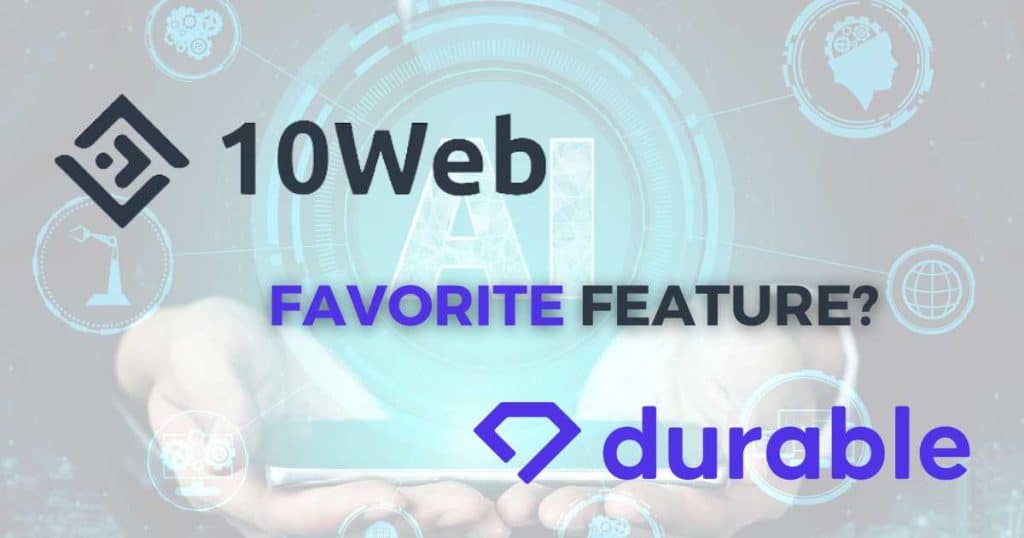 10Web and Durable AI have many amazing features, as I've mentioned above.
With 10Web, I love the fact that it's built on WordPress, meaning once you're all set up, you'll be able to enjoy the freedom to customize your website just like you can with WordPress.
Plus, as your site grows, you'll encounter minimal limitations, allowing you to scale and expand your online presence effortlessly!
And with Durable, my favorite feature would be just how quick it is! The fact you can create your own website in under 30 seconds (with just some minor errors) is truly incredible.
Durable reduces the number of hours you would have spent on designing or creating your website's images, copy, and layout!
Read more: What is Uberduck AI?
Which AI Website Builder is Best for You?
And now it's crunch time! Which AI website builder is best for you – 10Web vs Durable AI?
If you're a hospitality or service-based business, I'd go with 10Web because of its complexity and flexibility.
If you're running an online store, Durable's simplicity may be your best option (or feel free to check out Zyro)!
Additionally, if you're a complete beginner, 10Web might not be the best choice for you.
Don't get me wrong; it is A LOT easier than WordPress. But…it's still run on WordPress.
And WordPress websites do have their challenges (plugins, themes, updates) that can be confusing for total beginners.
However, don't worry! Durable is an excellent choice for total newbies or for people who don't have the time or budget to spend on a comprehensive website.
Want to know more? Check out my full review on both 10Web and Durable AI! 
Stews Final Thoughts
We've now come to the end of this 10Web vs Durable AI comparison.
I hope you can now confidently identify which AI website builder is for you.
I personally love both of these platforms and believe there isn't one that's better than the other.
Both are just suited to different business types and needs! (As mentioned above).
Basically, whatever you choose, I promise you'll be in good hands!
Let me know what you think: have you tried 10Web, Durable, or both?
If so, what do you prefer?