What are the differences between ClickFunnels vs WordPress, and which is the best platform for you?
ClickFunnels and WordPress are two leading online solutions. But both platforms offer very different features and serve very different purposes.
So, what are the differences and similarities between ClickFunnels and WordPress? And is there a clear-cut answer as to which you should use?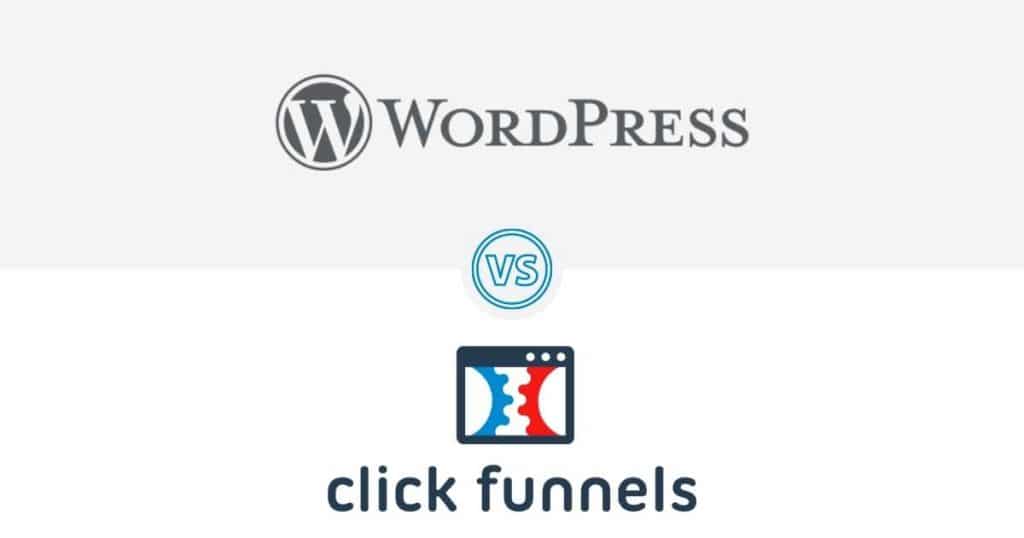 If you've been asking yourself these questions, it sounds like you need my help! I've had experience with both platforms and understand what each has to offer.
So get ready!
I will bring you along with me to breakdown everything I know about ClickFunnels and WordPress, so you can decide for yourself which platform to use.
Are you ready? Let's dive in.
Read more: Top 10 Website Builders for Small Business. 
ClickFunnels vs WordPress 2023
To understand which platform is best for you, we'll first need to identify what ClickFunnels and WordPress are.
And with that said, let's jump in.
What are they? ClickFunnels vs WordPress
ClickFunnels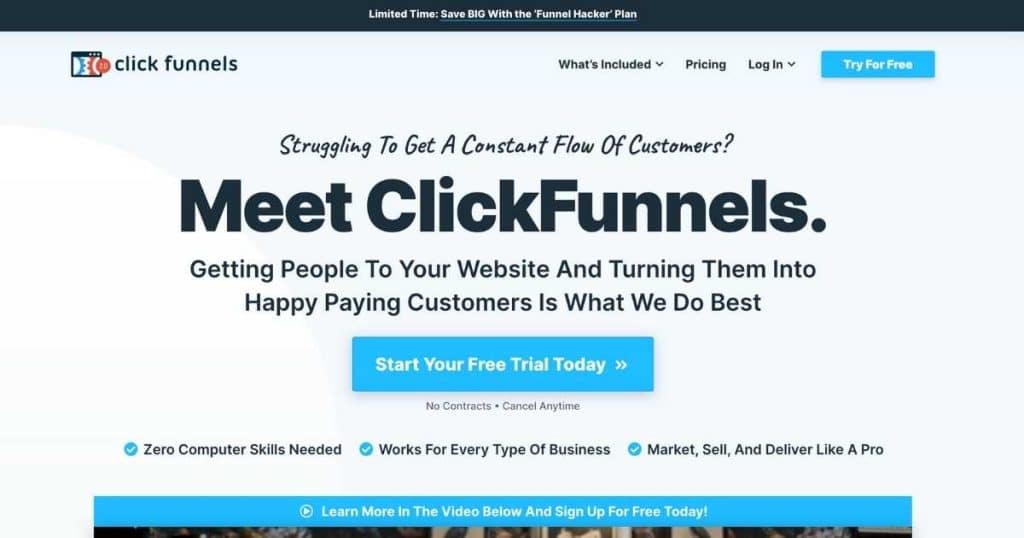 ClickFunnels is a comprehensive and popular all-in-one sales funnel and website builder solution.
The idea behind sales funnel builders like ClickFunnels is that you can generate leads and sell courses, products, or memberships from one place.
The goal of a sales funnel is to guide your website visitors all the way through the customer journey with the goal of converting them into customers.
You can create highly personalized, multi-step sales funnels (pages) from scratch or with ClickFunnels pre-designed templates, all thanks to their all-inclusive digital marketing toolkit!
For businesses prioritizing conversion-centric sales websites, sales funnel builders have become the preferred method over traditional eCommerce websites.
Before the emergence of sales funnel platforms like ClickFunnels, businesses would primarily market their products and services via these conventional eCommerce sites.
And while this is perfect for some businesses, if you have a limited number of complimentary and high-ticket offers, utilizing a sales funnel builder like ClickFunnels may be more effective!
Read more: How To Use ClickFunnels. 
WordPress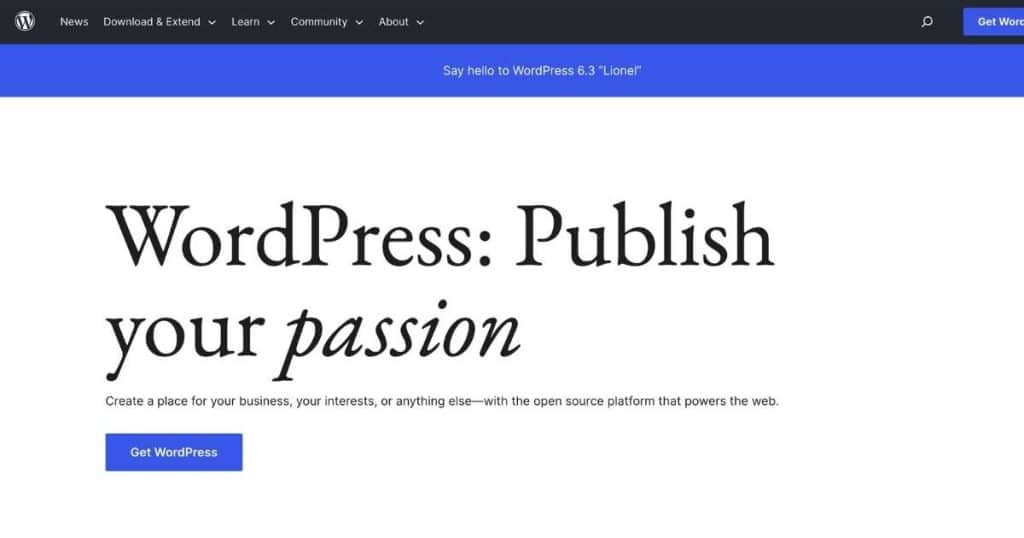 WordPress is a no-code content management system (CMS) and website builder that powers about 43% of websites today.
It's worth mentioning that there are two ways to create WordPress websites – through WordPress.com and WordPress.org.
For the purpose of this article, I'll be talking about WordPress.org, which is a free open-source software.
Find out more about the differences between WordPress.com and WordPress.org here!
You can use WordPress for blogs, business websites, eCommerce, online portfolios, and more.
And the best part? You don't need much technical knowledge; you just need your own hosting (more on this soon).
WordPress is so popular because of its freedom and flexibility capabilities that other website builders simply lack. There are no limits on what you can do with WordPress!
Simply customize your website by adding and editing blocks (content and design elements).
Then choose from thousands of free and paid themes and plugins to extend the functionality of your website.
Learn how to use WordPress here.
One of the key advantages of WordPress is that you maintain full ownership and control over your content, design, and data.
Therefore, individuals and businesses can tell their stories, grow their brands, and express themselves online. 
What are the differences between ClickFunnels vs WordPress?
When choosing between ClickFunnels and WordPress, you'll need to consider your goals.
As I said, both platforms are used for different purposes. And although the two have some similarities, there are many differences!
And identifying these differences can help you decide the best option for you and your team.
We'll start with the most obvious difference…Sales Funnel vs CMS.
Read more: HubSpot Free CMS Hub.
Sales Funnel: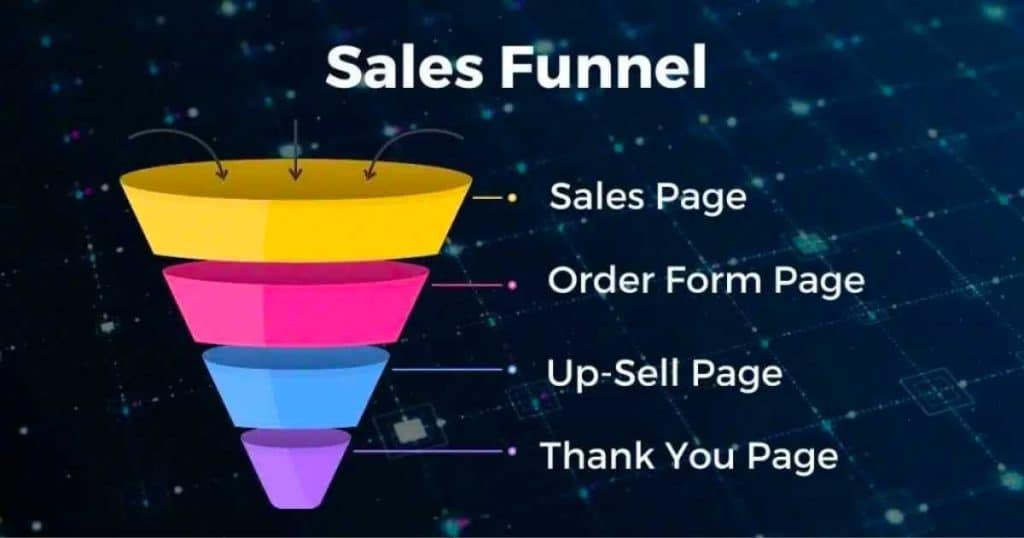 A sales funnel is a strategic pathway that guides potential customers through a series of stages with the ultimate goal of conversion.
Instead of conventional websites, sales funnels focus on one primary action for example, selling an online course.
You can include upsell pages for complementary add-ons, but each call-to-action button in the funnel leads seamlessly to the next stage.
If you want to generate leads, collect emails, pitch new products, and drive sales for financial gains, then a sales funnel builder like ClickFunnels is a great choice!
Read more: ClickFunnels vs Shopify
CMS: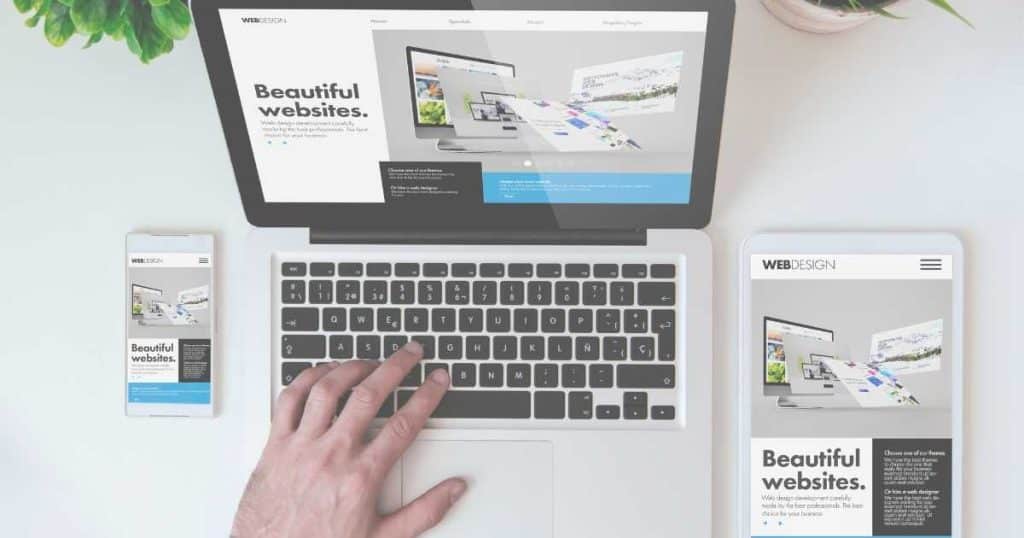 A CMS software is designed to create, manage, and publish your digital content in a user-friendly manner for websites, online stores, blogs, or forums.
CMS like Shopify, Magento, Drupal (and, of course, WordPress) provide you with a set of tools so you can easily manage your content, all without having to learn how to code!
Simply use a CMS to:
Create and edit content.
Upload media.
Manage users.
Apply themes and templates.
Add widgets and plugins, and more.
A CMS is a great option for teams needing to manage and organize large volumes of content effectively. 
ClickFunnels vs WordPress – Ease Of Use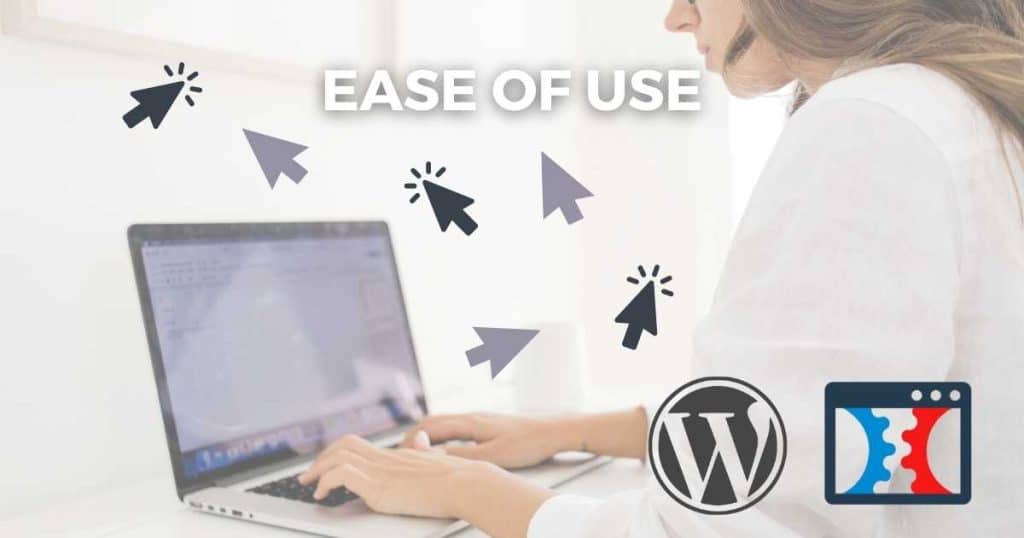 Both ClickFunnels and WordPress are easy to use, but there are some key differences.
ClickFunnels has a shallow learning curve. The sign-up process is pretty straightforward, and the dashboard interface is clean and simple.
And ClickFunnel's intuitive visual drag-and-drop editor makes it easy to edit and customize the selection of pre-built sales funnel templates in real-time.
Plus, ClickFunnels comes with built-in eCommerce, email marketing, and analytics tools.
With WordPress, you'll need to download plugins to get these features. Don't get me wrong; there are some powerful WordPress plugins out there!
It just ends up being a bit more niggly than ClickFunnels.
However, WordPress is relatively easy to use, considering how much you can do with it!
For starters, you can easily create and edit your website pages without knowing much about web development through the easy-to-use interface and drag-and-drop editor.
But the setting up process is more complicated than ClickFunnels.
You'll need to find your own hosting and domain and manually install WordPress yourself. Plus, you'll need to maintain and manage your site all on your own.
And although I love the fact you have the complete freedom to build your dream website, some may come across technical barriers.
Read more: Hostinger vs Bluehost and Hostinger vs SiteGround
Winner = ClickFunnels 
ClickFunnels vs WordPress – Pricing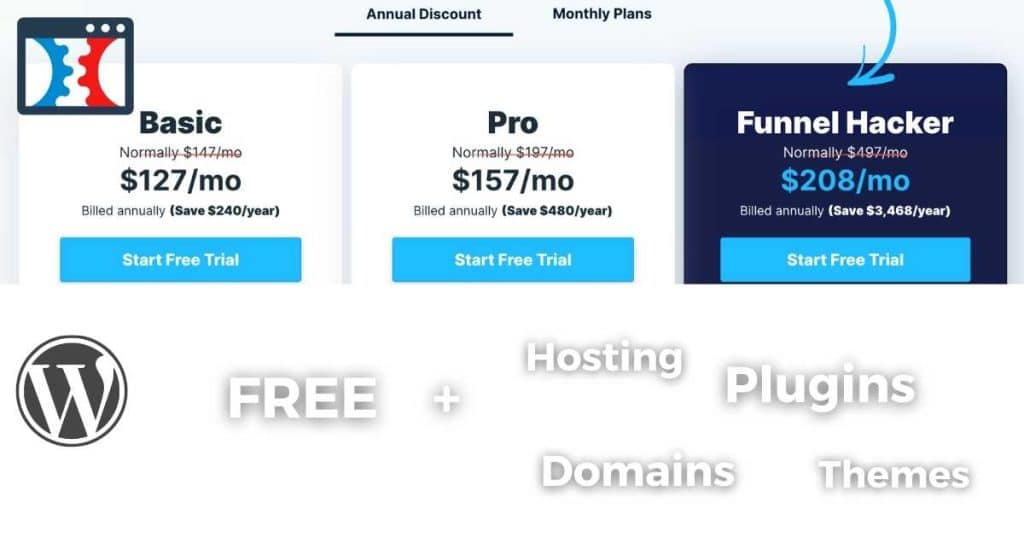 ClickFunnels:
Basic: $127 per month.
Pro: $157 per month.
Funnel Hacker: $208 per month.
WordPress:
WordPress is free, but you'll need to pay for other services like hosting, domain names, and premium plugins and themes.
Check out my article on Hostinger and Hostinger Alternatives for the best and most affordable web hosting options!
As these costs are typically related to the size and complexity of your website, they can quickly add up and become quite expensive.
In saying that, there are some excellent free themes and plugins out there, and even if you do go for premium options, WordPress is still the cheaper option.
In my opinion, ClickFunnels pricing plans are way too expensive.
If you want a more affordable sales funnel builder option, I'd suggest using Systeme.io as an alternative.
Check out my ClickFunnels Alternatives article here.
Winner = WordPress
ClickFunnels vs WordPress Tools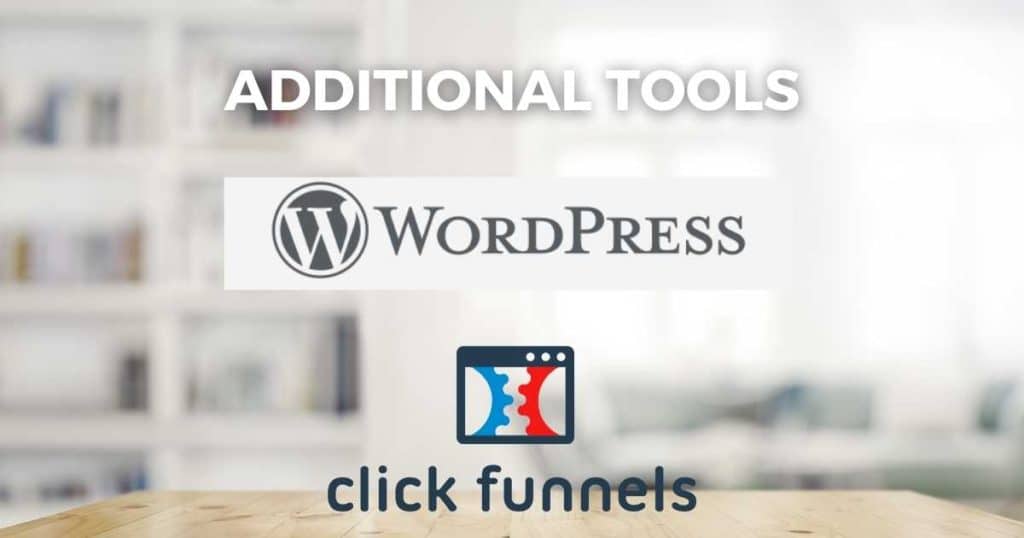 Now that we've established what each platform does, can they do more? What additional tools do they provide?
With ClickFunnels, you can access various innovative tools to enhance your sales funnel.
In addition to pre-made funnel stage templates and the visual editor I talked about earlier, you'll also get:
Email marketing tools.
A/B testing options.
Marketing automation capabilities.
Membership sections and more.
All within ClickFunnels. That's right; you don't need to install any messy integrations or plugins!
These features allow you to personalize each page of your sales funnel, resulting in increased sales and a growing customer base.
What's more, all ClickFunnels plans provide unlimited resources, including:
Courses.
Workflows.
Pages.
Products.
Email sequences.
Furthermore, ClickFunnels has exciting plans to introduce its built-in CRM system and eCommerce store, further streamlining your business operations.
Learn more about My Top 7 Best CRM Software For Small Business.
On the other hand, WordPress has many impressive tools and features that can assist with managing, customizing, and optimizing your WordPress websites.
With that said, WordPress's features and tools are limited as they rely heavily on integrations with plugins.
However, WordPress is secure and supports multiple languages. Plus, if you're a team, you'll love how easy it is to manage your team!
With WordPress's easy-to-use editor, free and premium themes, and plugin integrations, you can easily build a fully-functional and beautiful website.
But did you know you can write custom codes with programming languages like Java, CSS, and HTML? If you're good at programming and want more control, this is perfect for you!
Additionally, the image editor lets you add a caption, resize, crop, and add an alt text to all your images.
But by far, the best part about WordPress is that you can integrate it with any tool for endless possibilities!
Read more: How To Add Meta Descriptions and Titles in WordPress.
Winner = Draw 
ClickFunnels vs WordPress Standout Features
Integrations: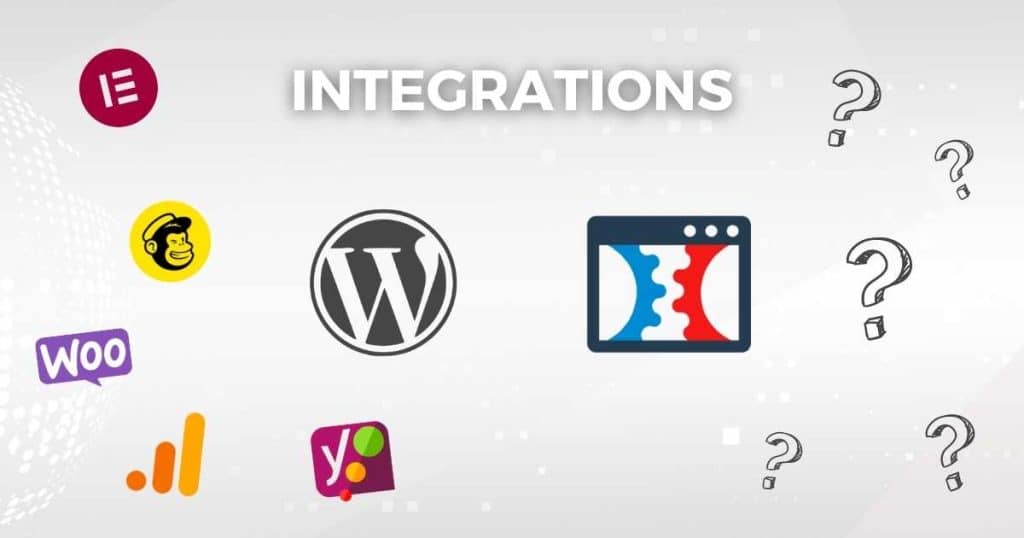 Although ClickFunnels provides a range of built-in integrations for email marketing, payment gateways, and CRM systems, WordPress wins by a mile when it comes to integrations.
With over 60,000 plugins, you can seamlessly integrate various third-party tools and services into your WordPress websites!
Whether you want to add email marketing, CRM, analytics, SEO, social media, and anything in between, WordPress plugins have everything you need to make your website the best it can be!
Some of my favorite plugins include:
ClickFunnels also offers third-party integrations with some popular SMS and email marketing services and a handful of payment processors.
However, third-party integrations are limited because of all the internal tools and features they offer.
Winner = WordPress
Funnel Builder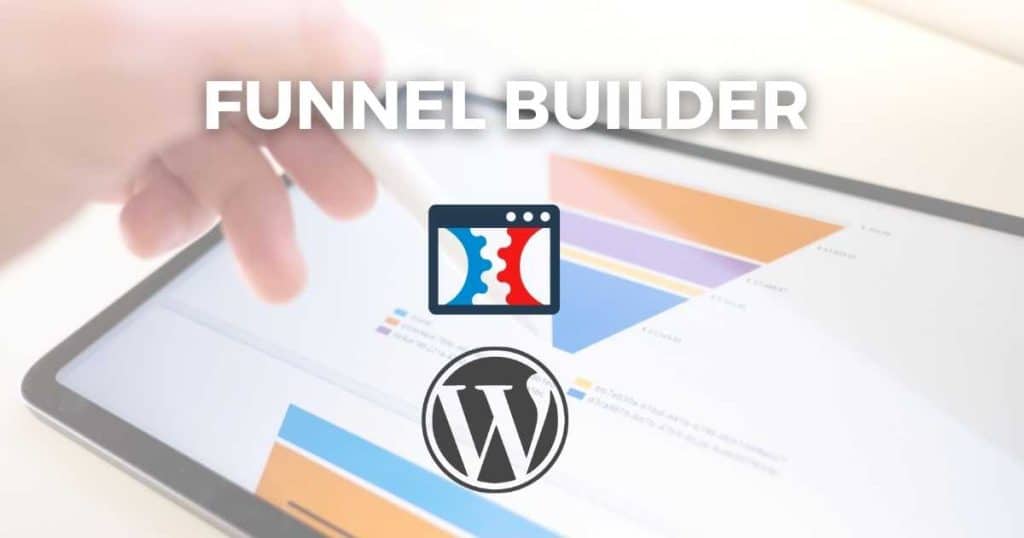 Okay, so we've established that ClickFunnels is an excellent sales funnel builder for conversion-focused businesses.
Within ClickFunnels, you can create and manage all sales funnel elements, from landing pages to email marketing campaigns and product delivery.
WordPress, on the other hand, also provides funnel builder capabilities through plugins.
Create landing pages, pop-ups, forms, and other funnel elements, then use plugins like WPFunnels or CartFlows to manage emails, payment processing, and other funnel features.
While not as comprehensive as ClickFunnels, these plugins allow you to create and manage conversion funnels within your WordPress website.
Winner = ClickFunnels
Artificial Intelligence (AI)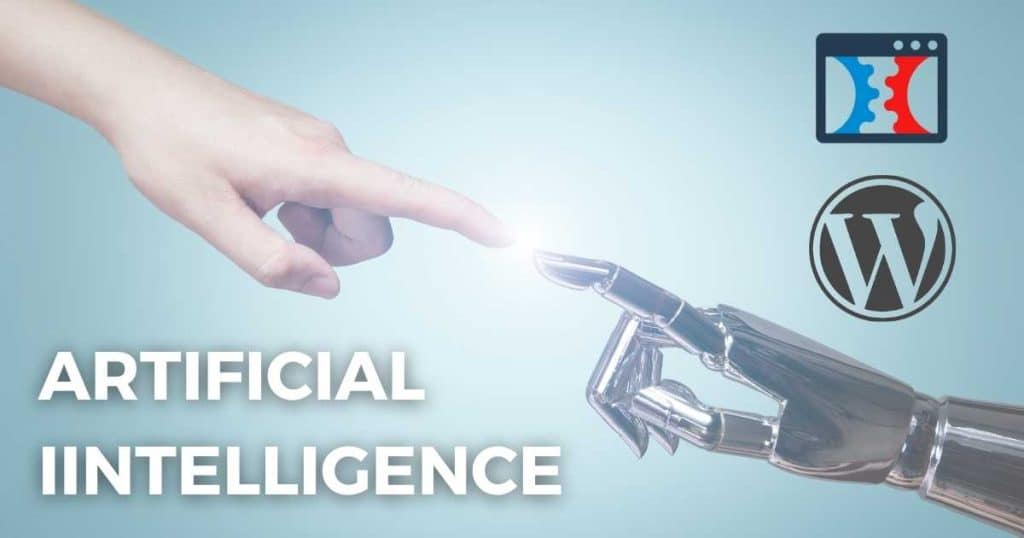 Recently, ClickFunnels launched a new AI feature called Payments AI for ClickFunnels 2.0 members.
With Payments AI, you can leverage the power of AI to:
Monitor various metrics and data.
Automate tasks.
Handle payment gateways and more.
This feature streamlines payment processing processes and enhances the performance of funnel building!
On the other hand, WordPress can integrate with hundreds of impressive AI-powered plugins and tools.
These plugins range from chatbots, content optimization, image recognition, and customer support for WordPress websites.
Plus, now AI-driven WordPress website builders 10Web and Elementor AI, you can create stunning websites without all the technical barriers beginners face!
Winner = WordPress 
ClickFunnels vs WordPress Support
In terms of support, ClickFunnels and WordPress have different approaches.
ClickFunnels has dedicated customer support through their help center, where you can access documentation, tutorials, and helpful resources to troubleshoot issues.
Additionally, ClickFunnels has live chat support during business hours for real-time assistance. Plus, they have a unique Facebook community group.
Now onto WordPress.
With millions of WordPress users worldwide, a large community of developers, designers, and enthusiasts contribute to forums and online communities.
And each plugin and theme you use has a support section where you can ask questions.
Additionally, you'll find many third-party forums, blogs, and tutorial websites dedicated to offering WordPress guidance and support.
It's a close one, but ClickFunnels wins this one because of its dedicated direct support!
Winner = ClickFunnels
ClickFunnels vs WordPress – Who Are They Best For?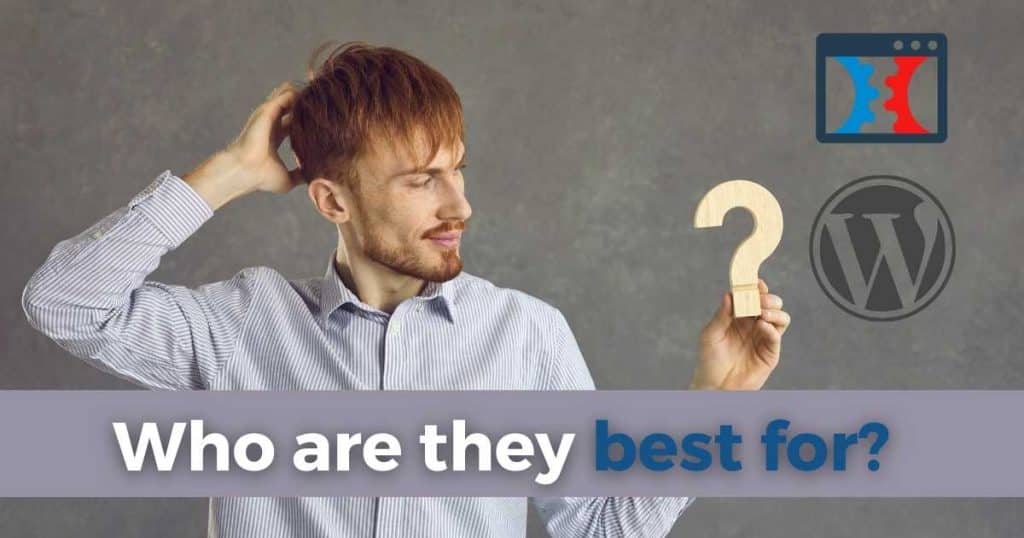 It's clear that ClickFunnels and WordPress are two very different platforms. So, what should you choose?
Well, there isn't one platform that trumps the other. It all boils down to what your business goals and needs are.
If you want to sell products, courses, membership, or other services through high-conversion sales funnels and have the budget to spend, go with ClickFunnels.
Otherwise, I'd recommend Systeme.io as a more affordable ClickFunnels alternative.
With ClickFunnels, you can quickly create high-conversion sales funnels. And you don't need to be tech-savvy to do so!
But if content is essential for your brand, and you want to focus on traffic and SEO, WordPress is the ultimate choice.
Plus, with WordPress, you have complete flexibility and control over your website!
Alternatively, what if I told you you could use both?
WordPress integrates directly with ClickFunnels through a plugin that lets you connect the two accounts, so you can have the best of both worlds! 
Stew's Final Thoughts
That brings me to the end of this ClickFunnels vs WordPress comparison.
Unfortunately, I can't tell you which one to choose.
As you can see, there are many differences between the two. And both platforms are excellent in their own right, with unique features, strengths, and limitations.
So, what will you be using? ClickFunnels vs WordPress?
Let me know below!