Unbounce vs ClickFunnels – which platform is best for you to generate more leads and drive sales?
If you're struggling to convert your website visitors into leads or paying customers, you've come to the right place!
You've likely heard the words 'landing page' or 'sales funnel' before. These are absolutely the secrets to success when it comes to lead generation and high conversion rates.
But how exactly do you create landing pages and sales funnels?
Introducing…Unbounce and ClickFunnels.
I will share everything I know about Unbounce and ClickFunnels, including their differences, features, and functionalities, to help you decide….which should you use?
Read more: Top 5 FREE Landing Page Builders.
Unbounce vs ClickFunnels 2023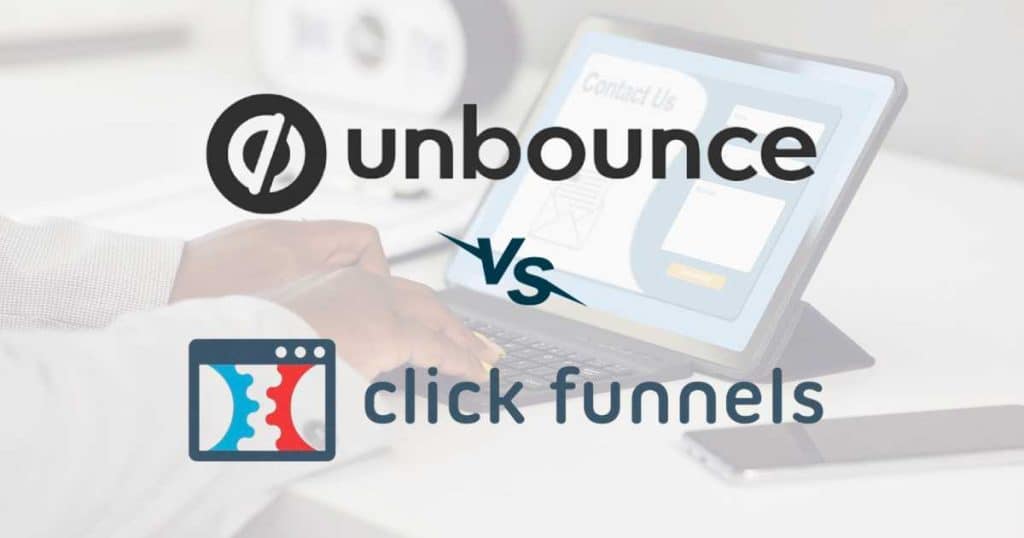 Unbounce and ClickFunnels are two popular products that can help you convert your website visitors into leads or paying customers.
Both are great at what they do. But did you know that they're actually quite different products?
I know, I know – this just makes things more confusing. But don't be alarmed….that's where I step in to help.
Whether you're an experienced marketer or new to the game, I've got you covered.
If you're ready to generate more leads and sales and skyrocket your online success in 2023, stay tuned.
Unbounce vs ClickFunnels? What are they?
Read more: ClickFunnels vs WordPress. 
What Are They? Unbounce vs ClickFunnels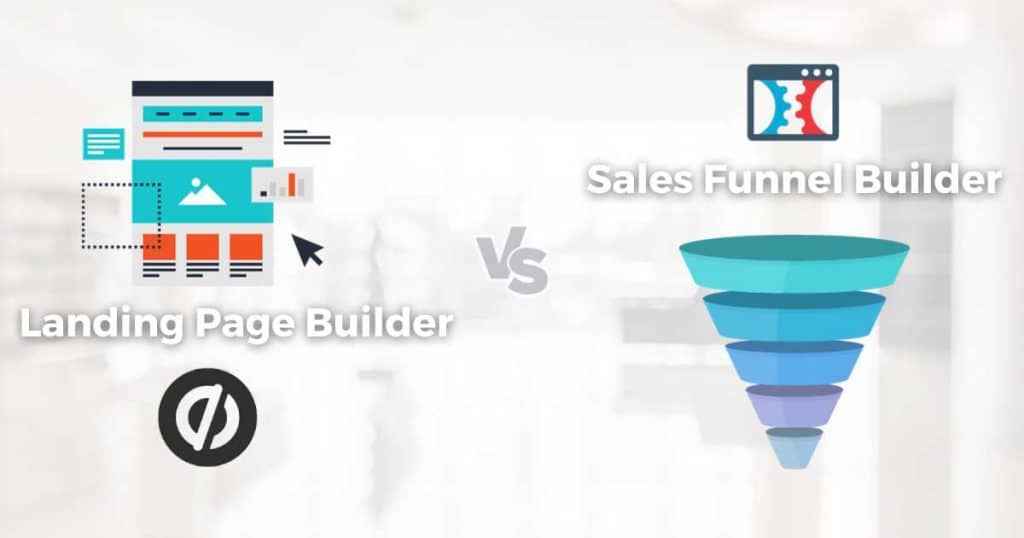 Unbounce is essentially a landing page builder. ClickFunnels, on the other hand, is a comprehensive sales funnel software.
With Unbounce, you can easily build no-code single landing pages to convert your website traffic into leads or paying customers.
ClickFunnels is more of an ecosystem that simplifies the entire process of capturing leads, nurturing prospects, and driving targeted conversions through sales funnels.
One product isn't necessarily better than the other – it all depends on the nature of your business.
To determine which is best for you, you'll first need to understand the difference between a landing page and a sales funnel.
Let's dive in.
Read more: Wix vs ClickFunnels.
What is a Landing Page?
A landing page is a single standalone web page you can design and create with the intent to capture your website visitor's attention (or information).
How does it work? Users 'land' on the landing page you've created after clicking a link in an ad, social media post, email, or anywhere else on the web.
Then, you can use this landing page to persuade website visitors to take a specific action.
Some of these actions include:
Making a purchase.
Filling out a form.
Joining your email list.
Subscribing to a newsletter and more.
Landing pages are designed to be concise, focused, and optimized for conversions.
Usually, landing pages have a strong headline, compelling visuals, concise copy, and a call to action (CTA) to encourage conversion.
Read more: How to Create a Landing Page For Free With HubSpot.
What is a Sales Funnel?
Sales funnels are crafted to take your potential customers on a thrilling journey.
The idea is that they start at the very top (where they first learn about your amazing offerings) and end at the bottom as devoted customers for life.
At its core, a sales funnel is a series of pages that guide your website visitors toward an action you want them to take.
Sale funnels are proven to sell – you just need to know what you want to sell and who you want to sell to!
What Are The Differences Between Unbounce vs ClickFunnels?
As I said, Unbounce and ClickFunnels are fundamentally quite different products, offering different services for different audiences.
Unbounce excels in building optimized landing pages, whereas ClickFunnels offers an all-in-one solution for creating and managing complete sales funnels (plus a whole lot more!)
And with that said, let's take a quick look at what each platform brings to the table!
Unbounce vs ClickFunnels Ease Of Use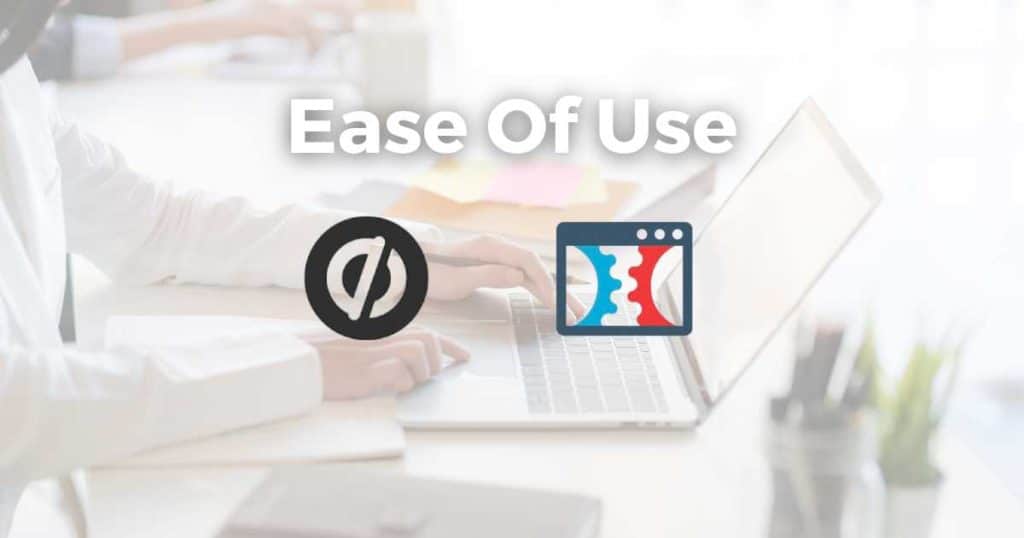 Unbounce offers completely customizable, no-code landing page templates that you can edit through their simple, easy-to-use drag-and-drop editor.
Additionally, you can add your own custom JavaScript, HTML, or CSS code (completely optional).
On the other hand, ClickFunnel's 100+ pre-designed sales funnel templates allow you to build and effortlessly modify your sales funnels through their intuitive drag-and-drop editor.
ClickFunnels simplifies the somewhat confusing sales funnel concept for complete newbies, which is why people love it!
All in all, there is no clear winner when it comes to ease of use. Both have shallow learning curves and are generally pretty easy to use.
You can do more with ClickFunnels (which I'll talk more about soon). Unbounce is more limited in terms of functionality but offers more customization within its limited features.
Winner = Draw
 Read more: ClickFunnels vs Shopify 
Unbounce vs ClickFunnels Pricing:
Basic: $29 per month – Includes 5 landing pages, up to 500 visitors and conversions, and one domain.
Launch: $99 – Includes unlimited landing pages, sticky bars, pop-up bars, AI copywriting, 500 conversions, and 20,000 visitors.
Optimize: $145 – Includes everything in the 'Launch' plan, plus 1000 conversions, 30,000 visitors, and 5 domains.
Concierge: Starts from $625 monthly – Includes everything in the 'Optimize' plan, plus a dedicated success manager, 5000 conversions, 100,000 visitors, and 25+ domains.
Basic: $147 per month – Includes 1 Website, 20 funnels, 1 domain, 10,000 contacts, unlimited courses, workflows, pages, products, and email sequences.
Pro: $197 per month – Includes everything in the 'Basic' plan, plus 100 Funnels, 5 users, 3 domains, 25,000 contacts, and API access.
Funnel Hacker: $297 per month – Includes everything in the 'Pro' plan, plus 15 users, 9 domains, and 200,000 contacts.
Okay, so as you can see – Unbounce is undoubtedly the cheaper choice (but that's no surprise, considering ClickFunnels offers a lot more).
In saying that, I think ClickFunnels pricing plans are way overpriced compared to other more affordable sales funnel builders like Systeme.io.
Read more about Systeme.io and ClickFunnels here.
Winner = Unbounce
Unbounce vs ClickFunnels Tools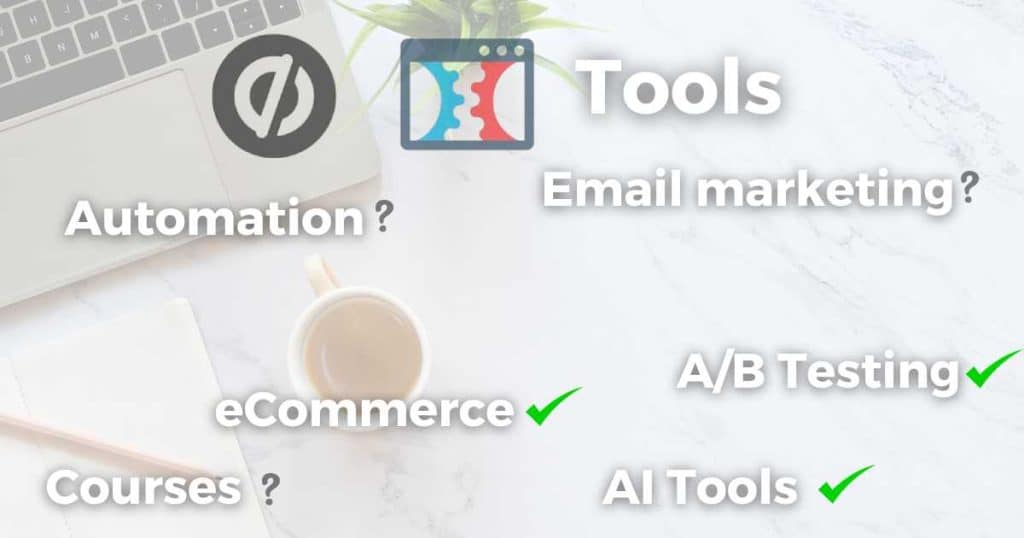 While primarily a landing page builder, Unbounce also offers other helpful mobile-friendly marketing funnel tools like popups and sticky bards.
These can help highlight and enhance your CTA on your website.
And in terms of landing pages, building and creating social-ads and pay-per-click (PPC) landing pages through Unbounce is super simple.
Other features include:
A/B testing.
A built-in form builder.
Opt-in targeting tools.
Integrations with eCommerce.
Email marketing capabilities.
And smart AI tools.
On the other hand, ClickFunnels offers a substantially bigger range of tools to enhance your sales funnel.
You'll find:
Built-in email marketing capabilities.
A/B testing options.
Marketing automation.
Membership sections and more – all in one platform.
You can create unlimited courses, workflows, pages, products, and email sequences on all plans. Plus, you can even build a fully functioning website or blog with ClickFunnels!
And excitingly, ClickFunnels plans to introduce a built-in CRM system and eCommerce store soon.
I wasn't lying when I said ClickFunnels was a one-stop shop!
Winner = ClickFunnels
Read more: How to Build a Sales Funnel For FREE 
Unbounce vs ClickFunnels AI:
Unbounce has well and truly jumped on the AI train, providing smart AI tools to help save you both time and money.
Their smart tracking AI tool is sort of like A/B testing on steroids.
How does it work? Well, Unbounce leverages AI technology to quickly analyze unlimited variants at once (like visitor characteristics and behaviors).
Then, it uses this information to redirect them to the best page for people like them.
According to Unbounce, this tool can give you 30% more conversions than traditional A/B testing! (But don't worry, you can still use A/B testing).
And if you need help writing copy for your landing pages, look no further than their the smart AI copywriting tool!
Plus, you can even build your landing pages in seconds with AI, thanks to their smart AI landing page builder tool.
ClickFunnels also offers AI technology through their awesome AI feature called Payments AI (exclusively for ClickFunnels 2.0 members.)
Payments AI aims to monitor metrics and data, automate tasks, handle payment gateways, and more.
However, it's a shame it's available only for ClickFunnel 2.0 members. Therefore, Unbounce's intuitive AI features are the clear winner here.
Winner = Unbounce
Read more: Best AI Tools for Small Business in 2023. 
Unbounce vs ClickFunnels Analytics
Unbounce offers basic real-time reporting so you can analyze and check how well your landing pages are doing at that very moment.
These analytics include:
Page views
Opt-in rates.
Conversion rates.
ClickFunnels offers similar fundamental analytics information like page views, opt-in rates, sales conversion, click-through rates, average cart value, subscriptions, and more.
And if you use ClickFunnels for courses, you can track your customer's progress.
ClickFunnels analytics ability is better than Unbounce (simply because the platform can do more).
But if you're really serious about driving conversions with either platform, I suggest simply integrating your account with Google Analytics.
With Google Analytics, you'll get an in-depth overview of your website's traffic, conversions, performance, and other specific user actions like button clicks.
Winner = ClickFunnels
Unbounce vs ClickFunnels Integrations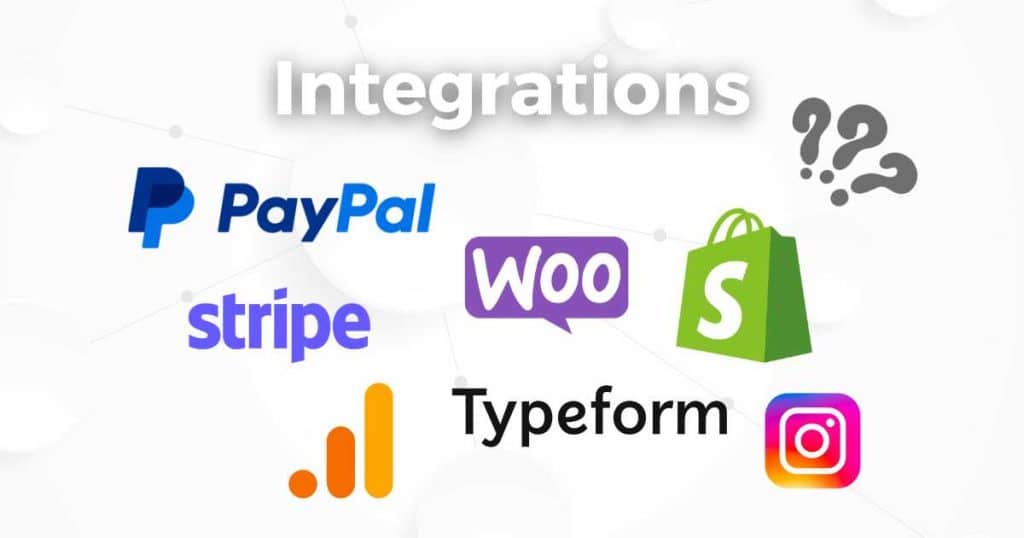 Integrations are crucial for landing page/sales funnel builders to boost functionality and streamline marketing efforts.
Luckily, both Unbounce and ClickFunnels offer excellent integration capabilities with many popular online platforms.
Within Unbounce's app market, simply integrate your account with leading apps such as:
ClickFunnels also integrates with leading email and SMS marketing services like ActiveCampaign and Twilio and popular payment software like PayPal and Stripe.
However, ClickFunnel's third-party integration capabilities are much more limited than Unbounce. This is due to the fact that they offer a built-in version of many of these services.
Winner = Unbounce 
Unbounce vs ClickFunnels Support
Unbounce offers tonnes of support, including live chat, email, phone support, helpful blog articles, a 'Getting Started' beginner resource, and loads of video tutorials.
Plus, you can always check out their community page on their website for FAQs, product updates, and more.
ClickFunnels also offers tutorials and other valuable resources through its comprehensive help center.
Moreover, ClickFunnels provides dedicated and direct live chat support during business hours for instant assistance (incredible!)
And their dedicated Facebook community group is perfect for interacting with and seeking advice from other ClickFunnels users.
This one's a close call – Unbounce's email, live chat, and phone support is pretty impressive, but I love ClickFunnels' dedicated Facebook community group!
Winner = Draw
Unbounce vs ClickFunnels – Who Are They Best For?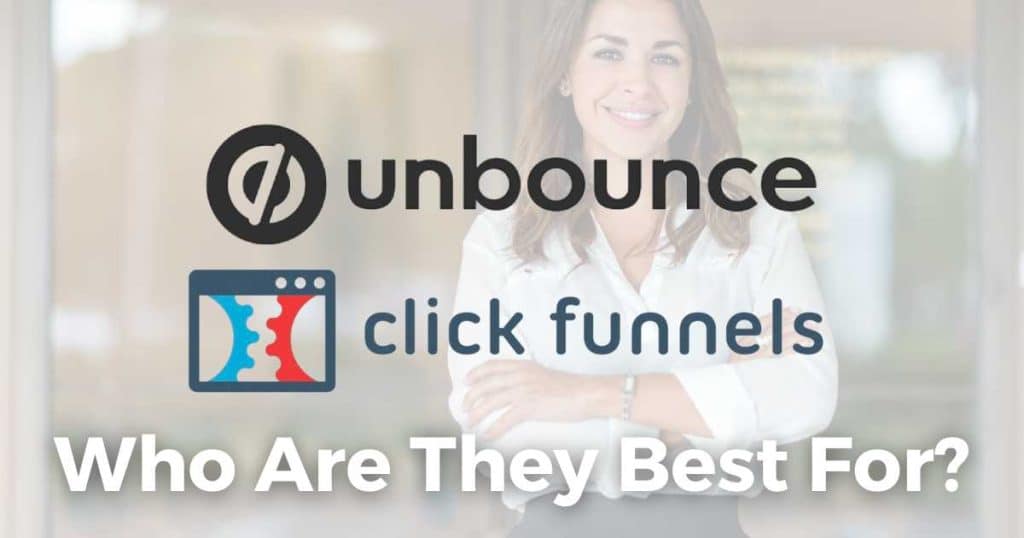 It's clear that both Unbounce and ClickFunnels can successfully optimize and streamline your marketing campaigns. But they cater to very different audiences.
Unbounce is one of the many intuitive, easy-to-use, and affordable landing page builders out there.
If you prioritize creating and optimizing landing pages to enhance conversion rates, drive traffic, and generate leads, all you need is Unbounce by your side.
But if you're looking to create complete sales funnels, courses, memberships, and websites, ClickFunnels is the obvious choice!
Basically, if you're after an all-in-one solution to manage your entire sales process effectively, you should choose ClickFunnels.
Or, if you're after a more affordable sales funnel builder, check out some ClickFunnels alternatives! 
Stews Final Thoughts
And there you go! That brings me to the end of this Unbounce vs ClickFunnels 2023 review and comparison.
At the end of the day, you can create stunning, high-coverting content no matter which platform you choose.
Both are easy to use and are great at what they do!
I suggest taking a step back to look at your business needs and goals before launching in.
So, what will you be choosing? Unbounce or ClickFunnels?