Bigin CRM by Zoho – is this the ultimate CRM solution you've been looking for for your micro business or startup?
If you're currently using messy spreadsheets to organize and manage your customers – stop what you're doing right now!
We all know how important CRM (customer relationship management) software is for mid-large businesses.
But did you know that CRM software is also just as crucial for small and micro-businesses?
Many CRMs (including Zoho CRM) have impressive features that pack a punch. But for small and micro teams, sometimes less is more!
That's where Bigin CRM by Zoho steps in.
Read more: Top 5 Free CRM Software For Small Business. 
Bigin CRM By Zoho Review 2023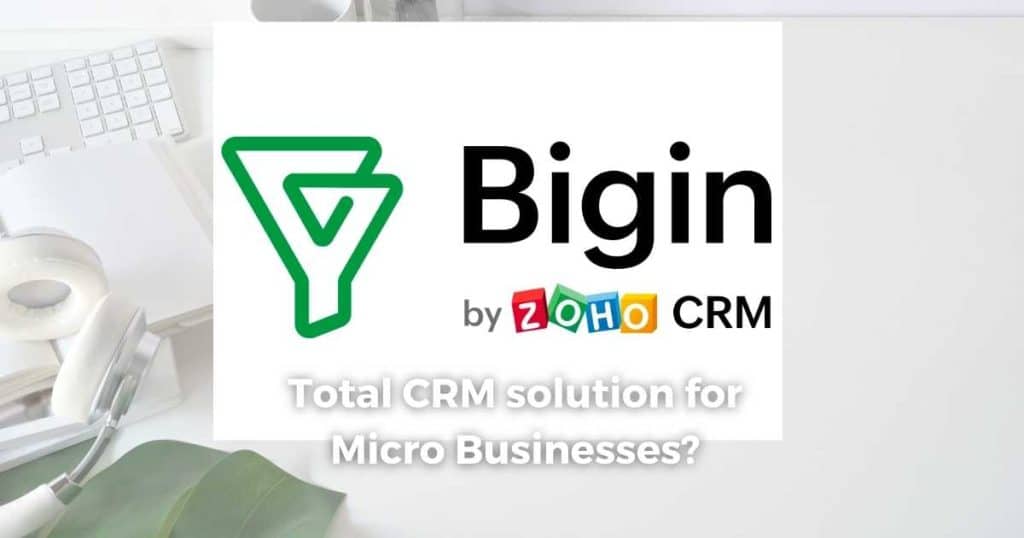 Bigin CRM is a product designed and built by the Zoho CRM powerhouse to help small or micro-businesses move away from disorganized, messy spreadsheets.
Designed to bridge the gap between unnecessary CRM tools and spreadsheets (or worse – pen and paper!), Bigin CRM is the perfect in-between solution you've been looking for.
So, is Bigin CRM the best choice for micro businesses? And should you use it for your business?
Let's jump in and find out!
Read more: How to Use Zoho Projects. 
What is Bigin CRM by Zoho?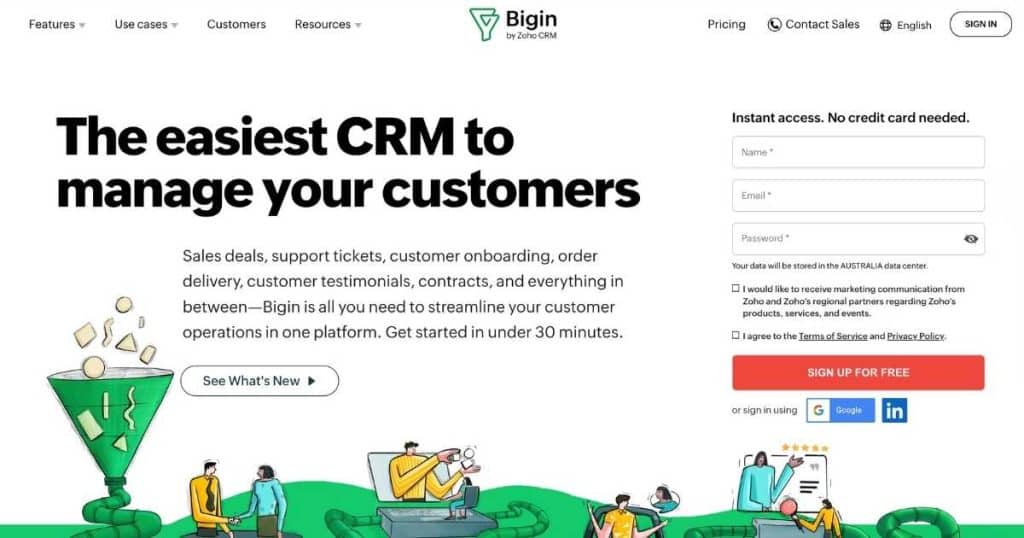 Bigin CRM was born in 2020 after Zoho CRM recognized a gap in the market for customer-facing micro-businesses after a CRM tool.
Simple, agile, and lightweight, Bigin CRM is a user-friendly, customer-orientated solution specifically designed for small business owners.
So, how does Bigin CRM stand out from the crowd?
Bigin CRM takes a different approach from the multitude of sales CRM software options available in 2023.
Instead of focusing on driving sales, Bigin understands how customer-facing small businesses work.
Bigin CRM identifies that many factors and operations in your small business, such as onboarding, training, delivery, and support, need to work together.
With powerful interconnected pipelines, customer management capabilities, and automation and collaboration tools, simply streamline your customer operations, close more deals, and boost business growth.
All with the all-in-one platform that is Bigin CRM!
Read more: Is Asana a CRM? 
Ease Of Use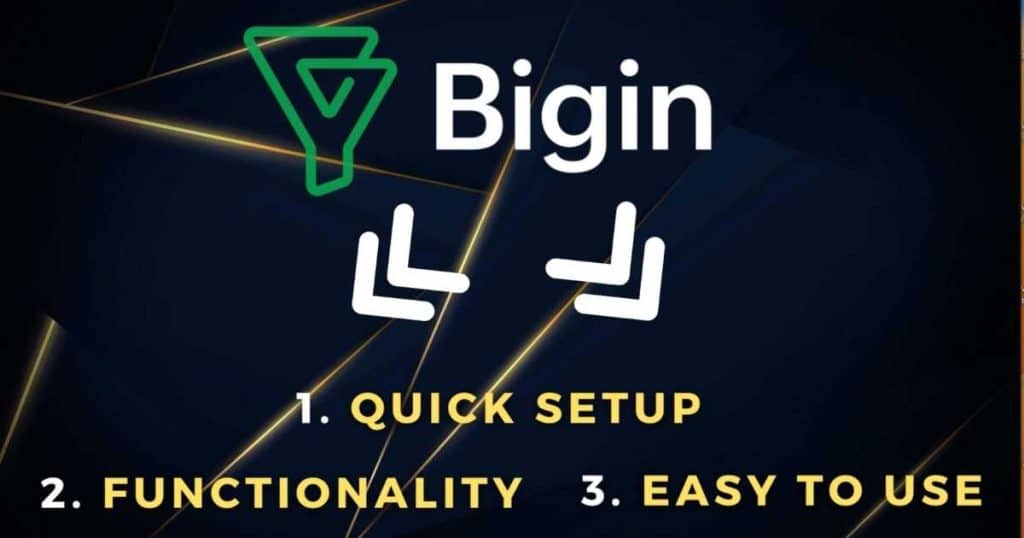 Is Bigin CRM easy to use? Yes!
Initially designed to be three things – quick, easy-to-use, and offer customer-facing functionality. – Bigin certainly lives up to its name!
Once you've completed the straightforward setup process, you'll be taken to your dashboard interface, which is minimalistic, crisp, and easy to use.
With clear headings, even beginners can easily navigate around their Bigin CRM dashboard!
Bigin's simple structure consists of:
Modules: Customizable sales pipelines, contacts, companies, products, and activities.
Records: Data within your modules, such as your deals, tasks, calls, individual products you sell, contact information, etc.
Fields: Specific information within your records.
And with Bigin CRM, you can modify your modules, records, and specific fields within your records based on how your business operates!
Pricing
Free: $0 – Includes 1 pipeline, 3 instant workflows, and 500 records.
Express: $13.20 (AU) per user per month – Includes everything in the 'Free' plan plus 3 team pipelines, 50,000 records, 10 instant workflows, email integrations, no-code forms, and topping add-ons.
Premier: $23.10 (AU) per user per month – Includes everything in the 'Express' plan plus 5 team pipelines, 100,000 records, 30 advanced workflows, and more advanced customization. 
Key Features
Team Pipelines and Sub Pipelines: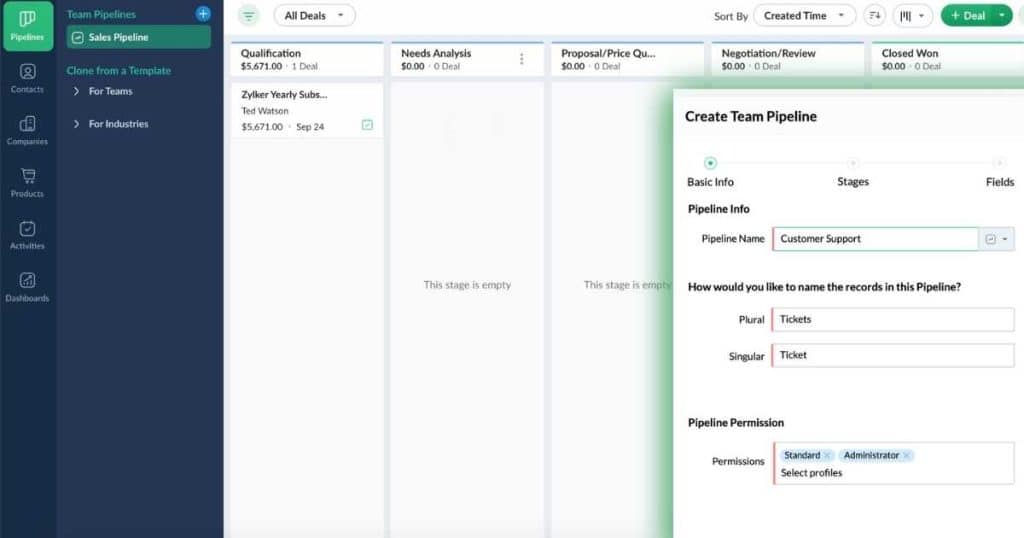 Pipelines are essential to any CRM software. But Bigin CRM stands out from the crowd thanks to its impressive and dynamic team pipeline and sub-pipeline feature.
With Bigin CRM, simply build multiple drag-and-drop pipelines in a way that works best for your team.
And even better, all pipelines are interconnected, so your teams can seamlessly work together on projects!
The level of customization you get within your Bigin CRM pipelines is incredible (in my opinion) and usually only available on higher-tiered CRM paid plans.
So, considering how affordable Bigin CRM is, this is impressive!
Simply build your new pipeline (or sub-pipeline) from scratch, or choose from one of Bigin's templates.
Templates include anything from:
Customer support.
Website launches.
Marketing campaigns.
Onboarding.
Product roadmaps and more.
These templates were designed to help you with specific deals, projects, or any other customer-focused operations your team deals with.
So, no matter the nature of your business, you can be sure there's a template for you!
Now, let's talk about sub-pipelines. Sub-pipelines are basically different stages within your pipeline.
For example, you could create a pipeline for all your web design clients, and within that pipeline, you could add an SEO sub-pipeline for all SEO-related projects.
Read more: How to Use Pipedrive.
Communication Channels: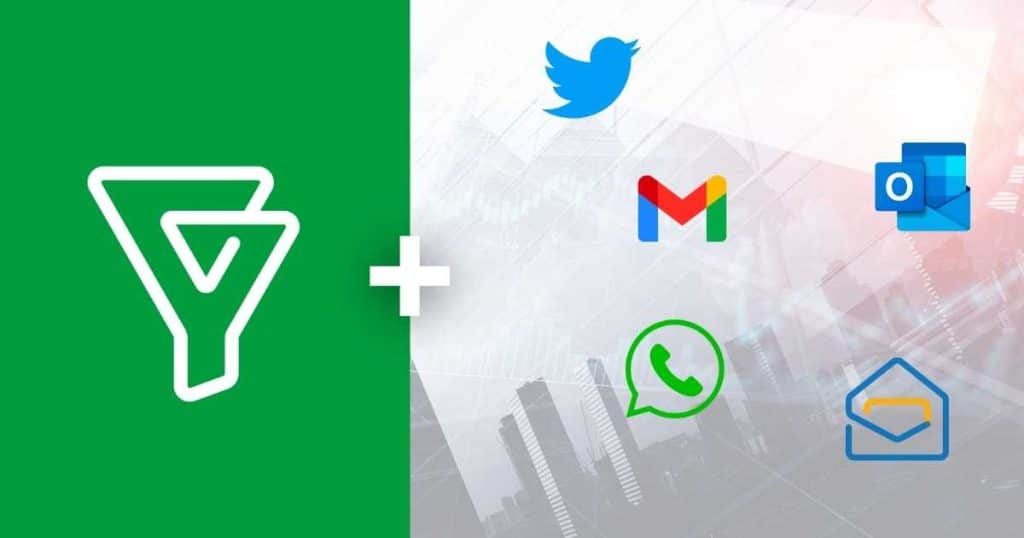 We spend so much time switching between different tabs and devices to communicate with our customers.
There are so many different communication channels out there – email, WhatsApp, phone calls, social media, the list goes on!
Well, did you know that Bigin CRM offers a wide range of communication channels? And you don't even need to leave the platform!
Bigin's built-in email feature lets you connect all your favorite email services like Gmail, Outlook, or Zoho Mail directly within your account in just a few seconds.
This feature means you don't have to jump between your email provider and Bigin CRM to access and reply to your emails! It's all easily accessible within Bigin.
Just add your WhatsApp Business Account and phone number to communicate directly with your customers.
And connect your Twitter account to view and manage any current conversations your customers are having – right inside your Bigin CRM account.
Read more: How to Create Twitter Ads.
Workflows:
Automation workflows help you create efficient processes and streamline your operations and are an essential CRM feature needed for all businesses (no matter how small!)
With Bigin CRM, you can simply set up an automatic trigger (action) that triggers a specific workflow when records match particular criteria.
Workflow actions include email alerts, field updates, record tagging/untagging, or task creation.
You can even use workflows to interconnect your pipelines together. How good is that??
Toppings: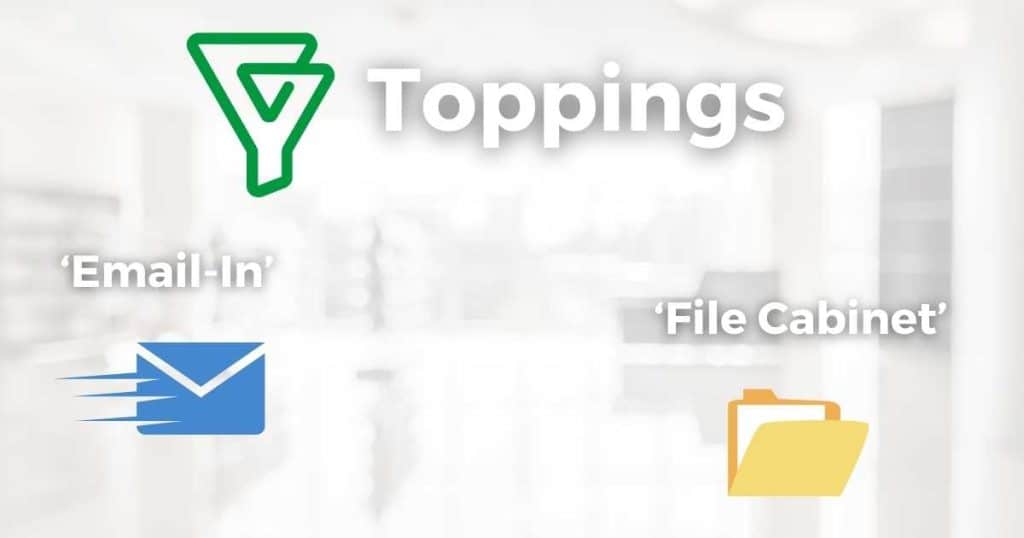 Toppings are essentially internal and external integrations you can 'add-on' to your account to get the most out of your Bigin CRM account.
One of my favorite internal add-ons is the Email-In.
Email-In is an effortless way that you can automatically convert your emails into records to your pipeline.
To use Email-In, all you need to do is:
Install the Email-In add-on.
Create a new email alias (Specific to your business).
Choose the pipeline you want that record added onto.
Then, every time you receive an incoming email to that email alias address, a deal will automatically get created and added to that sale pipeline.
Say goodbye to manually transferring data from your email inbox to your CRM!
Another awesome internal Bigin CRM add-on topping is File Cabinet.
File Cabinet simplifies sending and receiving files to and from your contacts or team members.
Basically, both your team and your customers can share, view, and add files to a particular record through an external link you've created.
And don't worry; these links are super secure, so you can be sure your sensitive information won't end up in the wrong hands.
How does it work?
All you have to do is enable the File Cabinet add-on on the relevant record, then copy and share the link via an email to the relevant customer or team member.
This is an efficient and effective way to upload files from your customers! How cool (and easy!)
Plus, Bigin CRM's toppings (integrations) in include other essential small business platforms like Zapier, Google Workspace, MailChimp, and Microsoft365.
What I like
Affordable for teams on a budget.
The fact that it's customer-focused instead of sales-driven.
Once you outgrow the software, you can upgrade to a Zoho CRM plan.
You can interconnect pipelines! 
What I dislike
It isn't suitable for mid-large-sized teams.
The customer support could be better.
There are record limitations on every plan.
Bigin CRM By Zoho Alternatives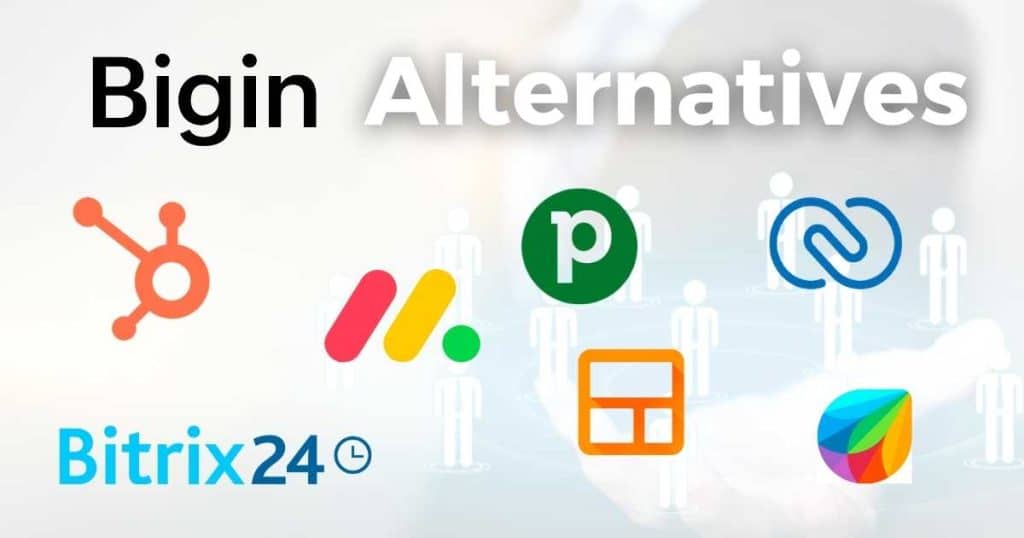 Okay, so with all that said, maybe you've decided that Bigin CRM isn't the best choice for you.
Well, the good news is that so many excellent CRM tools are available on the market today. And a lot are dedicated for small business use!
Here are my Top 7 Best Paid and Free CRM picks for small businesses: 
HubSpot is a game-changing CRM and marketing platform that helps over 135,000 businesses globally.
Their all-in-one CRM software and marketing, sales, and service tools help you improve customer relationships and boost productivity.
Users love HubSpot for its easy-to-use platform and incredible free plan with a wide range of incredible features (and up to 1,000,000 contacts!)
HubSpot CRM is ideal for start-ups, entrepreneurs, and small to medium businesses seeking improved customer relationships, lead management, and sales growth.
Monday.com is an intuitive, visually appealing, and flexible platform where you can customize your sales pipelines and workflows in the way that works best for you.
Established in 2014 as a project management solution, Monday.com has now become a popular all-in-one project management and CRM platform used by over 152,000 businesses!
With an easy-to-use interface, fully customizable boards, and a free plan best for micro-businesses or individuals, you can streamline your projects and maintain strong customer relationships.
Whether diving into CRM or project management, Monday.com offers a versatile and user-friendly option for businesses of all sizes.
Zoho CRM is the original CRM solution offered by Zoho for small and medium-sized businesses (not to be confused with Bigin CRM by Zoho!)
With over 75 million users worldwide, Zoho is a powerhouse in the business suite industry.
Zoho CRM's free plan (up to 3 members) is pretty impressive.
You can create tasks, leads, notes, reports, web forms, workflows, and marketing automation to convert leads, track sales, and engage with customers.
And because Zoho is a powerful, multi-dimensional all-in-one platform, you and your team can use Zoho CRM and all their other tools to help you succeed online!
Pipedrive is a sales-focused CRM platform that specializes in pipeline management.
Basically, Pipedrive helps sales-based teams schedule, track, and complete activities to streamline and organize sales and marketing data in one system.
With over 100,000 users in 175 countries, Pipedrive offers a range of sales tools and key features, including visual sales pipelines, lead and communication tracking, email tracking and management, seamless integrations, and automation workflows.
Often referred to as an alternative to HubSpot, Pipedrive aims to enhance customer relationships, streamline sales processes, and increase revenue for sales-based businesses!
Streak is a CRM system designed by Google for Gmail users who want to enhance their business's sales and maintain strong customer relationships.
It functions as a Chrome browser extension, seamlessly integrating with Gmail. And with over 750,000 users worldwide, Streak is rapidly gaining popularity as one of the top CRMs!
Being a Google product, Streak is widely trusted, fast, responsive, and easy to use.
With an easily accessible free plan, individuals (1 user only) can organize their projects, manage customer relationships, and streamline their sales processes right within their Google account.
Freshworks is a CRM tool developed in 2010 to drive sales, manage contacts, leads, and deals, and streamline sales processes.
With over 50,000 customers worldwide, Freshworks helps businesses achieve customer satisfaction and close more deals.
The user-friendly interface supports multiple languages and over 150 currencies and offers integrations with other Freshworks platforms like Freshdesk and Freshcaller.
Freshworks also provides a free plan and trial period for growing businesses.
And with features like AI technology and smart forms, you can be sure to manage your leads, campaigns, and email campaigns effectively and efficiently through Freshworks!
Bitrix24 is an all-in-one business solution combining CRM, project management, and collaboration tools in one package.
With over 10 million customers and support for 18 languages, Bitrix24 is certainly a global powerhouse!
Bitrix24 is a multi-purpose platform for managing projects, customer relationships, collaborations, documents, teams, and more.
The CRM platform provides tools for lead management, sales automation, team and workload management, and online marketing engagement.
Bitrix24 stands out by offering a free plan for up to 12 users! This is incredible for small and medium-sized businesses with a limited budget.
Want to know more? Check out my full Top 7 CRM For Small Businesses article here.
Is Bigin CRM The Best Choice For You?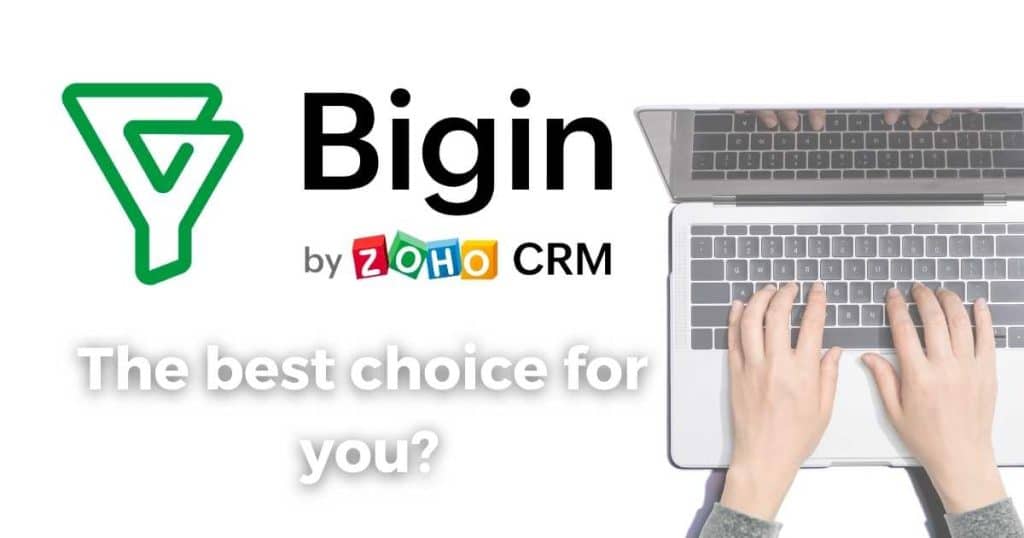 If you're a small team or micro-business focused on customers (rather than sales), I believe you'll love Bigin CRM and everything it offers.
Why? For starters, it's undoubtedly one of the most affordable CRM platforms in 2023.
But Bigin CRM doesn't skimp out on basic CRM tools. You'll get all the essentials, including contact management, emails, automation workflows, and forms.
Plus, you can create and interconnect customizable pipelines to run your business effectively (without limitations!)
Although simple, light, and agile, Bigin CRM ultimately has everything a micro-business like yours could ever want in a CRM software and more. 
My Final Thoughts
And there you go! That wraps up my complete Bigin CRM by Zoho review for 2023.
I often talk about Zoho's impressive range of business products and their value for small business use.
However, I rarely talk about what products are built for micro-businesses.
So, if this is you and you've been looking for a simple, lightweight, and affordable CRM platform where you can streamline all your micro-operations, look no further!
Bigin CRM by Zoho is the perfect total CRM solution for you.