How to advertise on Tiktok from paid ads & generate leads through video marketing.
Using TikTok for businesses to engage in paid advertising, can allow you to place your brand directly in front of your target audience.
The TikTok ads manager is quite similar to the Facebook ads manager.
However, compared to Facebook, TikTok for business is still relatively new, and therefore, ad costs are low and there is less competition for your audience's attention.
Therefore, How to advertise on TikTok video ads can really stand out and find massive success through this platform.
In this TikTok ads tutorial for beginners, we'll shed light on how to use 'TikTok for business' for paid marketing.
We'll also help you create and launch your first video ad on this popular social media platform.
Is TikTok Good for Small Business?
When Facebook and Instagram were in their initial stages, people were skeptical about using them as marketing channels in their business.
However, with every new platform and technology, such skepticism is inevitable.
But history has proved that early adopters are now benefiting the most from these social media platforms.
Without a doubt, TikTok is becoming a leading social media platform. It has more than 700 million monthly active users across the globe.
TikTok is a perfect platform to reach millions of users – especially Generation Z and millennials.
By sharing exciting videos, hopping on trends, and connecting with your audience, you can successfully promote your business, large or small through this rapidly growing platform.
How to Advertise on TikTok?
Besides organic reach, there's another way to reach your audience on TikTok – by running paid ads. Hence, in this tutorial, you'll learn how to effectively advertise on TikTok in 2023.
1. Create 'TikTok for Business' Account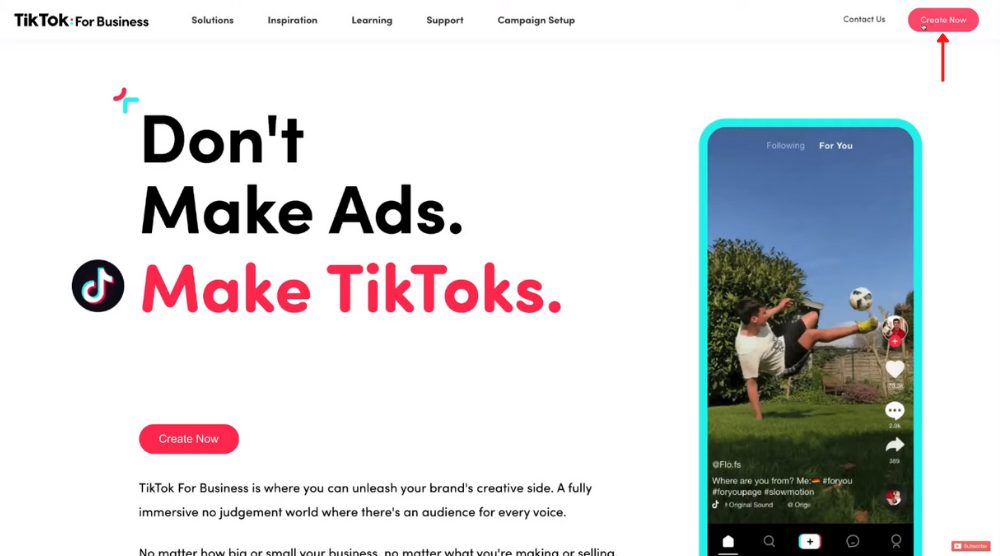 Head over to TikTok for Business. Click on 'Create Now' to set up your TikTok ads account.
Proceed to sign up with either your email or phone number.
For this how to advertise on TikTok tutorial, we'll opt for email sign-in.
After adding your email information, verify it using the code sent to your email.
Make sure you go through TikTok's privacy policy and terms & conditions before hitting 'Sign up'. Go ahead and complete your account information next.
Click 'Register'.
Now, fill in your company website, billing address, and tax information.
Set up your payment type (currently, we only have access to manual payments).
In the subsequent step, you need to add an account balance for your TikTok ads manager.
Later on, you can always come back and add more balance to your TikTok ads manager.
Now because this is just a tutorial, we're not going to actually publish these ads. But you should add a balance if you want to run the ads we are about to create and hit 'Next'.
2. TikTok Ads Manager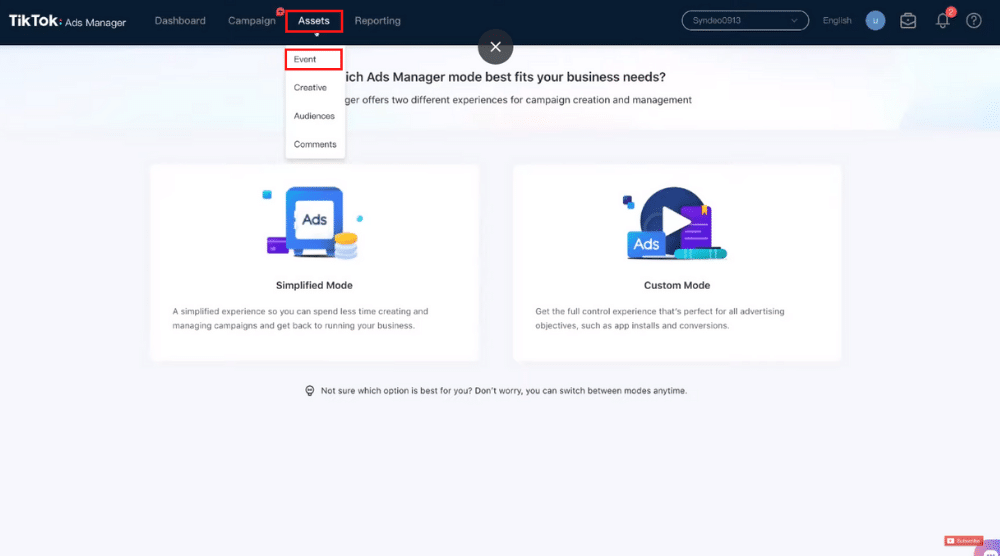 Before we actually create and launch ads, it's important that we cover the TikTok Pixel first.
This is a code that you need to install on your website so that you can track specific events (conversions, booking forms, submissions, app installs, and other Events.
Now, navigate up to 'Assets' and click 'Event'.
You can watch this tutorial to learn how to install TikTok Pixel on your website.
However, if you're just getting started with TikTok ads, the Pixel is not essential.
Let's go ahead and create our first TikTok campaign!
3. Create Ad Campaign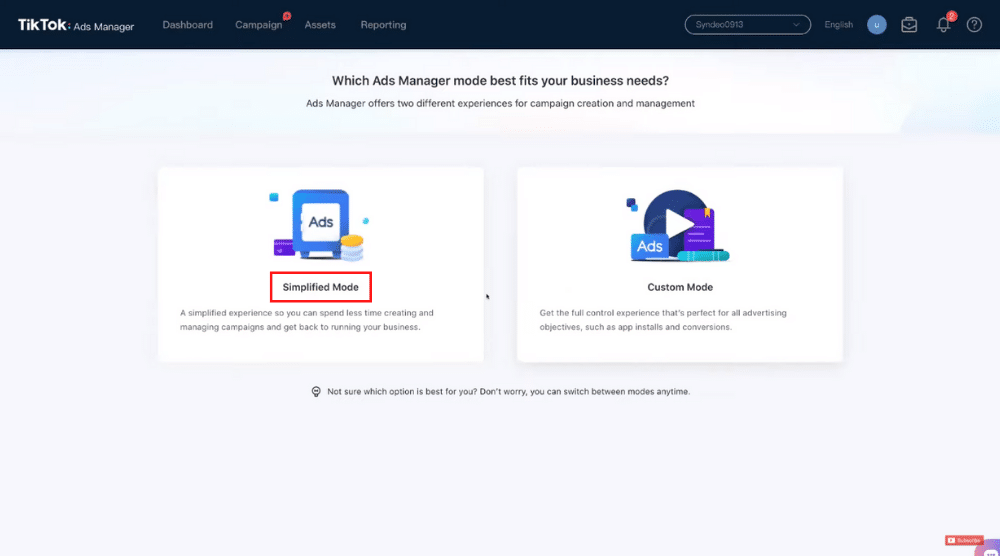 Because this is a TikTok ads tutorial for beginners, we're going to get started with 'Simplified Mode'.
Once you get the hang of TikTok ads manager, you can always switch to the custom mode. You can also switch between these modes anytime that you like.
4. Campaign Level (Marketing Goal)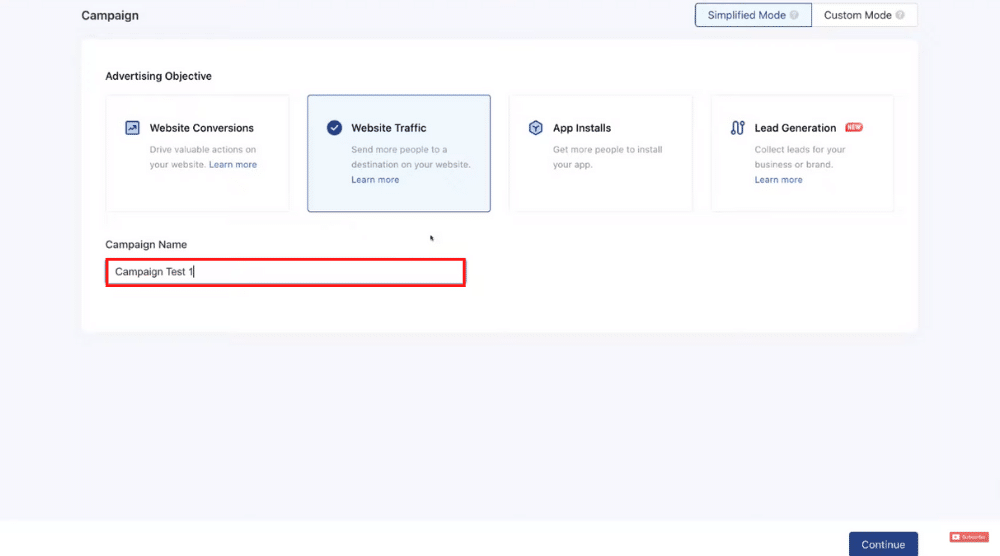 Select 'Simplified Mode' and you'll arrive at the campaign level.
In this step, you need to choose an advertising objective.
This is the goal that you want to achieve with your TikTok ads. If you want to drive website conversions, for example, you would need to install the TikTok Pixel on your website.
You can also select 'Website Traffic' as your advertising objective or 'App Installs'.
For beginners, we recommend selecting 'Website Traffic' as the goal because website conversions are more focused on driving sales (we want to drive awareness and interest on our website as well as drive potential sales).
Select your goal, name your campaign (For example – Campaign Test 1), and hit 'Continue'.
Ad Group Level (Targeting)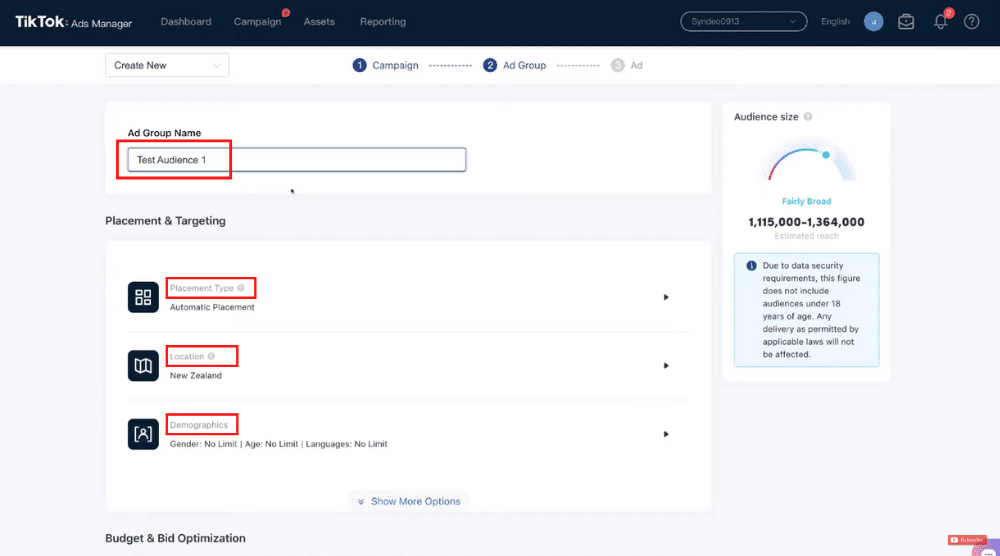 This is a crucial step of our tutorial on how to advertise on TikTok because this is where the targeting takes place.
You may now proceed to enter the 'Ad Group Name' – Test Audience 1 (refer to the screengrab).
Now, under 'Placement & Targeting', select:
Placement Type: Click 'Select Placement' and unselect all the options other than TikTok. We're just focusing on TikTok for this tutorial.
Audience Actions: Ensure that 'User Comment' is turned on to allow for user engagement. The more people that engage with your TikTok videos, the better reach you'll get. Also, you should turn off the 'Video Download' option if you don't want people to download your video ads.
Location: Enter your target location for this specific ad.
Demographics: This is where you can choose the gender, age limit, and languages spoken by your target audience. We have 'No Limit' selected by default. For instance, if you're creating an ad to promote a watch company for men – select 'Men' under 'Gender'.
Interest & Behavior: On TikTok, you can also target potential buyers through their interests and behaviours. Select the interest from the drop-down menu and choose the video-related actions as you like. This helps you drive video engagement on TikTok.
Category: This is where you can pick a category for the product you're promoting. For example, since you're promoting a watch, you can pick 'Lifestyle' as your category.
Time period: Select a time period in this step. We'll choose '7 days' for this TikTok ads tutorial.
Device: Here, you may choose the operating system (No Limit/Android/iOS), OS Versions, Connection Type, Carriers, and Device Price. However, we're going to leave it as the default settings.
Budget & Bid Optimization: Select a daily budget here. Also, unselect the 'Run Continuously' option because you do not want to run budgets continuously – especially as a beginner. It may happen that you forget to turn off the ads and in turn exhaust your budget completely. Also, make sure you've 'Lowest Cost' selected under 'Bid'.
Click 'Continue' and proceed to the next step.
Ad Level (Video Creative)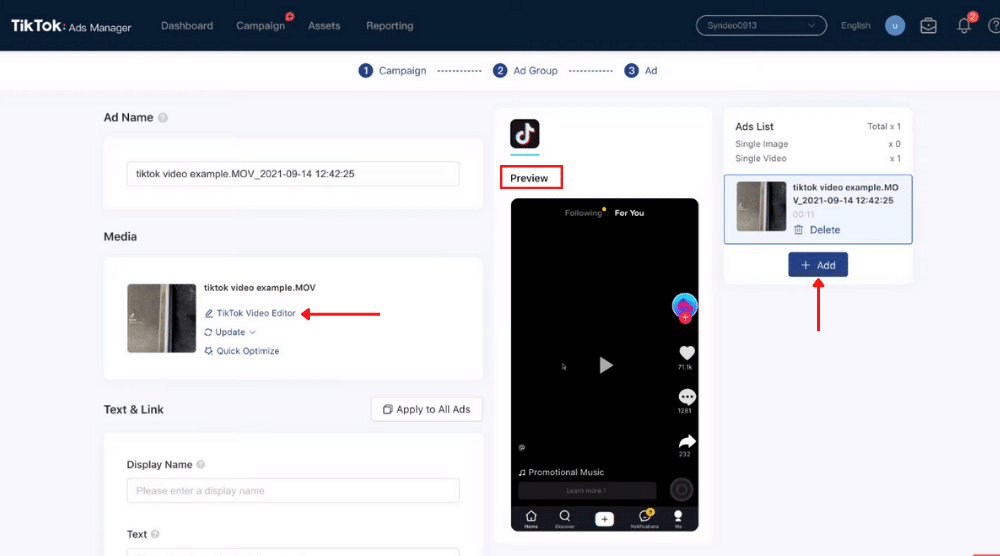 This is where you upload the video creative.
Once you've uploaded your video, you can see the preview on the right.
Now, you can edit this video within the TikTok ads manager.
To do that, you need to select 'TikTok Video Editor'.
However, we recommend using TikTok to create and upload videos because it isn't a full-fledged video editor like others in the market – InVideo, for example.
By clicking 'Add' on the right, you can add images or videos.
We advise sticking to videos on TikTok because images don't garner as much engagement.
In the next section, we'll cover how to create and edit videos with InVideo – an alternative for TikTok's inbuilt editor.
4. How to Edit TikTok Videos as a Beginner?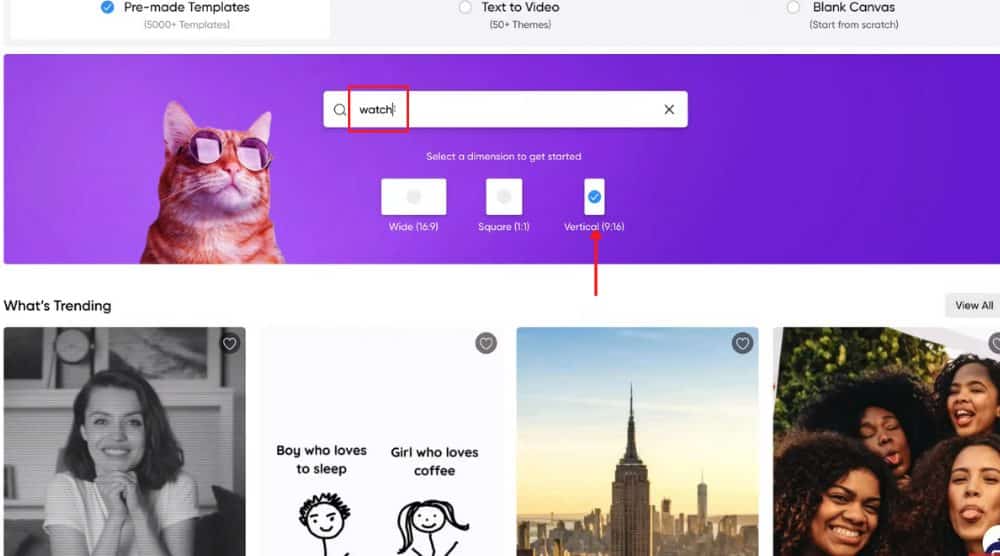 InVideo is a powerful tool that allows you to create and edit videos with ease.
Using its premade templates, you can create engaging videos within minutes and then edit them within InVideo.
You can even select the aspect ratio of your videos – which is vertical video formats for how to advertise on TikTok.
To show you how InVideo works, head over to their website.
On their home page itself, you'll find an option called 'Vertical (9:16)', which is the ideal aspect ratio for TikTok.
Click on it and you'll be shown tons of vertical format video templates.
You can also type in keywords like 'watch' in the search bar to find some premade templates based on your specific query.
Click on your favorite and select 'Use this template'.
You can start uploading your own video to replace this stock footage.
On the right-hand side of your screen, you'll find tons of video editing options in InVideo.
Watch this complete beginner's tutorial to understand how to create video ads with InVideo.
Let's head back to our TikTok ads manager!
You now need to add the following details to create the TikTok ad:
Display Name – your business name, for instance.
Text – brief description about your product/services/brand
Call to Action – choose an appropriate CTA from the drop-down list
URL
Profile image – Ideally you should upload the image of a person rather than a company because people connect with people!
Tracking – let's leave this for a more advanced TikTok ads tutorial in the future
Click 'Publish' at the bottom right when you've added all the information.
Give TikTok some time to approve and start delivering your ads.
Congratulations!
You've just created your first TikTok ad!
TikTok Ads Tutorial for Business (Video Tutorial)
The whole process of creating TikTok ads is very similar to Facebook. This "TikTok advertising tutorial for beginners" will help you get started with paid advertising on this popular social media platform. Watch this space for an advanced tutorial on tracking and reports in the near future!