Whether you're selling or consuming educational content, two names dominate the e-learning market… Skillshare and Udemy.
In this Skillshare vs Udemy guide, we're going find out what really is the best platform for listing online courses!
As the rise of e-learning and remote work continues to be exponential, educational content has never been more accessible for both students and teaches.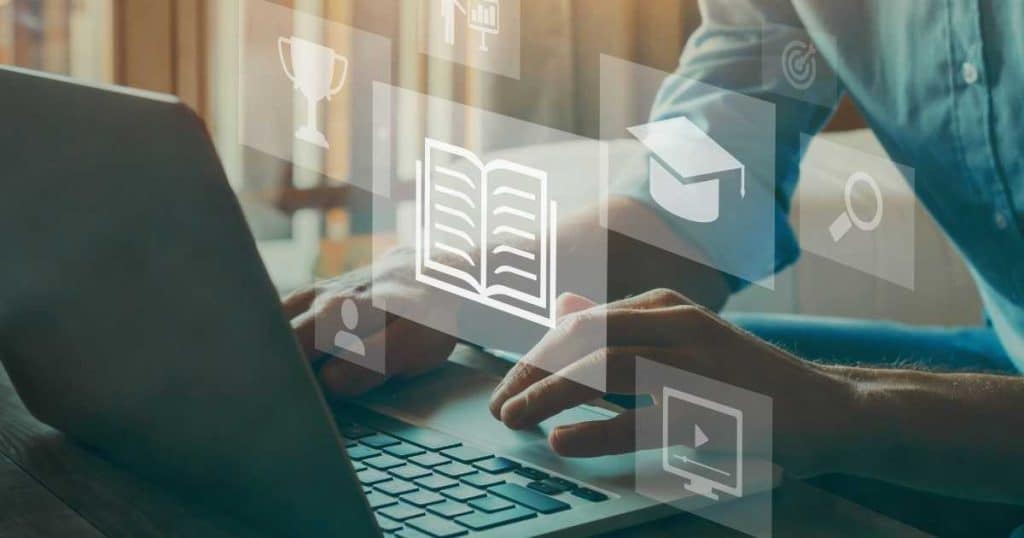 If you've ever looked online for education resources, you'll have come across Skillshare and Udemy.
But do you know what each platform offers? Or, more importantly, what one should you use to either create or consume educational courses?
This is where we step in.
We will get stuck into both Skillshare and Udemy and find out the best platform for you!
Whether you're looking to learn a new skill or want to teach what you already know as a course online, the first step is picking an e-learning platform.
Skillshare and Udemy are two leading platforms that offer courses to help people learn more in a particular field.
These courses could be anything from design, business, technology, development, music, arts, and more.
Both platforms work similarly – basically, experts upload educational content specific to their niche, which users can then search for and consume.
Think of these platforms as a dedicated, interactive, more formal, and structured education-only version of Youtube (kind of).
Except creators are experts in their respective fields.
Both platforms have one thing in common. They dominate the online course marketplace as the best platform to sell online courses (and consume paid content).
So, what's the difference between the two? How do they work?
You might be thinking.. surely there can't be that many differences.. aren't they both online course platforms?
Well, you're not wrong.
That's partly true; however, like any other product comparison, there are pros, cons, and differences.
In other words, what might work for your goals, preferences, and budget might not work for someone else!
Skillshare vs Udemy – are you ready to determine which platform is the best for you? Let's find out.
Best websites to sell online courses

First, let's talk about selling.
If you're an expert in your field and want to share your knowledge with others while making a bit of money off it, courses are the way to go!
And both Skillshare and Udemy are excellent places to upload and sell your course.
But what is the best website to sell these online courses?
Udemy is the largest of the two, with over 60 million learners, 70,000 teachers, 75 languages, and 210,000 courses in March 2023. 
If you want to reach a large global audience, then Udemy is the perfect place to start.
On the other hand, Skillshare has a smaller community of 34,000 courses, 800,000 members, and 11,000 teachers. 
But don't let Skillshare's lower numbers steer you straight toward Udemy! Skillshare still has a lot to offer for sellers.
As a general rule of thumb, Udemy offers a broader range of topics, more suited towards academic content such as:
Business.
Programming.
Finance.
Marketing.
Personal development or similar topics.
Skillshare is a bit more niche and is more suited for creative topics such as:
Art and Design.
Animation.
Illustration.
Writing.
Lifestyle and more.
Therefore, there isn't a clear-cut winner on the best website to sell courses (Is there ever?)
If your goal is to reach more people, Udemy is your best bet, and if you're a creative wanting to educate fellow creatives, you'll find your content performs better on Skillshare!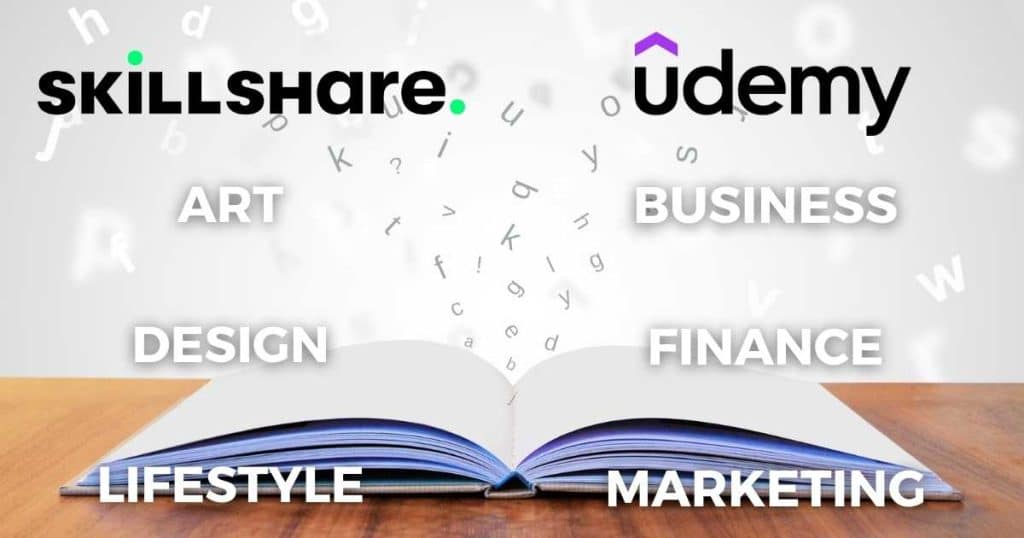 Additionally, what if we told you that you could use both?
We created a course on How to use Asana in 2022 and uploaded it to both Skillshare and Udemy!
Skillshare vs Udemy Stewart Gauld Asana course (image below)
While the course performs better on Skillshare, it also gains traction and makes us money on Udemy.
If you think about it… you've already done the hard yards in creating an engaging and professional course, so what have you got to lose by posting it on both sites?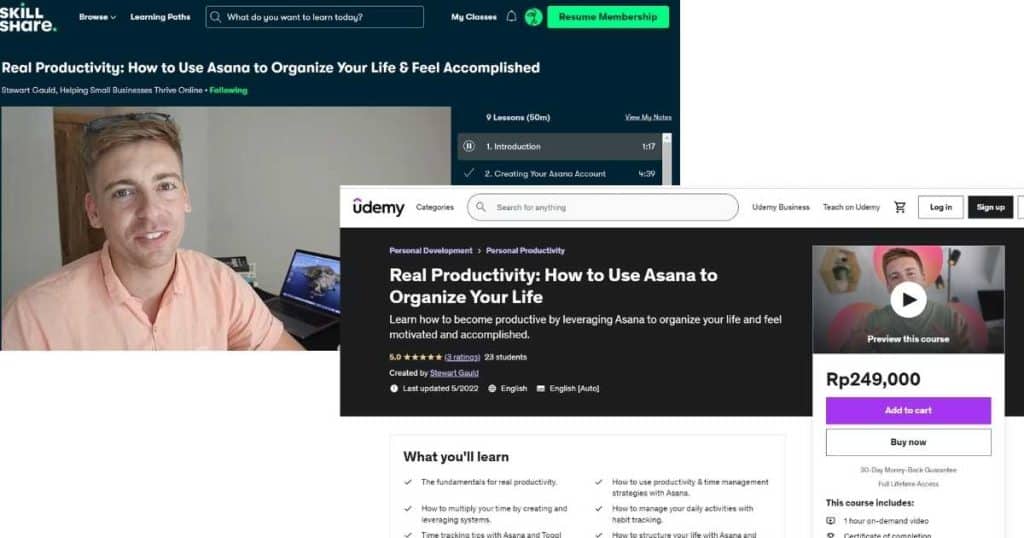 How does Udemy work? (Teachers & Students)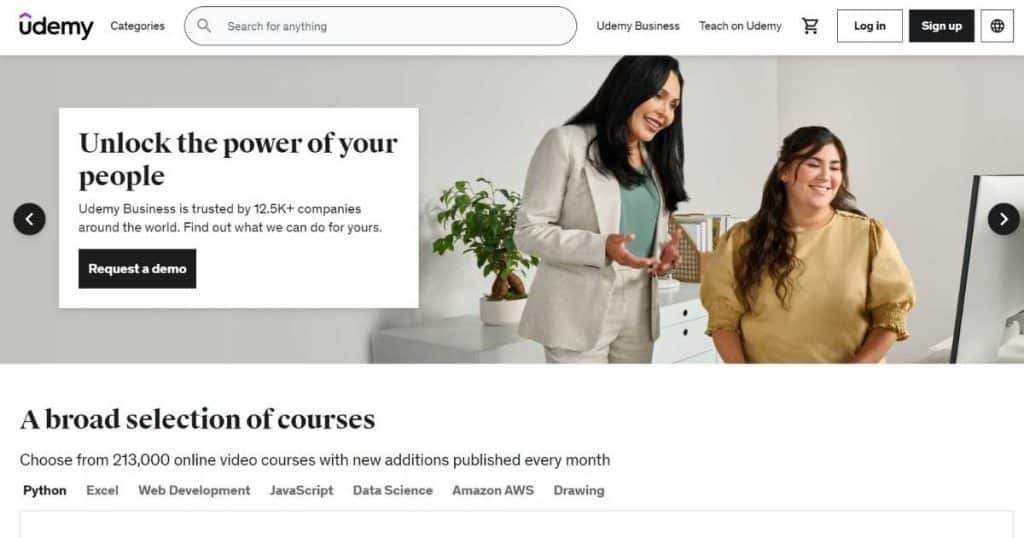 Now that we've established what type of content is best for Udemy, let's dive into how it works for both teachers and students.
For teachers:
Firstly you'll need to sign up as a teacher to Udemy.
Next, create your course using Udemy's course creation tools.
To ensure your course is as engaging and interactive as possible, make sure you make the most of these tools!
Once you've done that, you're ready to publish your course!
Promote your course using Udemy's marketing tools.
Remember, Udemy is perfect for reaching a large audience, so promoting your course is essential to make your mark and stand out from the crowd.
Sit back and watch your course do its thing!
Once people start consuming your course, you can interact directly with them and answer any questions they may have.
With Udemy, you'll always have control over how you create your course (with some help from Udemy's tools).
Okay, so that's how Udemy works for teachers. What about students?
Sign up for Udemy as a student.
Search for the topic you want to learn more about.
Hot tip: Make sure you read the reviews from other members and the course preview.
Enroll in the course, and get ready to learn (at your own pace!)
Ask any questions you have about the course to the instructor as you move through the course.
Download your certificate of completion.
And that's it!
Whether you're a teacher or a student, Udemy makes it easy to learn and teach from anywhere in the world.
And last but not least, how much does it cost?
For teachers, there is no sign-up cost. All you need is a PayPal or Payoneer account to get started!
Udemy works on a pay-by-course pricing structure.
Courses start from $19.99 – $199.99.
The teacher chooses the course cost, then Udemy takes a cut of that amount (how they make their money).
As a consumer, this pay-by-course pricing structure works well for someone who only wants to enroll in a few courses. Otherwise, you can do the maths on how pricey it can get!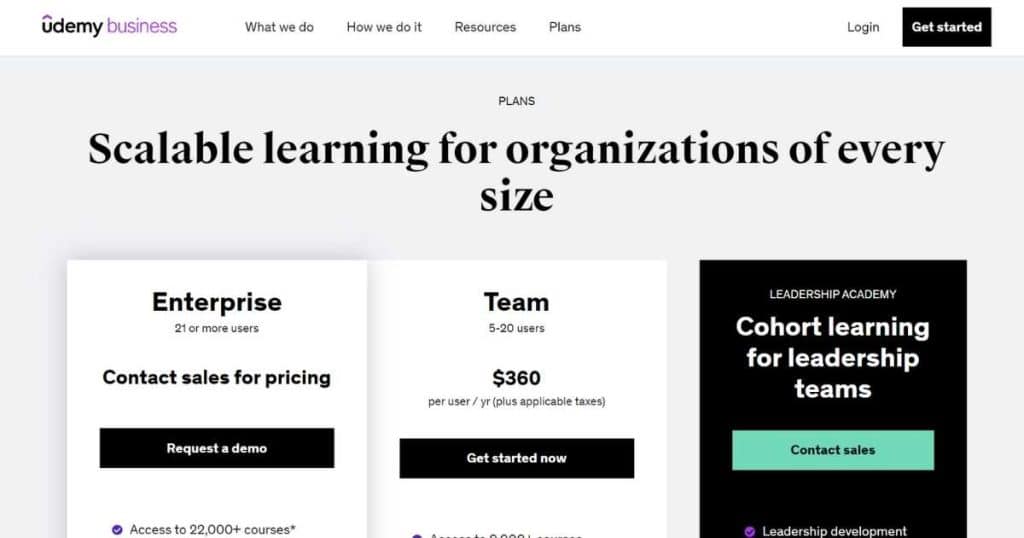 Want to know more about how PayPal works? Check out our how-to-use PayPayl tutorial here.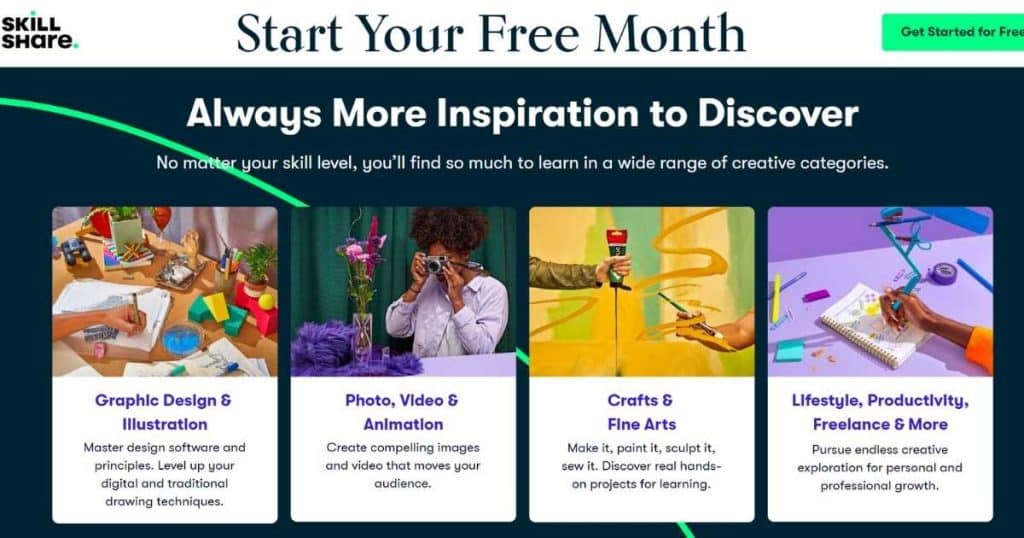 Skillshares pricing structure is slightly different from Udemy. So, how does Skillshare work?
As a teacher:
Apply to teach a course by submitting a proposal.
Once that's been approved, you can create your course.
Your course should include dynamic video lessons, projects, and discussion forums to keep the students engaged!
Publish your course and wait for it to get reviewed by Skillshare.
Once your course has been approved, you can market your course by using promotional tools offered by Skillshare.
Wait for students to find, watch and engage in your course!
The pool of courses is smaller on Skillshare than on Udemy, so you won't need to do as much promotional work to get your name and course out there.
For students:
Sign up for Skillshare.
Simply choose and enroll in a course that interests you.
Again, like Udemy, make sure you read the course description, teacher information and watch the course preview!
Get stuck into your chosen course at your own pace and get involved with all the group discussions with other learners.
Once you've finished the course, you'll receive a certificate to add to your resume or LinkedIn profile.
So, do you buy the courses individually or as a subscription? This is often a question raised by users wanting to get stuck into Skillshare courses!
Skillshare works on a subscription-based pricing structure and only offers one annual premium subscription plan (as well as team packages).
Premium: $13.75 per month ($165 annually).
Teams: Starting at $159 per user annually.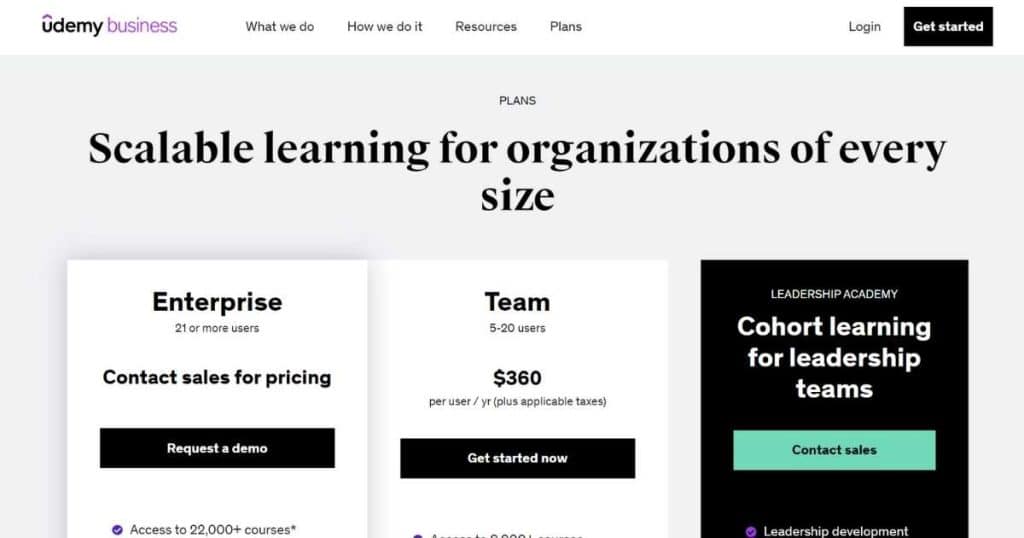 We personally think this pricing structure is better bang for your buck compared with Udemy, as you can access an unlimited amount of Skillshare's entire library of courses.
They also offer a 30-day trial, so if you're only after a course or two, you can smash out the courses within this time!
As a teacher, you'll get paid by Skillshare's royalty system based on the number of course minutes watched by students.
And that is an entire rundown of how Skillshare vs Udemy works!
As we mentioned earlier, there are many different e-learning course platforms these days. Skillshare and Udemy are two of the best website for selling courses, but how do they stack up to other alternatives?
Udemy Alternative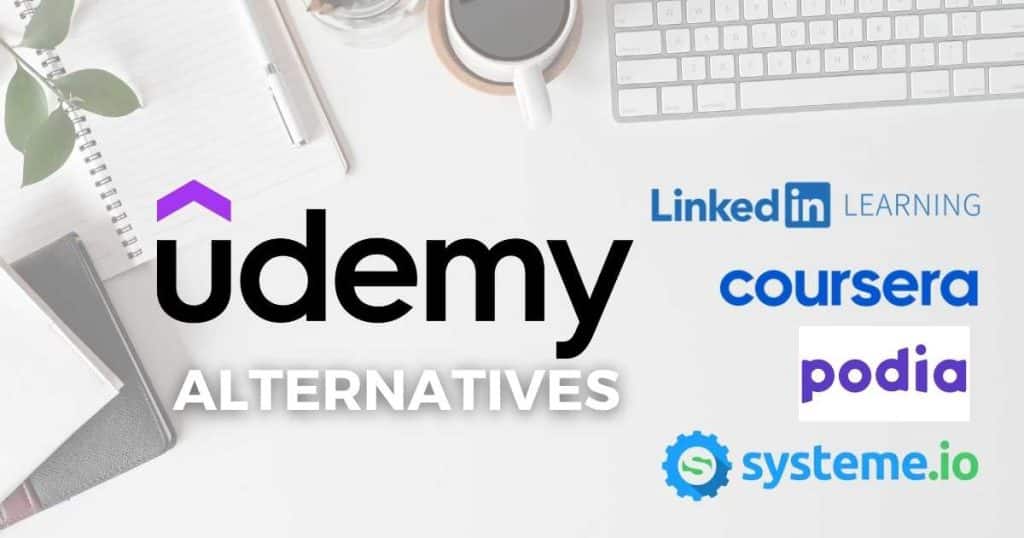 Coursera: Coursera is a marketplace that partners with Universities to provide high-quality university-level education courses.In fact, these courses are at such a high level that you can even get a degree for some of them!However, Coursera can be pricey, depending on the course type, and the courses may be too advanced for beginners.
LinkedIn Learning: LinkedIn Learning is..you guessed it! Part of the leading and credible business networking platform LinkedIn, LinkedIn Learning is another marketplace.Leveraging its 600+ members, they offer business, technology, or personal development courses.The downsides include steeper pricing plans and less interactive capabilities than Udemy.
Systeme.io and Podia – While marketplaces are a great way to sell and consume educational courses, these two platforms are self-hosted, and best suited for people with an established audience.So what does this actually mean?Basically, you self-direct and manage your own course!The most significant advantage of using a self-managed platform for your courses is that you have much more flexibility and control over your pricing structure, marketing, and content.However, this is also a disadvantage, as you don't have any promotional or marketing help from marketplaces!
Check out our tutorial on how to create an online course with Systeme.io here.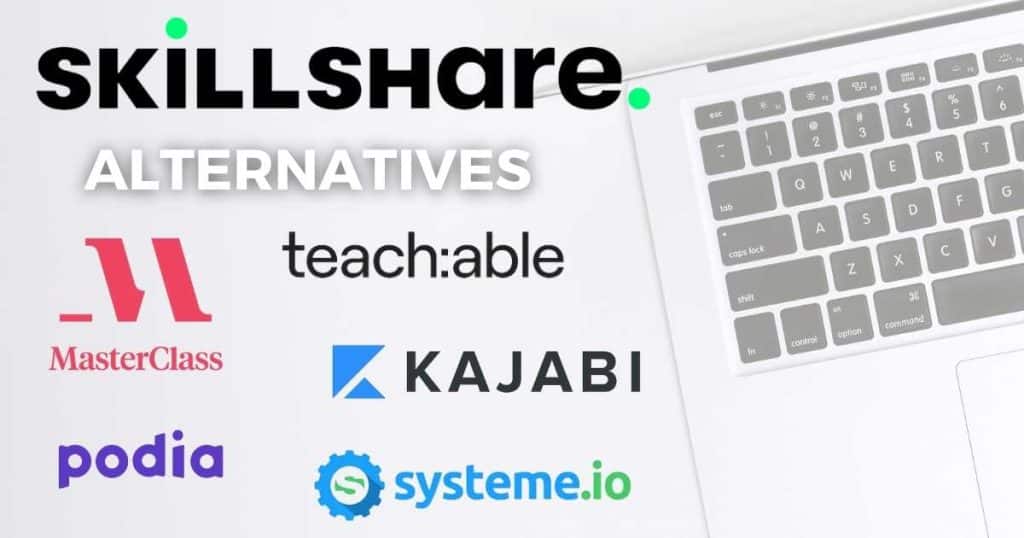 Final thoughts
We've now come to the end of this Skillshare vs Udemy review!
Both platforms are exceptional in their own right for both teachers and learners. However, both bring slightly different things to the table when it comes to online courses and e-learning.
So, what platform do you choose?
If you're a teacher, think about what type of content you're creating, what audience you want to attract, and your goals. Or, simply upload your course on both like we did.
And for students? We recommend checking out both platforms! After all, both offer free trials!
Thanks for reading all the way to the end, and let us know how you get on!