Monday.com is one of the most popular web and mobile management platforms in the world.
Designed to help small, medium, and large businesses organize their teams and improve operational efficiency, this platform has a huge variety of different tools for us to use.
However, like anything, it's not for everyone.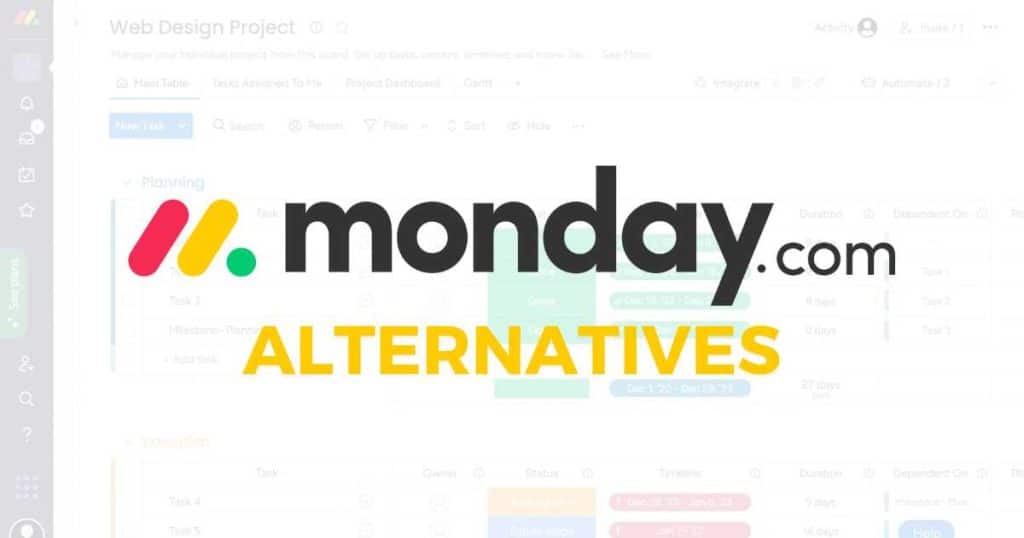 It's also not the only project management platform that can get the job done. This space has a wide range of platforms that offer similar services, features, and tools.
Today, I'm going to show you the best Monday.com alternatives.
If you don't feel like Monday.com is the right platform for your business or you simply want to know what else is out there, you've come to the right place.
We've got a lot of alternatives to get through so we better get started!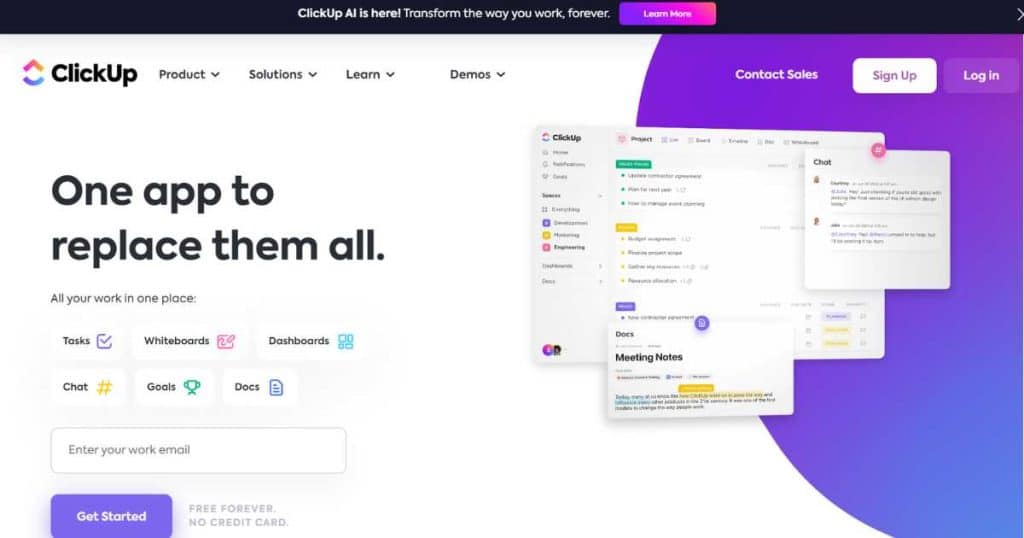 The first Monday.com alternative I have for you is ClickUp. ClickUp claims to be the one app we need to replace them all. Taking a look at what the platform has to offer, it's hard to disagree.
This project management tool provides users with an impressive productivity hub that comes with whiteboards, chat, docs, goals, tasks, dashboards, and more.
Some other neat features ClickUp offers include calendars, reminders, and an inbox.
One of the best things about this platform is that it works for all kinds of teams, so you can rest assured that everyone within your business can use the same platform to plan, organize, and collaborate.
Read more: How to use ClickUp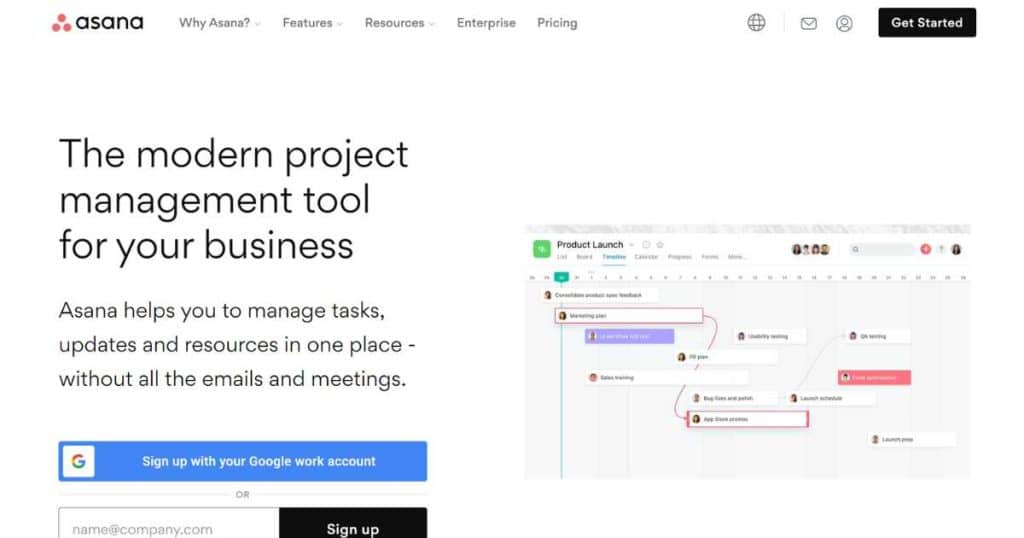 Thanks to its powerful features, sleek interface, and robust collaboration tools, Asana is an ideal alternative to Monday.com.
Like Monday.com, Asana is a general-purpose management tool that offers businesses everything they need to stay organized and connected.
Some of the best project management tools this platform has to offer include Gantt, kanban, project reports, calendar, and dashboard views.
One of the main things that makes this a great alternative to Monday.com for small businesses is its pricing.
Asana has a robust free plan small businesses can make use of and plenty of advanced features that will allow your workspace to grow with your team.
Asana is also a very easy platform to use, which is always nice!
Read more: How to use Asana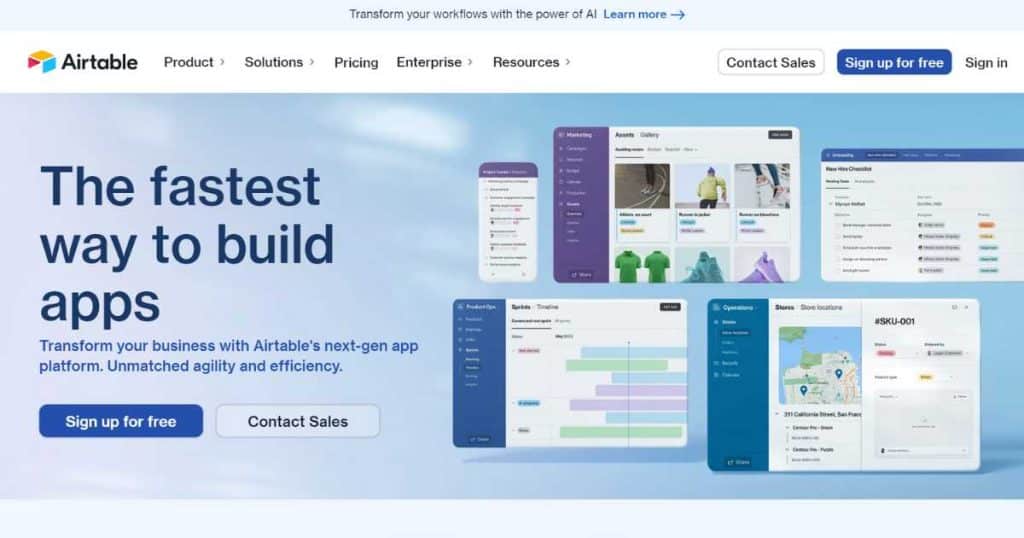 The next Monday.com alternative on my list is Airtable. Airtable is a flexible and powerful database that can be used in a variety of different ways. One of those ways is of course project management.
This alternative is a better option for small businesses that are looking to move on to a more advanced system, as this platform has a wide range of advanced tools we can use.
Standout features include highly customizable dashboards, multiple views, and drag-and-drop functionality.
One of the things I love most about Airtable is how it can be customized to fit almost any need.
That means it's almost a certainty it will suit your business.
Some of the project management tools that'll come in handy for you include the ability to manage deadlines, track tasks, monitor progress, and create Gantt charts.
Read more: Airtable vs Monday.com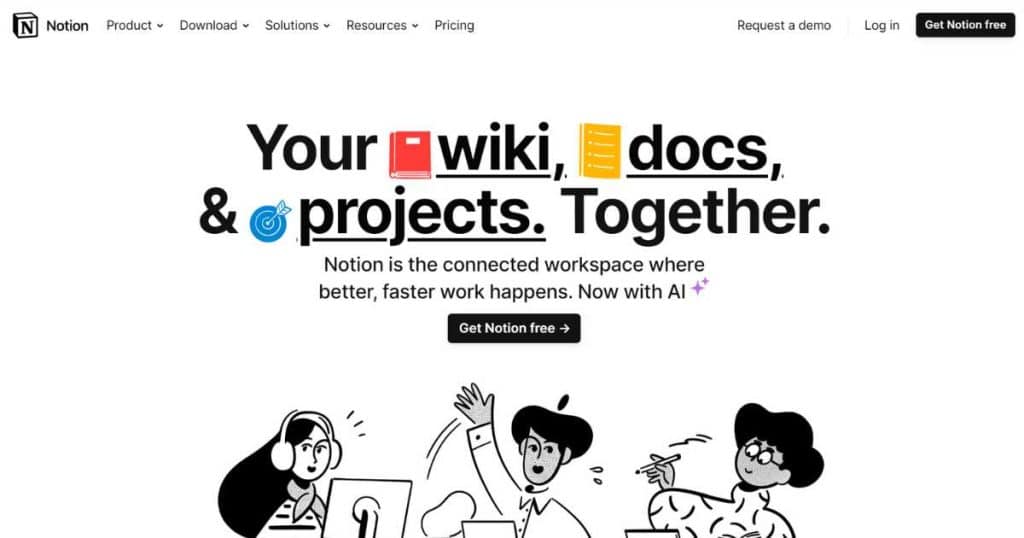 If you came here looking for a simple project management platform, look no further than Notion.
Notion is easily one of the best platforms for small businesses that want to join their first project management platform.
It comes equipped with basic, yet powerful management tools that are perfect for smaller projects and teams. It's also a very affordable platform to join.
Notion offers all the features you'll need to get the job done, without any tricky or unnecessary complexities.
Some of the best features Notion has to offer smaller businesses include unlimited blocks and pages, multiple views, bulk export, and real-time collaboration.
You can also use Notion to track the progress of your team and the deadlines for specific tasks.
Read more: Airtable vs Notion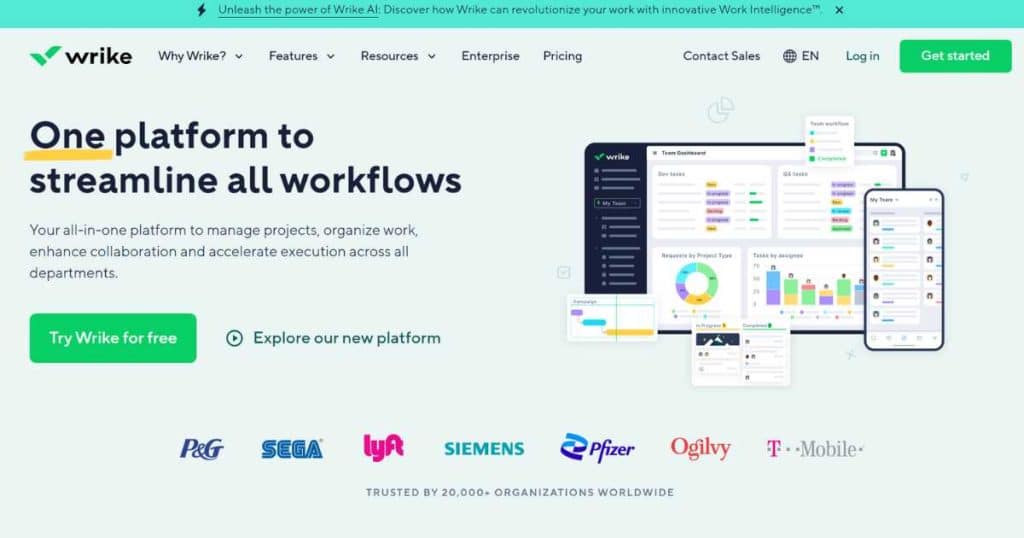 Next up is Wrike. Wrike is a project and task management tool that has all the tools, resources, and features your team members and project managers need to reach their goals.
Admittedly, this platform has a rather bland interface, but it performs incredibly well.
In fact, this highly-functional interface offers some of the most advanced reports and security features I've seen.
Wrike is super simple to pick up and is ideal for businesses with small or large teams. Therefore, your business could quite easily grow into the platform as it grows.
It's also worth noting that Wrike has a strong free plan that offers a variety of different tools.
In terms of features, Wrike offers users a traditional project management suite that includes dashboard views, Gantt, tables, kanban, and calendars.
Read more: My top 5 communication software for small businesses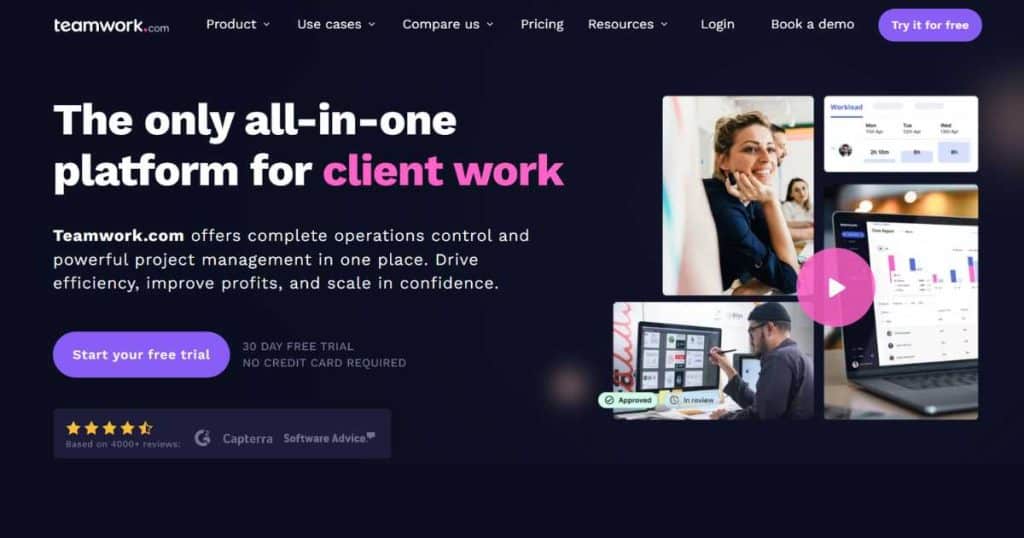 If you own a remote small business, one of the best project management platforms you can use is Teamwork.
Teamwork is specifically designed for remote teams, offering all the features you need to manage your projects productively.
Some of the most notable features include time tracking, collaborative projects, document editing, invoicing, and milestones.
For remote teams, this platform also has a built-in chat system called Teamwork Chat.
Team members can use this tool to communicate with each other via message and video conferencing. This makes it much easier for teams to stay in touch.
Teamwork has a mobile app too so your team can manage projects on the go.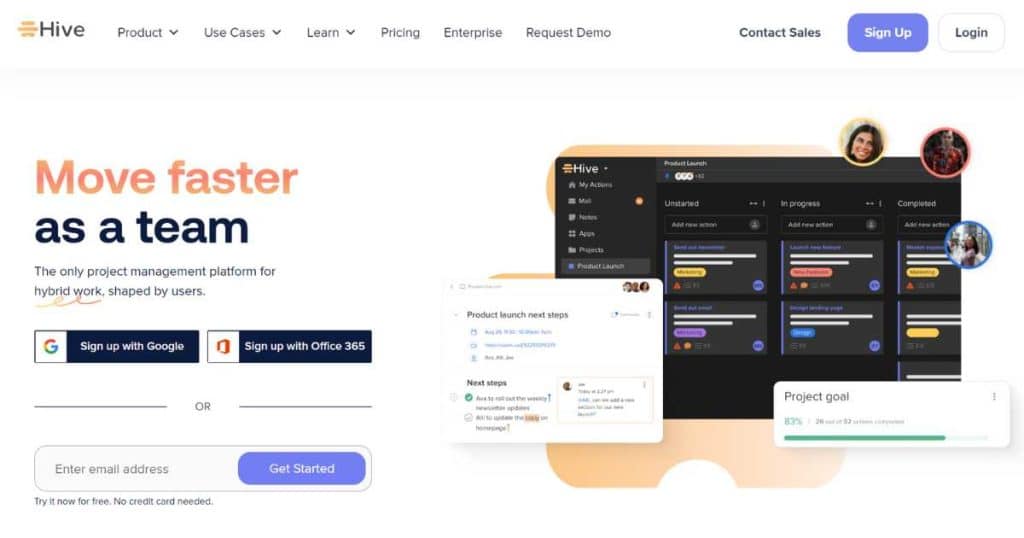 Hive is one of the newcomers to the project management scene but it's already taking the industry by storm by providing businesses with all the tools they need to better manage their
Company.
You can use Hive to plan, track, monitor, and complete almost any business task.
Thanks to the sleek and streamlined interface, doing this is incredibly easy. You can access kanban, Gannt, table, list, chat, and collaboration tools all from one simple dashboard.
Hive has three different pricing plans (Free, Team, and Enterprise).
This makes it even easier for you to set up a project management system that suits your business needs. Of course, you can then change plans when your business grows without any downtime.
Hive has some pretty neat paid add-ons like timesheets, advanced security, and team resources for you to use too.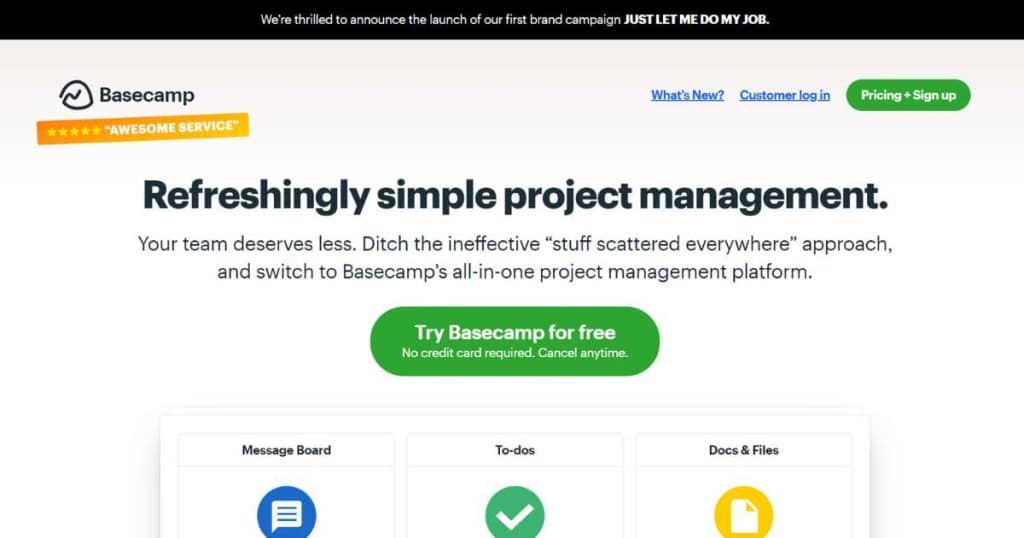 In my opinion, Basecamp is one of the best Monday.com alternatives in the project management software space when it comes to useability and small businesses.
Unbelievably easy to use, Basecamp is designed with small businesses, freelancers, and startups in mind.
The free plan is quite limited in scope but the two paid plans include all the features you need to run your business.
Some of the best features you need to know about include unlimited users and projects, project templates, and client access options.
You don't need to worry about your business outgrowing Basecamp either.
Basecamp also offers users a Pro Unlimited plan that's perfect for growing businesses and larger companies.
To make your life easier, this platform even offers one-to-one onboarding assistance.
Read more: How to use Basecamp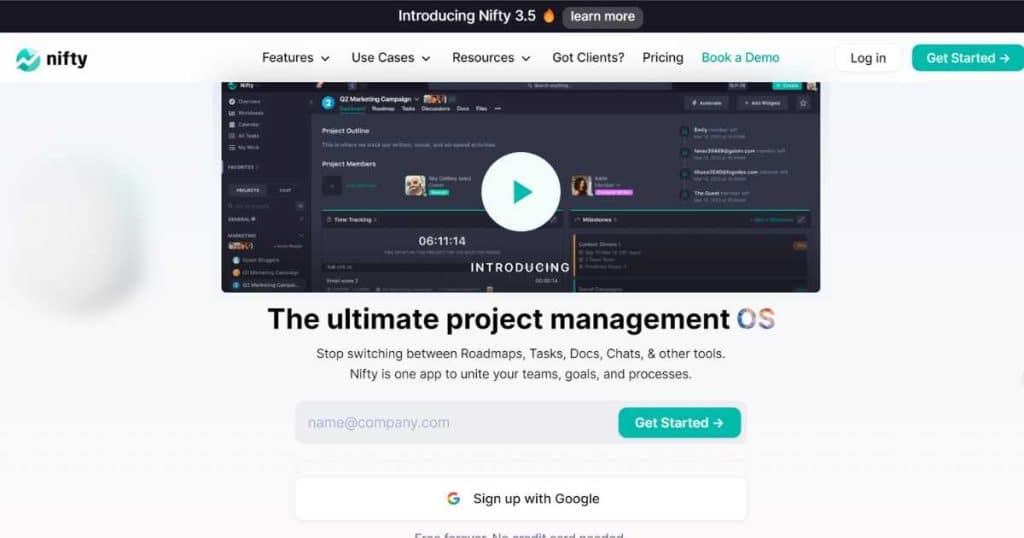 The penultimate Monday.com alternative on this list is Nifty. Nifty describes itself as the ultimate project management OS for keeping processes, people, and functions aligned.
As a result, you can use this platform to streamline your small business operations and keep everyone on the same page.
Seeing as though Nifty claims to be the ultimate project management OS, it probably won't come as a surprise to you that the platform offers a huge range of different tools and features.
When I took a closer look at this platform, I found the best tools and features to be the roadmaps, task tracking tools, chat, and document editing tools.
I was quite impressed by how all of these tools could be accessed from one straightforward interface!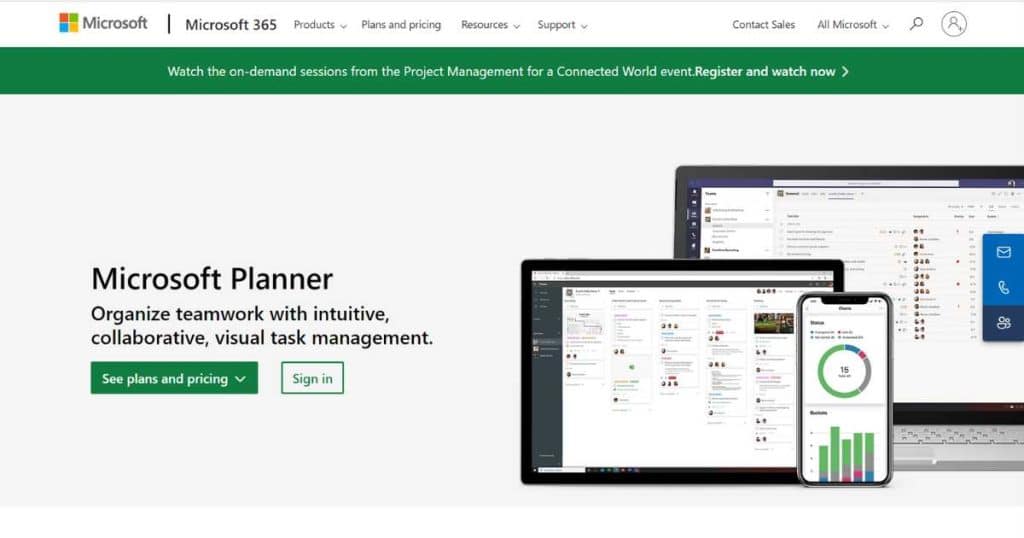 The final alternative I have for you is Microsoft Planner.
This is probably the simplest alternative on my list because it's already built into Office 365. Therefore, it could be a quick solution to your project management problems.
Microsoft Planner includes a collection of fantastic features that make it possible for small businesses to effectively manage their projects.
Some of the tools you'll use include task lists, bar charts, pie charts, and calendars.
This project management software also has Microsoft's team collaboration tools that offer visual statuses and dynamic scheduling.
This will be very useful to you when it comes to managing and tracking your employees.
Read more: 3 best Google Workspace alternatives
Stews Final Thoughts
That concludes this list of the 10 best Monday.com alternatives for small businesses!
While Monday.com is one of the big hitters in the project management space, there are other options we can use.
As you can see from my list, the Monday.com alternatives are great not best.
Some of the alternatives we've looked at are very similar to Monday.com but others offer more advanced services.
Of course, some alternatives offer more basic tools that suit beginners and small businesses too.
Now you have this list at your fingertips, why don't you decide which project management platform you want to join?