Are you unsure what ZoomInfo is? Maybe you have heard conflicting information? Or are you curious and want to know more about ZoomInfo?
Whatever the reason is that brought you here, we have the answers for you!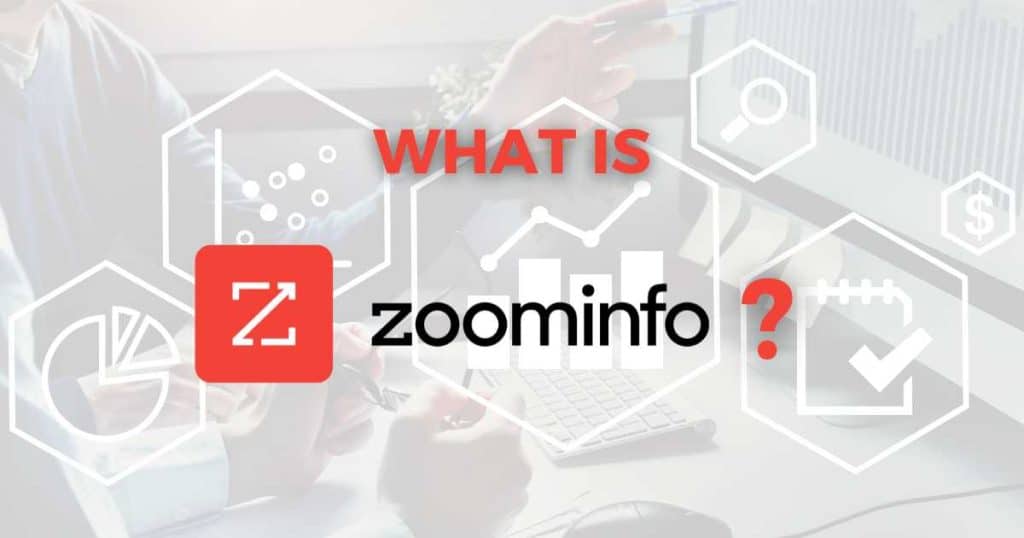 Finding out what ZoomInfo is can be tricky. If you head online for some guidance, you're met with page after page of confusing and conflicting information.
Well, that is where we come in to save the day!
Keep reading for your complete guide to ZoomInfo!
I have everything you need to know, including what it is, if there are free trials and more! 
What Is ZoomInfo?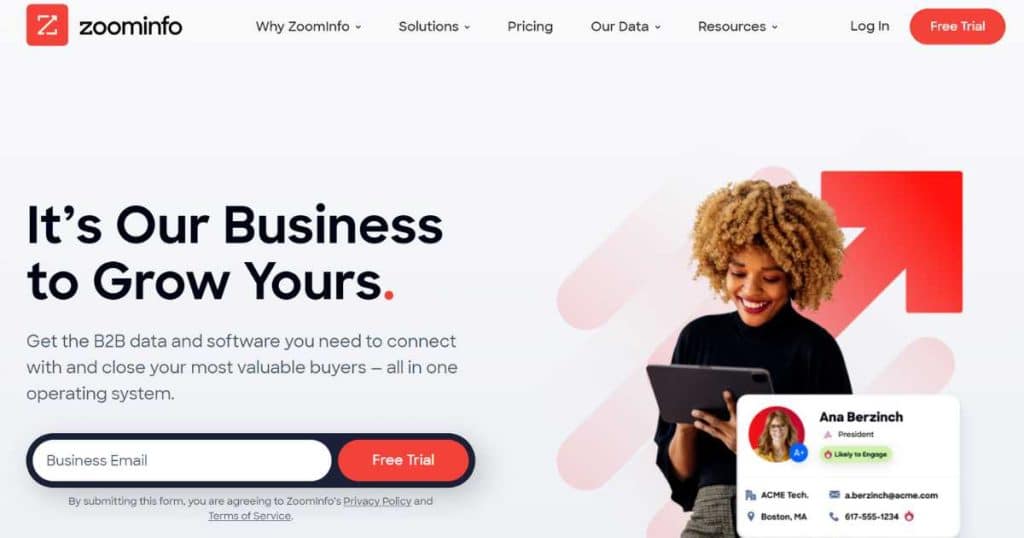 ZoomInfo is a sales intelligence platform.
Previously called DiscoverOrg, ZoomInfo essentially helps sales and marketing teams gather contact information of potential customers.
When companies look to buy business leads, they often use ZoomInfo.
Why? You can get people's work emails and phone numbers! These numbers can help companies contact remote workers to build new leads and potential customers.
Now, ZoomInfo doesn't only allow you to gather data!
Many other features allow you to engage with potential customers, organize data, and more!
It can eventually become a one-stop shop for everything you need! It is considered one of their best sales outreach tools that you can use as part of your stack.
Read more: Top 10 MUST have digital tools for small businesses
ZoomInfo Latest Update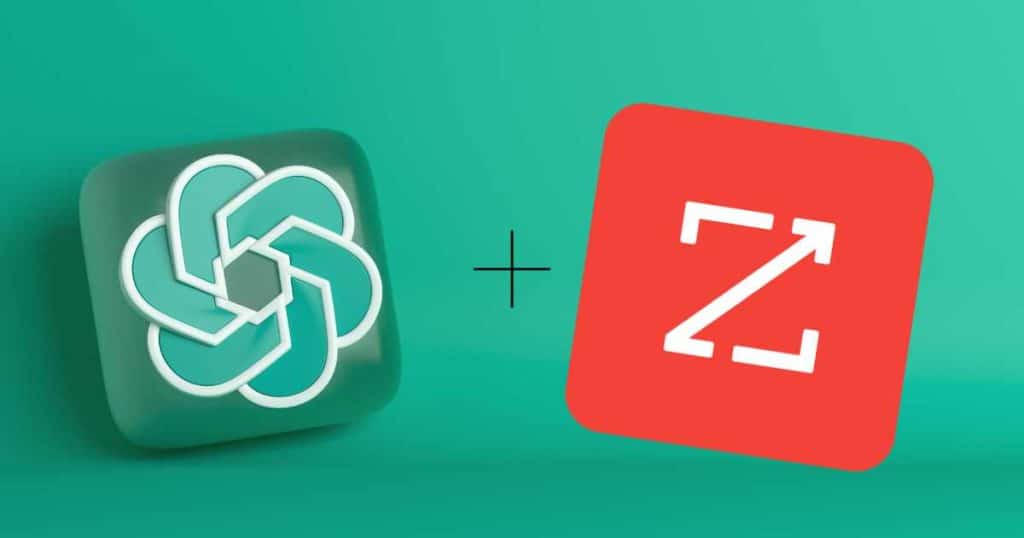 ZoomInfo has had a recent update which now includes an integration of GPT into its platform.
This generative AI technology is built into the platform to help you identify surging contacts that are likely to help your business.
These could be potential sales customers or potential hires for upcoming roles.
Read more: 11 Best AI tools for small businesses 
What Isn't ZoomInfo?
ZoomInfo is not to be confused with Zoom, the video conference platform that has surged in popularity in recent years!
Who Is ZoomInfo For?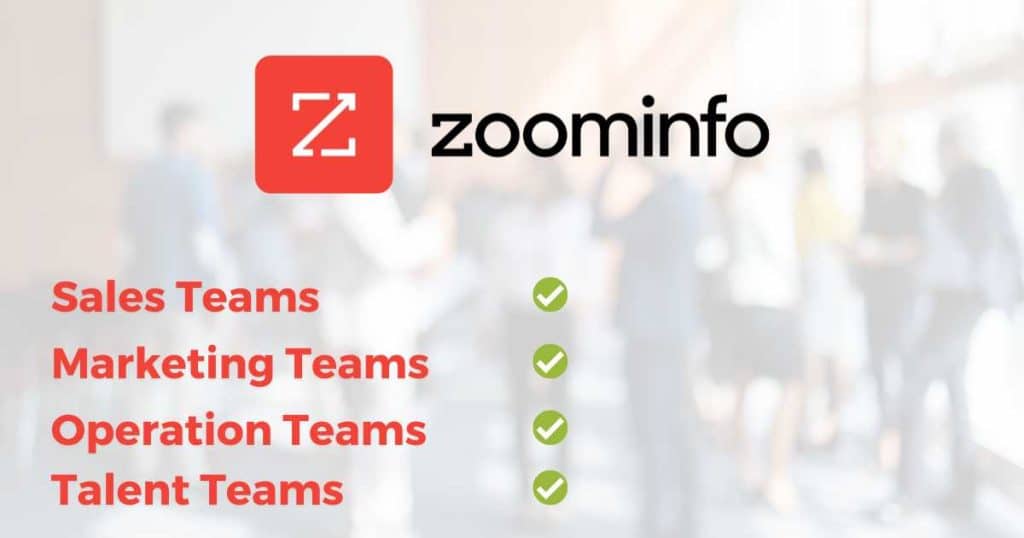 ZoomInfo is designed for sales and marketing teams who do outbound sales.
For teams who need high-quality contact data, ZoomInfo is for them! ZoomInfo is great for companies who have an idea about their customer and can predict to some degree their outbound sales motion.
Startups, small companies, and even Fortune 500 companies use ZoomInfo!
ZoomInfo is more based on your market strategy rather than your company type. ZoomInfo has its solutions broken down into four categories to help you understand how its products can fit into the roles and responsibilities of your organization.
These include:
Sales OS
Marketing OS
Operations OS
Talent OS
Let's take a closer look at all of these roles and how ZoomInfo can help you now!
Read more: My Top 7 Project Management Software for Small Businesses 
Sales Teams
The data on ZoomInfo can be used for cold emails and cold calling. Their intent data also helps sales teams find prospects that can turn into customers!
ZoomInfo also offers a product, ZoomInfo Engage which can help with your outreach to potential customers.
There is also a website chat product, a less advanced version of LiveChat. What also stands out for sales teams is Chorus, their product that is a fantastic alternative to Gong.
Read more: Best Sales Funnel Builder in 2023
Marketing Teams
The company and contact search is perfect for Marketing Teams. You can create targeted advertisements with the display search features.
You can use these across social media channels with ease.
The website chat, website form enrichment, and website visitor tracking are also useful for marketing teams.
They can identify who is on their site and provide an opportunity to respond quickly to leads at the top of the funnel.
Read more: Top 5 Email Marketing Software for Small Businesses
Operations Teams
For operations teams, ZoomInfo offers APIs and webhooks, and data services that help operation teams work smoothly.
They can enjoy a clean CRM with up-to-date company information and contact information thanks to ZoomInfo!
Read more: My Top 7 Best CRM for Small Businesses
Talent Teams
Talent Teams can use ZoomInfo to access company and contact information when looking for potential job candidates.
ZoomInfo offers a large database of contacts that can be filtered by company and job title, helping you to recruit new employees.
What Are ZoomInfo's Products?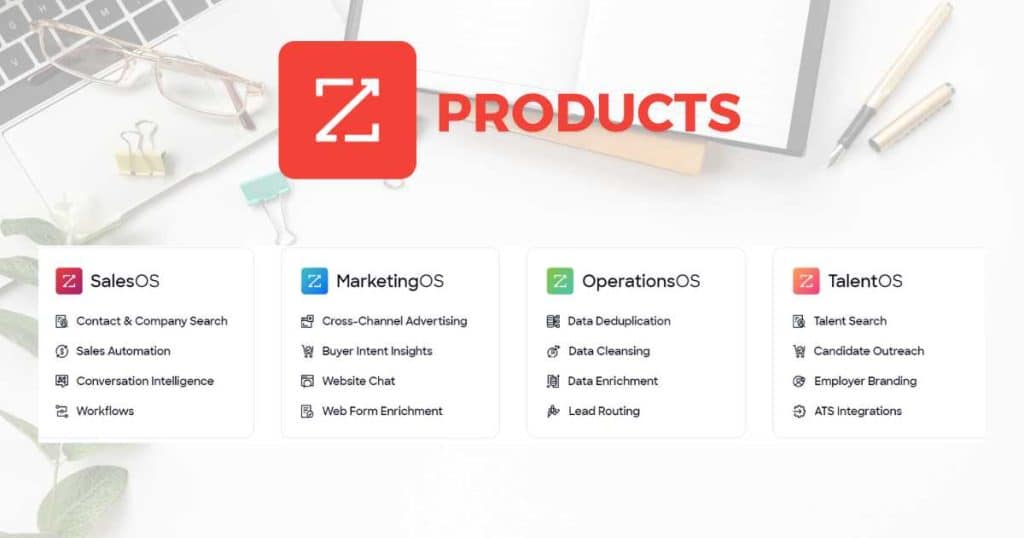 Zoom offers the following products:
Company Data – 105M+ companies
Contact Data – 130M contacts
Enrichment – ZoomInfo Enrich
Digital Advertising – Targeted Audiences
Data And Orchestration Management – RingLead
Conversational Marketing – ZoomInfo Chat
Pipeline Forecasting – Chorus Momentum
Sales Engagement – ZoomInfo Engage
Conversation Intelligence – Chorus.ai
Intent Data – ZoomInfo Intent and Streaming Intent 
What Is ZoomInfo Data Like?
ZoomInfo has the following data for you to access:
ZoomInfo Phone Numbers
32.4M+ Mobile Phone Numbers
63M+ Direct Dials
Companies And Contacts
3M+ C-Level Contact Profiles
140M+ Contact Profiles
9K+ Unique Company Attributes
105M+ Companies
ZoomInfo Intent Data
101M+ IPs
3.5M+ Intent Data Signals
ZoomInfo Technographic Data
8.5K+ Technology Vendors Profiled
31K+ Individual Technologies Profiled
Does ZoomInfo Have A Free Trial?
Yes, ZoomInfo has a free trial!
You can try ZoomInfo for fourteen days for free. After this time you will be charged for the services unless you cancel your subscription.
What Makes ZoomInfo Different?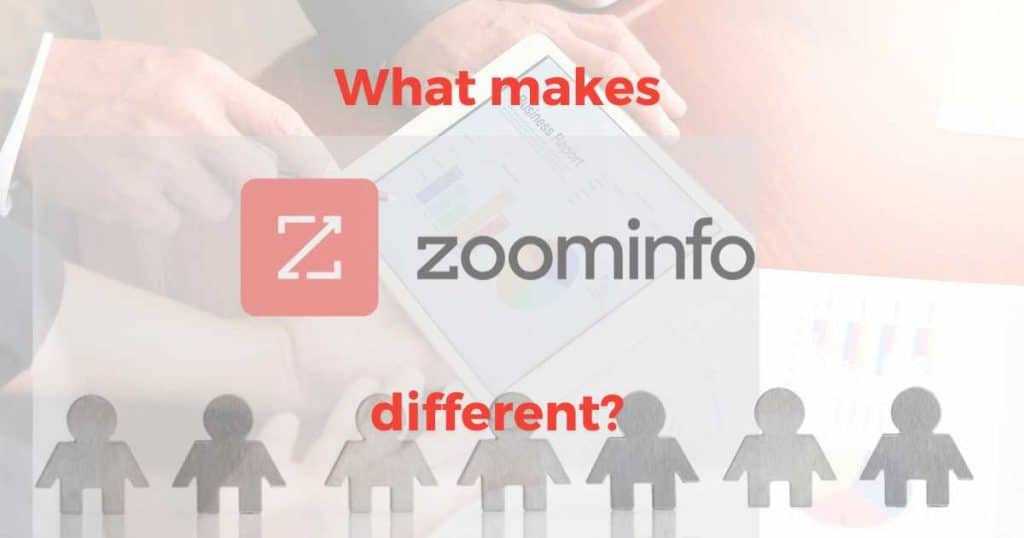 ZoomInfo is different from its competitors thanks to the quality of its data, the sheer amount of company and contact data they have, and its product consolidation.
You can easily filter through the information to find what you need and focus on attracting customers and building sales. 
How Does ZoomInfo Get Their Data?
ZoomInfo gets its data from people who use their Chrome extension. They acquire the signature details from the inbox of users.
ZoomInfo also uses other methods to gather data. These include buying and scrubbing leads, using a mixture of humans and technology to verify company and contact data. ZoomInfo has 300 human researchers in its data training lab.
Their work helps to collect 100mm contact records daily! They also monitor over 45M web domains daily to find more contacts for your company to use.
What Is ZoomInfo Pricing?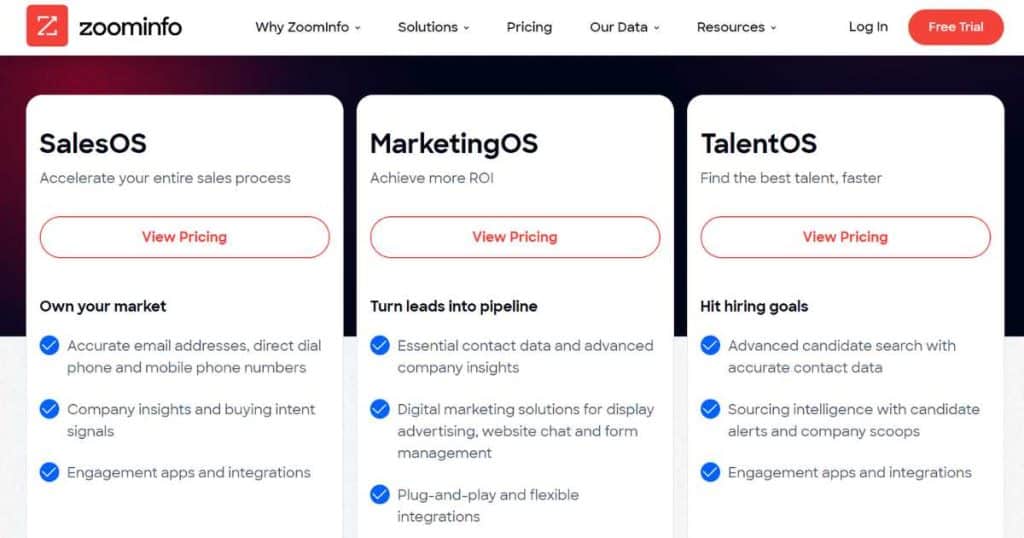 ZoomInfo has a few pricing tiers you can choose from. The more you spend, the more you get.
They offer the following tiers:
Professional
Advanced
Elite
Starter
The starter is the cheapest option, with Elite being the most expensive.
All of the plans can be paid annually, with the cost varying slightly. For an accurate and up-to-date price, be sure to contact ZoomInfo directly.
How affordable ZoomInfo is varies on your business and how much you have to spend.
For smaller businesses or start-ups, it can be a large cost to finance, especially the more expensive tiers.
For these, it is worth starting with the Starter package, and moving on to more expensive packages as your business grows.
When working out if ZoomInfo is a good choice financially for your business, consider how much you will gain in return if you can turn the contact data into sales! 
Stews Final Thoughts
And there you have it, your complete guide to ZoomInfo!
ZoomInfo will provide you with access to data that can help you generate sales, boost your business, and even find potential hires for your new roles!