Free Google Website for small Business
If you're a small business or a local business and you currently don't have a website then this article is for you! Essentially, what I'm going to do is show you how to put your business on Google Maps and how to create your FREE GOOGLE WEBSITE.
Having a small business website is going to improve your businesses online exposure. Additionally, this will help your customers discover your small or local business online.
It's important to note that this free Google website is great for online exposure. However, this free website does not have all the functions of a fully-fledged website. Therefore, this free Google website is only suitable for businesses that do not have the budget to invest in a fully functional website.
You can watch the full video tutorial below.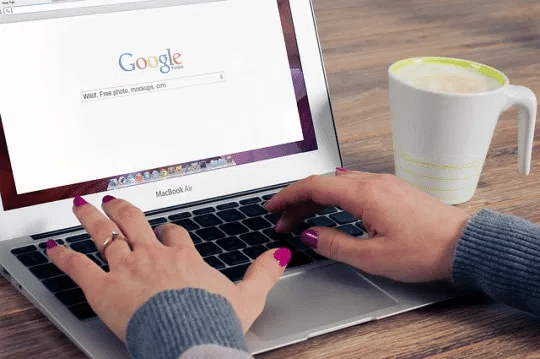 Step One: Google My Business Set-up
The first step is to log in to your
Google My Business
account. If you haven't already set up your free Google my Business account, then click the link below.
(This is super important for a local business that has a physical location or storefront)
. Click here:
Learn how to add your business on Google Maps.
Step Two: Business Information For Your Free Google Website
.The second step is to log onto your
Google My Business dashboard
and click
'info'
here you want to edit/add as much of the information as you can. Here you want to add your
business address
,
service areas
,
opening hours
,
phone numbers
and the
services that your business provides
. Additionally, you can add a
brief description
of your business. Moreover, you have the option to add
photos or videos
to your Google My Business profile. Once you have added all the business information, you can move on to step three.
(Ensure all the information is correct and all fields are filled in)
.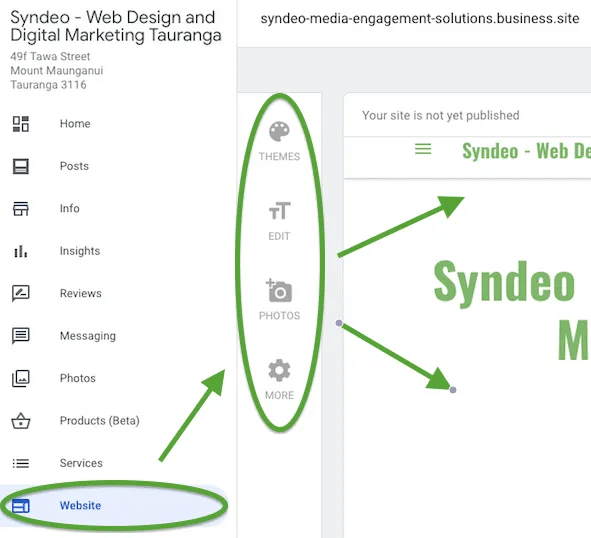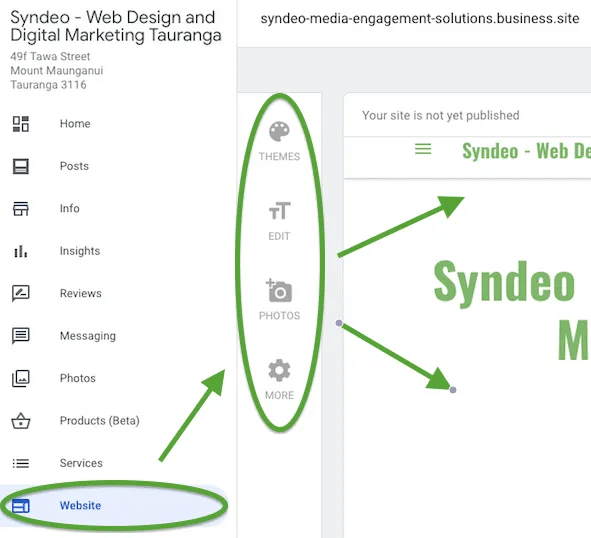 Step Three: Create Your Free Google Website (Web Design… Anyone can do this!)
The third step brings us to your free Google website. Head over to your unpublished website by clicking
'website'
on your dashboard. Here you will notice that Google's website builder has already produced your free Google website. As you can see a standard theme and web design is produced. Basically, with all the information that we put in earlier, the Google website builder has designed your free Google website for you.
Step Four: Review Your Free Google Website
Following this, you want to scroll through your Google website to make sure all the information that you provided earlier is correct. Next, decide on the best theme (website design) that you believe looks the best for your business and Google website
(This is the extent to your web design contributions)
. Furthermore, you have the ability to edit the text on your Google website. All the text you can see has come over from the information page we completed earlier. In Addition, you can also add photos to your website gallery. Moreover, an awesome feature cover is called
'posts'
, this feature allows youth to create Google website posts. Essentially, it's similar to having a blog on your website. This feature allows you to add content updates in the form of text, images and video.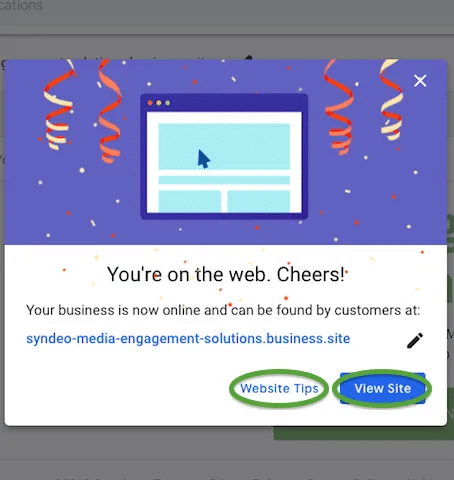 The final step is to publish and test your new Google website. All you need to do is click on 'publish'. Whoop! Whoop! Congratulations your free Google website is now online. Let's take a look, click on a 'view site' and this will take you to your live single-page website. Your free google website is now up and running online. As you can see it is clean, simple and easy to navigate, with two call-to-action buttons at the top of your website. The awesome aspect of the free Google website is how excellent the responsiveness is on mobile devices (Extremely important due to the fact that the majority of online searches are done on mobile devices).
You also have the option to view 'website tips' and 'view site'. The website tips can be very handy for helping you best utilise your new Google website.
The last change you want to make on your Google My Business account is to copy your new website's URL and head back over to your 'info' section. If your new URL is not here under 'website', then you must copy and paste the new URL into the field provided.
Congratulations! Your business can now be discovered online!
Note: You can 'unpublish' your website at any time. The reason you might want to unpublished your free Google website is because of upgrading to a more functional and comprehensive website. Thank you for reading, let us know your thoughts about the free Google website in the comments below.
Here at Stewart Gauld, we provide comprehensive web design, social media and SEO solutions to small and local businesses. Moreover, we are excited to share our knowledge and expertise with small businesses in order to help them thrive in their online environment.
Book your 45-minute strategy consultation with Stewart Gauld or send us a message for more information if you require our digital media services.