Are you thinking about starting an online store and have nailed it down between Magento vs Shopify?
Before I start, it's important to note that Adobe recently purchased Magento and has rebranded it as Adobe Commerce.
eCommerce has completely changed how we do business online. With one simple click, you now have the power to buy items from any corner of the globe, eliminating the constraints of distance and time!
And two top online store platforms that make buying and selling online super simple are Magento vs Shopify.
Magento vs Shopify 2023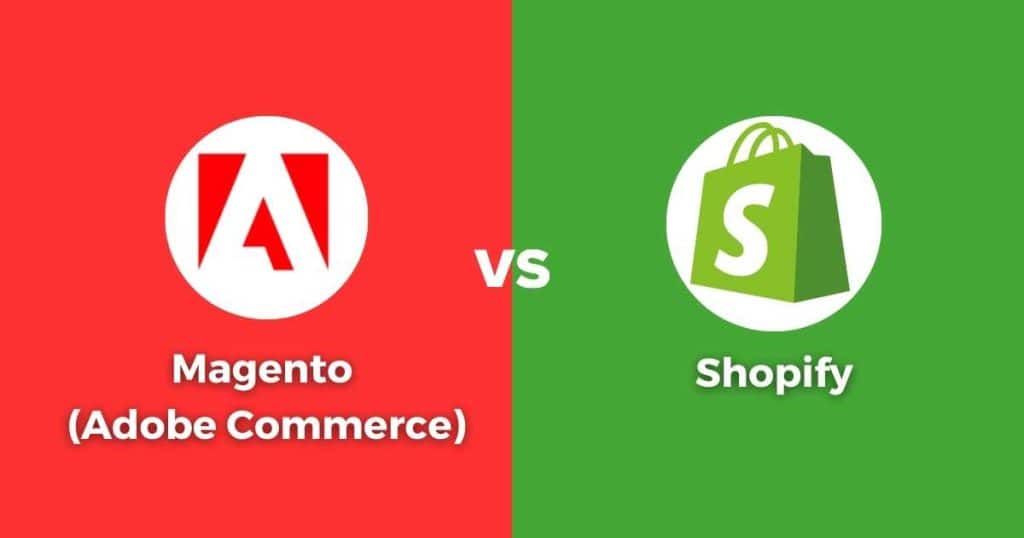 Both tools are popular for a reason. So, which do you choose? What are the key features and differences of both? Is there one better than the other?
My aim is to take a deep dive into both platforms and their tools, features, pricing, support, and more to find out…which online store is the best for you?
What Are They? Magento vs Shopify
It's important to mention that Adobe recently purchased Magento and has rebranded it as Adobe Commerce (available within the impressive Adobe Cloud).
Magento and Adobe Commerce are the same product, but since the name Magento is still commonly used, I'll refer to it as Magento in this article.
Okay, so we've established that Magento and Shopify are popular eCommerce choices in 2023. But why? What makes them so popular?
Shopify has a staggering presence in the eCommerce realm, with over 4 million websites currently using Shopify to build and manage their online store in 2023.
It has become a go-to choice for online sellers in more than 170 countries globally, with 60% of Shopify stores hailing from the United States.
In contrast to Shopify, Magento powers around 140,000 websites in 2023. So, does this mean that Shopify is the best choice?
I'm here to find out – does popularity alone equal superiority, or does Magento have the cutting edge over the well-established powerhouse that is Shopify?
Read more: How To Sell Digital Products?
What Are The Differences Between Magento vs Shopify?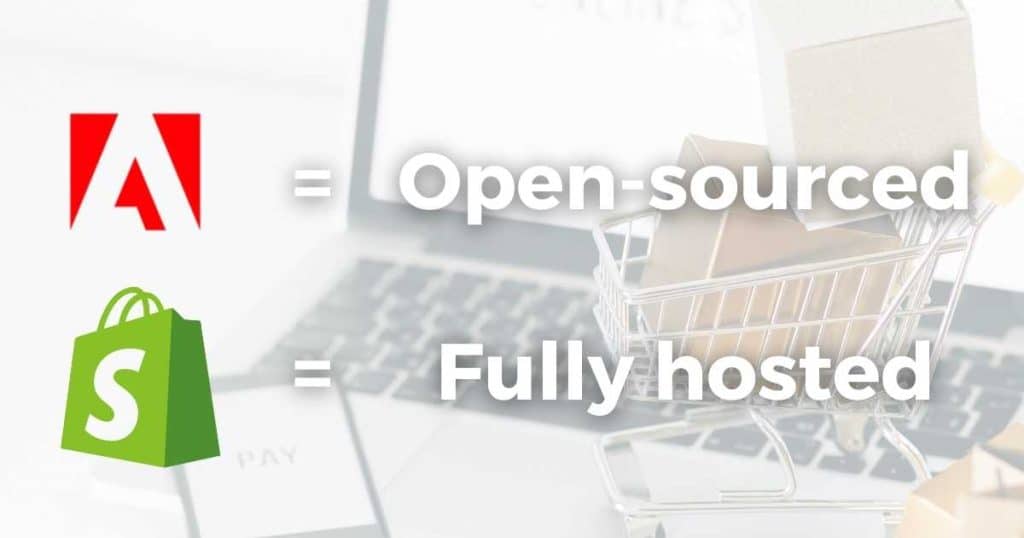 I know what you're thinking – how different can two tools that essentially do the same thing be? Isn't buying and selling products online the same process regardless of the platform?
Well, I'm here to tell you that Magento and Shopify are actually quite different!
The main difference? Magento is an open-source platform (similar to WordPress), and Shopify is a fully hosted platform.
This means that Shopify takes care of your hosting and security for you, whereas Magento does not.
Click here to find out more about WordPress.
Magento is known for its robust features, flexibility, scalability, and extensive customization options.
In contrast, Shopify offers a user-friendly interface and a wide range of ready-to-use themes and plugins.
So with that said, let's take a closer look at the key features and differences between Magento vs Shopify! 
Magento vs Shopify Ease Of Use: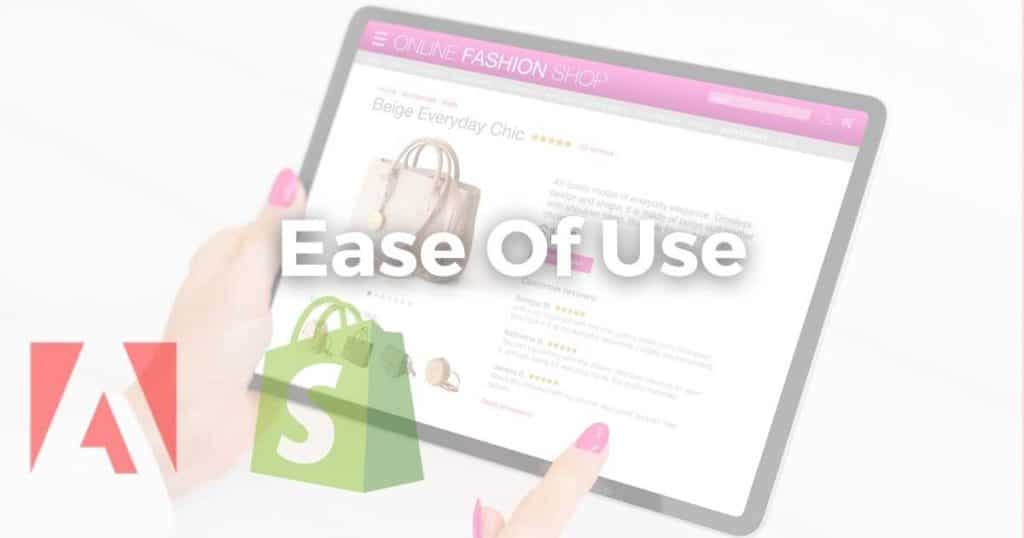 Shopify has gained popularity worldwide for its ease of use, user-friendly interface, and simple setup process.
With its drag-and-drop functionality, anyone can quickly and easily customize their online stores without coding knowledge!
And as I mentioned, one of the biggest benefits of Shopify is that it handles all the essential technical aspects like hosting and security for you – that's right, you don't have to lift a finger!
On the other hand, Magento requires a steeper learning curve for its powerful features.
The Magento Open-Sourced plan does have a website builder with a drag-and-drop interface, but it's nowhere near as flexible and customizable as Shopify's.
If you're after advanced customization options, you'll need technical expertise or help from a developer with Magento.
Even Adobe itself doesn't recommend Magento (Adobe Commerce) as an option for teams with limited technical knowledge!
Winner = Shopify
Magento vs Shopify Pricing:
Magento (Adobe Commerce):
Magento Open Sourced: Free, but doesn't include web hosting, domain registration, and some security features.
Depending on the provider, domain names can range in price from $10-$20, web hosting can be anywhere from $10-$30 per month, and SSL certificates can be anywhere from $8 to $1000 per year.
Plus, you'll have to pay for some plugins and themes yourself.
Magento (Adobe Commerce) also offers two paid plans, Adobe Commerce Plus and Manages Services, both with custom pricing.
Shopify:
Starter ($5 per month)
Basic ($25 per month)
Shopify ($65 per month)
Advanced ($399 per month)
Shopify Plus ($2000+) Best for high-volume businesses.
Although Magneto seems like the more appealing option cost-wise at first glance, Shopify's all-in-one solution is much better bang for your buck!
Winner = Shopify
Read more: Shopify vs Clickfunnels.
Magento vs Shopify Customization, Design, and Themes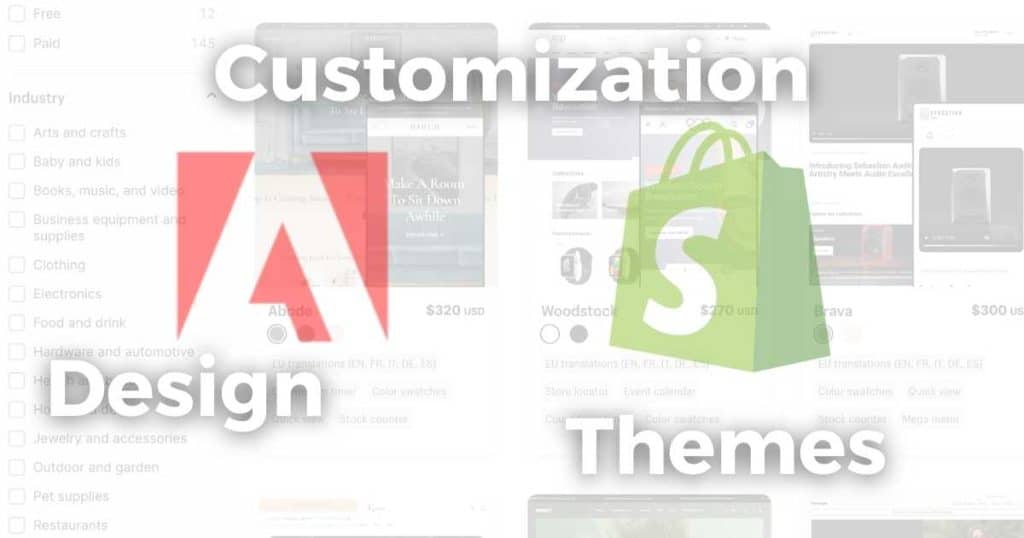 Both Shopify and Magento provide a range of tools for designing and tailoring your eCommerce website exactly how you want.
Magento (Adobe Commerce) as a whole offers more customization options due to its open-source nature, but requires far more development knowledge.
Magento offers more themes, but Shopify's are typically better quality. Both platforms have fully responsive and modern theme options in their built-in theme marketplaces.
Shopify is more user-friendly, but you can still customize your theme through the admin panel and theme editor, which lets you easily change:
Fonts.
Images.
Colors.
Logos.
Layouts and more!
The best part is that you don't need to know an ounce of code – it's all done through the easy-to-use drag-and-drop editor.
And if you're after more customization, you can always check out the long list of apps and plugins that integrate with Shopify! (More on this soon).
Overall, Shopify simply can't compete with the customization and flexibility that open-source platforms like Magento offer.
Winner = Magento
Read more: Durable AI Website Builder Review. 
Magento vs Shopify Tools and Features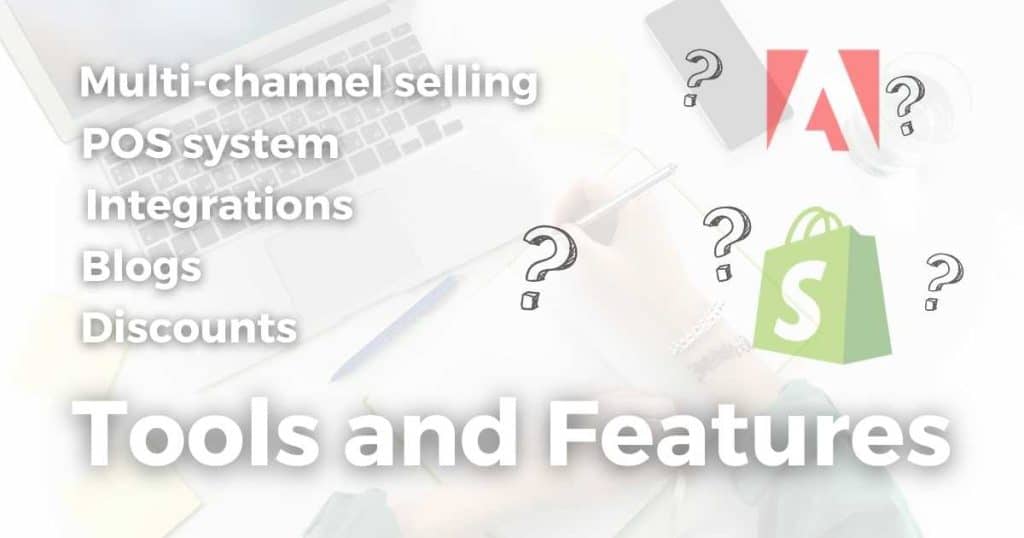 So, what can you actually do with each platform? And is there one platform that trumps the other with its fancy-schmancy tools?
Let's take a look at what specific eCommerce, sales, and marketing tools both offer.
Magento (Adobe Commerce):
Multi-channel selling capabilities with Facebook, Instagram, eBay, and more.
Abandoned cart recovery.
Checkout customization.
Both percentage and fixed discounts (including bulk discounts).
Email newsletters and templates.
Free shipping options.
Integrations with third-party providers for email marketing.
Shopify:
Multi-channel selling with Amazon, Facebook, Instagram, Pinterest, and more.
Digital and physical selling capabilities.
Partnerships with fulfillment partners globally.
Integrated POS system.
Abandoned cart recovery.
Unlimited products.
Advanced inventory management.
Automatic shipping rates.
Integrated payment gateways.
Discounts.
Blog capabilities.
Integrated email marketing.
Winner = Shopify
Magento vs Shopify Integrations:
As you can see from the above, Shopify is the clear winner when it comes to built-in services like blog capabilities, Shopify Email, and Shopify POS.
But what about third-party integrations, extensions, and plugins? Does Magento have what it takes to surpass Shopify in his department?
Let's find out.
The Magento Open Source plan offers approximately 4,000 plugins and extensions through the Adobe Commerce Marketplace.
Types of apps include marketing, customer support, shipping, and site optimization, and prices range from free to a whopping $15,000 (with options for both one-time costs and recurring subscriptions).
In addition to everything Shopify offers internally, Shopify's App Store boasts over 8,000 apps from Shopify and third-party developers.
Like the Adobe Commerce Marketplace, the Shopify App Store also offers apps that let you customize and enhance your store.
App prices vary in price, offering free, one-time fee, or subscription-based options, and cover a wide range of functionalities like search improvement, upselling, store design, and order management.
Winner = Shopify
Check out my full Shopify Email Marketing How-to Guide here.
Magento vs Shopify SEO: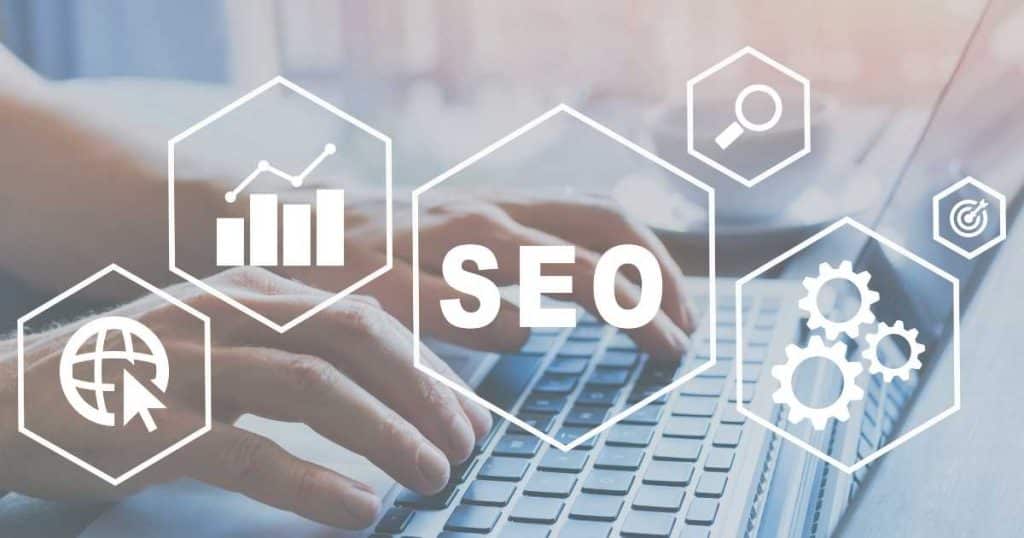 I'm sure you know how crucial SEO (search engine optimization) is when launching and managing an online store.
Magento excels in SEO performance, providing comprehensive SEO guides and prompts to assist users. Plus, Magento allows for custom URLs, making it easier for people to find your web pages.
Shopify has faced criticism in the past for its SEO capabilities. However, has recently made some significant improvements with its built-in SEO functionality and now offers:
Customizable title tags.
301 redirects.
Automatic sitemap generation.
The ability to add meta descriptions and meta titles.
Additionally, you can further enhance SEO through the Shopify App Store.
Shopify also has a built-in CMS (content management system) where you can create and manage your own blog, which can boost search engine rankings.
On the other hand, you'll have to use a third-party extension with Magento if you want to run an online blog.
Ultimately, I believe Shopify is better for SEO because of its fast loading speed times, incredible range of apps, and general SEO functionality.
Winner = Shopify 
Magento vs Shopify Support
Unfortunately, customer support options in Magneto are fairly limited – no live chat, email, or telephone support is available.
Magento (Adobe Commerce) relies heavily on the Adobe Commerce Help Center for any support-related inquiries.
The Help Center provides resources, forums, developer documentation, user guides, and support tools.
On the other hand, Shopify offers a similar Help Center and comprehensive customer support available 24/7 through live chat, email, phone, or Twitter.
In my opinion, you'll love the support Shopify has if you're a smaller business or beginner that requires additional assistance.
Although Magento's level of support is limited, I believe it's sufficient for companies with their own developer to help with any questions.
Winner = Shopify
Magento vs Shopify – Who Are They Best For?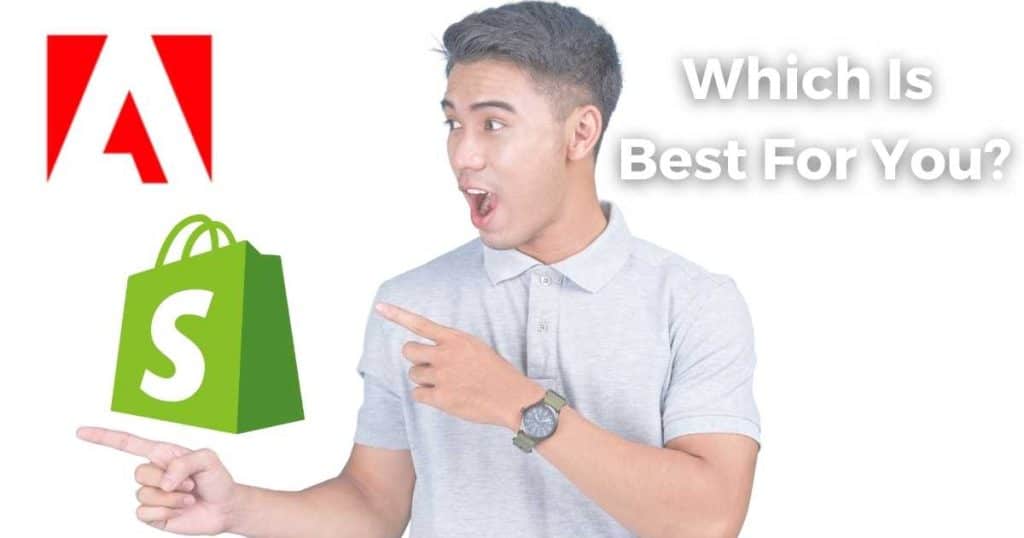 As you can see, these two excellent eCommerce platforms are quite different. So, with all that said, which one is best for you?
If you're a beginner or a small to mid-size business wanting to scale your online store, you can't beat Shopify's built-in features and user-friendly interface and editor.
Shopify has nailed the perfect blend of simplicity and flexibility, and for that reason, Shopify comes out on top as my favorite easy-to-use online store builder!
However, Magento's open-source platform is the perfect solution for large enterprises after larger-scale capabilities with a team of in-house developers.
Read more: Best Website Builders For Online Stores. 
Stew's Final Thoughts
And there you go! That covers everything I know about Magento and Shopify.
As you can see, there's a reason why Shopify is so popular (and why I love and promote it for small-medium-sized businesses).
But don't get me wrong, Magento (Adobe Commerce) is still a great online store option for teams that want to scale their business.
If you're considering using Magento, just ensure you have the technical expertise and a bigger budget!
I hope this article has done its job and you can now recognize which eCommerce platform is best for you.
I'd love to hear your thoughts – do you agree with me? Have you tried out both?
Let me know below!