Are you looking to use Elementor Hosting for your WordPress website and are wondering… is it any good?
No doubt you've heard of Elementor, a no-code popular WordPress plugin that helps you build your website pages.
Elementor essentially replaces the basic WordPress editor with a live visual frontend editor so you can effortlessly create beautiful website pages.
But did you know that Elementor can also handle all your hosting needs?
Enter Elementor Hosting.
My purpose is to provide you with an honest and comprehensive review of Elementor Hosting so you can decide for yourself….
Is Elementor hosting any good?
Let's dive into this Elementor Hosting review to find out!
Elementor Hosting Review 2023
Creating a website with WordPress can be daunting. You have to think about domain names, free vs. paid themes and plugins, templates, and, of course, web hosting.
Elementor aims to take care of all your hosting and website needs on one simple-to-use platform.
Elementor is undoubtedly one of the most popular WordPress website builders in 2023, with over 11 million active installations.
But does Elementor hosting live up to the hype? Or are there better hosting alternatives out there?
Read more: WordPress 101 – Ultimate WordPress Guide For Beginners. 
What is Elementor Hosting? (Video Tutorial)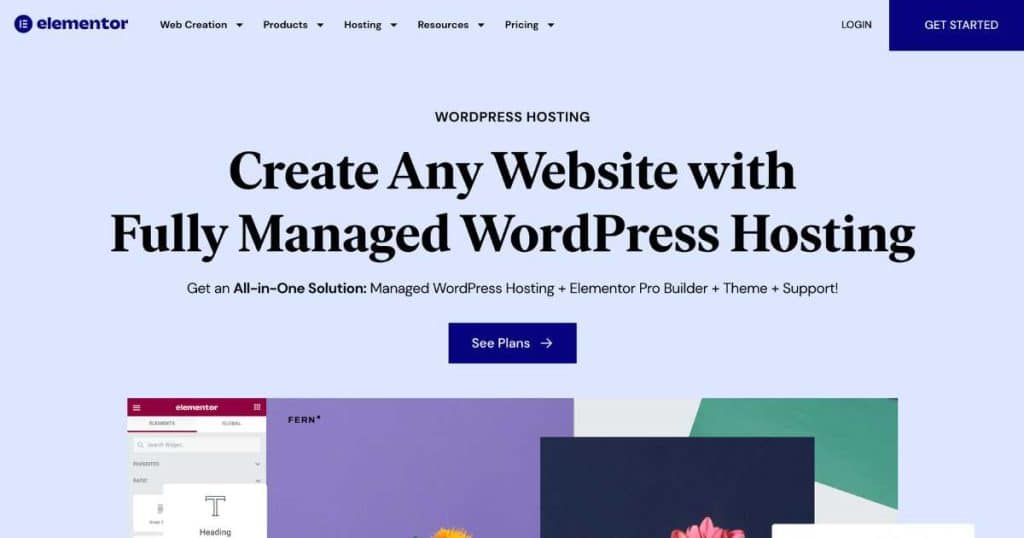 If you're after an all-in-one hosting service that aims to help you create and manage your WordPress website, Elementor hosting might be the answer you've been looking for!
In order for your WordPress website to be visible online, you'll need a place to store it.
This is where web hosting with Elementor steps in.
In just a few minutes, you can connect your domain, set up hosting, and build your website with stunning themes and plugins – all within Elementor!
Basically, Elementor Hosting aims to reduce the technical barriers associated with creating a WordPress website.
With Elementor hosting, you won't need to stress about backups, loading times, SSL certificates, updates, security, and more.
What's more, Elementor Hosting includes all the incredible features you get with Elementor Pro!
Read more: Elementor vs Divi. 
Also, check out my full Elementor Hosting tutorial down below.
Elementor Hosting Pricing: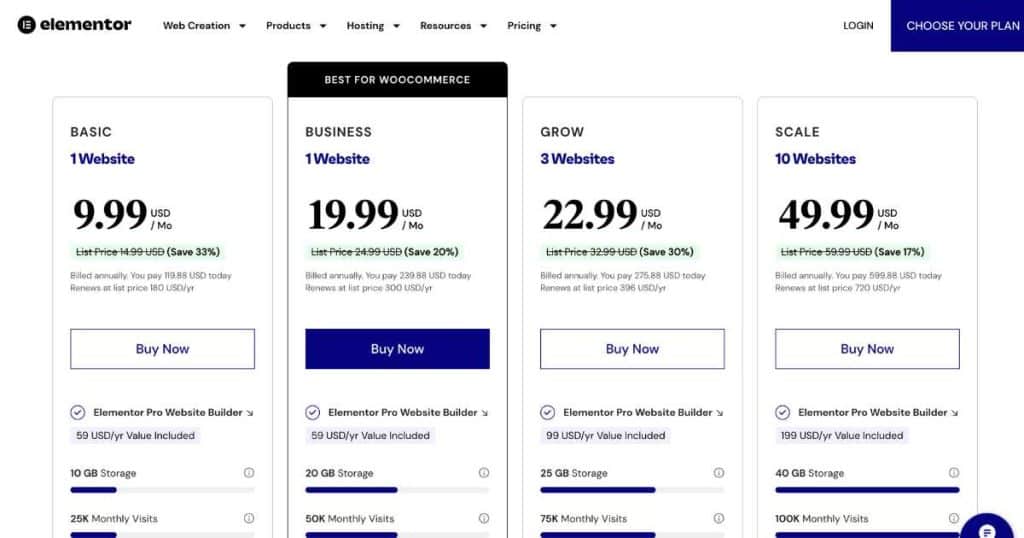 Elementor Hosting isn't free, but I believe it's an extremely affordable and worthwhile investment, considering how much bang for your buck you get with Elementor!
There are 4 dedicated hosting plans:
Basic: $9.99 per month. Includes 1 website.
Business: $19.99 per month. Includes 1 website and is best for eCommerce businesses.
Grow: $22.99 per month. Includes 3 websites.
Scale: $49.99 per month. Includes 10 websites.
The best part? All 4 plans include website hosting and Elementor Pro (more on this soon).
And what if you decide Elementor isn't for you? Don't worry!
Elementor offers a 30-day money-back guarantee on all plans. 
Elementor Hosting Key Features: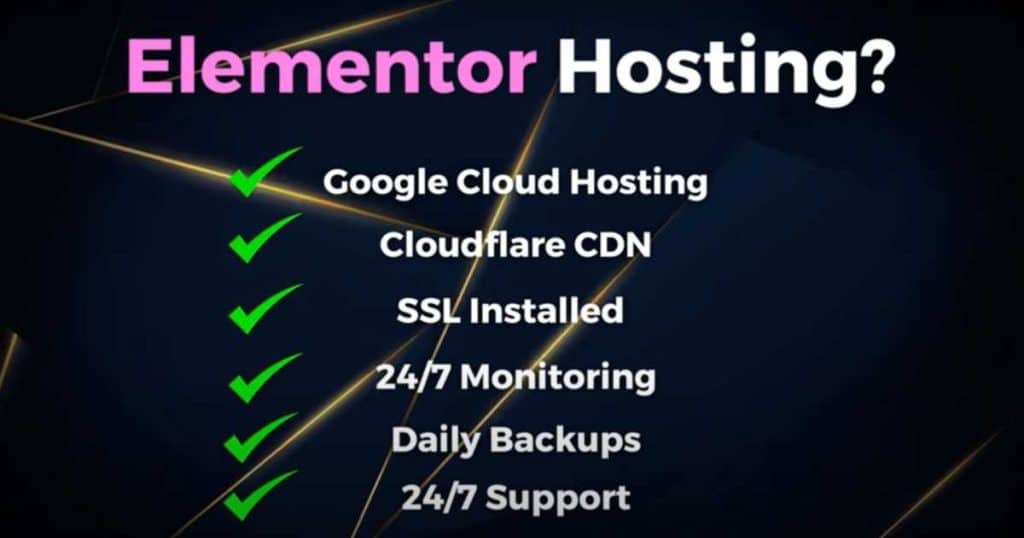 Finding an affordable, easy-to-use, secure hosting platform can sometimes be difficult.
But Elementor Hosting's performance-focused features certainly tick all those boxes and more:
Google Cloud Hosting: You can be sure your website is secure, quick, and scalable as Elementor Hosting is powered and stored on the popular and trustworthy Google Cloud platform.
Cloudflare CDN: With a free CDN (content delivery network) powered by Cloudflare, the performance and speed of all your website pages are optimal at all times, even during high-traffic times!
SSL Installed: For extra website security, your Elementor Hosting account comes with a free certificate, keeping your website safe from malicious activities.
24/7 Monitoring: Elementor's dedicated security team monitors your website at all times of the day to ensure your website is working the way it should – so you don't have to!
Daily Backups: Depending on your plan, you'll receive either 14 or 30-day automatic backups to ensure you don't lose any data. In addition, you can manually update or restore your website as often as you like, at any time.
24/7 Support: You'll receive 24/7 live chat support from agents worldwide on all plans. Plus, all members can access Elementor's blog and knowledge base for additional support.
Read more: How to Setup Cloudflare CDN For WordPress. 
What is Elementor Pro?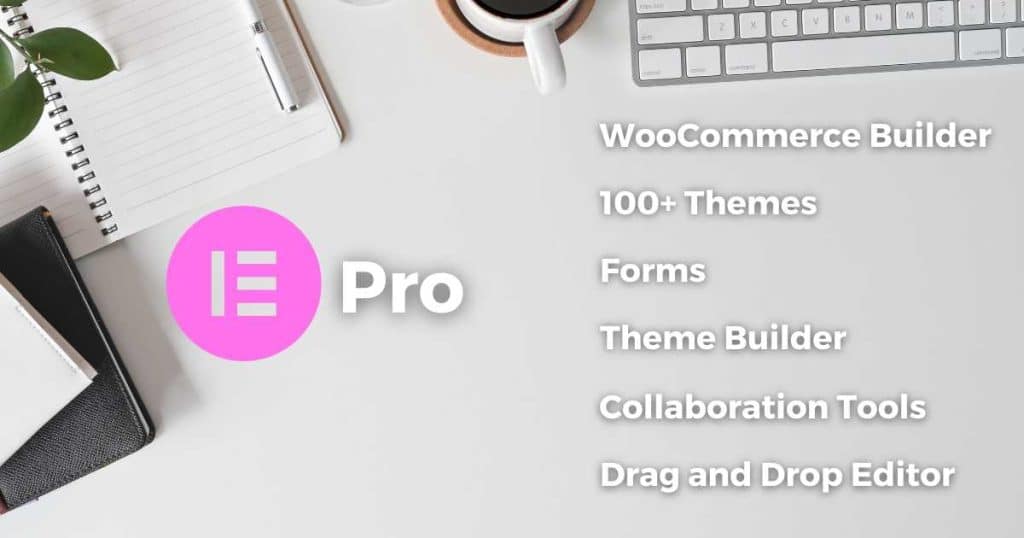 As I mentioned earlier, all Elementor Hosting plans come with Elementor Pro at no extra cost.
So, what is Elementor Pro?
Elementor Pro is an extension of Elementor, a paid plugin that includes the Elementor Theme builder (page builder).
Within Elementor Pro, you'll get:
Elementor theme builder.
Drag-and-drop editor.
More than 100 website themes and widgets.
WooCommerce builder.
Form and popup builder.
Collaboration tools and more!
Basically, Elementor makes it super simple for any user to create and customize stunning and professional WordPress website pages from the front end of their website.
This is through installing and using an Elementor theme and then adding a website kit (template) to customize that theme to your liking.
Additionally, you can install and add plugins to add functionality to your website through Elementor Pro.
And there are so many versatile free and paid plugins available through Elementor!
For example, add a WhatsApp live chat plugin to chat directly with your customers, an Instagram feed to showcase your social media presence, or an eCommerce plugin to sell products online.
Read more: How to Add Instagram Feed to WordPress. 
Elementor Page Builder: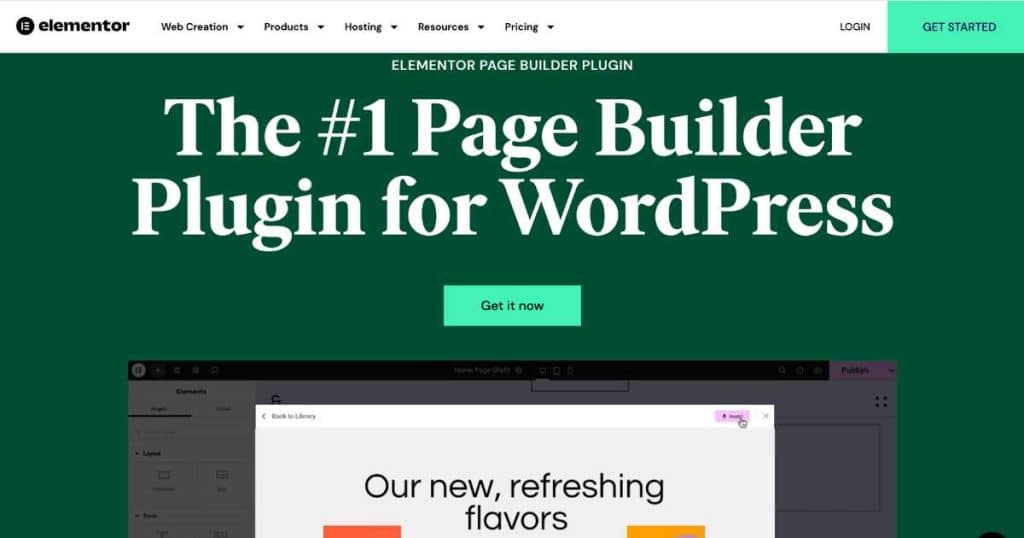 The Elementor Visual Page Builder is where you can customize your website pages.
And Elementor's website kits (templates) are the perfect base to help you build a professional website.
All you need to do is simply choose a website kit you like the look of, then edit that kit to your liking through the front end of your website using Elementor's drag-and-drop editor.
Sounds simple, right? That's because it is!
Elementor's page builder was designed to help you seamlessly edit the structure, sections, or elements of your chosen template to reflect your brand's personality and style.
For example, you can change the:
Text color.
Typography.
Image size.
Alignment.
Header.
Padding.
Button style.
Global website styles (these make up your whole website kit).
And more!!
Plus, you can easily insert your own text or image elements and logo, create forms, add new pages, footer templates, template blocks or pages, and more through the same drag-and-drop page builder!
Elementor's website kits are also all fully responsive across all devices.
Simply preview your website pages, make specific changes, or hide particular elements on different devices, depending on your brand and the nature of your content.
Essentially, the Elementor page builder means you can customize as little or as much as you like!
I personally use the Elementor Page Builder for my website, and I absolutely love how it's so flexible and limitless, yet easy to use!
I believe both beginners and advanced users will love using the Elementor Page Builder to create a stunning and professional website.
Why? Well, beginners will love how easy it is to use, and experienced users will love the complexity it provides!
Okay, so now that we've covered what Elementor Pro and Elementor Page Builder are, let's continue with this Elementor Pro Review.
Elementor AI: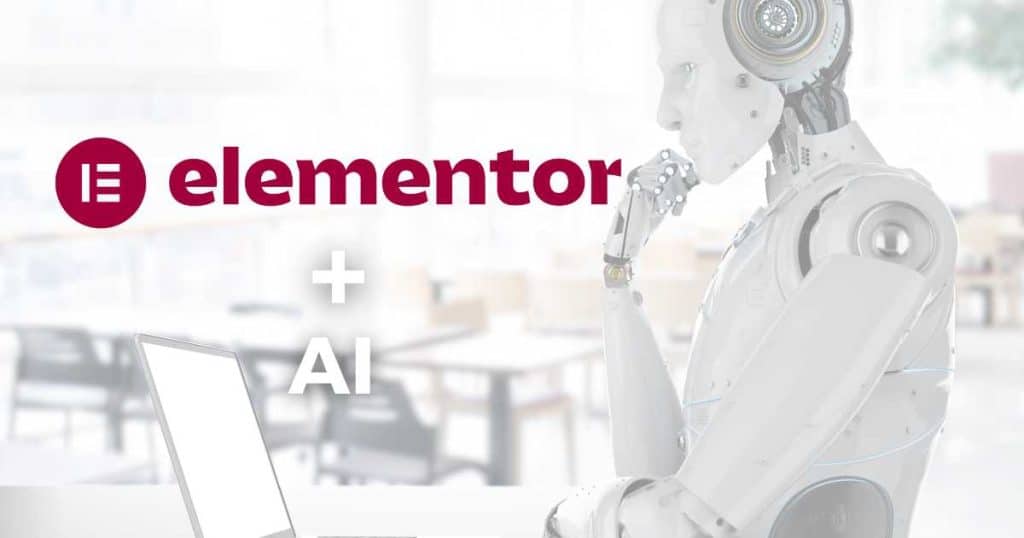 With Elementor's new AI website-building feature located right within the Elementor page builder, you can leverage AI technology to help you with your website's copy, layout, design, or content.
Elementor AI can fully transform your website pages into an engaging, visually appealing, and fully functional website in just a few seconds.
How? With 4 easy-to-use smart AI tools:
Text generator.
Image generator.
Custom code.
Custom CSS.
You can change the tone, length, or language of your content, fix spelling or grammatical errors, and add stunning images that would otherwise take you hours to create.
Plus, within seconds, you can take complete control over the design of your website by adding Elementor's custom code and CSS to your pages.
Want to learn more about Elementor AI? Check out my full Elementor AI review here! 
What I like:
Includes Elementor Pro in all hosting plans.
The visual front-end builder means anyone can create a no-code website.
Elementor Hosting can be used with other non-Elementor WordPress plugins.
The online store capabilities.
What I dislike:
There is a steeper learning curve for users unfamiliar with WordPress or Elementor.
The pricing plans are pricier than some hosting services.
Elementor Hosting is only compatible with WordPress websites.
There are limits on bandwidth and security; therefore, Elementor Hosting is not suitable for large-scale websites.
Elementor Hosting Alternatives: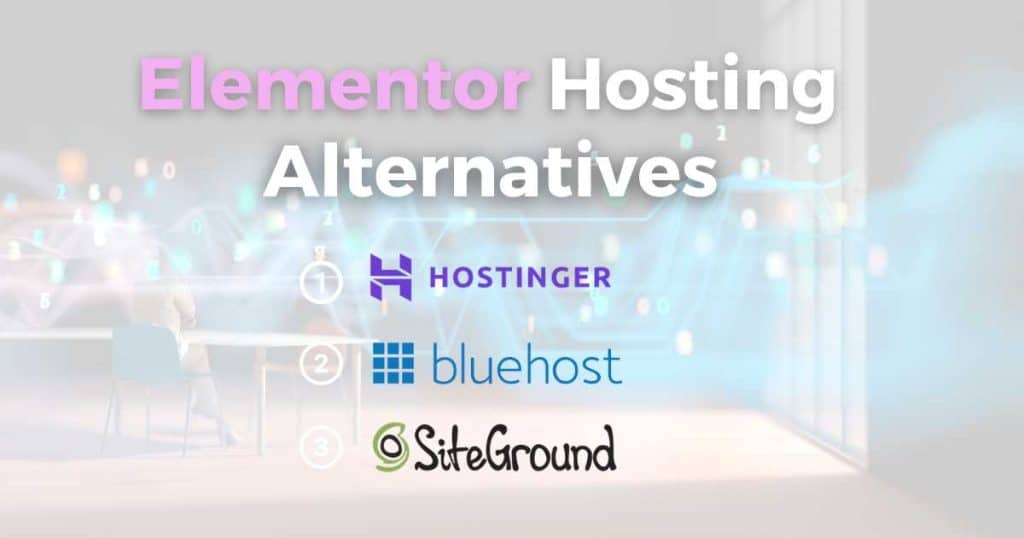 Okay, so we've established that Elementor hosting is an excellent choice for WordPress users.
But it's not the only choice. In fact, many other web hosting services offer dedicated WordPress Hosting plans!
So, how do they stack up against Elementor Hosting?
Hostinger is an attractive web hosting option for businesses after affordable hosting plans, fast loading times, and an easy-to-use interface.
Features on Hostinger's dedicated WordPress hosting plans include a 1-click WordPress install, free CDN, site migration and domain name, WooCommerce optimization, automatic updates, and more.
Read more: 5 Best Hostinger Alternatives For Small Businesses.
Slightly more expensive than Hostinger, Bluehost is an excellent web hosting platform. In fact, Bluehost is recognized as an official WordPress hosting provider by WordPress itself!
With their dedicated WordPress website builder WonderSuite, automatic WordPress installation and updates, and online store or shared hosting plan types, Bluehost is a popular web hosting choice for many WordPress users.
Want to know more? Read my full Hostinger vs Bluehost comparison article here.
If you prioritize security, SiteGround is an excellent hosting option for you! With enhanced security features, daily backups, real-time monitoring, AI bots, and WAF, you can be sure your website is in good hands.
SiteGround also offers dedicated WordPress hosting plans, with free WordPress setup, auto-updates, and migration.
Read more: SiteGround vs Hostinger. 
Stews Final Thoughts
And there you go! That brings me to the end of this Elementor Hosting review.
So, with that said, is Elementor Hosting any good?
Absolutely! And I'll tell you why.
Elementor Hosting is a no-brainer for beginners looking to build a website on WordPress for several reasons.
Firstly, Elementor hosting and Elementor Pro essentially make Elementor an all-in-one website solution.
And with an easy-to-use visual builder, affordable yearly plans, and professional website templates, even beginners can easily create stunning websites.
If you're a small agency or blog after an all-in-one hosting solution that lets you build and manage your WordPress website in one place….
Why don't you give Elementor Hosting a go?