Looking to enhance your Google Sites pages? Learn how to insert a table in Google Sites now!
Google Sites is an excellent Google product that allows Google users to easily create a website for free.
But many are left wondering..how do I create and insert engaging and informative tables to add to my web pages?
At first glance, it doesn't seem that easy. But there are a few ways you can do this, depending on your skill level.
Let's launch in and find out!
How to Insert a Table in Google Sites
Method 1 – Import From Google Docs or Google Sheets: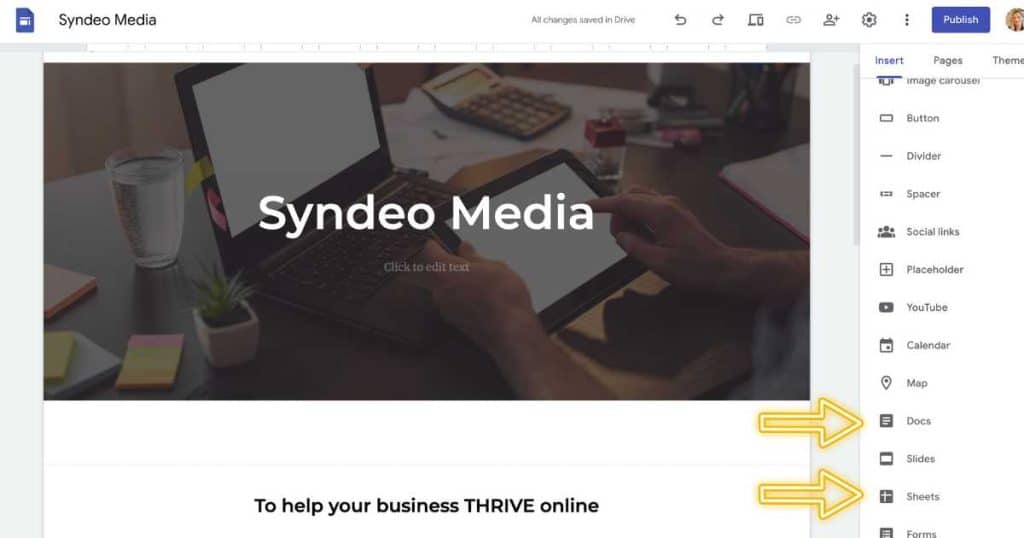 This is the easiest of the methods mentioned and involves the following steps:
Create your table using Google Docs or Google Sheets.
Select the Google Sites page you want your table on.
On the left-hand side, click 'Insert > Google Docs (or Google Sheets) and select the correct document.
Click 'Next'.
Readjust or move your table to where you want it to go.
Check your table is responsive across all devices.
Read more: Google Sites For eCommerce. 
Method 2 – Embed HTML From Google Docs or Google Sheets: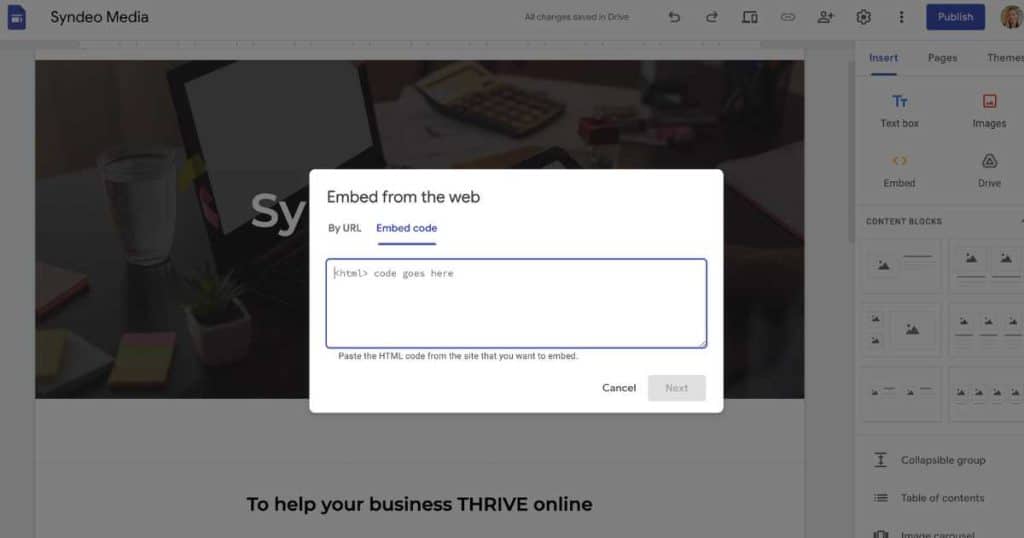 The second method is a little more complex and involves using and embedding HTML code:
Open a new Google Doc or Google Sheets document.
Select 'Insert > Table,' and select the number of rows and columns needed (Google Docs).
Click 'File > Page Setup' and make all margins 0 (Google Docs).
Customize the data, colors, fonts, and size of your table.
Once you're happy with your table, click 'File > Download > Web Page.'
Double-click the zip file of the document and then open the page.
Next, right-click on the page and click 'Show Page Source'.
Highlight the whole HTML code and copy the code.
Head back to the Google Sites page you want to add your table on.
Click 'Embed > Embed Code'.
Paste the HTML code you copied, then click 'Next.'
Resize or move around your new table on your web page.
Preview your table on all devices to make sure it's responsive on desktop, mobile, and tablets.
Method 3 – Full Page Embed: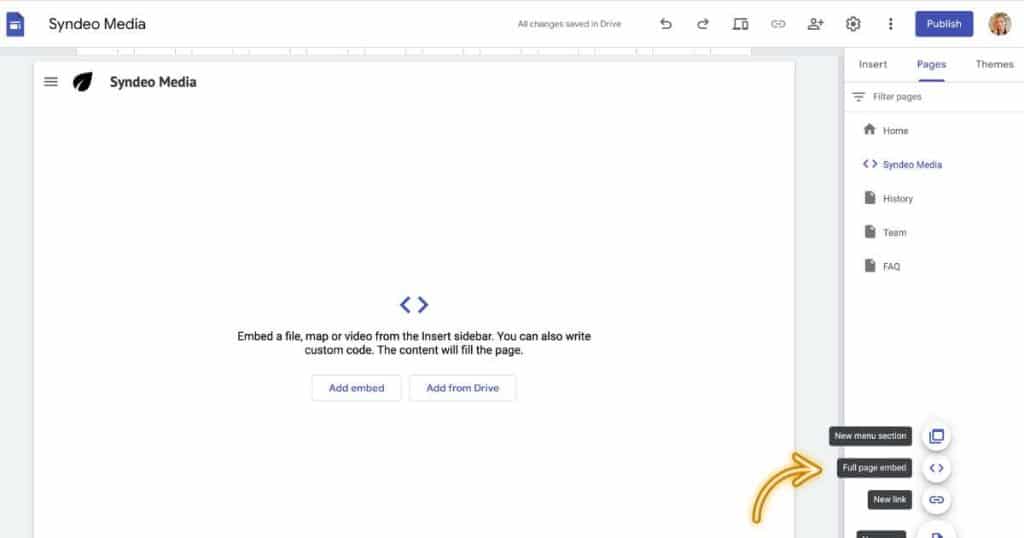 If you want your table to cover your whole web page, listen up and find out how:
Select 'Pages' on the right-hand sidebar.
Click '+ > Full page embed.'
Name your new page.
Select 'Add embed' or 'Add from drive' to either paste in your HTML code (shown above) or add your chosen Google Drive document.
Method 4- Custom Code:
The last method is to create and add your own HTML and CSS custom code for your table.
This method allows you to customize your table a lot more than the other options mentioned. However, this option should only be used for users with coding experience.
Read more: How to Add Google Analytics to Google Sites.
Stews Final Thoughts
Google Sites is my favorite website builder for information-based basic websites.
Many criticize Google Sites for being limited in what it offers. But there are some creative ways you can amplify your website with Google Sites.
By incorporating tables into your Google Sites website, you can effectively present data, engage visitors, and enhance the overall usability and visual appeal of your web pages.
These methods aren't perfect, so I recommend definitely making sure you check your table is responsive and readable on all devices, no matter which method you choose.
Thanks for reading!