If you're wondering….is SEMrush worth it? You've come to the right place!
SEMrush is a premium all-in-one marketing and SEO tool, which means you'll have to pay to use it.
But before you lose interest, exit out and find another free tool…
Just trust me!
When used in the right way, SEMrush can actually become one of the most highly profitable investments you can make in your business.
Listen up and find out why I believe that, yes, SEMrush is worth it!
What Can You Use SEMrush for?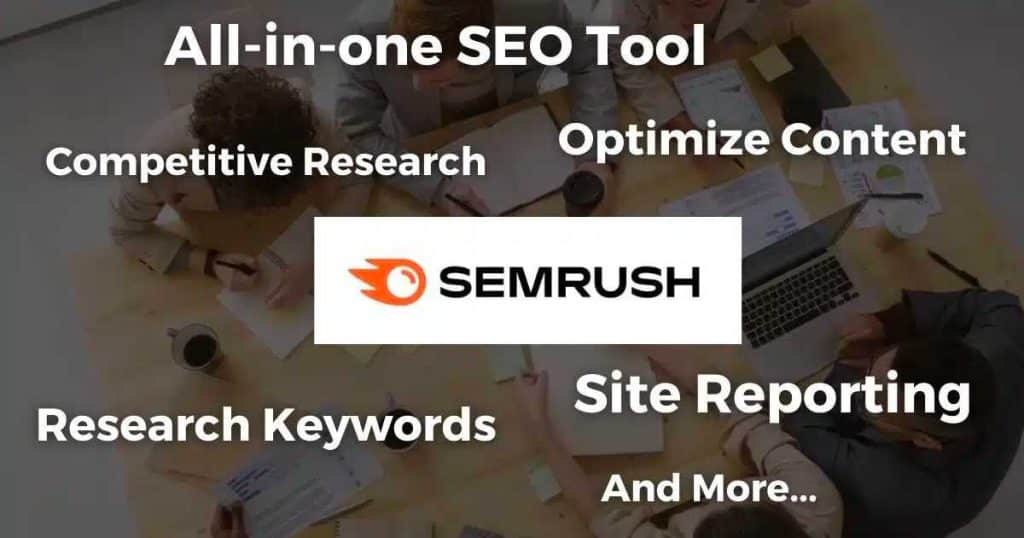 One of the reasons why I believe SEMrush is worth it is because of all the incredible tools and features you can leverage to help you optimize your online presence.
There is so much you can do with SEMrush!
From keyword research, search engine monitoring, competitor analyzing, and resources for social media management and content marketing, you can see just how much this digital marketing platform offers.
I can honestly say that I use SEMrush on a weekly basis for both my clients and my brand.
Here's a quick overview of the 7 SEMrush tools I use:
Keyword Magic Tool: In-depth keyword research.
Keyword Overview: More information about your selected keywords.
Keyword manager: To help you manage and organize your keywords.
Position tracking: To measure your website rank position.
Domain Overview: For information on your competitors.
Backlinks: To help you find backlink opportunities.
Site Audit: To measure your website health, including any errors or issues.
Learn more about these 7 features in my in-depth SEMrush review here. 
Is SEMrush easy to use?
Yes! SEMrush is one of the best platforms for beginners who aren't familiar with SEO or other digital marketing activities.
Simply make your way through SEMrush with the intuitive interface and clear navigation.
Another thing I love about SEMrush is that you can jump between different tools so seamlessly!
However, in saying that, to get the most out of SEMrush, you should have at least a basic understanding of how keywords and keyword research work.
How much does SEMrush cost?
Pro plan (119.95 per month).
Guru plan (229.95 per month).
Business plan (449.95 per month)
And if you want to add another user, you'll pay just another $45 per month for each user.
Read more about how much SEMrush costs here.
I know this sounds expensive…but believe me when I say that this is actually one of the most affordable options out there, considering how much is included in that price.
All plans offer a 7-day free trial, but if you want to extend that trial period to 14 days?
My Final Thoughts
If you're serious about driving growth and visibility online for your brand, then you must give SEMrush a go – it's 100% worth it!
And if you find that it's not for you (highly unlikely, I'm sure), there are so many SEMrush alternatives out there for all your digital marketing and SEO needs.
I could go on and on about how much I love SEMrush. But have I convinced you yet?
Let me know below.