Are you searching for a website builder and have narrowed it down to Webflow vs Wix?
Website builders are all the rage in 2023, and picking one can be quite a struggle.
The idea behind website builders is that anyone can easily make a website.
All you have to do is simply drag and drop your content into a template, click publish, and …voila! You have a website. Simple, right? Not quite.
I hate to break it to you, but not all website builders are the same. And not all website builders cater to the same audience.
I know, I know…this makes things complicated. So what do you choose??
Webflow vs Wix 2023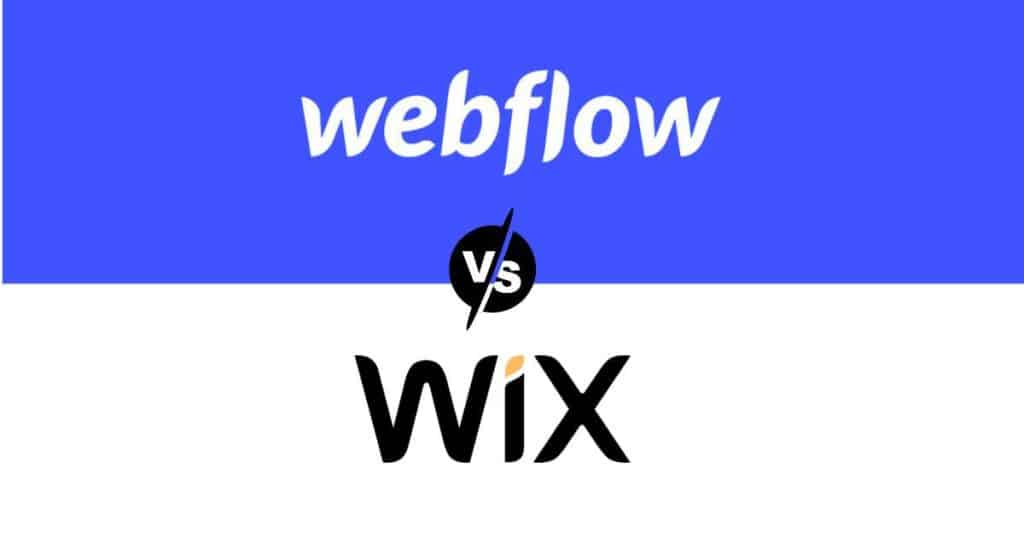 Webflow and Wix are certainly two of the leading website builder platforms in 2023.
And like any online platform, Webflow and Wix have strengths and weaknesses.
So, which one should you choose?
Luckily for you, I will do all the hard work for you. I will evaluate these tools based on their ease of use, functionality, customization options, pricing, and so much more.
By the end of this comparison, you should have a crystal-clear answer on which website builder is truly the best fit for you.
So let's not waste another minute!
Read more: Top 6 FREE website builders. 
What Are They? Webflow vs Wix
Webflow: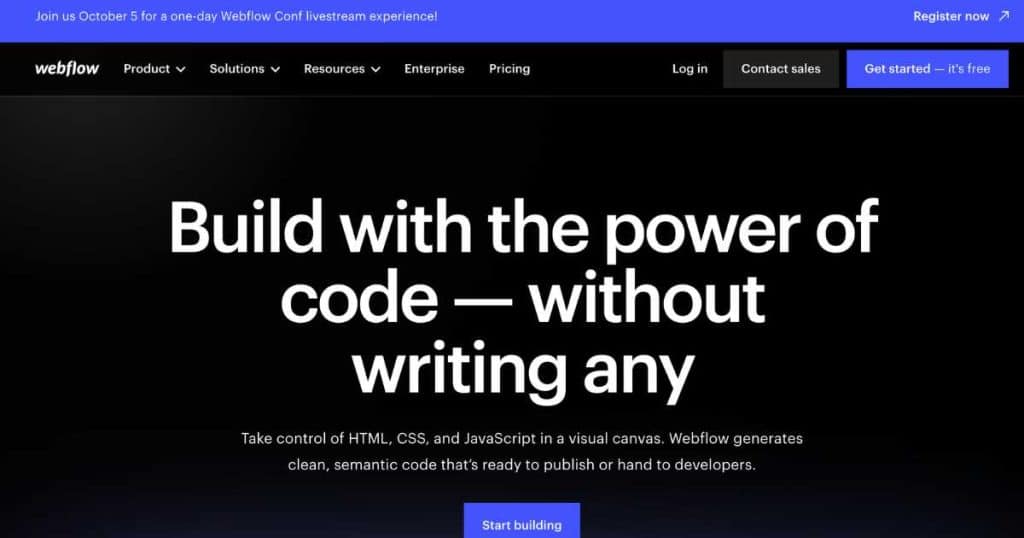 Webflow has revolutionized website building for almost a decade. And now, with a staggering 3.5 million users and counting, Webflow has proven its mettle in the market.
Webflow is not just another website builder—it's a powerful CMS (Content Management System) that rivals the popular and powerful WordPress in terms of user-friendliness.
If you don't have any coding experience, you can build a professional and fully-funtional website with Webflow.
But with the ability to add your own code, web developers looking to create professional-grade websites will get the most out of Webflow!
Whether you're running a small business, managing a blog, or showcasing your portfolio, Webflow covers it all.
Say goodbye to template limitations—Webflow empowers you to create fully custom websites from the ground up.
Wix: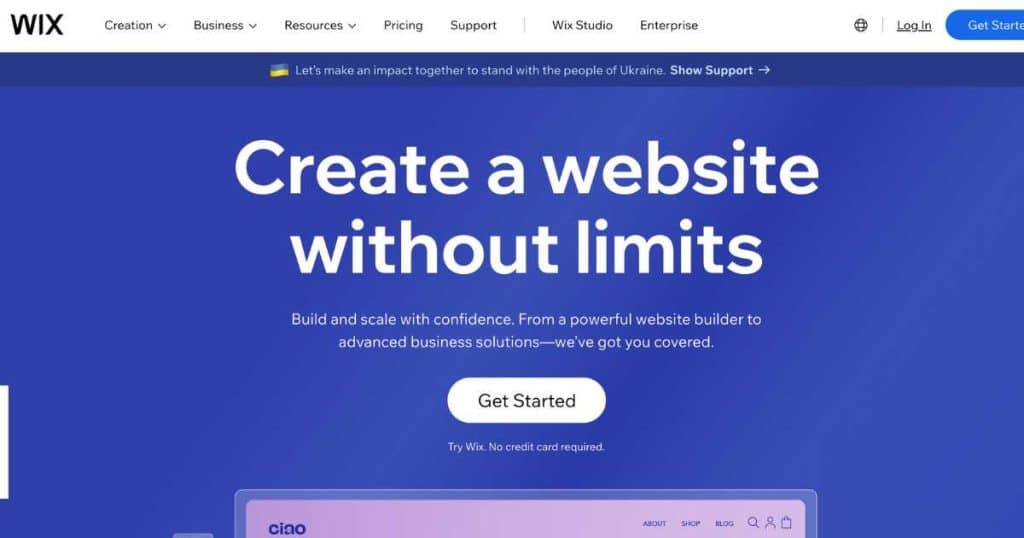 With years of experience under its belt, Wix has become a household name, captivating millions of users across 190+ countries.
The secret to Wix's success is all thanks to its incredibly user-friendly interface (requiring zero coding skills)!
Quite the opposite of Webflow, Wix relies heavily on its 800+ templates that you can use and customize to bring your vision to life.
With Wix, there are templates for every business type under the sun, whether you're a blogger, designer, creative, eCommerce, or service-based business.
And as one of the pioneers in hybrid website builders, Wix offers both manual and cutting-edge ADI (Artificial Design Intelligence) website creation.
Plus, with tools like EditorX and a comprehensive marketing toolkit at your fingertips, Wix ensures even beginners have everything they need to succeed in the digital realm. 
What Are The Differences Between Webflow vs Wix?
Both Webflow and Wix are intuitive website builders with many commonalities. But they also differ in many ways.
So without further ado, let's get stuck in and find out what those differences are!
Ease Of Use: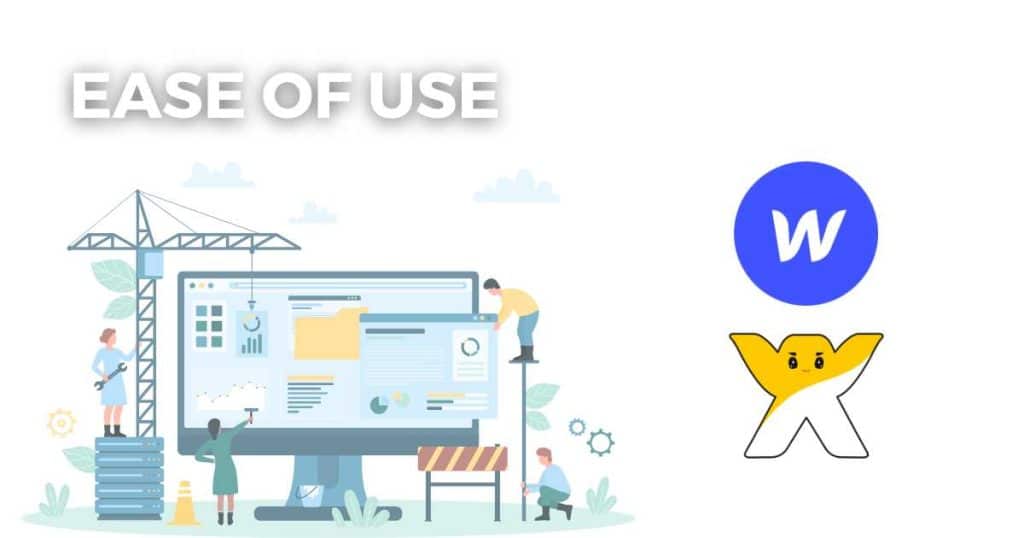 When choosing a website builder, you should first consider how easy it is to use.
Often finding a platform that sacrifices usability for flexibility can be frustrating. Only a few can do it all!
Enter Wix – a user-friendly website builder that gives you the best of both worlds. Wix is renowned for its easy-to-navigate interface.
Whether you're a seasoned pro or a first-timer, Wix's drag-and-drop editor and 800+ designer templates effortlessly let you customize your website.
And if you're not up for manual design work, Wix's ADI feature can build your site for you.
If you're a beginner, you won't get as much out of Webflow as you can with Wix (which doesn't come as a surprise as Webflow also caters to web developers).
Webflow boasts impressive functionality that rivals WordPress, but the learning curve is a lot steeper than Wix.
Plus, the interface is a lot more complex than Wix's.
This can be overwhelming for beginners who want to quickly create a website for their brand.
Read more: WordPress vs Wix.
Winner = Wix
Pricing:
Both platforms follow a similar pricing structure, with the option to choose between website plans and business and eCommerce plan types.
Free: $0
Basic: $18 per month.
CMS: $29 per month.
Business: $49 per month.
Enterprise: Custom price.
eCommerce plans range from $42-$235 per month.
Free plan: $0.
Connect domain: $4.50 per month.
Combo: $8.50 per month.
Unlimited: $12.50 per month.
VIP: $24.50 per month.
Enterprise: Custom pricing.
eCommerce plans range from $17 – $35 per month.
As you can see, Wix is the more affordable option all round!
Winner = Wix 
Webflow vs Wix Features
Customization & Design: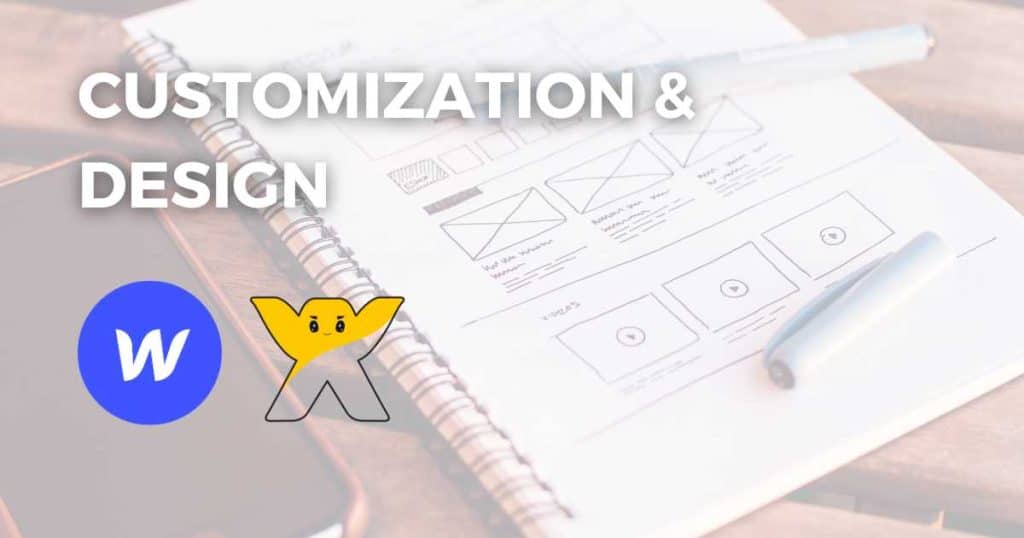 Wix is a dream come true for beginners, thanks to its impressive selection of fully customizable templates you can integrate into any web page.
You can use the intuitive drag & drop editor to add various elements, including:
Videos.
Images.
Forms.
Buttons.
Links.
Sections and more.
And if you need to tweak something, no problem! Simply change the color, font size, and alignment.
The one downside is that once you pick a theme, you can't swap it out without losing your progress.
Unfortunately, Wix doesn't stand a chance against Webflow's design editor and unparalleled level of control you have over your website.
With over 500 customizable templates, you can pick the perfect look for your site, then make it your own with their advanced customization options!
While you don't technically need any coding knowledge, some HTML and CSS experience can be useful on Webflows intuitive editor.
With Webflow, you have complete freedom over your layout.
This means you can place and customize elements wherever you want on the page and do fancy technical things like adjusting margins, paddings, and more.
Plus, Webflow shows you the CSS code for each element you add.
When it comes to customization and design limits, Webflow wins by a landslide. You can generally just do a lot more!
Read more: 10 Disadvantages of Wix.
Winner = Webflow
eCommerce:
Both Webflow and Wix can't compete with dedicated eCommerce platforms like Shopify and WooCommerce.
And although they might not be your first online store platform choice, they both do quite a good job with the help of their dedicated eCommerce plans!
Webflow's eCommerce abilities have come a long way since its launch in 2018.
And while there's still a restriction on the number of products you can sell on all plans, Webflow makes up for it with its customization options.
Whether you're selling physical or digital products, Webflow has you covered. You'll have complete control over your products, check-out pages, and store.
However, if you're after abandoned cart recovery, you'll need to integrate a third-party plugin called Monto.
On the other hand, once you've chosen your eCommerce Wix plan, adding a store to your website is a breeze.
With Wix, you can sell unlimited digital and physical products on all eCommerce plans. And with access to over 100 store templates, you can design your store with ease!
From product management, payment getaways, social media selling channels, and dropshipping integration, Wix has got you covered!
Wix has the cutting edge over Webflow here as they offer many features that Webflow doesn't, like multi-currency pricing, a built-in POS system, and abandoned cart emails.
Plus, Wix can easily be integrated with the popular online store app Ecwid.
Winner = Wix
Blogging: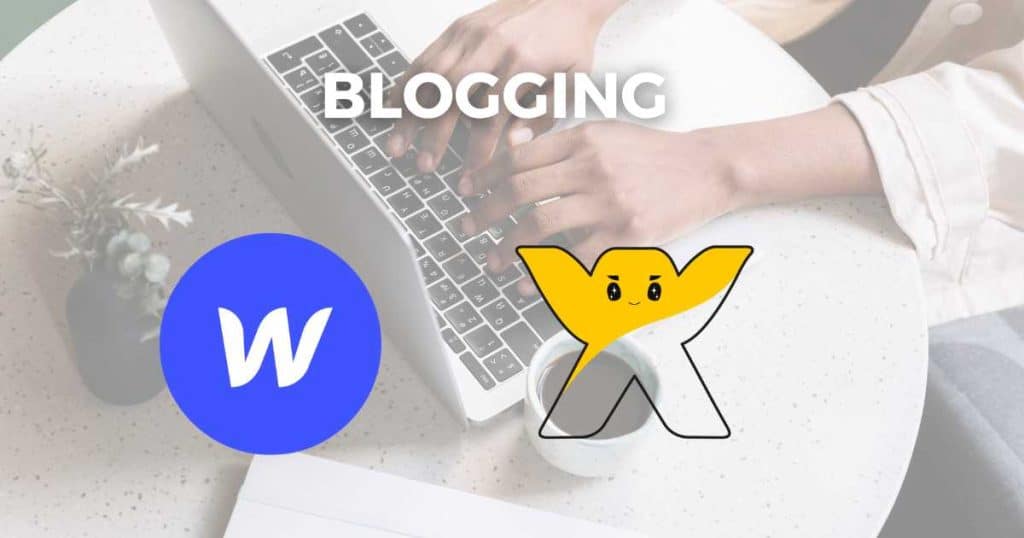 Blogging is essential for brands and websites to enhance their credibility and improve SEO.
Webflow takes blogging to the next level with its powerful CMS. This means that managing and uploading content directly from the Webflow dashboard is a breeze.
Plus, the 'on-page editing feature' lets you make live edits to your content on the blog itself!
Another cool feature is Webflow's automatically generated meta descriptions, graph settings, and meta titles to help you reduce your workload. You can either use these suggestions or manually edit them yourself.
Wix makes it effortless to create a blog. All you have to do is select a website template with an integrated blog feature!
Alternatively, you can opt for a dedicated blog template to differentiate your main website from the blog section.
With Wix's intuitive visual editor, you can easily incorporate and customize:
Categories.
Tags.
Authors.
Images.
Videos.
HTML code.
Galleries.
Webflow's features are notably more robust and impactful than Wix. And with Webflow, you have greater control over your blog.
However, it's worth noting that setting up a blog on Webflow requires more effort and work than Wix.
Read more: Google Sites vs Wix.
Winner = Webflow
SEO:
Which will help you rank higher on Google and other search engines? Webflow vs Wix?
Both offer all the basics, like automatic XML sitemaps, SSL certificates, editable robots.txt files, 301 redirects, automatic canonical tags, and structured data.
In addition, Webflow provides some unique advantages that Wix doesn't have, such as page speed optimizations and code minification.
These features can further enhance your website's performance and user experience, potentially giving it an edge in search engine rankings!
However, Wix has a helpful SEO learning hub that guides you through the main SEO steps. Webflow is probably better geared for people with SEO experience.
In saying that, SEO is a lot more complex than that, and often it all comes down to your content!
Read more: Semrush Review 2023.
Winner = Draw
Integrations: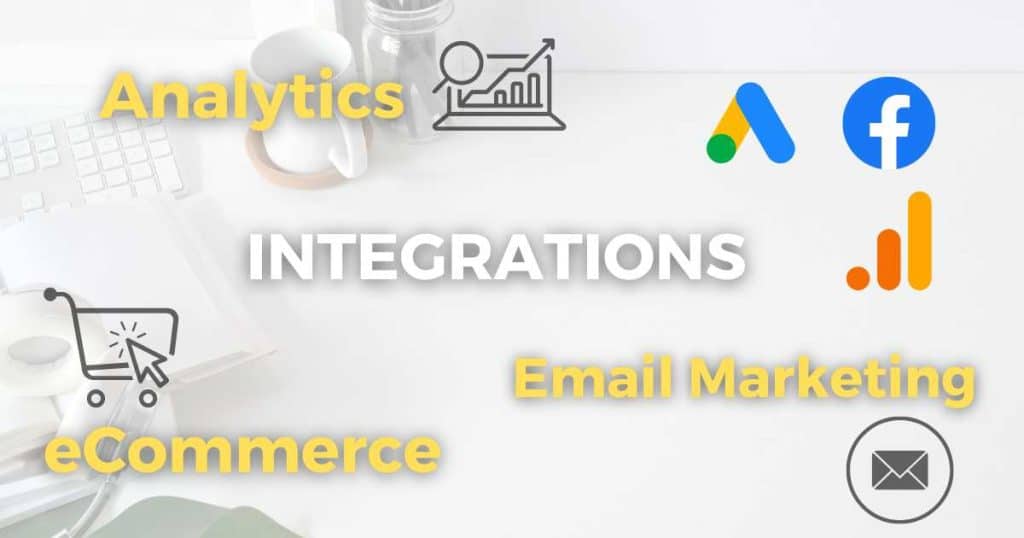 Webflow's integration library contains over 250 apps divided into different categories such as eCommerce, email marketing, analytics, and memberships.
And if you need to integrate your own app, Webflow makes it possible!
However, you'll need to embed the code into your website to use any of these apps – unlike Wix, which allows for more straightforward one-click integration.
Wix has an impressive 300+ apps available through the Wix App Market to help you enhance your website's functionality.
With Wix, enabling any app with just a single click is incredibly easy; there's no need to embed any code into your website!
Some of my favorite Wix integrations include Google Analytics, Google Ads, and Facebook Pixel.
Wix also offers several of its own apps, including Wix Music, Wix Bookings, and Wix Members Area.
Winner = Wix
Support:
At some point, you'll need help with an issue or question. So, who can you count on?
Webflow's university offers a comprehensive selection of guides, lessons, courses, and videos covering virtually every aspect imaginable.
For direct assistance, emailing the support team or using the live chat option is an efficient way to communicate your concerns. They also pride themselves on quick response times.
And as long as it's on a weekday, you'll get 24-hour support.
On the other hand, you can get in touch with Wix 24/7 through their contact page, email, or callback service.
Additionally, Wix offers a helpful knowledge base in their help center, where you can find everything you need to know!
Both platforms offer pretty good support, but Wix takes the cake on this one with their around-the-clock customer support assistance!
Winner = Wix 
Webflow vs Wix – My Favorite Feature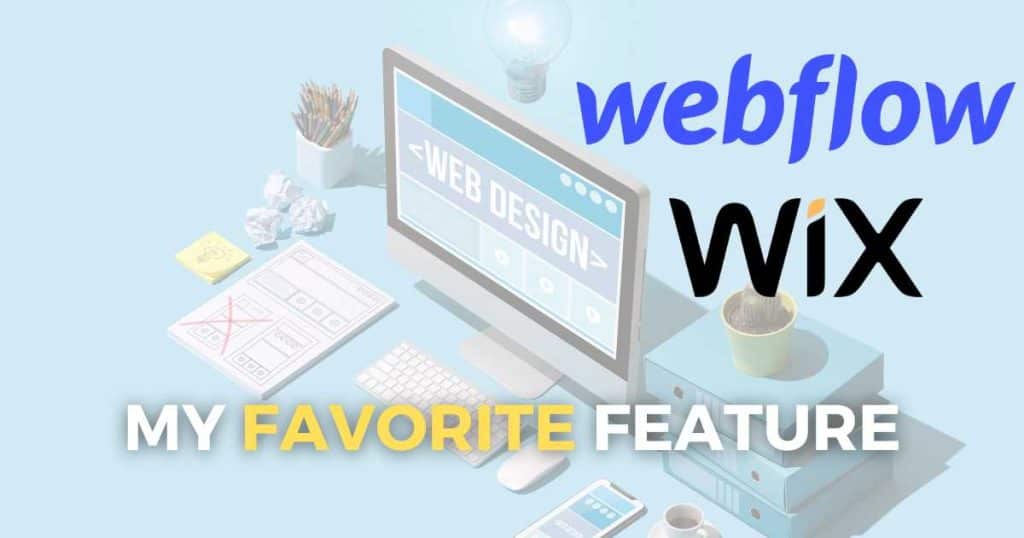 The stand-out feature of Webflow has got to be its customization.
I love that with Webflow, you can choose to make your website as complex or as basic as you like.
Webflow is great for experienced developers or less-experienced designers or developers who want to play around with their skills and knowledge.
That's because, with Webflow, it makes complex simple!
On the other hand, my favorite feature about Wix is quite the opposite.
Wix's user-friendly interface and the convenience it offers for beginners has got to be the stand-out feature.
In particular, I love their Artificial Design Intelligence (ADI) function that lets anyone without design experience quickly and easily create a website!
Read more: Zyro vs Wix. 
Webflow vs Wix – Who Are They Best For?
As we reach the end of this comparison article, it's clear that Webflow and Wix are two very different website builders catering to diverse audiences!
If you're a web designer or developer wanting full control over your website and advanced customization options, Webflow is definitely your best choice.
In fact, Webflow offers a level of flexibility that even WordPress struggles to match!
But if you're a beginner or just want a hassle-free all-in-one solution to get your brand up and running online, Wix is the one for you!
With its user-friendly interface and AI features, you can quickly and easily build and customize websites without knowing any code.
Read more: 11 Best AI Tools For Small Businesses
Stew's Final Thoughts
There we have it – that is everything you need to know about Webflow vs Wix!
I hope you are now confident in choosing a website builder that works for you.
As you can see, there's a website builder out there for everybody, no matter how experienced you are.
I'd love to know your thoughts. Have you tried either platform? Or is there another website builder that you prefer?
Let me know!