Are you tossing up between Ecwid vs Shopify for your online store?
If you're new to eCommerce or want to freshen up your current online store, Ecwid and Shopify are two excellent choices!
As the world of eCommerce continues to evolve, choosing the right website builder that aligns with your business is crucial.
Don't get me wrong; I love both Ecwid and Shopify. And if you're considering using either for your online store in 2023, you're on the right track!
But I love Ecwid and Shopify for very different reasons.
Ecwid vs Shopify 2023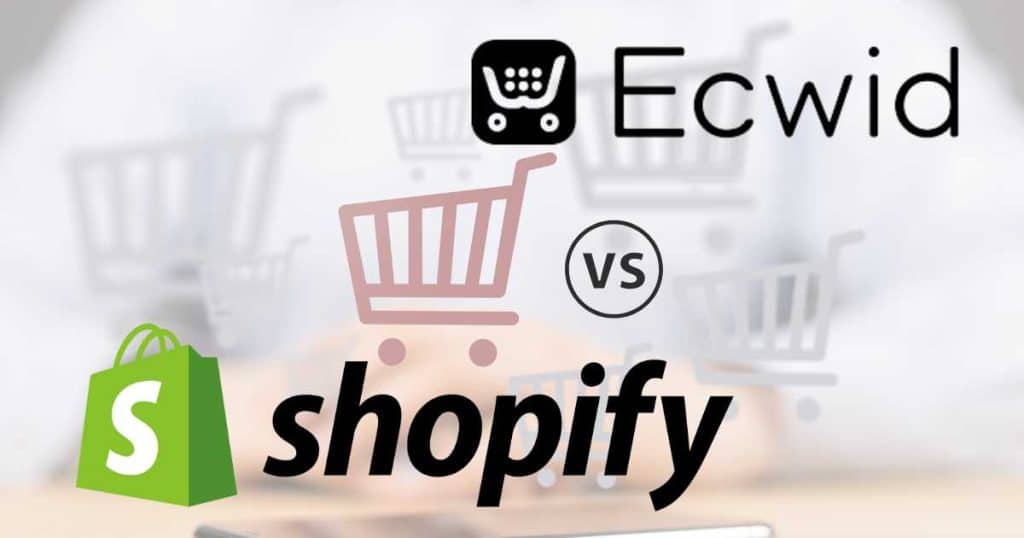 My aim is to compare the tools, features, pricing, and user experience of both Ecwid vs Shopify to determine the best choice for you.
Let the battle of Ecwid vs Shopify begin!
What Are They? Ecwid vs Shopify
Ecwid: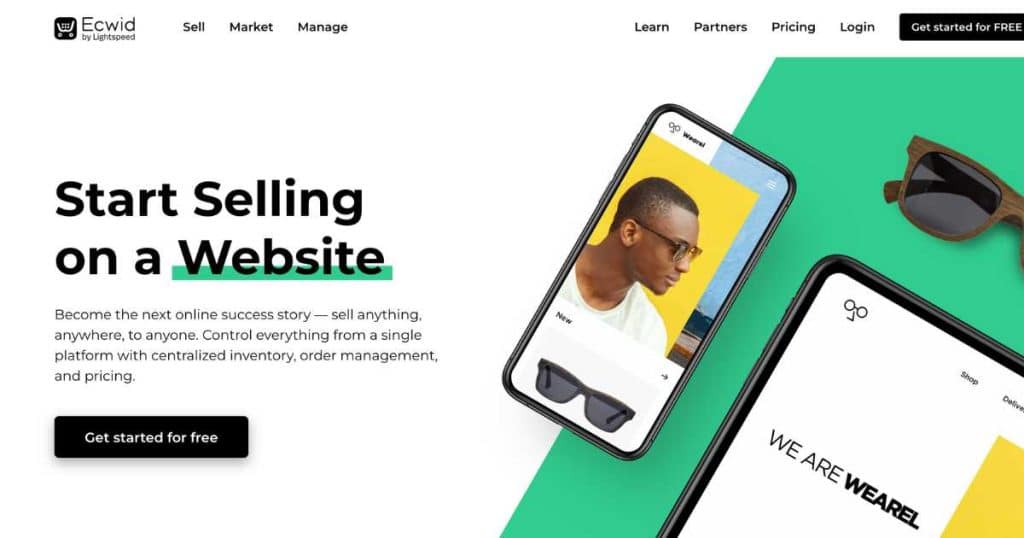 Ecwid is a leading website builder best known for being able to craft exceptional online stores.
If you already have a website or blog that doesn't support eCommerce, simply add your online store to your site with Ecwid!
Seamlessly integrate Ecwid with other website builders and content management systems such as Wix, Squarespace, Weebly, and WordPress.
And guess what – you can do all this for free!
That's right, unlike other popular website builders, Ecwid offers an entirely free plan!
Read more about how to create an online store with Ecwid here.
Shopify: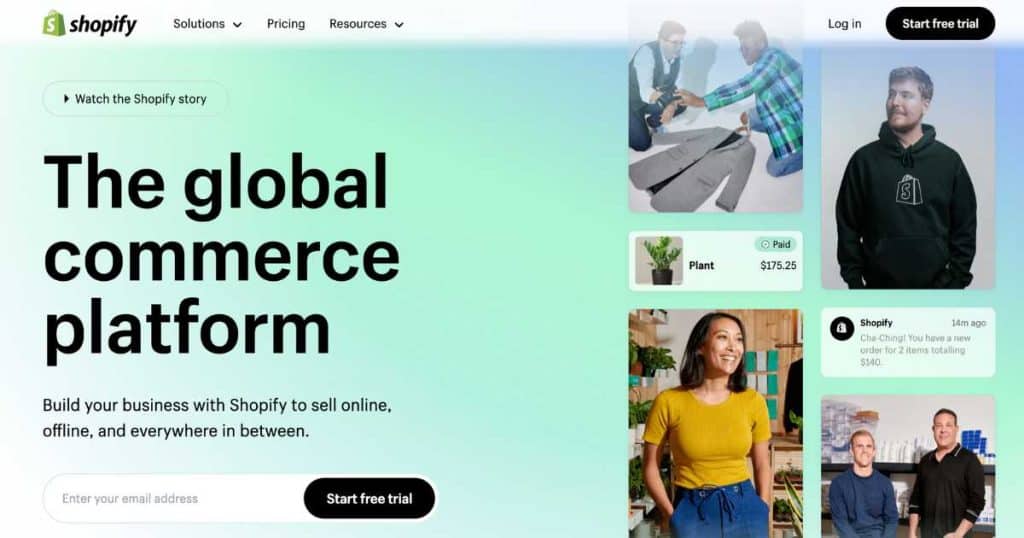 On the other hand, Shopify is a popular premium website with over 800,000 stores worldwide.
With Shopify, anyone can easily set up and manage an online store and fully functional content management system (CMS).
With over 70 themes, various integrations with all your favorite tools, and dynamic customer and order management, it's no wonder Shopify is used and loved by so many.
Shopify is a well-oiled machine that aims to help you streamline your processes, reach more customers and grow your business online!
What Are The Differences Between Ecwid vs Shopify?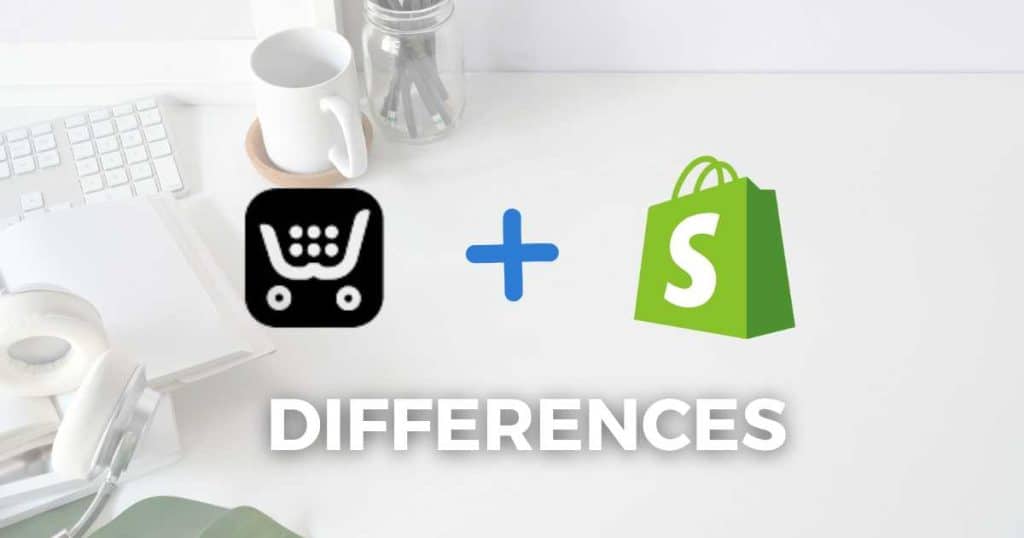 At first glance, Ecwid and Shopify do the same job. Both are beginner-friendly and offer all-in-one eCommerce solutions. So, what is the difference?
Well, there are actually quite a few key differences between Ecwid vs Shopify.
Let's find out what those are now!
Read more: How to sell your digital products online. 
Pricing:
One of the biggest differences between Ecwid and Shopify is the cost. For starters, Ecwid has a free plan, whereas Shopify doesn't.
Let's take a closer look at each platform's pricing plans:
Ecwid:
Free ($0) Includes a free website, 5 products, Facebook advertising, and tax invoices.
Venture ($19 per month) Includes mobile store management, discount coupons, 100 products, Instagram and Facebook selling, and customized checkout options.
Business ($39 per month) Includes phone support, 2500 products, 2 staff accounts, abandoned cart, multi-lingual languages, and subscription selling.
Unlimited ($99 per month) Includes unlimited products, staff accounts, priority support, POS integration, and more.
Shopify:
Starter ($5 per month) Includes unlimited product listings and social media selling (no website included).
Basic ($25 per month) Includes an online store, unlimited products, 2 staff accounts, up to 1000 inventory locations, discount codes, abandoned cart recovery, and basic reports.
Shopify ($65 per month) Includes advanced marketing, standard reports, 5 staff accounts, automation tools, and lower transaction fees.
Advanced ($399 per month) Includes real-time shipping rates, lowest rates on Shopify shopping and Shopify payments, and international sales tools.
Shopify Plus ($2000+) Best for high-volume businesses.
Ease Of Use: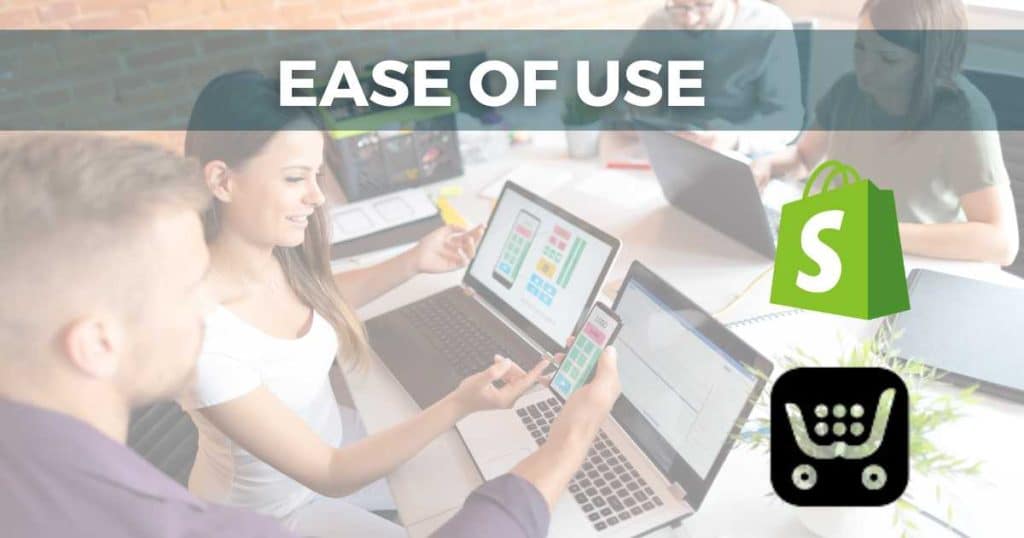 In terms of interfaces, the layout of both platforms is similar.
You'll find all the main features within the left-hand navigation bar and all product management tools on the upper right-hand side in both Ecwid and Shopify.
Additionally, both have an easy-to-use mobile app to help you manage your inventory, give customer support, handle order fulfillments, and more on the go!
However, one advantage Ecwid has over Shopify is image management. With Ecwid, you can apply an image ratio globally to every product photo.
In Shopify, you must ensure all your images have the same ratio before uploading; otherwise, your store will look messy.
This is pretty time-consuming, especially if you have loads of images. So I love that this is seamless in Ecwid.
All in all, both Ecwid and Shopify are beginner-friendly with relatively shallow learning curves.
Read more: WooCommerce vs Shopify
Winner = Ecwid. 
eCommerce Tools:
Running an online store can be challenging, especially if you're a small team or one-man-band!
That's where eCommerce platforms come in handy.
All eCommerce platforms have store management tools to help you run and manage your online store efficiently.
Let's see how Ecwid and Shopify compare.
Ecwid provides all the basics needed to run your store easily, including:
Inventory tracking.
Discounts and promotions.
The ability to sell both physical and digital products.
Product variants.
A wide variety of shipping options.
Abandoned cart.
Multi-channel selling on Instagram, Facebook, Amazon, and
In my opinion, these eCommerce features are basic yet sufficient enough for small businesses.
And in particular, Ecwids multichannel selling ability is impressive. With Ecwid, you can simply publish your store on multiple blogs or websites to gain more sales!
Read more about how to set up an Instagram Business Account and Facebook Business Page.
On the other hand, Shopify offers both basic and in-depth eCommerce features.
With Shopify, you'll get:
Unlimited products and bandwidth.
The ability to sell both physical and digital products.
Advanced inventory management.
Automatic shipping rates and tax handling.
Multiple shipping options.
Customer accounts.
Multi-currency (133+ currencies).
Multichannel selling on Instagram, Facebook, Amazon, eBay, and more.
Read more: Shopify vs Etsy for selling online
Inventory management with Shopify is incredible. You can track stock levels and organize large catalogs into collections or sub-collections.
Simply track your sales with built-in reports, and automatically sync your products across multiple selling platforms so you don't accidentally run out of stock.
Plus, with real-time updates, discounted rates from suppliers, and free shipping options, you can be sure that your customers are taken care of!
With all that said, as you can see, both platforms offer similar features. The difference is that Shopify is more supportive of scalability and long-term growth.
Read more: How to Install Facebook Pixel on Shopify
Winner = Shopify 
Stand Out Features: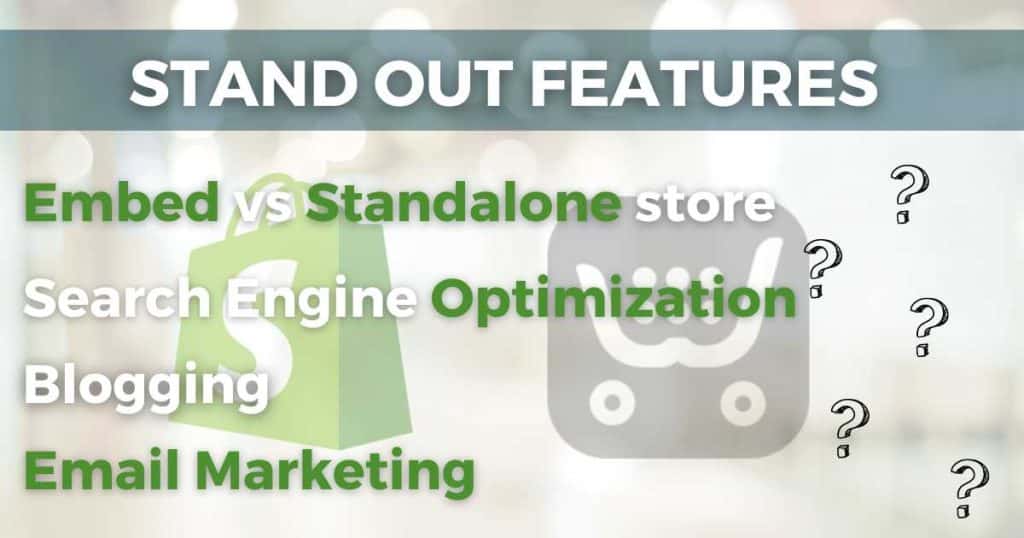 Embedding Your Store:
One of the most obvious differences between Ecwid and Shopify is the type of store you can create.
It's so easy to seamlessly integrate your Ecwid online store with other website builders such as Weebly, Google Sites, Wix, or Squarespace.
Technically, you can add your Shopify shopping cart to any other existing website using the 'Buy Buttons' feature.
The difference is that Shopify's feature just lets you display your products. And once your customers check out, they'll be redirected back to Shopify.
But if you want a fully-fledged online store on your current website, Ecwid is the way to go.
Read more: Shopify, Wix, or Squarespace?
Winner = Ecwid
Standalone Store
Creating a standalone store with Ecwid is possible, but it'll be pretty basic. You'll get the most out of Ecwid by simply adding it to your existing website!
With blogging and multi-page capabilities, a diverse app store, a range of templates, and full functionality, Shopify is, without a doubt, the better option for creating a fully-featured, standalone store.
Winner = Shopify
SEO:
Ecwid and Shopify are pretty much on par regarding SEO.
Both collect metadata from all your product and page content. But that's sort of where it ends!
If you want to optimize your Shopify online store further, you can easily add apps like Yoast SEO to help you. You can't directly add these apps on Ecwid.
The best way to improve your SEO with Ecwid is by integrating it with an SEO-friendly website like WordPress.
Learn how to connect Google Search Console to Shopify here.
Winner = Shopify
Blogging:
Every Shopify online store comes with a built-in blog to help you improve SEO, reach more customers, and generate more traffic to your website.
You can then create and manage blog posts all within your online store!
Ecwid is not primarily designed as a blogging platform but can be integrated with a website designed with bloggers in mind.
If blogging is a crucial aspect of your online business and you prefer a standalone blogging platform within your eCommerce site, go with Shopify.
But if you already have an established blog on a CMS like WordPress and want to add an online store, Ecwid is your best bet.
Read more: How to use WordPress
Winner = Shopify
Email Marketing:
Email marketing is essential for any online store to reach new customers and nurture existing relationships.
Shopify's built-in 'Shopify Email' feature lets you send strategic campaigns to your existing and potential customers.
With Shopify email, you can:
Track and send emails.
Provide discount codes.
Send special deals to your customers.
Capture missed opportunities with abandoned cart recovery emails.
Because Shopify Email is located right within your online store, you can sync your campaigns with your store colors, products, and logos to save you time.
And the best part is that you can send up to 2000 emails monthly for free!
Find out more about Shopify Email here.
On the other hand, Ecwid does offer email marketing through the leading email marketing platform MailChimp.
The downside is that email marketing with Ecwid is only available on the two higher-paid plans.
Winner = Shopify 
Ecwid vs Shopify – Who Are They Best For?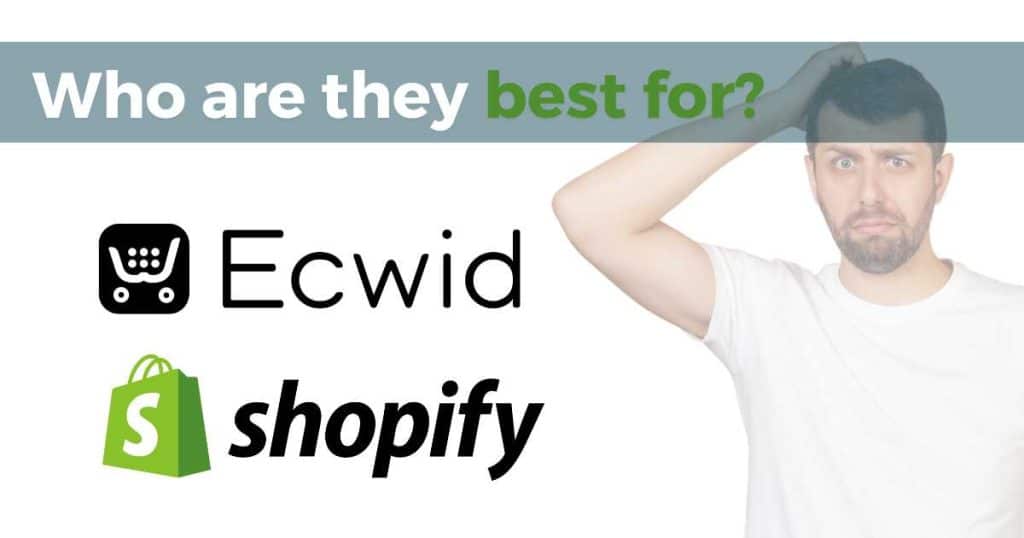 As you can see when compared side by side, Ecwid and Shopify are two very different eCommerce platforms. And both cater to very different business needs!
If you want to build an online store from scratch and have the flexibility to customize and scale your business, Shopify is the way to go.
With a wide range of features, integrations, and built-in solutions, Shopify is the ideal choice if you're after a robust and standalone eCommerce website.
On the other hand, Ecwid is an excellent and seamless option for businesses that already have a website or a social media following and want to add an online store to that website.
Additionally, if you don't have the budget for a premium eCommerce website builder, Ecwid's free plan is an affordable way to get your online store up and running! 
Stew's Final Thoughts
That is everything I wanted to cover in this Ecwid vs Shopify 2023 article.
The bottom line? There are many reasons to choose Ecwid over Shopify and vice versa. It just depends on what you're after.
You could always give Ecwid's free plan a go or make use of Shopify's 3-day trial to test it for yourself.
Plus, there are so many other online store website builders out there. Make sure to check out our range of articles here.
Let me know what you think – do you agree with this Ecwid vs Shopify comparison?