Kajabi vs ClickFunnels – which is the best tool to help grow your business?
Two powerful online marketing tools are Kajabi and ClickFunnels.
At first glance, they share many similarities, but there are some crucial differences you should know about before taking the leap.
My goal is to directly compare both Kajabi and ClickFunnels and their features, ease of use, pricing, and more so you can choose the best option for you.
So, Kajabi vs ClickFunnels – let's go!
Read more: ClickFunnels Alternatives 2023
Kajabi vs ClickFunnels 2023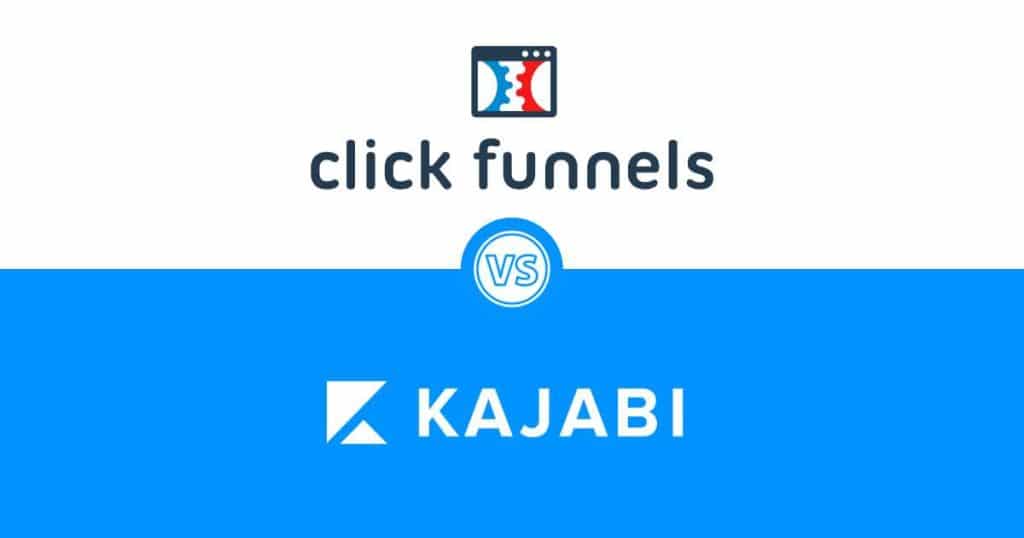 The world of online marketing in 2023 is mammoth (and, honestly, pretty overwhelming).
You have emails, landing pages, sales funnels, courses, memberships, communities, websites, SEO….the list goes on!
So where do you start, how do you start, and do you need to engage in EVERY online marketing activity out there to succeed?
This is where online marketing platforms like Kajabi and ClickFunnels come to the rescue.
But what exactly are they? And are they any good?
Read more: Top 10 FREE Digital Marketing Tools For Small Businesses. 
What Are They? Kajabi vs ClickFunnels
Kajabi is an online platform primarily focused on allowing users to create and sell online courses, coaching programs, and memberships.
With Kajabi, you can simplify the process of creating and selling content and, as a result, monetize your knowledge and expertise!
Essentially, Kajabi aims to remove any technological barriers and provide an all-in-one, easy solution for building a successful online business.
ClickFunnels, on the other hand, is a sales funnel builder and all-in-one marketing toolkit specifically designed to promote your physical and digital products.
With ClickFunnels, you can build and promote your online courses, membership programs, physical products, websites, engage in email marketing, and more!
ClickFunnels is a popular choice for teams looking to build high-converting multi-step sales funnels (along with other marketing tools) to boost your customer base and sales.
What Are The Differences Between Kajabi vs ClickFunnels?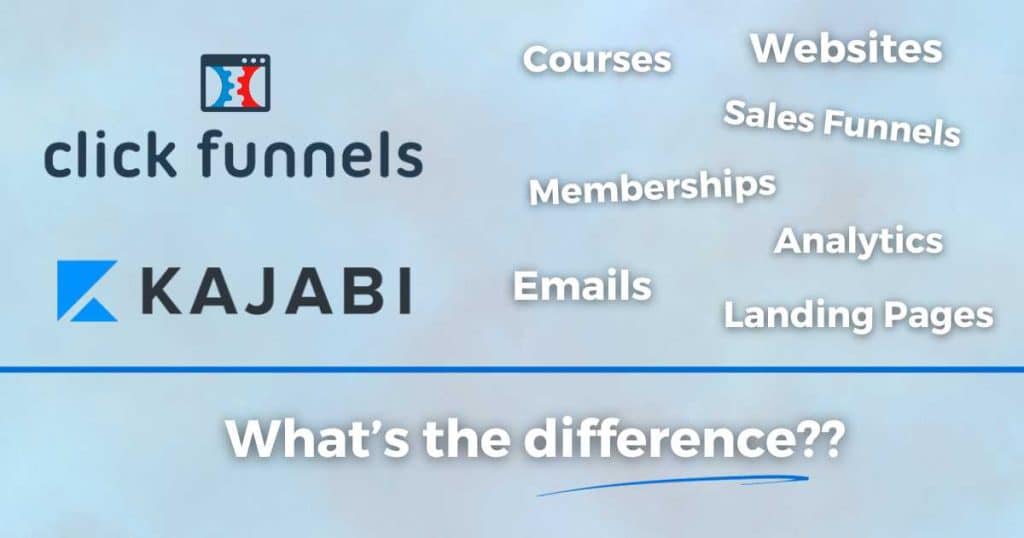 As you can see, Kajabi and ClickFunnels share many of the same features and functions.
Both offer:
Courses.
Sales funnels.
Landing pages.
Websites.
Blogs.
Analytics tools.
Email campaigns.
But in saying that, their core functionality has some fundamental differences.
Kajabi was designed as a comprehensive all-in-one tool for establishing an online business.
And although ClickFunnels offers many of the same marketing tools as Kajabi, the primary focus and function is to generate leads and sales using high-converting sales funnels.
A sales funnel is essentially a series of strategically crafted pages (steps) that guide visitors toward specific actions, such as joining an email list, making a purchase, or registering for an event.
Kajabi undoubtedly provides more tools for overall online business management, including coaching, communities, and live video streaming.
On the other hand, ClickFunnels specializes in optimizing automated and customized sales funnels to maximize conversions! 
Kajabi vs ClickFunnels Ease Of Use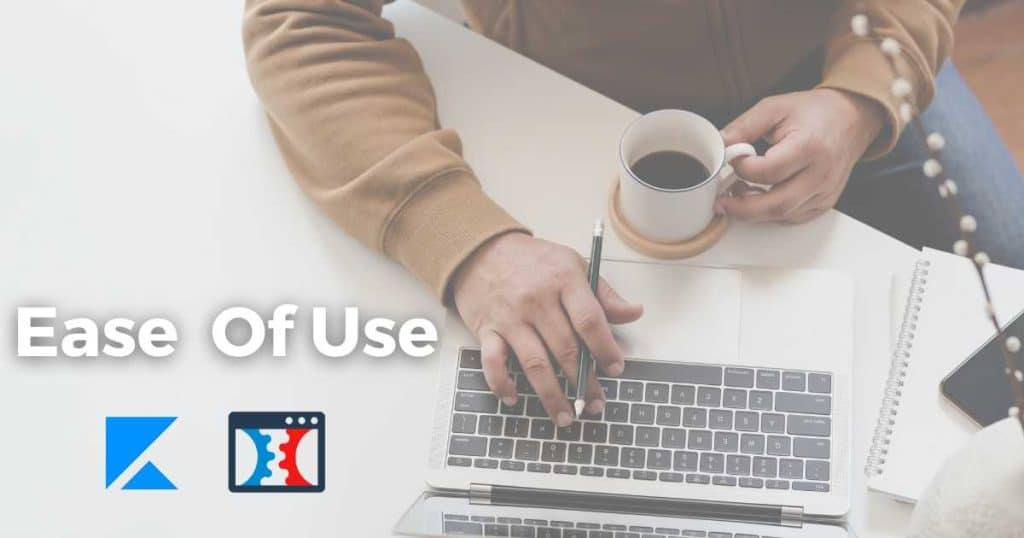 Kajabi and ClickFunnels have user-friendly interfaces made for all levels of expertise.
And both platforms offer pre-designed templates and a drag-and-drop editor so you can customize your sales funnels, websites, landing pages, etc, all stress-free.
Additionally, Kajabi and ClickFunnels are hosted platforms, meaning you don't need to muck around with buying and managing your web hosting separately.
In terms of user experience and navigation, Kajabi has made significant improvements in recent years.
The tools and features are easily accessible and intuitive, and although certain functions (like automation) may initially be more challenging to grasp, there's lots of support available to help you.
On the other hand, ClickFunnel's interface is easy to use, but the editor is a bit clunky.
Plus, the automation and workflow feature may require a steeper learning curve for some users, and the support with this is lacking compared with Kajabi.
Winner = Kajabi
 Read more: ClickFunnels vs WordPress 
Kajabi vs ClickFunnels Pricing:
Basic: $119 per month.
Growth: $159 per month.
Pro: $319 per month.
Basic: $127 per month.
Pro: $157 per month.
Funnel Hacker: $208 per month.
Both offer 14-day trials and a 30-day money-back guarantee.
To be honest, both platforms aren't cheap, and I don't think either is appropriate for small teams on a budget.
And in terms of affordability, there's not much between the two for the lower-tiered plans (just a couple of dollars).
But in saying that, there is quite a difference between the two top-tiered plans.
Winner = ClickFunnels
Read more: Wix vs ClickFunnels
Kajabi vs ClickFunnels Tools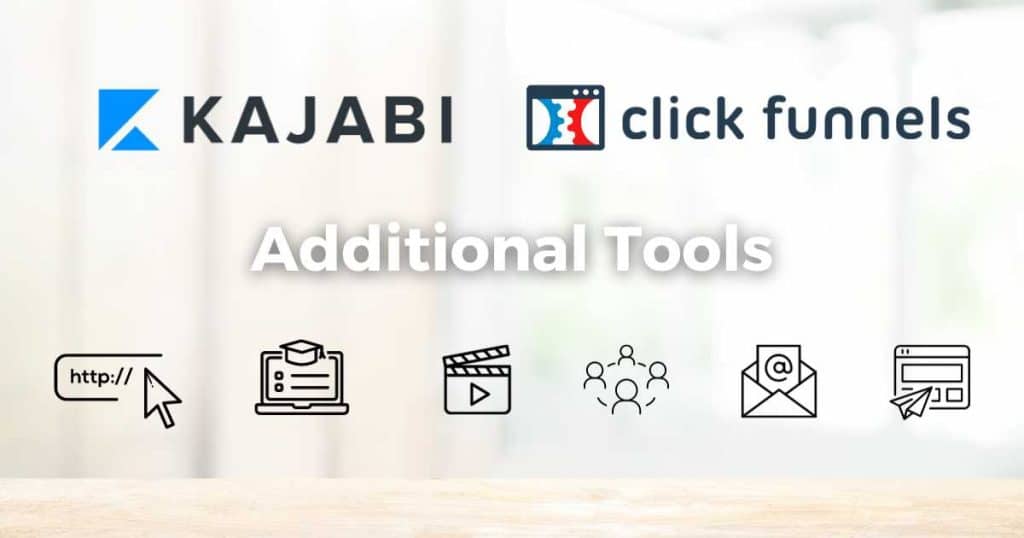 Both Kajabi and ClickFunnels offer an array of dynamic marketing tools.
I'll start with Kajabi. There are so many tools that can assist you with creating your online:
Courses.
Videos.
Podcasts.
Webinars.
eBooks.
Communities
Audio lessons, and more.
All plans come with unlimited landing pages and marketing emails.
And depending on what plan you go with, you can build a particular number of sales funnels and get a certain number of contacts, users, and active customers.
Not to mention, Kajabi has a fully functional website builder, membership site creation and management tools, email marketing capabilities, payment processing functionality, and detailed analytics and reporting features.
But it doesn't stop there! Kajabi also has its very own built-in CRM (customer relationship management) software so that you can strengthen relationships with your contacts with ease!
The CRM comes with everything a good CRM should come with (automation, filters, segmentation), which can help you stay organized.
ClickFunnels also provides many of the same tools and features Kajabi offers.
You can engage in email marketing and automation, create landing pages, sales funnels, and websites, and conduct A/B testing on one platform.
Plus, all plans come with unlimited products, pages, workflows, email sequences, and courses.
There currently isn't a built-in CRM on ClickFunnels (October 2023), but they plan to release one soon, as well as their very own eCommerce store.
In terms of tools, neither platform falls short in terms of what they offer.
Both are well-rounded and full to the brim of marketing tools and features. It just comes down to what you need.
For example, there's no competition regarding course and membership creation – Kajabi knocks it out of the park!
But if you want to build landing pages and sales funnels, ClickFunnels has got you covered.
So, let's take a look at Kajabi vs ClickFunnels' stand-out features!
Winner = Kajabi
Read more: ClickFunnels vs Shopify 
Kajabi vs ClickFunnels Stand-Out Features
Course Creation: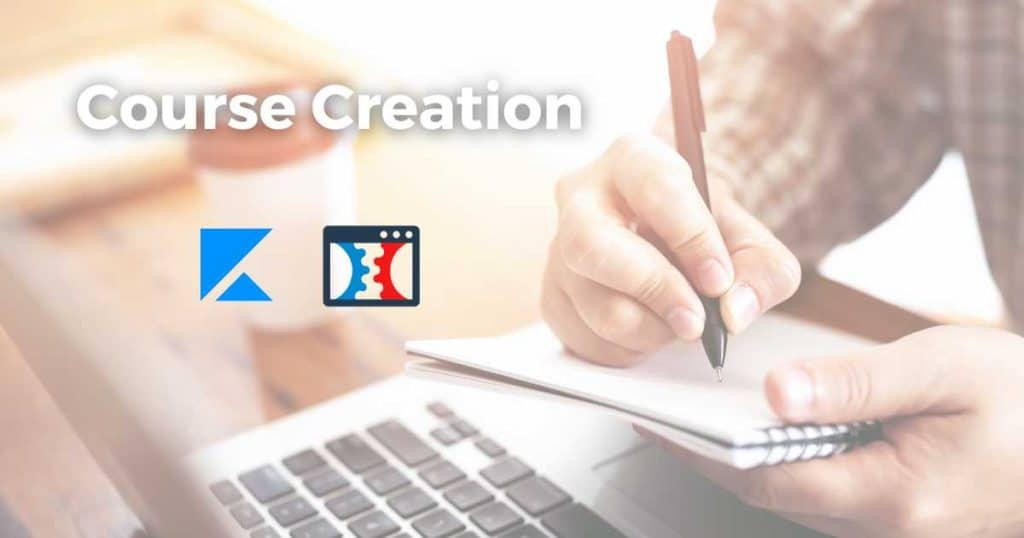 As I mentioned, Kajabi was designed with course and membership creators in mind. And their easy-to-use, full-featured platform certainly delivers!
You can create courses with ClickFunnels too, but Kajabi's courses are much more dynamic and full-featured – and I'll tell you why.
Whether you're looking to create and sell courses about finance, business, meditation, personal development, or anything in between, Kajabi has something for you!
You can build whatever type of course you like, from mini or comprehensive courses to memberships and online coaching courses.
Plus, you can add interactive elements like:
Built-in quizzes.
Surveys.
Tests.
Assignments.
And the drip course feature means you can drip-feed certain parts of your course to users over a period of time.
You can also drip-feed content with ClickFunnels, but the platform lacks simple functionality like email notifications (to let users know the content is ready to view).
With various pre-designed and mobile-friendly templates and layouts, creating your course quickly is ridiculously simple!
On the other hand, ClickFunnels only offers one course theme, and it isn't mobile-friendly.
Say goodbye to the tedious and overwhelming task of creating a course from scratch!
You can now create, market, and sell your personalized and professional course on one easy-to-use dashboard with Kajabi.
In terms of the actual course builder, it's so simple to use. You can structure your content into categories and lessons and add content individually or in bulk.
Kajabi also provides content hosting with unlimited storage for videos, audio files, and PDFs.
In contrast, ClickFunnels lacks built-in content hosting. This means you would need to use external hosting solutions and embed any videos you want into your lessons.
Overall, Kajabi stands out from the crowd for its user-friendly course creation process, comprehensive learning and engagement tools, and built-in content hosting capabilities.
Winner = Kajabi
Read more: How To Create a Free Course With Systeme.io
Sales Funnel Builder: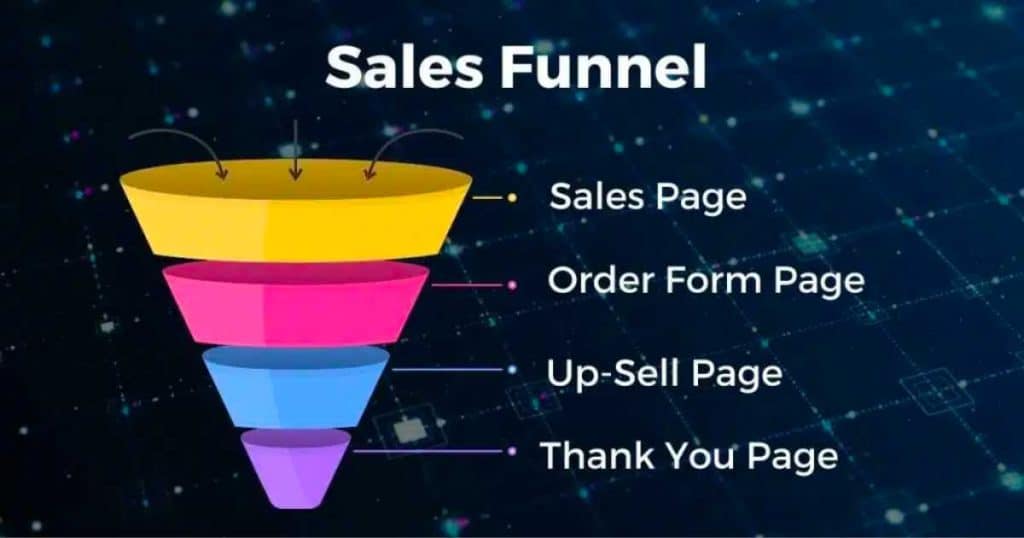 When done right, sales funnels are a powerful marketing tool that can help you generate more leads and sales.
But sales funnels can be tricky to make on your own, especially if you're not a coding expert.
That's when sales funnel builders step in.
Sales funnel builders were designed with beginners or time-poor users in mind. Basically, anyone can easily and quickly build a professional and beautiful sales funnel (that works!)
ClickFunnel's sales funnel builder is undoubtedly the best feature of the platform.
Kajabi also has a sales funnel builder; however, ClickFunnels offers more templates and many different funnel types (20+).
These funnel types include both physical and digital products. Kajabi only offers digital product sales funnel types.
The level of customization within ClickFunnels is pretty solid, too.
In fact, you can:
Completely reorder pages.
Add new pages.
Modify current pages.
Redesign particular pages (through the drag-and-drop page builder).
Plus, you can share your funnels with others and conduct A/B testing for individual pages.
This is not possible to do with Kajabi!
Basically, ClickFunnels makes the process of building a sales funnel so straightforward that anyone can do it.
After all, there's a reason why ClickFunnels is known for its sales funnel builder!
Read more: Top 3 BEST Sales Funnels For Small Business.
Winner = ClickFunnels 
Kajabi vs ClickFunnels Integrations
How well do both platforms integrate with other tools in your tech stack?
Like many online tools, Kajabi and ClickFunnels can integrate with various third-party popular marketing tools.
Both platforms allow you to add third-party scripts to integrate with analytics and tracking solutions like Google Analytics and FB Pixel.
In terms of payment gateways, Kajabi supports Stripe and PayPal. ClickFunnels integrates with a wider range of gateways, including Stripe, PayPal, Infusionsoft, Recurly, and more.
And what about email marketing? Well, ClickFunnels has more direct integrations as a whole.
Kajabi integrates with:
ClickFunnels integrates with all these, plus other robust email services like GetResponse and Constant Contact.
Additionally, both seamlessly connect with Zapier for more integrations with other marketing apps and tools.
It's safe to say that both solutions have you covered in terms of integrations! But ClickFunnel's range of payment gateway and email marketing tools takes the cake here.
Winner = ClickFunnels
Kajabi vs ClickFunnels Support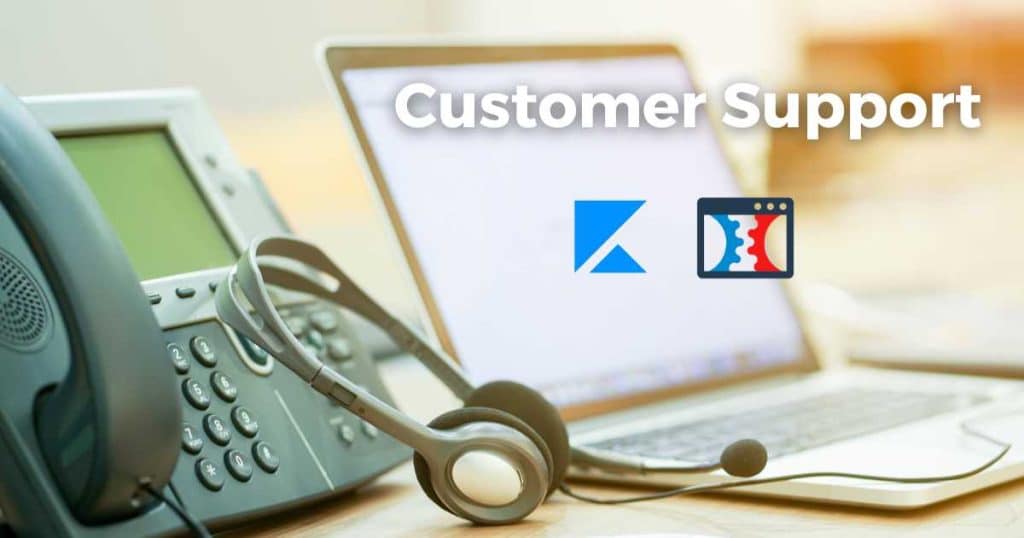 Kajabi stands out from other online platforms for its incredible level of support.
In addition to email support, Kajabi offers 24/7 quality live chat support, allowing you to resolve your queries within minutes.
ClickFunnels offers responsive chat support, but you won't receive real one-on-one guidance unless you specifically request an expert.
Both Kajabi and ClickFunnels provide a rich knowledge base with extensive how-to articles and videos and well-engaged Facebook groups where you can interact with others.
ClickFunnels' Facebook group is larger in size, with over 250k members, but it often promotes a 'salesy' type atmosphere.
On the other hand, the Kajabi community delivers value-rich and engaging content that genuinely helps creators enhance their online businesses.
Winner = Kajabi 
Kajabi vs ClickFunnels Who Are They Best For?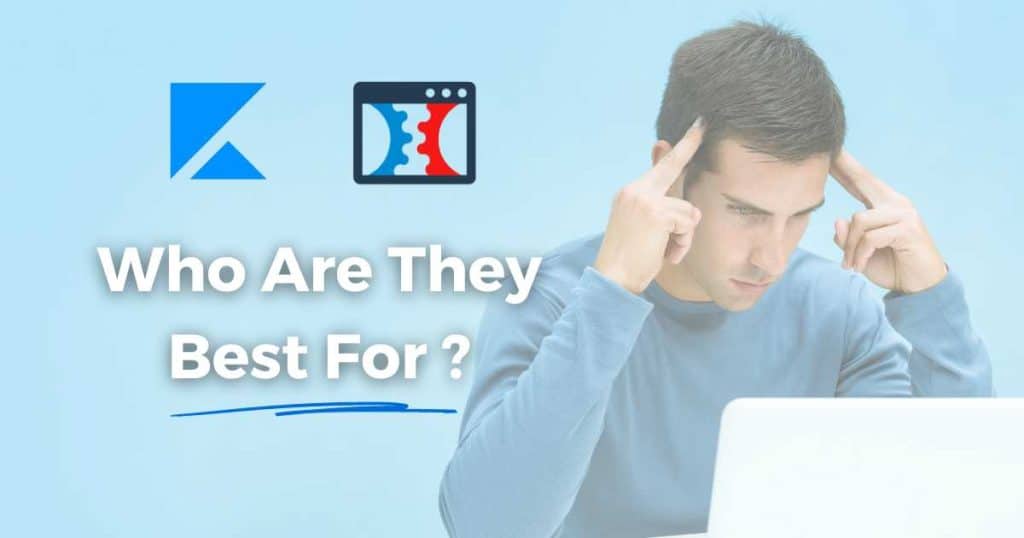 So, with that said, which is the best for you – Kajabi vs ClickFunnels?
Well, it depends on YOU! If your business is all about selling digital content like courses, memberships, and online coaching, without a doubt, Kajabi is the best choice for you.
And the best thing is, you can do it all on one easy-to-use platform!
Personally, I wouldn't recommend ClickFunnels for memberships and courses alone; however, in terms of marketing and sales funnels, it wins by a landslide.
ClickFunnels is best for sales-driven teams looking for a dedicated lead generation and sales funnel builder platform.
Plus, if you sell physical and digital products, ClickFunnels is the obvious choice!
Or why don't you use both?
I know it's pricey, but did you know you can integrate ClickFunnels with Kajabi for teams after a total all-round course creation and sales funnel solution?
Now, that truly is the best of both worlds! 
My Final Thoughts
That completes my comprehensive Kajabi vs ClickFunnels guide!
Unfortunately, there isn't an easy answer or a 'one size fits all' solution for online marketing.
But I do hope I've made the decision easier for you, and you can now choose the right platform for you and your business!
The verdict?
Kajabi is an online solution to help you run and manage your business.
In contrast, ClickFunnels is best for teams wanting to generate leads and sell physical and digital products with sales funnels.
So, which are you going to choose? Kajabi or ClickFunnels?
Let me know below.