Struggling to pick between SamCart vs ClickFunnels?
Driving more conversions and maximizing sales is the name of the game for sales-driven teams, right?
So, with that said, you've landed on the right article!
SamCart and ClickFunnels are incredible sales and marketing tools you can leverage to grow and scale your business online.
And if your business sells products, a platform like SamCart or ClickFunnels could be the solution you've been searching for.
Are you ready to reach more customers and effectively market your products?
Introducing… SamCart vs ClickFunnels.
Read more: Top 10 FREE Digital Marketing Tools For Small Businesses. 
SamCart vs ClickFunnels 2023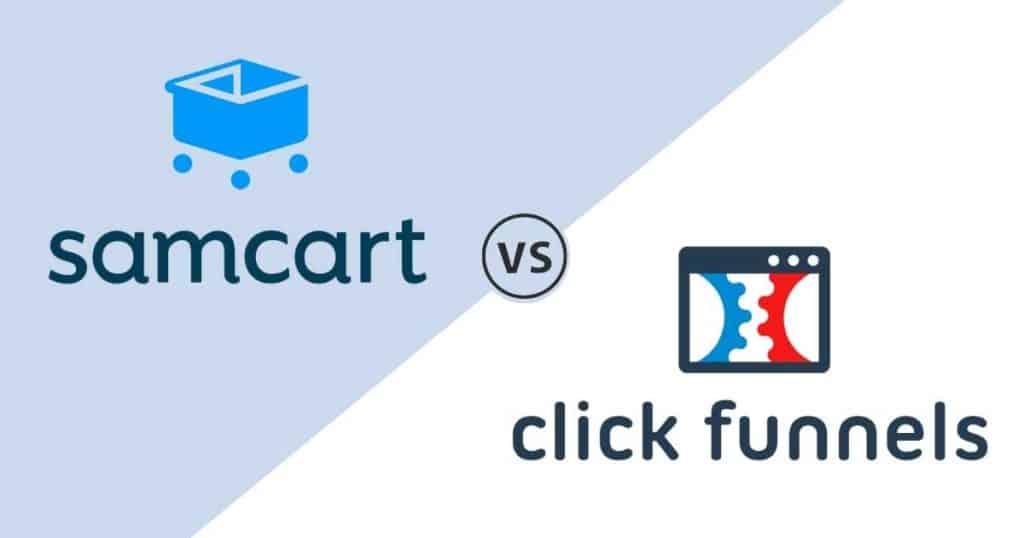 There are many similarities between SamCart vs ClickFunnels.
But before you get too excited and jump into using either platform, there are a few things you should know.
Firstly, they're actually quite different tools. And the truth is, it's likely that both won't suit your business needs and requirements.
So, how do you know which to pick? That's where I step in.
I'll be delving into their functionalities, features, user-friendliness, integrations, customer support, pricing, and more to find out….
Which is best for you? SamCart vs ClickFunnels?
Read more: ClickFunnels Alternatives 2023 
What Are They? SamCart vs ClickFunnels
Okay, so I mentioned that SamCart and ClickFunnels are essential marketing and sales tools.
SamCart is primarily a cart and checkout page builder tool created for eCommerce businesses to help streamline their sales checkout process and increase sales.
Basically, once your potential users have decided to purchase your product, in swoops SamCart – an efficient solution for handling transactions.
On the other hand, ClickFunnels is a comprehensive sales funnel builder and all-in-one marketing platform that helps businesses create highly optimized sales funnels that work!
I mentioned that SamCart and ClickFunnels fundamentally do different things.
But the difference between the two lies in the details. So, what exactly are those details?
Let's find out.
What Are The Differences Between SamCart vs ClickFunnels?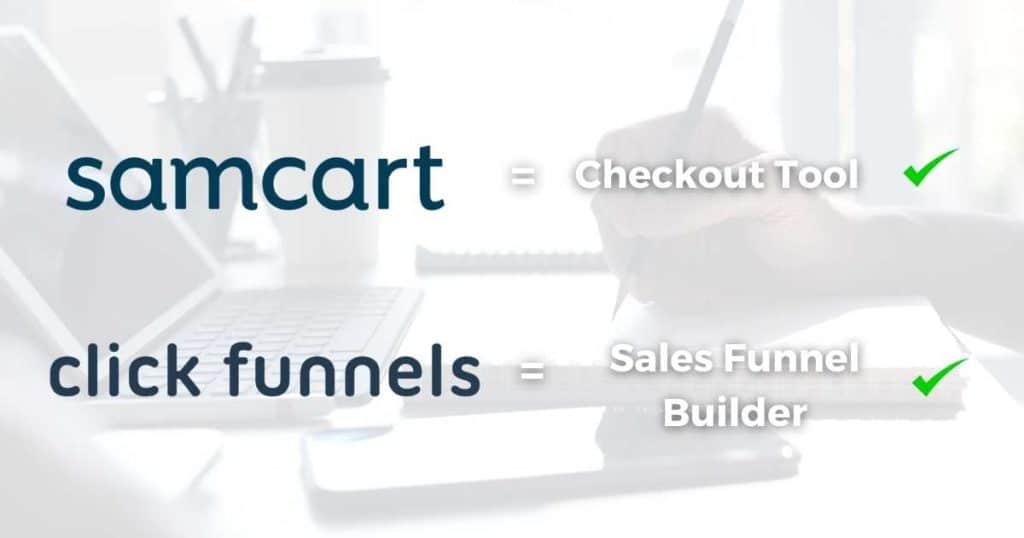 The main difference between SamCart vs ClickFunnels is their focus and functionality.
What I mean by this is that they cater to different aspects of the sales process.
SamCart aims to minimize cart abandonment with its intuitive checkout tool.
Unlike (overwhelming) multiple sales pages or numerous product offers, SamCart provides simple, specialized features that work.
The idea behind SamCart is that businesses can captivate potential customers' attention by highlighting one single product at a time on a dedicated, clear, and well-built one-page checkout page.
The main focus? To streamline the checkout process for customers who have already decided to purchase your product.
On the other hand, ClickFunnel's all-in-one sales funnel and marketing solution focuses on the entire sales process, all the way from lead generation to conversion.
It provides various tools to help you create and optimize your sales funnels, including landing pages, lead capture forms, email automation, and more.
Basically, SamCart is used in the final stage of the buying process, whereas ClickFunnels focuses on the entire sales funnel journey.
Another key difference is the target audience – SamCart is only suitable for eCommerce brands wanting to create sales pages, upsells, order bumps, and clean checkout processes.
ClickFunnels, however,  is suitable for almost every online business type.
So whether you're an:
eCommerce business.
Agency.
Online coach.
Consultant.
Local brand.
B2B Brand.
Or non-profit……
You can dive into ClickFunnels and everything it has to offer!
Read more: How To Set Up Abandoned Cart in Shopify. 
SamCart vs ClickFunnels Ease Of Use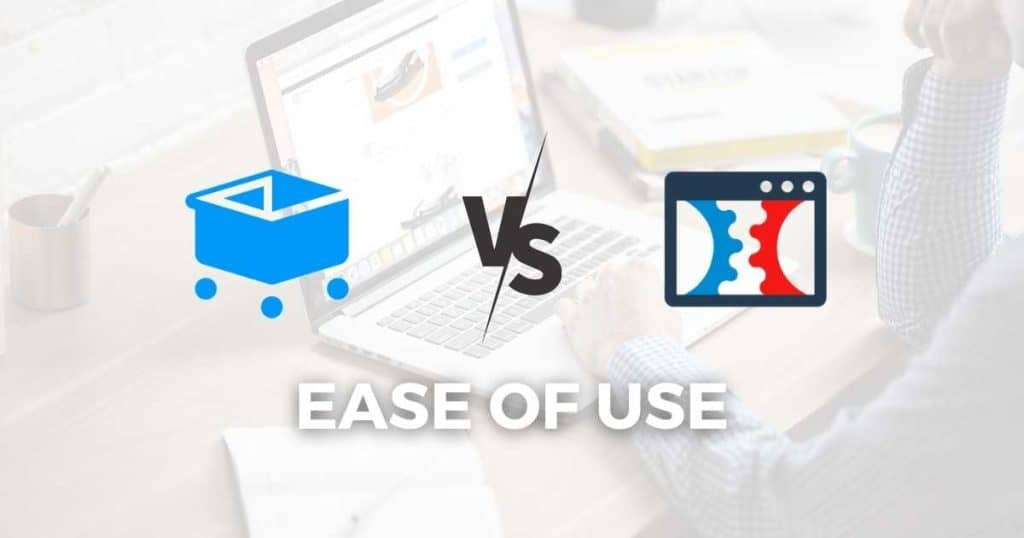 If you're after a user-friendly interface, you'll be pleased to know that both deliver! However, there are slight differences in terms of ease of use.
SamCart is known for its simplicity and straightforwardness (ideal for beginners!)
The platform provides a clean and intuitive interface and drag-and-drop editor, allowing you to easily set up and customize your checkout pages in minutes.
As we now know, ClickFunnels provides a comprehensive suite of tools and functionalities for creating and optimizing sales funnels.
While the interface is user-friendly, the abundance of features and options can initially seem overwhelming for newbies and may take some time to master and fully utilize.
And personally, I find the drag-and-drop content editor within ClickFunnels is a bit clunky.
Winner = SamCart
 Read more: ClickFunnels vs WordPress 
SamCart vs ClickFunnels Pricing
Launch: $79 per month.
Grow: $159 per month.
Scale: $319 per month.
Basic: $127 per month.
Pro: $157 per month.
Funnel Hacker: $208 per month.
As you can see, SamCart is the more affordable option for beginners.
In saying this, the 'Launch' plan doesn't come with some of SamCart's critical features like multiple payment options, one-click upsells, cart abandonment, or order bumps.
And for CRM integration capabilities and A/B testing, you'll have to upgrade to the most expensive plan (less affordable than ClickFunnels).
With CickFunnels, most of the features are available on all plans. The main difference between plans boils down to the number of domains, users, and payment gateways you'll get.
Winner = SamCart
Read more: Wix vs ClickFunnels.
SamCart vs ClickFunnels Tools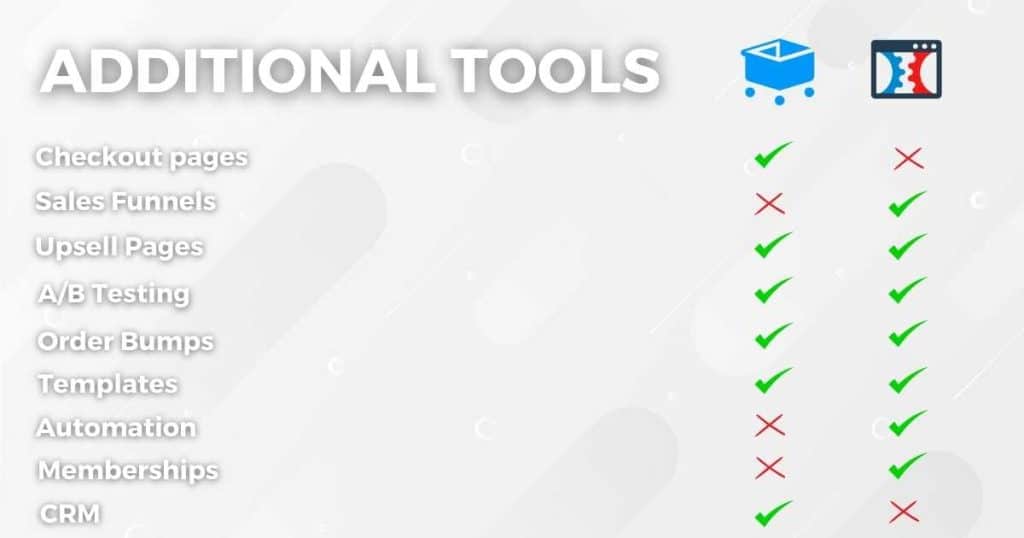 First things first, SamCart can't compete with all the extras ClickFunnels offers.
But for some, maybe that's what you're looking for. After all, sometimes more is less, right?
SamCart's features include:
Checkout pages.
Upsell pages.
Affiliate capabilities.
Integrations with CRM third-party tools.
A/B testing.
Coupon codes.
Monthly subscriptions.
Pre-built templates.
Order bumps.
Flexible payment methods.
Cart abandonment.
Additionally, SamCart supports many popular payment gateways like Stripe, Apple, and PayPal.
And with their subscription management feature, you can easily set up and manage any recurring subscription billing for any products you're selling!
But sadly, you're out of luck if you're after email marketing, a dedicated landing page builder, or automation features – SamCart doesn't offer any of these essential marketing tools.
Learn more about the best online store between Shopify vs Ecwid.
Now, let's look at what ClickFunnels brings to the table.
ClickFunnels is primarily a sales funnel builder, but that's not all it can do! ClickFunnels markets themselves as a total marketing toolkit. And they don't disappoint.
Want to build a website or landing page? Engage in email marketing, A/B testing, or automation? Create a membership site? You can do all that and more on ClickFunnels!
Their drag-and-drop editor and customizable templates are not only incredible for sales funnel building – you can create and edit:
Landing pages.
Opt-in forms.
Upsells.
Downsells.
And order bumps.
All through the same easy content editor!
Plus, all plans come with unlimited pages, email sequences, products, workflows, and courses.
But let's not forget one of the biggest benefits of ClickFunnels! If you're an online store, you can sell digital and physical products (unlike the popular ClickFunnels alternative Kajabi).
And soon, they plan to release their very own CRM to boost functionality.
Winner = ClickFunnels
Read more: Kajabi vs ClickFunnels 
SamCart vs ClickFunnels Stand-Out Features:
Checkout Pages: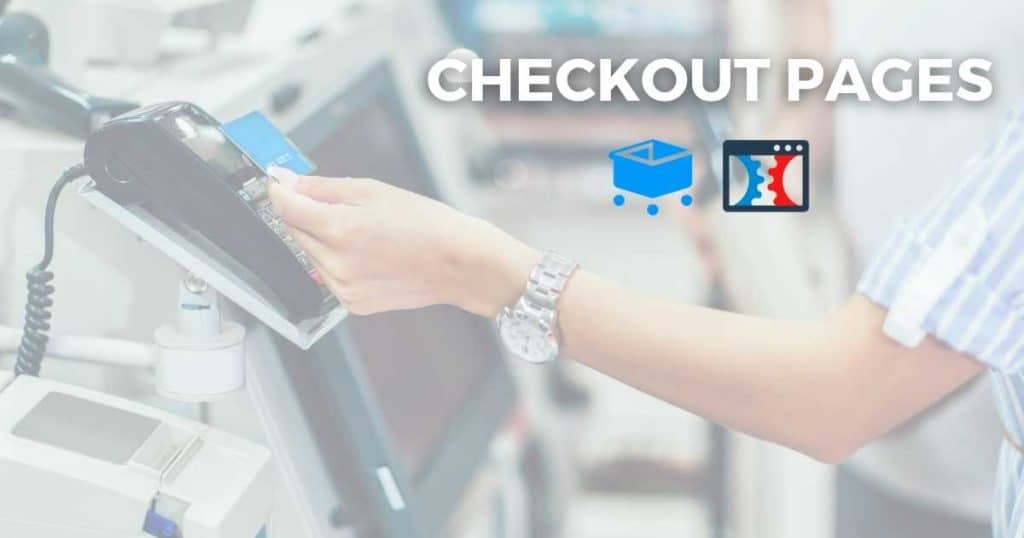 Losing a customer at the final stage of the sales process is actually pretty common for eCommerce businesses.
Think about it…how many times have you gone to purchase something but got lost along the way or just simply abandoned your purchase at the final checkout stage?
The checkout process is so crucial for eCommerce businesses, yet it is so often overlooked or designed without considering the importance of conversion optimization.
Which is why SamCart stands out from the rest.
With flexible and customizable conversion-optimized checkout pages, it's undoubtedly the platform's best feature.
SamCart's checkout pages are functional, intuitive, and visually appealing. And with 25 customizable templates for checkout pages, there's something for everyone!
You can fully customize the appearance and functionality of your checkout page by adding:
Product photos.
Modifying copy.
And incorporating pop-ups to reduce cart abandonment.
You can also display your checkout as a modal pop-up window and add trust seals to increase conversions.
ClickFunnels also has checkout pages. But they feel like an afterthought.
SamCart's much broader range of templates and design options are specifically tailored for checkout pages!
Therefore, it's the preferred choice to optimize the checkout process and improve conversions.
Winner = SamCart
Read more: Magento vs Shopify
Sales Funnel Builder: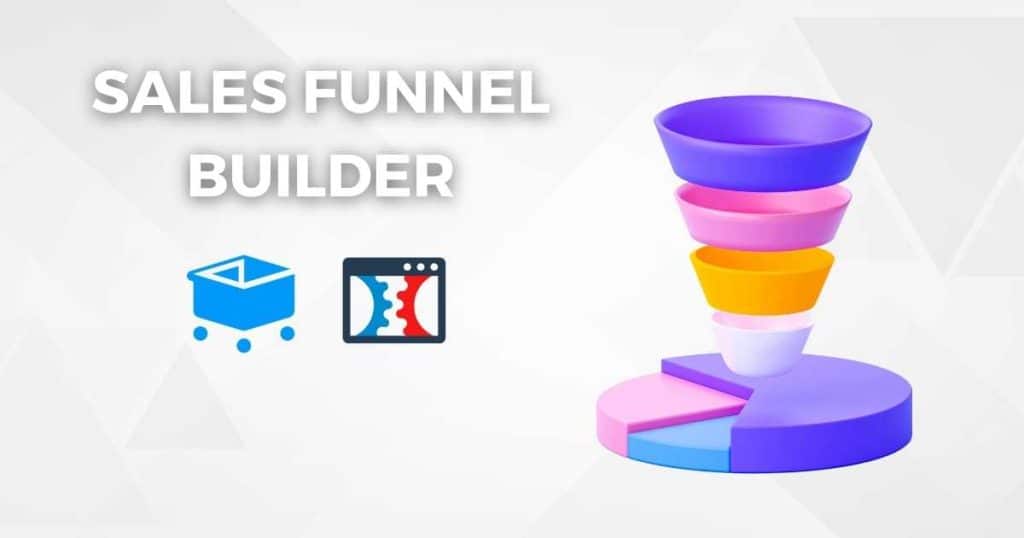 When implemented effectively, sales funnels can be a highly effective marketing tool to help you yield increased lead generation and sales.
However, creating sales funnels can be challenging, particularly for individuals without coding expertise.
Enter sales funnel builders.
Specifically designed for beginners or individuals with limited time, these tools allow anyone to easily and swiftly build a professional, aesthetically pleasing, and functional sales funnel.
ClickFunnels excels in this area with its top-notch sales funnel builder, offering an extensive selection of templates and a wide range of funnel types (20+)!
In comparison, SamCart focuses on optimizing the checkout process rather than comprehensive sales funnels and offers a one-page upsell template.
ClickFunnels's impressive customization options allow you to:
Reorder pages.
Add new ones.
Modify existing pages.
And redesign specific pages.
All through the easy-to-use drag-and-drop page builder!
ClickFunnels also enables users to share their funnels with others and conduct A/B testing on individual pages (a capability simply not available within SamCart).
Winner = ClickFunnels
Read more: Top 3 BEST Sales Funnels For Small Business. 
SamCart vs ClickFunnels Integrations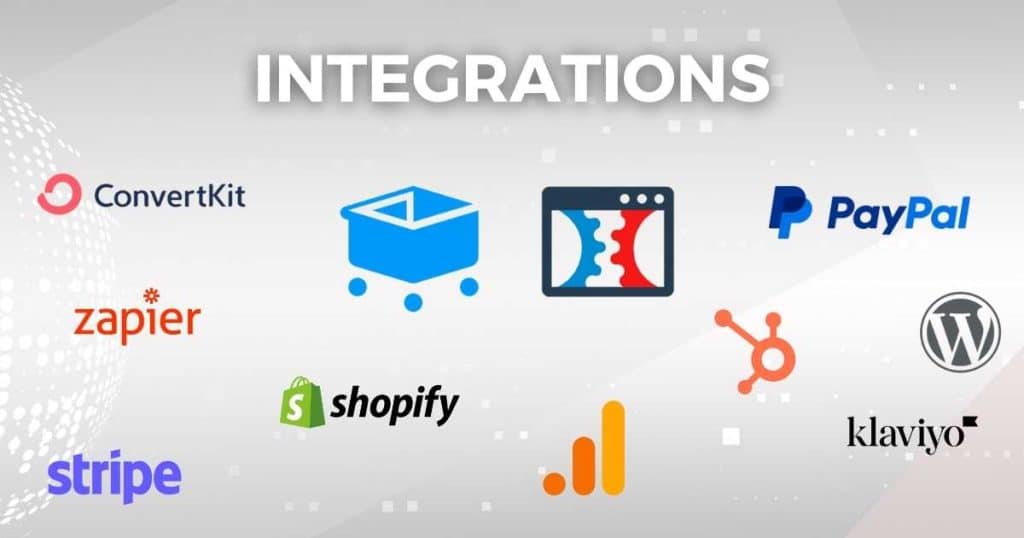 Both platforms integrate with a decent amount of popular tools to help enhance functionality and streamline business processes.
With SamCart, some popular integrations include Klaviyo or ConvertKit for email marketing, HubSpot for CRM help, WordPress, and additional payment gateways like Stripe or PayPal.
ClickFunnels, however, integrates with a much wider range of platforms and tools, such as:
Twilio.
Kajabi.
Stripe.
PayPal.
Salesforce.
WordPress.
Zapier, and more.
And like I said, ClickFunnels is a one-stop-shop for marketing and sales tools and, therefore, naturally offers a whole lot more (internally) than SamCart.
Winner = ClickFunnels 
SamCart vs ClickFunnels Support
SamCart offers 24/7 email support, plus live chat support during business hours (although it's unclear what timezone this refers to?)
And you'll find answers to common questions through their comprehensive knowledge base.
ClickFunnels offers support through email (all plans) and priority phone support on the top-tiered plan.
Their extensive library of training videos and articles can also help you navigate the platform, and the community forum is useful for connecting with others.
Winner = Draw
SamCart vs ClickFunnels – Which Is Best For You?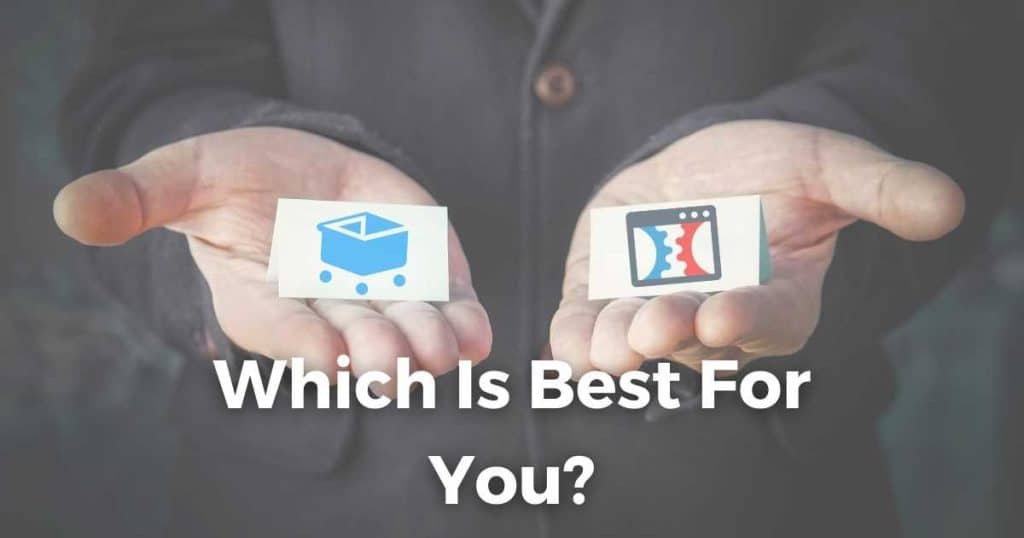 Alright, so which is the better choice for your business?
If you're an eCommerce business seeking a top-notch cart and checkout platform and already have a standalone email marketing solution, SamCart is the best in the business!
With SamCart, you can easily handle your payments, sales management, and product delivery, all while creating a seamless and customized checkout experience!
In comparison, ClickFunnels is for all types of teams seeking an all-in-one tool for landing page and sales funnel creation, product marketing and creation, email communication, and sales management.
With ClickFunnels, you can manage your online business seamlessly without relying on multiple applications and integrations!
And I have good news! It's absolutely possible and worthwhile to use both SamCart and ClickFunnels.
The combination of both platforms can be advantageous as they complement each other.
ClickFunnels, of course, offers powerful features for building sales funnels. And SamCart specializes in reducing shopping cart abandonment rates.
Integrating both platforms can provide a comprehensive solution to enhance your online business performance. 
Stews Final Thoughts
And that concludes my comprehensive guide comparing SamCart vs ClickFunnels!
While there isn't a straightforward answer (or a universally suitable solution) for online marketing, I hope I've made things a little easier for you.
Now, armed with the knowledge from this guide, you can select the platform that best aligns with your business and its needs.
So, which platform will you choose? SamCart vs ClickFunnels?
Share your decision below!