Who uses Monday.com, and is it suitable for you?
There are certainly some big names that use Monday.com.
But despite what you may think, Monday.com caters to all types of users and business sizes across various industries.
Including YOU!
Many startups, microbusinesses, and small business owners don't use a CRM or project management software.
If this is you, stop what you're doing right now!
It's time to get rid of that Excel spreadsheet (or worse, paper notes) and leverage one of the best total work management platforms out there…Monday.com.
Read more: What Is Monday.com?
Who Uses Monday.com?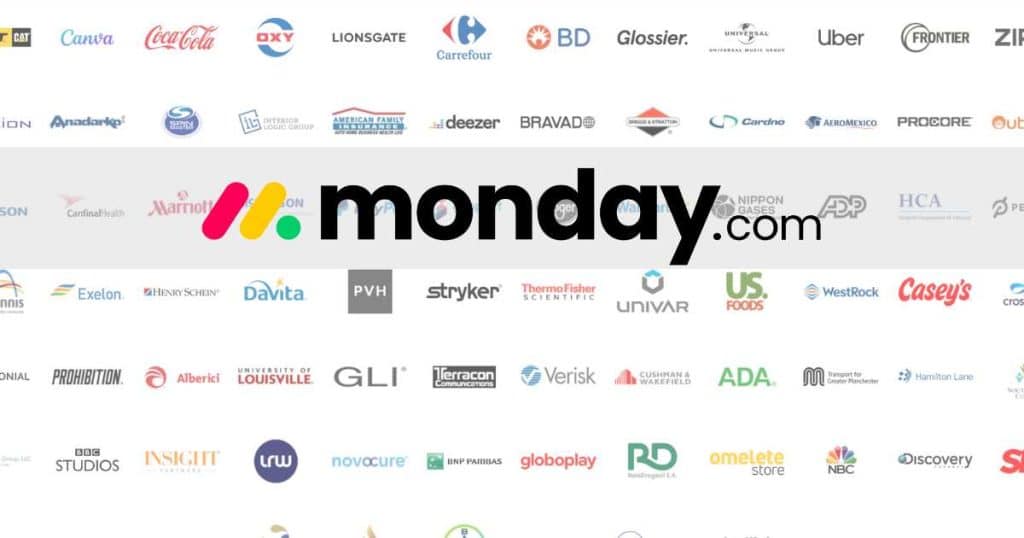 One of the things I love about Monday.com is its versatility across teams and organizations of all sizes.
From small startups to large enterprises, Monday.com is the perfect platform for businesses looking for an efficient way to manage their tasks, projects, and teams.
After all, Monday.com isn't just a project management software company. It's rather a total work management platform that focuses on processes.
So whether you're a freelancer, small business owner, or part of a multinational corporation, Monday.com offers the flexibility and functionality to meet the diverse needs within your business!
Read more: How To Create a Team In Monday.com? 
Is Monday.com For Small Business?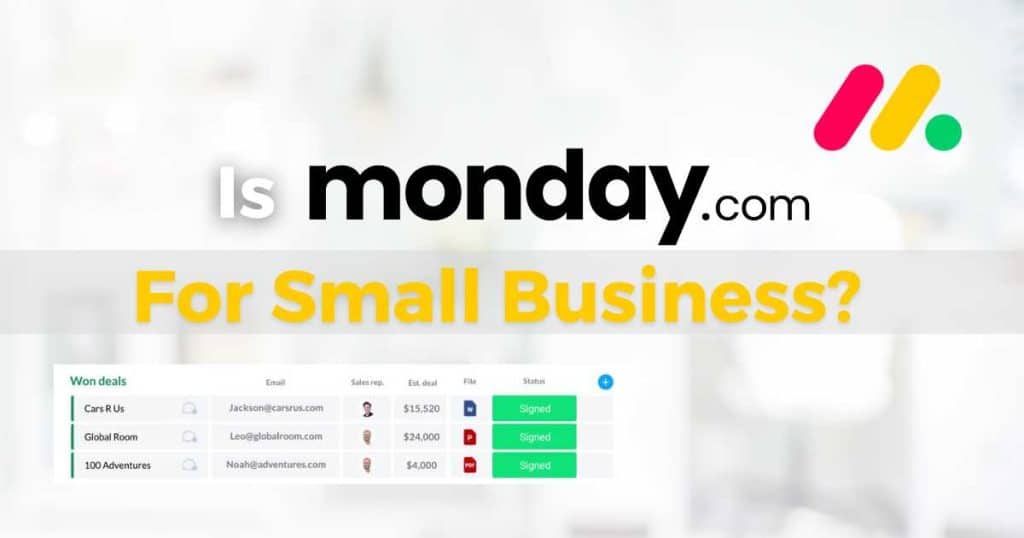 I believe Monday.com's free plan is one of the most versatile, customizable options for small businesses that are serious about streamlining their work processes.
Why? Well, for starters…it's free!
I know what it's like out there – small business owners simply don't have the budget to spend or invest in pricey online tools.
With Monday.com's free plan, you'll still have everything you need to organize your business sufficiently.
And the best part? You can customize your projects exactly how you like!
Some features include:
Up to 3 boards to manage everything (projects, tasks, and data).
Collaboration tools for a maximum of 2 team members.
200+ premade customizable templates.
8 column types.
Simple mobile app.
Real-time updates.
24/7 support.
Want to know more? Check out my full Monday.com Project Management Review Here! 
My Final Thoughts
If you want a versatile, easy-to-use, and visually appealing platform to organize every aspect of your business, I truly believe that Monday.com is the perfect platform for you.
Plus, Monday.com is a multi-product company, so you can use it for your CRM, sales, and marketing needs, too!
So, in response to the question, who uses Monday.com?
My answer would be….everyone!
Monday.com is super scalable and can handle the needs of small or large teams.
I could go on and on about how much I love Monday.com. But why don't you try it out for yourself?