ThriveCart vs ClickFunnels – which is right for your business?
If you're deciding whether to use a cart and checkout page builder or sales funnel builder, you've come to the right place!
ThriveCart and ClickFunnels are two popular online tools with the same objective – to convert visitors into actual customers.
First and foremost, I'll start by saying that both platforms excel at achieving this goal.
But with that said, they're very different tools. And chances are, one will be more suitable for your business! But which one? Well, that's why I'm here.
If you sell products, listen up!
Read more: ClickFunnels Alternatives 2023 
ThriveCart vs ClickFunnels 2023
Do you want to sell more products, drive more conversions, and reach more customers? ThriveCart and ClickFunnels are the way to go!
It's time to buckle up and prepare for the thrilling ride toward accelerated growth and success in your eCommerce business!
ThriveCart vs ClickFunnels – which is best for you?
Check out my Top 10 FREE Digital Marketing Tools For Small Businesses article here. 
What Are They? ThriveCart vs ClickFunnels
ThriveCart is a leading shopping cart platform designed to revolutionize your online business.
With innovative features and a user-friendly interface, Thrivecart empowers you to create highly effective shopping carts and upsell pages that drive jaw-dropping conversions.
With a range of services like premade templates, one-click landing pages, and comprehensive affiliate management, Thrivecart is all you need to easily sell your products online!
In comparison, ClickFunnels is a total marketing platform uniquely designed to prioritize lead generation.
You can create websites, courses, and memberships with ClickFunnels, but its primary focus is to help you create captivating and seamless sales funnels for your products.
ClickFunnels effortlessly transforms your visitors' journey into a simple and irresistible experience by streamlining the buying process!
If you want to effortlessly capture the interest of your target audience and increase your chances of converting them into loyal customers, ClickFunnels is your new best friend.
Want to know more? Give my comprehensive ClickFunnels guide a read.
What Are The Differences Between ThriveCart vs ClickFunnels?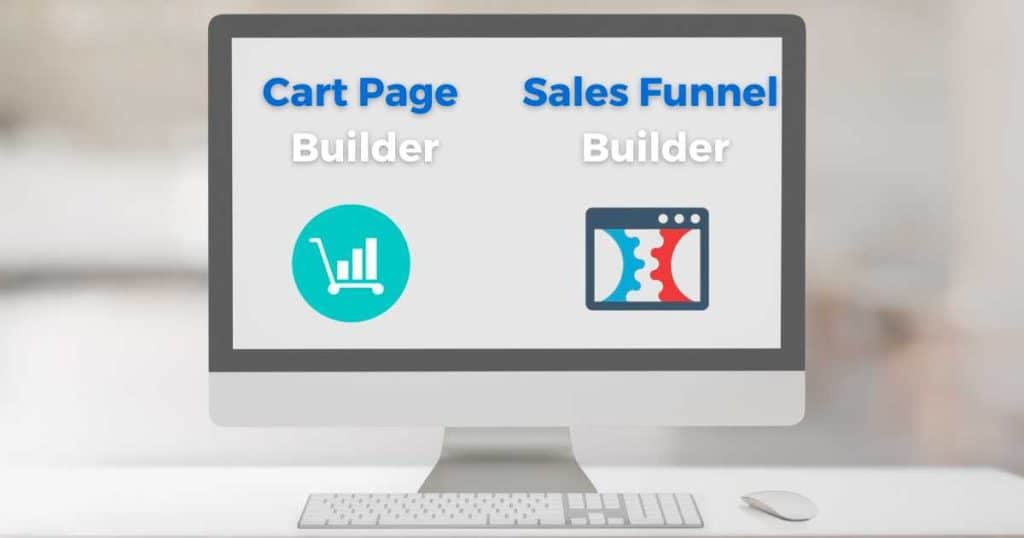 At first glance, ThriveCart and ClickFunnels may sound like they do the same thing.
But, as I mentioned, they're actually quite different (despite having the same end goal).
The biggest difference? ThriveCart is a cart page and funnel builder, whereas ClickFunnels is a fully-fledged sales funnel builder tool.
ClickFunnels is an online marketing toolkit offering other dynamic tools and features like landing pages, email marketing, websites, online courses, and more.
It's worth mentioning that you can build sales funnels with ThriveCart, but not very easily. After all, its primary focus is on the shopping cart experience.
ClickFunnels, however, was designed to build versatile and high-converting sales pages and funnels.
Overall, ThriveCart provides features contributing to a sales funnel process, whereas ClickFunnels offers a comprehensive solution for the entire sales funnel.
Read more: Best Sales Funnel Builder 2023. 
ThriveCart vs ClickFunnels Ease Of Use
Something you should always consider when choosing any online software is its ease of use. In other words, will you spend hours learning how to use the software?
The good news is that ThriveCart and ClickFunnels are relatively easy to use and navigate.
ThriveCart boasts an intuitive interface that appeals to both beginners and experienced users, making it an excellent choice for eCommerce teams just getting started.
On the other hand, ClickFunnels offers a wider range of features, which may be overwhelming for beginners.
However, ClickFunnels does provide extensive resources to help new users master their advanced functionalities, which is a tick in my book.
In terms of templates and customization, ThriveCart's ready-to-use templates are A/B tested and optimized for conversion rates, so you can quickly customize your pages without having to know any code.
ClickFunnels, on the other hand, offers a larger selection of A/B tested templates for various purposes and an easy-to-use drag-and-drop editor for further customization.
I think the editor is a bit clunky; therefore, ThriveCart's simple template choices and user-friendly editor wins this one!
Winner = ThriveCart
Read more: ClickFunnels vs WordPress
ThriveCart vs ClickFunnels Pricing
ThriveCart offers a one-time payment lifetime membership plan for $495 (October 2023). However, this is a limited-time offer, so it's best to double-check the price yourself.
Also, you can upgrade to the pro version for just $195 ($690 in total).
Basic: $127 per month.
Pro: $157 per month.
Funnel Hacker: $208 per month.
I know $495 sounds expensive, and it is a lot for small businesses. But, considering it's a one-off (lifetime!) payment, it's by far the most affordable option.
Winner = ThriveCart
Read more: Wix vs ClickFunnels.
ThriveCart vs ClickFunnels Tools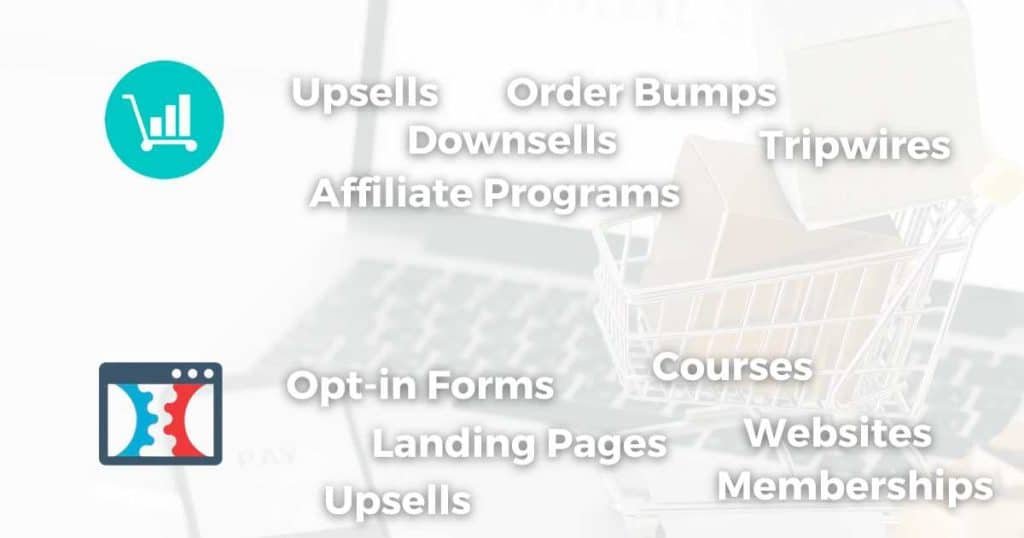 Okay, so now that you understand what each platform is, how easy it is to use, and how much it costs, I'm sure you're all wondering the same thing.
How much do you actually get with each tool? Let's take a look.
While ThriveCart is primarily a 'shopping cart,' it's important to recognize that it offers much more than that.
In addition to facilitating checkouts, you can:
Create upsells, downsells, and order bumps.
Incorporate coupons and discounts.
Establish tripwire offers.
Implement flexible payment plans.
Build membership sites.
Host courses.
Establish affiliate programs.
Plus, you can conduct A/B testing, set up an autoresponder, and easily share cart pages with others.
Now, let's delve into the features and capabilities of ClickFunnels.
ClickFunnels is primarily recognized as a powerful sales funnel builder, but like ThriveCart, its offerings extend far beyond what it's known for.
In addition to sales funnel creation, with ClickFunnels, you can build websites and landing pages, engage in email marketing campaigns, conduct A/B testing, utilize automation, and even create membership sites.
With their drag-and-drop editor and customizable templates, you can create and modify:
Landing pages.
Opt-in forms.
Upsells.
Downsells.
Order bumps.
What's more, all ClickFunnels plans offer unlimited pages, email sequences, products, workflows, and courses.
And ClickFunnels has exciting plans for the future, as they intend to release their very own CRM (Customer Relationship Management) system.
ClickFunnels undoubtedly does more than ThriveCart. But that's not surprising, as it does market itself as a total digital toolkit.
Something I will say is that I was pretty impressed that you can sell digital and physical products on both platforms (something not all online tools can do!)
Winner = ClickFunnels
Read more: 7 Best CRM Tools For Small Business. 
ThriveCart vs ClickFunnels Stand-Out Features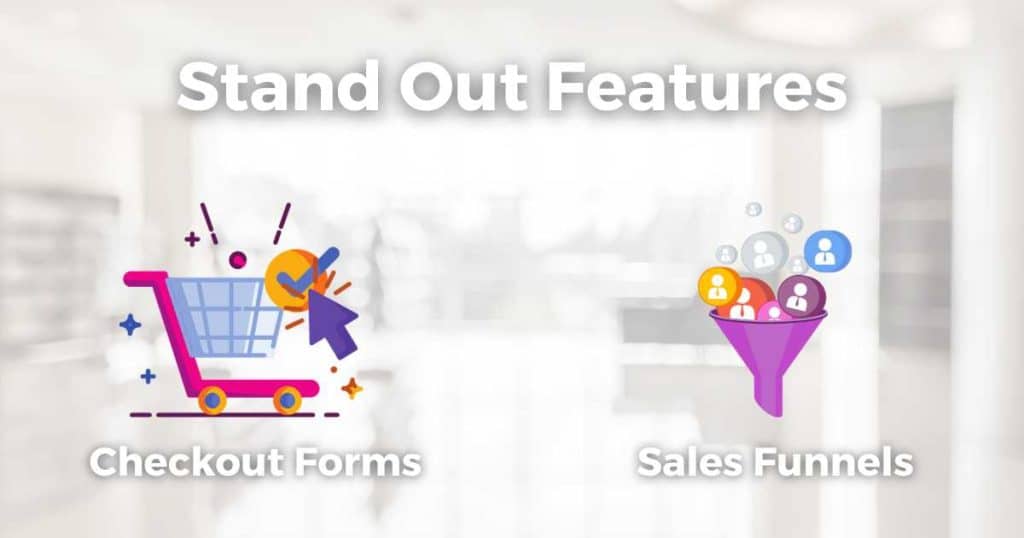 Checkout Forms
While both platforms provide cart and checkout form capabilities, ThriveCart shines regarding shopping cart functionalities.
One standout feature of ThriveCart is its embeddable carts.
What do I mean by this? You can embed your cart directly onto your own page so that your customers can seamlessly shop without being redirected to a separate checkout page whenever they add something to their cart.
This smooth shopping experience enhances convenience and, at the same time, encourages customers to make more purchases.
But ThriveCart doesn't stop there. You can also create captivating popup carts that appear at the perfect moment on relevant pages of your site.
These well-timed popups have the potential to transform browsers into shoppers instantly.
To optimize the checkout process, ThriveCart offers four customizable templates.
You can choose between:
Single-step checkout forms: Allows customers to add payment and delivery
Two-step checkout forms: Collects valuable customer information before the final checkout.
And ThriveCart's upsell feature provides a powerful opportunity to promote complementary products to customers as they check out.
By offering to upsell products at a higher price point (strategically chosen to enhance items already in their cart), you'll effortlessly increase the value of each customer's purchase.
In addition to upsells, ThriveCart equips you with a range of tools to drive sales, like discounts, free trials, payment plans, and one-time payment options.
These sales-boosting features empower you to entice customers, maximize conversions, and ultimately skyrocket your revenue.
It's important to note that ClickFunnels also offers upsells and checkout forms, but they're not as easy to set up, and they don't offer as many features.
ThriveCart is built around creating a seamless customer buying experience, so it's no surprise they come out on top here!
Winner – ThriveCart
Read more: ClickFunnels vs Shopify
Sales Funnels
When effectively executed, sales funnels are one of the best marketing tools to help you boost lead generation and increase your sales.
However, creating sales funnels can be challenging, especially if you lack coding expertise.
This is where sales funnel builders come into play.
Designed with beginners and time-constrained users in mind, sales funnel builders enable anyone to construct professional and visually appealing sales funnels effortlessly.
And the best part? They actually work.
ClickFunnel's sales funnel builder is the standout feature of the platform.
Compared to ThriveCart, ClickFunnels offers a broader selection of templates and a diverse range of funnel types, with over 20 options available.
You can easily rearrange pages, add new pages, modify existing pages, and redesign specific pages using the intuitive drag-and-drop page builder.
Additionally, ClickFunnels allows for funnel sharing and individual page A/B testing.
In essence, ClickFunnels streamlines the sales funnel-building process to the point where anyone can do it.
ThriveCart lets you build basic sales funnels, but they're nowhere near as complex. And in all honestly, it's a lot easier to create high-converting sales funnels with ClickFunnels!
Winner = ClickFunnels
Read more: Magento vs Shopify 
ThriveCart vs ClickFunnels Support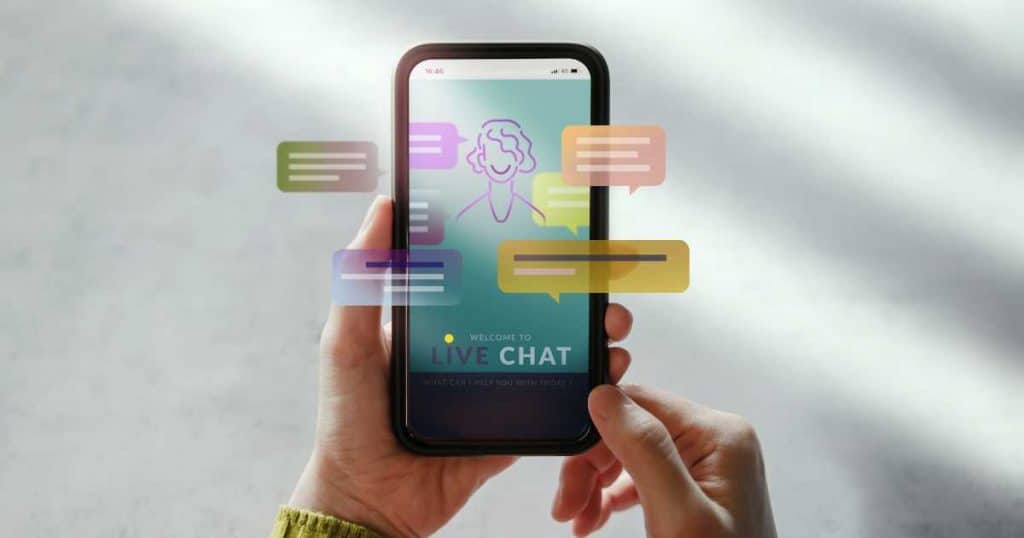 Navigating an online platform can be daunting – especially for beginners or new users.
This is where customer support comes to the party.
When it comes to availability, both platforms boast 24/7 support during weekdays.
ThriveCart offers support through an FAQs section, emails, and training documents. And while these resources provide valuable guidance, one key aspect is missing: live chat support.
In contrast, ClickFunnels takes customer support to the next level, offering a plethora of options.
Need quick assistance? They've got you covered with live chat support. Prefer written communication? No problem! ClickFunnels offers reliable email support as well.
Additionally, ClickFunnels has comprehensive training, videos, live training sessions, and an incredible Facebook community.
Winner = ClickFunnels
Read more: Top 3 BEST Sales Funnels For Small Business. 
ThriveCart vs ClickFunnels Who Are They Best For?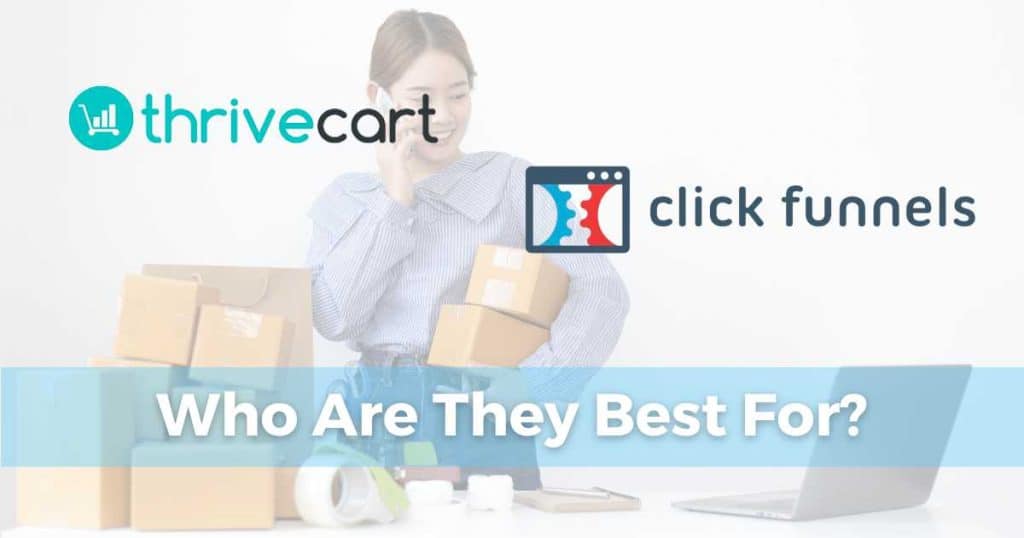 As you can see, both platforms offer a range of valuable features – but like many online tools, they excel in different areas.
So, what should you choose? Well, it ultimately boils down to your business needs and priorities.
If you prioritize an all-in-one solution offering funnel-building capabilities, a website builder, and robust automation tools, look no further than ClickFunnels!
ClickFunnels is perfect for people looking to supercharge their online sales by creating and optimizing high-conversion-focused sales funnels to capture and convert leads.
On the other hand, if you value a simplified affiliate management program, the ability to create upsell pages, and cost-effective lifetime access quickly, then ThriveCart is the better fit for you.
If you already have a website and audience and just want to build checkout pages, ThriveCart is the ultimate streamlined solution for selling online. 
Stews Final Thoughts
And that it is for my comprehensive guide on ThriveCart vs ClickFunnels!
Making a decision in the realm of online marketing can be challenging – trust me, I know.
There are just so many different online tools and platforms out there, right?
Ultimately, the choice between ThriveCart and ClickFunnels depends on your unique business requirements and objectives.
Now that you know everything there is to know about both platforms, I hope you can select the platform that best aligns with you.
So, which platform will you choose? Will it be ThriveCart or ClickFunnels?