Looking for the best sales funnel builder on the web? Look no further than DropFunnels vs ClickFunnels!
Marketing funnels play a critical role in driving customer engagement and conversions.
And by leveraging a well-designed marketing funnel, did you know that you can attract prospects and guide them step-by-step towards taking an action or purchasing a product?
DropFunnels vs ClickFunnels 2023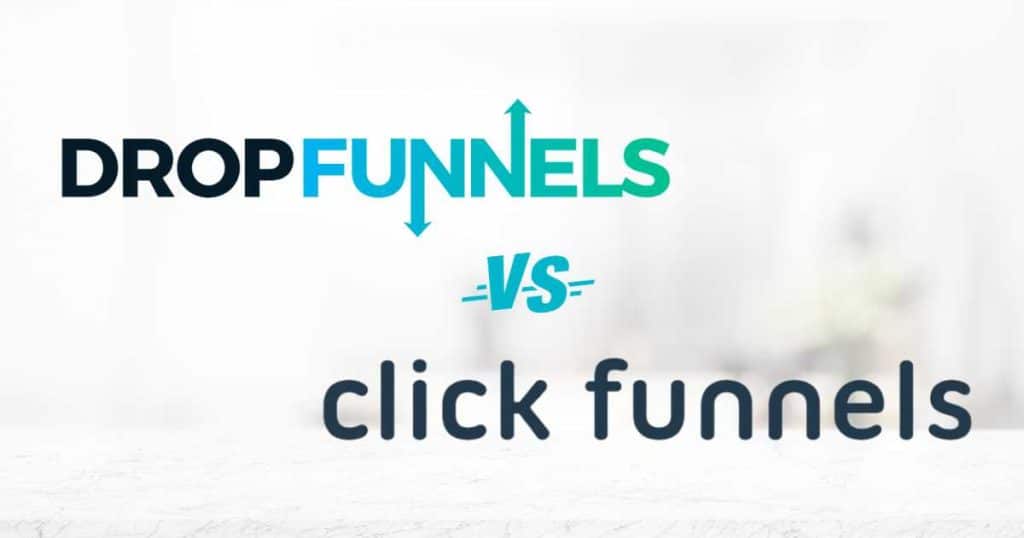 DropFunnels and ClickFunnels are two digital solutions that can help increase your sales and grow your business through marketing sales funnels (and other dynamic tools).
Both are excellent at what they do. But what's the difference between the two, and which one should you use?
Well, the good news is that I've done all the hard work for you!
In this ultimate showdown between DropFunnels vs ClickFunnels, I'll dive into what each platform offers to break down which is the best option for you and your marketing funnel needs.
Are you ready to skyrocket your business to the next level? It's time to fasten your seatbelt and revolutionize your marketing funnel strategy!
DropFunnels vs ClickFunnels…let the showdown begin!
Read more: Top 10 FREE Digital Marketing Tools For Small Businesses. 
What Are They? DropFunnels vs ClickFunnels
DropFunnels is a cutting-edge website and funnel builder designed to offer a streamlined experience for users.
How, you might ask? With customizable templates, advanced SEO features, its very own CMS (content management system), and all-in-one solution for hosting, membership sites, pipelines, and online courses.
On the other hand, ClickFunnels has gained immense popularity for its user-friendly interface, extensive range of pre-built funnel templates, and wide array of features.
Known for versatile A/B testing, order forms, customizable templates, and email marketing automation, ClickFunnels pioneered the popularity of sales funnel builders!
It's important to note that both platforms aim to simplify the process of creating effective marketing funnels to maximize conversion rates and leads.
So, what's the difference between them then? It's time to find out.
Read more: How To Use ClickFunnels
What Are The Differences Between DropFunnels vs ClickFunnels?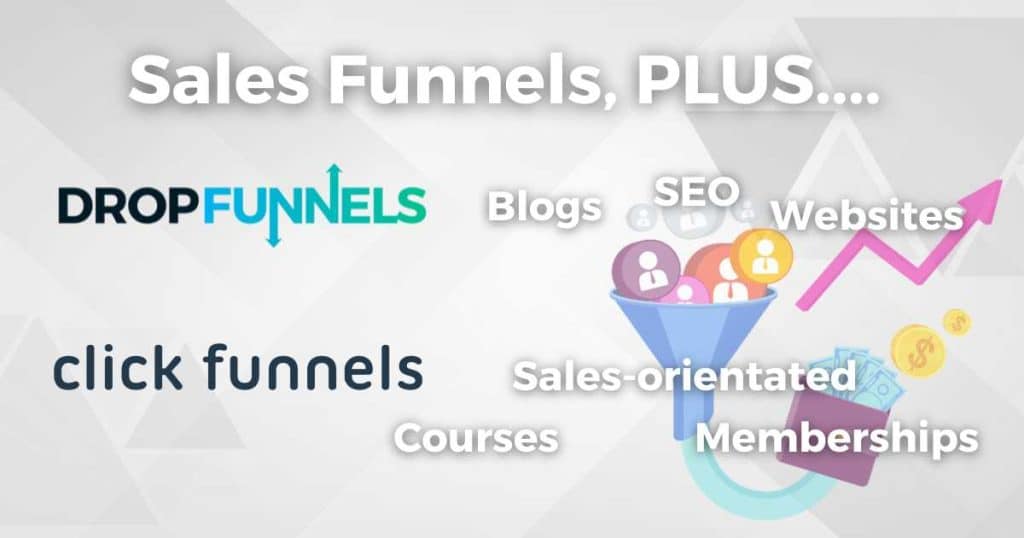 Okay, so you might be thinking, these platforms seem eerily similar…? Yes, both can build sales funnels, but in terms of their focus, they're actually quite different.
Essentially, DropFunnels excels at SEO, websites, blogs, and sales funnels.
And while ClickFunnels offers many features like courses, memberships, and email marketing, it's far more sales-orientated than DropFunnels.
After all, there's a reason why it's one of the most popular sales funnel-building platforms out there!
But one of the biggest differences between them is that DropFunnels is built on the robust website infrastructure of WordPress
I know what you're thinking: isn't WordPress a little…annoying? Normally, I'd agree that WordPress also comes with the stress of plugins, themes, and hosting.
But DropFunnels takes care of all of this for you! This means that you can build a fully-fledged website or blog with ease that's scalable and remarkably fast!
Although you technically can build a website with ClickFunnels, it's much more limited.
Personally, I wouldn't use ClickFunnels to create a website or blog. ClickFunnel's strongest feature is, without a doubt, its sales funnel-building capabilities.
And this is where ClickFunnels has the upper hand over DropFunnels (but more on this soon!).
For now, let's take a look at how each compares in terms of ease of use.
DropFunnels vs ClickFunnels Ease Of Use
It's no secret that ClickFunnels revolutionized the accessibility of sales funnel creation.
With ClickFunnels, business owners of all skill levels can now quickly create high-coverting and impressive sales funnels through the easy-to-use drag-and-drop editor.
And despite new competitors entering the market (enter: DropFunnels), ClickFunnels still remains one of the easiest platforms to use.
In contrast, DropFunnels also boasts a user-friendly drag-and-drop system.
While there are other WordPress options with WYSIWYG builders, DropFunnels stands out by providing a comprehensive range of features, completely eliminating the need for additional plugins.
This ultimately saves you time, money, and unnecessary stress!
If you're a beginner, both ClickFunnels and DropFunnels are equally accessible and straightforward.
However, ClickFunnels may have a slight edge regarding ease of use.
DropFunnels offers more granular customization options that may take some time to master. Therefore the learning curve is steeper.
Winner = ClickFunnels
Read more: ClickFunnels Alternatives 2023
DropFunnels vs ClickFunnels Pricing
Starter: $99 per month.
Ultimate: $299 per month.
DropFunnels also offers a 14-day trial, but the catch is that you'll have to pay $129 monthly for the 'Starter' plan instead of just $99.
By not opting for the 14-day trial, you'll save a total of $350 per year and also get other incredible benefits!
Basic: $127 per month.
Pro: $157 per month.
Funnel Hacker: $208 per month.
ClickFunnels also offers a 14-day trial plus a 30-day money-back guarantee.
In all honestly, if you're just after sales funnels, DropFunnels and ClickFunnels are pretty overpriced.
If you're after a more affordable option, I recommend checking out my favorite FREE sales funnel builder here!
Winner = DropFunnels
DropFunnels vs ClickFunnels Tools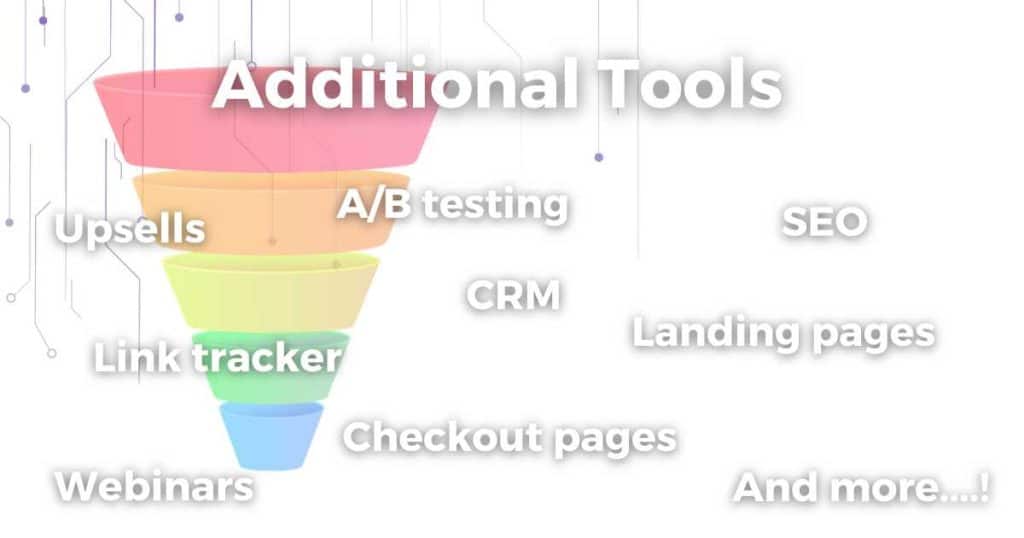 Okay, so we know both platforms are good for building sales funnels. But both market themselves as an all-in-one platform. So, what other tools do they provide?
And which one comes out on top? I'll start with DropFunnels.
In addition to sales funnels, you'll also get unlimited products, blogs, landing pages, websites, pipelines, courses, and membership sites.
If you're building your website from scratch, you'll appreciate that you can create unlimited sales funnels, pages, and blog posts in one place!
DropFunnels does offer templates, but nowhere near as many as ClickFunnels.  But in saying that, DropFunnels is better for customization.
Additional DropFunnels tools include:
One-click upsells.
Checkout pages.
Advanced SEO tools.
Payment gateway integrations with popular payment gateways.
Custom domain mapping.
A built-in CRM software.
Built-in link tracker.
And what about ClickFunnels?
The best thing about ClickFunnels is that all plans get unlimited sales funnels, courses, products, pages, workflows, and email sequences.
Additionally, you'll get:
Landing pages.
One-click upsells and downsells.
A/B testing.
Payment gateway integrations with Stripe and PayPal.
Thank you pages.
Order bumps.
Webinars.
CRM (coming soon!)
Analytics.
Email marketing and workflow automation.
Memberships.
 So, in terms of tools, both have plenty to offer. But two things stand out to me:
ClickFunnels doesn't come with very good SEO tools.
DropFunnels doesn't provide built-in email marketing.
And with that said, let's look at the standout features of DropFunnels vs ClickFunnels.
Winner = Draw
Read more: Wix vs ClickFunnels 
Drop Funnels vs ClickFunnels Stand-Out Features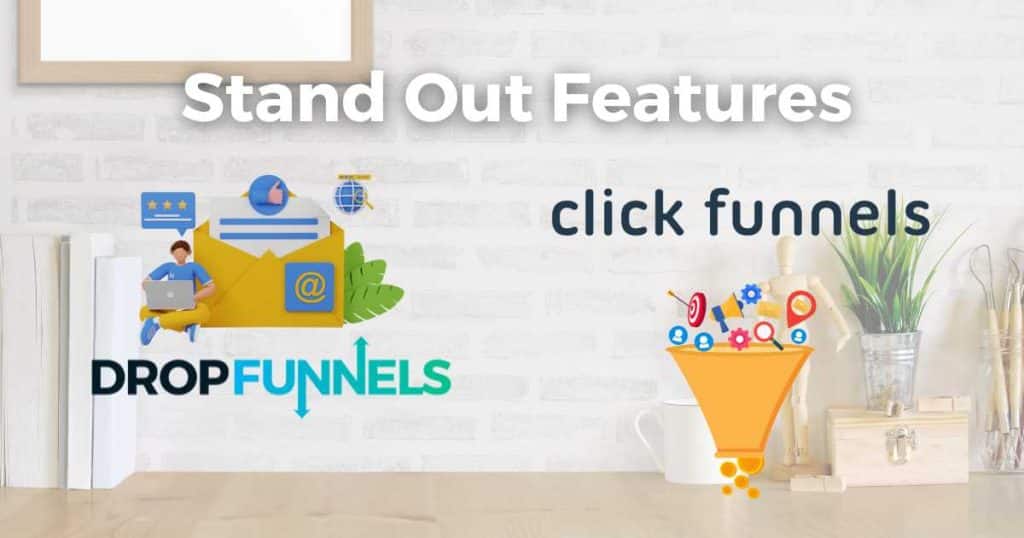 Like I've said, DropFunnels and ClickFunnels share many commonalities. But what are the stand-out features of each platform?
I've nailed down some key features to help you understand which is best for you!
Check them out below:
Page Optimization
No one likes a slow website…so do DropFunnels and ClickFunnels prioritize page speed optimization?
If you're unfamiliar, nearly half of the internet is powered by WordPress websites. There are numerous reasons for its popularity (that I don't have the time to get into now!)
But one of them is its ability to boost page loading speed significantly. This, in turn, leads to improved sales performance.
Given its foundation on WordPress, DropFunnels dominates ClickFunnels in this department!
And many funnels initially created in ClickFunnels have been recreated in DropFunnels, resulting in a remarkable decrease in page load time from about 30 seconds to less than a second!
Winner = DropFunnels
Read more: ClickFunnels vs WordPress
SEO
We all know how important SEO is to rank higher on search engines. So, are DropFunnels and ClickFunnels SEO-friendly?
ClickFunnels primarily focuses on providing you with everything you need to set up and run sales funnels using various custom domains.
And while this approach certainly has its advantages, unfortunately, it significantly diminishes your chances of achieving high rankings on search engines like Google.
Instead, ClickFunnels emphasizes driving traffic through paid advertisements and email marketing.
On the other hand, DropFunnels operates differently, focusing on paid and organic traffic across its sites and blogs.
It allows only one domain per account, which is actually a major advantage when it comes to prioritizing SEO.
Some of DropFunnel's dedicated SEO features include:
A dedicated SEO dashboard.
Real-time analytics.
Helpful tips to assist with improving your ranking on search engines.
With these features, you can effectively optimize your SEO strategy!
It's worth mentioning that although ClickFunnels isn't the best for SEO alone, it can be used in conjunction with other SEO strategies.
Winner = DropFunnels
Want to know more about SEO? Check out my SEMrush comprehensive review here!
Sales Funnel Builders
When implemented effectively, sales funnels are a valuable marketing tool for generating leads and boosting sales.
However, creating sales funnels on your own can be challenging, particularly if you lack coding expertise.
Fortunately, sales funnel builders were developed specifically with beginners in mind.
These platforms enable anyone to effortlessly and swiftly build professional and visually appealing sales funnels!
Among these sales funnel builders, ClickFunnels stands out with its exceptional sales funnel builder feature.
Offering a wide array of templates and funnel types (20+), ClickFunnels caters to both physical and digital product sales funnels.
In comparison, DropFunnels put up a good fight, but it can't quite compete with ClickFunnel's straightforward content editor and funnel-sharing capabilities.
After all, there's a reason why ClickFunnels is the most well-known sales funnel builder out there!
Winner = ClickFunnels
Read more: Top 3 BEST Sales Funnels For Small Business.
Email Marketing
In terms of email marketing, both platforms' approaches differ.
ClickFunnels offers robust email marketing capabilities with a built-in email autoresponder feature, so you can easily create and send automated email sequences to your subscribers.
On the other hand, DropFunnels doesn't offer any internal email marketing tools.
Instead, you'll have to integrate with third-party email marketing services like ActiveCampaign, ConvertKit, or Mailchimp.
This isn't necessarily a bad thing, though! These tools offer advanced features and segmentation capabilities! Therefore, this one's up to you.
Does the convenience of having everything on one platform outweigh advanced email marketing and automation?
Winner = Draw
Read more: Omnisend vs Klaviyo For Email Marketing 
DropFunnels vs ClickFunnels Support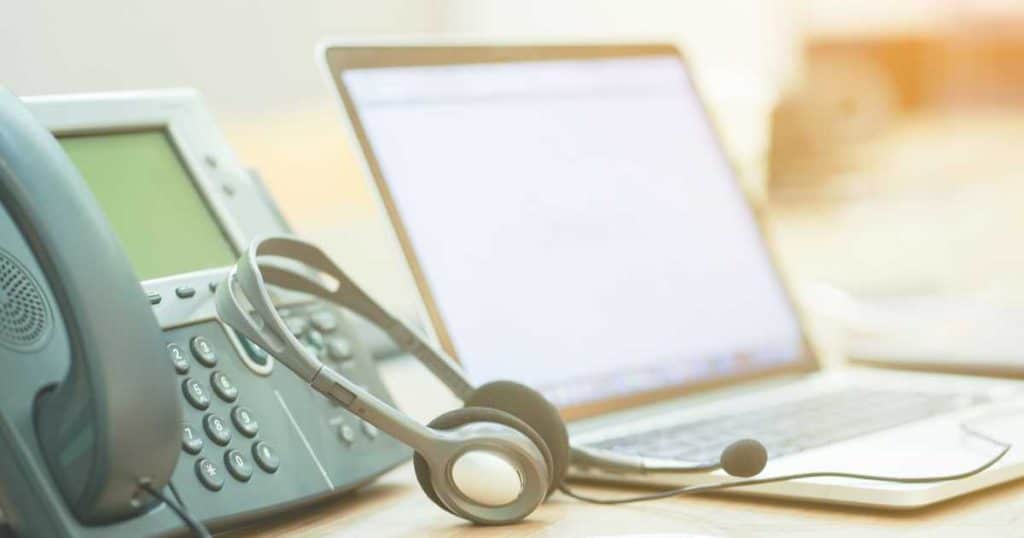 ClickFunnels offers live chat and email support and an extensive knowledge base. They also have a Facebook community with a whopping 250k members!
DropFunnels, on the other hand, strongly emphasizes providing personalized support.
Did you know you can reach out and receive one-on-one assistance from their support team? They're available 24/7, 6 days a week, and aim to reply to tickets within 2 hours.
Plus, they have a dedicated Slack channel, and you can even hire a specialist to help you with any funnel, marketing, or website issues you may be having.
DropFunnels community base may not be as extensive as ClickFunnels, but their personalized approach certainly packs a punch and, therefore, is the winner in my eyes.
Winner = DropFunnels
Read more: ClickFunnels vs Shopify 
DropFunnels vs ClickFunnels Who Are They Best For?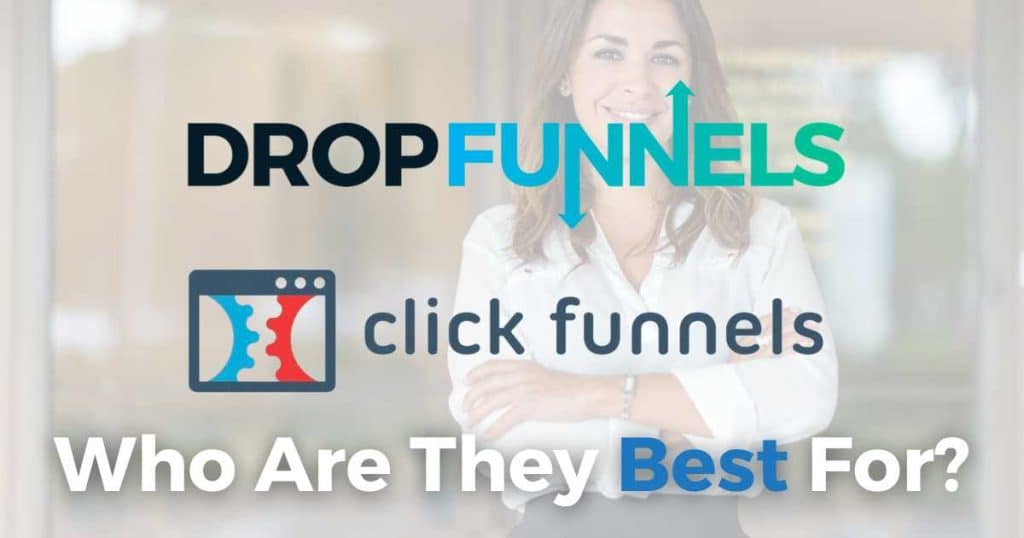 Have you made your decision yet? Well, if you haven't, don't worry. Before I wrap up this DropFunnels vs ClickFunnels article, here's my final verdict.
If you're a small business focused on selling (digital or physical) products and prioritize paid advertising and email marketing for traffic generation, ClickFunnels is your guy.
On the other hand, if you're a content creator, blogger, or just want to boost your online presence through SEO, DropFunnel's powerful CMS platform and built-in SEO tools are a no-brainer.
Plus, DropFunnels is there for you if you want to dabble in a bit of sales funnel marketing, too! Talk about the best of both worlds! 
My Final Thoughts
And there you go! Congratulations on making it all the way to the end of this DropFunnels vs ClickFunnels comparison.
So, what do I think?
ClickFunnels has been around for longer and has the name and brand behind them.
Because of this, many believe that ClickFunnels is the number one pick for sales funnels, courses, memberships, and more.
But honestly, I think DropFunnels gives ClickFunnels a run for their money!
As a fairly newcomer in the game, they offer some pretty nifty features for a decent price.
I'm eager to find out, which will you choose – DropFunnels vs ClickFunnels?