ActiveCampaign vs MailChimp 2023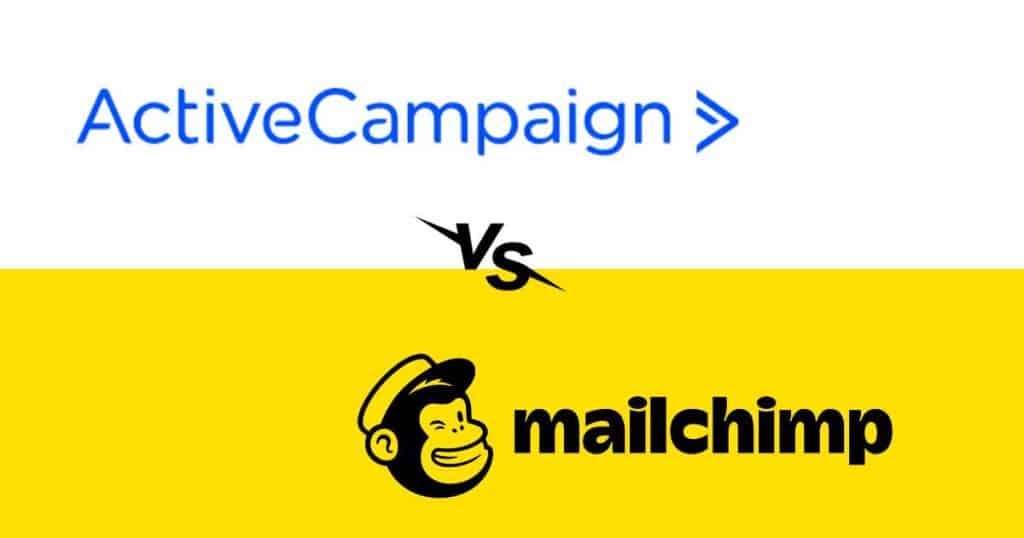 Email marketing in 2023 is as powerful as ever.
And for small business owners, choosing the right email marketing service is essential to grow and succeed.
In this guide, I will dive deep into MailChimp and one of its top competitors, ActiveCampaign.
I'll explore the main differences between the two, including ease of use, pricing, main features, and more.
My goal? To make the choice slightly easier for you!
ActiveCampaign vs MailChimp – Which should you choose?
Read more: Omnisend vs MailChimp. 
What Are They? MailChimp vs ActiveCampaign
For many years, MailChimp has dominated the online space as the top pick for small-medium-sized businesses wanting to get started with email marketing.
MailChimp is a widely recognized email marketing platform that allows you to create and send email campaigns, build landing pages, and automate marketing processes.
Known for its user-friendly interface and drag-and-drop editor, MailChimp, for many years, was the perfect solution for users of all skill levels.
On the other hand, ActiveCampaign is an online automation tool that goes beyond email marketing.
With advanced automation capabilities, CRM functionality, and flexible segmentation options, ActiveCampaign is quickly becoming a top email marketing and automation choice!
Read more: How To Use MailChimp?
What Are The Differences Between ActiveCampaign vs MailChimp?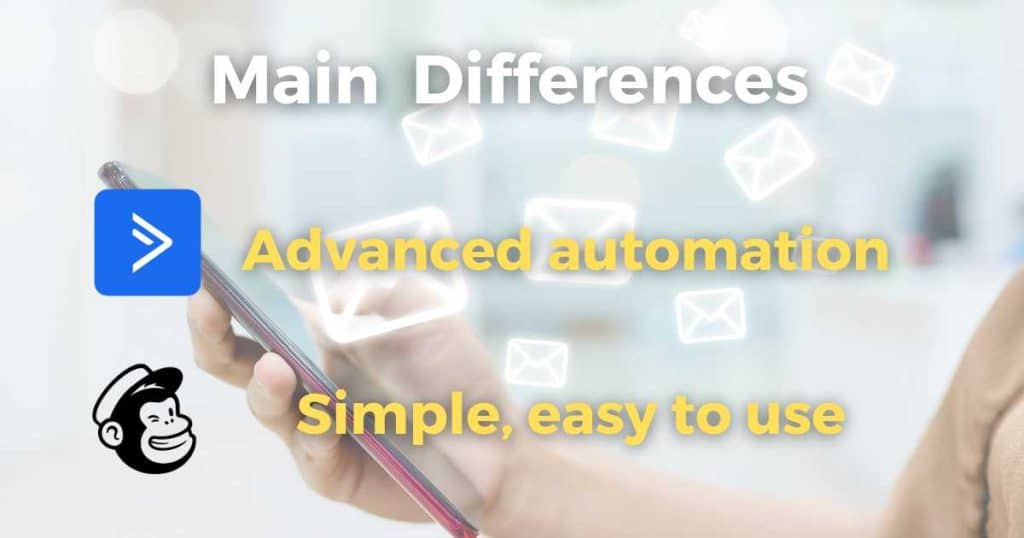 There's a reason why ActiveCampaign and MailChimp are two of the most popular email marketing automation platforms out there.
However, they differ in terms of their features and capabilities.
The main difference?
MailChimp boasts a simple interface and user-friendly email marketing tools, whereas ActiveCampaign offers a comprehensive suite of features geared toward growing teams.
With that said, let's dive into the specifics.
I'll start with probably the most critical aspect of any online tool. Are they easy to use?
Read more: ConvertKit Tutorial For Beginners. 
Ease Of Use
In the early 2000s, email marketing software was complex and primarily targeted large enterprises.
Enter MailChimp. With simple features, an easy-to-use interface, and an intuitive drag-and-drop editor, MailChimp was the ideal solution for small business owners.
Don't get me wrong, MailChimp is still easy to use, which is why it's still so popular 20+ years later!
However, it's not perfect. For example, landing pages aren't readily accessible within the main navigation, and building forms and automations can get a little complicated.
And what about ActiveCampaign? Designed as a powerful platform with advanced features, ActiveCampaign's interface is fast, easy to navigate, and offers a polished user experience.
The drag-and-drop editor in ActiveCampaign allows for easy creation of emails, with a wide range of content and styling options available.
In saying that, if you're completely new to automation and segmentation, you may find the number of sub-headings and features overwhelming.
The verdict? ActiveCampaign requires more time and effort to become familiar with its features, whereas MailChimp is relatively more straightforward to master.
Winner = MailChimp
Read more: Omnisend vs tinyEmail.
Pricing
ActiveCampaign offers 4 plan options and different plan types within those options.
Let's look at their marketing plans (best for email and automation marketing):
Lite: $29 per month.
Plus: $49 per month.
Professional: $149 per month.
Enterprise: Custom price.
Plus, they have an awesome Bundle plan for businesses needing CRM and email marketing services.
MailChimp has 4 tiered dedicated Marketing pricing plans, and the prices differ depending on how many contacts you have.
Typically, small businesses don't have more than 500 contact. Therefore, the prices below are for an email list with 500 contacts only.
Free
Essentials: From $13 per month.
Standard Plan: From $20 per month.
Premium:
MailChimp also has Transactional Email and Website and Commerce plans.
Winner = MailChimp
Read more: Omnisend vs Klaviyo.
ActiveCampaign vs MailChimp Email Marketing Tools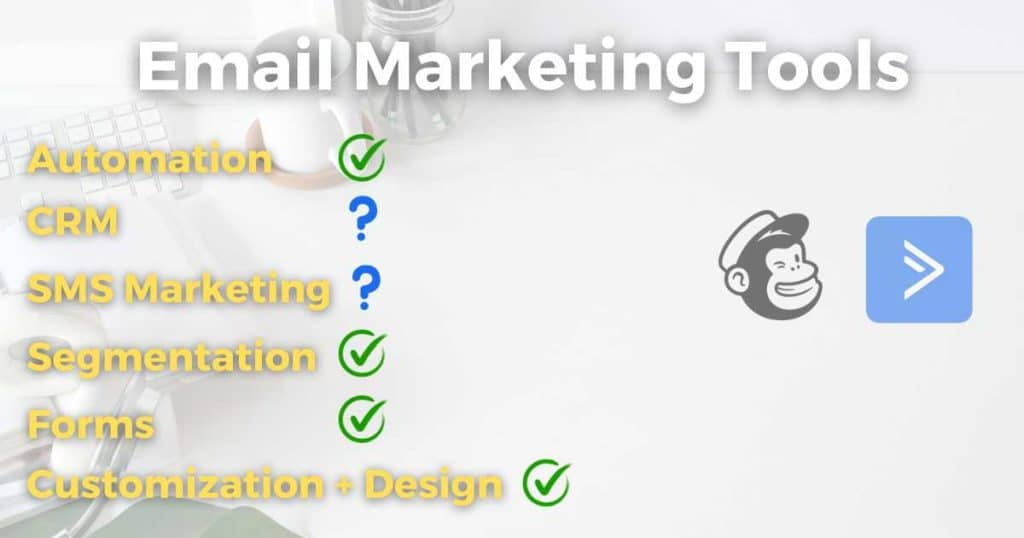 Customization and Design:
MailChimp offers more modern designs than ActiveCampaign, but the catch is you'll have to upgrade to the Standard plan or higher to use them.
This means that small businesses on lower-tiered plans are left with somewhat outdated and generic templates.
However, you can customize the 14 available layouts with your own colors and images.
ActiveCampaign has a whopping 250 nicely designed and mobile-friendly templates across all plans.
They offer greater flexibility, with the ability to add the following content blocks into your templates:
Text.
Products.
Promo codes.
Images.
Social buttons.
These content blocks allow you to create more compelling campaigns. Plus, you can even import your own templates if you want!
An added advantage is that if you're on ActiveCampaign's Plus plan (or higher), you'll get free customized email designs.
Overall, ActiveCampaign offers more design options and flexibility regardless of the plan, whereas there are more limitations within MailChimp.
Winner = ActiveCampaign
Read more: Klaviyo vs MailChimp.
Automation:
MailChimp offers powerful email automation capabilities, but they don't stand a chance against the extensive features of ActiveCampaign.
ActiveCampaign allows you to build sophisticated workflows by combining triggers and conditions for emails, lead scoring, segmentation, and more.
You can even export a list of subscribers who have clicked on specific links for remarketing purposes!
Additionally, simply create and automate SMS campaigns to target a wider audience and integrate your campaigns with the built-in CRM to automate your sales process, too (more on this soon!)
On the other hand, MailChimp provides basic trigger automation options for things like opened emails, abandoned cart campaigns, or purchase confirmations.
However, MailChimp lacks flexibility in setting automation triggers to follow different paths.
And while they also offer SMS marketing, you'll have to use a third-party tool for automation integration.
Both tools offer A/B testing capabilities, but MailChimp's split tests are limited to the number of contacts.
ActiveCampaign surpasses MailChimp with its Automations Map feature, which visualizes and tracks how your automation workflows are connected (available on higher plans only).
This dynamic feature can help you maximize the use of automation!
Winner = ActiveCampaign
Find out more about automation on MailChimp here.
Forms:
If you're after a range of form types, you'll be impressed by ActiveCampaign's selection.
You can choose from 4 form types:
Inline
Floating bar.
Floating box.
Modal (pop-up).
The form editor is visually intuitive and user-friendly, making it easy to add new fields.  And your forms can even be embedded, linked to, or directly added to WordPress or Facebook!
Additionally, ActiveCampaign provides options to associate forms with lists, tags, and even deals.
MailChimp also allows you to create embedded or pop-up forms, but the process is more complex. And not all forms in MailChimp appear to be mobile-responsive, adding to the complexity.
While the form builder in MailChimp is intuitive, it requires using a different editor for embedded forms and yet another one for pop-up forms.
The reason? It's unclear. I know, it doesn't make any sense.
So, with that said, ActiveCampaign's more straightforward approach makes it much easier to understand and navigate the form setup process.
Winner = ActiveCampaign
Read more: Top 5 FREE Landing Page Builders For Small Business.
Segmentation:
When it comes to sending emails to your contact list, ensuring they end up in the right inbox is crucial.
This is where segmentation comes into play.
Both MailChimp and ActiveCampaign offer several email segmentation features to enhance the targeting of your campaigns.
I'll start with ActiveCampaign.
Simply segment your audience by using lists, segments, and custom fields so you can create broader or more focused email marketing campaigns.
Lists: Based on the intended message type (announcements, promotions, networking, etc).
Tags: More targeted than lists. These are used for specific campaigns.
Custom fields: Information about particular contacts you can gather from forms (names, birthdays, phone numbers, etc.)
The one-condition segmentation process is similar for both platforms.
However, MailChimp faces some restrictions when it comes to creating multiple-condition segments.
Its listing options are also limited in comparison. With MailChimp, you can only include an email contact in one list for an email campaign.
Including the same contact twice in a campaign would result in a duplicate charge (MailChimp charges per subscriber).
ActiveCampaign lets you run the same campaigns with different lists, even if they include similar contacts.
Winner = ActiveCampaign
Read more: ClickFunnels vs ConvertKit.
CRM:
While MailChimp claims you can use its platform as a CRM, it doesn't provide a dedicated CRM tool.
You'll get access to comprehensive contact data, revenue reports, and eCommerce integrations, but it doesn't compare to the purpose-built CRM offered by ActiveCampaign!
ActiveCampaign's CRM excels in managing deals and opportunities, seamlessly linking marketing activities with sales processes.
The CRM allows you to:
Create pipelines.
Generate deal records.
Assign deal owners.
And automate sales communications and processes!
In my opinion, this functionality and customization level sets ActiveCampaign apart from many other email marketing solutions out there!
But it's worth mentioning that to use ActiveCampaign's CRM, you'll have to opt for their Sales plan or Bundle plan.
Regardless, the ability to combine your CRM and email marketing is indeed impressive in my eyes!
Winner = ActiveCampaign
Read more: 7 Best CRM Software For Small Business. 
ActiveCampaign vs MailChimp Support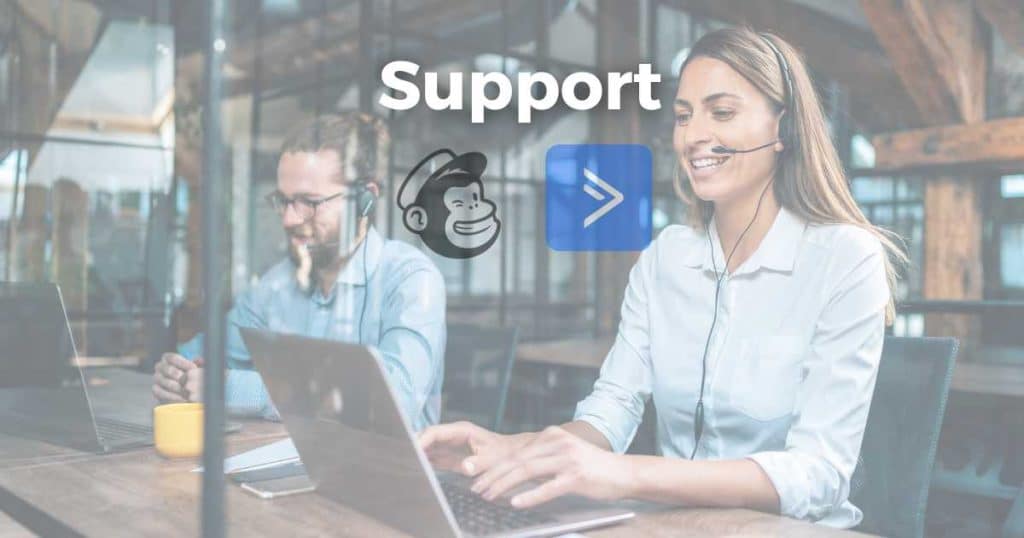 You'll be in good hands with both ActiveCampaign and MailChimp, as they offer various support options, including email, live chat, knowledge bases, and tutorials.
But ActiveCampaign goes the extra mile by providing one-on-one training and a community forum, making mastering the slightly more complex features more manageable.
ActiveCampaign's 'Help' icon (located in the bottom right corner) is in the same spot on any screen within the tool.
In contrast, MailChimp's email and chat support is only available within the knowledge base page.
With accessible support channels, personalized training, and a community forum, ActiveCampaign ensures you can easily navigate and optimize their powerful email marketing platform!
Winner = ActiveCampaign
Read more: How To Use Klaviyo Automations. 
ActiveCampaign vs MailChimp Who Are They Best For?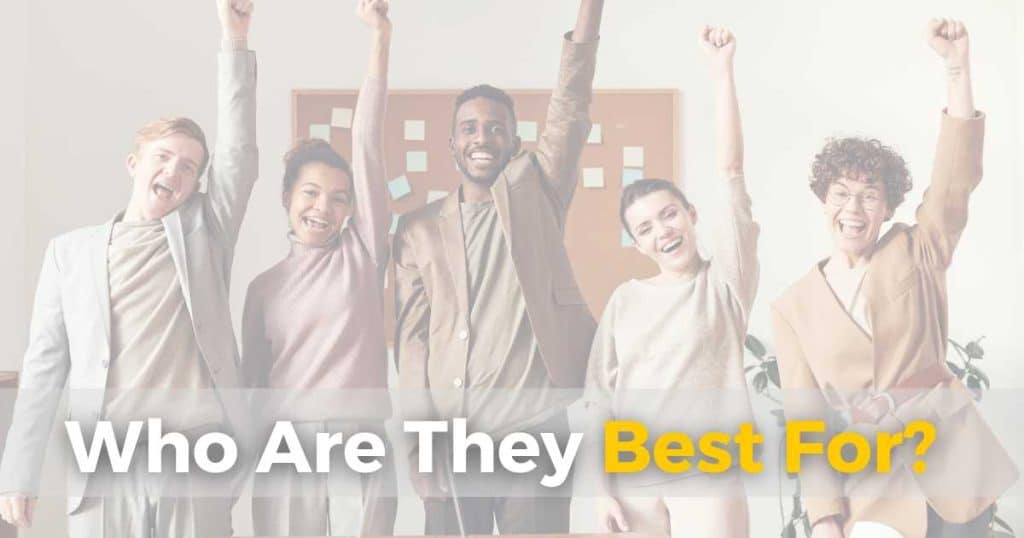 As you've probably guessed, ActiveCampaign and MailChimp cater to different user needs and preferences.
So, which is best for you? Let me break it down for you.
If you're after a comprehensive email marketing solution with advanced automation capabilities (and don't already have a CRM), ActiveCampaign will certainly deliver!
With powerful segmentation options, one-on-one training, and a community forum, it's the perfect choice for teams looking to scale and grow.
Alternatively, MailChimp does an excellent job fitting fundamental email marketing tools into one simple package that won't cost you a dime!
Therefore, if you're an individual or small to medium-sized business just looking for a  user-friendly platform that does the job, I'd definitely go with MailChimp. 
My Final Thoughts
And that is everything you need to know!
I hope you can confidently identify whether ActiveCampaign vs MailChimp is the best email marketing choice for you.
My main piece of advice? Give both a go!
You can make the most of ActiveCampaign's awesome automation and marketing features with their 14-day trial.
Or, give MailChimp's free plan a go for yourself to find out if its limitations bother you.
And if you find both platforms don't work for you, that's okay!
Check out some other email marketing tools! There are plenty available.
You can find all my email marketing-related articles here to help you.
 Thanks for reading.