Monday.com is a leading work and project management platform choice for many businesses. But is Monday.com free?
Let's find out!
You'll be happy to know that, yes, Monday.com is free!
If you're after a basic project, task, and CRM platform to help you stay on top of your work, look no further than Monday.com's 'Free Forever' plan.
Or, maybe you want to give one of their paid plans a go but don't want to commit?
Well, the good news is that you can use Monday.com's free trial.
Let's find out more.
Read more: What is Monday.com? 
Monday.com free plan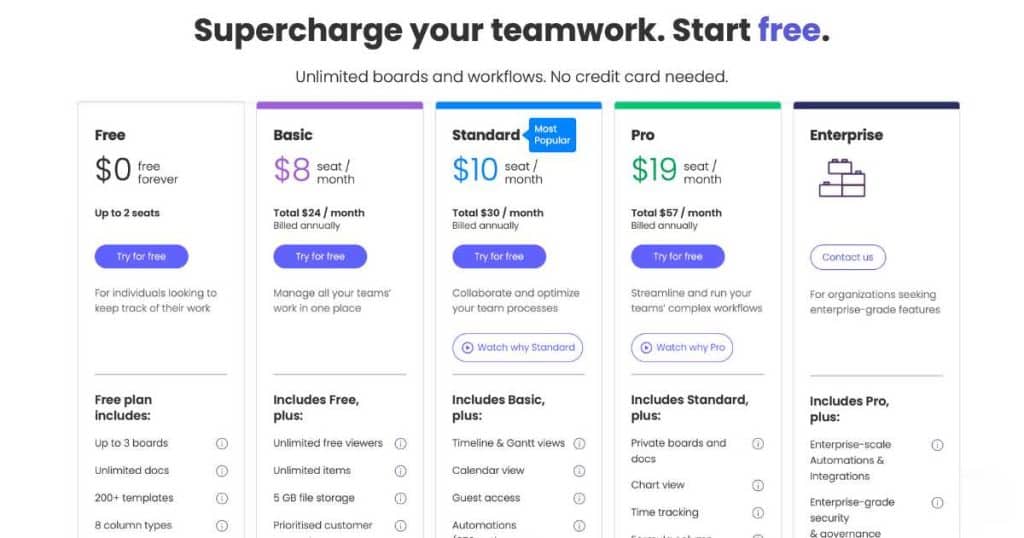 The main features of Monday's free plan include:
A maximum of 3 boards to organize your projects, tasks, and data.
Unlimited documents to assist with collaboration (up to 2 team members).
Over 200 customizable templates.
8 different column types.
Easy to use mobile app.
Real-time updates.
24/7 customer support.
As I mentioned earlier, Monday.com's free forever plan is perfect for small teams, freelancers, or individuals.
And once your team grows, Monday.com offers four paid plans to suit your individual business needs!
It's important to note that Monday.com also offers dedicated project management and CRM plans, which are not free.
However, the 'Free Forever' plan is available through their standard work management plans.
Read more: Monday.com project management review and Monday.com CRM review
Monday.com Free Trial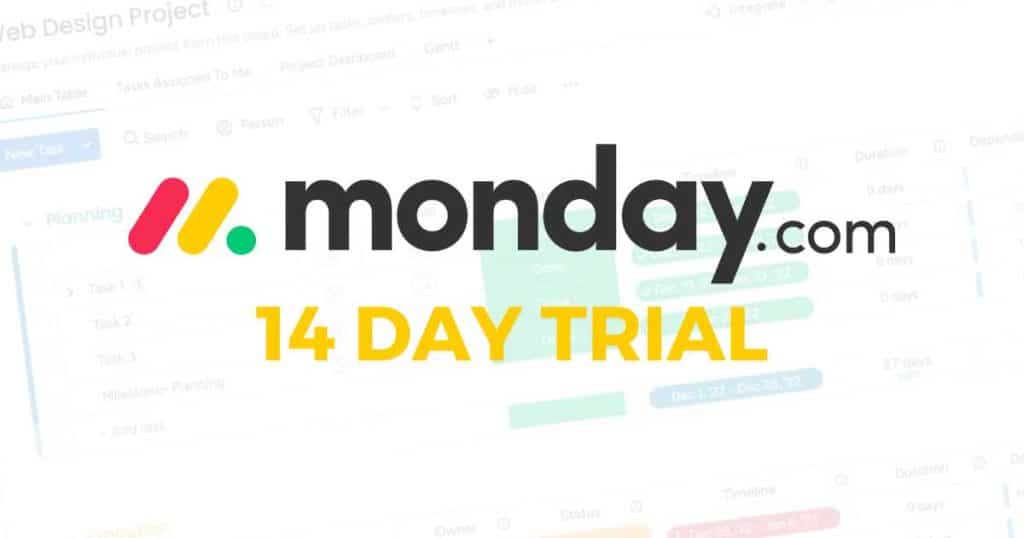 Monday.com offers a 14-day free trial for their 'Pro' plan, so you can test it before jumping all in!
This is where you'll have access to Monday's advanced features, such as:
Automations.
Integrations.
Advanced reporting.
Private boards.
Time tracking.
These dynamic features make Monday.com stand out from the crowd compared with other work and project management systems.
Read more: Monday.com Project Automations 
Stews Final Thoughts
Monday.com is one of the best work and project management tools available in 2023.
In fact, they continue to dominate the online world! (And with so many competitors out there, that's saying something).
Many platforms don't offer free plans, which we all know is vital for small businesses that simply don't have the budget to spend.
So for a platform as big, versatile, and flexible as Monday.com, I think it's incredible that they offer both a free plan and a 14-day trial!
Want to know more? Check out my full range of Monday.com articles here.