Are you a content creator, small business owner, freelancer or solopreneur looking for the best online video editor?
You're in luck!
It's no secret that popular video platforms like TikTok, Youtube, and Vimeo will continue to rise in years to come.
And therefore, I believe all businesses need to get serious about creating engaging video content for their audience to grow their brand (and stay relevant).
However, not everyone has the budget or experience to use professional-grade video editing software.
That's where online video editors come in.
In this article, I'll be exploring the top five best online video editors in 2023, both free and paid.
I aim to help you find the perfect tool for your video editing needs, no matter your budget, expertise, purpose, or business type.
Do you want to create stunning high-quality videos that stand out from your competitors?
Let's find out how.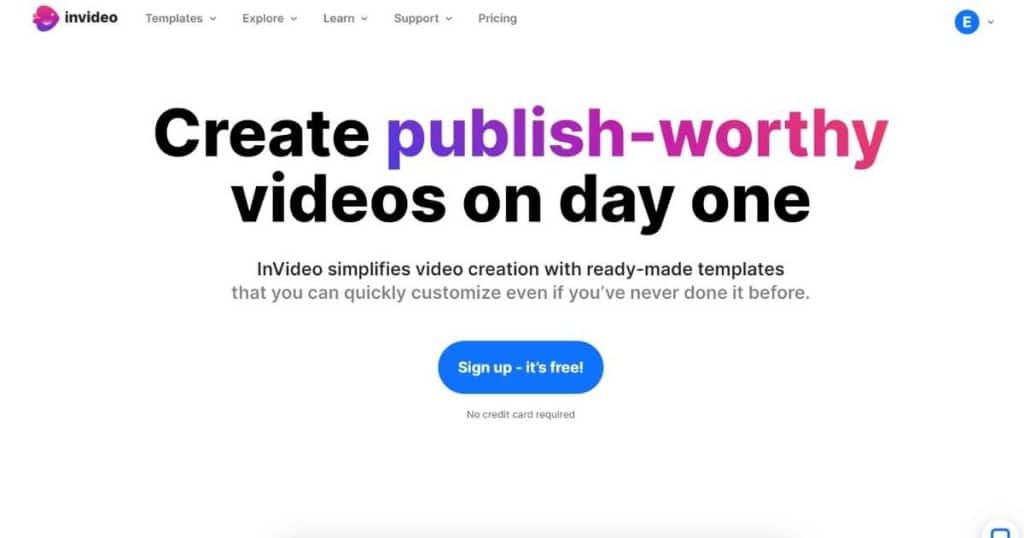 InVideo is one of my favorite video creation and editing platforms.
Why? You can create captivating and professional videos in just a few minutes.
With an extensive library of over 6000 unique and customizable video templates, millions of stock images and videos, and an intuitive drag-and-drop editor, what more can you ask for?
Say goodbye to expensive agencies and hello to quick, professional, and exceptional video content with InVideo.
Invideo is up there with one of the most extensive yet easiest video editors I've come across.
Some platforms make searching for specific templates, images, or videos difficult.
However, with Invideo, all you have to do is type in a keyword related to your video, and BOOM..simply pick from the huge variety of suggested templates!
Once you've found a template you like, you can fully customize your video to your liking by adding your own text, images, background, colors, and more.
This can all be done through their clear and fresh interface and intuitive drag-and-drop editor.
You can find anything you need to edit your video on the left-hand sidebar, and view your video scene at the bottom of the screen.
It truly is that simple.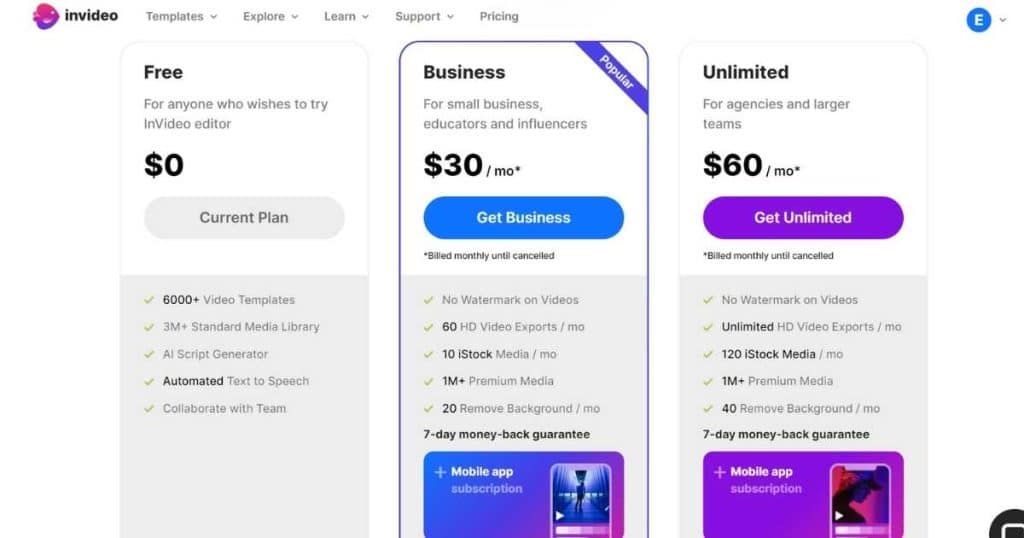 Free: $0
Business: $30 per month
Unlimited: $60 per month 
As I already mentioned, Invideo is fully customizable. This means you can add unique items specific to your brand into your videos from various Invideo elements.
Some of these elements include:
Photos.
Graphics.
Text.
Logo.
Music.
Stickers.
And shapes.
Additionally, you can also upload your own images or videos, then customize those further.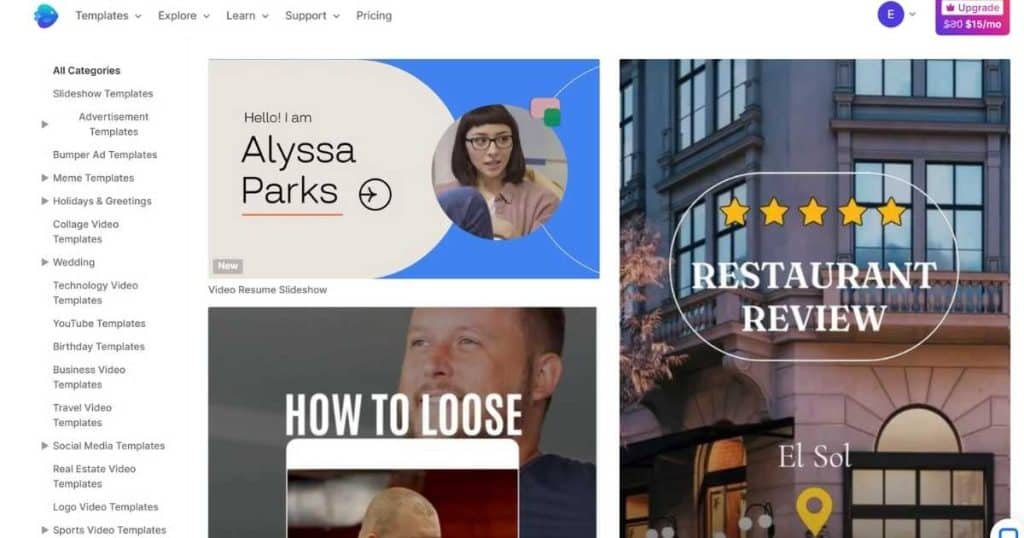 The number of templates Invieo offers is quite incredible! On the free plan alone, you'll get over 6000 video templates.
And the amount of template categories is crazy. You can find anything from marketing, Youtube, outro, intro, social media, and advertisement business video templates.
Plus, they have industry-specific templates.
If you think that's impressive – it doesn't stop there! You can also create your own personal video content for things like birthdays, weddings, travel, and more.
Basically, you'll be able to find anything you're looking for through Invideo's templates.
Learn how to create a Youtube Ads campaign with Invideo here.
Stock videos and images are imperative to create and enhance your video projects.
And InVideo's library certainly doesn't fall short! You can find millions of high-quality stock images and videos on Invideo's simple search bar function.
These include images and videos from iStock, Pixabay, Unsplash, Bing, Pexels, Storyblock, and Shutterstock.
I can't be the only one who finds it annoying to scroll through various premium image options when I only want to see the free ones?!
Well, with Invideo you can filter your search results only to show premium or free results.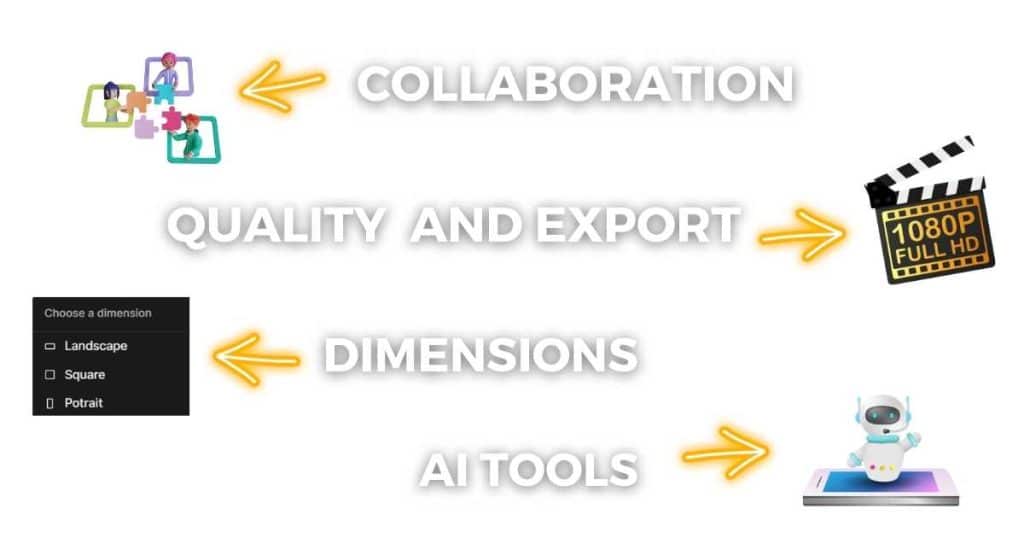 Aside from Invideo's incredible template, stock image and video selection, and intuitive interface, there are a few other stand-out features I must talk about!
      1. Video dimension capabilities.
You can create your video in 3 formats:
I love this as it means you don't have to worry about how your video will look on these different social media channels.
Learn how to create Instagram Reels here.
       2. AI tools.
As I'm sure you already know, AI is taking the world by storm in 2023.
With Invideo, you can use their AI voiceover tool to add captivating voiceovers to your video.
Also, you can turn your blog into a video in just a couple of minutes with the AI text-to-video editor!
And soon, you'll be able to create full video ads and product or promotion videos in seconds using AI with Invideo – watch this space.
Learn more about Invideo and other AI creation tools here.
       3. Team collaboration:
Another thing I love about Invideo is that you can add unlimited members to on single account. This means you can share your video designs with your team members.
All you have to do is input your team's email address, and then you can tag and comment your colleagues to discuss and get feedback, all in real-time!
       4. Quality and exporting
The general quality of Invideo is quite high. However, there are a few things you can't do on the free plan regarding quality and exporting.
You can't export your video.
High-quality resolution (1080p) isn't available.
And lastly, free plan videos will always have a watermark.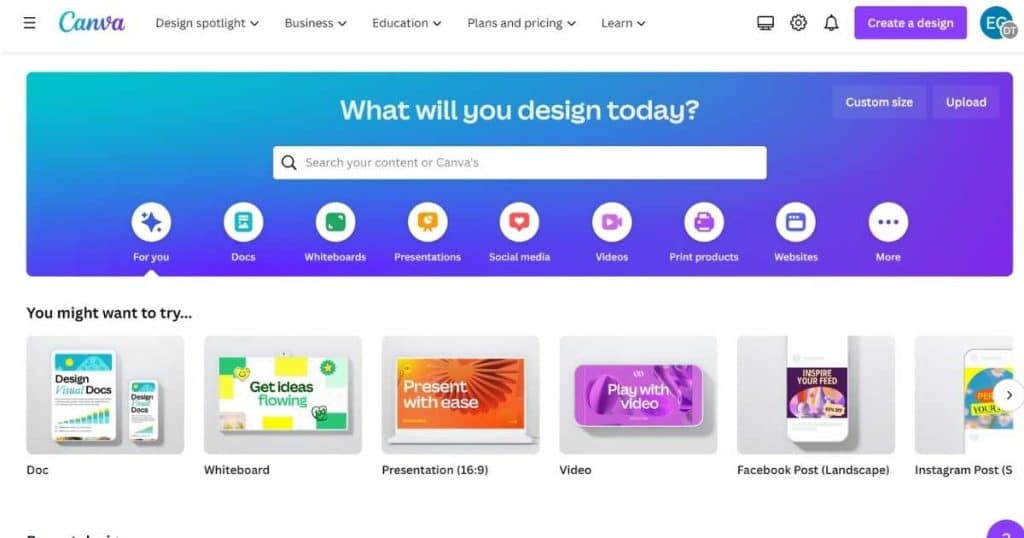 This leading online design tool is perfect for creating polished and eye-catching designs.
From logos, social media posts, presentations, newsletters, websites, and more, Canva has everything you need to make your brand stand out.
Plus, did you know you can even create beautiful and professional videos?
Canva's editor makes it easy for small business owners to create professional-looking designs and videos without any prior experience (more on that soon!)
Believe me when I say it's no wonder Canva is one of the most popular online graphic design tools out there.
I've researched and used many online graphic design tools, and believe me when I say that Canva is up there with the easiest to use!
That's because Canva was specifically designed with beginners in mind.
Canva's user-friendly interface and intuitive design make it incredibly simple for anyone to create stunning videos.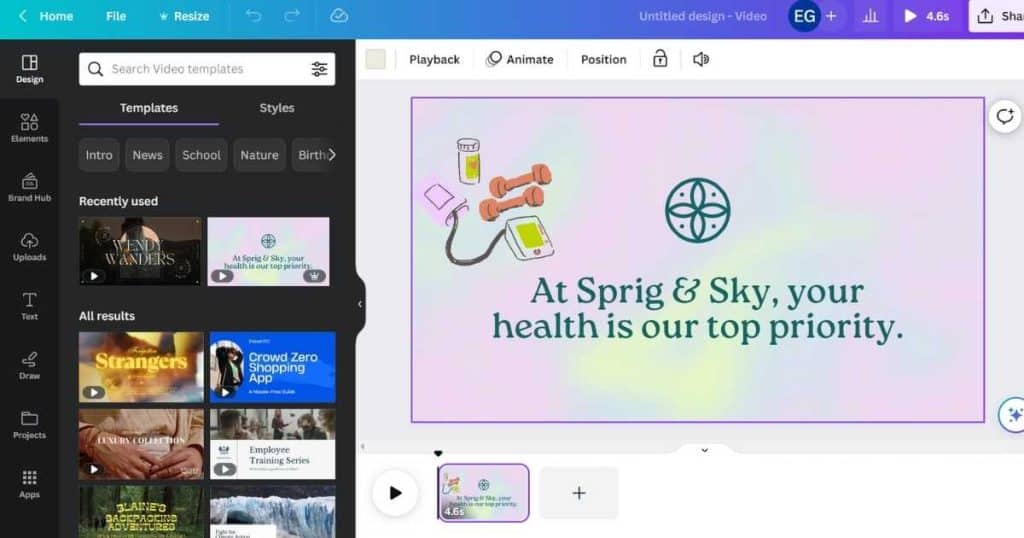 All you have to do is:
Choose the type of design you want to create.
Select a template (or start from scratch).
Customize your design by adding text, images, and other elements using Canva's drag-and-drop editor.
Download or share your video.
The interface is fresh and easy to follow, and you'll pretty much find everything you need on the left-hand sidebar within the editor.
Another thing I love about Canva is that you can add multiple pages to your project, which is great if you want to add a video and an image to your blog post (or similar).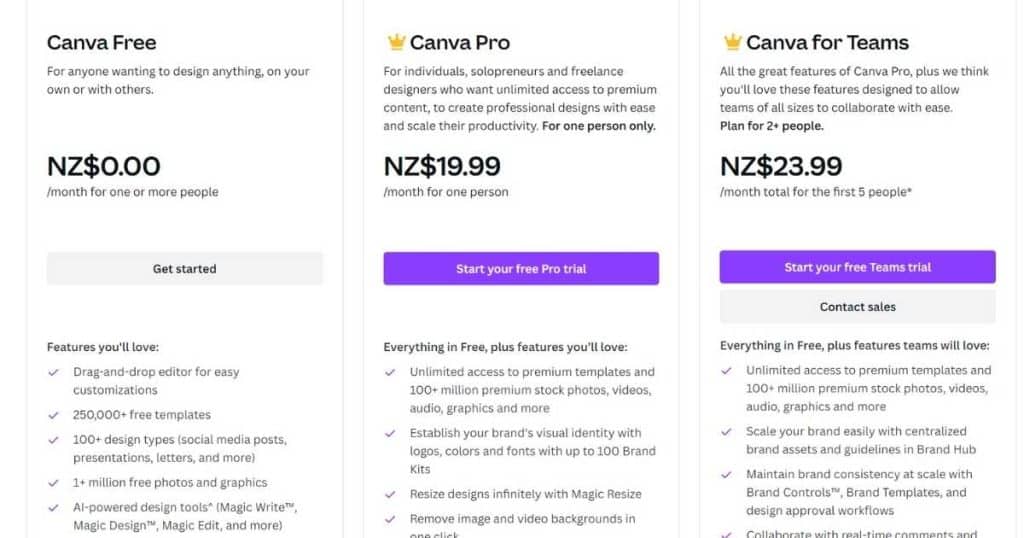 Free: $0.
Pro: $12.99 per month.
Teams: $23.99 for up to 5 users.

Elements:
Canva offers a wide range of design elements that you can use to create stunning visual videos.
These elements include:
Templates.
Stock images and videos.
Graphics
Stickers
Shapes
Audio
Graphs and more.
With over 1 million design elements on the free plan alone, you can guarantee to find the perfect visual content to enhance your videos.
Also, you can make use of Canva's color palettes, font libraries, and other design tools to help you create the most cohesive and professional-looking design.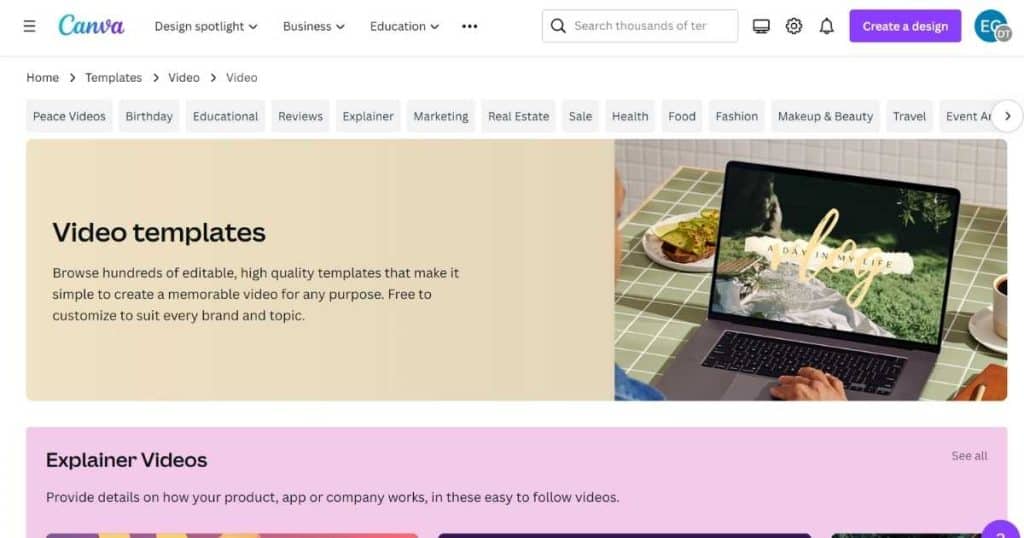 A stand-out feature of Canva is its mammoth template selection. When I think about it, I haven't encountered a design tool surpassing the number that Canva offers.
You'll get 250,000 templates on the free plan and even more on paid plans.
Not to mention, these templates are fully customizable and cover everything from social media posts, presentations, resumes, business cards, infographics, eBook covers and websites.
And, of course – videos.
You can fully change your video's colors, fonts, images, and other elements to create a professional and stunning design.
Also, you can trim, flip or add effects to your template to enhance your video.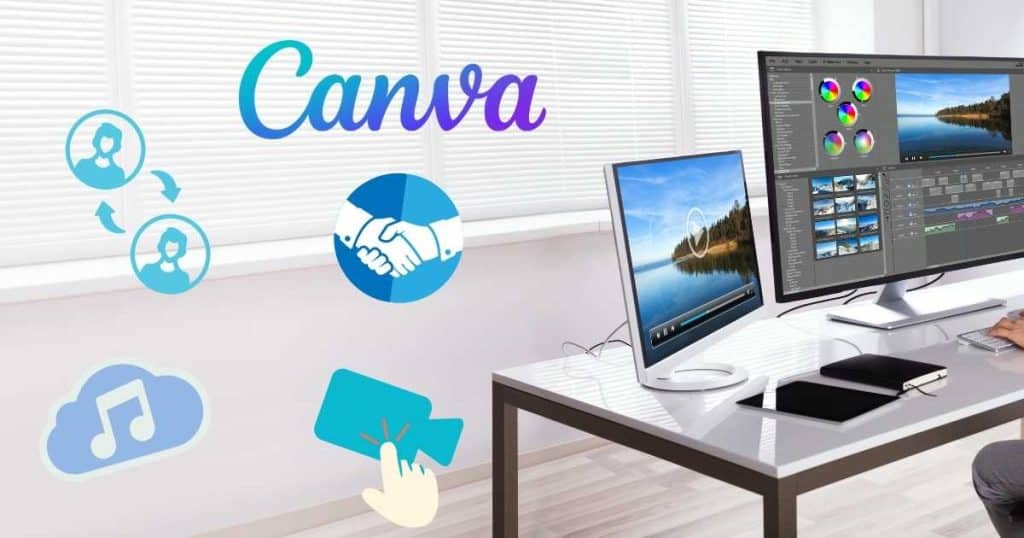 Stock images and videos are another reason why you should consider using Canva as a video editor.
This is because they simply offer such a wide variety of both! You'll find millions of images and videos to make your own with Canva.
So, whether you're creating a video for social media, logo for your brand, a video ad or a promotional video, Canva has all the images and videos you need!
Stand-out features:
       1. One-click video effects:
If you want to add filters, transitions, or text overlays to your videos but don't know how or don't have the time, this is the answer! You can do all this and more in just one click.
Plus, on the pro plan, you can remove your video background and easily resize your videos also in one click.
       2. Animation:
Did you know you can add movement and animation to your videos?
Simply add text animations and automated animation combinations, then control how your animation moves with animation pathways.
And if you upgrade to the Pro plan, you'll have more freedom over your animations, such as the speed, style, or direction.
        3. Beat sync:
This dynamic feature lets you sync your video to any music track to create a better viewing experience for your audience!
Also, you can add voiceovers, sound effects or music overlays to your video.
        4. Sharing:
Canva's sharing options are pretty good. You can either share your videos straight to your social media, download them as a media file, or create a shareable watch link.
You can also change your video's file type or quality and save those settings for future designs.
Plus, with the Content Calendar tool, you can schedule and post your videos to your social media channels whenever you like.
        5. Collaboration:
If you opt for the 'Teams' plan, you can invite your team members, share designs, and add comments or feedback directly to your videos.
And the collaborative whiteboard feature is another great way to discuss ideas, allocate tasks, and track team projects.
I also really like Canva's mobile app, which is also great for collaborating and creating designs on the go.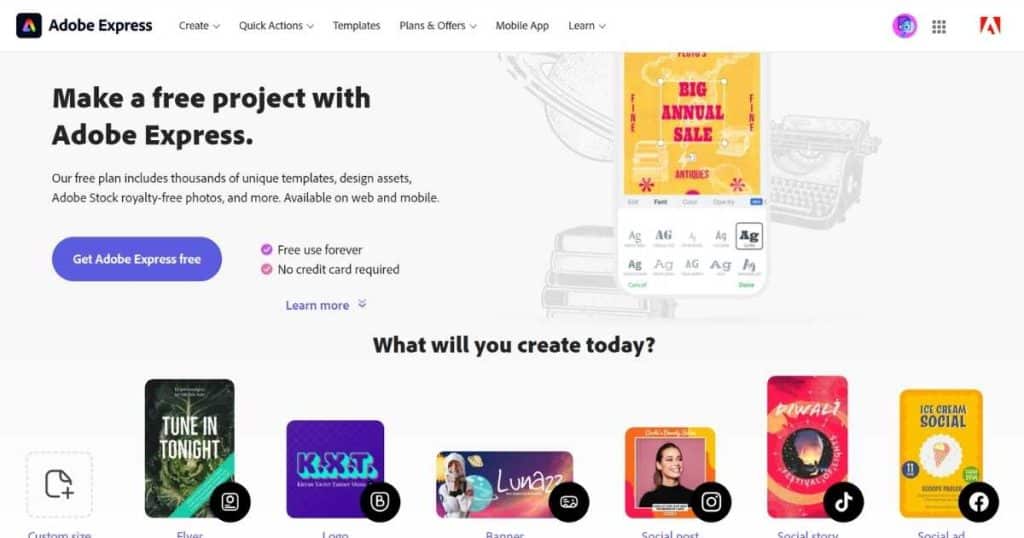 Adobe Express (formerly known as Adobe Spark) is a product within the Adobe Creative Cloud brand, and aims to be a one-stop-shop for everything media related.
You can create anything from logos, flyers, book covers, resumes, and short social media videos all within one platform.
Adobe Express for video content creation is best for creatives, bloggers, or people just wanting to create short videos for social media or marketing purposes.
In general, most people will find Adobe Express easy to use. However, there is a slightly higher learning curve than both Invideo and Canva.
This is because Adobe Express is sort of like a simplified version of other more advanced Adobe products like Photoshop or Illustrator, with a similar layout to those products.
If you already know your way around those products, you'll find Adobe Express a breeze!
You'll be disappointed if you want to create professional videos from templates. Adobe Express only offers a few templates for TikTok videos and Instagram stories.
If you want to make a full video with total creative freedom, you'll have to use their video editor, which is a bit more complicated.
The interface is crisp and clear, and they offer a similar drag-and-drop editor like other online video editors.
However, I found the software to lag a bit when editing clips.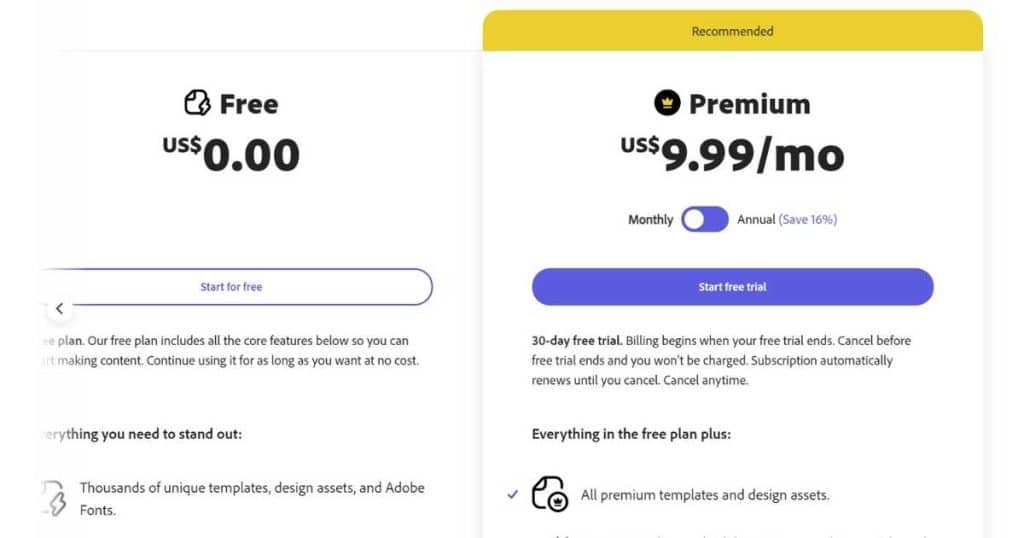 Free: $0.
Premium: $9.99 monthly.

Elements:
When dabbling in Adobe Expres's video editor, I couldn't find that many elements. However, you can still add in text, icons, and photos to your videos as well as theme colors and split screen options.
This is because Adobe Express focuses on video creation rather than providing templates you can then edit.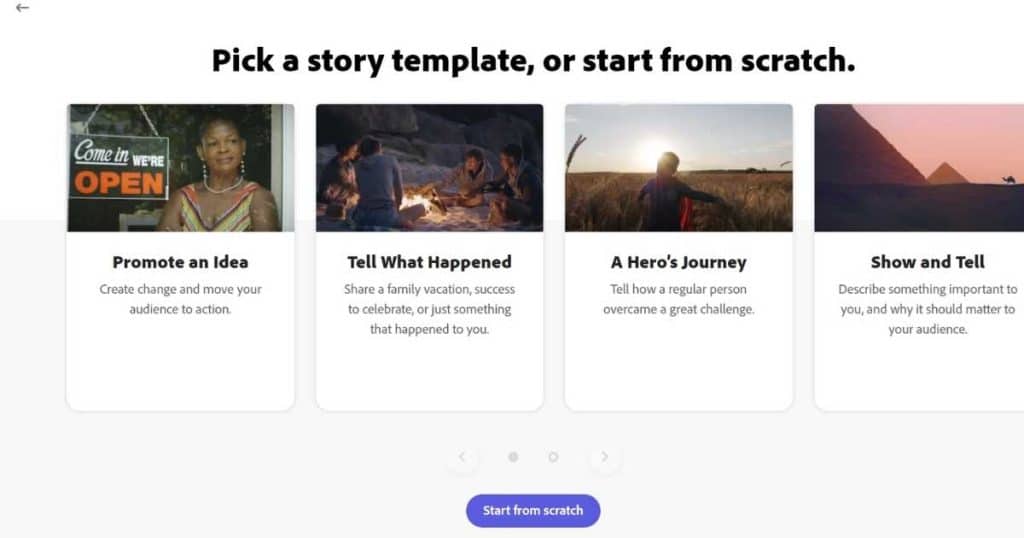 Adobe Express offers 50,000+ template options, including static and animated images.
I couldn't find any video templates similar to what Canva or Invideo offer.
Instead, Adobe Express works a bit differently.
When creating your video, you'll have the option to start from scratch or choose from templates such as "Promote an Idea," "A Hero's Journey," or "Teach a Lesson."
Next, you'll see your video timeline filled with boards that provide you with an outline of what your clips should represent.
These templates and board ideas help you create a cohesive and engaging storyline through your video.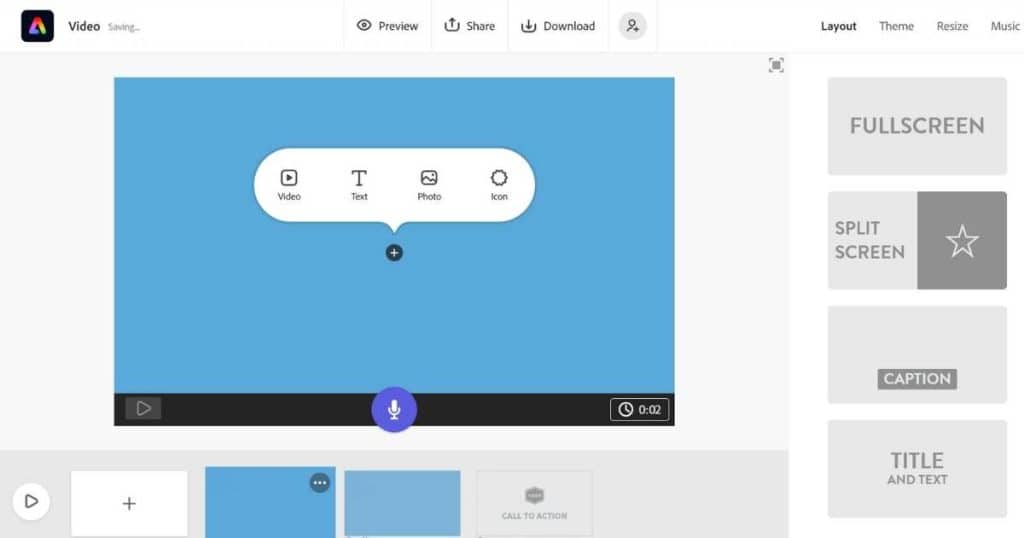 You won't find any stock videos on Adobe Express, but you can access a vast 800,000 images on the free plan and over 160 million on the paid plans.
That is a lot of images!
All of these images are royalty-free, and most are from Adobe's premium stock library.
Keep in mind you can use these static images in your videos.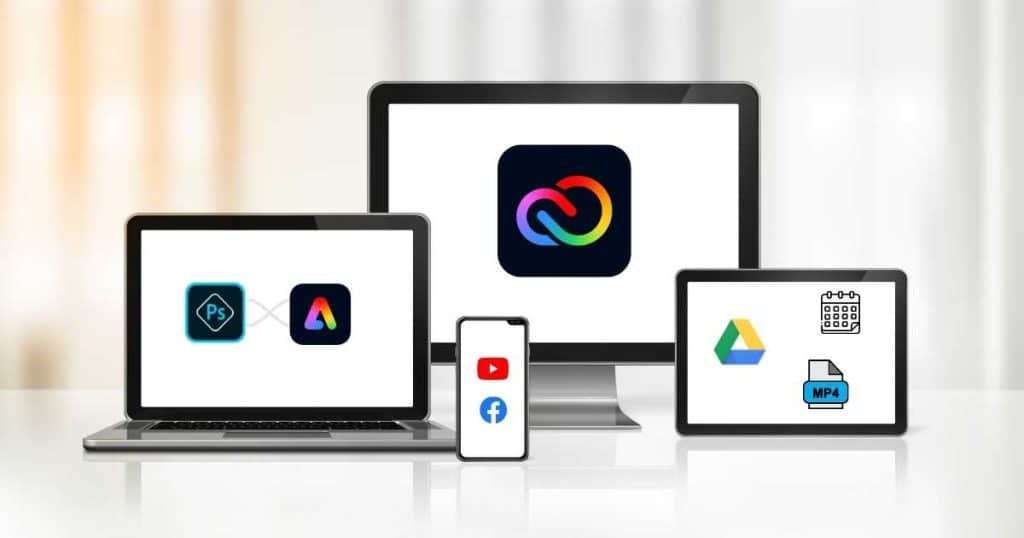 1. Content scheduler:
You can schedule your video content to be published later, making it easy to plan and manage your social media presence!
How does it work? Once you've created your video, simply schedule your content to be posted over your different social media platforms for a time that suits you.
      2. Exporting:
The level of exporting from Adobe Express is quite impressive –  you can export your video directly to your Google Drive, YouTube, Facebook, and Vimeo, as well as convert your video as a GIF or MP4 file quite easily to your computer or mobile.
      3. Web and mobile versions:
I love that you can use Adobe Express on your desktop or mobile! This makes it so easy to create and edit your videos on the go.
       4. Integrations with other Adobe products:
Because Adobe Express is an Adobe product, it makes sense that it integrates with other products such as the Creative Cloud or Photoshop.
So, if you want to edit your video further, you can do so easily.
However, remember that these products are harder to use and may be more expensive.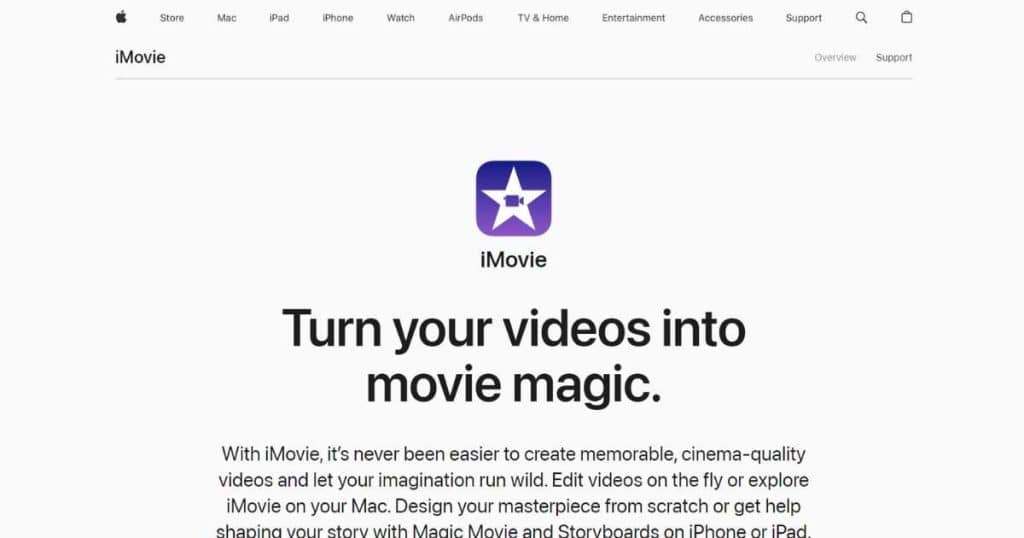 If you're an Apple user, I'm sure you would have heard of iMovie.
But did you know the first version of iMovie was released all the way back in 1999?
iMovie is a video editing software developed by Apple, and automatically comes with your Mac device.
You can import video footage, add music, sound effects, voiceovers, and more to create a professional-looking video, all from the comfort of your Mac computer.
So, who is iMovie for? Typically, iMovie is great for creating home movies, short films, trailers or educational videos.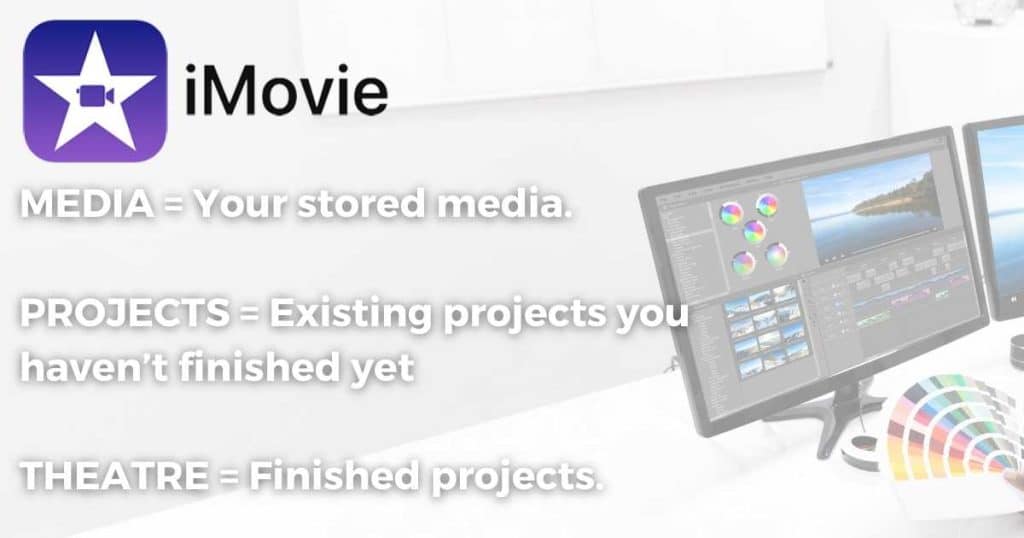 iMovie is known for its user-friendly interface and ease of use.
When you first open iMovie, you'll notice 3 clear headers:
Media – Your stored media.
Projects – Your existing projects you haven't finished yet.
Theatre – Your finished projects.
All you have to do is click the huge + icon, and you're away! From here, you can import clips, and add audio, transitions, or images to your video.
Then, drag and drop your clips to your timeline, where you can trim, split and merge them to create a professional-looking video!
The interface hasn't changed a whole lot since iMovie's launch back in 1999. They've managed to maintain a clear, user-friendly interface.
Because iMovie is an Apple product and only works on Apple devices, it is so easy to transfer your video clips from your iOS device.
And even if you're stuck – don't worry!
Since iMovie has been around for so long, it also offers a range of tutorials and resources to help you get started.
iMovie was designed so that the average person could create stunning and professional videos through storytelling, right?
Therefore, it's no surprise that they offer a number of dynamic elements to help you do just that.
These include:
Titles: Text overlays with different fonts, colors, or styles.
Transitions: Cross-dissolve, fade to back, slide.
Effects: Filters, color correction, image stabilization.
You can also edit and record your own audio or video directly through iMovie.
iMovie is completely free!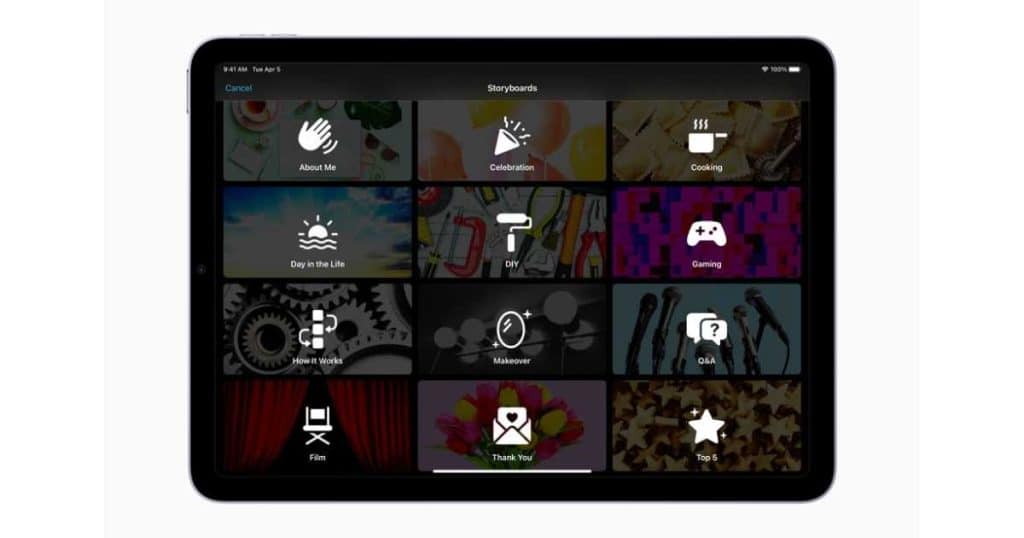 You'll find a range of customizable templates and themes called 'Storyboards', all with pre-designed titles, soundtracks, transitions, and effects.
So whether you want to create a Hollywood-style trailer, an engaging story or an educational video, you can be sure to find a template with custom titles, soundtracks, and special effects.
These storyboards will also show you how to organize your clips and how to capture captivating footage.
Although, keep in mind that the templates don't allow you to customize as much as you can when you create a video from scratch.
You'll find a small selection of stock images (backgrounds) and audio files within iMovie.
However, from my research, the purpose of iMovie is to create your video from your own content and then turn your content into a professional video! (similar to Adobe Express).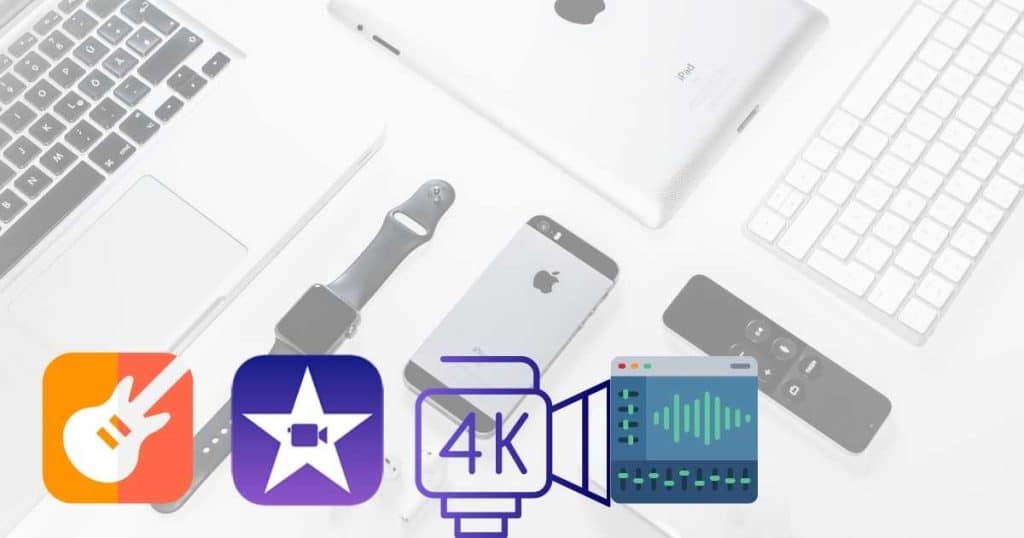 1. Magic Movie:
This smart editing tool automatically creates a video with transitions, music, and effects in just a few clicks! All you need to do is select some video clips and photos.
You can then customize the video further if you like.
Magic Movie is available on desktop, iPhone, and iPad devices and is perfect for people wanting to create a video quickly.
        2. Quality:
Considering iMovie is a free video editor, it's pretty impressive that they let you edit 4K videos! This means you can create more professional videos – all for free! A massive tick in my book.
        3. Audio editing:
One of the reasons why I love Apple products is that they connect other Apple products. And iMovie is no different!
You can connect with Garageband, an audio software to easily edit your audio volume levels, speed and more.
Additionally, you can mute audio and add in background music, add in voiceover, or choose from the range of stock audio clips.
        4. Editing on multiple devices:
This is another reason why people love Apple! Did you know you can actually edit your videos on your iPhone, iPad, and MacBook? And, the best part is, you can start editing on one device, then continue on another!
Again, in my opinion, this is pretty impressive for software that doesn't cost you a cent!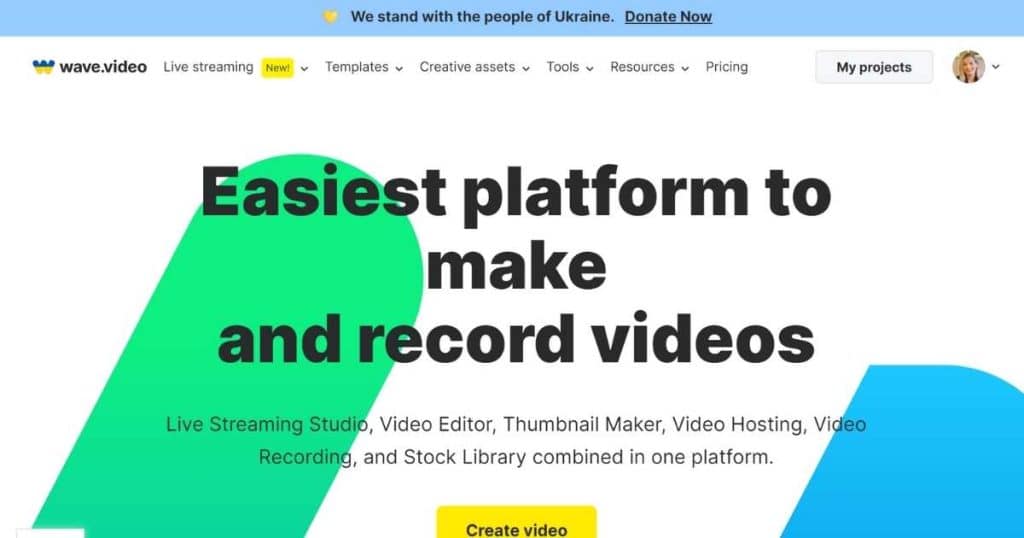 Wave.video is an all-in-one video platform where you can create and distribute your videos across different media types.
You might be thinking..what does an 'all-in-one' video platform even mean?
Wave.video boasts that they provide you with everything you'll ever need when it comes to video creation with their 5 dynamic tools:
Video editor.
Live streaming studio
Thumbnail maker
Video hosting
Stock libraries.
Once you've finished creating your video, you can simply embed it onto your website (or another platform).
Plus, there are no video length or upload limits!
Wave.video is the perfect solution if you're looking to create social media ads, explainer videos, or product demos.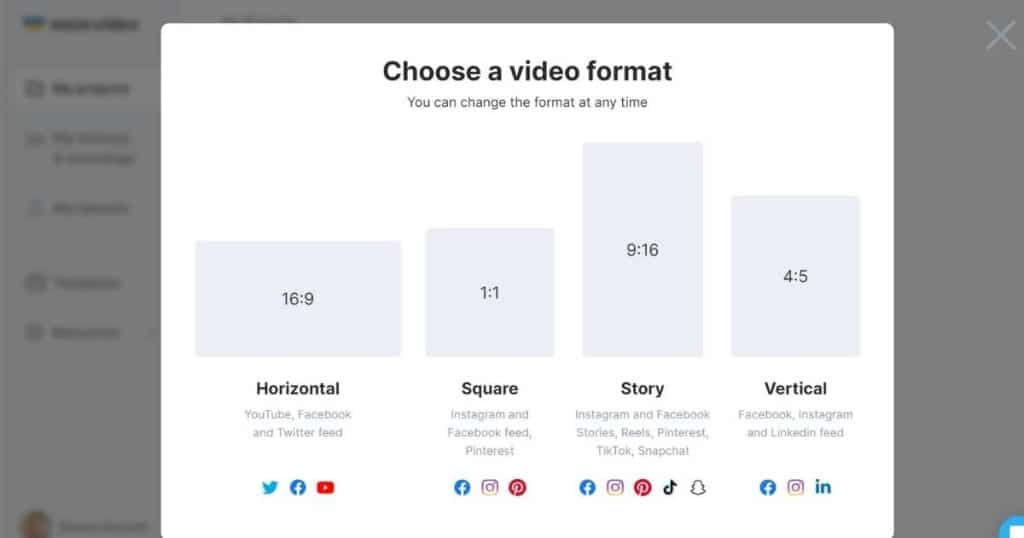 When you sign up and start a new project with Wave.video, they'll ask you from the get go what video format type you'd like to go with, so you don't have to worry about it later.
Additionally, they actually provided details about what format is best for what social media type, which was a nice touch.
Next, you'll be taken to the Wave.video editor. And although the interface is quite easy to use, I found it a bit more clunky than other video editors.
If you want to choose a video template (more on that later), you can view a full preview of that video – another nice touch.
All the features are extremely intuitive, and the added touch of tools popping up when you need them most is nice.
The editor's drag-and-drop function is quite quick, which isn't the case for every online video editor I've researched and tested. However, I did notice that sometimes the screen would go blank for a second or two.
Overall, I think, in general, most people would grasp how to use Wave.video quite easily.
You'll find all the necessary elements to create a professional-looking video, including images, stickers, GIFs, text, and customizable text styles and colors.
In addition, you can easily customize your videos by changing the colors, uploading your own logo, and adding audio, captions, transitions, animations, or subtitles.
And when it comes to the length of your video, Wave.video offers over 30 different formats, so you can easily trim, crop, or resize your video to fit any platform or device.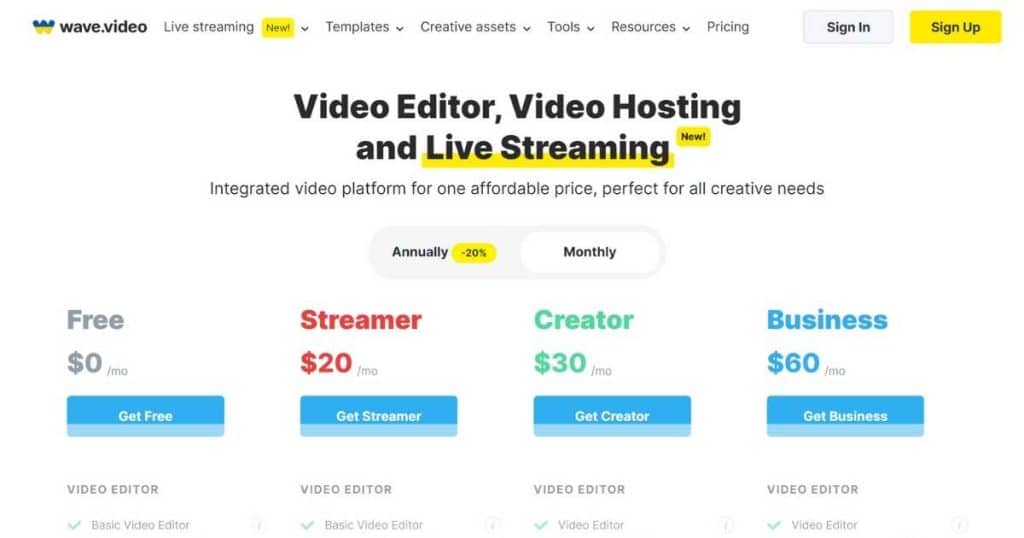 Free: $0
Streamer: $20
Creator: $30
Business: $60

Templates:
You'll find over 1000 templates that to get you started with your video. These include:
Social media ads.
Product demos.
Explainer videos
Testimonials and more.
The templates are fully customizable and optimized for engagement and conversion, which means you can easily add your own branding, messaging, and imagery to create a personalized video.
Whether you're a beginner or an experienced video editor, the templates provide a great starting point for your project!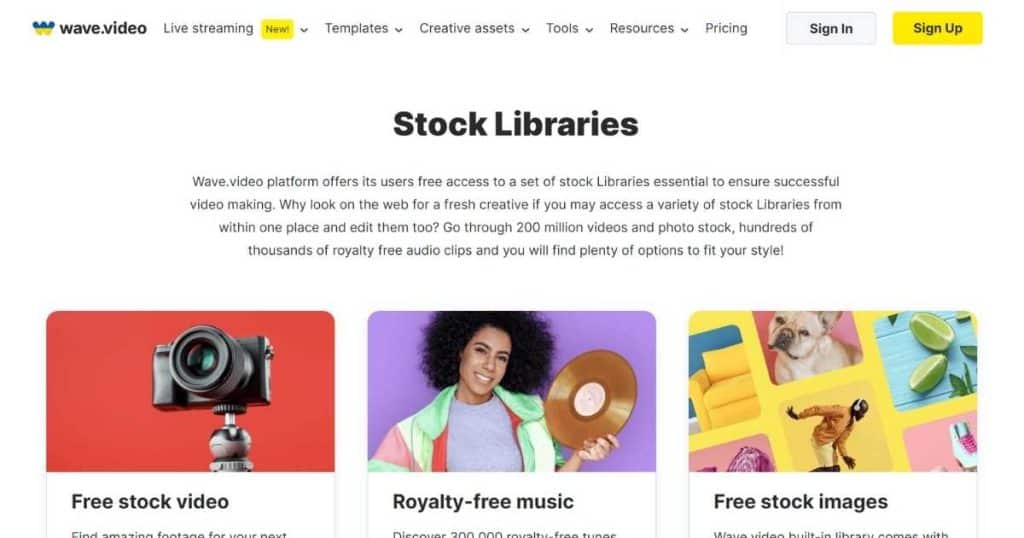 Wave.video's extensive library of stock images and videos is a game-changer for anyone looking to create professional-looking videos quickly and easily.
On the paid plans, you'll get a crazy 200 million stock assets (2 million on the free plan).
So whether you're looking for footage of people, landscapes, or products or need images to use as backgrounds or overlays, Wave.video's stock library has you covered.
Plus, they're all fully licensed and royalty-free, so you can use them in your videos without worrying about copyright issues!
Stand-out features: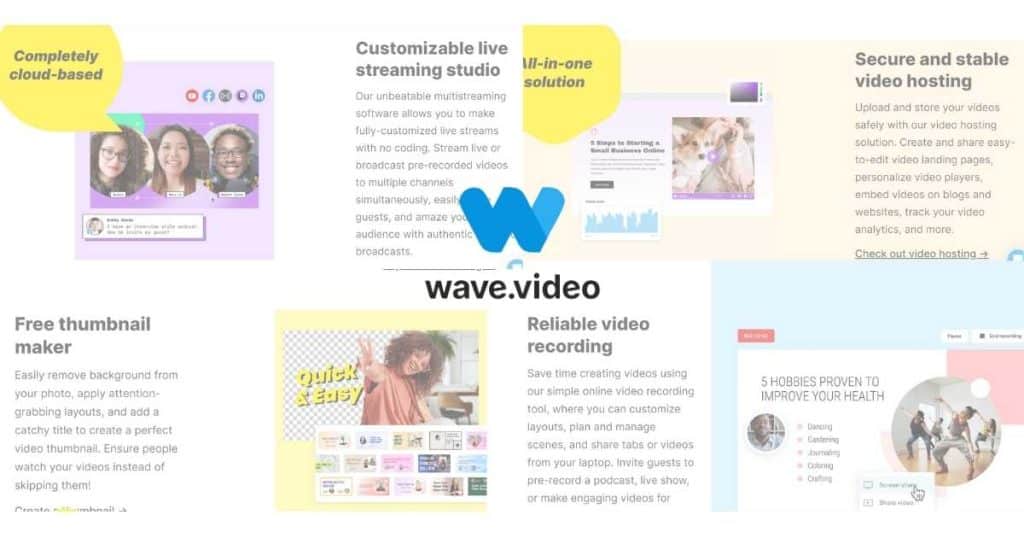 1. Multistreaming Software:
Wave.video's multistreaming software lets you make fully-customized live streams without coding knowledge.
What does this mean?
Basically, you can stream live or broadcast pre-recorded videos to multiple channels at the same time. Also, you can easily invite guests and create authentic branded broadcasts.
      2. Free Thumbnail Maker:
Do you want to make sure people watch your videos instead of skipping them? Well, it's all about creating a captivating thumbnail!
This free feature makes it so easy to:
Remove backgrounds from your photos.
Apply attention-grabbing layouts.
Add catchy titles.
And as a result, you can be sure to create the perfect video thumbnail!
      3. Video Hosting:
This feature provides a secure and stable platform to showcase your videos!
Not many other video editors (and certainly none on this list) offer this.
You can:
Upload and store your videos safely.
Create and share easy-to-edit video landing pages.
Personalize video players.
Embed videos on blogs and websites.
Track video analytics, and more.
      4. Exporting and quality:
You can export your video up to 1080p resolution, which is accepted as a high-quality video standard for smaller screens such as laptops or smartphones.
Additionally, you can choose from various aspect ratios to ensure your videos are optimized for platforms like Youtube, social media platforms, or your website.
Overall, Wave.video's exporting process is fast and efficient, allowing you to download your video in the format you need!
Stew's Final Thoughts
You've now reached the end of my 5 best online video editors in 2023!
Online video editors are essential for content creators and marketers wanting to create high-quality videos quickly and easily.
And each video editor I've talked about offers unique features and benefits.
So what do I think? Well, it depends on what you're after. I'd recommend giving each a go.
Whether you prefer Canva's easy-to-use interface or Adobe Express's more advanced video creation tools, there's something for everyone.
I hope you can now confidently choose the right video editor for you.
It's time to get out there and start creating engaging and impactful videos!