Looking for an effective Keywords Everywhere alternatives to help skyrocket your business to success?
Keywords Everywhere is a popular online marketing tool that can help you with keyword research and SEO metrics.
But it's not for everyone. 
Keywords Everywhere Alternatives 2024
Maybe you're after a free alternative or a more advanced tool with versatile features?
In this Keywords Everywhere alternatives article, I'm going to dive into my top Keywords Everywhere alternatives.
Rest assured, there's something for you!
Whether you're new to keyword research or want to step up your digital marketing game, stay tuned as we bring you the best free and paid Keywords Everywhere alternatives!
But first, what is Keywords Everywhere?
Read more: How To Do Keyword Research?
What is Keywords Everywhere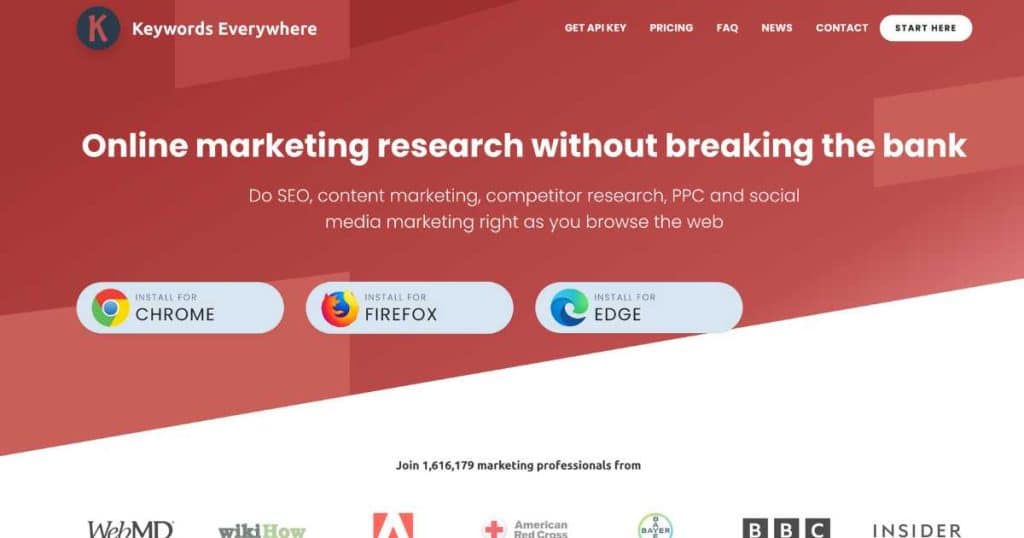 Keywords Everywhere works differently from other marketing research tools.
To start using Keywords Everywhere, you'll need to download the paid Google Chrome extension.
Once downloaded, Keywords Everywhere gathers data from multiple search engines and marketplaces like Google, YouTube, Bing, Amazon, eBay, and Etsy.
The goal? To help you with your online presence and visibility online!
With its streamlined SEO toolbox, you can discover tailor-made keywords to enhance your website's visibility across the search engines and marketplaces mentioned above.
Some features include:
Traffic, SEO, and Moz link metrics.
Keyword suggestions, imports, and widgets.
Competitor Gap Analysis.
Trend charts.
Volume data in SEO tools, Google properties, search engines, and eCommerce websites.
And more!
Keywords Everywhere was a free tool until about 2019. Plans now range from $1.25 to $80 per month.
Compared with other paid tools, these costs are actually pretty reasonable!
Basically, by leveraging a tool like Keywords Everywhere, you can easily understand essential keywords and how keyword research works.
And as a result, you can target your audience more efficiently, drive traffic, and ultimately build a successful online business!
Keywords Everywhere Alternatives?
If you've tried Keywords Everywhere and didn't like it, don't worry! There are plenty of excellent alternatives out there.
So, without further ado, here are my Top 4 Keywords Everywhere alternatives!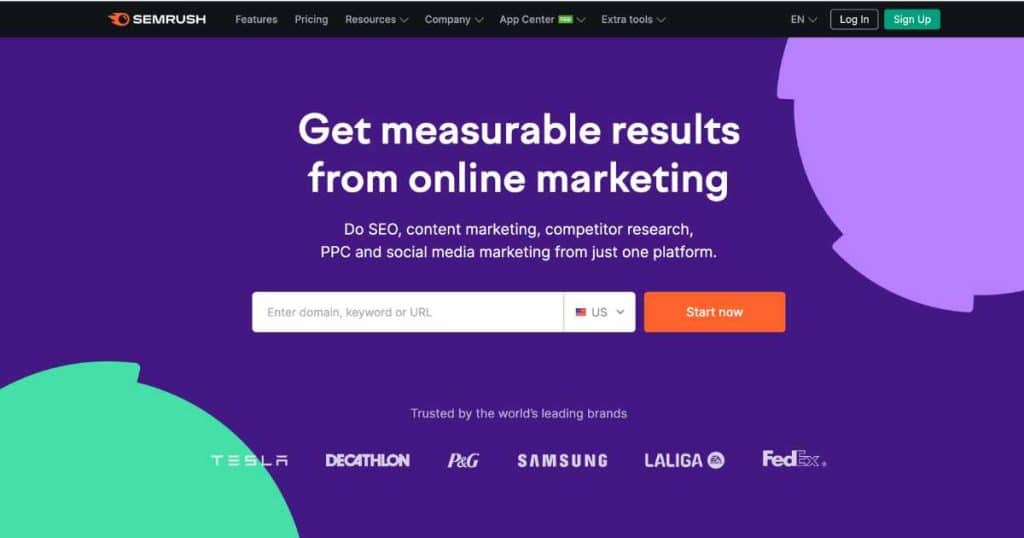 SEMrush is an all-in-one digital marketing suite designed to enhance your online visibility and valuable marketing insights.
With a range of features like search engine ranking monitoring, site audits, backlink tracking, and in-depth keyword research analysis, SEMrush is the perfect tool to take your business to the next level.
Need help with social media, content marketing, or PPC campaigns? SEMrush has your back!
With SEMrush by your side, you'll improve your organic search traffic and gain comprehensive online visibility insights.
As a SaaS platform, SEMrush has quickly become a go-to resource for marketers looking to optimize their websites and drive successful digital marketing campaigns.
What I like:
The appealing interface is super easy to navigate, even for total newbies.
Their large database (with over 21 billion keywords!) is one of the largest on the web.
The full-featured PPC tool is excellent for competitor analysis!
What I dislike:
The pricing plans are more costly than other platforms (ranging from $119.95-$495 per month).
Data can sometimes be a day behind.
Want to learn more about SEMrush? Check out my full SEMrush review here.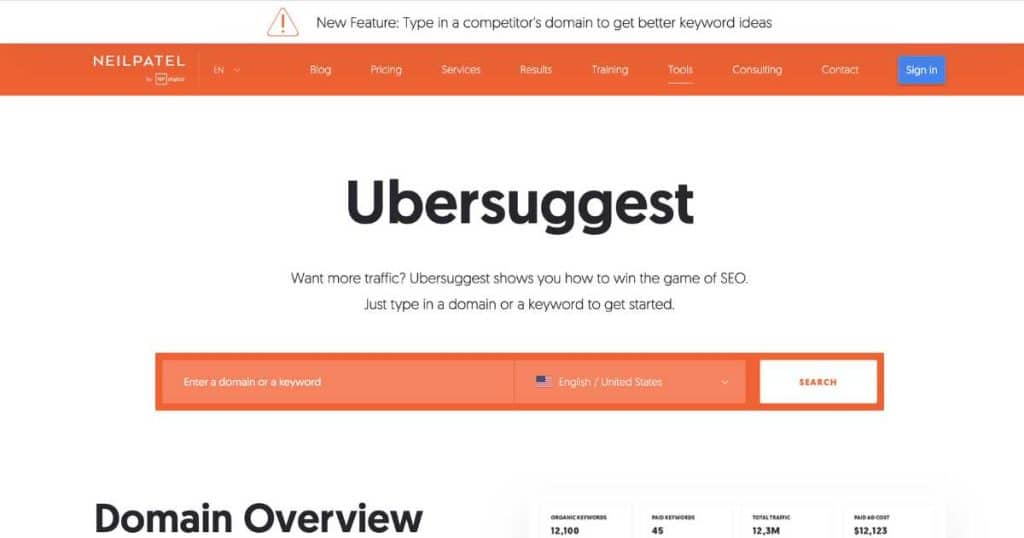 Ubersuggest is a free tool offered by Neil Patel, a well-known digital marketer.
This powerful SEO tool can help you with keyword research, competitor analysis, site audits, and more.
Ubersuggest provides valuable data and insights to bring you to the top of your marketing game. The result? To improve your online presence, of course!
With Ubersuggest, you can generate keyword ideas, analyze search volume, uncover keyword competition, and better understand your target audience.
You'll have access to all essential keyword research tools, such as competitor research, domain analysis, keyword suggestions, backlink data, site audits, and rank tracking.
If you're after a FREE tool to strengthen your SEO efforts and achieve maximum results, Ubersuggest is one of the best affordable and easy-to-use keyword research tools out there!
In saying that, you might be disappointed if you're after a more comprehensive solution.
What I like:
Easy to use with a shallow learning curve.
Affordable.
No contracts or hidden fees.
What I dislike:
Less detailed insights to a premium tool like Ahrefs or SEMrush.
More advanced features are only available on paid plans.
In-depth SEO details are more complex to grasp or understand.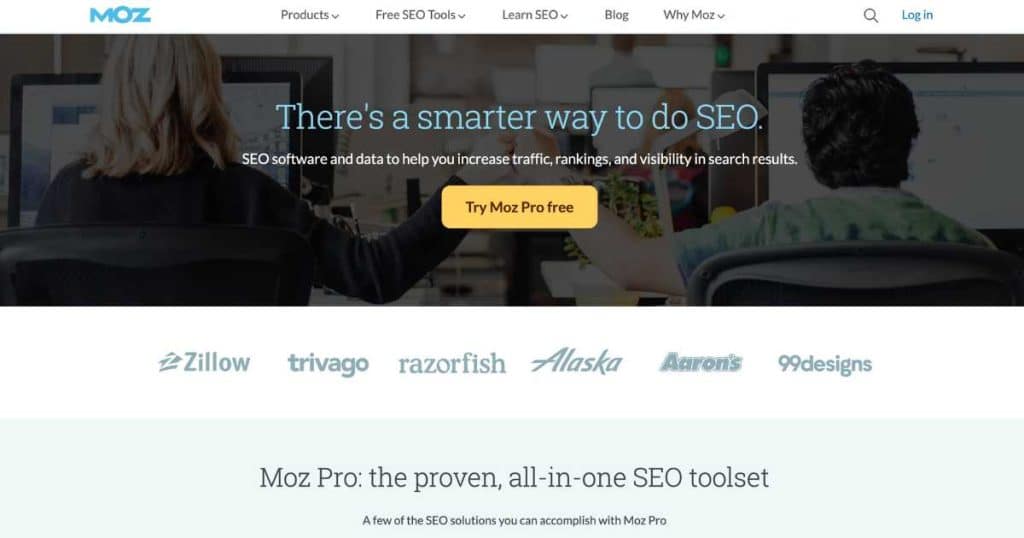 Moz is another paid digital marketing and keyword research tool that can help you optimize your online presence.
With an emphasis on data-driven marketing strategies, Moz provides all the essentials, like keyword research, rank tracking, site audits, backlink analysis tools, and other helpful SEO-focused activities.
Moz is often compared to SEMrush, but actually, the tools are quite different. Moz strongly focuses on SEO and provides many user-friendly tools and resources to support this.
SEMrush, on the other hand, goes beyond SEO, offering campaign optimization tools, social media management, and more.
The famous MozBar browser extension is a standout feature within Moz that provides actionable insights into any website's SEO in the blink of an eye. How cool is that?
In addition to its SEO tools, Moz is well known for its community, offering a wealth of educational resources.
You can find anything from blog posts, Q&A forums, guides, and videos to help you stay on top of the latest SEO trends!
What I Like:
Their easily generated SEO reports.
Moz's recommendations can quickly help fix any issues you may have.
There are a few tools that you don't have to pay for!
The metrics are accurate.
 What I Dislike:
Pricing can become expensive, especially if you're a small business ($99-$599 per month).
The learning curve is steeper than other products and unsuitable for beginners.
There's no 'bundle' plan option. You'll need multiple subscriptions to use their products (Moz Pro, Moz Local, Moz STAT, Mozscape API).
Read more: Is Google Sites Good For SEO?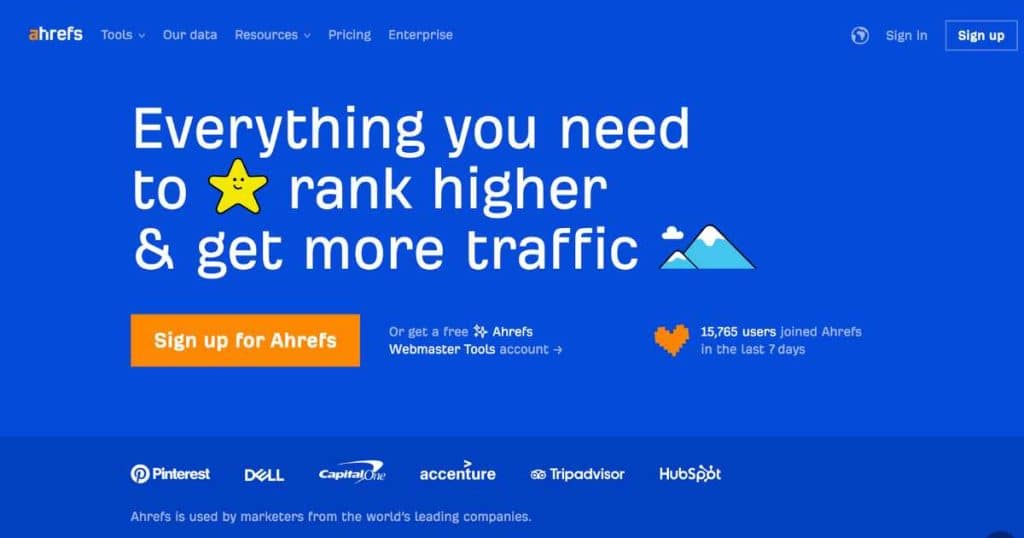 And last but not least on my Keywords Everywhere Alternatives list is Ahrefs, a popular and full-featured SEO tool that works with multiple search engines.
Ahrefs has built a strong reputation in the marketing industry due to its exceptional backlink analysis capabilities and huge database of live backlinks.
As a result, it has become a popular paid choice among marketers who aim to enhance their off-page SEO strategies!
With a user-friendly interface and advanced site audit tool, Ahrefs lets you quickly identify and rectify any on-page issues affecting your website's performance and search engine rankings.
One of the standout features of Ahrefs is its content explorer, which offers valuable insights by helping you uncover the most successful content within your specific niche.
This feature assists you in generating content ideas that have the potential to perform well and resonate with your target audience.
If you're focused on creating a strong link profile, I can guarantee you will absolutely love Ahrefs!
What I Like:
You can work on several different projects at the same time.
Broken internal or external link analysis is super simple.
Keyword tracking is highly localized, down to the city or town.
Available in 13 different languages.
What I Dislike:
There's no free trial.
The pricing model is quite complex ($99-$999, plus more if you need more data, users, or tools).
The number of reports you can create is limited.
No phone support or mobile app.
Read more: How To Use Google Keyword Planner? 
My Final Thoughts
So, there you go!
You've now reached the end of this Keywords Everywhere alternatives guide.
The verdict? If you're after a straightforward and basic solution to help you access keyword information while searching on Google, Keywords Everywhere is all you need.
But if you're after a more comprehensive and targeted approach, I'd go with one of the other options mentioned.
I personally use both Keywords Everywhere and SEMrush.
With Keywords Everywhere, I can find new keywords organically, whereas SEMrush allows me to conduct in-depth marketing research.
So, what will you be choosing?
Are you going to stick with Keywords Everywhere, or has one of these Keyword Everywhere alternatives caught your eye?
Let me know below.