MailerLite vs ActiveCampaign – which email marketing tool will be the best move for your business?
We all know how valuable email marketing is for any business. And choosing the perfect email marketing tool can be daunting, especially for small or micro-business owners.
But trust me, with the right software, you can communicate effectively with your customers while staying on top of your marketing game!
Read more: Top 5 Best FREE Email Marketing Software For Small Business. 
MailerLite vs ActiveCampaign 2024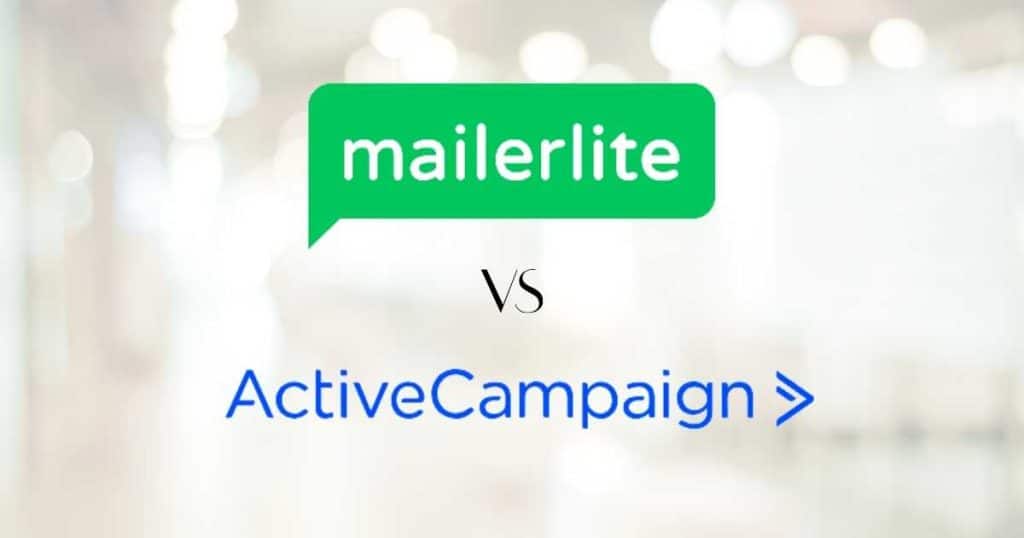 If you've come this far, you'll likely already know that MailerLite and ActiveCampaign are two incredible email marketing tools with impressive features.
In saying that, running a business is time-consuming. And wading through comparisons and reviews to find out which email marketing platform is not what you want to be doing.
I get it – so that's why I'll be doing it for you!
I'll be pitting MailerLite vs ActiveCampaign against each other to find out – which email marketing tool is best for you?
Let's find out.
Read more: ClickFunnels vs ActiveCampaign. 
What Are They? MailerLite vs ActiveCampaign?
MailerLite and ActiveCampaign are email marketing tools that can help you promote your products or services and engage with your audience.
MailerLite is an affordable option for small to medium-sized businesses looking for a straightforward email marketing platform.
With a simple interface, dedicated blog and website builder, and tools to help you capture leads, you can easily grow your audience and engage with your current audience with MailerLite.
On the other hand, ActiveCampaign provides a more robust and customizable email marketing solution.
Known for its advanced automation capabilities, dynamic segmentation options, and cutting-edge CRM functionality, ActiveCampaign goes beyond just email marketing.
Read more: ActiveCampaign vs MailChimp 
What Are The Differences Between MailerLite vs ActiveCampaign?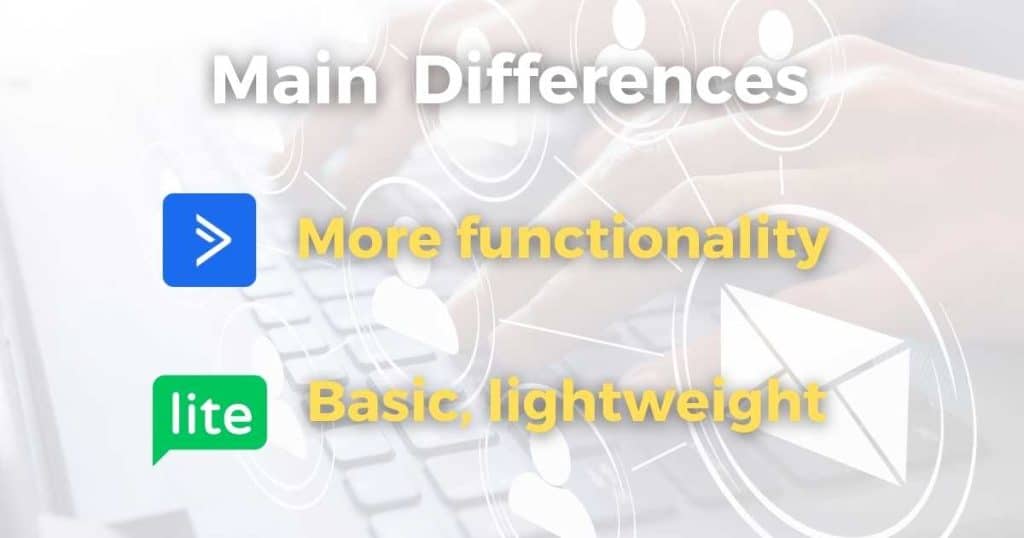 It's safe to say that you can take your email marketing and business to the next level with both MailerLite and ActiveCampaign.
But before you go ahead and pick one, you should know that there are some key differences between the two.
The main difference? ActiveCampaign offers more functionality and features.
ActiveCampaign's advanced automation and segmentation capabilities mean you can create highly targeted email campaigns.
Plus, ActiveCampaign is much more than a standalone email marketing automation platform.
As an Omni-channel marketing platform, you can engage in email, SMS workflows, and  social media marketing all in one place.
In comparison, MailerLite offers just a basic autoresponder feature.
Plus, with ActiveCampaign, you get a fully-fledged built-in CRM tool. MailerLite focuses solely on email marketing.
But that's not to say that ActiveCampaign is the better choice! Some teams are actually better off using a lightweight email marketing solution like MailerLite.
Still not sure which is for you? Let's dive deeper into their features so you can find out!
Read more: Omnisend vs tinyEmail. 
Ease Of Use
When it comes to ease of use, MailerLite easily takes the lead over ActiveCampaign.
The signup process is simple and quick (hello, beginners!) And once you're set-up, you'll be walked through how to use the key features, including campaigns, websites, emails, and automations.
The user-friendly dashboard makes managing your email marketing a breeze, and the intuitive drag-and-drop email editor allows you to effortlessly add and edit text, videos, images, buttons, and more.
ActiveCampaign also has a straightforward signup process and a drag-and-drop email editor.
However, there's a reason why it's not the winner here.
For beginners, navigating the feature-packed platform can be more challenging and has a steeper learning curve.
In saying that, for more advanced email marketing strategies, the extra effort to learn the platform may be well worth it.
MailerLite certainly excels in simplicity and user-friendly features, while ActiveCampaign offers more complex capabilities with extensive features.
Winner = MailerLite
Read more: Omnisend vs Klaviyo.
Pricing:
MailerLite offers 2 plan types: transactional email and marketing and automation. The price you pay depends on the number of subscribers (contacts) you have.
Small businesses tend to have 500 subscribers or less; therefore, I'll be looking at pricing plans for 500 (or fewer) subscribers.
Free: $0 (up to 1000 subscribers)
Growing Business: $10 per month.
Advanced: $20 per month.
Enterprise: Custom Price.
ActiveCampaign offers 4 plan types and various tiered plan options within plans.
The marketing plans are best for email and automation marketing and are as follows:
Lite: $29 per month.
Plus: $49 per month.
Professional: $149 per month.
Enterprise: Custom price.
Plus, if you don't already use a CRM tool, you can combine the power of CRM and email marketing on their Bundle plan.
As you can see, MailerLite is by far the cheapest option (not to mention they offer a free plan!) Unfortunately, there is no free plan with ActiveCampaign – just a free trial.
In saying that, you can do a lot more with ActiveCampaign. So, paying a bit more might be worth it for some users.
Winner = MailerLite
Read more: Klaviyo vs MailChimp.
MailerLite vs ActiveCampaign Tools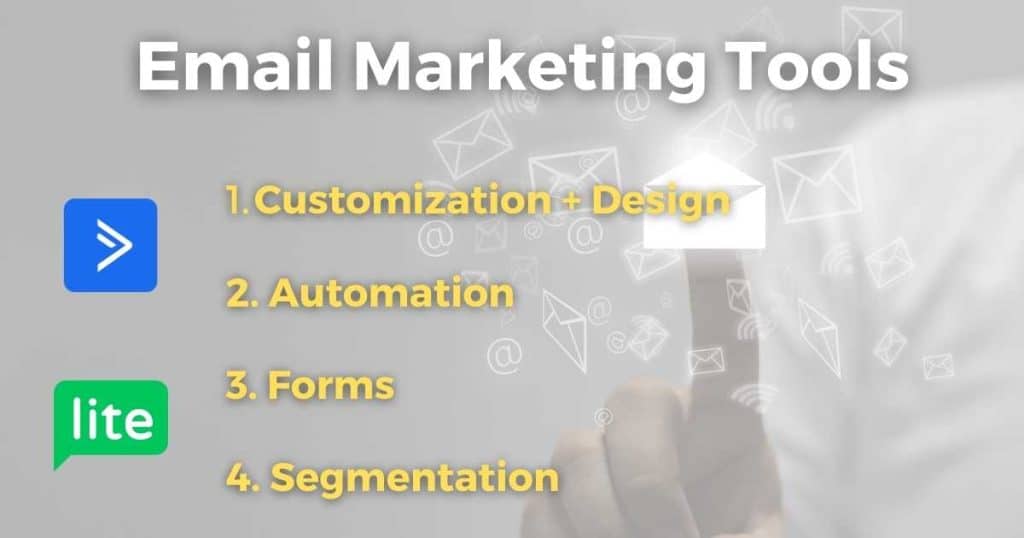 Design and Customization:
Do you want your designs to stand out from the crowd?
When it comes to design features and flexibility, there are some key differences between MailerLite and ActiveCampaign.
MailerLite provides around 50 mobile-responsive email templates, but the catch is that you'll have to upgrade to a paid plan to use them.
However, the user-friendly editor allows for easy customization of layouts, colors, and fonts using content blocks so you can design your content how you like.
ActiveCampaign, however, goes above and beyond with over 250 modern email templates available!
Their intuitive drag-and-drop editor is similar to MailerLite's. But ActiveCampaign has the cutting edge here, as you can create your own templates from scratch (using plain layouts or custom HTML code).
Both platforms also offer A/B testing capabilities from the start, allowing you to optimize email performance.
If you're seeking a wider range of templates and more flexibility with customization, I'd go with ActiveCampaign.
Winner = ActiveCampaign
Automations:
Few email marketing platforms beat ActiveCampaign regarding marketing automation, including MailerLite.
So, what does ActiveCampaign have to offer?
From email reminders for abandoned carts to post-purchase follow-ups, you can use any of their ready-to-use workflow templates (automation recipes) to help you save time.
Simply customize these templates with your own content, custom fields, and tags, or create entirely new automations from scratch!
ActiveCampaign takes triggers to the next level.
With multiple triggers within each automation and the option to run split tests, you can easily identify the most effective pathways that work for you.
Plus, you can even use automation for your SMS campaigns!
Advanced eCommerce and lead scoring automations are available, but only on the higher-tier 'Plus' plan.
Advanced eCommerce and lead scoring automations are available, but only on the higher-tier 'Plus' plan.
MailerLite has a much simpler marketing automation strategy.
How does it work? Using the visual builder, you can create multi-step workflows based on specific campaign actions (like email opens or link clicks) that can be customized to match custom fields and segments.
While MailerLite's automations are user-friendly and get the job done, it doesn't match the extensive flexibility of ActiveCampaign.
Not to mention, it lacks some advanced triggers, such as:
eCommerce triggers.
Triggers based on page views.
Triggers based on specific product interactions.
Winner = ActiveCampaign
Read more: How To Use MailChimp Automations.
Forms:
Email marketing can help build relationships with your subscribers, increase conversions, and drive business growth. And to do this, you'll need an email list.
So, how do you successfully build an email list? By capturing information about your audience through forms!
Luckily, both platforms provide options for capturing these details.
With MailerLite, there are two main options: pop-up forms or embedded forms.
They offer a range of form templates to help you kickstart your design. And you can set rules for when these forms appear (for example, a 'pop up' form might appear after a specific time or when the user scrolls down the page).
Additionally, you can build a landing page with MailerLite where you can add fun and interactive elements such as:
Videos.
Quizzes.
Testimonials.
Image carousels.
ActiveCampaign doesn't offer ready-made designs for forms, but you do get various form types, such as floating bar, floating box, inline, and pop-ups.
And it's a bit disappointing that you'll need to subscribe to the Marketing Plus (or a higher-tier plan) to access the landing page builder with ActiveCampaign.
When it comes to simplicity and access to the landing page builder (without an additional cost), MailerLite takes the lead.
Winner = MailerLite
Read more: Top 5 FREE Landing Page Builders For Small Business.
Segmentation:
Segmenting your email list is vital for personalized email marketing.
But don't worry; both ActiveCampaign and MailerLite have your back, offering segmentation tools to help you organize your contacts!
ActiveCampaign boasts a Segment Builder, allowing you to slice your list based on tags, actions, and event data.
This could be anything from:
Geo-location.
Personal interests.
Quiz results.
Customer lifetime value.
Past products purchased, and much more.
You can choose from a whopping 20 conditions for each segment, including advanced lead scoring! Additionally, you can create segments while drafting your email campaign.
Although MailerLite's approach to segmentation is simpler, it still works great for small businesses that require basic segmentation capabilities.
You can categorize subscribers into 'groups' based on variables and automated actions, but if you're after comprehensive tagging systems or granular segmentation, you're out of luck!
You won't find this with MailerLite.
ActiveCampaign comes out on top in terms of segmentation and is the ideal platform for businesses requiring intricate segmentation and lead management.
Winner = ActiveCampaign
Read more: ClickFunnels vs ConvertKit. 
MailerLite vs ActiveCampaign Stand Out Features
CRM: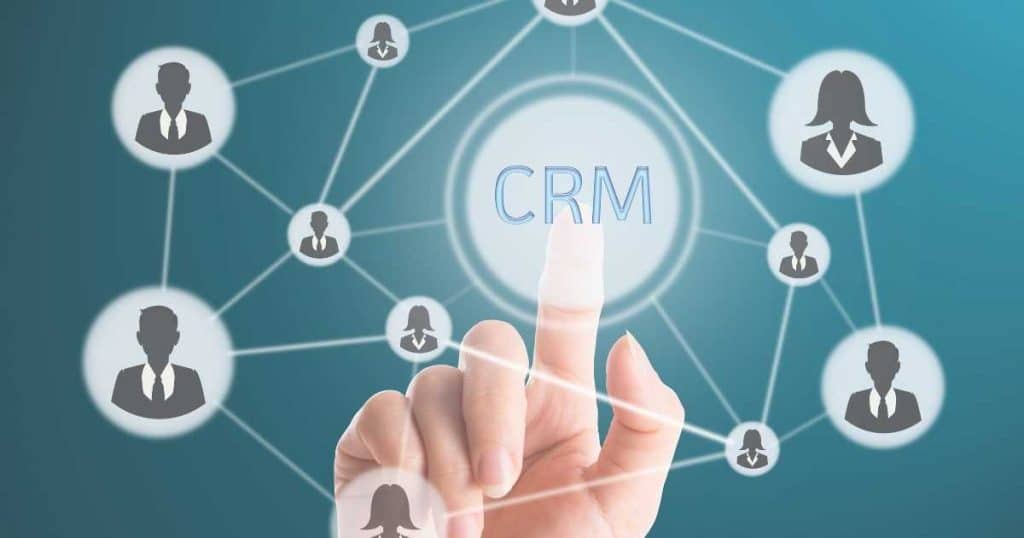 Are you looking for an email marketing tool with CRM functionality to organize your deals and contacts?
CRM tools are available within MailerLite, but you'll have to integrate your account with a dedicated CRM tool like Salesforce, HubSpot, or Zoho.
Luckily, these third-party integrations can be set up in just a few clicks.
But unfortunately, MailerLite falls short compared with ActiveCampaign's dedicated CRM tool.
ActiveCampaign's CRM provides a seamless link between marketing activities and sales processes.
You can do everything you'd expect from a standalone CRM tool, like:
Managing deals and opportunities.
Creating pipelines.
Generating deal records.
Assigning deal owners.
Automating sales communications and processes.
This level of functionality is one of the reasons why I love ActiveCampaign!
Note: To use ActiveCampaign's CRM, you must opt for their Sales or Bundle plans.
Winner = ActiveCampaign
Read more: 7 Best CRM Software For Small Business.
Websites and Blogs: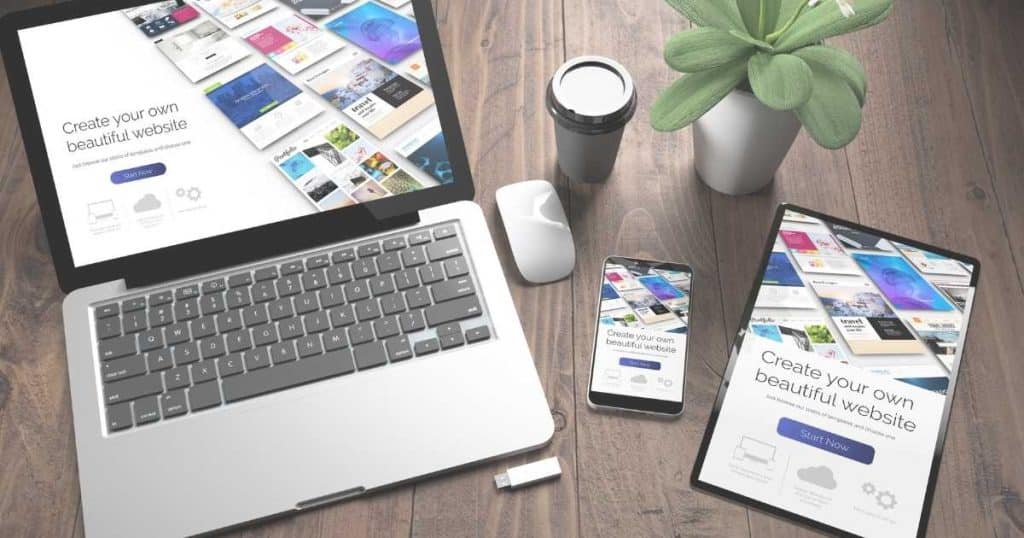 Unfortunately, ActiveCampaign doesn't have a built-in website builder.
But you can utilize their website messaging tool to deliver personalized, targeted messages to website visitors based on their behavior.
And if you already have a website with WordPress, you'll be pleased to know that ActiveCampaign seamlessly integrates with the platform!
Additionally, ActiveCampaign offers a robust set of features for blog management, including:
The ability to tag and categorize content.
Customizable widget area creation.
Comments and social sharing capabilities.
In comparison, MailerLite provides a built-in website and blog tool with an easy to use  drag-and-drop editor.
With around 18 website templates, you can create an online store, personal website, or blog without having to learn any code!
And although they don't offer fancy website messaging tools like ActiveCampaign, you can directly integrate your account with platforms like WordPress, WooCommerce, or Shopify.
So who wins? This is a tough one. Ultimately, it comes down to your specific business.
On the one hand, MailerLite's simple built-in website builder tool is convenient. But you can do much more with ActiveCampaign if you're committed to using third-party apps.
Winner = Draw (I'll leave this one up to you).
Read more: Top 10 Website Builders For Small Business.
AI: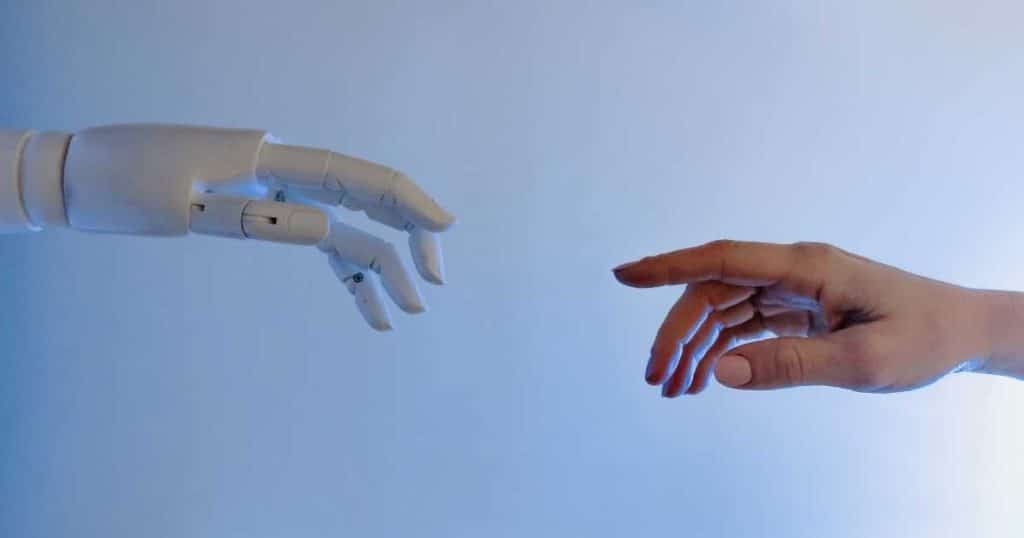 It's no surprise that both MailerLite and ActiveCampaign are jumping on the AI bandwagon!
MailerLite's AI email generator feature is an innovative tool that streamlines the email creation process.
How does it work? Simply input the content you want to include in your email, and the AI technology automatically generates a visually appealing email layout.
As a result, anyone can easily create professional-looking emails!
Plus, the AI email generator can suggest personalized subject lines, helping businesses optimize open rates.
ActiveCampaign boasts a similar AI content generator. But their AI Automation Builder is the real star of the show!
How does the AI Automation Builder work?
Similarly to the content generator, all you have to do is write a prompt for your automation (what you want to automate). Then, the AI builder will create that automation for you!
In my opinion, this is perfect for beginners wanting to dip their toes into automation.
It's worth mentioning that this feature is currently (October 2023) in early access. If you want to request to use it, you can do so here.
Winner = MailerLite
Read more: 11 Best AI Tools For Small Business. 
MailerLite vs ActiveCampaign Support
MailerLite and ActiveCampaign both provide various support options such as email, live chat, and educational resources.
As I mentioned earlier, ActiveCampaign is more complex to set up and use.
But don't worry; their comprehensive knowledge base is packed with lengthy articles and one-on-one support to supplement this.
In contrast, MailerLite's live chat support is speedy and helpful, with dedicated agents providing detailed responses within minutes!
MailerLite also stands out with its easy-to-navigate knowledge base and 24/7 support (you'll only get 24/5 support with ActiveCampaign).
In general, I believe MailerLite's quick live chat and easier-to-use knowledge base give it a slight edge in this category.
Winner = MailerLite
MailerLite vs ActiveCampaign Who Are They Best For?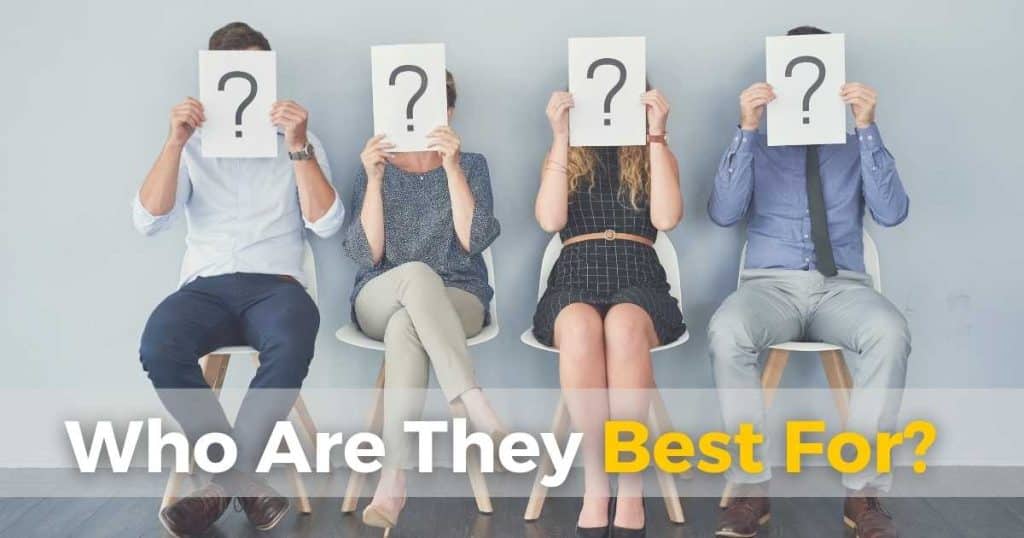 Okay, so we're almost at the end of this MailerLite vs ActiveCampaign battle!
Both are pretty solid email marketing choices! So, which do you pick?
Well, like many online tools, it all comes down to you and your business.
If you're a B2B (business-to-business) brand, ActiveCampaign's advanced automation capabilities, omni-channel marketing strategy, and CRM features are invaluable assets.
And if you have an online store, ActiveCampaign's range of eCommerce integrations and automation options have the competitive advantage over MailerLite's simpler feature set.
On the other hand, if you're new to email marketing, MailerLite's user-friendly interface and gentler learning curve is undoubtedly the better choice for you.
Plus, if you're on a budget and want to run lead generation campaigns or capture newsletter signups, you can't go past MailerLite's form templates and built-in landing page builder! 
My Final Thoughts
And you've made it!
You now have all the information you need to pick the best email marketing tool for you.
As you can see, both platforms have their strengths, weaknesses, and specific skill sets aimed at different audiences.
And if you're still unsure which to pick, why not give them both a go?
With MailerLite's free plan and ActiveCampaign's free 14-day trial, trying them yourself is the best way to determine which is best for you.
So, go ahead and test out both platforms and let me know – MailerLite vs ActiveCampaign.
What will you be using?