Looking to build an engaging online community?
This Skool.com – online community platform review is for you.

If you're not already running a community alongside your brand…..you should be!
Communities are the most valuable asset a business can possess. In fact, all successful brands are built through a community.
Whether you already have an online community or are quickly bringing one together, you'll need a place to manage and engage with your members.
Introducing….Skool.com.
Read more: 21 Business Ideas That Require No Money. 
Skool.com Review 2024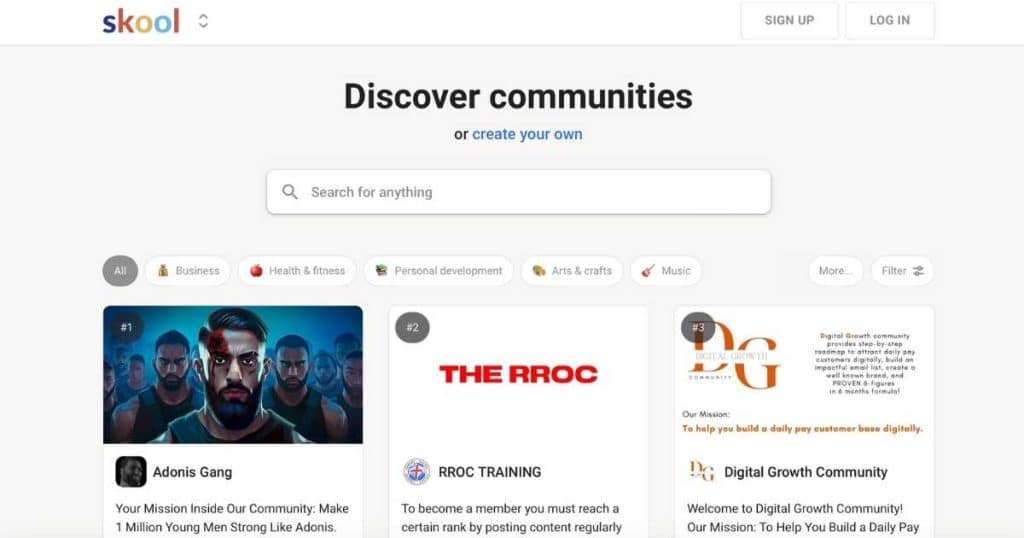 If you didn't already know, Skool.com is an exciting and powerful platform that can help business owners and creators build an online community exclusively for their audience.
It sounds incredible, right? Well, before you go ahead and create your tribe with Skool.com, listen up!
I've researched, tried, and tested Skool.com for myself to bring you this brutally honest Skool.com review.
I'll be diving into everything from pricing, features, alternatives, and more.
And you might be surprised by the outcome!
So, is Skool.com the best online community platform? And will it bring value to your audience?
It's time to find out.
Read more: Top 10 Website Builders For Small Business. 
What is Skool.com?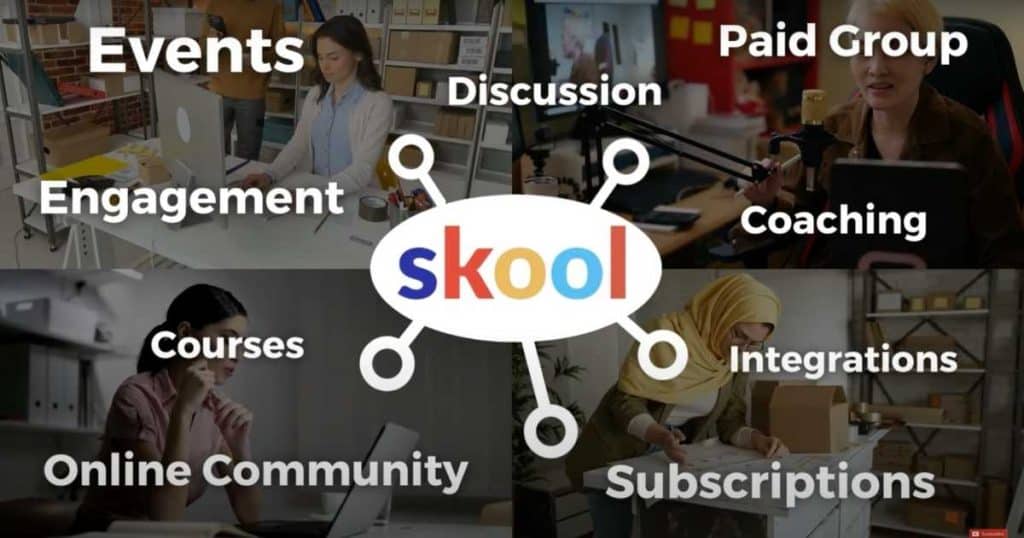 Skool.com is an online, centralized place where course creators, consultants, educators or business owners can upload and share educational content with their community.
With Skool.com, you can easily share your ideas, host discussions, events, and courses, engage in coaching or consultations, and more.
Basically, Skool.com aims to simplify various aspects of managing your community!
Think of Skool.com as a Facebook or LinkedIn group, but better.
In addition to sharing your knowledge with your community, did you know you can monetize your skillset through your audience and Skool.com?
Simply offer exclusive paid memberships, courses, events, or other valuable content through Skool.com to convert your community into paying customers.
And with Skool's auto-affiliate feature, you can earn a monthly commission from any of your members who sign up to Skool themselves and create their own groups!
Whether you're a creator or a community member, you'll be impressed by how much you'll get from this incredible easy-to-use platform.
Read more: How To Create And Grow A Facebook Group? 
Skool.com Review
Skool.com is the perfect place to create, build, and monetize your online community.
But with so many complex online tools out and about in this day and age, I bet you're wondering…..how easy is it to use?
Ease Of Use
Skool.com offers a 'less-is-more' approach, a rare find within the community-building world!
Most platforms try to jam-pack their product with fancy features and overcomplicated user interfaces. Skool, however, is simple and sleek, only offering what you need.
One of the best things about Skool.com is that it's so flexible!
You can choose whether you want your community groups to be private, public, paid, free (or both).
Then, simply customize how you'll charge members for joining your community, whether through a paid subscription, free subscription, or both!
Another highlight of the platform is its rich member profiles. Members can:
Easily add links to their social media channels.
Display custom texts.
Share which level they're in.
View their contributions.
See how many points they have (more on this soon!).
And creators can use the daily visual activity chart to view every single activity within their community over the last year to improve marketing strategies.
Creators and members will love the Facebook-like profile and feed layout that Skool's main interface mimics.
If you're after a sleek, crisp, and intuitive interface for yourself and your members, look no further than Skool!
Read more: Best Sales Funnel Builder in 2023.
Skool.com Features
Skool is known for its perfect blend of community and content. So, what exactly does it have to offer?
A Skool group is divided into four main features:
   1. Community
The Skool community is where you'll find all group discussions.
Here you can post, comment, add links, embed videos, insert GIFs, polls, actions, @ mention members, and add real-time updates and interactions to your feed to engage with your community.
And once you've created your post, you have the option to email members directly through an email broadcast that notifies them of your new post, which can help boost engagement.
   2. Classroom
The built-in classroom feature is the place where you can create and add new courses to share exclusively with your Skool community.
Simply choose which members can access your course, add and customize sets and modules, drip modules to members, or create action posts to remind members to complete the course!
You can add engaging and interactive content, such as videos, diagrams, links, resources, transcripts, and more.
The best part about this feature is that you don't have to create and upload your courses to a separate external platform like Udemy or Skillshare.
Members can easily access these dynamic courses, then engage in conversations, offer feedback, and share their general thoughts about the course, all on Skool.com.
Skool is your one-stop shop for offering courses or other content and resources to your community!
   3. Calendar
The calendar feature allows you to create, schedule, and view group events.
Think of the calendar tool as a level-up from your basic Microsoft or Google Calendar.
Why? Well, it's built directly into your Skool account!
Plus, Skool.com offers various event 'locations' like:
A physical location.
Another online URL link of your choice.
And with email reminders a day in advance and automatic timezone calculations, you can be sure that members won't forget about your events!
Read more: Microsoft Teams vs Yammer.
   4. Gamification
Gamification within Skool.com helps encourage engagement through an incentive 'point' system.
How does it work?
Members earn points by liking other members' posts or comments. This could be something they find interesting or valuable.
Each 'like' represents 1 point.
Once they reach a certain number of points, they'll level up on the leaderboard.
Specific levels can unlock certain courses.
Skool's interactive gamification tool is an awesome way to drive engagement within group discussions and create an overall fun atmosphere!
Pricing: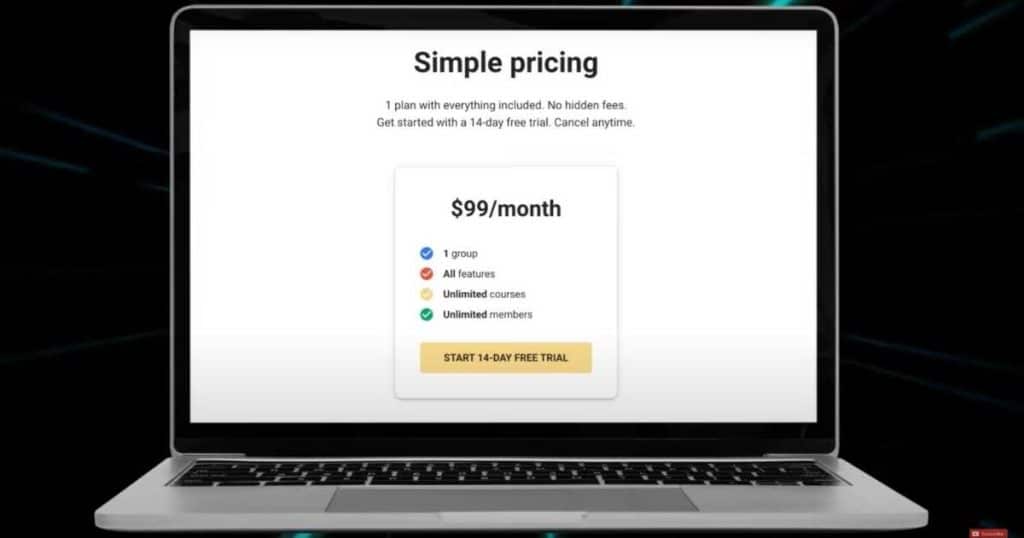 Skool's desirable simple pricing structure offers just one plan type for $99 monthly.
With this, you can create one group, access all Skool's incredible features, add unlimited members, and build unlimited courses!
There are no yearly contracts or hidden fees, and Skool.com offers a generous 14-day trial period so that you can try out their features for yourself! 
What I Like:
Skool's intuitive mobile app for on-the-go members.
The accessible search bar function helps you quickly find posts, comments, courses, or members.
The built-in chat feature replaces external chat software like Slack.
The standalone metrics dashboard lets you track the engagement, progress, and growth of your groups and members.
You can turn on notifications for posts you find interesting.
Efficient built-in calendar integration replaces external calendar tools.
The intuitive and fun gamification feature!
What I Dislike:
There's no option to add quizzes to courses.
It doesn't include a funnel builder.
There's currently no native video hosting (October 2023). Although, this feature is due to roll out by the end of the year, so watch this space!
Although Skool integrates with Webhooks and Zapier, it lacks native integration capabilities.
My Favorite Feature Of Skool.com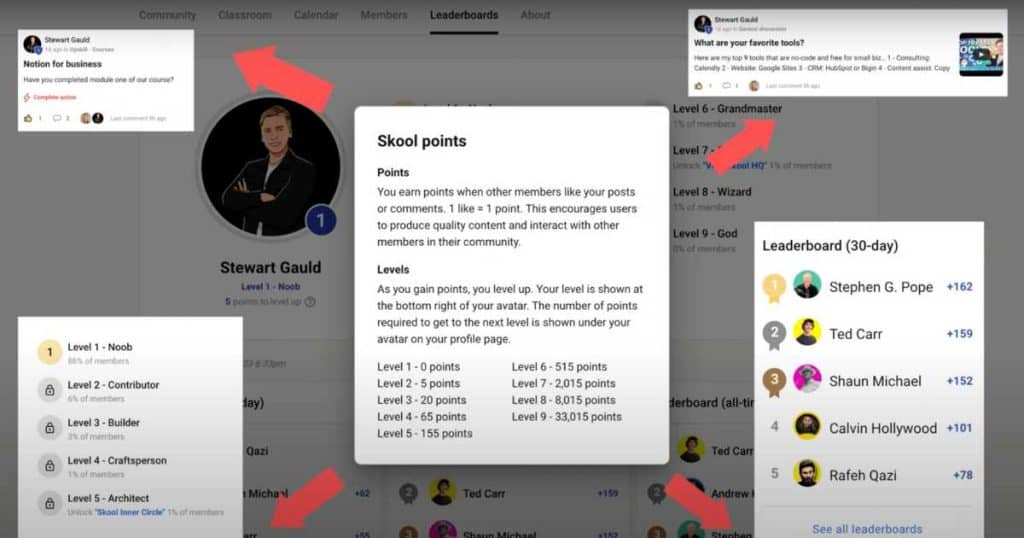 Community platforms should be fun, right?
Well, unfortunately, many big community or course platforms lack gamification – a fun hierarchical incentive system that helps drive engagement!
Therefore, my favorite feature of Skool has got to be its incredible gamification tool.
I love that you can customize level names and seamlessly integrate your courses as rewards when a member unlocks a certain level.
With nine levels available, you can offer exclusive deals, memberships, events, or courses when members hit certain levels.
Basically, the higher you become on the leadership ladder, the more courses and deals you can unlock.
The goal? To add value and motivation for your community members to get involved with community activities! 
Skool.com Alternatives
Skool.com is an excellent online community platform choice. But in saying that, it's not for everyone. And that's okay!
There are plenty of alternatives out there that may be a better fit for you and your community.
Here are my top three Skool.com alternatives: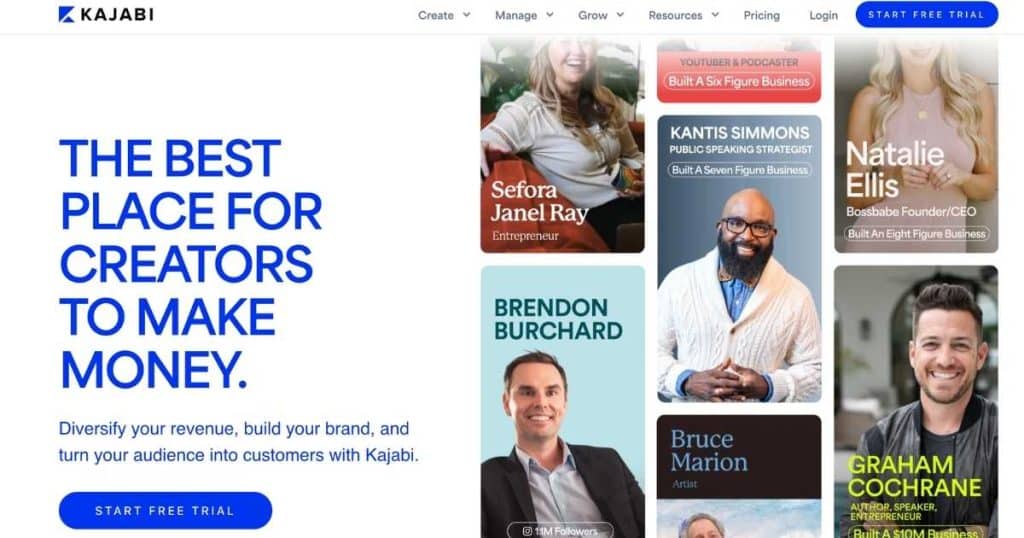 If you're after a complete platform with all the bells and whistles attached to help you build and scale your online business, Kajabi is your go-to platform!
Kajabi hosts a range of tools to simplify online course and website creation, payment handling, membership management, customer relationships, email marketing, and more.
However, the number of features may feel overwhelming for creators or business owners who simply want to focus on hosting courses and fostering a community (enter – Skool!)
Plus, the steep price tag of $140+ monthly may throw some users off, especially if you don't necessarily need everything Kajabi offers.
Kajabi outshines Skool in one aspect: native video hosting for courses, a feature that Skool has yet to incorporate.
Ultimately, Kajabi is a top-notch alternative if you're after an extensive suite of features and don't mind the price.
Read more: Kajabi vs ClickFunnels.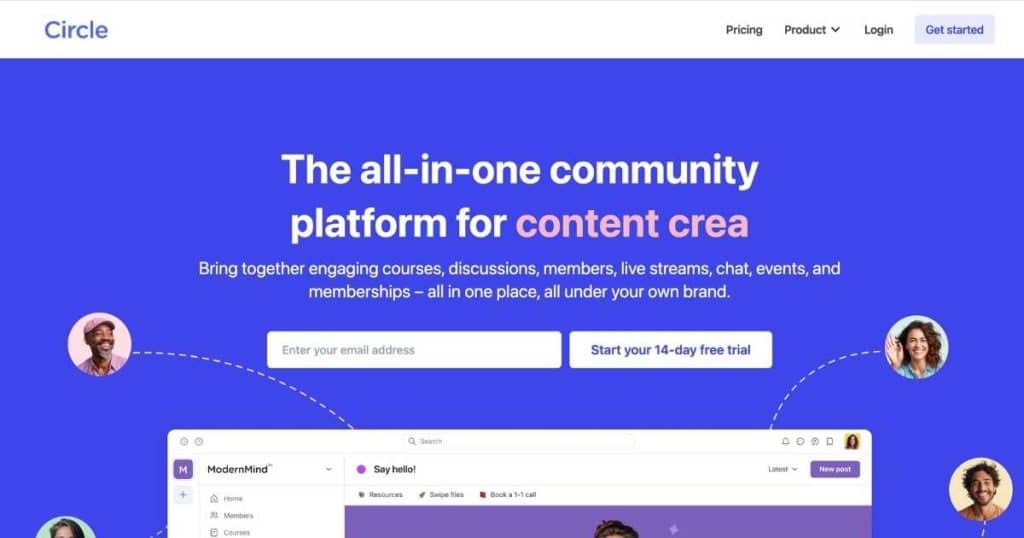 Circle provides a customizable online community platform that gives users full control over the look and feel of their community.
This level of customization is ideal for coaches, creators, or business owners who value control and want to create a unique online space!
With various community-building tools like courses, posts, events, articles, memberships, messaging, and more, Circle is the perfect solution if you want complete flexibility.
Circle has the cutting edge over Skool in a couple of areas:
With their built-in video hosting, live streaming capabilities, marketing tools, and automation workflow features, Skool simply can't compete.
In saying that, there's one big advantage Skool has over Circle – they don't offer any gamification features!
Plus, they lack other key Skool features like daily tracking activities and rich member profiles.
In terms of pricing, Circle's 'Basic' plan is just $49 per month. But you can only have up to 100 members.
Once your community grows beyond that, you'll need to upgrade to the 'Professional' plan ($99 per month) which allows an unlimited number of members.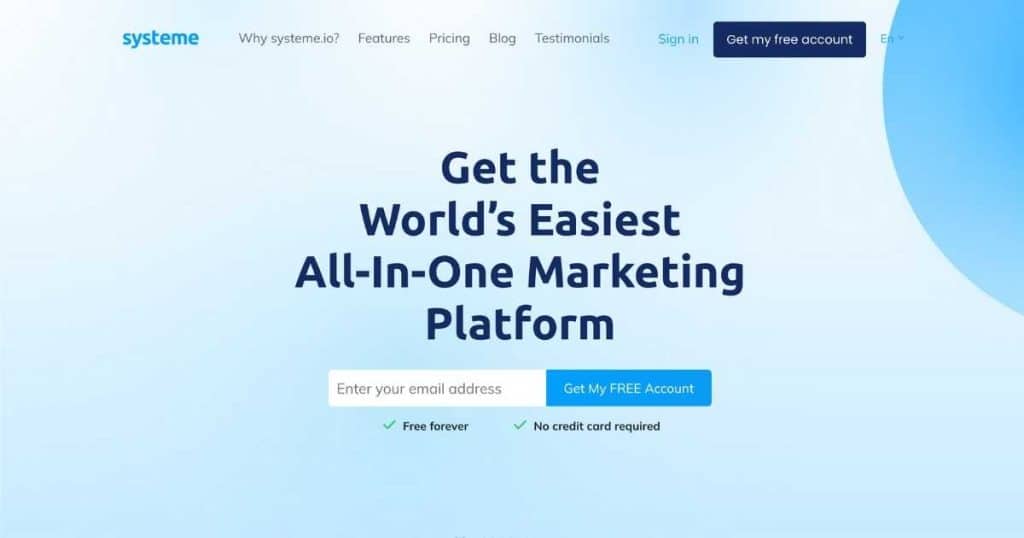 Systeme.io is a popular marketing and sales tool that helps you set up and manage your business.
With Systeme.io, you can build sales funnels, websites, courses, memberships, and subscriptions.
Plus, you can engage in email marketing and affiliate programs on one easy-to-use platform!
Essentially, Systeme.io provides you with everything you need to successfully sell your digital (or physical) products or services online.
In terms of creating courses, memberships, and subscriptions, Systeme.io is my go-to solution for service-based teams.
And if you're a sales-driven team and new to the world of sales funnels, you can't beat Systeme.io's free plan!
While Systeme.io is perfect for teams looking to sell courses (and an entire online brand), it lacks one important aspect – community.
Like I said at the beginning, brands are built through community. And that's one key advantage of using Skool.com over Systeme.io.
So, if you're after a total digital marketing toolkit, Systeme.io is an excellent choice. But if you value community, Skool.com is your guy!
Read more: How To Create An Online Course For Free? 
Stew's Final Thoughts
That brings us to the end of this Skool.com review!
So, is Skool the best online community platform for creators and business owners?
My answer would have to be…yes! In fact, I've actually moved my online community from another platform over to Skool because I love it so much.
I believe Skool is the perfect platform for creators looking to build a loyal community and monetize their skills through their audience, events, coaching, courses, and more.
But the best part? You have the flexibility to set up and manage your community how you want to.
With Skool's 14-day trial and month-to-month plan, you can easily cancel if it's not for you.
What are you waiting for? Start using Skool.com for your online community NOW!